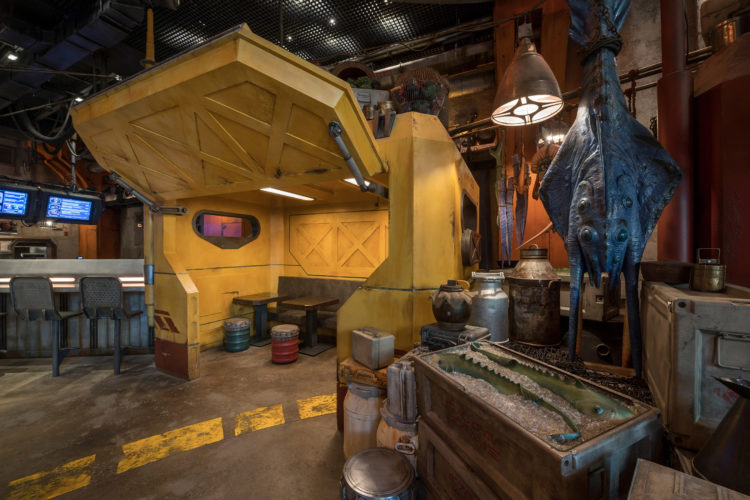 Transport to a place where the theming makes your mind land far from the planet Earth and the exotic array of food leaves you wondering if you are even in a theme park.
Inside this replicated working hangar bay, Chef Struno "Cookie" Tuggs does an extraordinary job supplying appetites with fresh dishes and unique flavors. During a recent layover in Batuu, my small fleet of three had the distinct pleasure of enjoying a few of Chef Tuggs spectacular creations.
First up was the Braised Shaak Roast. This entree was presented in a vessel resembling that of a petite cast iron skillet. Fork tender roast beef served atop al dente cavatelli pasta was perfectly combined with a light sauce accented with wilted kale, sauteed mushrooms, and carmelized pearl onions. In a word…… DELICIOUS! At a price point of 18.99 Batuu credits ($18.99) our expectations of this dish were high. I am happy to report that these expectations were far exceeded with this amazing combination.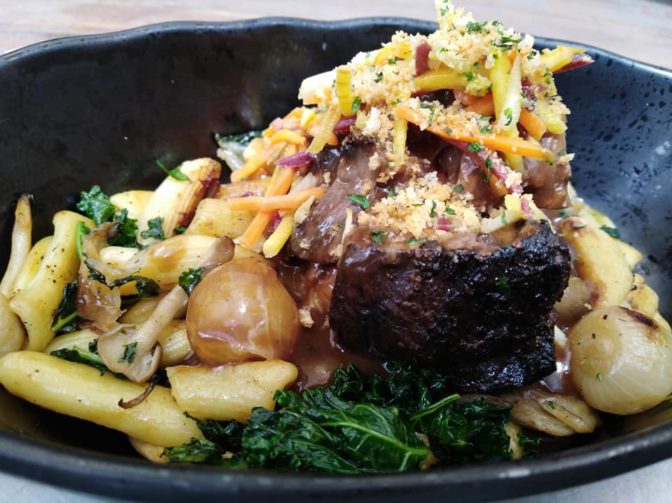 Second on our list was the Smoked Kaduu Ribs entree. This dish came with a slight challenge as the cabbage slaw accompaniment was not a desired side for one of my crew members. I am pleased to tell you that this slaw side was easily exchanged for the roasted vegetable potato mash. These sticky pork ribs were topped with an accent coating that supplied the fall off the bone ribs with a spicy kick. The roasted vegetable potato mash proved to be the perfect substitute for the slaw. I mean, who doesn't love mashed potatoes? The blueberry corn muffin delivered some very intricate flavors. As your taste buds recognized the slight hint of blueberry infused with a kick of spice, the texture reminded your mind that you were eating cornbread. At a price point of 16.99 Batuu credits ($16.99) overall this eclectic entree was also a "win" for us.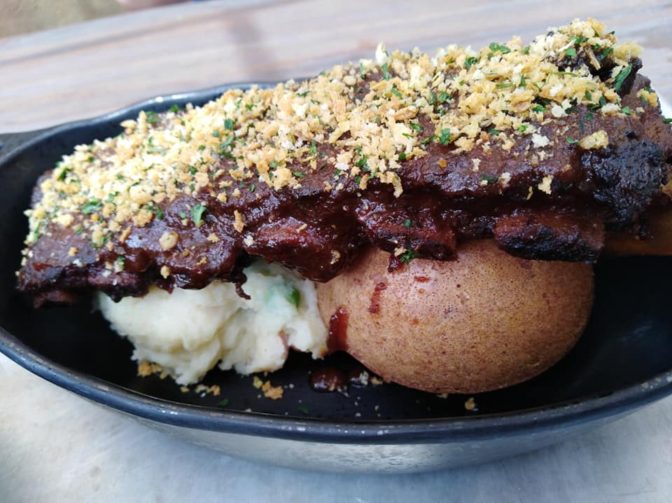 The third and final of our entrees was what Chef Tuggs has named the Felucian Garden Spread. This dish caters to the vegetarians in your crew. The plant based Kefta is generously seasoned, shaped into what resembles "meatballs" and served atop herb hummus and paired with chilled tomato cucumber relish and warm pita bread triangles. My vegetarian crew member delivered high compliments on the Kefta. In fact, it was difficult to even tell this was a meatless entree. The herb hummus left a very "green" plant after taste and proved to be the least favorite part of the entree. The tomato cucumber relish was light and delicious and the warm pita triangles……well, it's warm pita….what's not to love? At 12.99 Batuu credits ($12.99) the Felucian Garden Spread is not only a delicious vegetarian option; it's also a great value.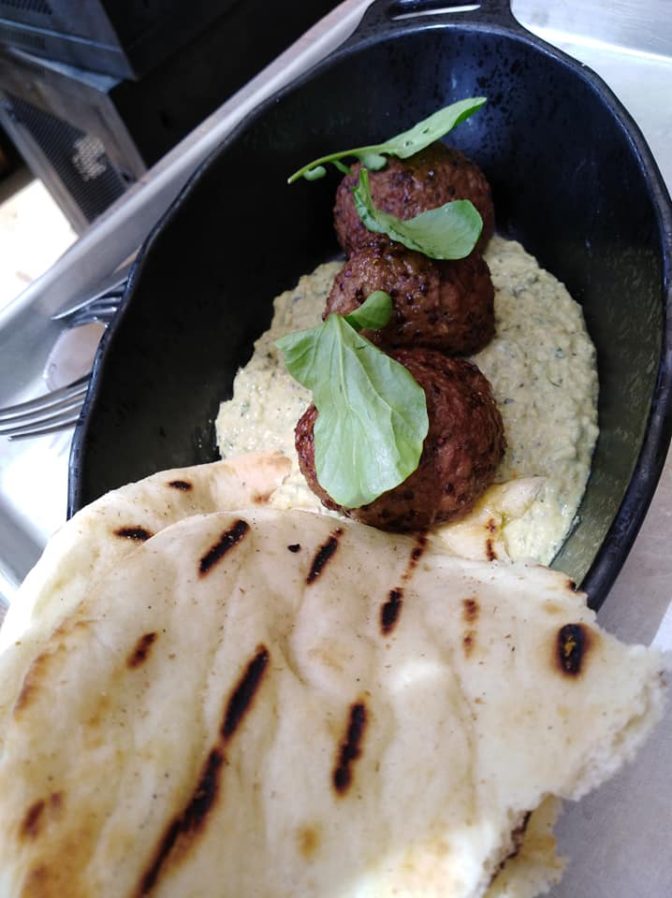 I'm happy to conclude that my crew walked away from Chef Tuggs table not only wonderfully satisfied but, also, eagerly looking forward to the next time our journey lands us at Docking Bay 7 Food and Cargo.
Have you eaten at Docking Bay 7 Food and Cargo? Do you have a favorite menu item? Share it with me below or on Facebook.