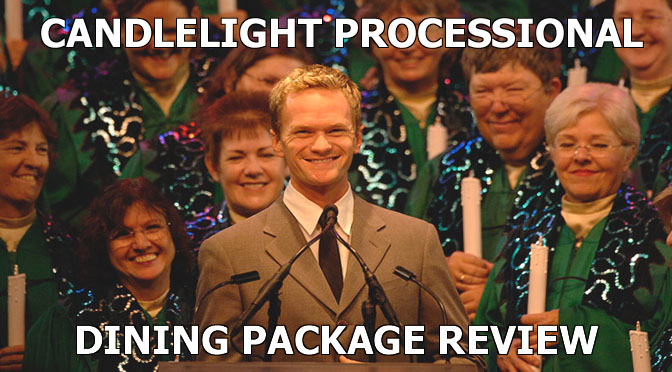 Last year, my family and I attended a Candlelight Processional show featuring Neil Patrick Harris. We were able to secure a dining package which meant we got a delicious lunch and first-available seating for the show. I have all the details plus a review of our experience.
Candlelight Processional is an amazing retelling of the Nativity story featuring a choir, symphony, and celebrity narrator. It takes place three times per evening during the Christmas season at the America Gardens Theater in Epcot's America pavilion as part of Epcot's International Festival of Holidays. See the list of celebrity narrators for 2019.
I purchased the dining package which guaranteed my party the opportunity to be seated first. You do not need a dining package to see the show! The show is free and included with admission to Epcot. There is a stand-by line you can enter and be seated after guests with a dining package. You also don't have to be in the theater to see or hear the show.
The time of your dining reservation will determine which show you see. You will see the show time you are assigned before you make the dining reservation, which is very helpful when planning the rest of your day. We had a 2:00 reservation for San Angel Inn Restaurante so we had seating for the 5:00 show. There are several Epcot-area restaurants that participate:
Ale & Compass (includes breakfast)
Biergarten
Chefs de France
Coral Reef
Garden Grill (includes breakfast)
La Hacienda de San Angel
Nine Dragons
Marrakesh
Rose & Crown
San Angel Inn
Spice Road
Teppan Edo
Tokyo Dining
Trattoria al Forno (includes breakfast)
Tutto Italia
Via Napoli
Reservations for the dining package are very popular and sell out quickly. They usually go on sale in July so if you are interested in a package and haven't gotten it yet, do not delay! San Angel Inn was not my first choice, but knowing how popular Neil Patrick Harris is I booked it anyway knowing this would secure us a seat for the show. The stand-by line to see him usually starts several hours before the first show. We were not on the dining plan so we paid out of pocket, but if you do have the dining plan it takes 2 credits.
We arrived at San Angel Inn shortly before our reservation. We had never been inside the pyramid so we spent some time looking at the trinkets for sale and meeting Donald.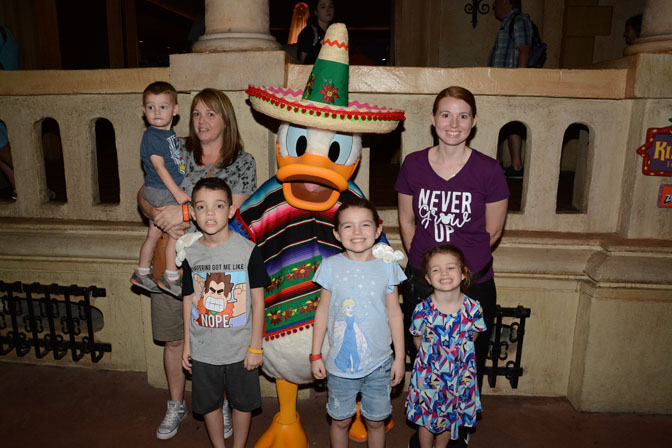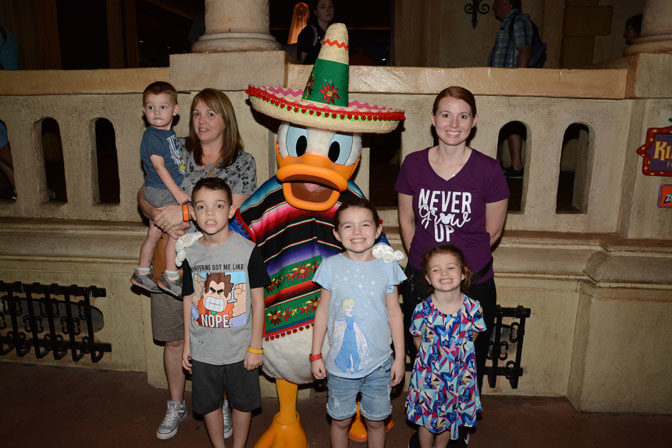 Next, we were called and taken to our seats. My first impressions of the restaurant were "Wow, this is really dark!" and "Wow, this is really loud!" The volcano and water made it difficult to hear each other, and the lack of sufficient lighting made it almost impossible to see each other. There were lights on the table which made it intimate, but it was still a bit dark for my preference.
Since we were on the dining package, one of the first things our server did was give us the passes for the show. We were told to hold on to those because they were what gave us access to seating. She also took our drink and food order. All dining packages include an appetizer, entree, and dessert (or buffet) per person. The food was very authentic, which my kids are not used to. Thankfully, they still have the standard macaroni and cheese and chicken tenders for the kids to munch on. The adults all had something different, but my husband was the only one who raved about his meal. The rest of us enjoyed our food, but probably wouldn't eat there again simply because we aren't used to authentic Mexican.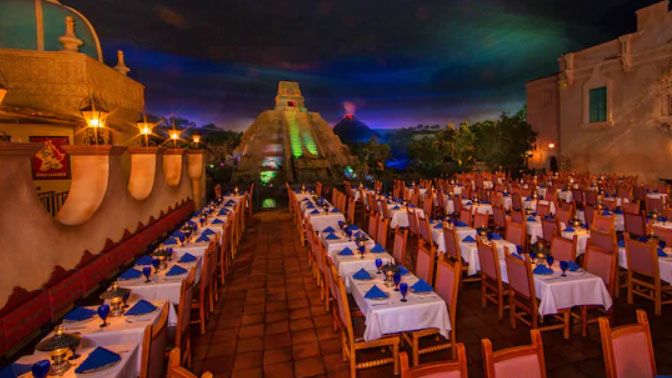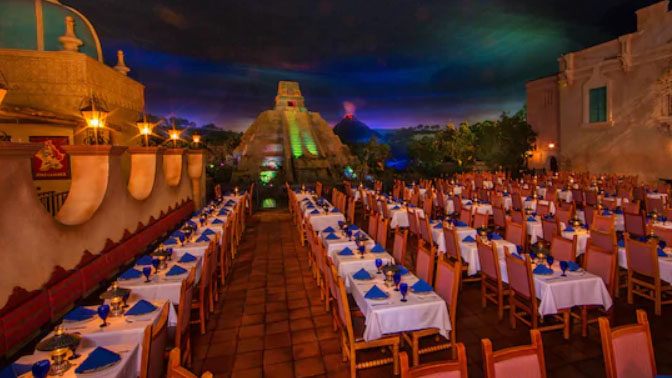 After we ate, we decided to ride Gran Fiesta Tour, which we had never done before. It was a nice few minutes to continue letting our food settle and enjoy the air conditioning. It is located inside the pyramid right next to the restaurant, which was very convenient.
We were done by about 3:00 so we decided to check out the other countries between Mexico and America before lining up for the show. When we made our way to the America pavilion, I instantly panicked looking at the lines for both standby and dining package guests. They looked so long, and I feared we may not get a seat! Thankfully, the dining package line moved fairly quickly once they got moving. We were able to get a spot in the middle about halfway back.
About 10-15 minutes before the show started, it started pouring rain! There is only protection from the elements up at the front of the theater by the stage. Thankfully we had ponchos, but we were still pretty miserable. This made me extremely grateful I packed ponchos! Seriously don't go to Disney without them!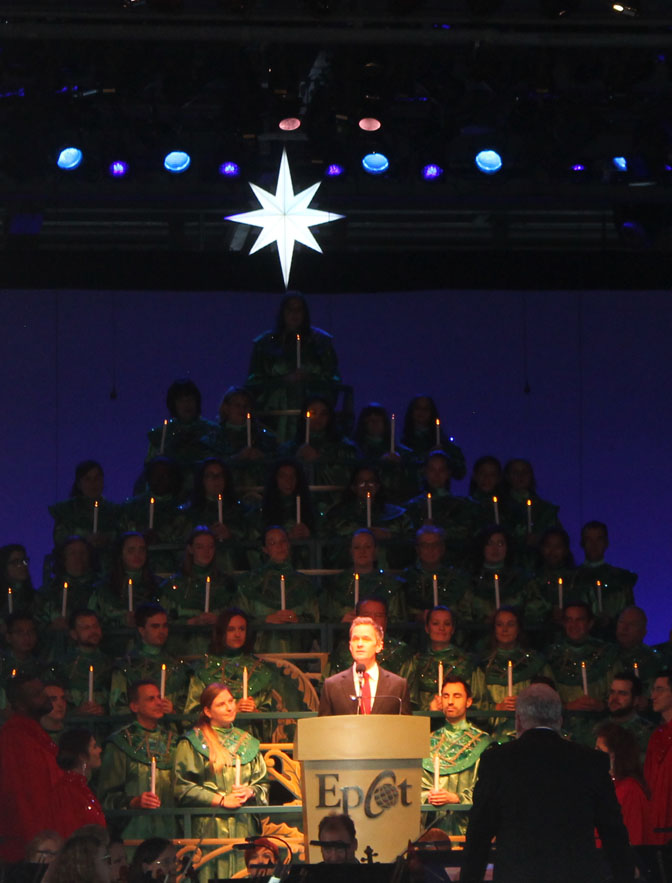 Finally, the show began! The choir and symphony were absolutely beautiful. The Nativity story itself is moving, and Neil Patrick Harris did a fantastic job narrating. I know a lot of parents worry about if their kids will enjoy the show or behave. My kids were fine sitting through the entire 45-minute show because they are used to sitting in church every week. Although the rain let up about halfway through, everything was still pretty wet so I think they just weren't in the mood to get up and move around which certainly helped.
Overall, I was very pleased with our Candlelight Processional experience. The dining package put my mind at ease knowing we would have a seat for the surely-packed show. It is a lovely experience, and even the rain did not spoil our fun. I would absolutely do this again – in fact, I tried to talk my husband into going again this year to see Gary Sinise!
What questions do you have about Candelight Processional or the dining package? Are you planning to see it this year?
-Monica S.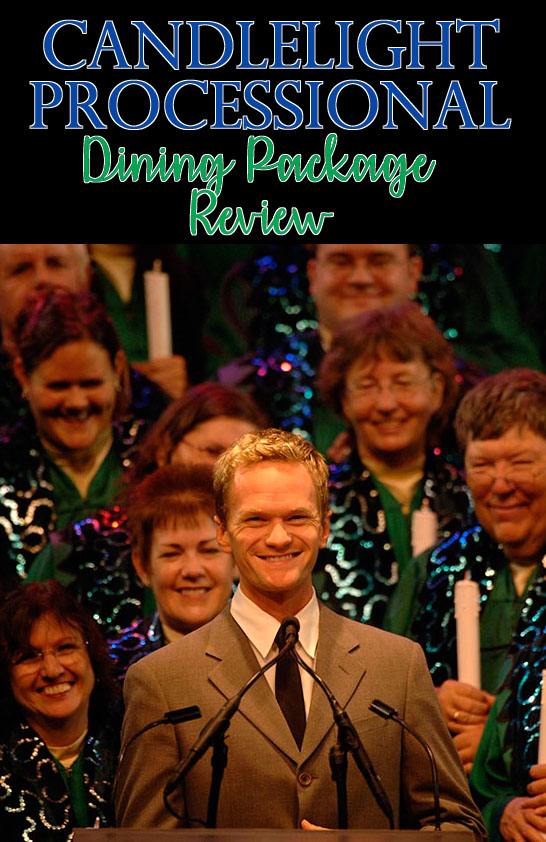 Are you planning a vacation? Reach out to our trusted travel agency sponsor Authorized Disney Vacation Planner
Mouse Class Travel
!