Yesterday we reported that a favorite EPCOT table service would open this weekend. However, according to My Disney Experience, this restaurant's opening may be delayed. Read what we know so far…
Which is your favorite EPCOT restaurant? We have several, but one of the absolute best table service restaurants shows a re-opening date on My Disney Experience! However, we've seen a change in this date from yesterday.
Increased EPCOT Park Hours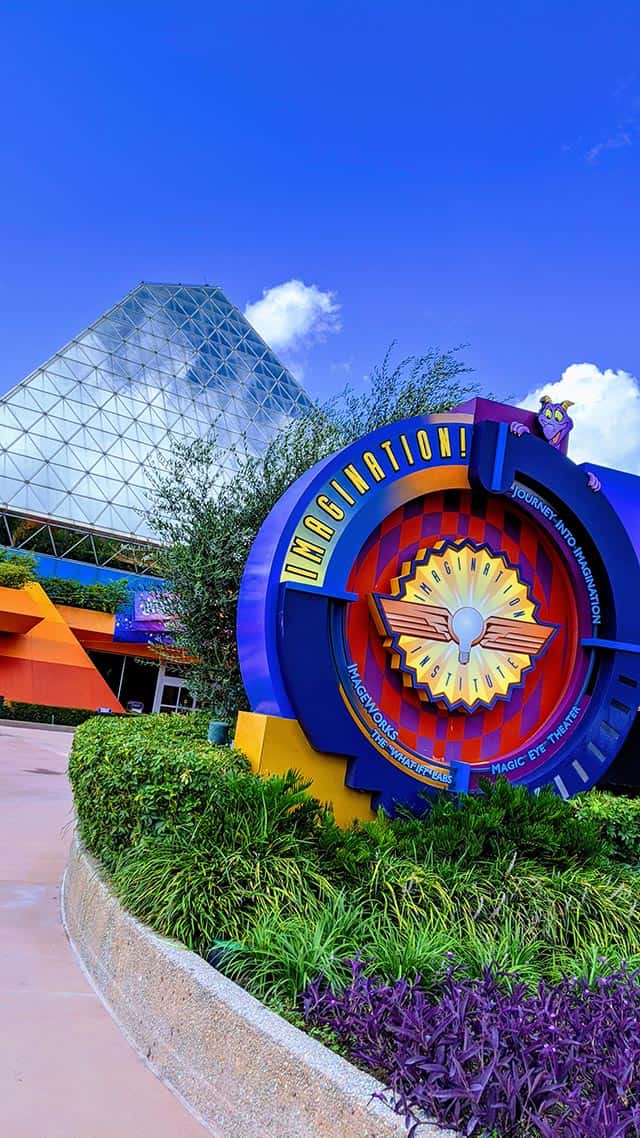 We visited Disney World opening week and the theme parks were virtually empty. While we enjoyed the low crowds, it was also an eerie feeling knowing COVID-19 was the reason. However, when I visited on Labor Day weekend, crowds had increased significantly.
To address this increase in crowds, Disney is adding park hours. We recently reported increased hours in November and December.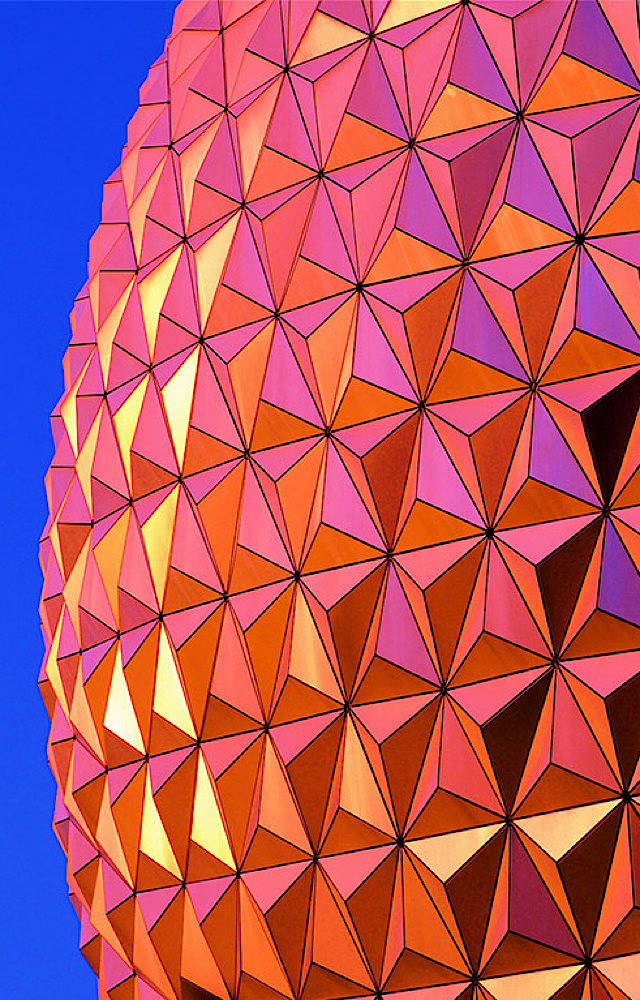 TO SEE ALL UPDATED PARK HOURS AND OPEN RESTAURANT MENUS, GO TO CHARACTER LOCATOR!
My favorite time to casually stroll "around the world" is after dark. EPCOT has such a different feel with the pavilions lit up. Current EPCOT hours are 11:00am to 7:00pm which takes away walking around after sunset.
However, from September 25 to 27, guests can again stroll around after dark with park hours extended from 11:00am to 9:00pm. To see how other park hours have been extended this weekend, check our recent article here.
Open EPCOT Table Service Restaurants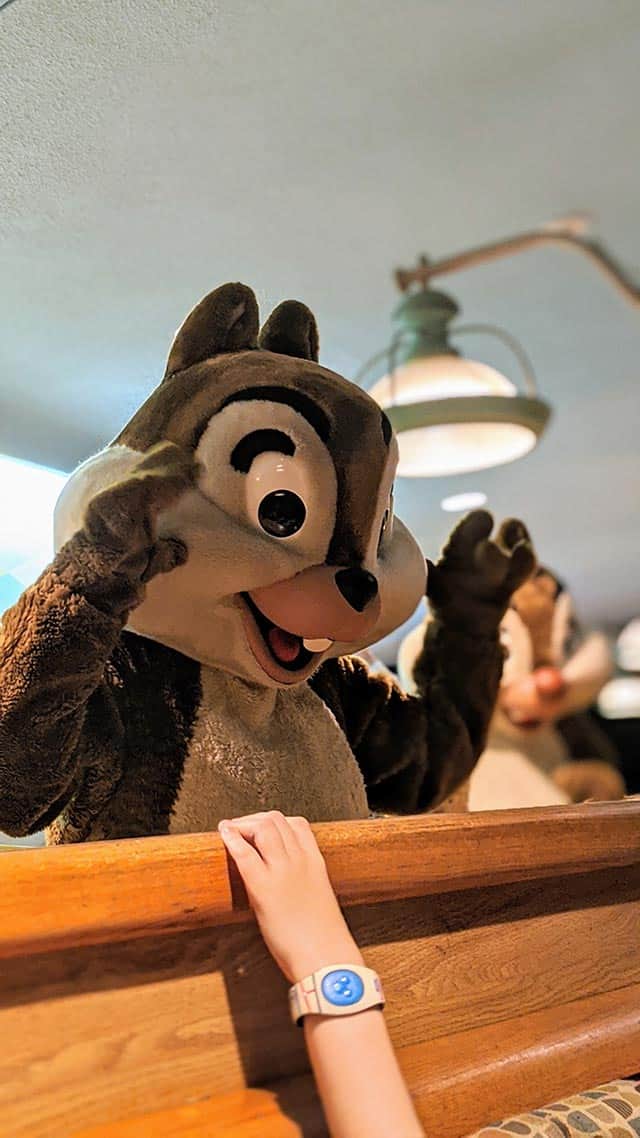 We love eating at the Food and Wine booths in EPCOT's World Showcase. Check out the latest Food and Wine menus here.
According to Disney's website, the following EPCOT table service restaurants are currently open:
Biergarten – formerly a buffet, now served family style,
Coral Reef – check out the full review here,
Garden Grill – also served family style, take a look at a modified character experience,
La Hacienda de San Angel – dinner only, lunch is quick service,
Le Cellier,
Rose and Crown,
San Angel Inn,
Spice Road Table,
Tuttle Italia Ristorante, dinner only,
and Via Napoli.
Previous Date for Re-Opening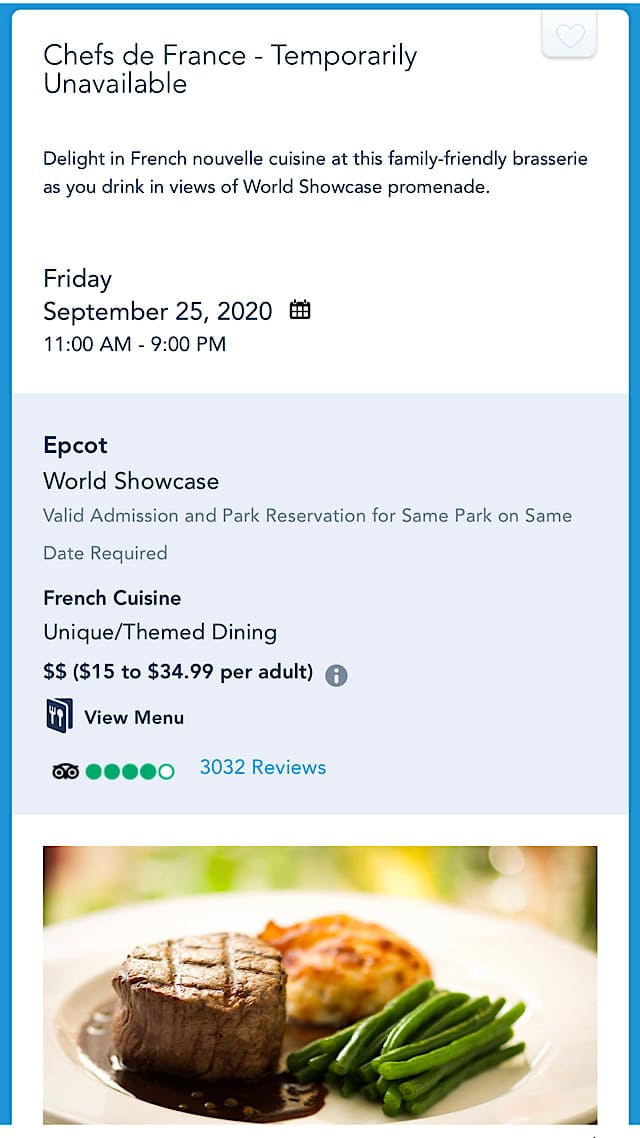 If you take a look at the cuisines above, there is one distinct cuisine missing, French. We recently reported that the Executive Check at EPCOT's France was retiring after many years of Disney service.
Yesterday, My Disney Experience showed Chefs de France with availability beginning September 25th. We were so excited to see and share this information, however, today that's changed.
New Re-Opening Date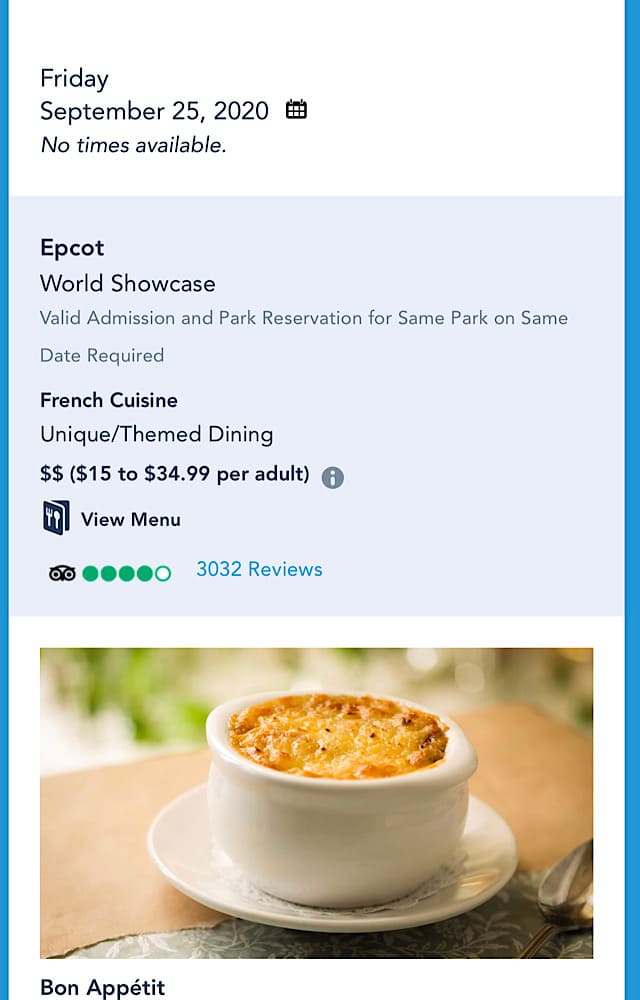 Scrolling through each day in My Disney Experience this evening, I discovered that September 25 now says no availability. Not only that, but there are no hours showing for the entire month of September.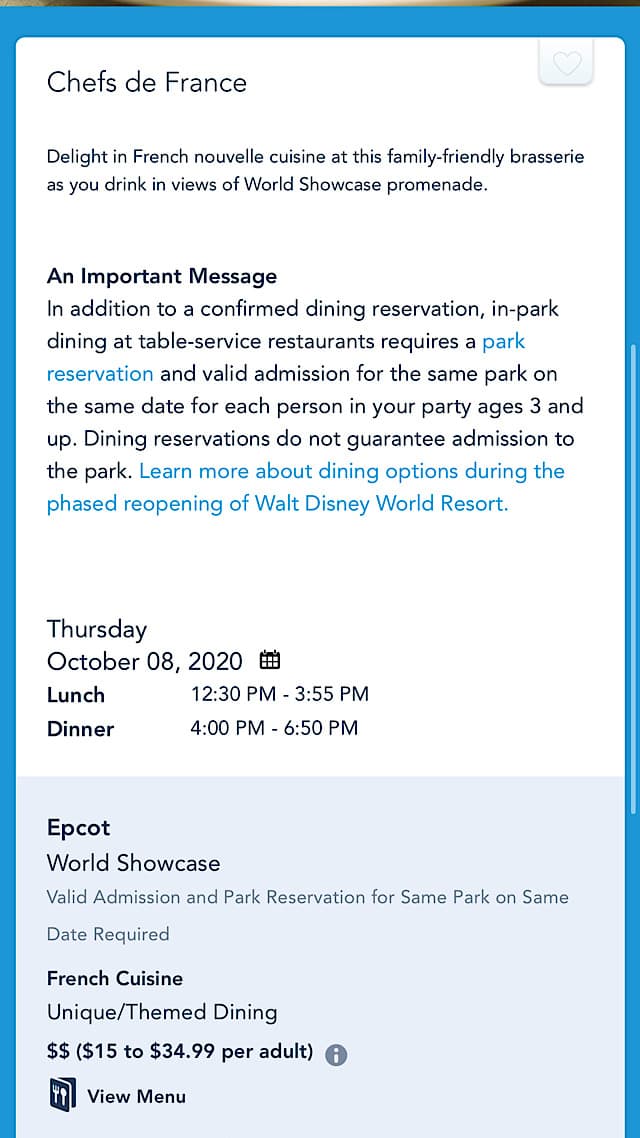 It is with cautious optimism that we share My Disney Experience is now showing availability starting on October 8. We'll be at Disney World at the end of October, and really want to dine here again so hopefully this is a minor glitch rather than a sign of future delays.
What is your favorite EPCOT table service restaurant? Please share your thoughts with us on Facebook. You can also join our KtP Crew and continue the discussion there!