Howdy partner! It's time for the next movie in the Pixar Fest Celebration! Read on for the next movie and snack in the line up.
Pixar Fest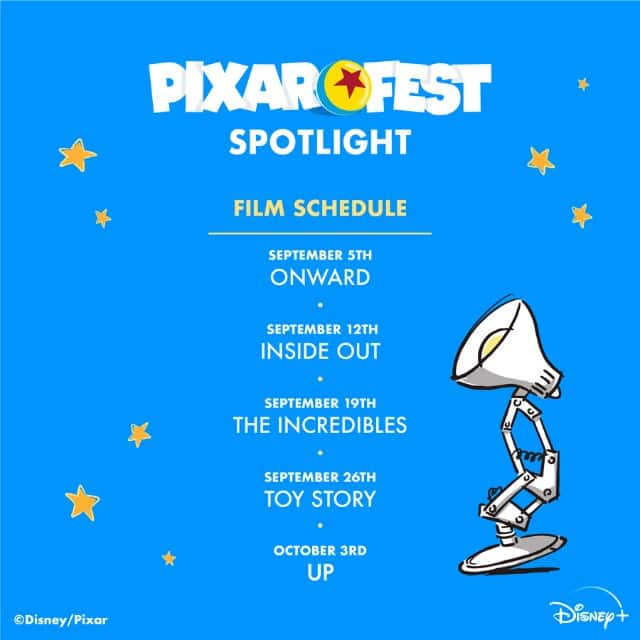 Pixar Fest is a month long celebration with watchalongs, new merchandise, and fun recipes to enjoy while watching the movie.
EACH WEEK THERE IS A DIFFERENT PIXAR MOVIE AND RECIPE FOR A SNACK TO ENJOY ALONG WITH YOUR MOVIE.
We will be sending out these recipes for you to enjoy each Friday during Pixar Fest. Be sure to check back to get each recipe!
Next week is the last week of the month long Pixar Fest celebration. Check out all the details about Pixar Fest and all of the latest things Pixar HERE!
We have shared three recipes and movies with you:
Toy Story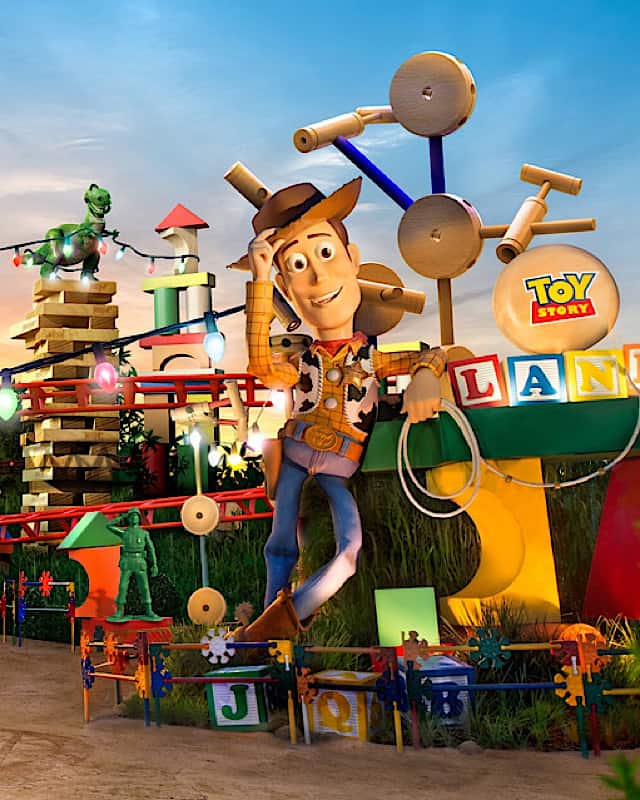 Toy Story is a 1995 Disney Pixar flim. This movie can be streamed on Disney+. Disney+'s description of the movie is:
Set in a world where toys have a life of their own – when people are not present- Toy Story takes moviegoers on a fantastic fun-filled journey, viewed mostly through the eyes of two rival toys: Woody (Tom Hanks), a pull-string talking cowboy, and Buzz Lightyear (Tim Allen), a heroic space action-figure. The comically mismatched duo eventually learn to put aside their differences when they're separated from their owner, Andy, and find themselves on a hilarious adventure-filled mission…where the only way they can survive is to form an uneasy alliance.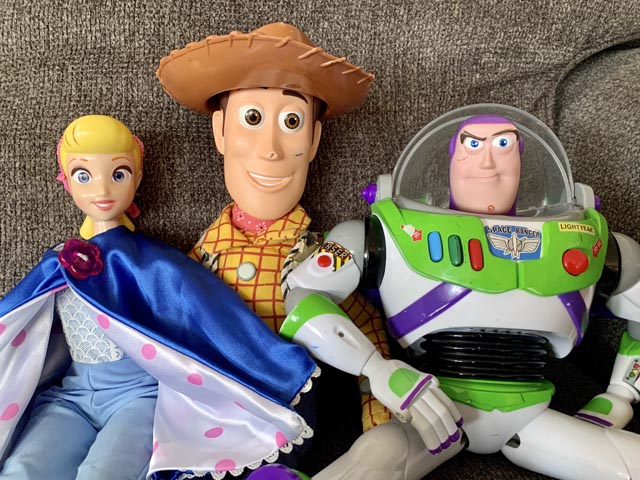 Thinking of making this week a family movie night? Check out Monica's Toy Story themed movie night HERE.
Don't want to watch the first Toy Story Movie? Pick any of them, you have FOUR to choose from!
Toy Story Themed Snack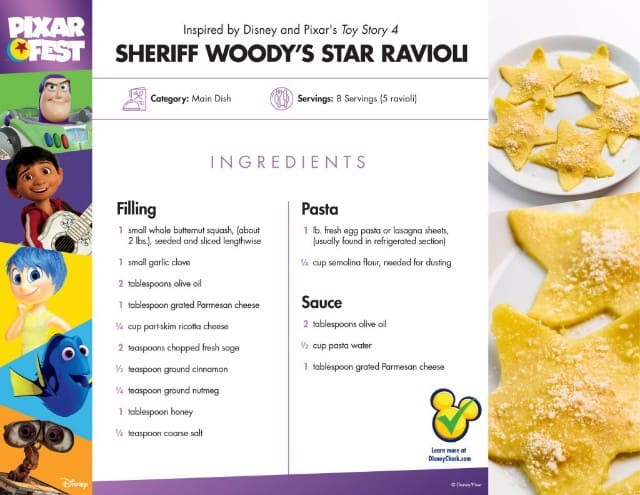 Sheriff Woody's Star Ravioli is the Toy Story themed snack. This is also a Mickey Check meal. Here is what you will need for this recipe:
Filling
1 small whole butternut squash, (about 2 lbs) seeded and sliced lengthwise
1 small garlic clove
2 tablespoons olive oil
1 tablespoon grated Parmesan cheese
1/4 cup part-skim ricotta cheese
2 teaspoons chopped fresh sage
1/2 teaspoon ground cinnamon
1/4 teaspoon ground nutmeg
1 tablespoon honey
1/4 teaspoon coarse salt
Pasta
1 lb fresh egg pasta or lasagna sheets (usually found in refrigerated section)
1/4 cup semolina flour, needed for dusting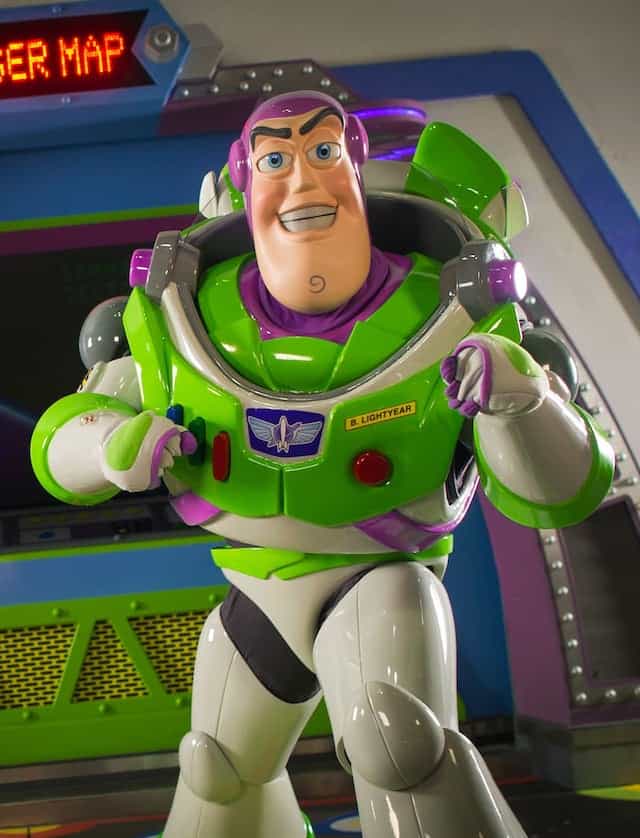 Sauce
2 tablespoons olive oil
1/2 cup pasta water
1 tablespoon grated Parmesan cheese
Additional Items Needed
Sheet pan
Blender
Resealable plastic bag and scissors (or) pastry back with 1/2 inch tip
Saute pan
3-inch star-shaped cookie cutter
Directions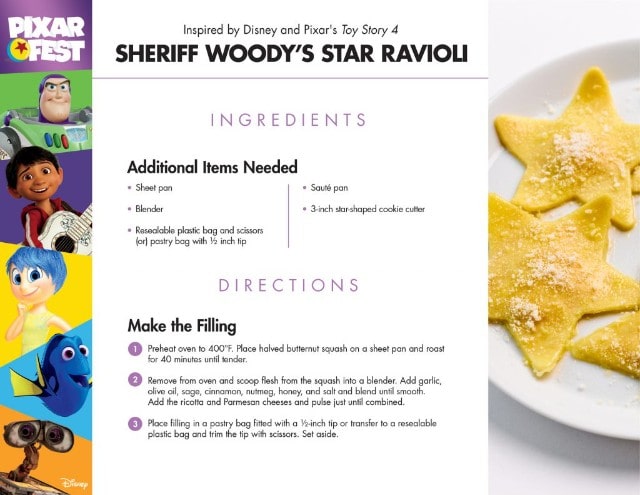 Make the Filling
Preheat oven to 400 degrees F. Place halved butternut squash on a sheet pan and roast for 40 minutes until tender.
Remove from oven and scoop flesh from the squash into a blender. Add garlic, olive oil, sage, cinnamon, nutmeg, honey, and salt and blend until smooth. Add the ricotta and Parmesan cheeses and pulse just until combined.
Place the filling in a pastry bag fitted with a 1/2-inch tip or transfer to a resealable plastic bag and trim the tip with scissors. Set aside.
Make the Ravioli
Dust a work surface with a light coating of semolina flour and lay the fresh pasta sheets down, one sheet at a time.
Place 2 teaspoons of filling 2 inches apart over half of pasta sheet. Brush around fulling with water to moisten. Fold sheet over; press down to seal. Cut into raviolis with a star-shaped cookie cutter. Kids can help with this part. Repeat with the remaining pasta sheets, until 40 raviolis are formed.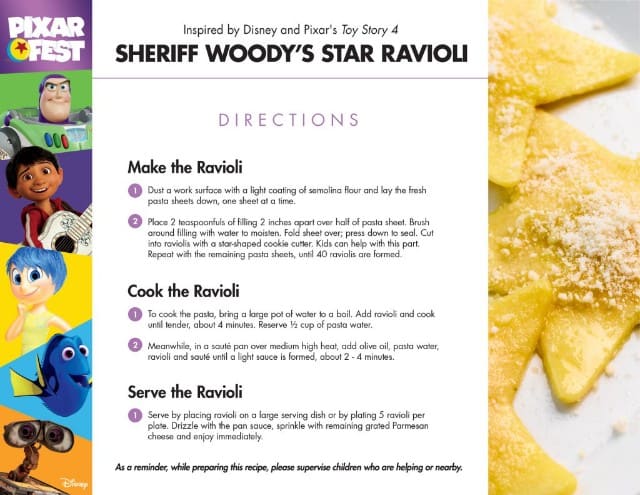 Cook the Ravioli
To cook the pasta, bring a large pot of water to a boil. Add ravioli and cook until tender, about 4 minutes. Reserve 1/2 cup of pasta water.
Meanwhile, in a saute pan over medium high hear, add olive oil, pasta water, ravioli and saute until a light sauce is formed, about 2 – 4 minutes.
Serve the Ravioli
Serve by placing ravioli on a large serving dish or by plating 5 ravioli per plate. Drizzle with pan sauce, sprinkle with remaining grated Parmesan cheese and enjoy immediately.
Disney also includes this disclaimer:
AS A REMINDER, WHILE PREPARING THIS RECIPE, PLEASE SUPERVISE CHILDREN WHO ARE HELPING OR NEARBY.
Will you be making these Sheriff Woody ravioli treats and watching any of the Toy Story movies this weekend? Let us know on the Kenny the Pirate Facebook page. Don't forget to join the KtP crew page too!
-Heather Alosa