Love it, hate it, or fall somewhere in the middle, ShopDisney continues the Merch Passes for upcoming limited merchandise. This includes the monthly Minnie Main Attraction sets. Check out the date to sign up for the October Merch Pass here.
The 2020 Minnie Mouse Main Attraction Merchandise is wildly popular! To make these items even harder to purchase, Merchandise Passes are spotty at best. Hopefully, we can score a few Haunted Mansion items in October!
Merchandise Pass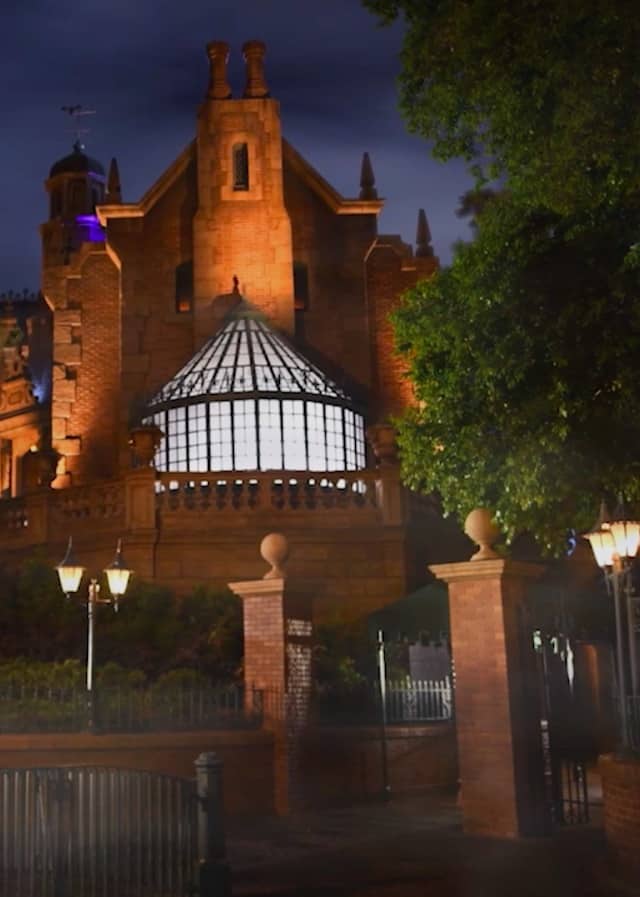 To purchase items from this collection, register for a chance to purchase these elusive items. This lottery system is Disney's attempt at combating shopping bots. However, many shoppers are left disappointed.
MerchPass Information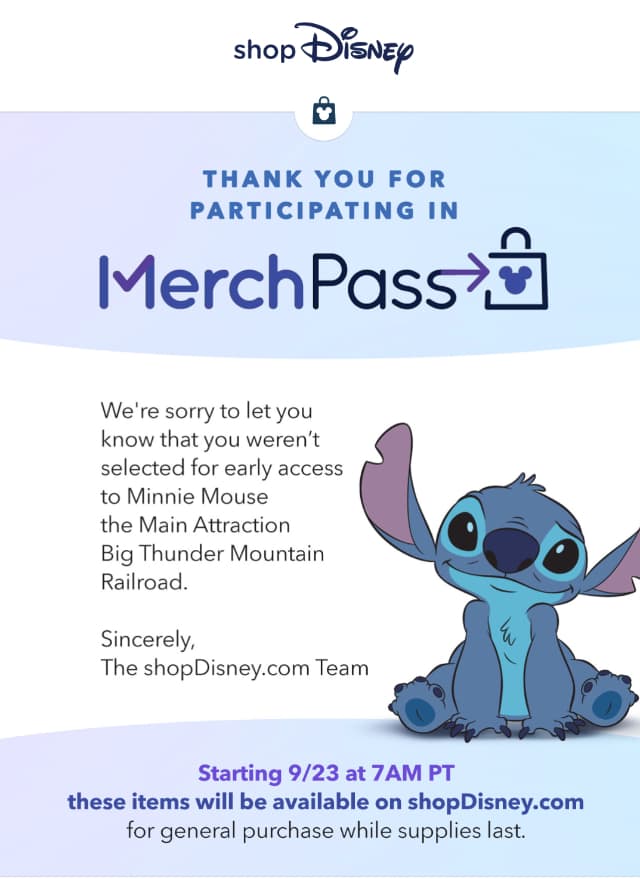 Guests that weren't selected for Big Thunder Mountain Railroad earlier this week, received a rejection letter email. The email states merchandise will be available at a later date on ShopDisney. However, I tried to purchase the ears, and they sold out almost immediately.
MerchPass Need To Know:
Guests enter for a chance to purchase items. This is not a guarantee.
Remember, if. you're selected, you don't have to buy items.
Also, only one entry per drawing is allowed.
You must have an account with shopdisney.com.
Finally, selected guests have a limited time to purchase reserved items.
MerchPass Instructions
First, visit the MerchPass entry page (shopDisney.com/merchpass)
Second, Log in to your Disney Account on shopDisney.com.
Third, select the drawings for item(s) you're interested in purchasing.
Click "Submit" to enter the MerchPass event. Shoppers see a confirmation page which shows that you've correctly registered for products.
Finally, on the day of the drawing, look for an email from shopDisney MerchPass – Early Access Drawing, [email protected] (Also, check your spam folder.)
In addition, the MerchPass is difficult to locate on shopDisney's website. For easier access, use the link in step one above.
Also, for full MerchPass Instructions and tips, read our recent article here.
New Merch Pass Date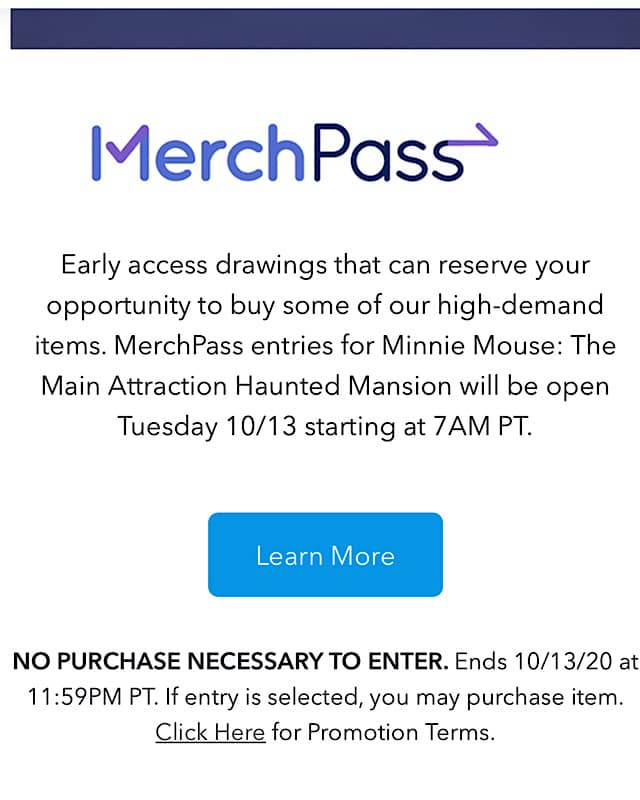 Recently, Disney World theme parks and ShopDisney is offering terrific sales! For example, Passholders save 30% off on ShopDisney for most merchandise. ShopDisney states that the Haunted Mansion is an online exclusive.
Reserve your Haunted Mansion Minnie Mouse Attraction items on 10/13 at 7:00am PST.
Also, Tuesday mornings are the day set aside for Minnie Main Attraction sets. Good luck shopping!
Which of these sets is your favorite? Are you planning to try for a Haunted Mansion MerchPass? What are your thoughts on ShopDisney's MerchPass? Let us know on Kenny the Pirate's Facebook Page, or join our crew.