It is time for the third movie and snack in the Pixar Fest celebration! We have the next movie and snack right here for you. Check them out below!
Pixar Fest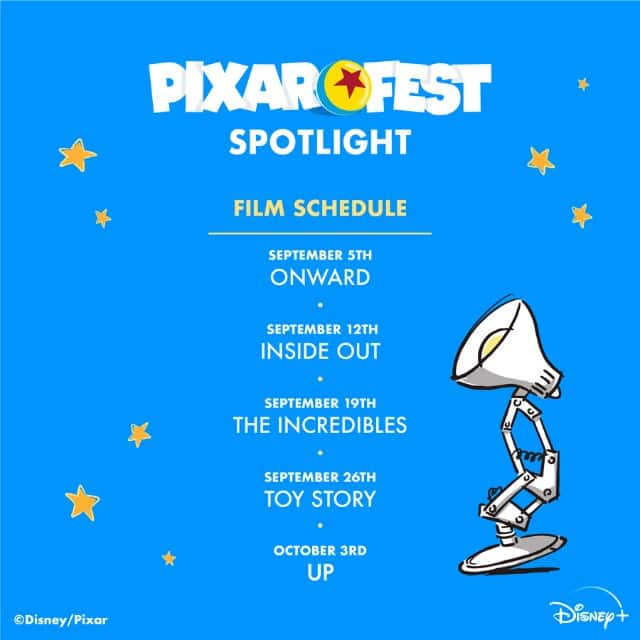 Pixar Fest is a month long celebration with watchalongs, new merchandise, and fun recipes to enjoy while watching the movie.
EACH WEEK THERE IS A DIFFERENT PIXAR MOVIE AND RECIPE FOR A SNACK TO ENJOY ALONG WITH YOUR MOVIE.
We will be sending out these recipes for you to enjoy each Friday afternoon during Pixar Fest. Be sure to check back to get each recipe!
Check out all the details about Pixar Fest and all of the latest things Pixar HERE! Last week, the movie of the week was INSIDE OUT with a Frozen Banana Joy Pop as a sanck. Check out that recipe HERE.
The Incredibles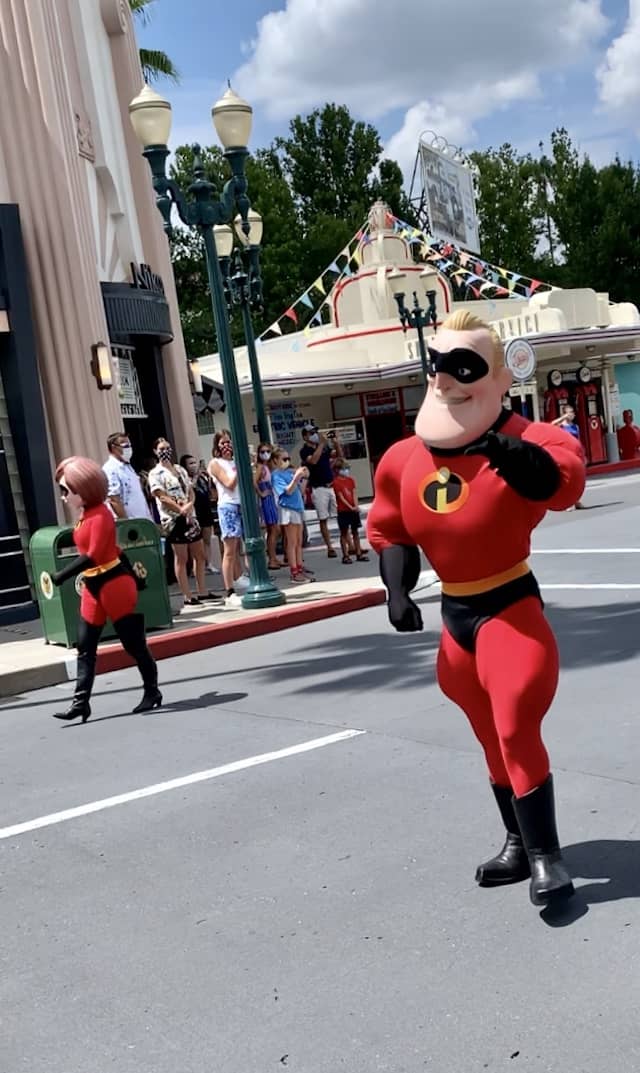 The Incredibles is a 2004 Disney Pixar flim. This movie can be streamed on Disney+. Disney+'s description of the movie is:
From the creative minds behind the Toy Story films and Ratatouille comes this hilarious, action-packed animated adventure about a seemingly ordinary family with an incredible secret. Known to the world as Supers Mr. Incredible and Elastigirl, Bob Parr and his wife Helen were among the world's greatest crime fighters, saving lives and battling evil on a daily basis. Fifteen years later, they have been forced to adopt civilian identities and retreat to the suburbs to live "normal" lives with their three kids, Violet, Dash, Jack-Jack. Itching to get back into action, Bob gets his chance when a mysterious communication summons him to a remote island for a top-secret assignment. He soon discovers that it will take a super family effort to rescue the world from total destruction.
The Incredibles Themed Snack Recipe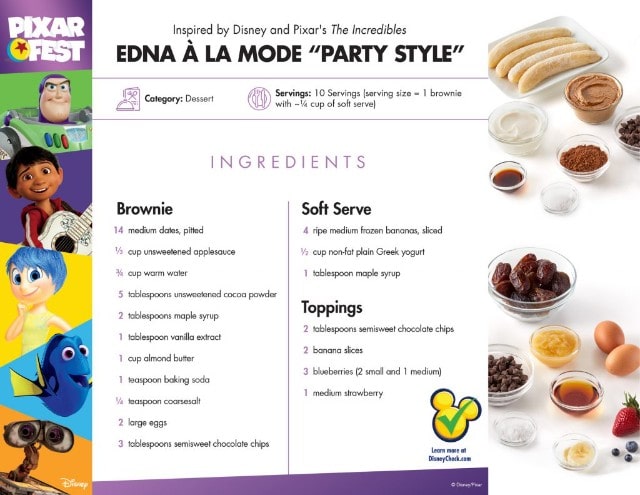 Edna a la Mode "Party Style" is The Incredibles themed snack. This is also a Mickey Check meal. Here is what you will need for this recipe:
Brownie
14 medium dates, pitted
1/3 cup unsweetened applesauce
3\4 cup warm water
5 tablespoons unsweetened cocoa powder
2 tablespoons maple syrup
1 tablespoon vanilla extract
1 cup almond butter
1 teaspoon baking soda
1/4 teaspoon coarse salt
2 large eggs
3 tablespoons semisweet chocolate chips
Soft Serve
4 ripe medium frozen bananas, sliced
1/2 cup non-fat plain Greek yogurt
1 tablespoon maple syrup
Toppings
2 tablespoons semisweet chocolate chips
2 banana slices
3 blueberries (2 small and 1 medium)
1 medium strawberry
Additional Items Needed
Parchment paper
Food processor
Blender (optional)
Large bowl
Toothpick
Cutting board
Small knife
5″ round rimmed plate or shallow bowl
Large platter (about 12″ round)
Directions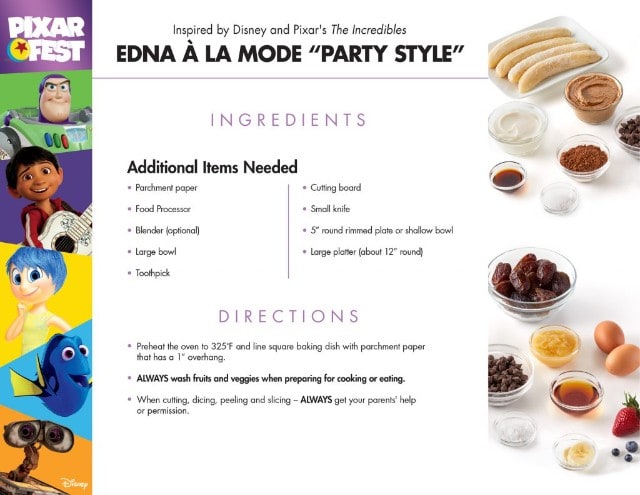 Preheat the oven to 325 degrees F and line square baking dish with parchment paper that has 1″ overhang.
Always wash fruits and veggies when preparing for cooking or eating.
When cutting, dicing, peeling and slicing – Always get your parents' help or permission.
Brownies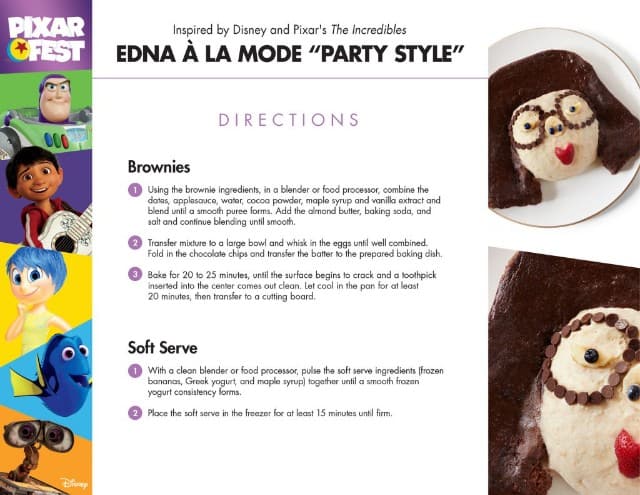 Using the brownie ingredients, in a blender or food processor, combine the dates, applesauce, water, cocoa powder, maple syrup and vanilla extract and blend until smooth puree forms. Add the almond butter, baking soda, and salt and continue blending until smooth.
Transfer mixture to a large bowl and whisk in the eggs until well combined. Fold in the chocolate chips and transfer the batter to the prepared baking dish.
Bake for 20 to 25 minutes, until the surface begins to crack and a toothpick inserted into the center comes out clean. Let cool in the pan for at least 20 minutes, then transfer to a cutting board.
Soft Serve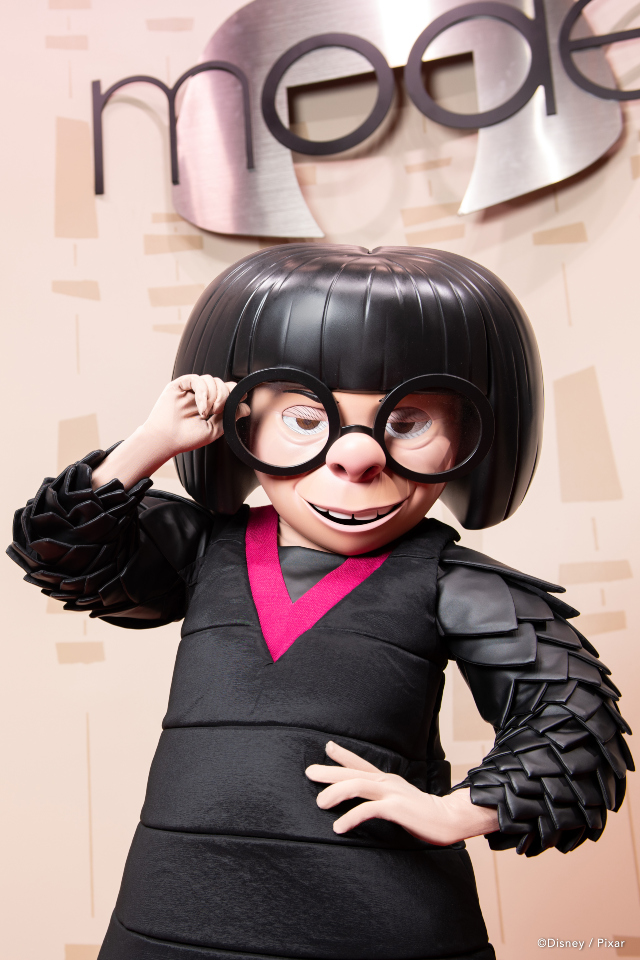 With a clean blender or food processor, pulse the soft serve ingredients (frozen bananas, Greek yogurt, and maple syrup) together until smooth frozen yogurt consistency form.
Place the soft serve in the freezer for at least 15 minutes until firm.
Toppings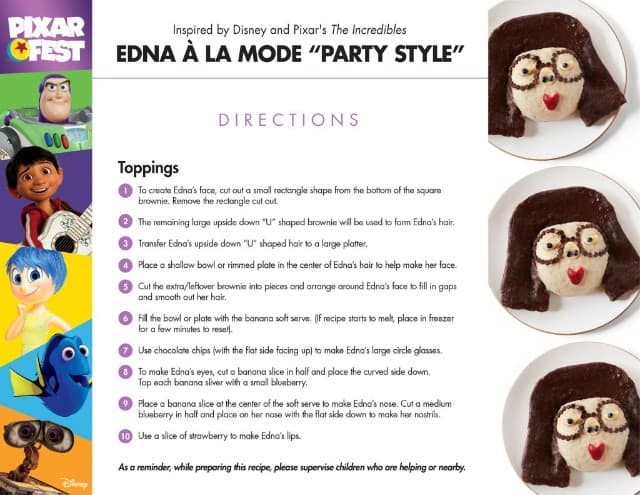 To create Edna's face, cut out a small rectangle shape from the bottom of the square brownie. Remove the rectangle cut out.
The remaining large upside down "U" shaped brownie will be used to form Edna's hair.
Transfer Edna's upside down "U" shaped hair to a large platter.
Place a shallow bowl or rimmed plate in the center of Edna's hair to help make her face.
Cut the extra/leftover brownie into pieces and arrange around Edna's face to fill in gaps and smooth out her hair.
Fill the bowl or plate with the banana soft serve. (If recipe starts to melt, place in freezer for a few minutes to reset).
Use chocolate chops (with flat side facing up) to make Edna's large circle glasses
To make Edna's eyes, cut a banana slice in half and place the curved side down. Top each banana slicer with a small blueberry.
Place a banana slice at the center of the soft serve to make Edna's nose. Cut a medium blueberry in half and place on her nose with the flat side down to make her nostrils.
Use a slice of strawberry to make Edna's lips.
Disney also includes this disclaimer:
AS A REMINDER, WHILE PREPARING THIS RECIPE, PLEASE SUPERVISE CHILDREN WHO ARE HELPING OR NEARBY.
Will you be making these Edna Mode themed treats and watching The Incredibles this weekend? Let us know on the Kenny the Pirate Facebook page. Don't forget to join the KtP crew page too!
-Heather Alosa