Disney is celebrating twenty five years of how Pixar has changed the art of animation! Read on to find out how they are helping us all celebrate this amazing milestone!
Pixar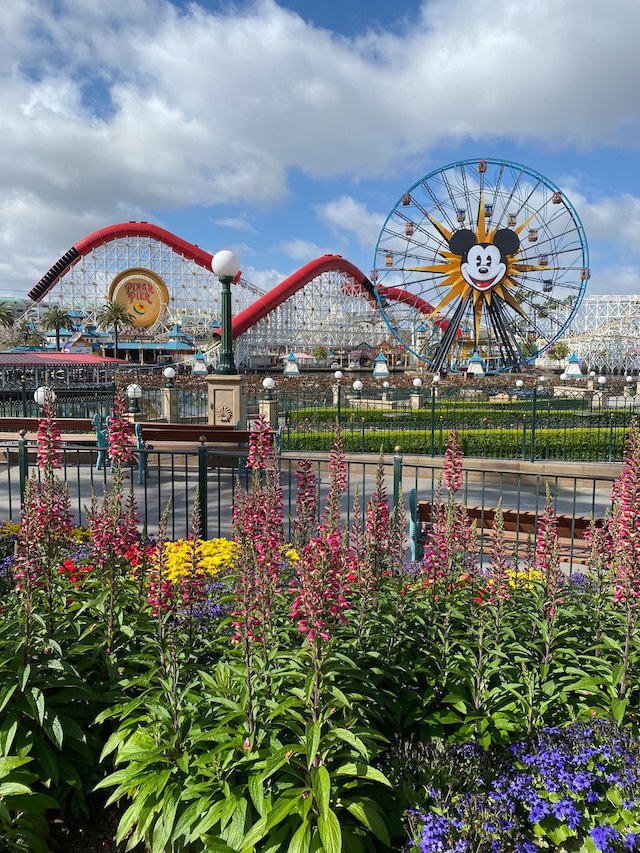 Pixar has changed the way we enjoy animated movies. Disney is celebrating with #Pixarfest.
I had never realized how much goes into creating a Pixar film until I came across a museum exhibit. This museum exhibit goes in depth about the "Science Behind Pixar."
This exhibit was created by Pixar and the Museum of Science in Boston. It has toured both nationally and internationally. Be sure to read HERE for all the details and links to the virtual exhibit.
Pixar Fest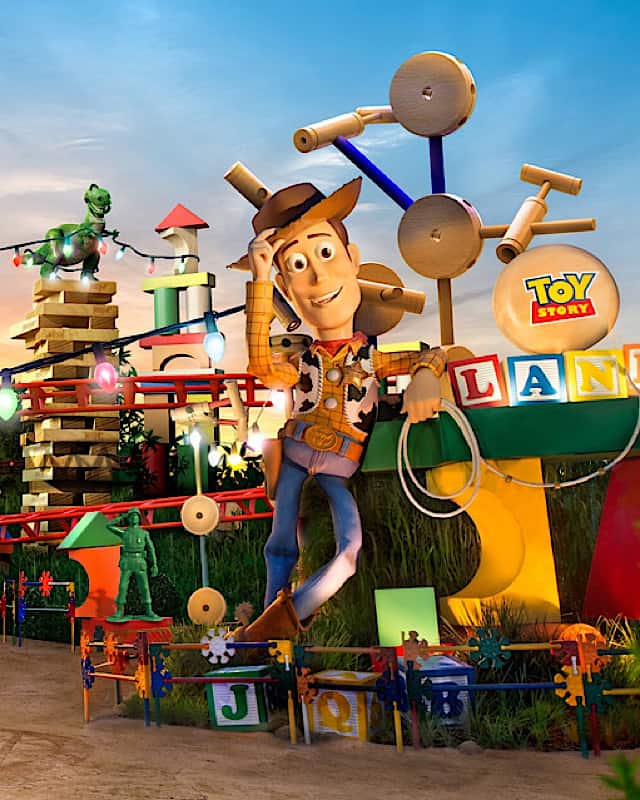 Pixar Fest is a month long celebration with watchalongs, new merchandise, and fun recipes to enjoy while watching the movie.
Each week there is a different Pixar movie and recipe for a snack to enjoy along with your movie.
We will be sending out these recipes for you to enjoy each Friday afternoon during Pixar Fest. Be sure to check back to get each recipe!
Pixar Merchandise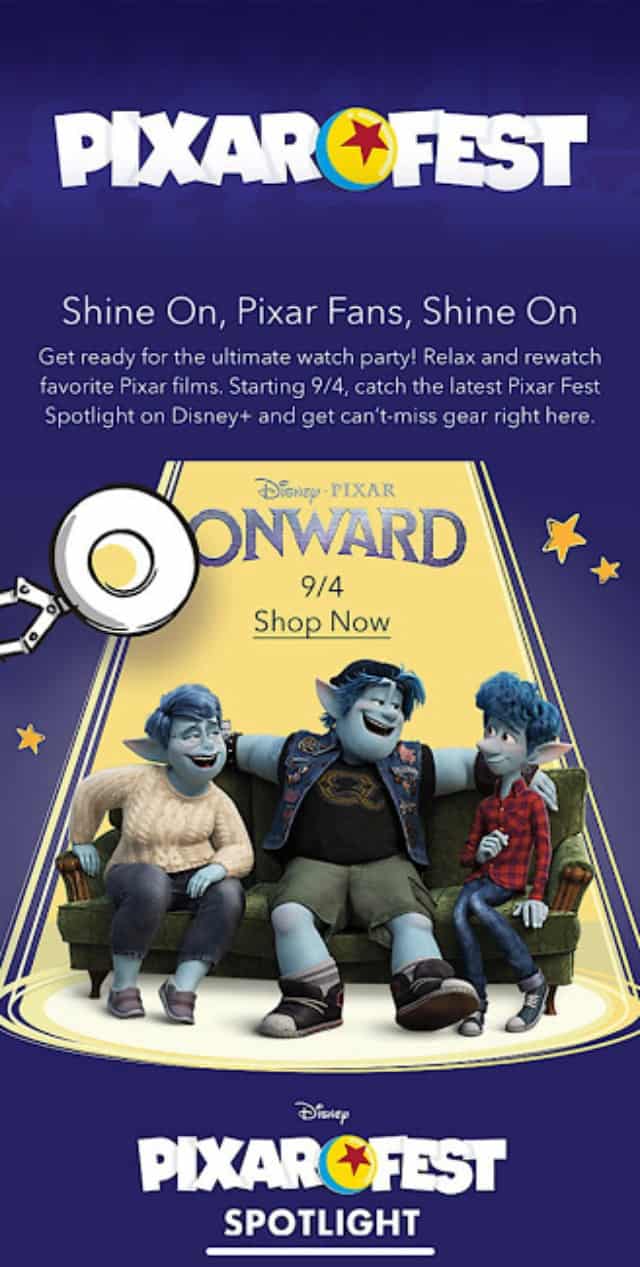 New Pixar merchandise has been released for this fun celebration. These are some must have items for any Pixar fan.
If you visit the shopDisney website you will find merchandise for each featured Pixar film. There will be five movies to enjoy throughout the celebration, so be sure to check out all the Pixar merchandise.
You can find the Pixar Alien Remix Collection on the shopDisney website. These are adorable, and there are so many to choose from.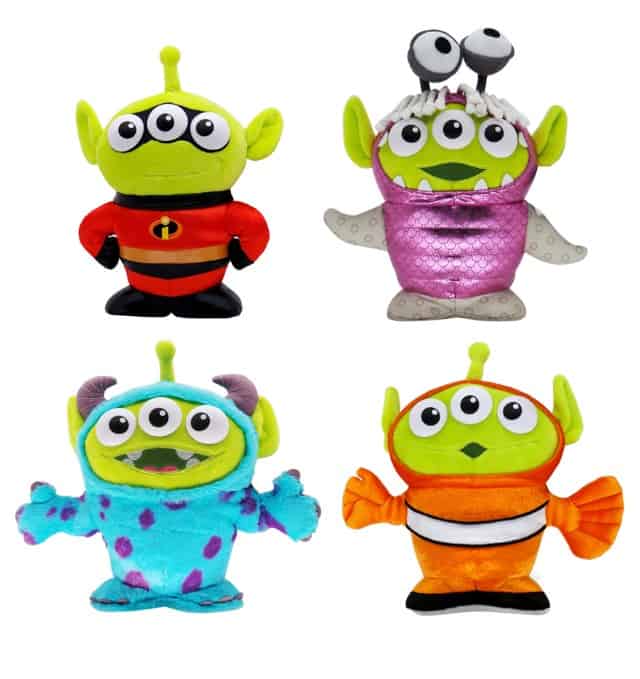 Right now you can find the third series available. There will be a total of six editions to the series.
Be sure to check back on shopDisney weekly for a new pin and plush set. A new set is released each Saturday at 7 AM PT.
Each Alien Plush retails for $14.99. The Alien Pin Collection retails for $9.99. Have you collected any?
Pixar Movie Lineup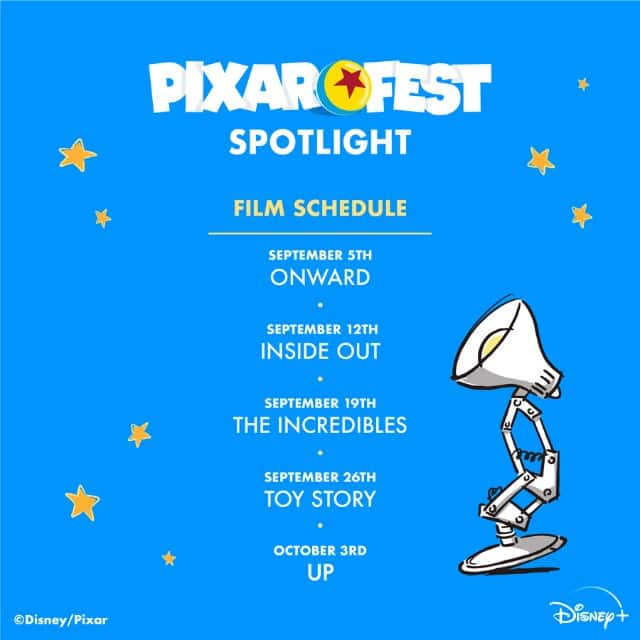 Each Saturday, starting on September 5th, fans around the nation will have a watchalong with some of our favorite Pixar films. Throughout the month a new film will be featured.
Fans can view each film and other favorite Pixar films on Disney+. Be sure to have your popcorn or movie-inspired snack ready to have a great family movie night.
Below you will find the complete movie watchalong schedule:
September 5th ONWARD
September 12th INSIDE OUT
September 19th THE INCREDIBLES
September 26th TOY STORY
October 3rd UP
Disney Movie Nights at Home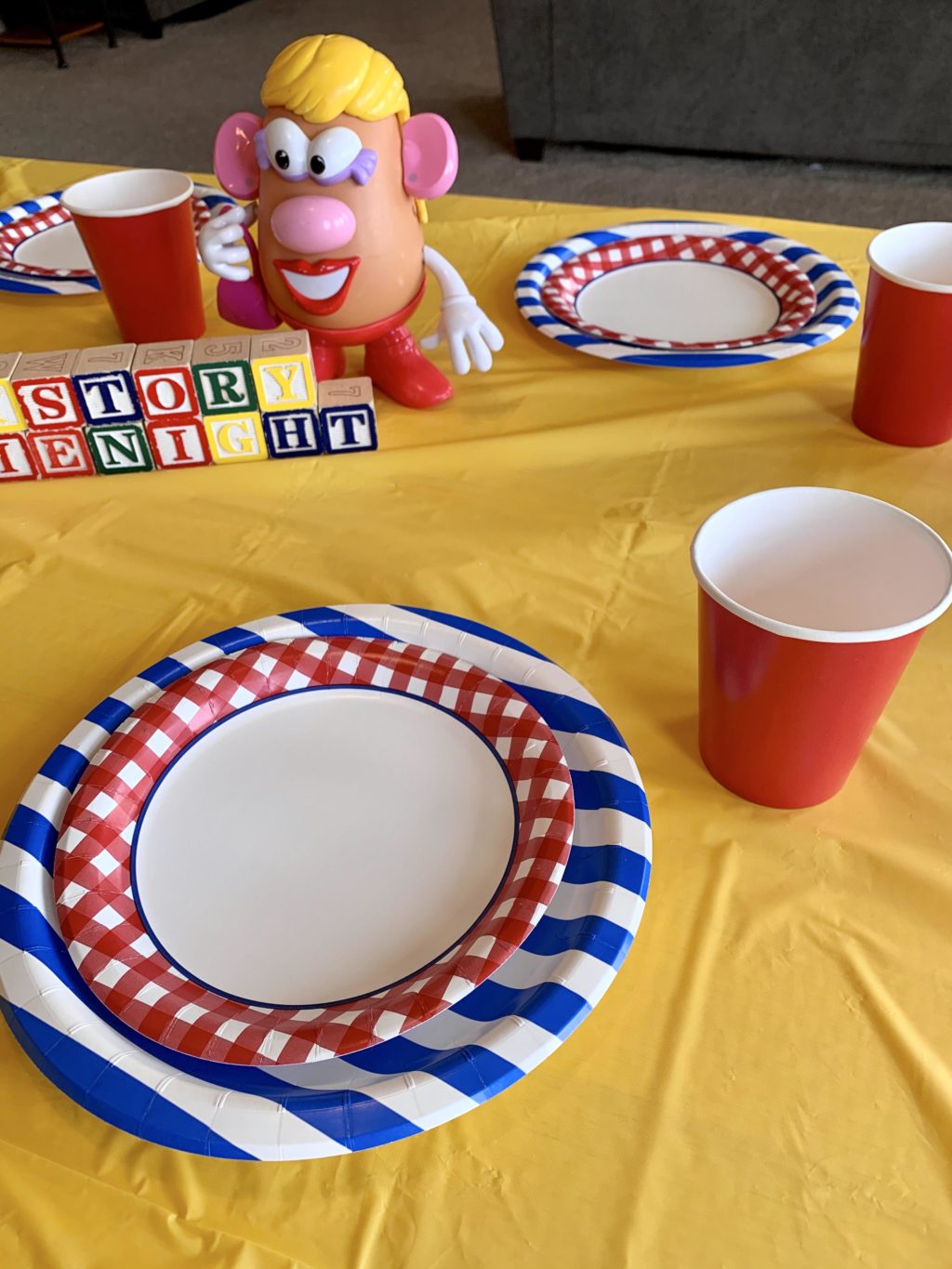 When Walt Disney World was closed due to COVID-19, we here at Kenny the Pirate gave you lots of ideas to help keep the magic alive. We shared crafts, recipes, and themed movie nights!
Some fun themed movie nights we shared were for Toy Story and Finding Nemo. It will definitely be fun to add some of fellow writer, Monica's, Toy Story theming when it's Toy Story's night to shine.
First Movie: Onward
Onward is a Disney Pixar film from 2020. You can now stream this on Disney+. Disney+ describes the movie as:
Two teenage elf brothers Ian and Barley Lightfoot (voices of Tom Holland and Chris Pratt) get an unexpected opportunity to spend one more day with their late dad and embark on an extraordinary quest aboard Barely's epic van Guinevere.
Like any good quest, their journey is filled with magic spells, cryptic maps, impossible obstacles, and unimaginable discoveries. But when the boys' fearless mom Laurel (voice of Julia Louis-Dreyfus) realizes that her sons are missing, she teams up with a part-lion, part-bat, part-scorpion, former warrior -aka The Manticore (voice of Octavia Spencer) – and heads off to find them. Perilous curses aside, this one magical day could mean more than any of them ever dreamed.
This is one of my family's new favorite movies. If you haven't seen it yet, I recommend planning a movie night.
Check out fellow writer, Rebecca's, review of Onward HERE!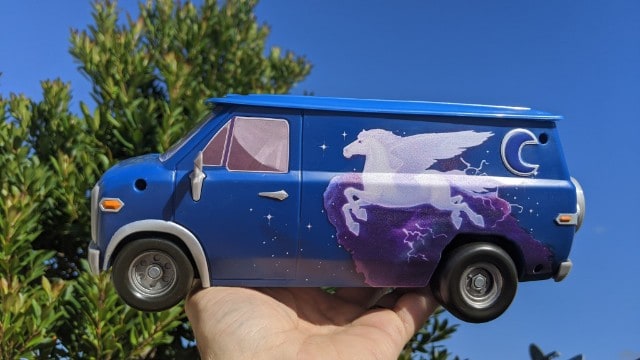 If you have visited Hollywood Studios recently you may have picked up the latest collectible popcorn bucket. What better way to watch ONWARD with a Guinevere themed popcorn bucket! Check out the newest popcorn bucket HERE!
Onward Movie Themed Snack Recipe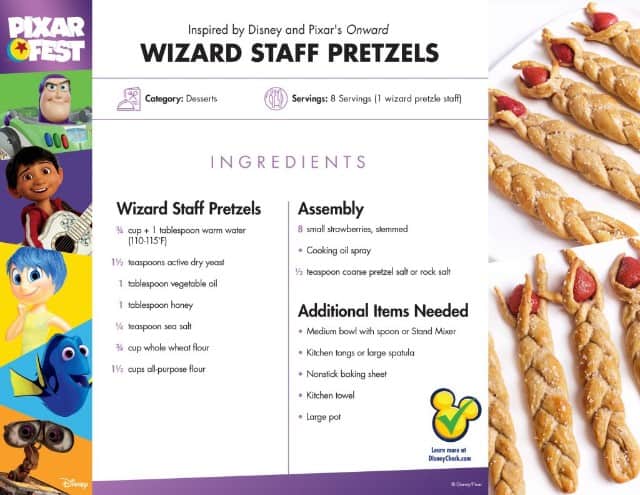 Wizard Staff Pretzels are the ONWARD themed snack. This is also a Mickey Check meal! What you will need for to make Wizard Staff Pretzels:
3/4 cup of water + 1 tablespoon warm water (110-115 degrees F)
1 1/2 teaspoon active dry yeast
1 tablespoon vegetable oil
1 tablespoon honey
1/4 teaspoon salt
3/4 whole wheat flour
1 1/2 cup all purpose flour
8 small stemmed strawberries
Cooking oil spray
1/2 teaspoon coarse pretzel salt or rock salt
Medium bowl with spoon or Stand Mixer
Kitchen tongs or large spatula
Nonstick baking sheet
Kitchen towel
Large pot
Directions
Make the Pretzel Dough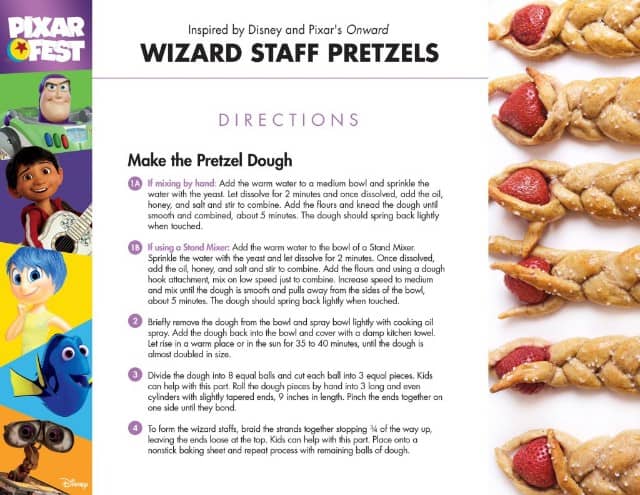 If mixing by hand: Add the warm water to a medium bowl and sprinkle the water with the yeast. Let dissolve for 2 minutes and once dissolved, add the oil, honey, and salt and stir to combine. Add the flours and knead the dough until smooth and combined, about 5 minutes. The dough should spring back lightly when touched.
If using a Stand Mixer: Add the warm water to the bowl of a Stand Mixer. Sprinkle the water with the yeast and let dissolve for 2 minutes. Once dissolved add the oil, honey, and salt and stir to combine. Add the flours and using a dough hook attachment, mix on low speed just to combine. Increase speed to medium and mix until the dough is smooth and pulls away from the sides of the bowl, about 5 minutes. The dough should spring back lightly when touched.
Briefly remove dough from the bowl and spray bowl lightly with cooking oil spray. Add the dough back into the bowl and cover with a damp kitchen towel. Let rise in a warm place or in the sun for 35 to 40 minutes, until the dough is almost doubled in size.
Divide the dough into 8 equal balls and cut each ball into 3 equal pieces. Kids can help with this part. Roll the dough pieces by hand into 3 long and even cylinders with slightly tapered ends, 9 inches in length. Pinch the ends together on one side until they bond.
To form the wizard staffs, braid the strands together stopping 3/4 of the way up, leaving the ends loose at the top. Kids can help with this part. Place onto a nonstick baking sheet and repeat process with remaining balls of dough.
Boil and Bake the Pretzels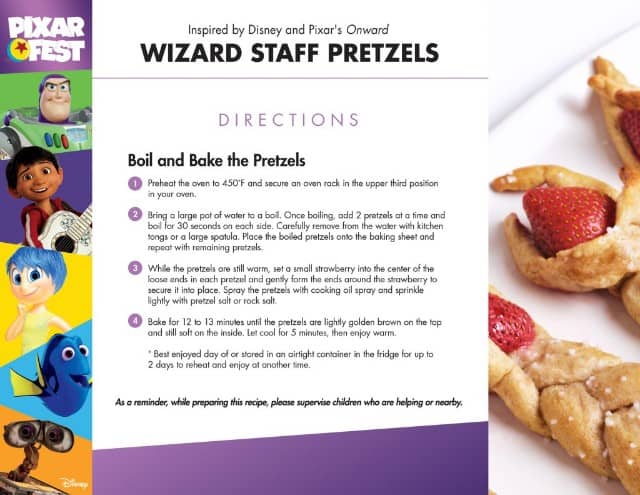 Preheat the oven to 450 degrees F and secure an over rack in the upper third position in your oven.
Bring a large pot of water to a boil. Once boiling, add 2 pretzels at a time and boil for 30 seconds on each side. Carefully remove from the water with kitchen tongs or a large spatula. Place the boiled pretzel onto the baking sheet and repeat with remaining pretzels.
While the pretzels are still warm, set a small strawberry into the center of the loose ends in each pretzel and gently form the ends around the strawberry to secure it in place. Spray the pretzels with cooking oil spray and sprinkled lightly with pretzel salt or rock salt.
Bake for 12 to 13 minutes until the pretzels are lightly golden brown on the top and still soft on the inside. Let cool for 5 minutes, then enjoy warm.
These are to be enjoyed the day they are made or stored in an airtight container in the fridge. These pretzels can stay in the fridge for up to 2 days where you can reheat and enjoy.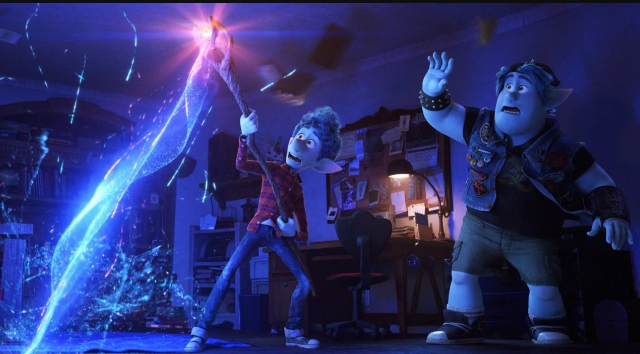 Disney also includes this disclaimer:
As a reminder, while preparing this recipe, please supervise children who are helping or nearby.
Will you be joining in on the watchalong? Will your family be trying these fun wizard pretzles? Let us know on the Kenny the Pirate Facebook page. Don't forget to join the KtP crew page too!
-Heather Alosa