We all know there are two kinds of people, those the start Epcot in Canada, and those that start in Mexico. I'm always the one who starts in Mexico. This section of Epcot's World Showcase is one of the most beautiful pavilions in the World Showcase. My favorite thing about visiting Mexico is always the food, particularly at La Cantina de San Angel. Here's my La Cantina de San Angel Review.
As you enter the World Showcase, turn left for a delicious adventure! Just over the bridge you'll enter Mexico, a unique and beautiful area with some of the most amazing food in all of Epcot.
I can't visit Epcot without a stop at my favorite Quick Service Restaurant, La Cantina de San Angel. My recent visit with some fellow KtP Writers was no different. I shared my love of this amazing spot with them, and now it is time to share with all of you!
The atmosphere at La Cantina de San Angel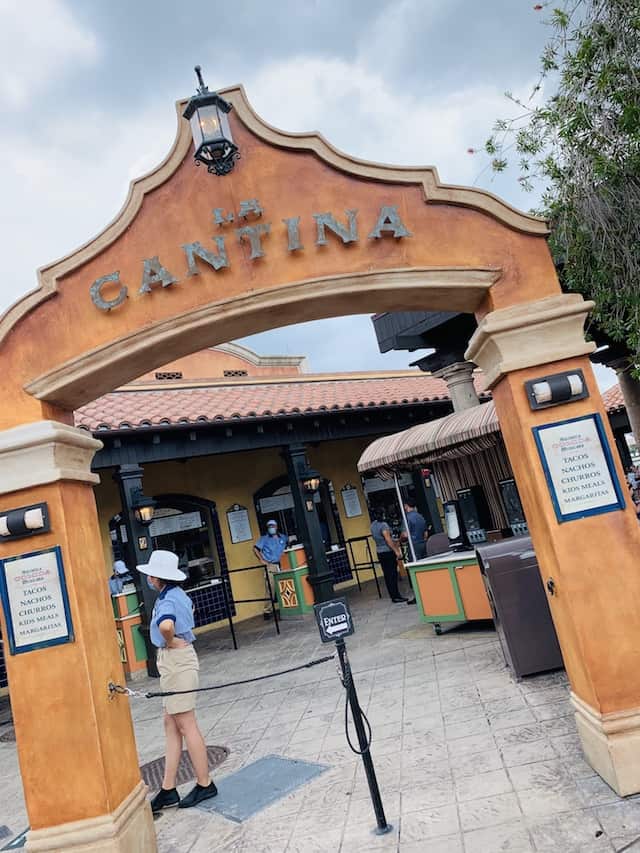 The location of Cantina de San Angel really can't be beat. It is located right on the World Showcase Lagoon, so while you dine, you can enjoy a. beautiful view.
When you walk up, you'll head straight through a beautiful archway with the words "La Cantina" at the top.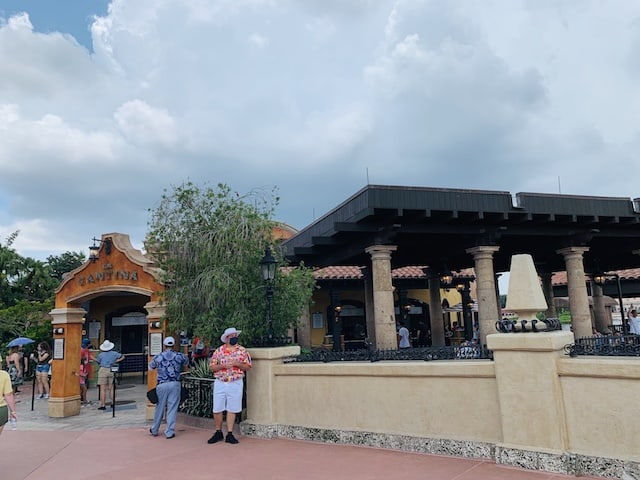 The area is home to both La Cantina de San Angel and La Hacienda de San Angel.
Cantina is the Quick Service portion of the restaurant where you can order at the counter and choose your seat. Cantina is open for lunch and dinner.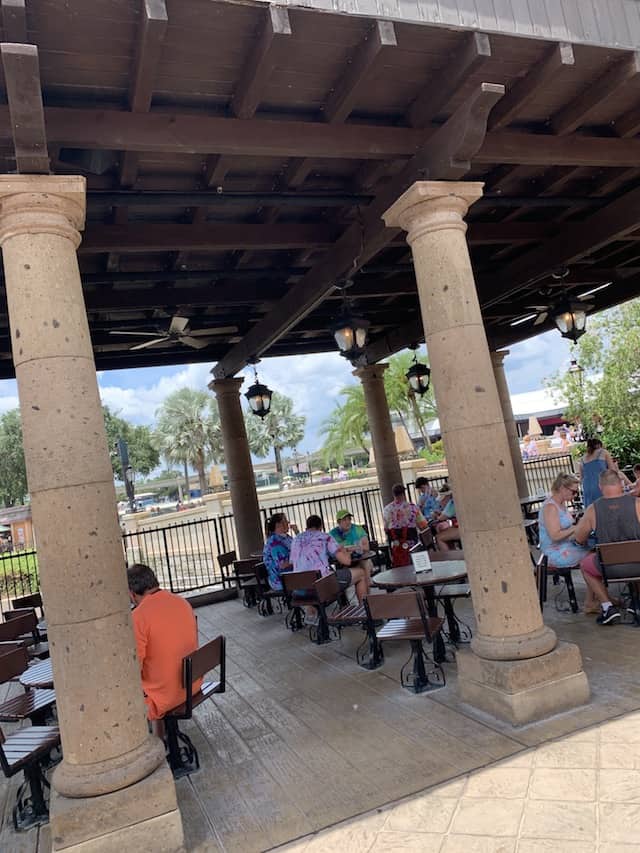 There are two large outdoor seating areas to choose from to indulge in your food, both with outstanding views of World Showcase Lagoon.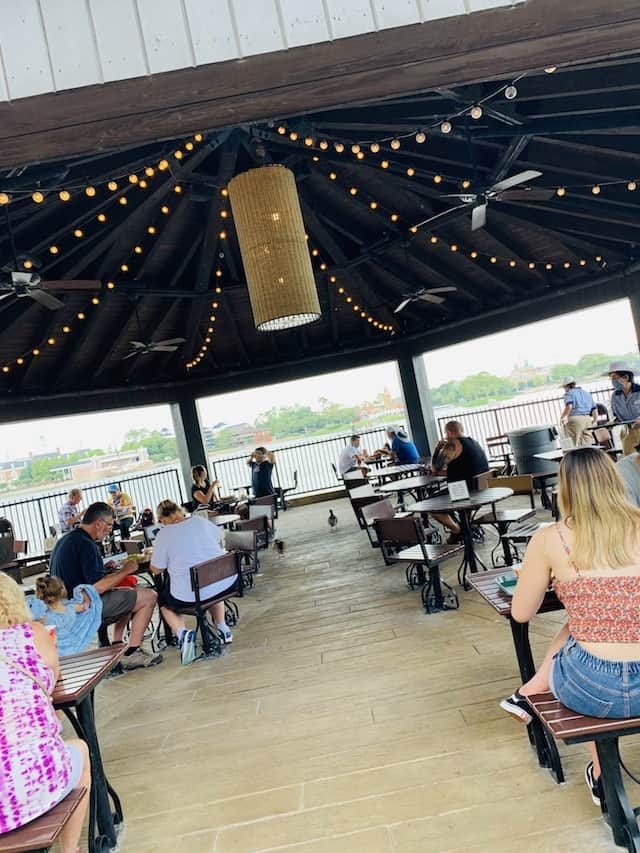 I love to sit in this dining area with the strung up lights. It feels as though I could really be dining in Mexico!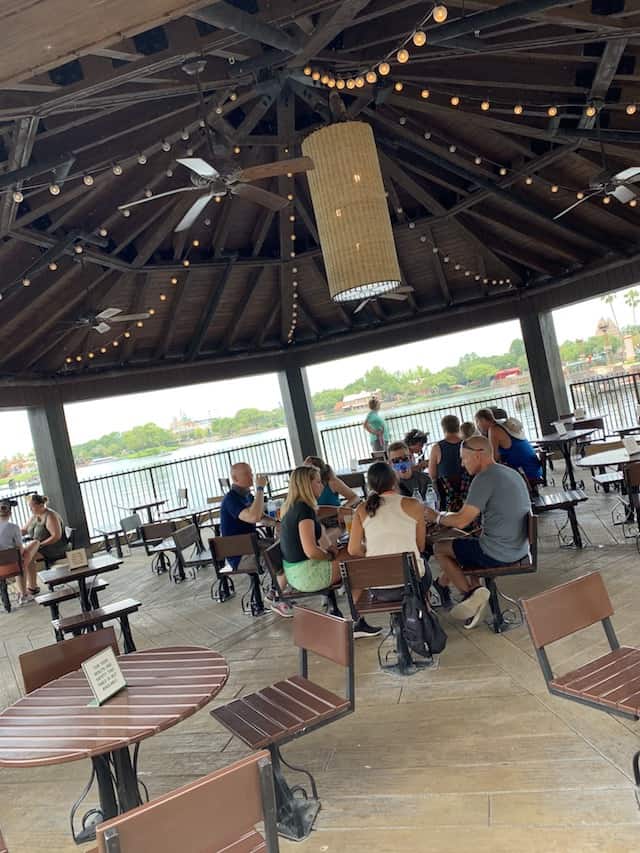 If you are grabbing lunch here, you can also choose to sit indoors in La Hacienda's dining area. This seating area has a huge advantage: air conditioning!
La Hacienda is a table service dining area that is open for dinner only.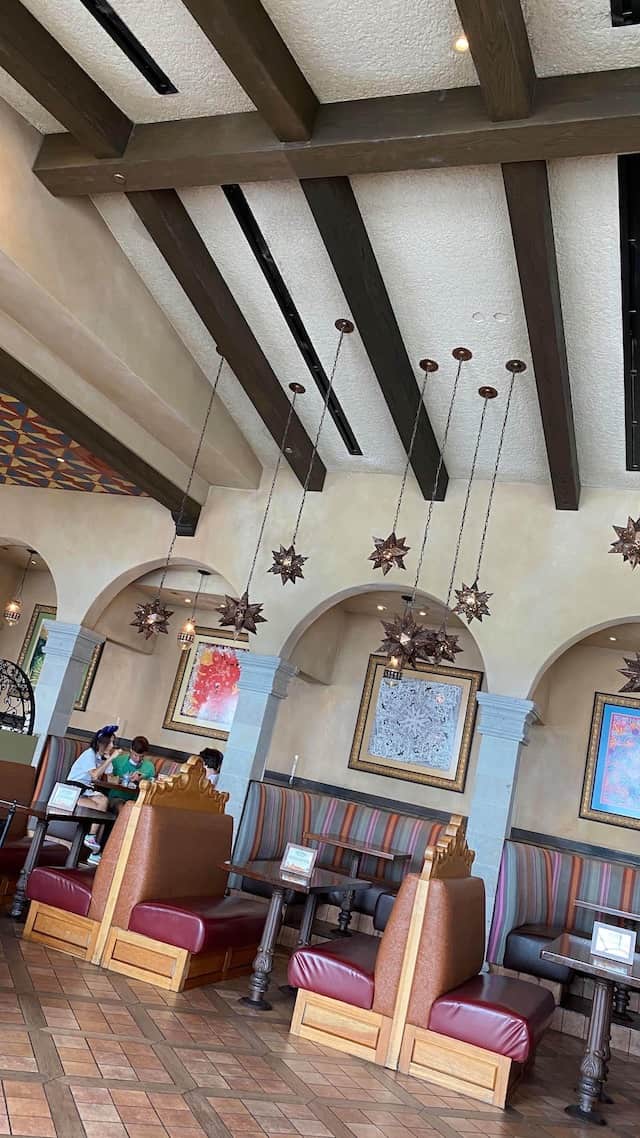 It is also quite a beautiful dining room. Authentically decorated, you'll see beautiful tiles, hanging lanterns, and remarkable artwork.
We were quite taken with the indoor dining space for its beauty. It was immaculately clean, spacious, open, and airy.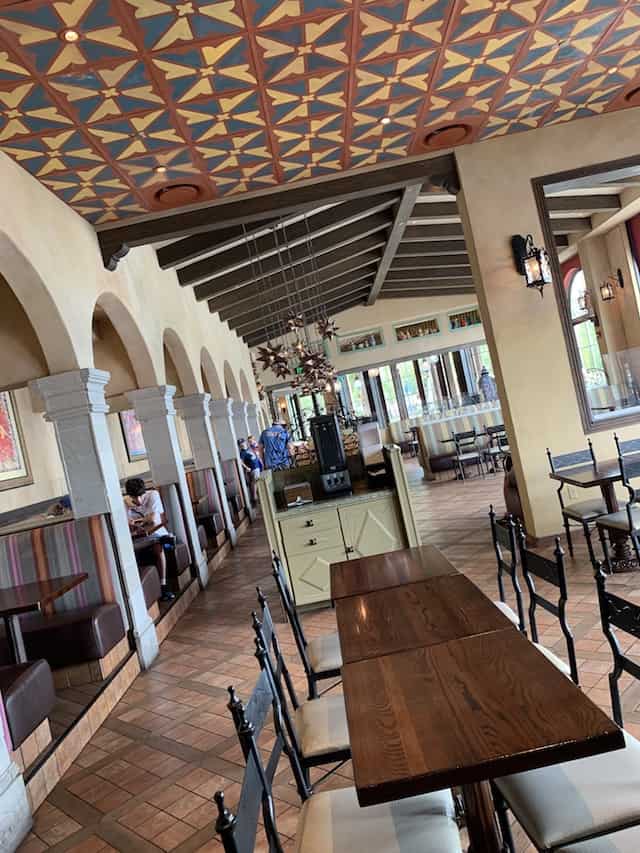 There is truly no detail left unaccounted for. Have a look at the beautiful tile ceiling!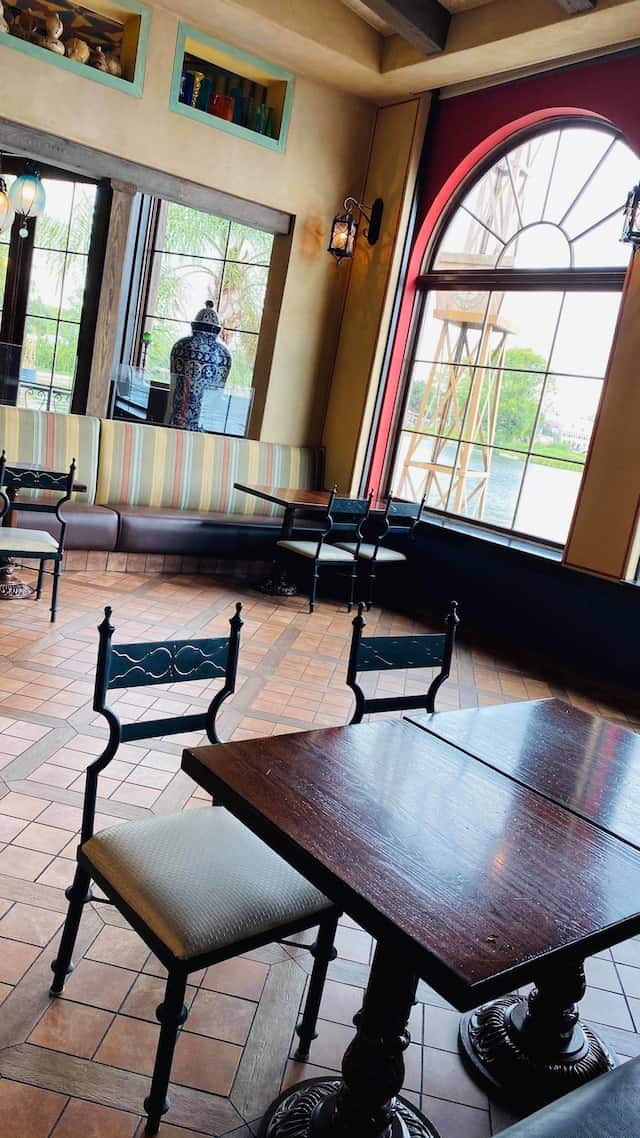 Bonus Tip: If you're dining during lunch, not many people seem to realize you can dine indoors. The dining room was nearly deserted.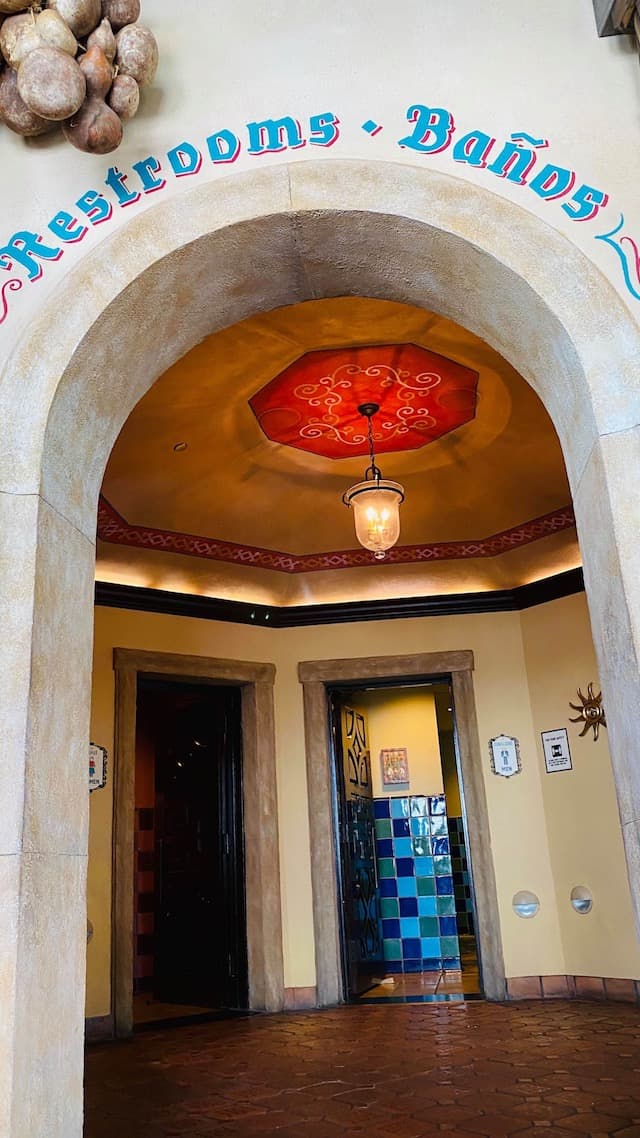 The Menu at La Cantina de San Angel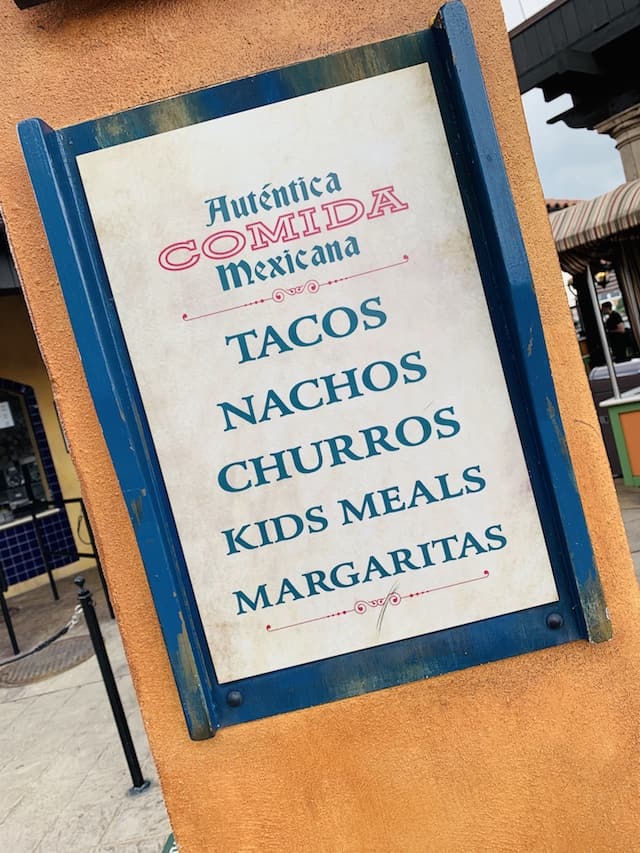 La Cantina de San Angel has an authentic Mexican menu, filled with delicious choices. Your biggest problem will be narrowing down what to eat!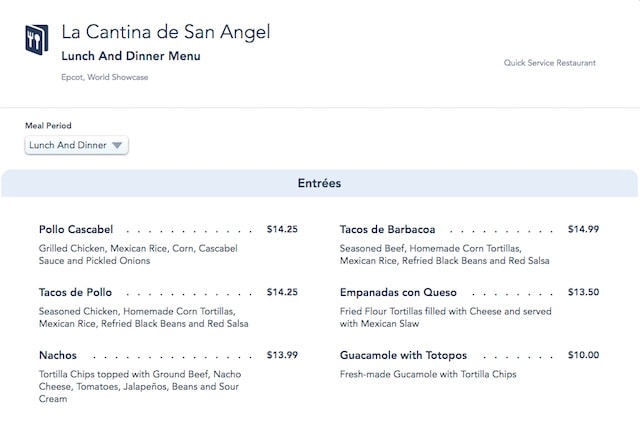 The menu features tacos, nachos, Mexican soda, churros, and more!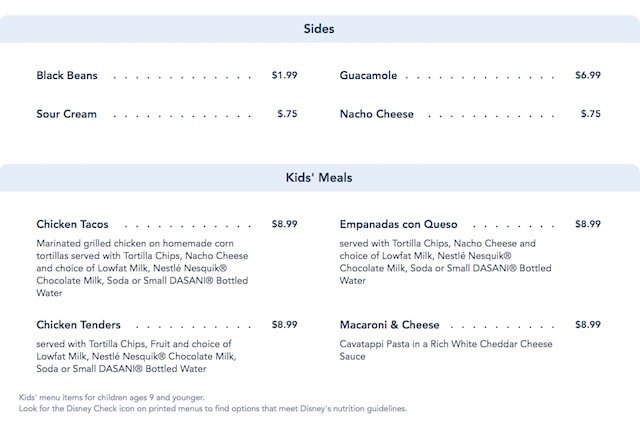 The prices are reasonable at this Quick Service restaurant, and the portion sizes are rather large.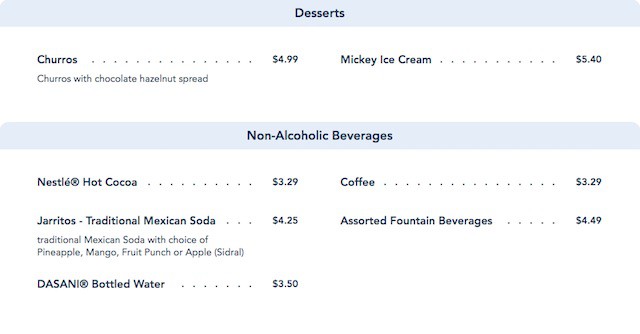 One of the most fun experiences at Epcot is experiencing all of the different food so some might shy away from ordering a meal there.
However, the kids meals would be a great small meal for an adult, or two adults can easily split an adult entree and go on to continue snacking their way around the world!
The food at La Cantina de San Angel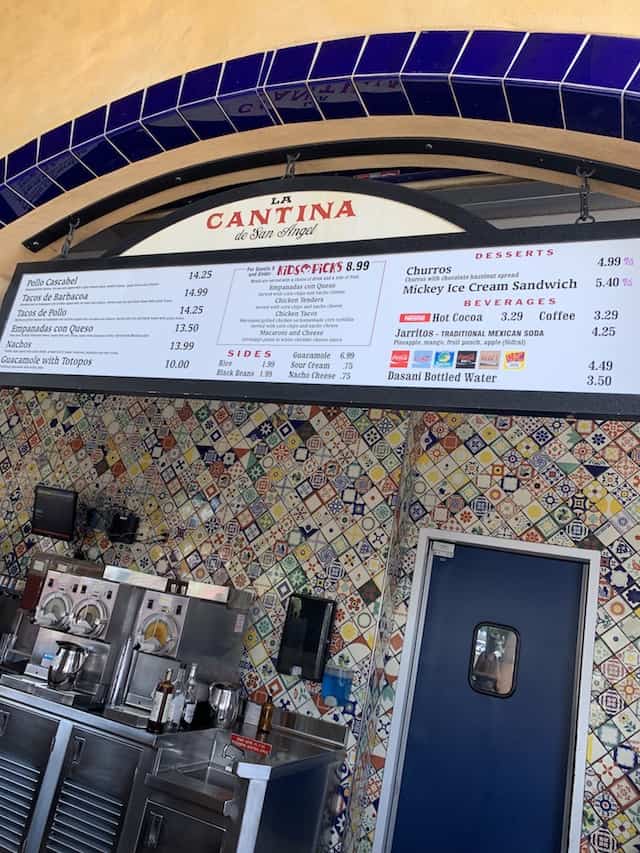 The food here at La Cantina de San Angel is outstanding, and I've never been disappointed with any meal I've had there.
On this visit, we were able to try three different options, and each was absolutely outstanding!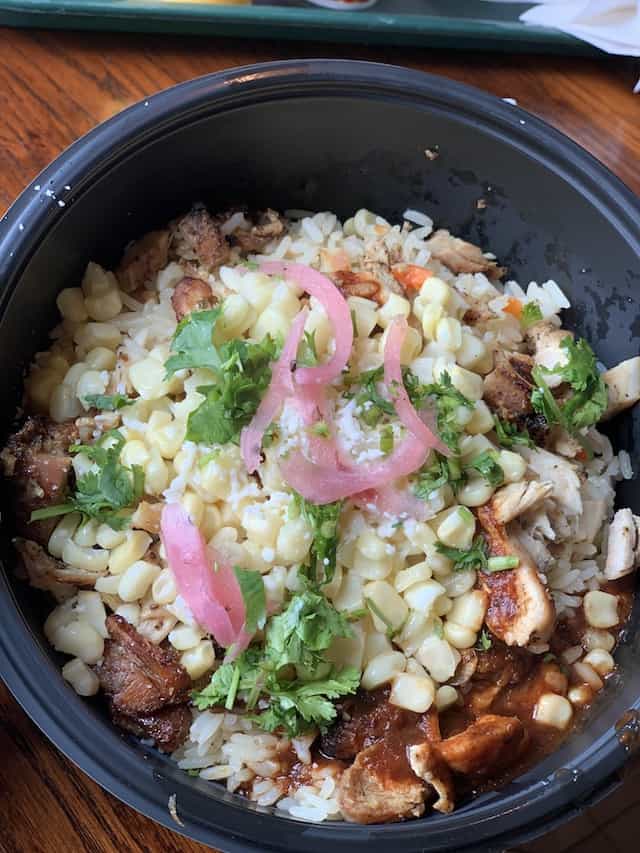 This is my go to meal here at La Cantina de San Angel Pollo Cascabel. Pollo Cascabel is described on the menu as "grilled chicken, Mexican rice, corn, cascabel sauce and pickled onions."
In my mind, I view this meal as a rice bowl, and the only thing that might complete it would be the addition of black beans! This slightly spicy meal is absolutely delicious, and the combination of flavors from the chicken, cascabel sauce, and pickled onions is perfect.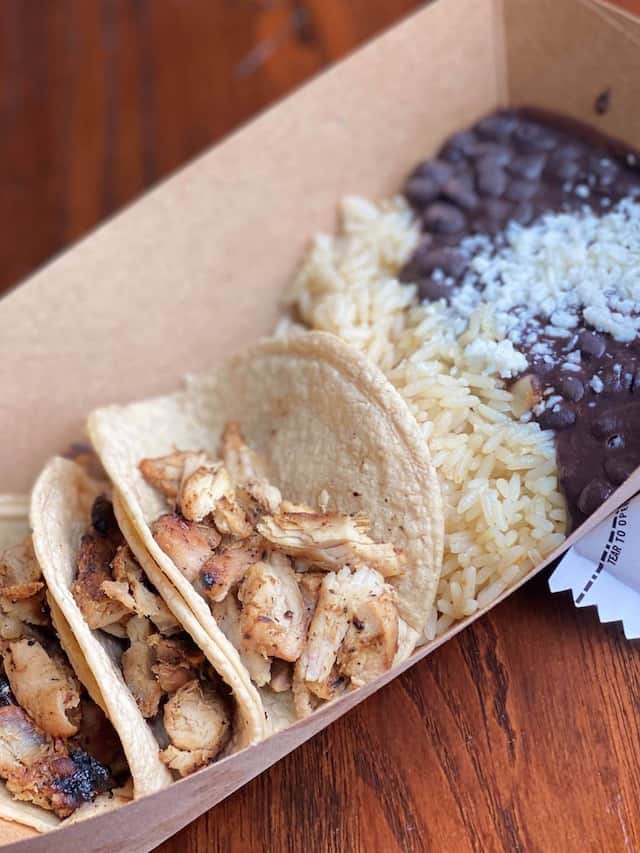 The menu describes Tacos de Pollo as "seasoned chicken, homemade corn tortillas, Mexican rice, refried black beans, and red salsa." These tacos taste so authentic, you'll think you really are in Mexico!
The only addition that would've topped this meal off would have been some of their delicious guacamole, which I will be sure to add next time.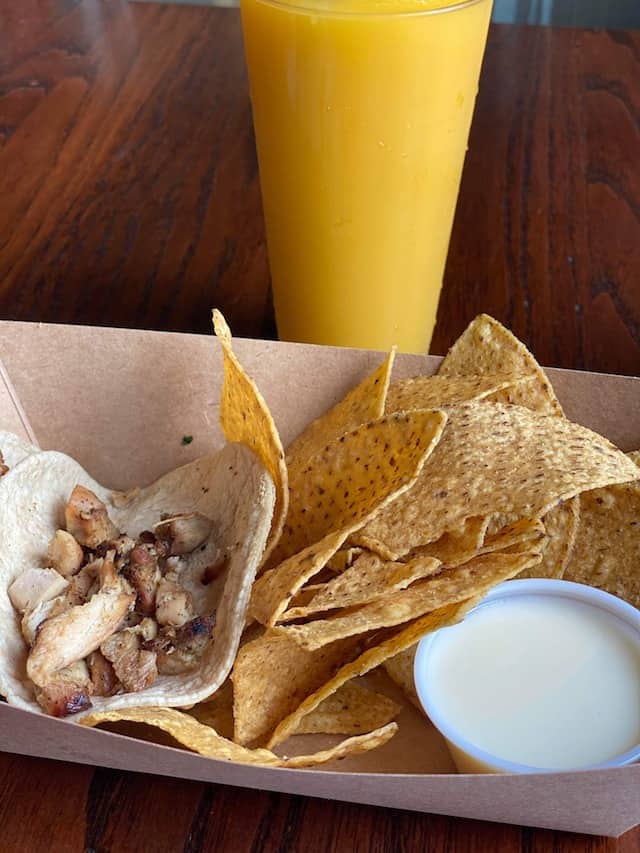 From the kids menu, we chose to try the chicken tacos. The menu describes this meal as "marinated grilled chicken on homemade corn tortillas served with tortilla chips and nacho cheese." The meal also comes with a choice of drink.
The chicken was seasoned just right as not to be too spicy but instead incredibly flavorful. The tortilla was fresh, and the chips had just the right amount of salt. The nacho cheese sauce was a delicious addition to the meal!
This meal was for an adult who felt it was more than enough to sustain her as far as portion size.
Overall Thoughts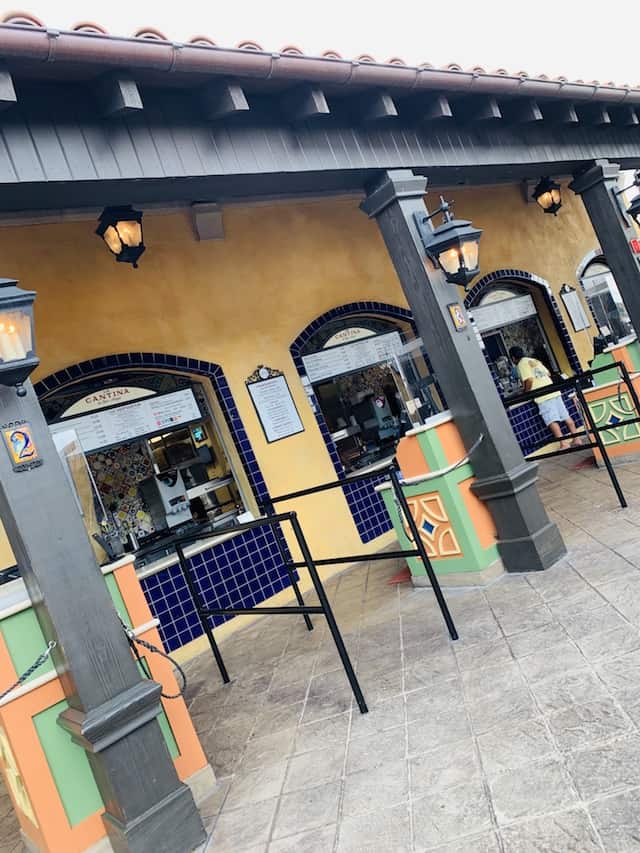 La Cantina de San Angel is one of my favorite restaurants, and I can't imagine ever passing it by! The atmosphere is authentic and relaxing, the menu is diverse with choices for everyone, and the food can't be beat.
I hope you'll give this restaurant a try on a future trip, I don't think you'll regret it!
Mexico Pavilion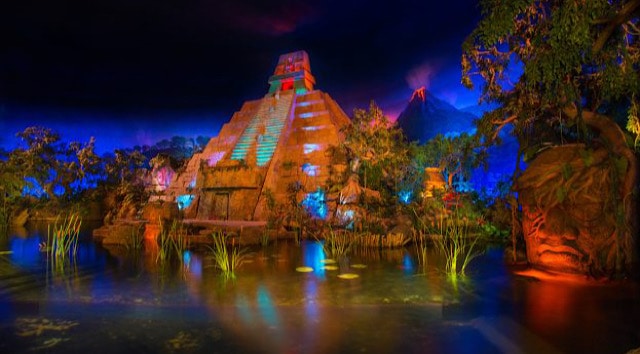 After your meal, there is so much to explore in Mexico! You can head inside a replica of a Mexican pyramid and explore different shops and sample authentic Mexican beverages.
You can even also visit an exhibition featuring the movie Coco and experience a gentle boat tour on Gran Fiesta Tour Starring the Three Caballeros. On this attraction, you'll travel through some of the most beautiful scenes in Mexico, with some silly antics along the way featuring Donald Duck, Ponchito Pistoles, and Jose Carioca.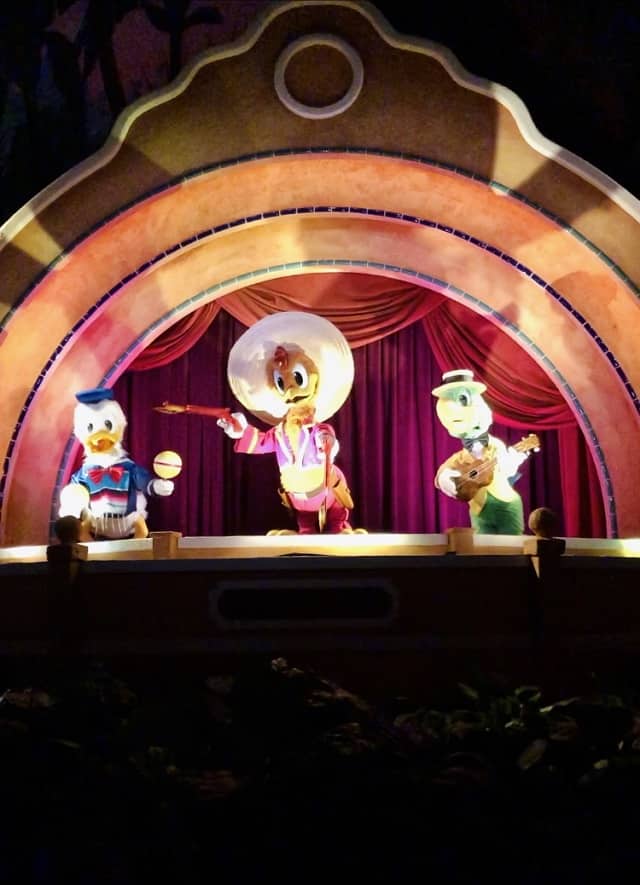 Have you tried La Cantina de San Angel? Let us know your thoughts on this delicious restaurant on Kenny the Pirate's Facebook Page, or join our crew and continue the discussion!