Are you wondering if the character meals are worth trying since Walt Disney World's reopening? Take a look at my review of the Garden Grill and see why it's one of the best character meals available!
Character Meals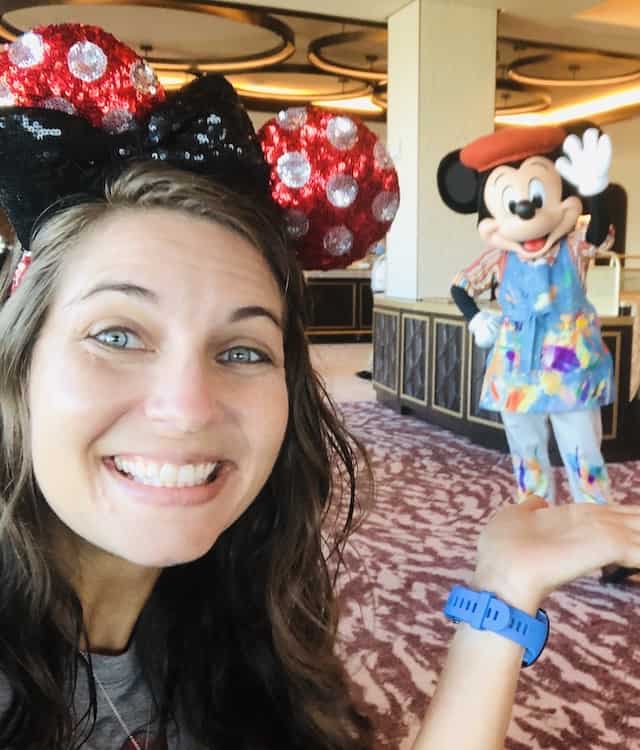 Since Walt Disney World's reopening, there are only a handful of character meals that are available. You might be wondering whether or not they are even worth it. After all, even with the ones that are available, all experiences are modified.
Many guests might not want to pay such a high price for only a modified experience. As of July 2021, here are the character meals that are available:
Garden Grill at EPCOT
Good Morning Breakfast with Goofy and his Pals at the Four Seasons Resort Orlando
Tusker House at Disney's Animal Kingdom
The Beast will pop up at Be Our Guest, and Cinderella makes a quick appearance at Cinderella's Royal Table, but they don't have the same interactive elements that other character meals do.
That leaves guests pretty limited as far as character dining goes. However, if you do want to take the leap and have at least one character meal, I definitely think it is worth it.
Garden Grill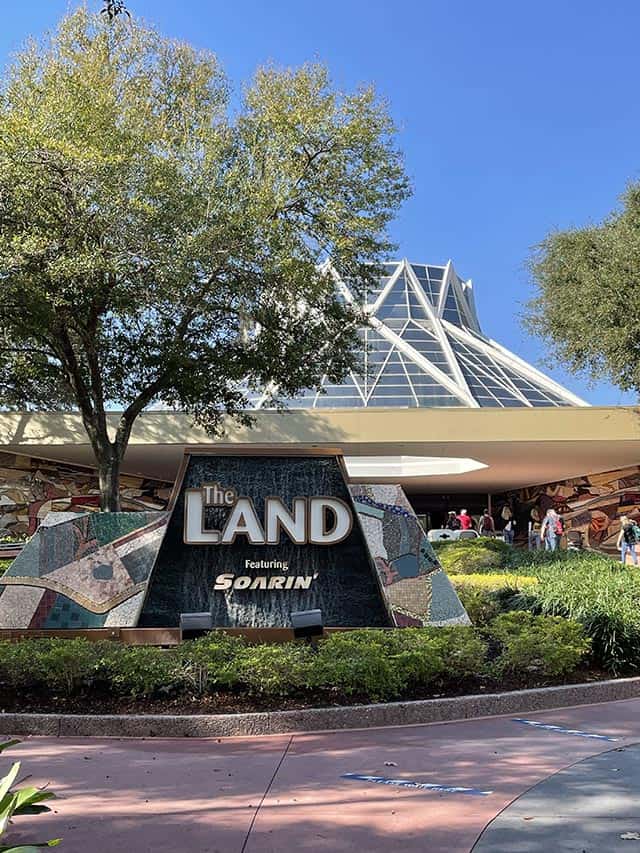 Garden Grill is located in the Land pavilion at EPCOT. Take a look at Kenny's review of his experience here. He visited the restaurant not too long after Walt Disney World's reopening in July.
Lunch is served from 11:30 a.m. – 3:30 p.m. and dinner is served from 3:45 p.m.- 8:00 p.m. Breakfast is not available at this time.
Chip 'n' Dale's Harvest Feast is $55/Adult and $36 for children, ages 3-9.
Menu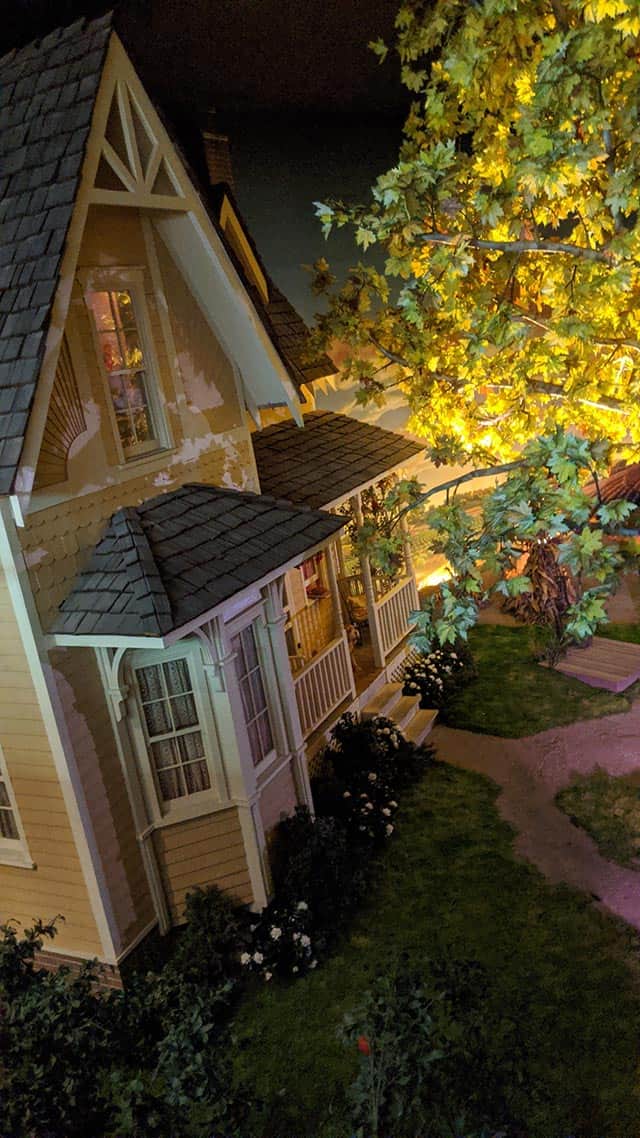 This is a family style meal, meaning that all of the food comes directly to your table. Here is a look at the current menu items.
Harvest-inspired Garden Salad
All Natural Sliced Turkey Breast w/ turkey gravy
Macaroni and Cheese
Herb and Leek stuffing
Grilled Beef with Chimchurri
Creamy Mashed Potatoes
Seasonal Vegetables
Berry Short Cake with whipped cream
The menu also features a wide variety of beverages, including beer and wine selections and offers allergy-friendly items as well.
Our Experience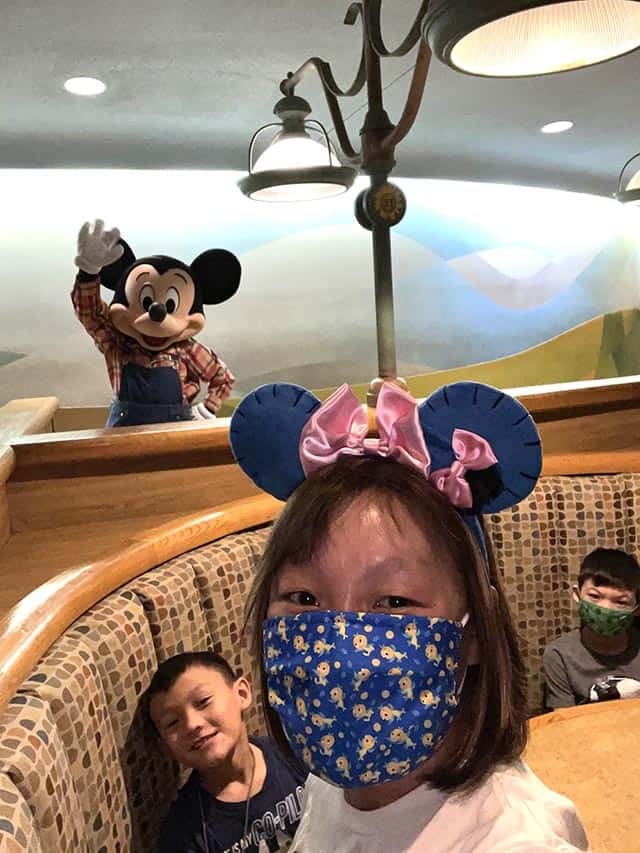 My family visited Garden Grill in early January for lunch. We checked via mobile check-in and were seated almost immediately.
Seating is only available in the lower section at this time, while the characters walk around the upper section of the dining area.
This was not our family's first time eating at the Garden Grill, so we all were familiar with the food and restaurant. However, there were some pretty big and noticeable changes!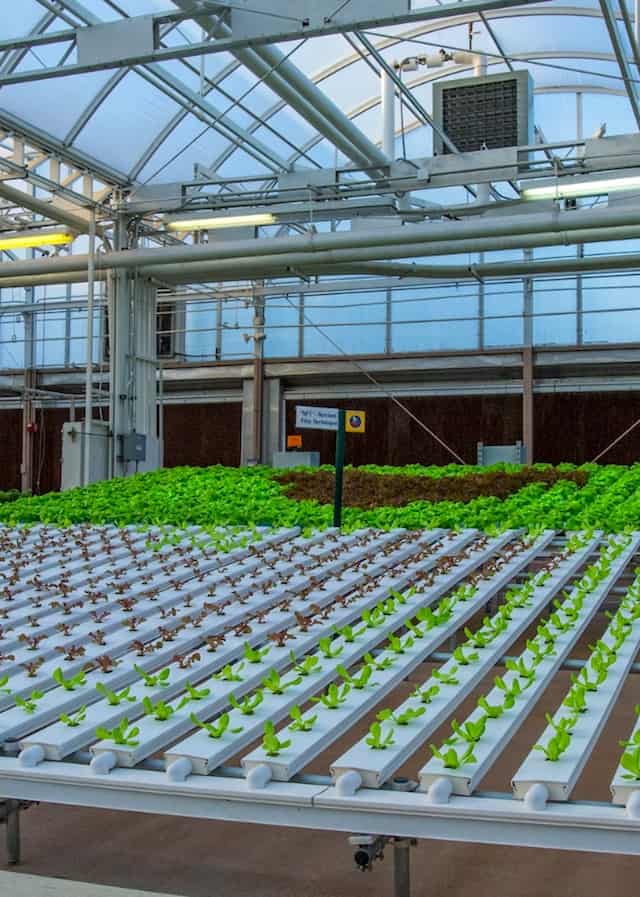 When we arrived, my boys both asked me, "is this the restaurant that turns?" One of the more unique experiences about the Garden Grill is that it slowly rotates while you are eating. Guests can look down at the Living with the Land attraction and view different scenes during their meal.
However, during our visit this fun aspect of the dining experience was not available, which was a pretty huge disappointment to my boys. I thought, "how much can kids really miss the restaurant rotating ever so slowly?" Turns out, they missed it a lot.
Despite being disappointed by the restaurant not rotating like it had in earlier visits, we were still ready for a fun meal.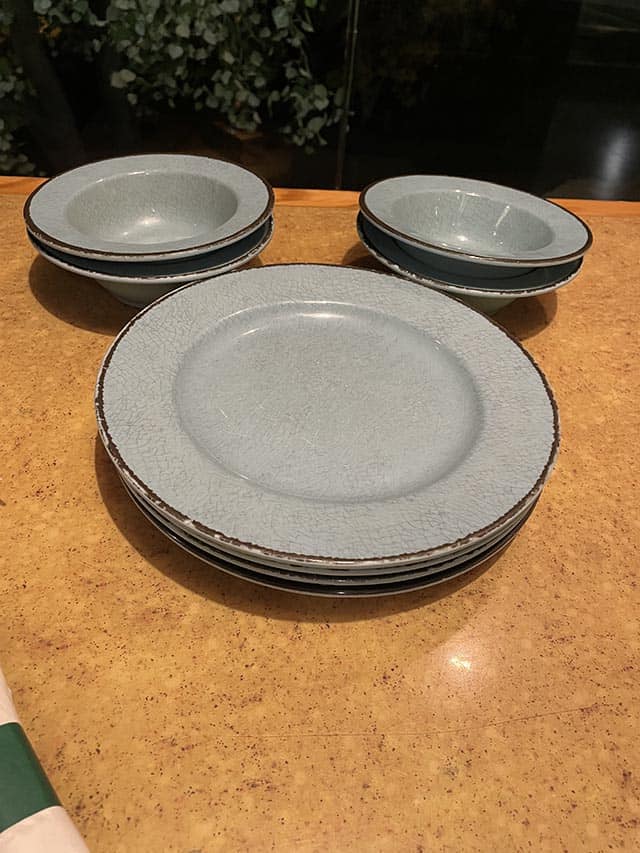 As we sat down, our server made sure to point out that our meal began with a Hidden Mickey! He told us that we could relax, take our masks off and just wait for the food to arrive. Keep in mind this was earlier in January. Since then, Walt Disney World has set even more restrictions for mask wearing during meals. Those restrictions were then updated more recently.
The food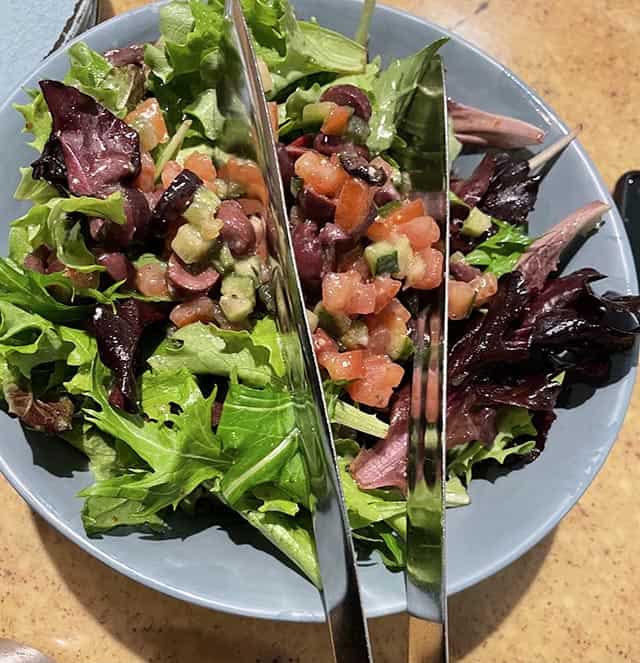 The first item brought to us was the Harvest-inspired Garden Salad. I thought it was fresh and light. It was a nice start to the meal.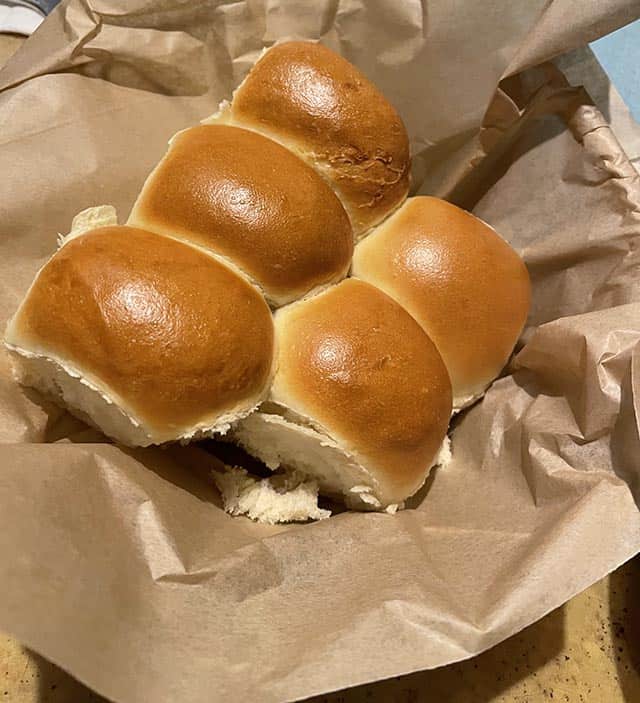 Next, our server brought some warm rolls to the table. It's hard to mess up rolls, especially when kids are at the table. They were soft, warm, and eaten up within seconds by my boys.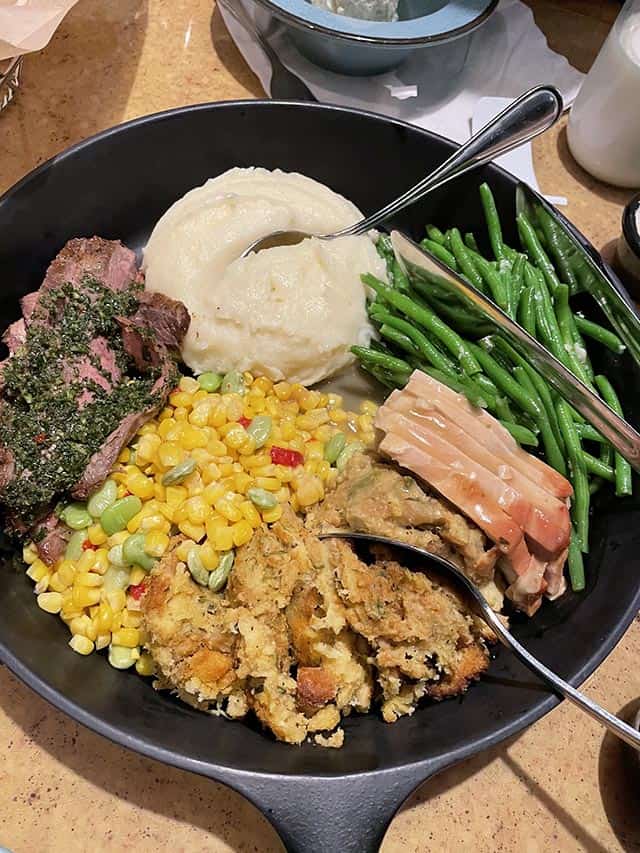 Next, came everything else for the meal, which included the sliced turkey, stuffing, vegetables, mashed potatoes and grilled beef.
I have normally visited Garden Grill for breakfast, so being here for lunch was a new experience. Why breakfast? Take a look at this post to see why grabbing a reservation here for breakfast was like gold back in the "pre-covid" days.
As Kenny mentioned in his review, the food here is like having Thanksgiving at your Grandma's house. It's warm, it's comforting and there is plenty of it!
Just looking at this picture makes my mouth water all over again. It was that good.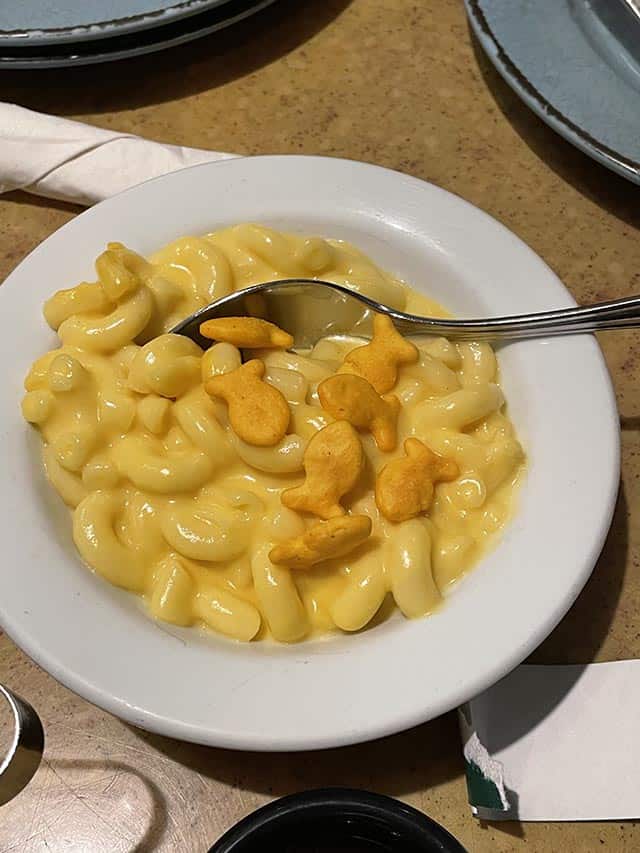 We were also brought some macaroni and cheese, which my boys both appreciated. I like that it comes with Goldfish crackers on top of it! It adds a little fun to the meal, as I would never dream of putting these crackers on top of this meal at home.
Next time though, maybe they could be Mickey Goldfish crackers, right?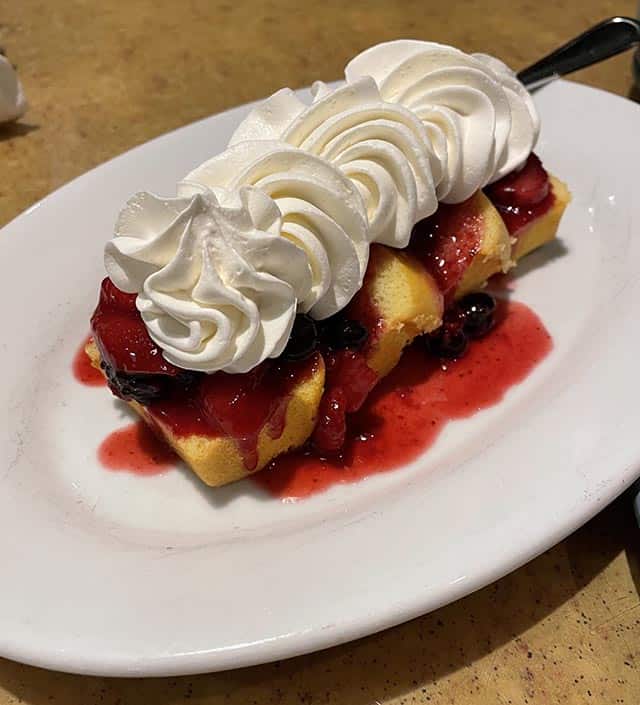 The final item we received was the Berry Short Cake for dessert. This little dessert was light, sweet and delightful. I loved the berry toppings and whipped cream.
After all of that food for the main course, it was not overly filling and actually a nice end to the meal.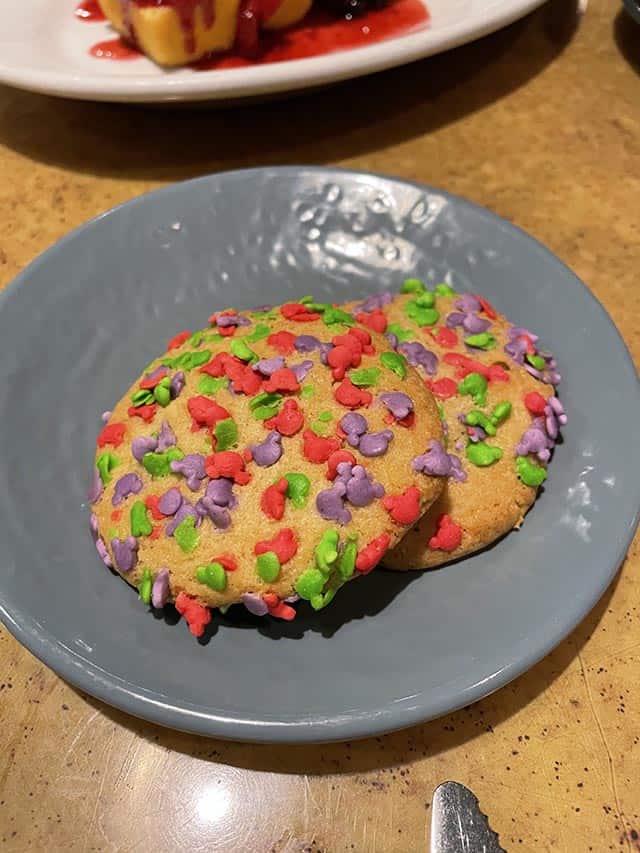 My boys also each received a cookie at the end of the meal. I love the little Mickey shaped candy in them.
Characters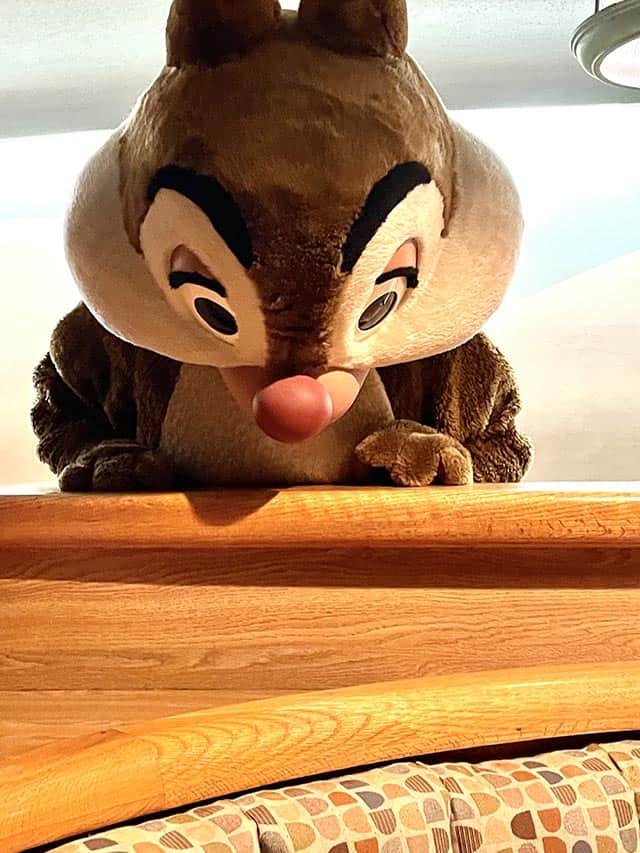 While enjoying your meal, you will be visited by several characters. They include Mickey Mouse, Chip 'n' Dale, and Pluto. They keep their distance and stay above you, but they still make it a lot of fun! In fact, I think during this specific trip, Garden Grill was one of my favorite meals because the character interaction was so great.
We did not feel like they were rushing their interactions, and they visited us several times during the meal.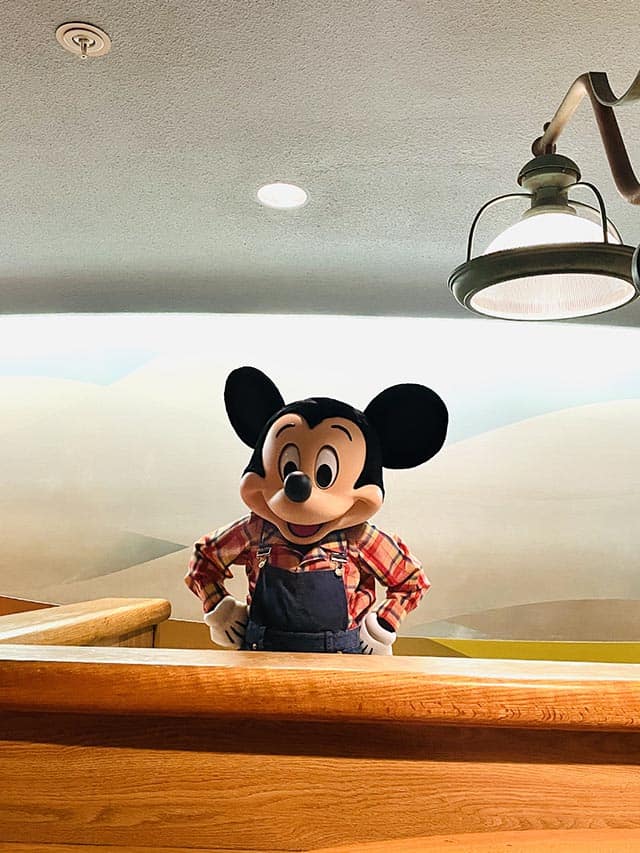 Even with the characters being from a distance, it did not feel like they were that far away here.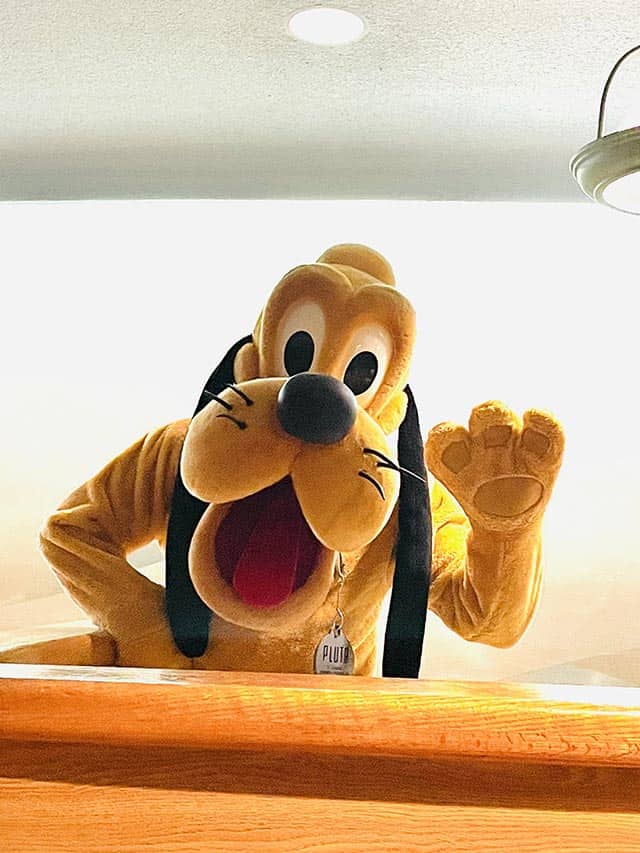 Here is Pluto taking the time to say hi to everyone. Hi, Pluto!
REMEMBER YOU CAN STILL USE CHARACTER LOCATOR FOR TIPS TO INTERACT WITH THE CHARACTERS! MENUS ARE ALSO AVAILABLE FOR ALL OPEN RESTAURANTS!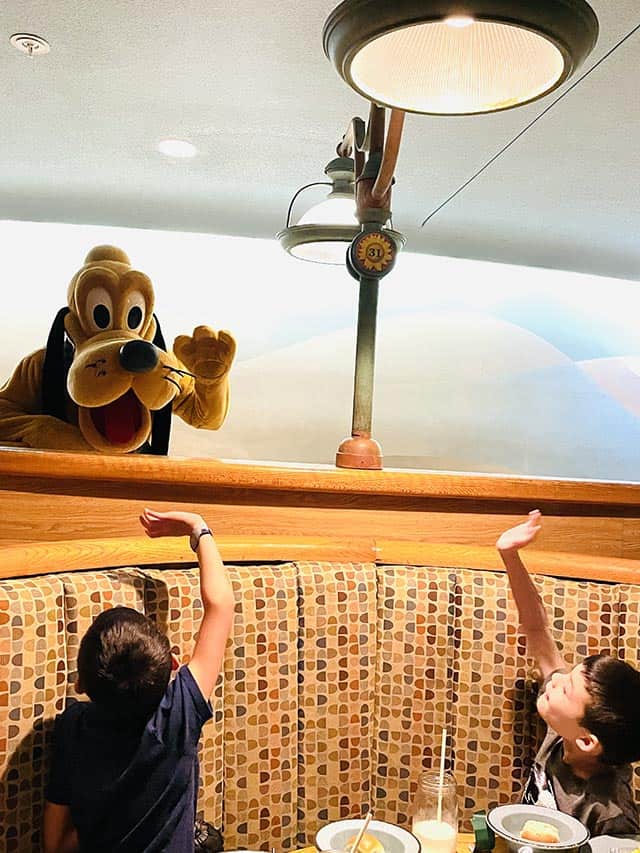 If you are wondering what modified character dining is like for children, this is a good picture. I mentioned before that this was one of my favorite character meals because of the great interaction.
I feel like Garden Grill is a great location for this type of setting. The characters are all above you, so it's easy for them to make fun interactions like peering over the seat looking down towards your table and waving to you below. They are not super close but also not super far away either.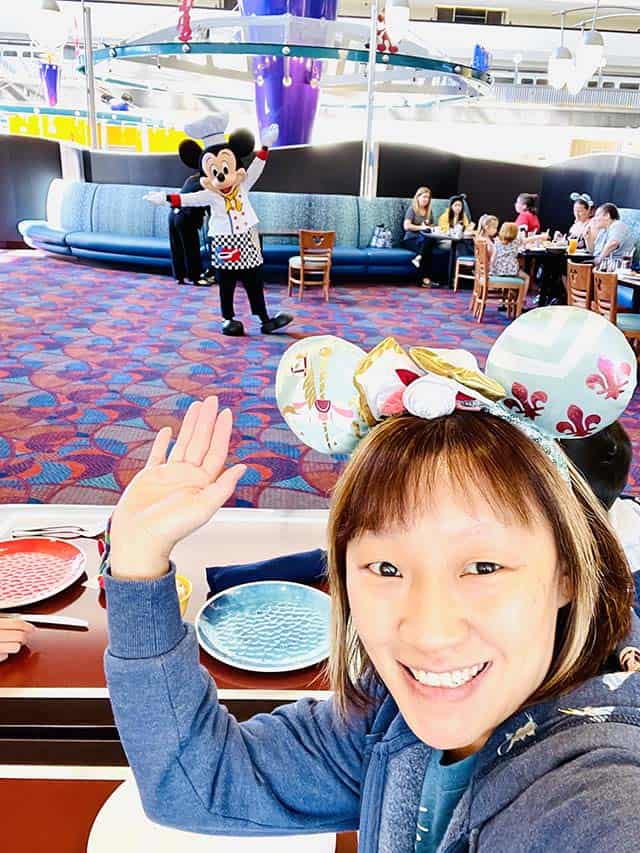 See the difference? Mickey is there, but he's all the way back there! Don't get me wrong, though. Chef Mickey's was a great character meal. In terms of character interaction, I enjoyed Garden Grill a lot more.
Kids Review
During our trip, my boys were 8 and 9 years old. I asked them which visit they enjoyed more. Did they like their breakfast last time when the restaurant was rotating and they got to hug each character that came around? Or did they like this new modified experience better?
Both of them said they preferred meals where they could get up and give the characters hugs and receive actual autographs. My boys actually expressed this for all of the character meals we visited. The meals were fun, but it just didn't seem like the Disney they knew. Something was missing and they knew it!
Autograph Card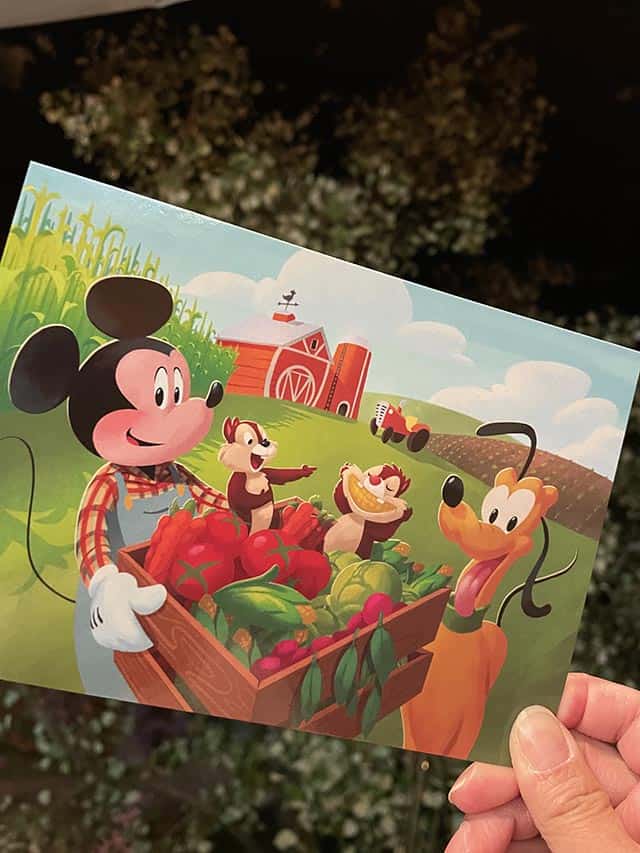 At the end of all character meals, guests are given these adorable cards to take with them. Since characters cannot sign actual autographs, this is what is given. I like that Disney has taken steps to still include this with their meals, even if it's not the same.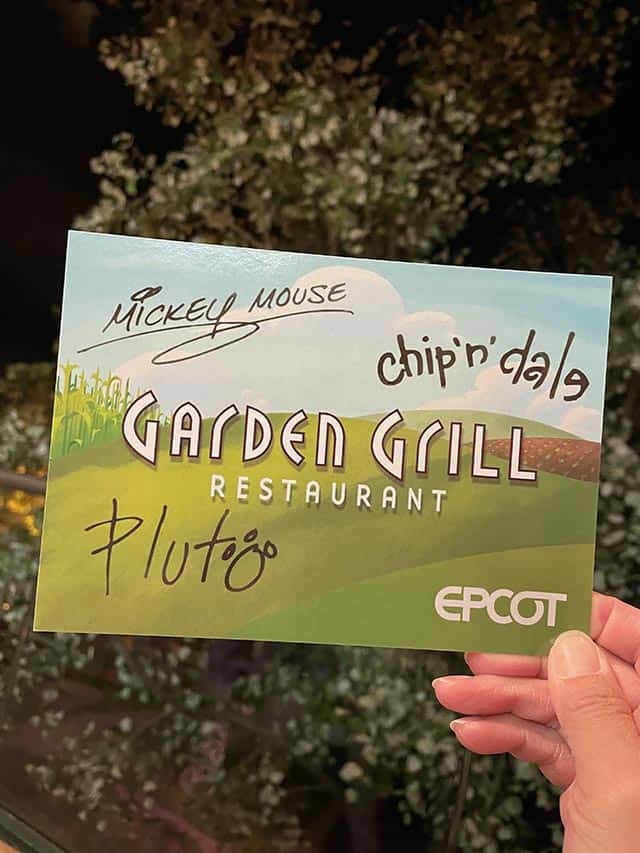 They are still nice to have and they make a great memento from your trip! If you have more than one child, they will each be given an autograph card.
See ya real soon!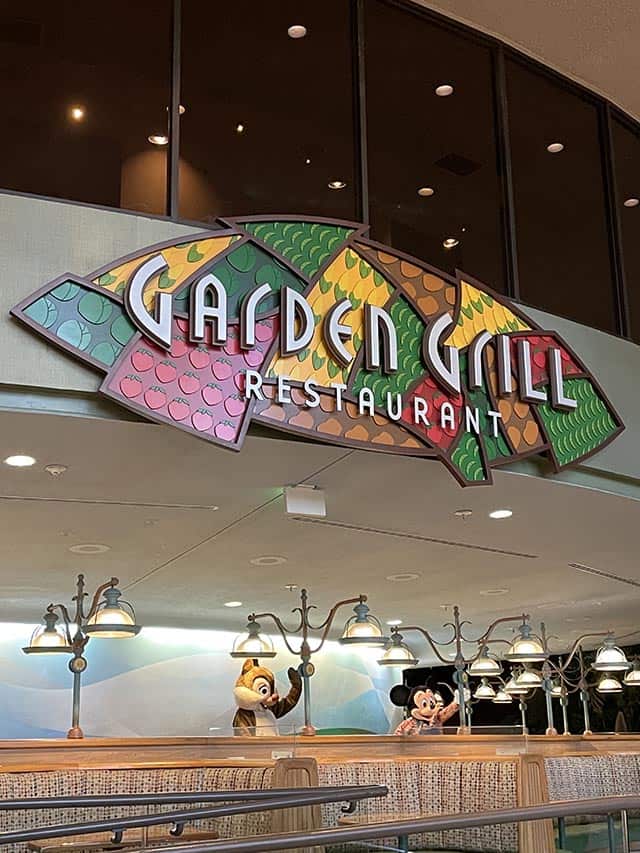 Overall, even though this was a modified character dining experience, my family had a great time. It was not the same Garden Grill that we all remembered, but it still delivered. The food is great and well worth it. I loved seeing all of the characters and interacting with them. Our server also called me "Princess" throughout our entire meal. It's a small touch, but it made me feel like, well, a princess!
Even after we left, Dale and Mickey were out waving to guests who were walking around in the Land pavilion. I thought this was a great treat to those guests and it felt like we had some extra time with them. I did not want to leave!
We will definitely be returning to Garden Grill. Hopefully on our next visit we can give Mickey that hug that he deserves!
Have you visited the Garden Grill during a recent trip to EPCOT? Tell us about your experience in the comments below or on our Facebook page! Don't forget to tell us in the crew too!
Maggie Baltz