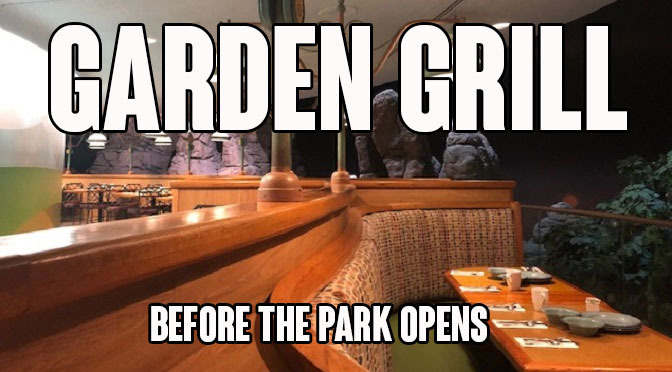 Have you ever wanted to enjoy a walk in an empty theme park? How about doing that with a delicious character breakfast followed by the experience of walking straight on to Soarin'? Garden Grill could be the perfect dining reservation for you.
Few Disney moments are as peaceful as the walk from Epcot's security check to a pre-park opening reservation at Disney's Garden Grill. While there are other guests arriving for meal reservations, the bulk of them tend to scramble to Akershus, leaving the walk to the Land Pavilion feeling like a private stroll.
On a recent visit, my family and I were, for a moment, the only people in the area except for two smiling cast members who were eager to park our stroller for us. It was a surreal experience, it felt almost like the Blue Fairy herself had tapped her wand and created a bubble of stillness around the whole pavilion.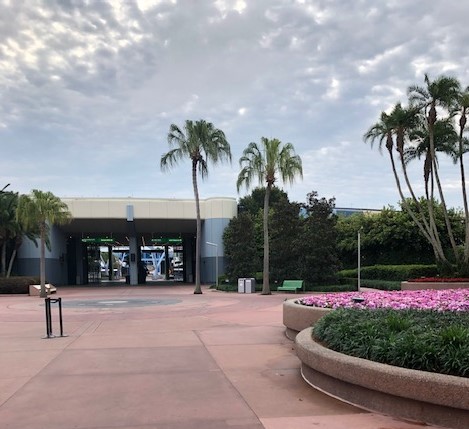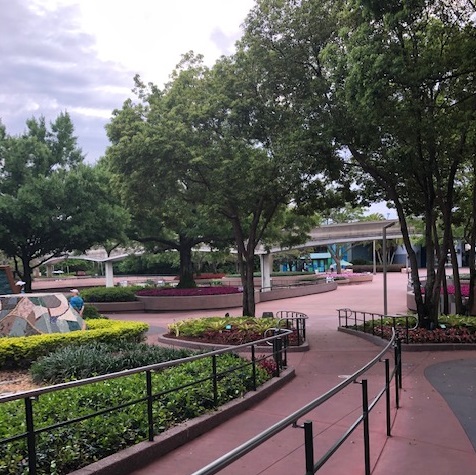 Once we entered the Land, we headed to the spinning eatery for breakfast. Garden Grill is a table service restaurant that participates in the meal plan and is one table credit per person. It is an all you care to enjoy character meal featuring interactions with Chip and Dale, Farmer Mickey, and Pluto. The restaurant is unique in that it slowly rotates, providing diners with views of scenes from Living with the Land. The breakfast offering is called Chip n' Dale's Harvest Feast.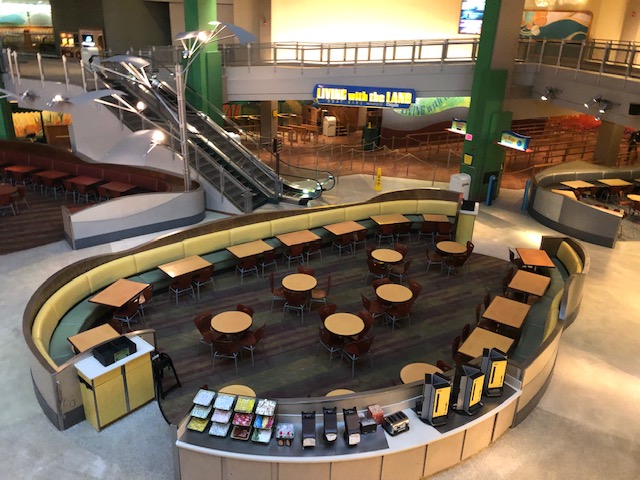 For families with small children, Garden Grill could provide one of the best possible character meal experiences because the food is delivered straight to your table. There is no need to figure out which adult will stay at the table with the baby and which one will brave the buffet, juggling plates while serving various little ones, at least some of whom cannot quite manage without a spill or two– all while attempting to make it back to the table without missing out on any character encounters. Garden Grill is a much more peaceful experience.
During our meal, it only took a few moments to get used to the restaurant's rotation. Our server arranged our bowls and plates into a "Hidden Mickey," took our drink orders before returning with a platter of eggs, sausage, bacon, potato barrels, and of course, Mickey waffles! In addition to the platter, he brought a bowl of fresh fruit, salsa for the eggs, chocolate hazelnut sauce for the waffles, and a gigantic cinnamon roll. The adults in the party appreciated that Garden Grill serves real eggs; the children in our party appreciated that cinnamon roll and everyone loved the juice. Our server happily replenished components of the meal as we asked for them.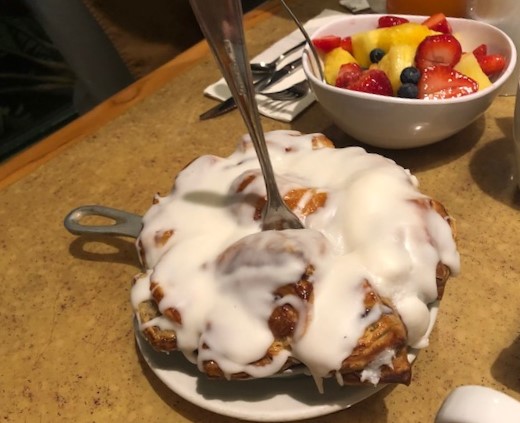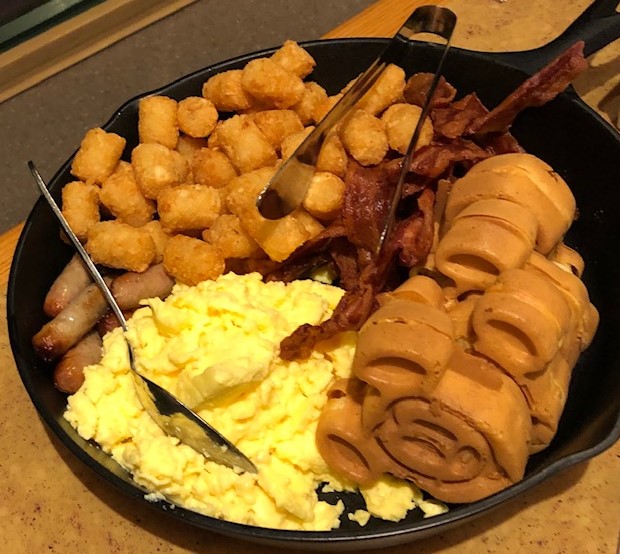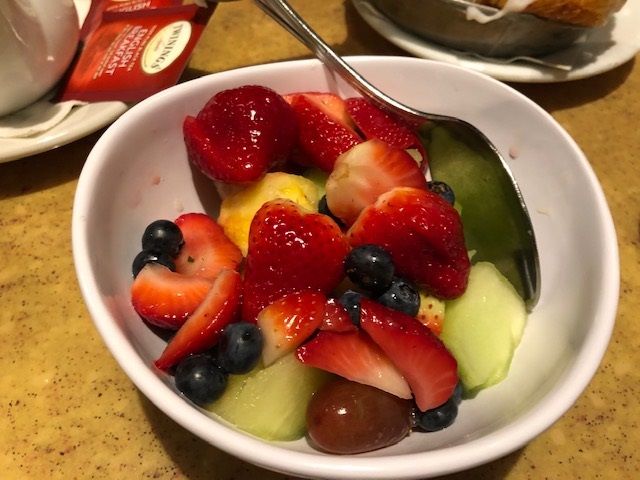 Throughout breakfast, our children were excited to see the scenes from Living with the Land, particularly the buffaloes. They were even more delighted when Chip dropped by our table! He took time to play with the children, pose for pictures and sign autographs. Just as he was leaving, Dale popped in. It was remarkable how the characters had two very distinct personalities. While Chip was somewhat serious, Dale was fun loving and silly. Our next visitor was Pluto, and finally Farmer Mickey made an appearance. As if on cue, our server materialized and offered to take a family photo with Mickey Mouse.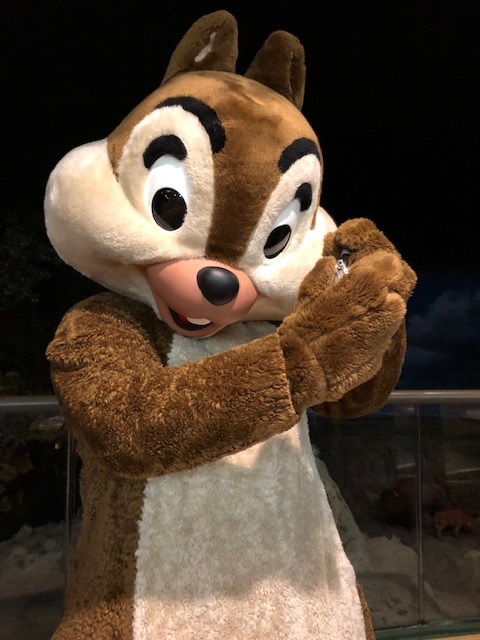 It has been our experience that character meals often wrap up after the last character in the line up moves on, but this was not the case at Garden Grill. Each character made a return trip to the table to interact with the little ones a bit more before we departed.
As we finished the meal, our server informed us that Soarin' would be opening a few minutes early to accommodate diners. We were able to take care of our bill and proceed with our early morning visit by walking straight onto Soarin'. My husband and I arranged a rider swap so that our younger travel companion and I could enjoy being the only two passengers on Living with the Land. We were exiting the rides just as the pavilion began to fill with rope droppers.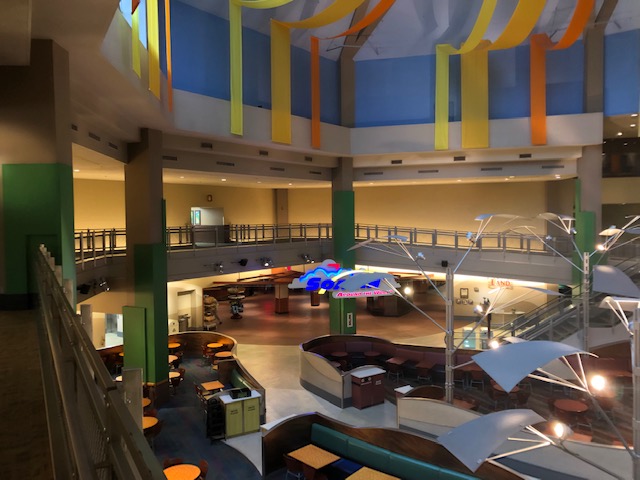 I could only identify two drawbacks to this dining experience, which may or may not be important to your travel party. One: the restaurant can get hot as it rotates through Living with the Land. We noticed a significant drop in temperature as the restaurant transitioned from the ride to the main part of the pavilion. Two: the rotation might be disorienting for those who are particularly sensitive to motion.
All-in-all, I highly recommend the pre-park opening breakfast experience at Garden Grill. The food is delicious and fresh. My children still talk about the cinnamon roll. It is a breakfast experience they ask to repeat every single trip. The character interactions were spot on. Overall, it is our favorite character meal. It has given us memories that still warm our hearts.
Want More Garden Grill? Click Here
What is your favorite Disney Breakfast?