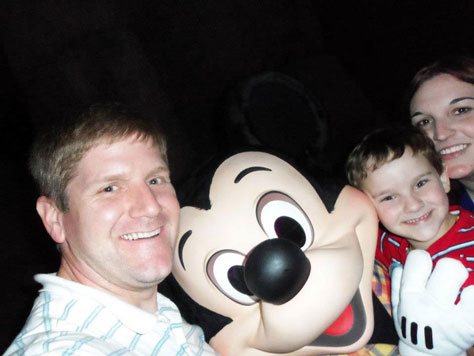 One of our favorite character meals at Walt Disney World is enjoying dinner at the Garden Grill in Epcot. We have been each of the last two years, and both visits were wonderful. The Garden Grill is in Future World, and the restaurant revolves around scenes from the Living with the Land attraction. The restaurant slowly rotates as you enjoy your meal, and by the time you finish you will have made one full revolution of Living with the Land. The food is served family style and is all you care to eat. Family style means they place all the food on a large platter and you serve yourself from that platter. As you eat your meal, Chip, Dale, Mickey and Pluto will make their rounds and always give plenty of attention to the guests. Prices range from $30 to $59, and most Disney Dining plans are accepted. As with any Disney restaurant, reservations are recommended.
The food at the Garden Grill is delicious, and you can eat until you are stuffed! Chip and Dale's Harvest starts with a basket of warm bread with maple butter and a harvest inspired farmer's salad (grown in Epcot!). I had never had maple butter before our trip, and it was amazing! The main entrees include char-grilled filet of beef with red wine butter, roasted turkey breast with lemon caper sauce, and sustainable fish of the day with roasted tomato and pepper compote. The sides are garden fresh vegetables and caramelized onion mashed potatoes and dessert is harvest skillet cake with vanilla bean whipped cream. If you love something on the menu, all you do is ask for more, and believe me, we asked for more! The filet of beef and mashed potatoes were my favorites because they were so flavorful, but my husband was a huge fan of the fish. I think he even had thirds. It was perfectly cooked and flaky, and seasoned to perfection. Our kids really enjoyed the kid's meal that included oven baked drumsticks, sweet potato fries, broccoli and macaroni and cheese. We all left full and happy!
What stands out in my mind about the Garden Grill was that, while it isn't the most updated and trendy restaurant, it was the most relaxed character dining experiences we had at Walt Disney World. The restaurant wasn't very crowded during our last visit, so the characters came around to see us several times during our meal, signed autographs and took pictures with our family.  After Mickey's third trip around to visit us, he started getting very silly and even took "selfies" with us. Those stand out as my favorite pictures from last year's trip because they are so unique and just summed up a wonderful character meal. The staff was wonderful in taking care of us, the characters were so funny and attentive, and the food was delicious. It was such a great restaurant that I recommend it to all my friends who are visiting Walt Disney World. If you are heading to Epcot, I hope you will give the Garden Grill a chance, and that you love it as much as we did!
°o° Amy
About the author: Amy lives in Alabama, and is a wife, mom to two boys, Auburn alumnus and card carrying Disney fanatic. She blogs about all things Disney at Memory Makin' Moms.
If you are interested in submitting restaurant guest reviews, contact me at kennythepirate(at)gmail(dot)com