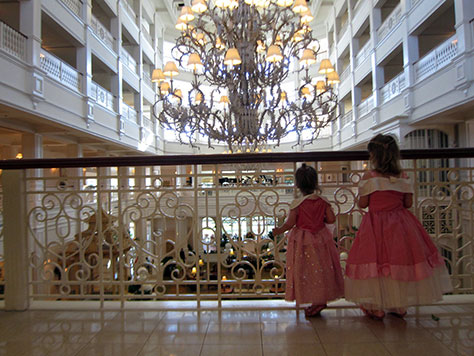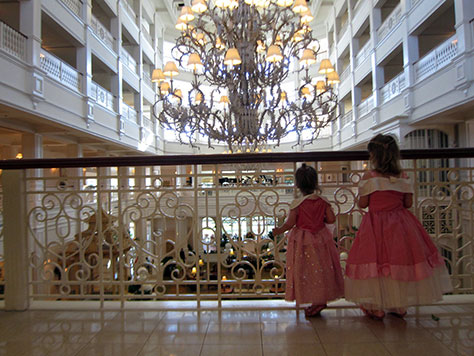 Guest Review by Melissa at PrincessRants.com 
---
If you have a little one obsessed with Princesses and/or Fancy Tea Parties, the My Disney Girls' Perfectly Princess Tea Party is absolutely a must-do. Little girls will enjoy singing, dancing, live piano music, and lots of quality time with Princess Aurora all in the beautiful Garden View Tea Room at Disney's Grand Floridian Resort. And gifts! Did I mention gifts? Each child receives the following:
A special 18-inch My Disney Girl doll dressed in a Princess Aurora gown plus accessories (little ones can opt for a Duffy Bear instead).
A plastic tiara
Silver Princess link bracelet
Fresh rose
Special princess scrapbook page "Best Friend" certificate for their new My Disney Girl doll
Tea Party reservations are often available past the 180-day mark, because the event isn't well known (and also because it's so very expensive). I'd still recommend making reservations at the 180 day mark if you can but, unlike Cinderella's Royal Table or Akershus, you may be able to pick up reservations closer to your trip.
The event begins at 10:30 on select days. This means if you plan carefully and are lucky with your reservations, you could take your daughter to the Bibbidy Bobbidy Boutique prior to the event. There is also an on-site salon at the Grand Floridian called the Ivy Trellis, which I've read is a great alternative to the BBBoutique (and, bonus, it would be in the same building so no rushing across the parks!) Most of the girls will be dressed in princess costumes or fancy dresses, so be sure to bring a costume if you can. (If you're new to or overwhelmed by the array of choices, check out PrincessRants.com's Princess Costume Primer.)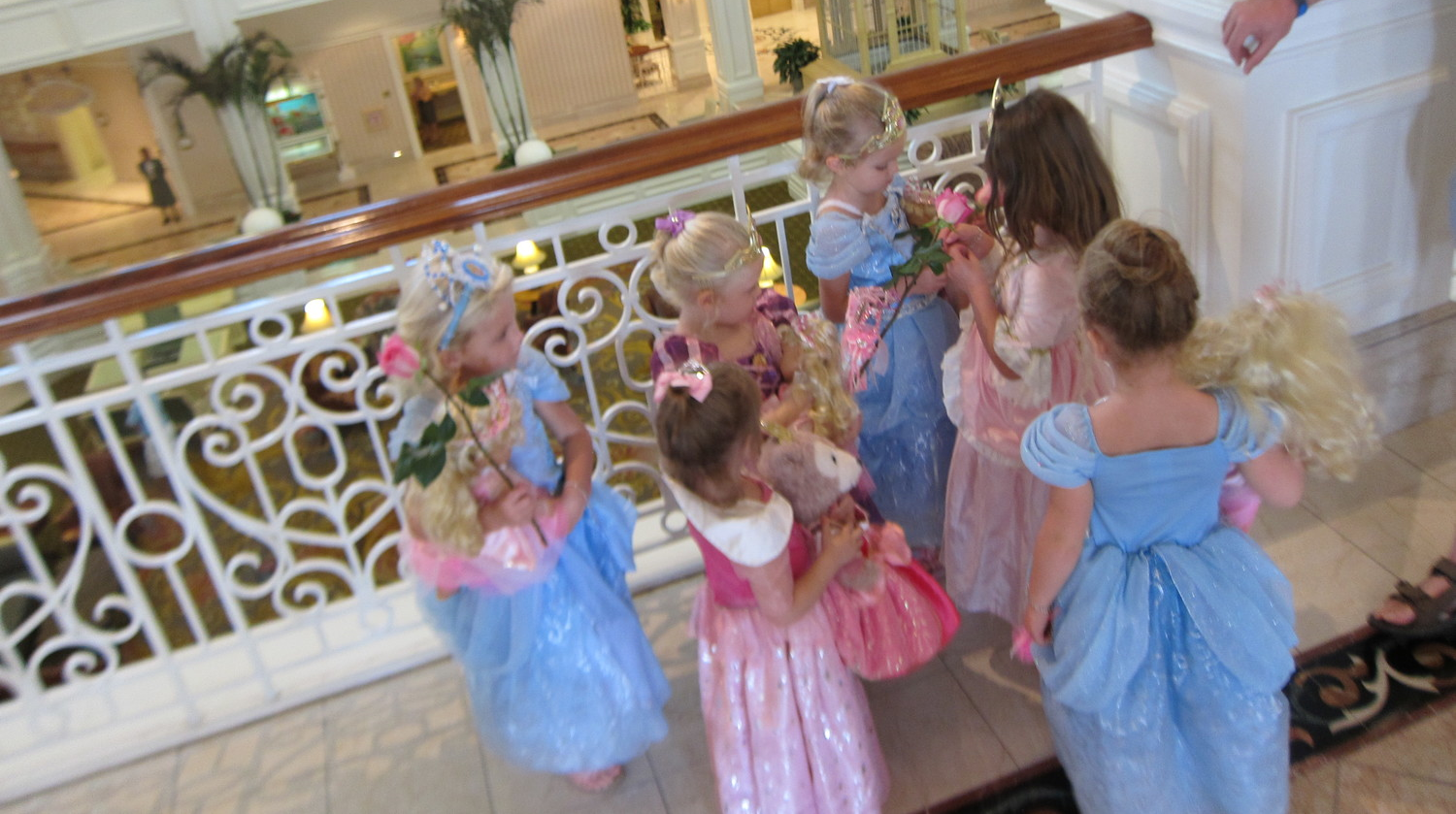 We didn't do makeovers on the day of our Princess Tea Party reservations, but the girls had been to the BBBoutique earlier in the trip and I did my best Fairy Godmother impersonation before we left for the Grand Floridian. And, of course, we had princess dresses with us! There is so much pink at this event that I would definitely recommend a pink costume if you have access to one.
Upon arrival, the girls are asked to line up outside the Garden View Tea room, which is located on the ground floor, off the lobby of the Grand Floridian. Each girl is called up by name to receive a crown and have her picture taken with the hostess, Miss Rose Petal.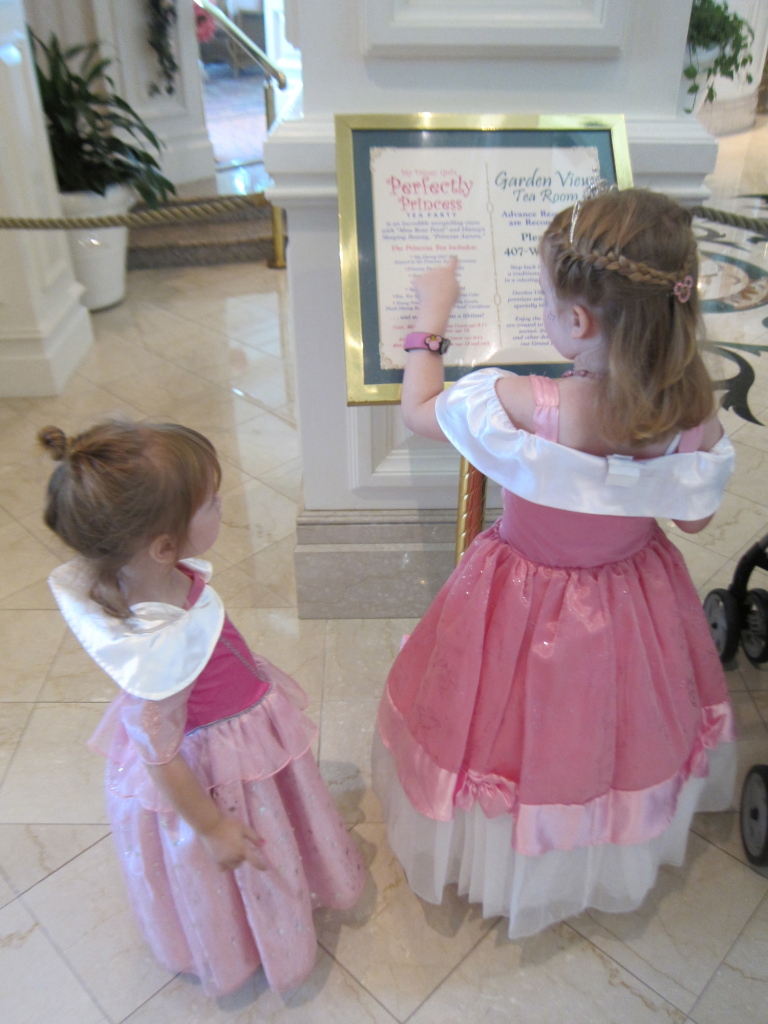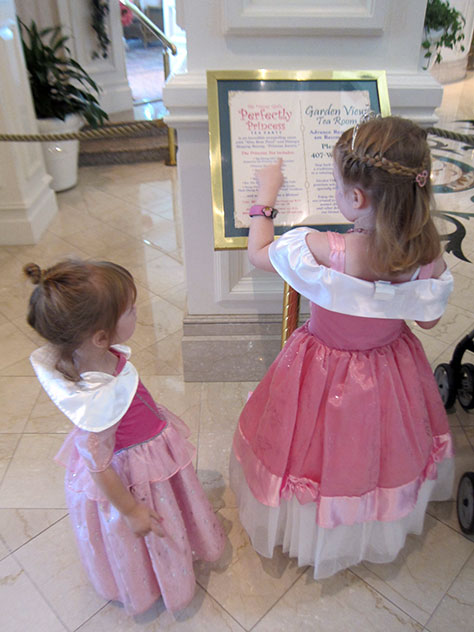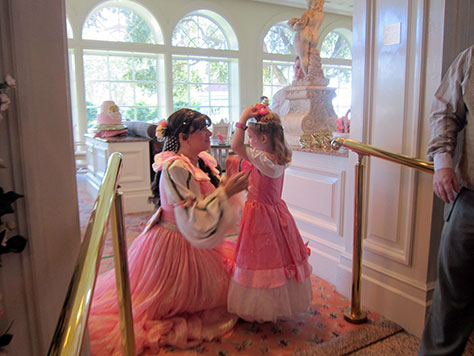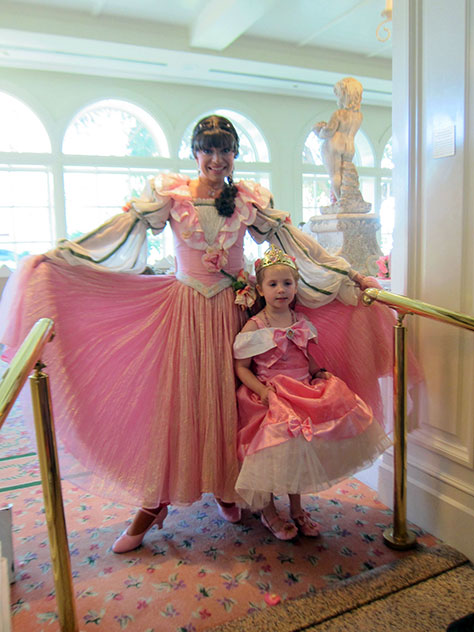 The girls are led to their tables where their new My Disney Girl dolls (dressed as Aurora) are waiting. One important thing to know: The My Disney Girl dolls have been discontinued. We didn't know this when we signed up. They still give the Aurora dolls away at the tea party, but you are unable to buy additional dolls or accessories or outfits for them anywhere in the parks or online. This was a pretty big disappointment, and I'm surprised that they haven't changed this aspect of the activity now that the dolls are discontinued.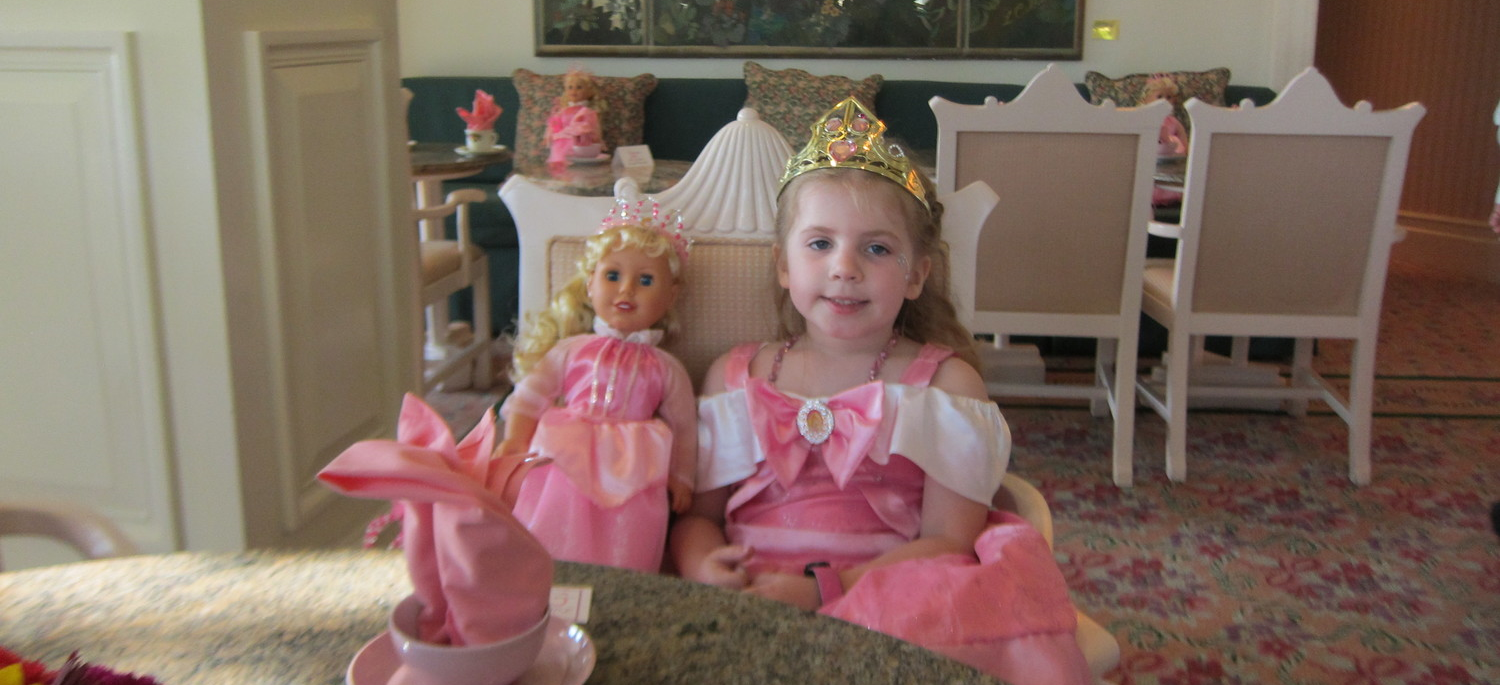 That said, the doll isn't the main reason to attend the tea party. My daughter (and, honestly, most of the girls who sat near us) showed minimal interest in the doll.  No, the real draw of the tea party is the tea party itself.
There is hot tea for the adults and a juice in a pink teapot for the kids. The adults'  tea is delicious, by the way, and I am not generally a tea fan. The finger food is delivered on plates with a lovely princess cinnamon design in the center. The jelly sandwiches are even cut into little heart shapes! Don't expect to fill up on the little sandwiches and fruits, though, they really don't constitute a meal. But there is delicious strawberry cake toward the end, which is reasonably filling if you steal a few extra bites from your preoccupied children…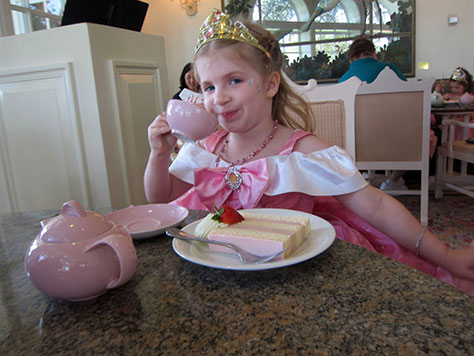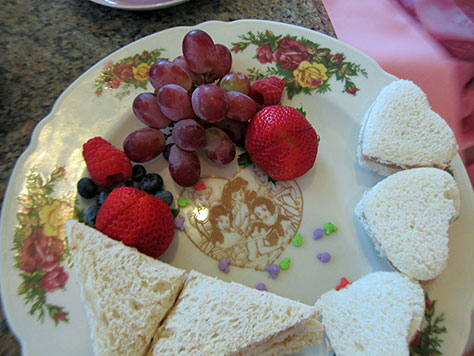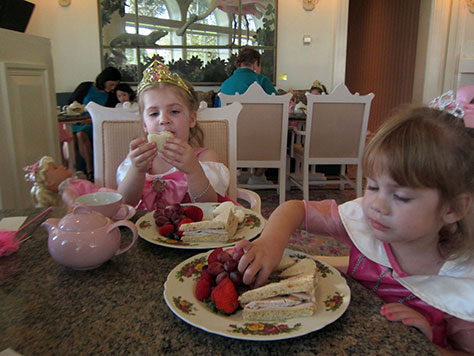 If you are bringing a little one, you have the option to not pay for them, in which case they do not get tea or a plate of snacks, or a doll. If you choose to pay for a little one, you have the option of receiving a Duffy Bear instead of an Aurora Doll.
We chose not to pay for Eva; she ate my snacks and my tea and we brought our ShellieMay bear in an Aurora dress (from Build-a-Bear workshop), and frankly I don't think she noticed whatsoever. That said, I wouldn't take a young child empty-handed, as there's a chance they might become upset when all the other girls have dolls and they do not… you'll want to be sure to bring with you some sort of special doll or stuffed animal, which you could certainly pick up from the gift shop for far less than it costs to add an extra child to the Tea Party. The children also get silver charm bracelets, which you could also pick up at any of the resort gift shops ahead of time and slip into your younger child's napkin.
Rose Petal entertains the children with singing accompanied by live piano, and even takes requests. She tells the story of how she came to be (spoiler alert: the fairies turned a rose into a girl). Then, she teaches the kids the special way to greet royalty: Hail to the King! Hail to the Queen! Hail to the Princess Aurora! complete with hand motions. As the children sing this song, Princess Aurora appears. She takes them for a parade around the room, while Rose Petal sings Once Upon A Dream. Afterward, she hands out roses to each girl, as well as a card, and spends a fair amount of time at each table for pictures and autographs and conversation. One down-side to the event is that there is no Photopass photographer to capture a really great picture with Aurora or Rose Petal— you will have to do your best with the camera you bring with you.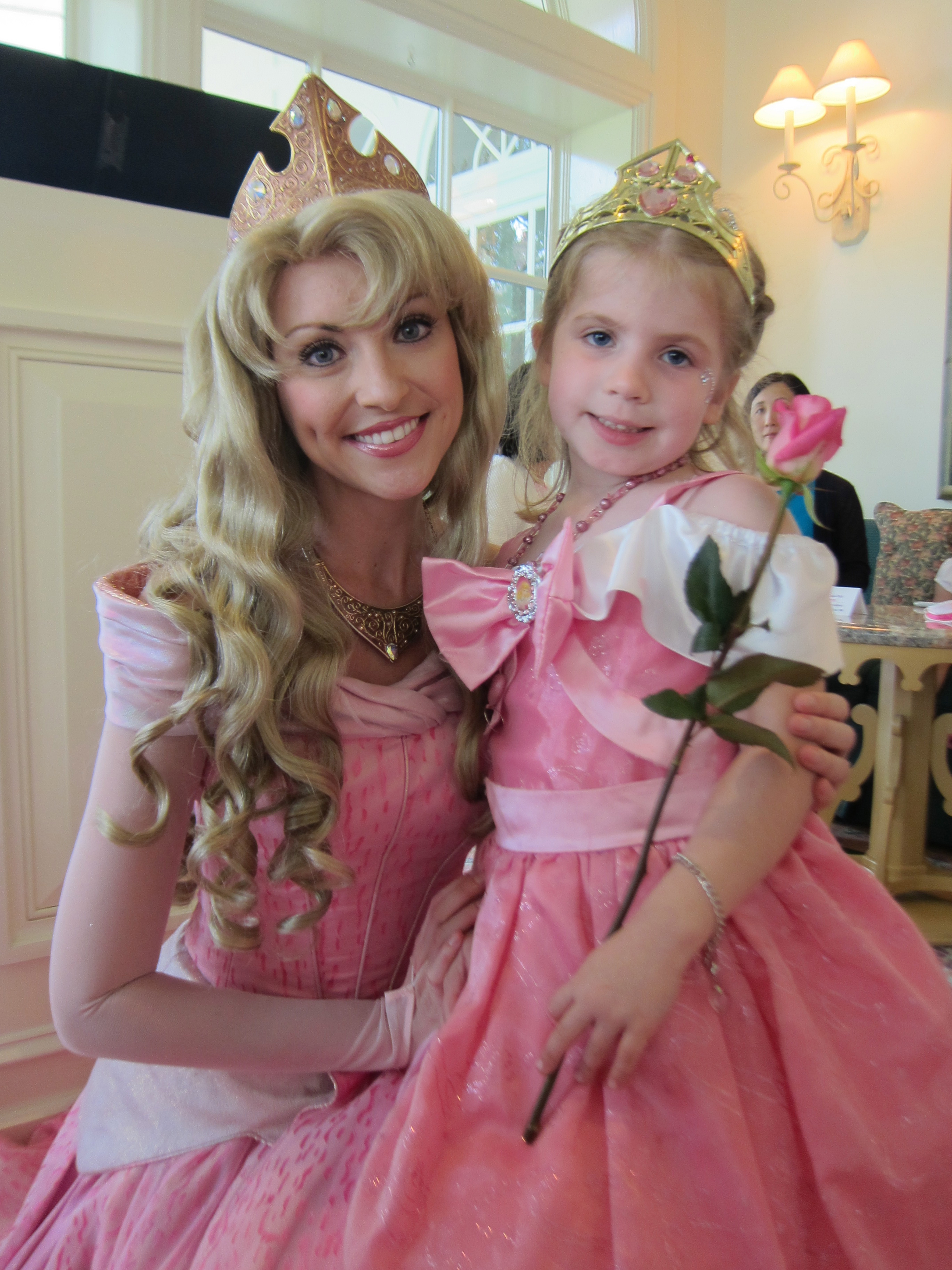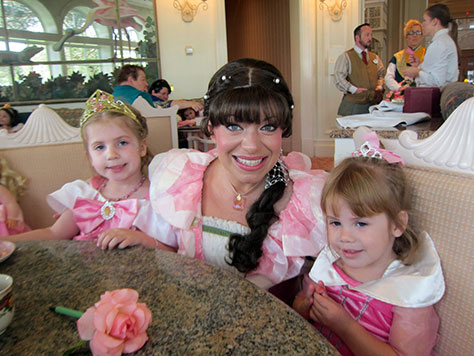 At the conclusion of the tea party, the kids are led in a parade around the Grand Floridian lobby, then up to the second floor where a photopass photographer waits to take their picture. (Why isn't the photopass photo taken with Aurora or at least Rose Petal? I have no idea!!!)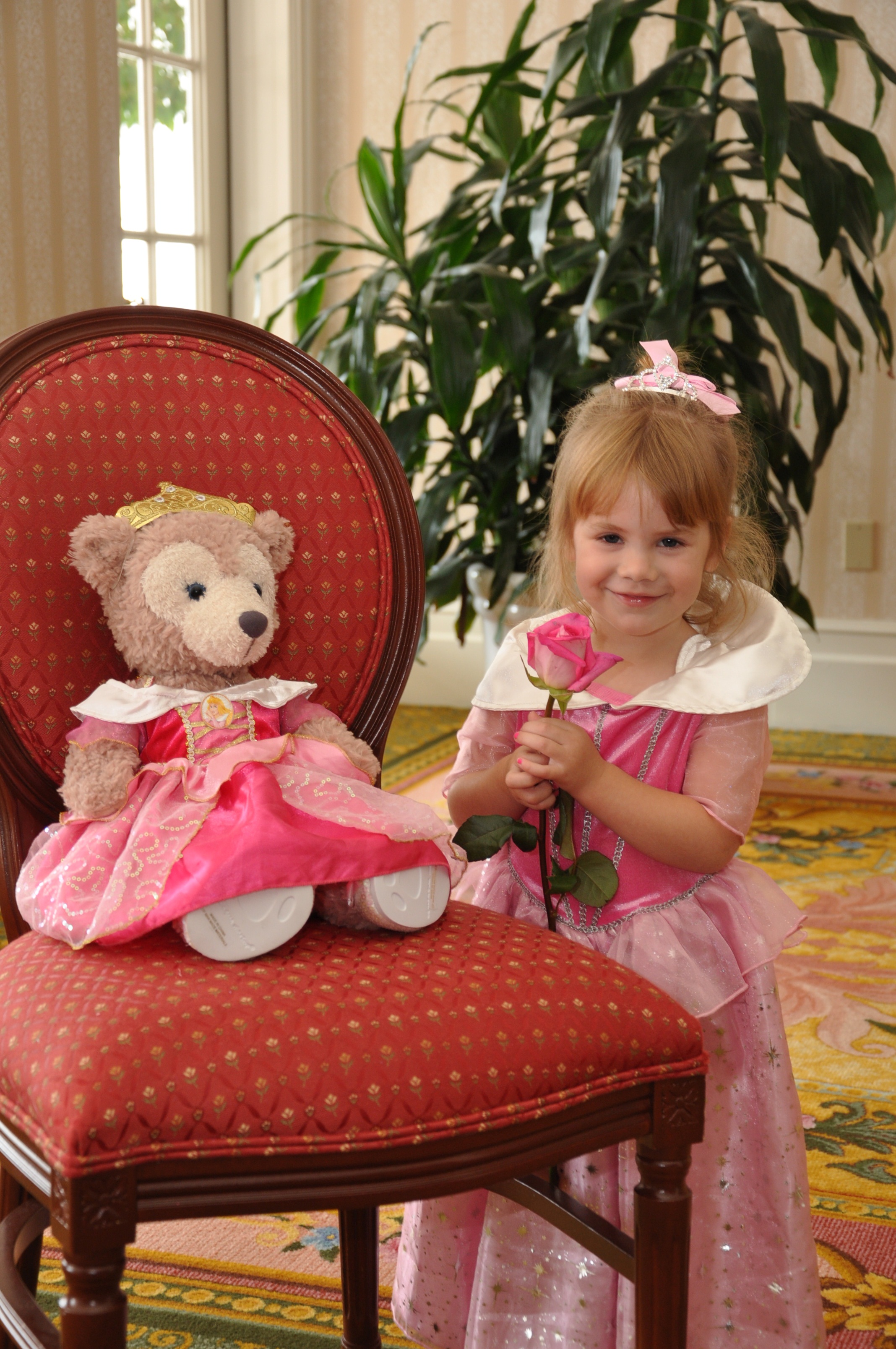 I put together a video (below) with some clips from our visit in 2013, to give you an idea of what the entertainment was like. If I recall correctly the entire experience last about two hours or so.
---
SO, IS IT WORTH IT?
$234.98 per child & $98.66 for adults
The current price is $234.98 for a child (minimum) and $98.66 for each additional adult. This cost covers the doll, the bracelet, and the other gifts.
If getting a My Disney Girl doll is important to you, this is the only way to get one as they are, as I mentioned, discontinued. I don't know how much they had cost brand new, but let's compare to the cost of an American Girl doll which is $80 new. The "silver" bracelets are $10 in the gift shops. So, the cost of the experience and "meal" for a child is still at least $75 once you take into account the value of the gifts. For younger kids, they swap the Disney Girl Doll for a Duffy Bear which only costs $30 new, so you can see that that is not a good value.
If Princess Aurora is your daughter's favorite princess, than this is a pretty obvious choice. But what if she's not? My daughters' favorite princesses (prior to Frozen) were Cinderella and Rapunzel, but they still delighted in this experience. It would be awesome if in the future Disney offered similar events with the other princesses, too. The Perfectly Princess Tea party is something my girls still talk about, and was the inspiration for our over-the-top Frozen-themed birthday party: we created a tea room and had Anna/Elsa actors instruct the girls in proper table manners, polite conversation, singing, dancing, et al— 100% inspired by this experience.
As a unique opportunity to spend a fair amount of time with a princess, I do think that the Perfectly Princess Tea Party is an experience worth doing once if you can afford it. But, it's not something I would do repeatedly— we will not be doing it on our next trip, though I imagine we will go one more time when Eva is older. If you do choose to do it, I offer the following recommendations:
DO take young children: I'd say 2yrs to 12yrs will enjoy this experience. My girls were 2.5yrs and 4.5yrs when we went in 2013 and both had a wonderful time.
DON'T pay for kids under three. When you make your reservation, you'll be offered the choice to opt-in to pay for your small ones. But, there's no need: they can eat off your plate. I'd add, DON'T pay for extra adults, either. The show is really geared for the littles, and it doesn't seem worth $85 extra if one parent can handle them and take photos, etc.
But DO bring a special doll for your littlest one if you opt out of paying for them, so they're not sad when all the older kids get new dollies. The last thing you want is a melt down over a $30 bear when you're paying hundreds of dollars for tea.
DO go fancy: dress up (bring a costume from home if you have one), and if you are thinking of booking a Bibbidy Bobbidy Boutique appointment, try to get it for first thing on the morning of your Perfectly Princess Tea party reservation, ideally at Magic Kingdom so you can ride the monorail over to the Grand Floridian.
DO bring a good camera: the photopass photographer comes at the end of the event after Princess Aurora has left, so if you want a pic of your child with the princess it's up to you.
DON'T skip breakfast or lunch for the Tea Party. Though it's tempting to consider the 10:30 event like a brunch, the finger food will not fill you up and you will need a meal either before or after.
Last, but not least: the Garden View Tea Room offers a formal afternoon tea every day during the week between 2:00 and 5:00. If the Perfectly Princess Tea Party is outside of your budget, you might consider getting dressed up and having your own fancy tea party anyway. There wouldn't be characters present, but I'm certain it would be a memorable experience for you and your little one nonetheless! (You can view a copy of the menu for the general tea service here…. If you are using the Disney Dining Plan, the Garden View Tea Room counts as a Table Service. You can not use the Dining Plan for the My Disney Girl's Perfectly Princess Tea Party however.)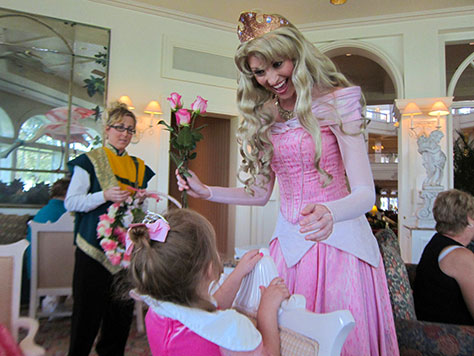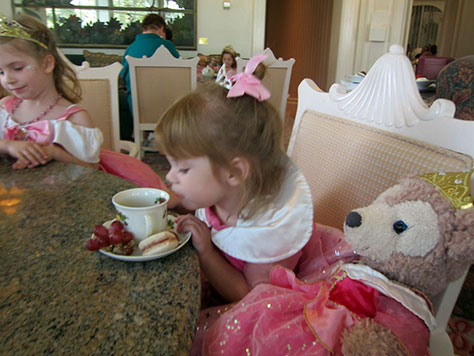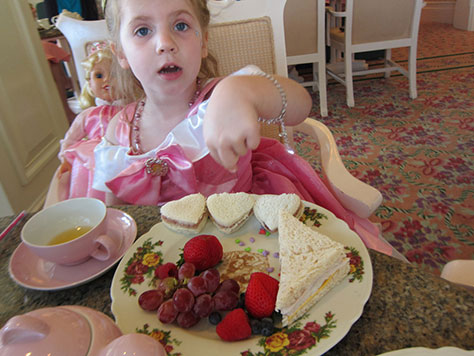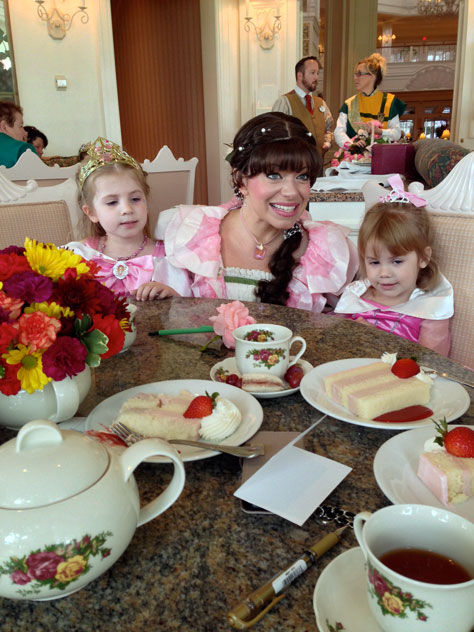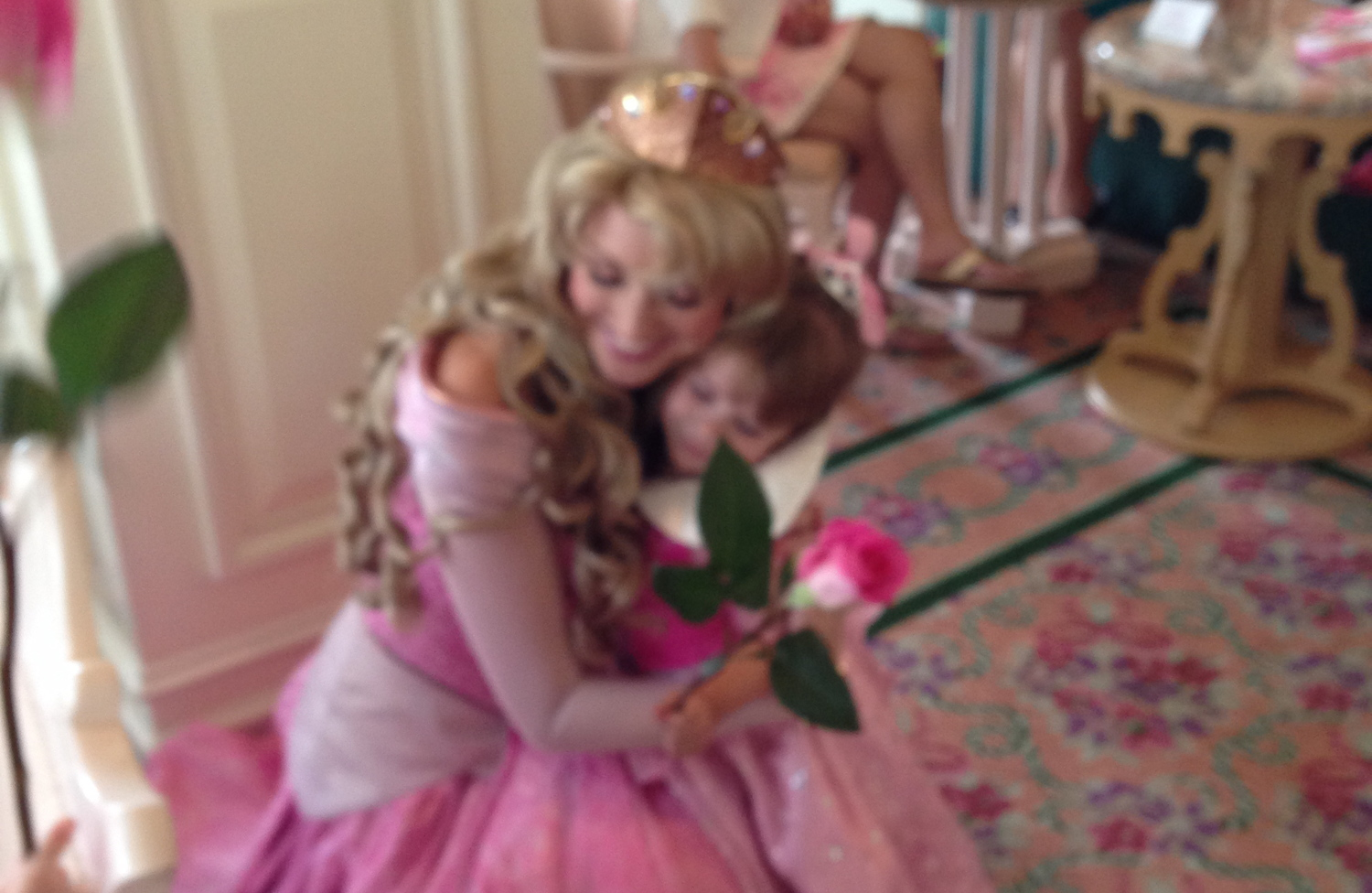 ---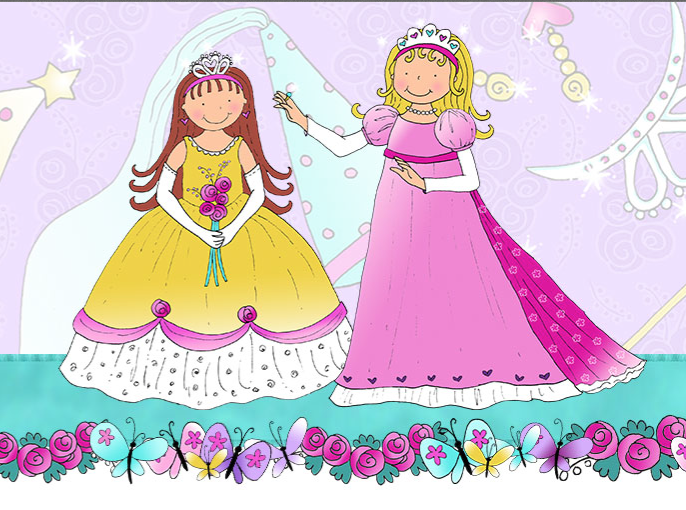 ABOUT THE AUTHOR: Melissa has a new blog called PrincessRants that covers all things princessy—- from Disney Trip Tips to Costume Reviews, Crafts Projects, Frozen-themed Parties, App Reviews and more! If it's got a tiara attached to it, chances are she's seen it / done it / and has thoughts to share!
Are you planning a vacation? Reach out to our trusted travel agency sponsor Authorized Disney Vacation Planner
Mouse Class Travel
!