Hello there! I'll be your skipper, tour guide, social director, swim instructor and restaurant reviewer. Wait, what? Take a look at my review of Jungle Navigation Co. LTD Skipper Canteen, which is located in the Magic Kingdom.
One of the nice things about my recent trip was that I tried new restaurants and experiences that I had never done before. Usually, I find myself visiting the same restaurants at Walt Disney World over and over again because I know I love them. I know what to expect and I know I will not be disappointed.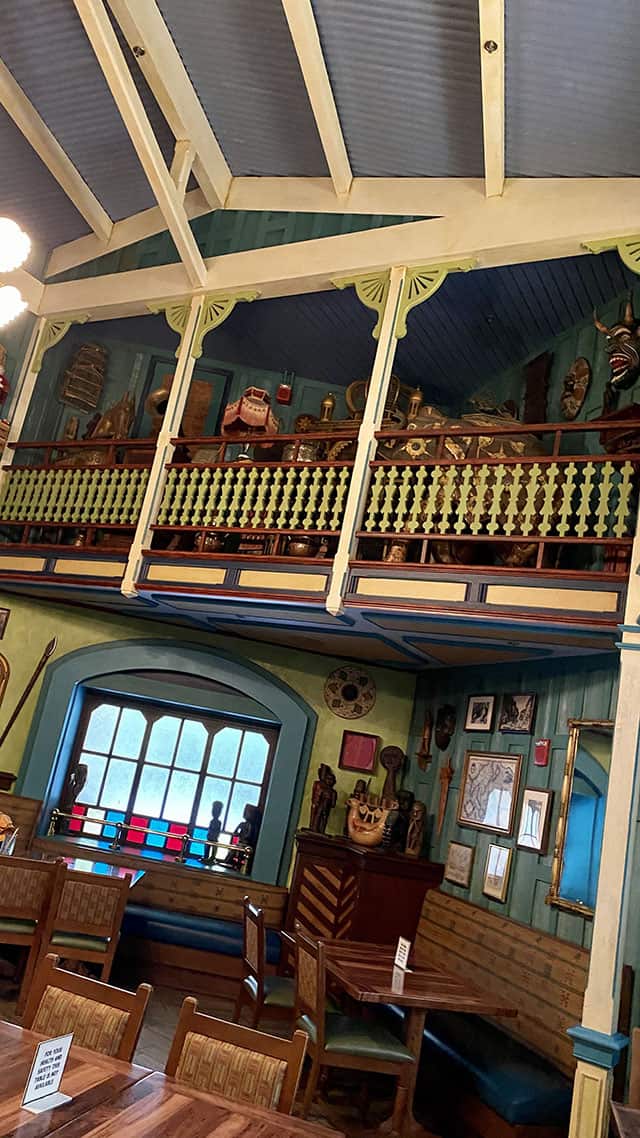 With that in mind, I was very excited to try some new places on this trip, and Skipper Canteen was one of them!
Skipper Canteen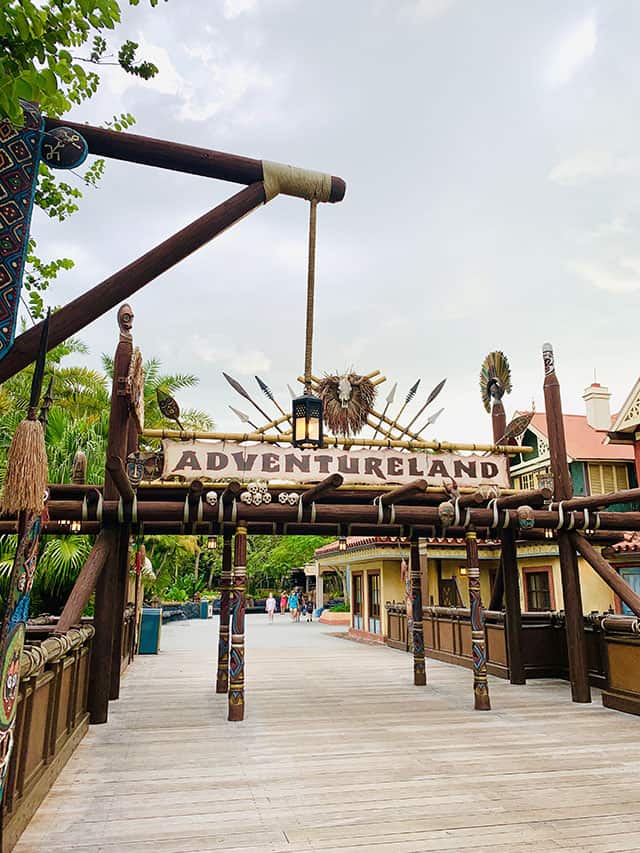 Guests visiting the Magic Kingdom can dine at Jungle Navigation Co. LTD Skipper Canteen (which I will shorten to 'Skipper Canteen' for this review) located in Adventureland.
The whole idea behind Skipper Canteen is that the many employees of the Jungle Navigation Company need a place to eat! What better place than Skipper Canteen?
As you approach Skipper Canteen, you feel like you are stepping into a jungle. If you are looking for some adventure, this is the place to try. Get ready for some exotic flavors, flavorful food and lots of fun, or should I say, puns?
We used the mobile check-in feature when it was time for our reservation. When our table was ready, our hostess (or skipper) greeted us immediately with some jokes.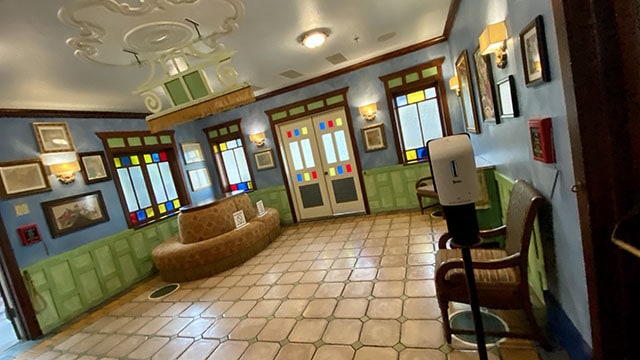 Upon entering is the waiting area. You can see that hand sanitizer is available and social distancing markers are in place throughout the seating area.
I like the look of the stained glass in the doors and windows and colors of the walls. I think they compliment the jungle theme well.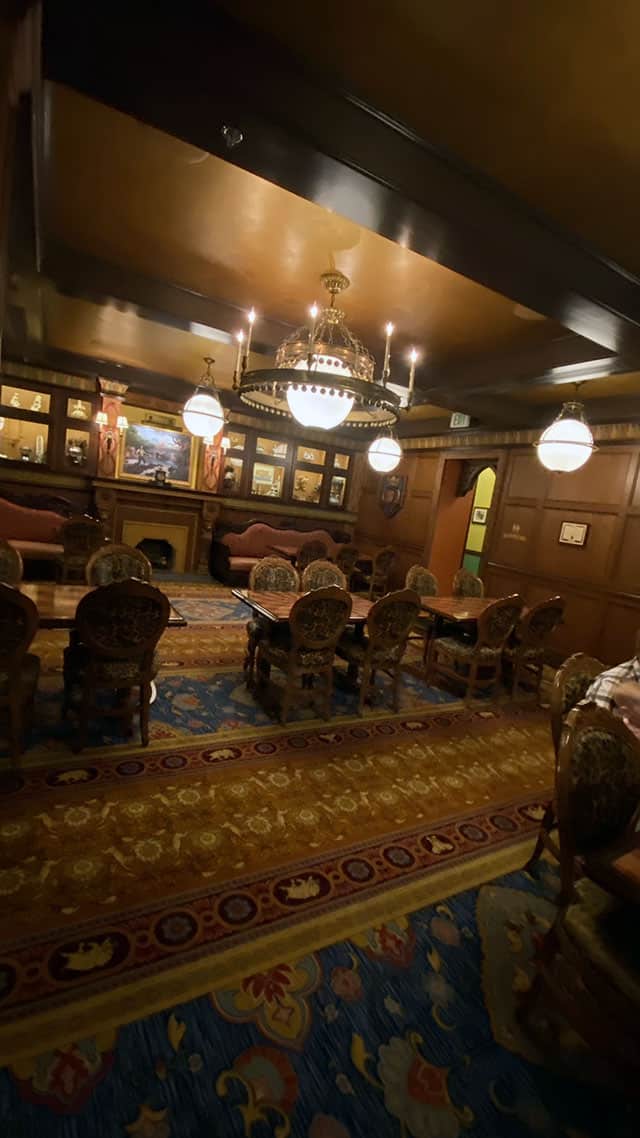 Disney describes Skipper Canteen as having "3 curiously quirky rooms: the crew's colonial-era Mess Hall (which is not messy at all, thank you very much); the Jungle Room, former family parlor of Dr. Albert Falls himself; and the S.E.A. Room – a once-secret meeting place for the Society of Explorers and Adventures!"
We sat in the Mess Hall, and it was in fact, not messy at all.
Atmosphere
I found the atmosphere to be very open and spacious. In the picture shown above, you can see just how much social distancing there is.
Many tables are marked as not being available. I found there to be plenty of space in between parties.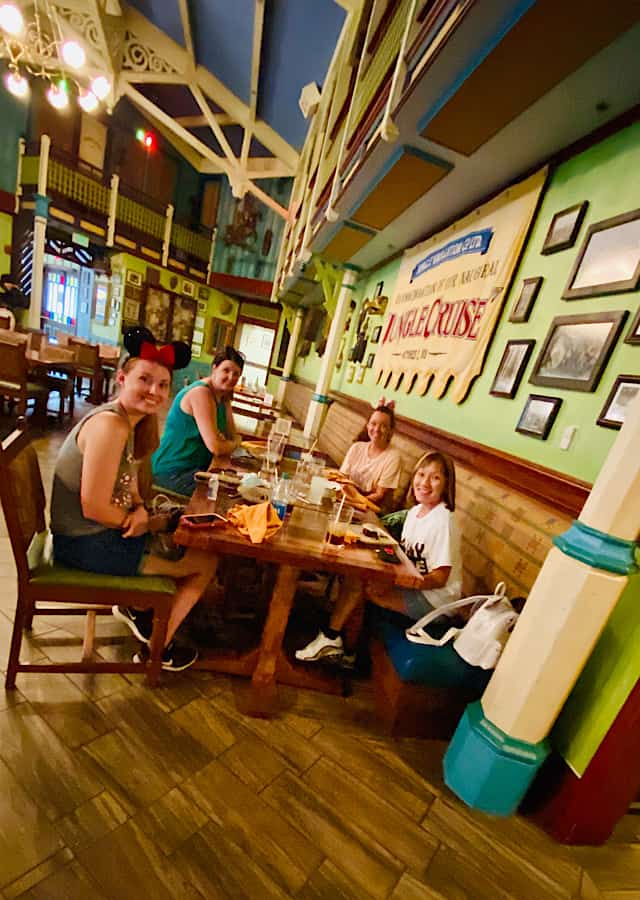 The walls are filled with fun jungle cruise related photographs and mementos. It really feels like you just stepped off of the jungle cruise!
You might want to take some time to just explore all of the fun rooms and look at everything on the walls.
Menu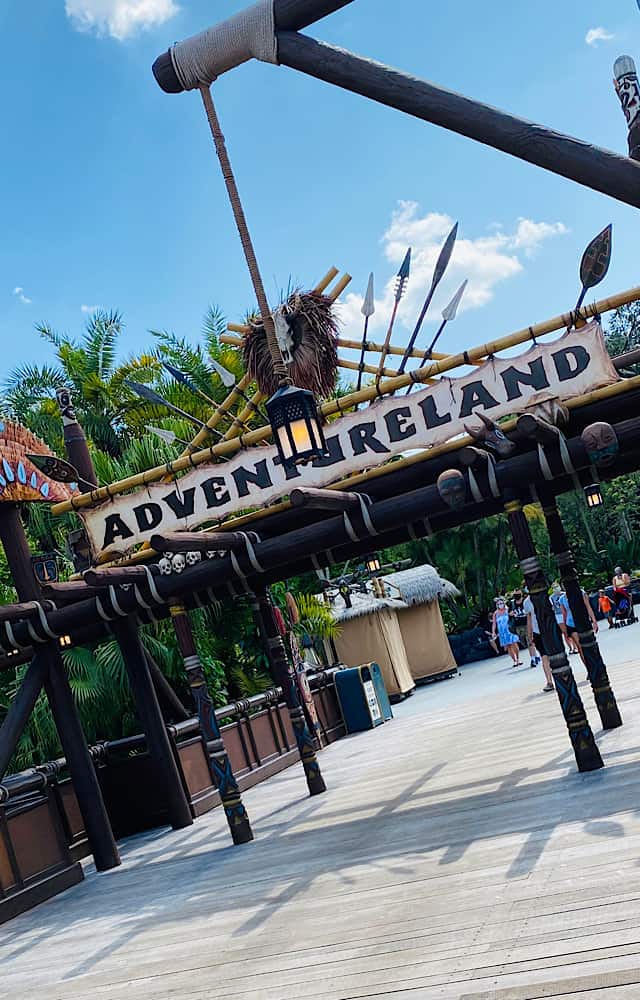 The food at Skipper Canteen is exotic. Disney describes it as having African, Asian and Latin Cuisine. So, if those tastes are not something you normally enjoy, you might want to try another dining location that is a little more traditional.
DON'T FORGET! CHARACTER LOCATOR ALSO HAS UPDATED MENUS FOR ALL OPEN RESTAURANTS!
Since I think the menu is half the fun of dining here, let's take a look at all of the menu offerings!
Appetizers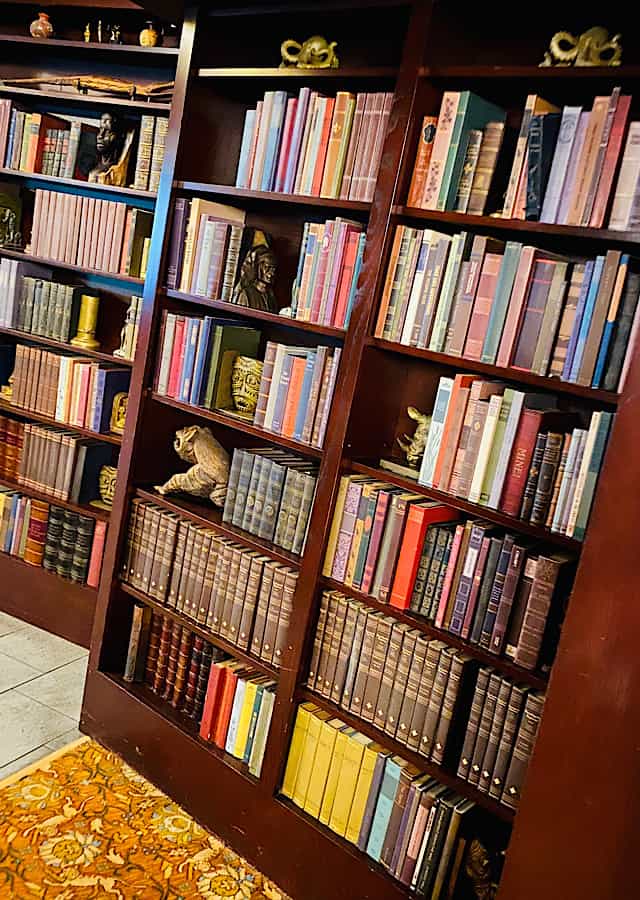 Jungle Green Salad
From the depths of the Jungle…Skipper Bill's Iceberg Wedge with Shishito Peppers, Radish, Hearts of Palm, Cucumbers, and Pistachios with an Ají Pepper-Yogurt Dressing $10.00
Lost and Found Soup
Chef's Seasonal Soup prepared with the freshest unclaimed cargo! Please ask you Skipper for today's selection $9.00
Falls Family Falafel
A secret recipe of Chickpeas, Garlic, Onions, Lemon Juice, and Herbs served with House-made Edamame Hummus and Toasted Pumpkin Seeds $10.00
Orinoco Ida's Cachapas
And you thought our jokes were corny! House-made Corn Pancakes, Beer-braised Pork, Roasted Corn, Fresno Pepper Salsa, and Avocado Cream $13.00
Entrees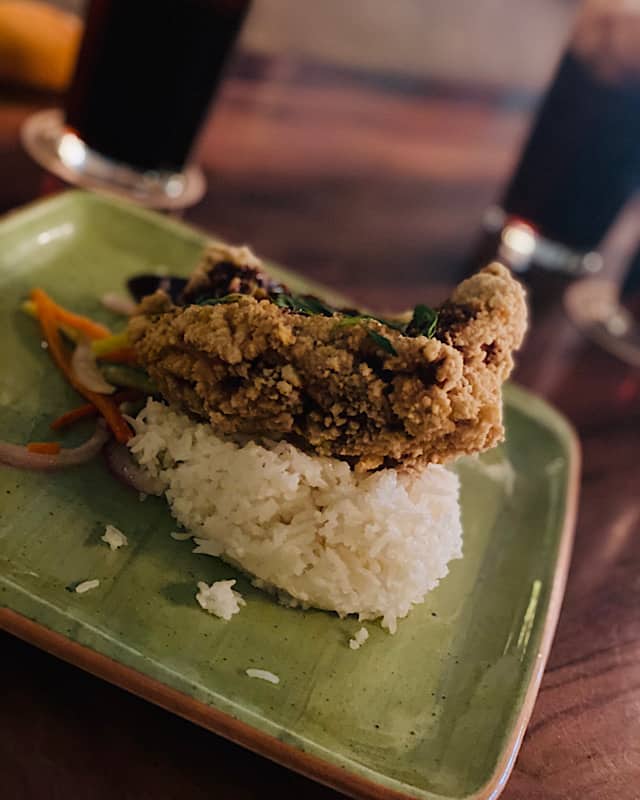 Dr. Fall's Signature Grilled Steak
Adobo-seasoned New York Strip, Vegetable and Chorizo Farofa, Caramelized Onion Purée, and Red Wine Reduction $34.00
Curried Vegetable Crew Stew
A favorite of the Crew Stew Crew (especially Stu). Seasonal Vegetables and Pineapple Tofu in a House-made Curry Sauce served with Coconut Rice $19.00
Sustainable Fish
"Not Piranha," served on a Cassava Cake with Wilted Greens and a Guava-Habanero Sauce $31.00
"Tastes like Chicken" Because it is!
Crispy-fried Chicken served with Jasmine Rice, Chili Glaze, and Seasonal Vegetables $24.00
"Hardy Har Char" Siu Pork
Char Siu-marinated Pork served with Seasonal Vegetables and Jasmine Rice $25.00
Perkins Thai Noodles
Tofu, Seasonal Vegetables, and Rice Noodles tossed in a Spicy Soy-Chili-Garlic Sauce. A favorite of our friend Pamelia Perkins, Adventurer's Club President. Available with Chicken $25.00
Desserts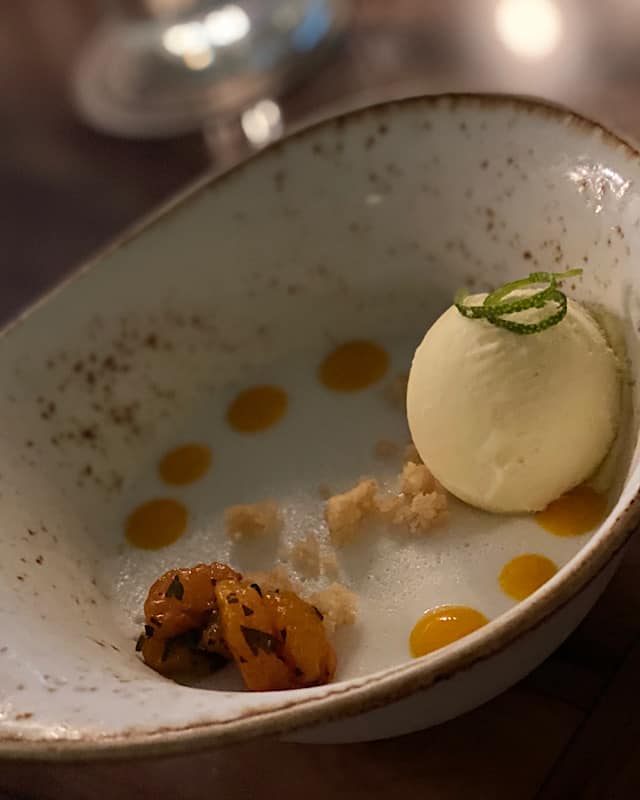 Coconut Bar with Pineapple-Basil Compote and Vanilla Cream
Vanilla Chiffon Cake with Coconut and Lime-White Chocolate Ganache $8.50
Kungaloosh!
An African-inspired Chocolate Cake with Caramelized Bananas served with Cashew-Caramel Ice Cream topped with Coffee Dust $9.00
Panna-Connie's Congo Lime Delight
Lime 'Panna Cotta' served with Mango-Lime Sorbet, Fresh Fruit, and a Brazil Nut Cookie $9.00
Kids' Appetizers (à la carte)
Safari Snack
Cucumbers and Carrots served with a Cucumber-Yogurt Dip $3.00
Serengeti Salad
with fat-free Ranch dressing $3.00
Kids' Create-Your-Own Entrées (choose one)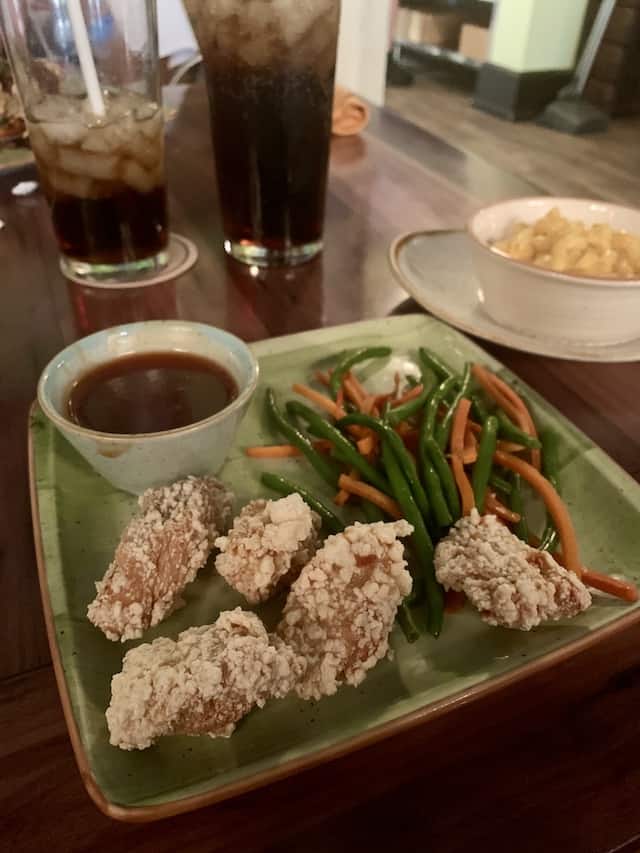 Congo Connie's Coconut-Curry Concoction
Served with Pineapple Tofu, Jasmine Rice, and choice of two (2) Selections and choice of Small Lowfat Milk, Small Dasani® Water, or Small Minute Maid® Apple Juice $12.00
Junior Skip's Macaroni & Cheese
Served with choice of two (2) Selections and choice of Small Lowfat Milk, Small Dasani® Water, or Small Minute Maid® Apple Juice $10.00
Sizzling Savanna Grilled Steak
Served with choice of two (2) Selections and choice of Small Lowfat Milk, Small Dasani® Water, or Small Minute Maid® Apple Juice $13.00
Chef Tandaji's Crispy Chicken
Served with choice of two (2) Selections and choice of Small Lowfat Milk, Small Dasani® Water, or Small Minute Maid® Apple Juice $11.00
Kids' Create-Your-Own Selections (choose two)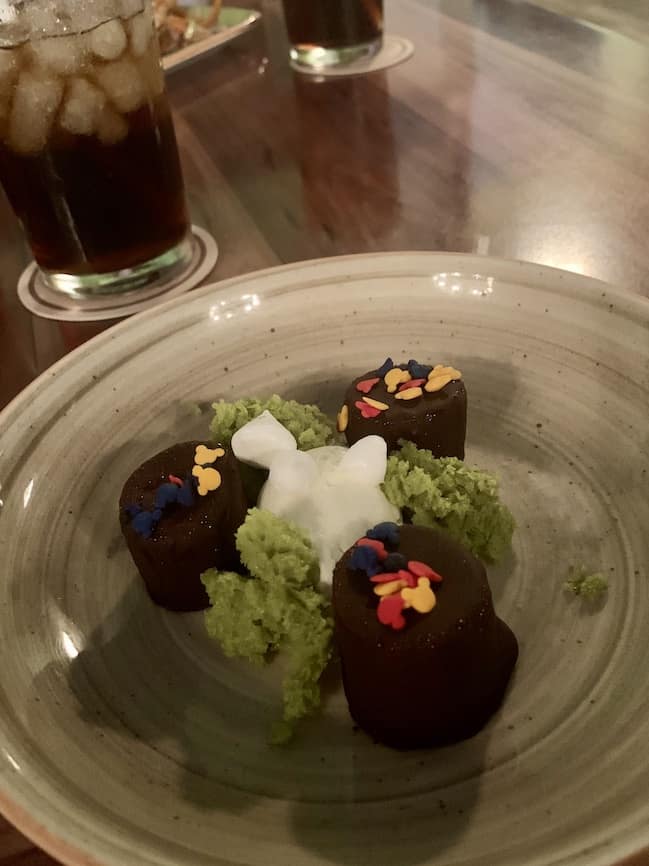 Steamed Broccoli
Fingerling Potatoes
Seasonal Fruit
Seasonal Vegetables
Jade Rice Blend
Monkey Banana Bites
Volacano! Cake
Jungle Cuisine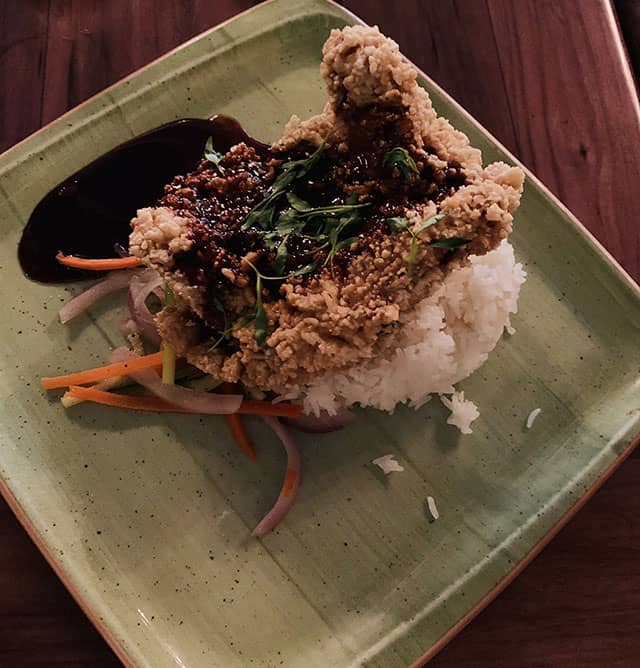 I had the "Tastes like Chicken" Because it is! It did in fact, taste like chicken. I found it to be crispy and not too dry. The Jasmine Rice was sticky as expected, and I thought the Chili Glaze was a nice compliment to the meal.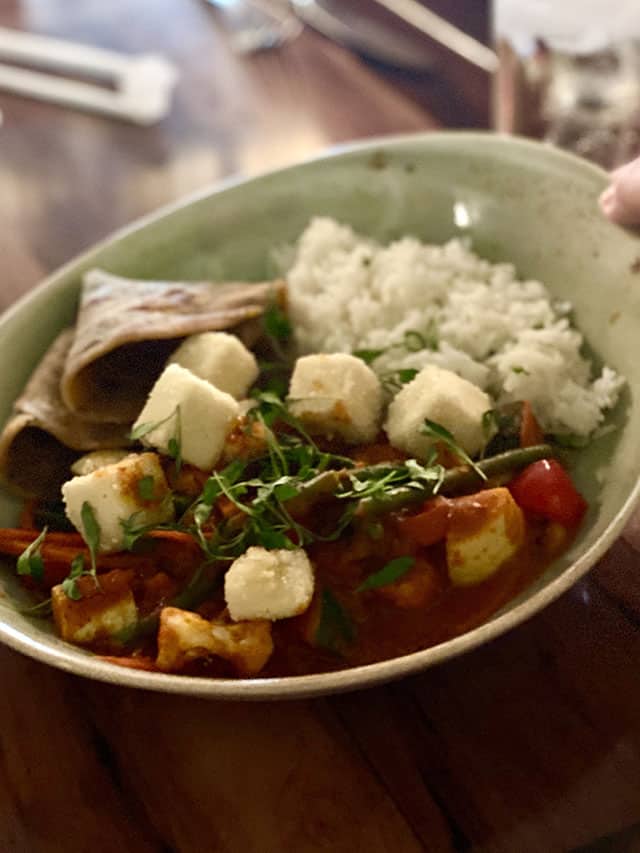 Fellow KtP Writer, Susan had the Curried Vegetable Crew Stew with pineapple tofu. She said, "It tasted just like pineapple and the dish was incredibly flavorful! Loved it! The tofu really did taste just like pineapple and the several layers of flavor were delicious!"
This dish is plant based, so vegan lovers might enjoy this dish.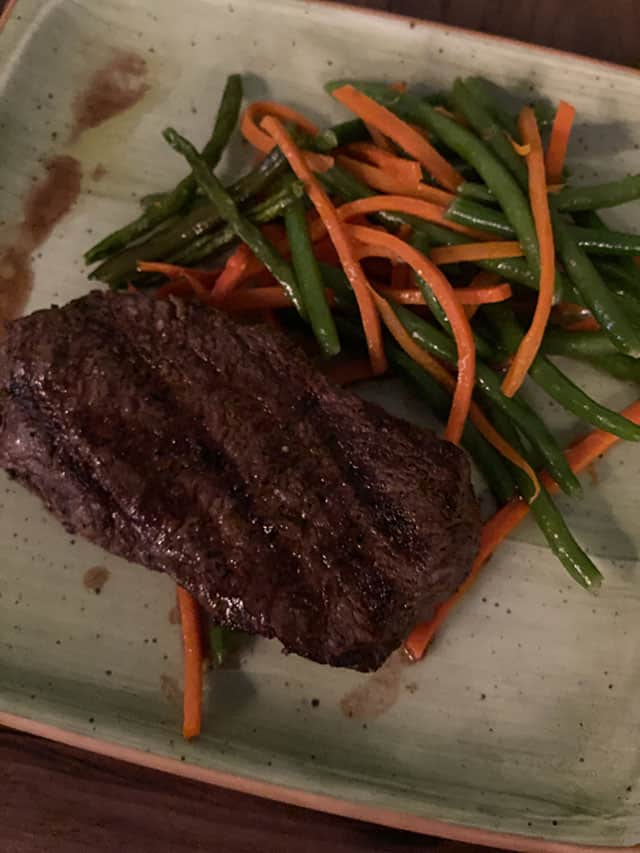 Jessica had the Kid's Sizzling Savanna Grilled Steak with green beans, and thought it was a great meal for a child or an adult.
She said, "The steak was grilled to a perfect medium and the green beans were flavorful, nothing like POP food court.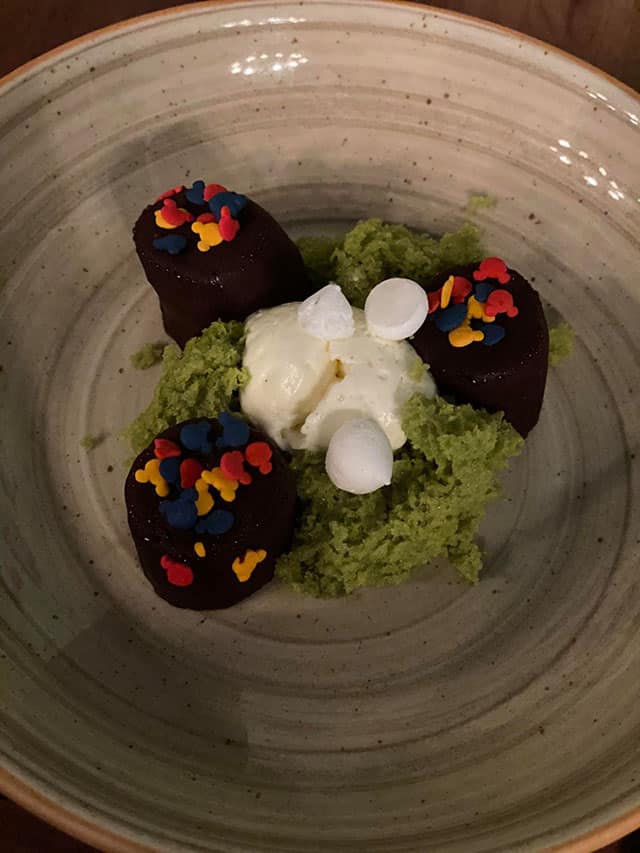 My second side was Monkey Banana Bites, which are dark chocolate covered bananas and they were the perfect sweet treat to finish my meal."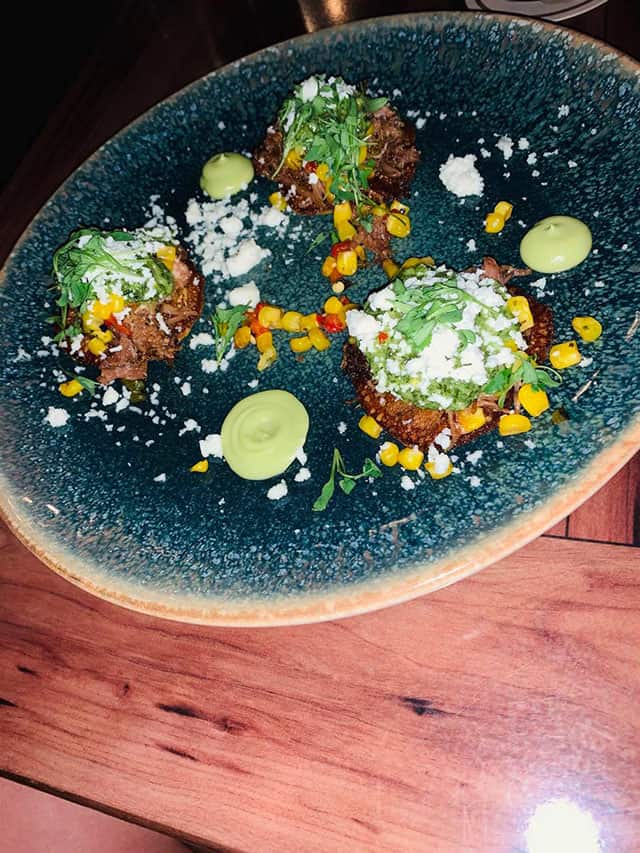 Jamie chose to have the Orinoco Ida's Cachapas. She thought they were spicy, but different and interesting. However, since her family is not very adventurous, she feels that she would not return.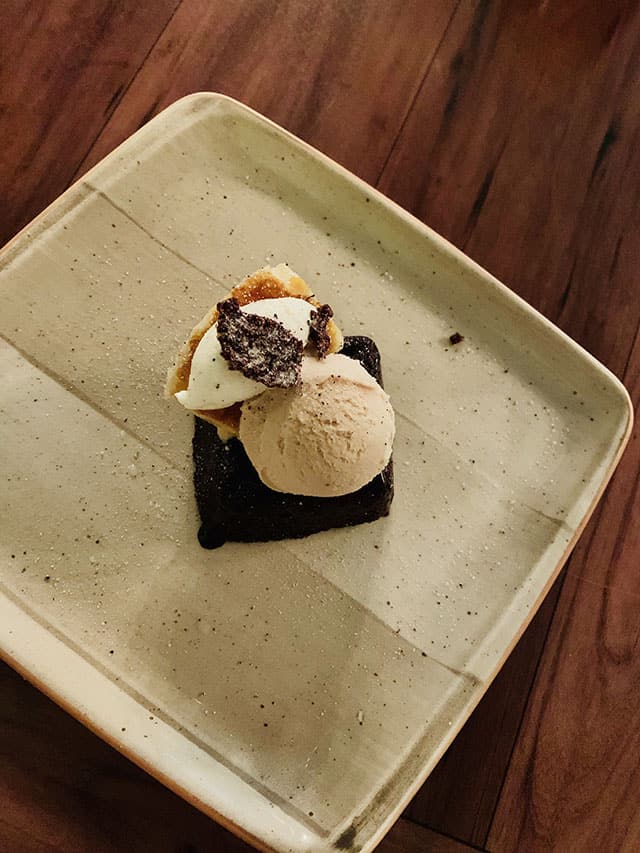 For dessert, she chose the same dessert I had, which was their Kungaloosh!
I enjoyed the Kungaloosh! The chocolate was not too rich or overwhelming, and the cashew caramel ice cream was a nice contrast to the chocolate cake. It had just a hint of banana flavor, but it was not too much. However, if you are not a fan of chocolate, you probably would not enjoy it.
Final Thoughts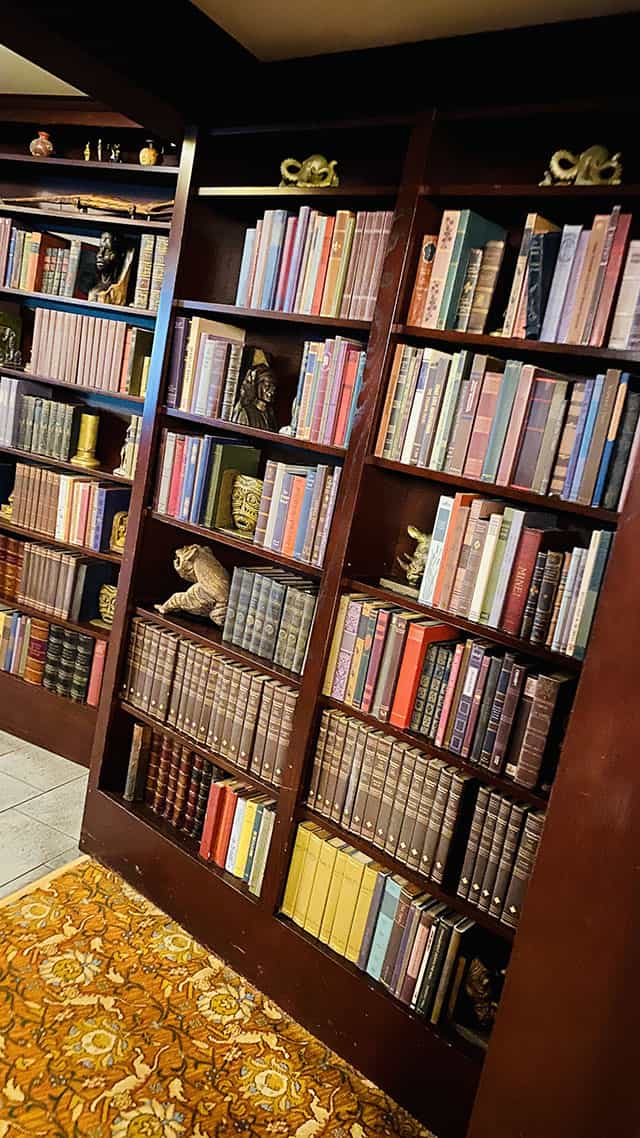 I enjoyed Skipper Canteen. It was my first time visiting and I think I would return. However, since much of the food is a little on the exotic, more adventurous side, I probably would consider going somewhere else if taking my family.
I enjoyed the atmosphere and laid back nature of the restaurant. I feel like the theming of the restaurant is well done. It is definitely a place you would want to dine if you are a fan of the Jungle Cruise! The servers do a fantastic job of entertaining guests and our service was great.
Have you visited Skipper Canteen before? How was your experience? Please tell us about it in the comments below or on our Facebook page!
Maggie Baltz
Are you planning a vacation? Reach out to our trusted travel agency sponsor Authorized Disney Vacation Planner
Mouse Class Travel
!