Busy holiday weekends at Walt Disney World usually mean more crowds and longer wait times for attractions. What does this mean post-COVID, though? We gathered wait times and stacked them up against real-time experience. Here's what we found.
Labor Day Weekend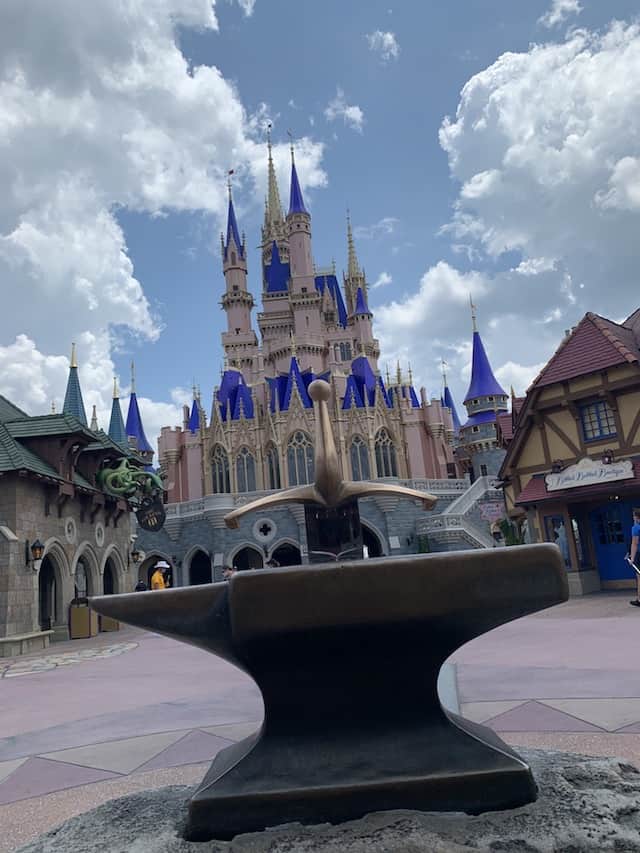 Labor Day weekend is the busiest weekends of the year to visit Disney World since the parks reopened in June. Orlando was recently named the #3 busiest travel destination this year. All four parks, while operating at reduced capacity, still reached those capacity limits.
Park Passes were not available for any of the four theme parks on both Saturday and Sunday. Things are looking a little better for today, Monday September 7. Only Annual Passholders are blocked from making Park Passes from all parks but Epcot.
So, what does this mean for crowds? Well this is the first time since reopening that Park Passes have been all booked up across the board.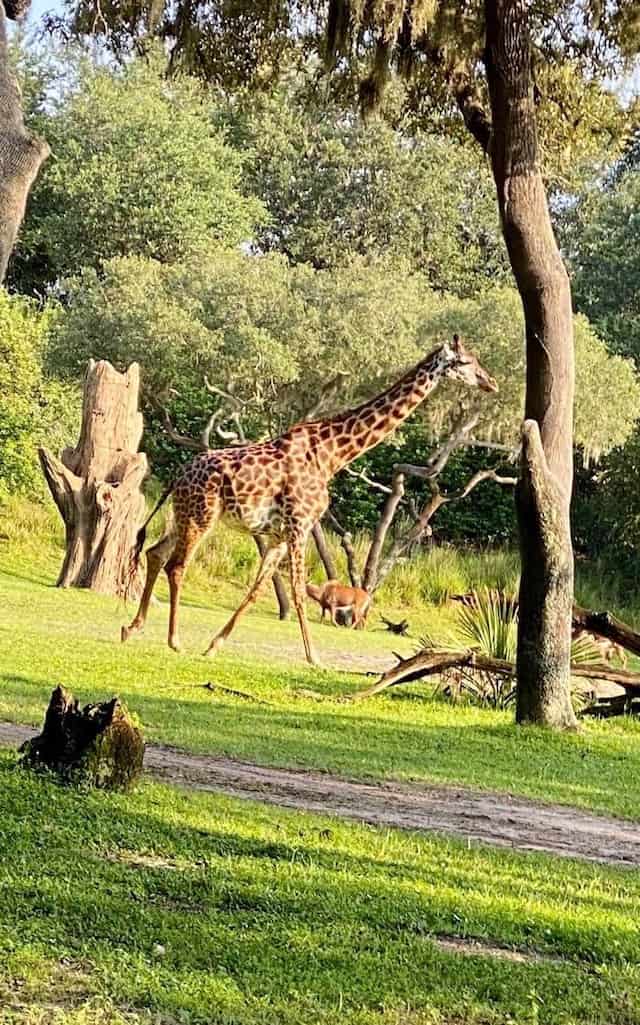 Kenny and two of the writers on our staff were in the parks this weekend, and they all said this is definitely the busiest the resort has felt since July. They all said it felt closer to a "normal" park day pre-COVID – not the extremely low crowds we have experienced lately.
So let's take a look at the posted wait times for attractions around Walt Disney World parks. I staggered the times over the course of the two days (Saturday and Sunday) so you can have a better idea of how the times fluctuate.
Please note these are also posted wait times, which are different than actual wait times. Some times the wait times are overestimated, just to move the crowds around. Other times they grossly miss the wait time and you stand around longer than posted.
10 am Saturday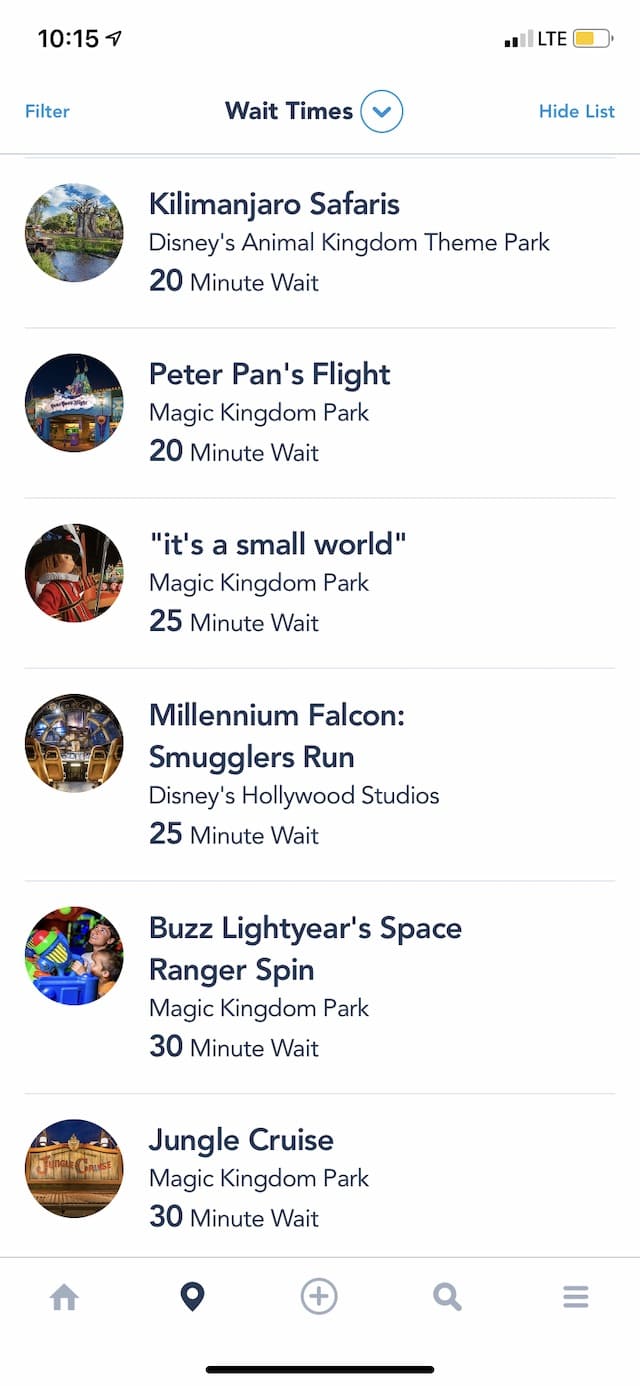 Being that the parks have only been (officially) open for about an hour and Hollywood Studios just a few minutes, the wait times are not terrible.
We do recommend you arrive early to the parks! They always let Guests in early so there is no crowding outside the entrance, and many times you can even experience a few attractions before the park officially opens.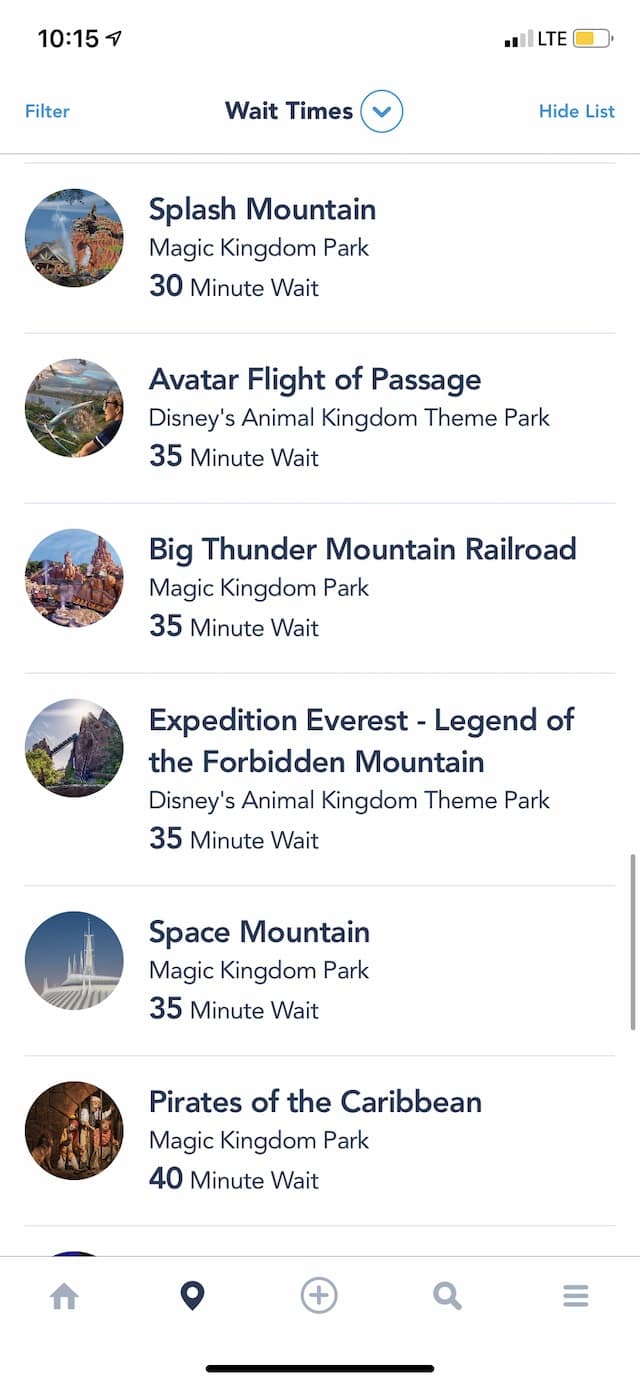 Already the wait times for many popular attractions are sitting at 20-40 minutes. The more popular the attraction, the higher the wait.
Flight of Passage and Expedition Everest both have wait times of 35 minutes.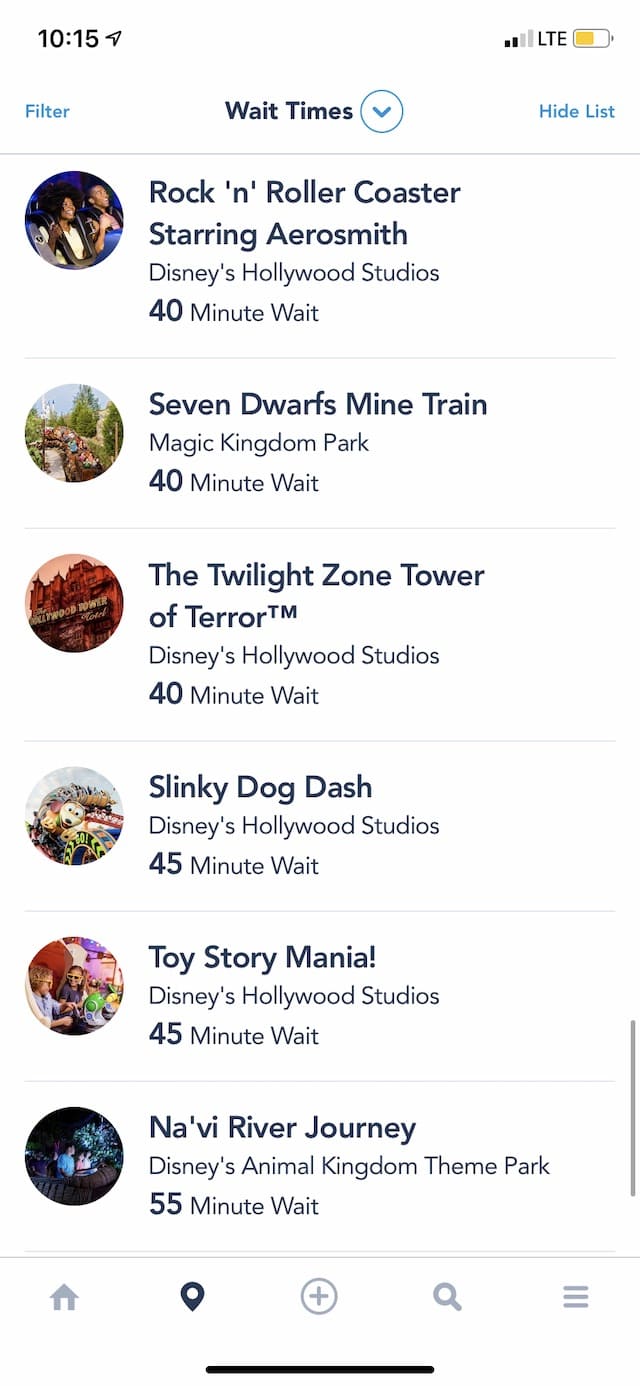 Within 15 minutes of opening, Rock 'n' Rollercoaster, Tower of Terror, Slinky Dog Dash, and Toy Story Mania all have waits of 45 minutes. Remember, oftentimes rides will begin operating before official park opening.
Kenny reported that Hollywood Studios and Magic Kingdom each opened 1 hour before posted opening time and several rides in each park were open to enjoy. Usually, the parks open about 30 minutes prior to the posted opening during this re-opening era.
Get there early to beat the crowds!
Not pictured is Mickey and Minnie's Runaway Railway – at 10:15 am the posted wait time was 90 minutes!
12 pm Sunday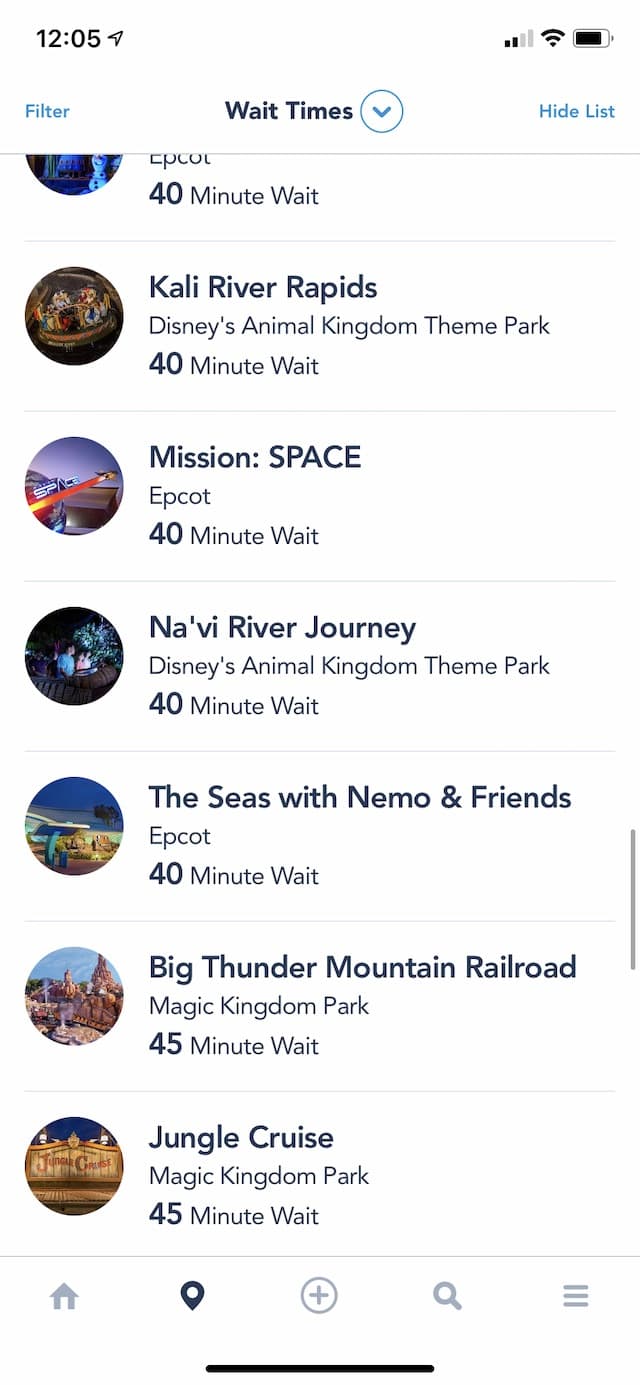 Ok, let us switch gears (or days) and look at 12 pm on Sunday. While this is different day, all parks are still at capacity meaning crowd levels are roughly the same.
Here is where Kenny did a little experimenting. The posted wait time for Space Mountain was 30 minutes at 12:00 pm on Sunday. The queue zig zagged all over Tomorrowland near the ride and in front of the Tomorrowland stage.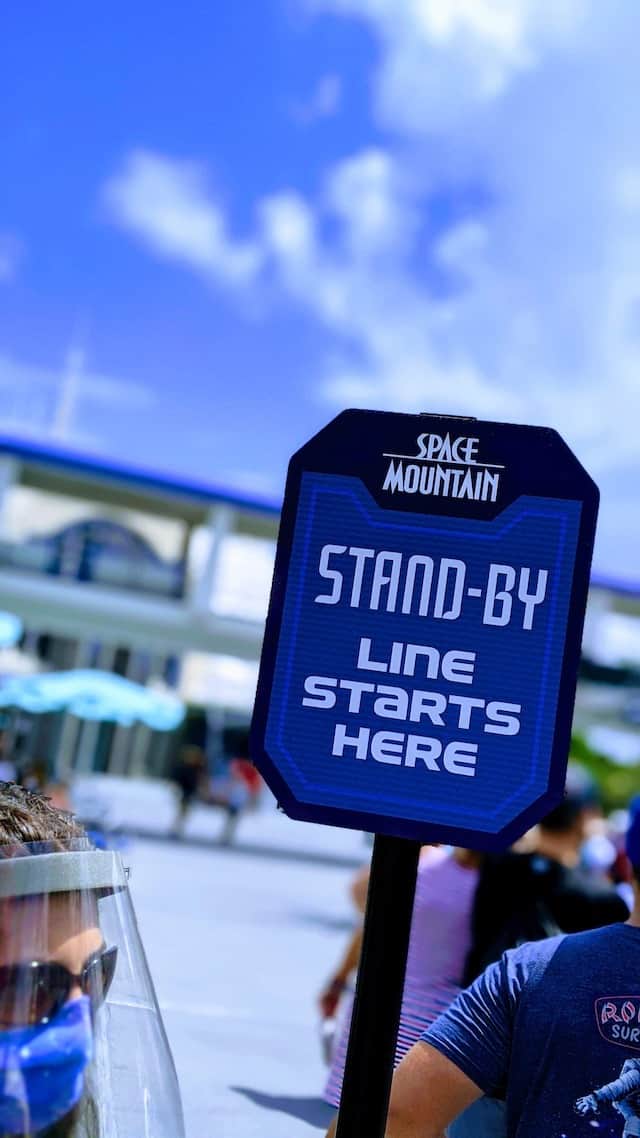 Looks intimidating, huh? Kenny entered the queue at this time to see what the actual wait time was. He waited 15 minutes in the outside queue, in the blazing sun, and then an additional 20 minutes inside for a total wait time of 35 minutes.
In this case, the actual wait was longer than the posted wait. Sometimes it does the opposite of what we expect! When he exited Space Mountain, the line was even longer. The posted wait time still said 30 minutes, but the wait was likely more like 45 minutes.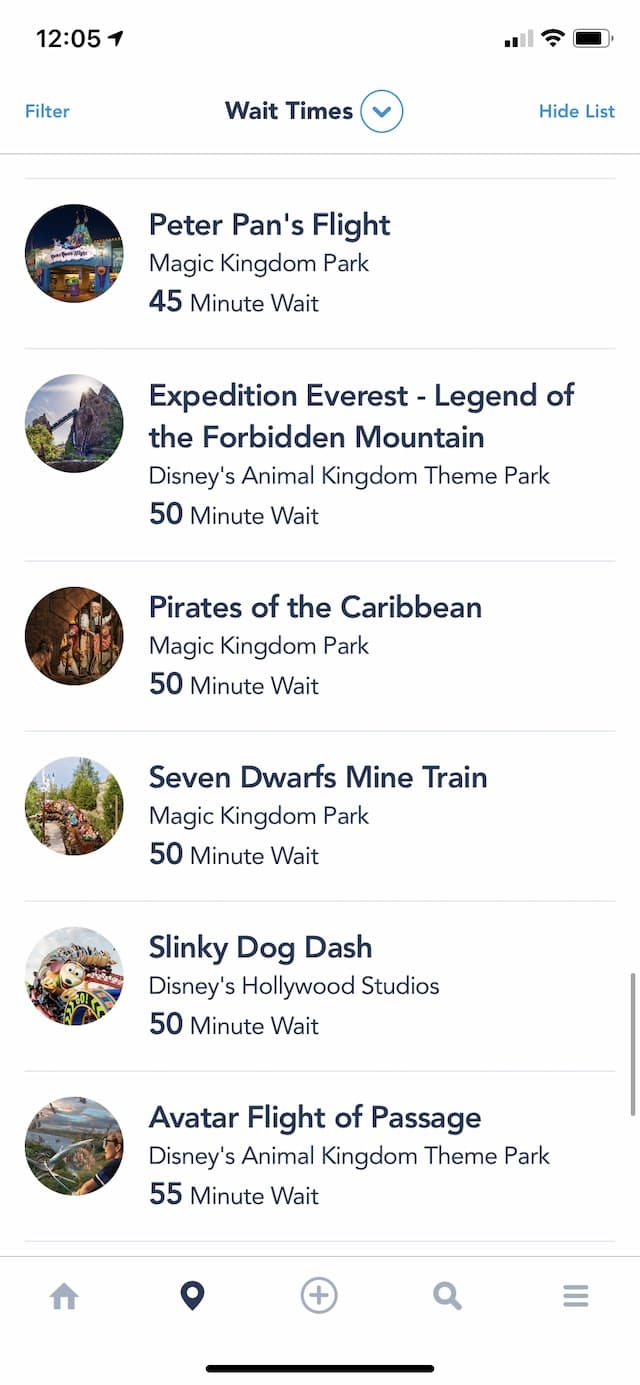 8 attractions had posted wait times in the 40 minute range: Frozen Ever After, Kali River Rapids, Mission: SPACE, Na'vi River Journey, Seas with Nemo and Friends (yes, that's correct), Big Thunder Mountain, Jungle Cruise, and Peter Pan's Flight.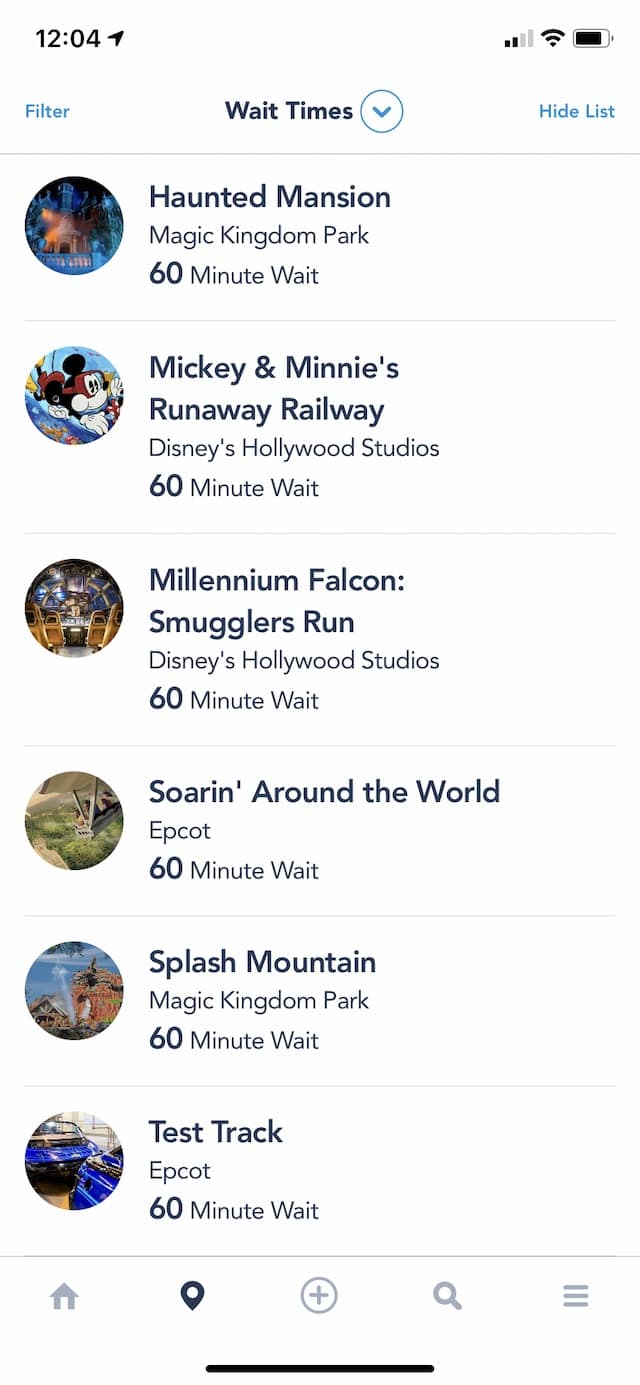 Six attractions across all four theme parks top a one hour posted wait: Haunted Mansion, Mickey and Minnie's Runaway Railway, Millennium Falcon: Smuggler's Run, Soarin' Around the World, Splash Mountain, and Test Track.
Now is about the time I would grab lunch and head back to the resort for some pool time. It was very hot this weekend with a heat index in the 100's.
3 pm Saturday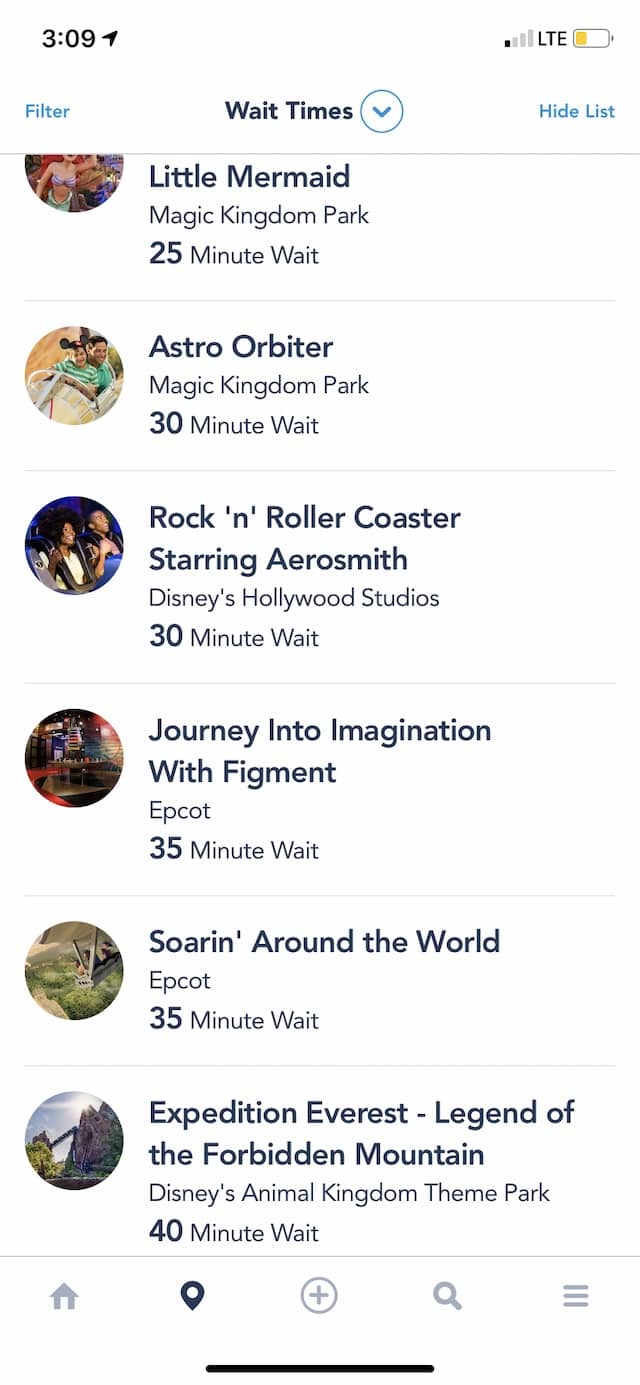 If you follow the touring plans on Character Locator, you should have no problem knocking out the headliner attractions early in the morning, thus saving you time in the afternoon!
Kenny was using his own 2020 Magic Kingdom plan and he reported the following success within just over an hour after the park opened.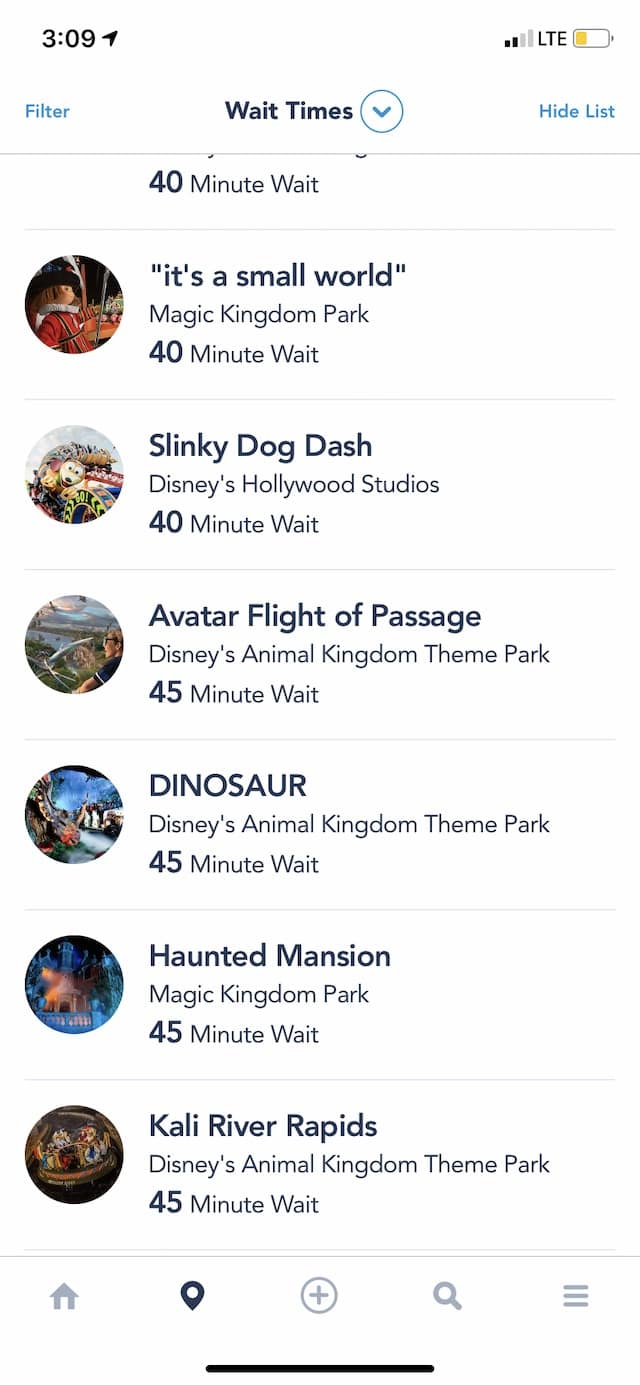 You can see that rides that did not have longer wait times earlier in the morning now do. DINOSAUR has a 45 minute wait! Haunted Mansion, one of the most popular attractions in Magic Kingdom, also has Guests waiting 45 minutes.
It's very important to arrive early in the morning if you want to ride without long waits! This is evident in the posted wait times.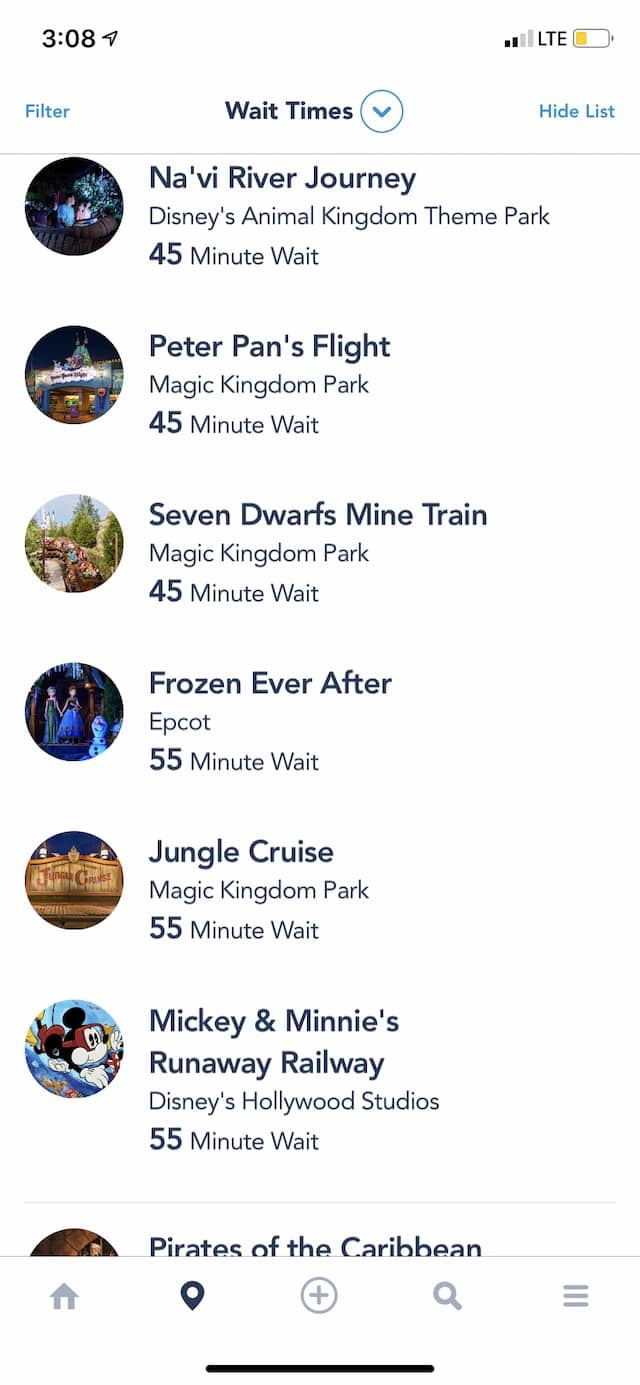 Mickey and Minnie's Runaway Railway, Jungle Cruise, and Frozen Ever After all have posted wait times of close to 60 minutes. Wait times can oftentimes be inflated on My Disney Experience and social distancing can make a queue line look much longer than it is.
However, those are still pretty average wait times for an average park day pre-COVID. BUT, there is no Fastpass+ option.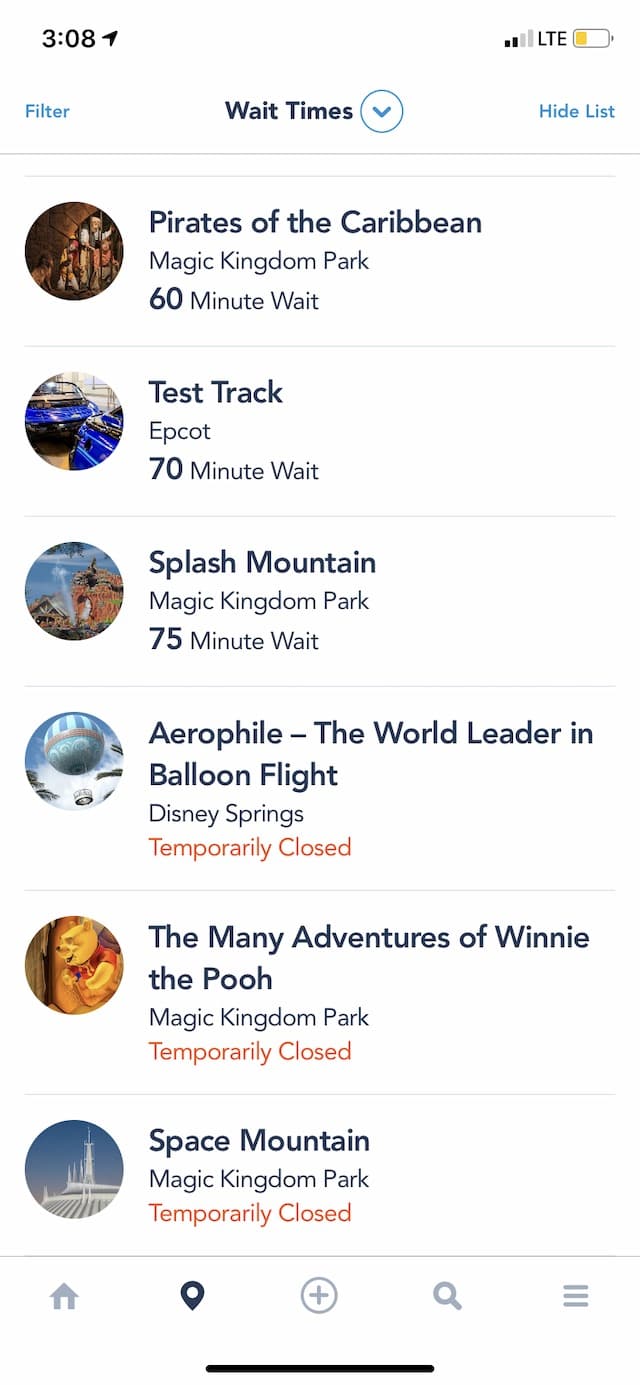 Test Track and Splash both had waits of 70-75 minutes. With Space Mountain closed at the time I checked the wait times, all other attractions are making up for that loss with higher waits.
5 pm Sunday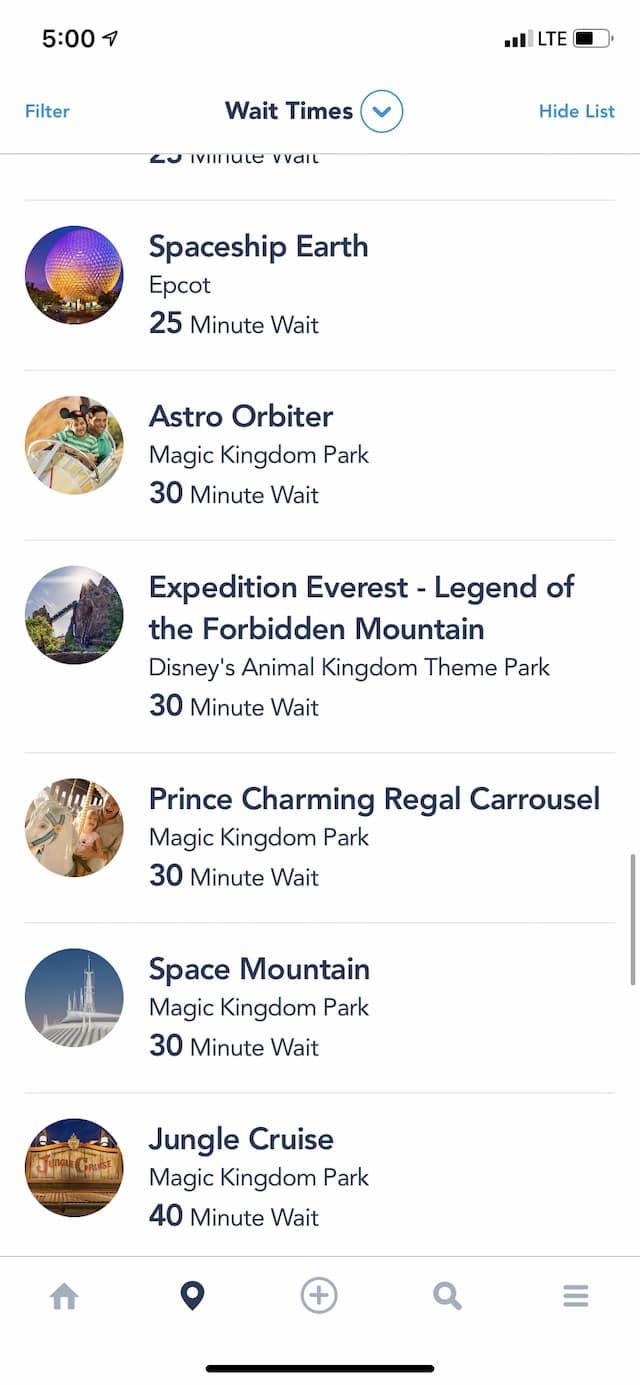 Finally, let's look at 5 pm on Sunday. Animal Kingdom will close in just one hour. Magic Kingdom has two hours remaining. Hollywood Studios closes at 8pm and Epcot closes at 9pm on this day.
As you can see, things are starting to wind down. More people are leaving the parks, leaving shorter wait times for those who can stick it out (or those who took that mid-day break and are ready to knock out a few more rides!).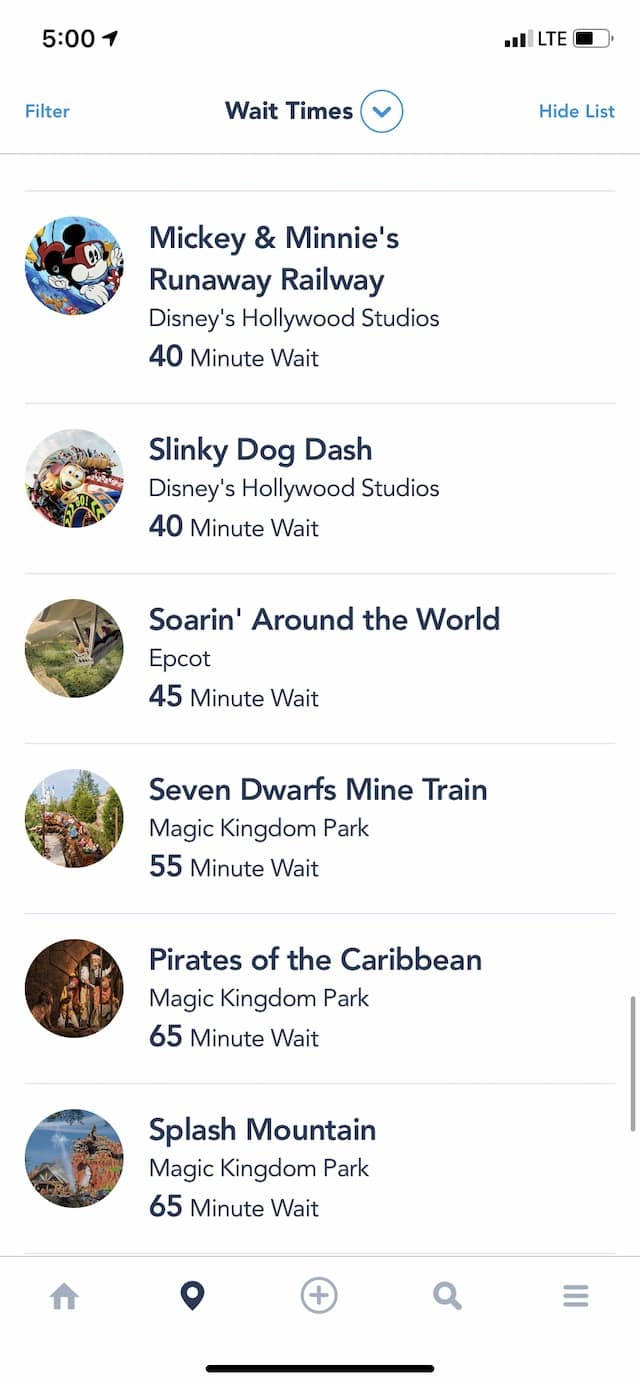 Mickey and Minnie's Runaway Railway is only a 40 minute wait – the shortest posted wait of the four times I checked! The last hour or so is really a great time to experience some of the more popular attractions.
Pirate tip: as long as you are in the queue for an attraction at closing time, you will still get to ride!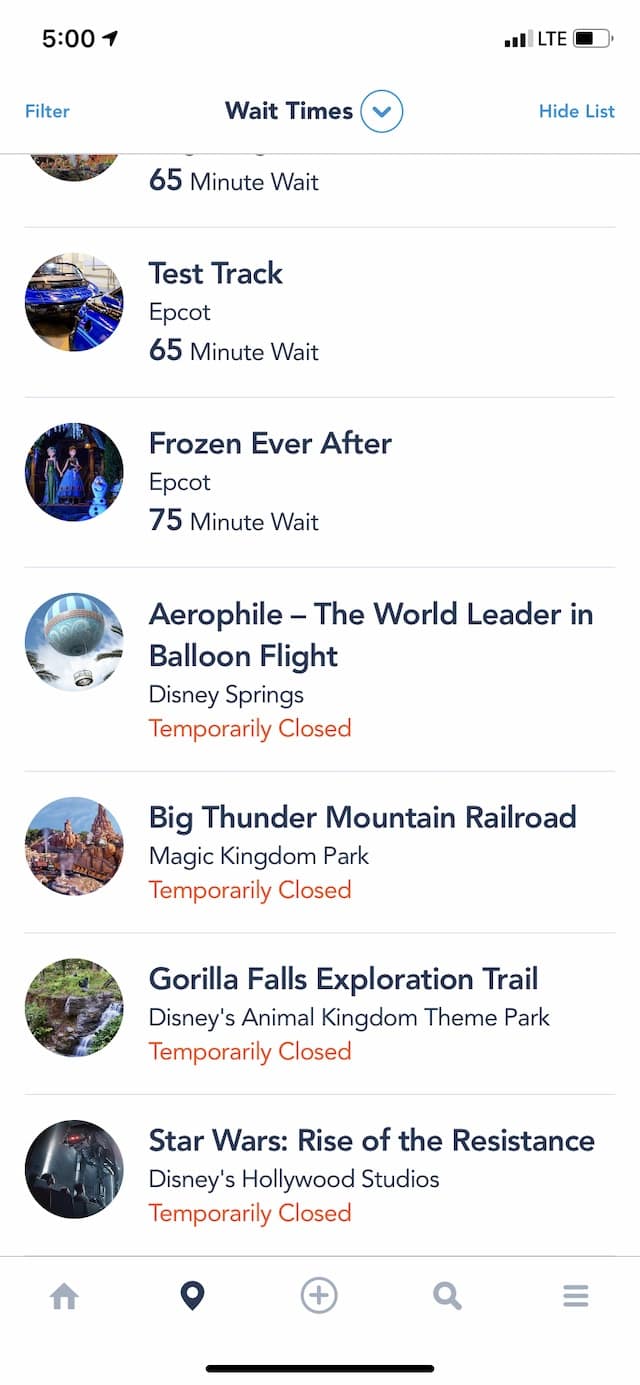 Pirates of the Caribbean, Splash Mountain, Test Track, and Frozen Ever After all have one hour waits or longer. Big Thunder and Rise of the Resistance were both closed at 5 pm.
Final Thoughts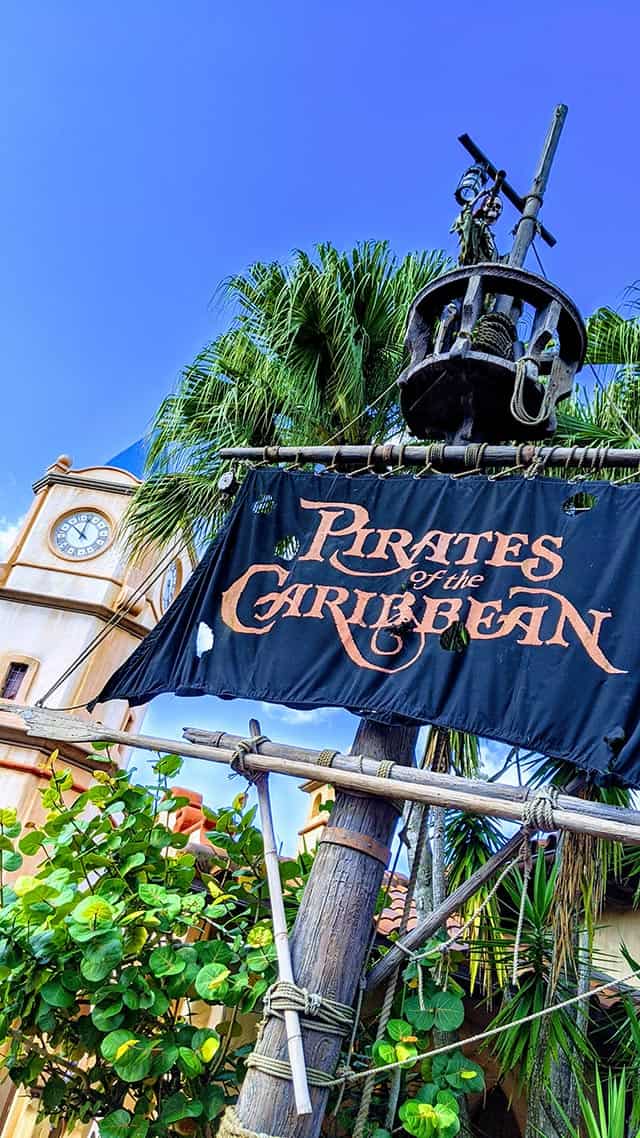 Overall, this Labor Day weekend felt much like a average park day pre-COVID. Weekends are also busier, in general, due to local Annual Passholders coming to visit.
If you visit during a busy time, it's important to arrive early, have a good plan, and set some low expectations. I always follow the crowd calendars to pick my park days and the touring plans on Character Locator. This ensures a smooth park day!
Did you visit Disney World this weekend? Are you still there? Share your live reports with us on Facebook! You can also join our KtP Crew and share with us there!