Cosmic Ray's Starlight Cafe offers typical "park food" but is it any good? Or, is it a total flop of a restaurant? Read my thoughts below and let me know if you agree!
Cosmic Ray's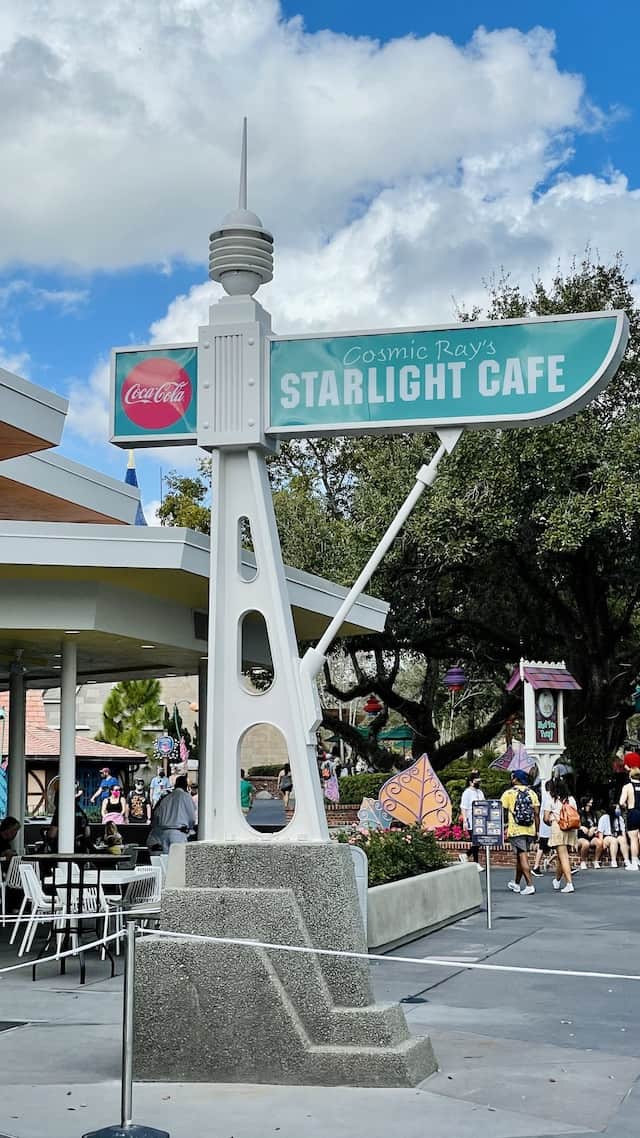 Need to grab a quick bite to eat in between rides? Gotta feed those picky kids? On a budget? Look no further than Cosmic Ray's Starlight Cafe.
Located in Tomorrowland right across from the Tomorrowland Speedway, Cosmic Ray's is a quick-service eatery that offers American staples like burgers, chicken tenders, hot dogs, and more.
I'll be rating the food, atmosphere, price, and convenience of Cosmic Rays' on a scale of "hit" or "miss" so let's dig in.
Food: hit or miss?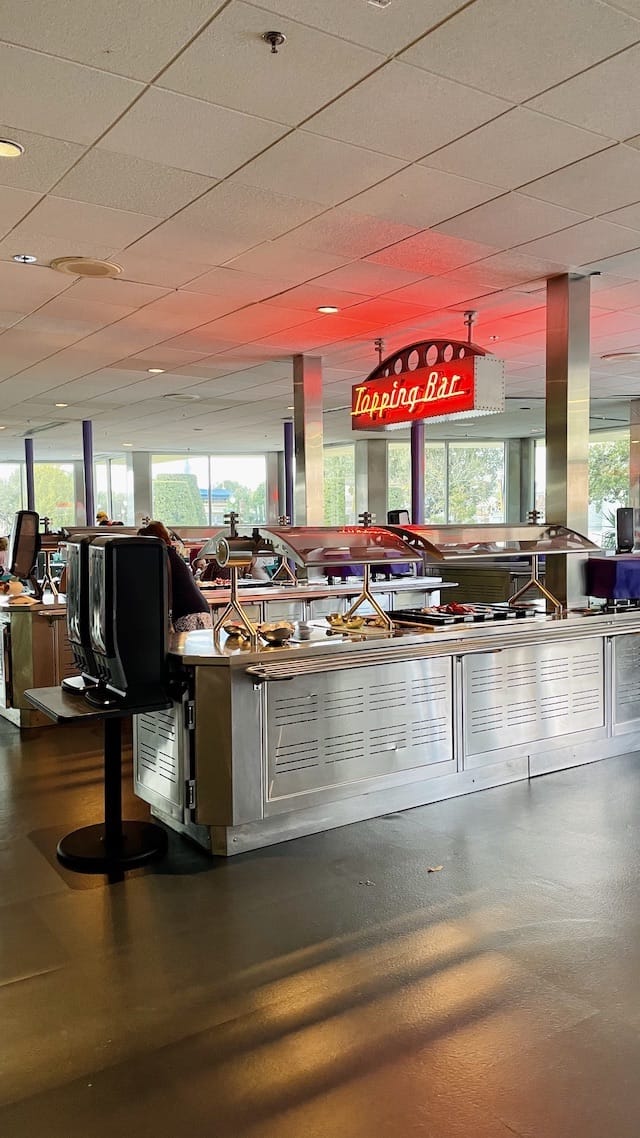 First things first. We gotta talk about the food. Pecos Bill's has tacos, Sleepy Hollow has corn dogs, and Cosmic Ray's has burgers. Not only do they have burgers, but you can find everything from chili dogs and chicken tenders to salad. Kid items feature the ever-trusty Uncrustables, chicken strips, and macaroni and cheese.
Additionally, you can also find the Cheshire's Cat Tail here since the other location is closed! Be sure to check the full menu on Character Locator!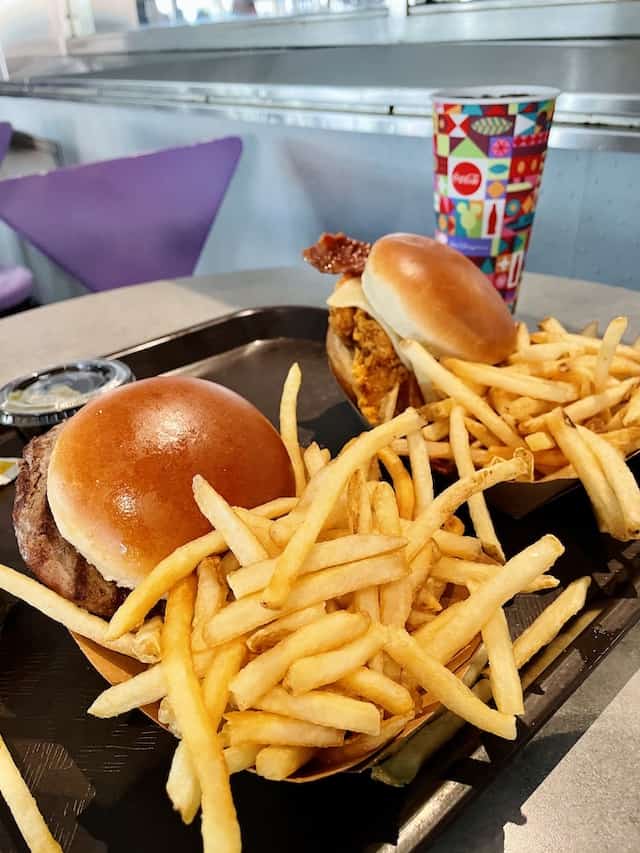 On a recent trip, we had the hamburger and crispy chicken sandwich. We also got the Cat Tail. Because chocolate. In the past, we've also had the hot dogs and chicken tenders. Previously, they even offered rotisserie chicken, which I had back in 2015. Unfortunately, it is no longer on the menu.
Cosmic Ray's has an extensive allergy menu for those with dietary concerns. This is an added benefit if someone in your party has a specific allergy.
Hit or miss? My vote: MISS.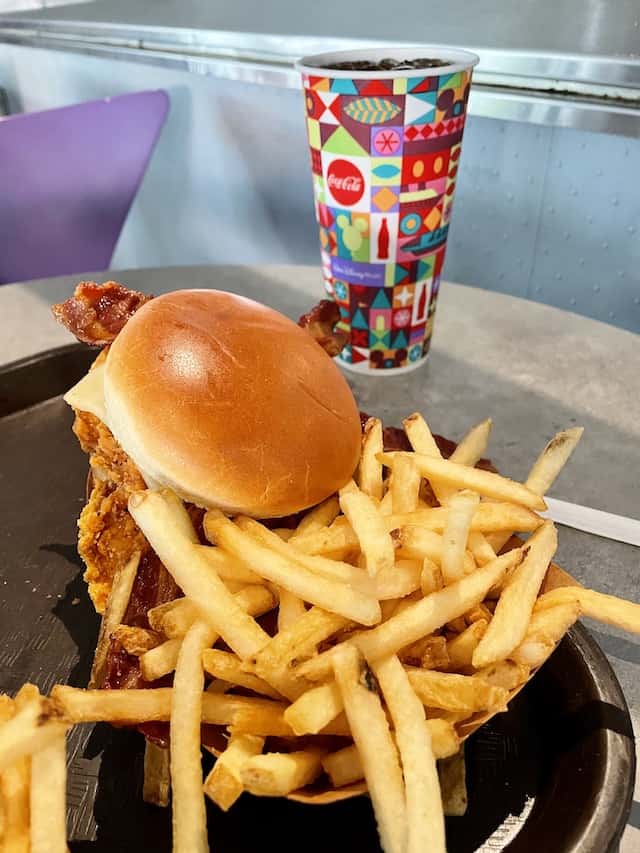 My chicken sandwich was fine (actually, it was better than the one I had the previous day at Contempo Cafe), and my son devoured his burger. The fries were amazing, too. However, there is just not enough variety. Even before the pandemic limited the menu, the food here was pretty standard.
Also, the Cheshire Cat Tail was not good at all. I am a lover of all things chocolate, but it just tasted kind of…cheap. It was underwhelming.
Atmosphere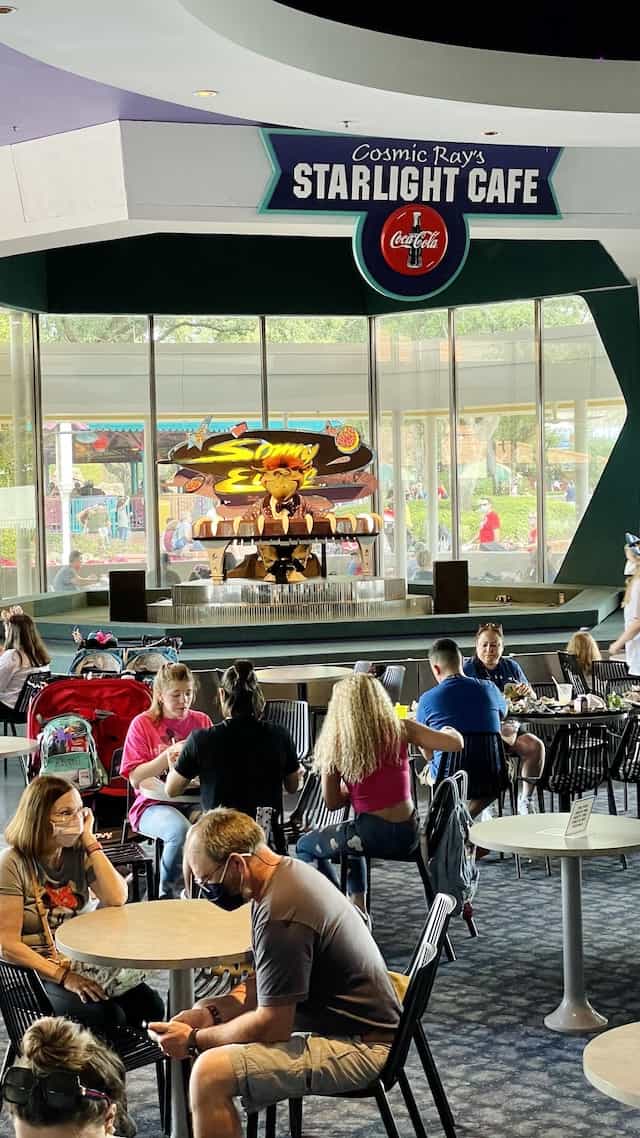 What's better than enjoying a $10 park burger? Being serenaded by Sonny Eclipse while eating that $10 park burger.
Cosmic Ray's is a large restaurant with ample seating. There are quite a few tables to choose from – from the nooks and crannies behind the counters to the giant dining room where a giant animatronic Zorkie from the City of New Zork on planet Zork will sing to you and tell you corny jokes. You can even outside, although that would be unbearable on warmer days.
Hit or miss? My vote: HIT.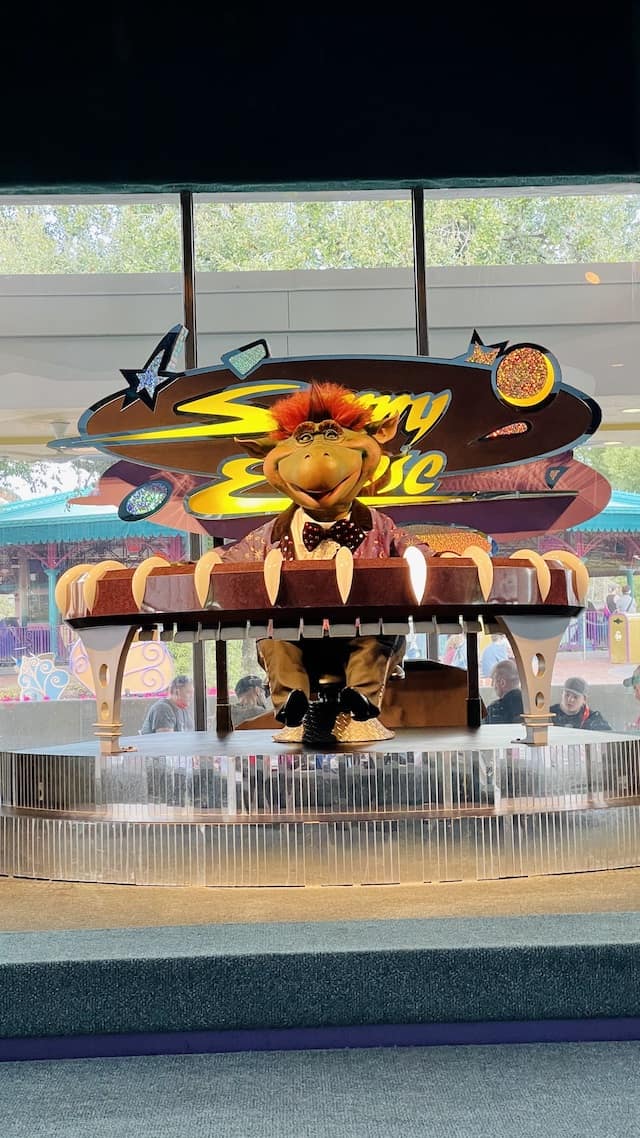 I just love that Cosmic Ray's offers some type of entertainment. No, it's not as exciting as a character meal, but there is music and something to make the kids laugh. My daughter has to eat at Cosmic Ray's every time she visits the Magic Kingdom because of Sonny and his dad jokes. The corny entertainment is a hit for us.
Price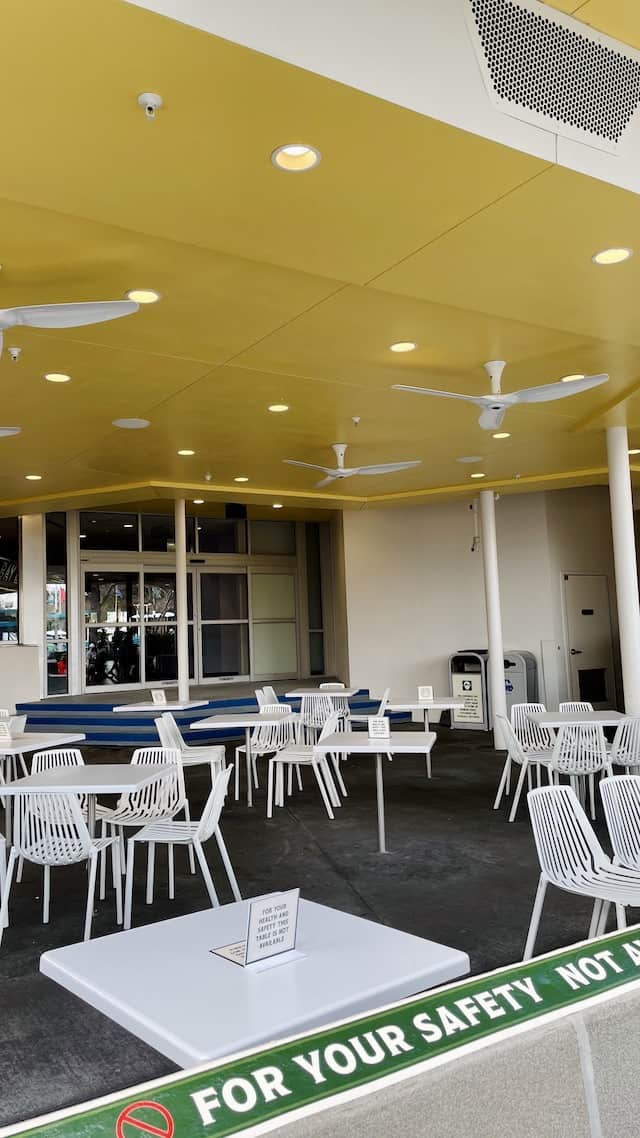 Since Cosmic Ray's is quick-service you will find quick-service pricing. The entrees are served with French fries with the exception of the salads. The cheapest adult entree costs $9 (Greek salad) and the most expensive is $13.49 (chili cheese hot dog).
Kids meals run anywhere from $6 to $8. The drinks are the standard $4 for soft drinks and the speciality beverages as high as $6.
Hit or miss? My vote: HIT.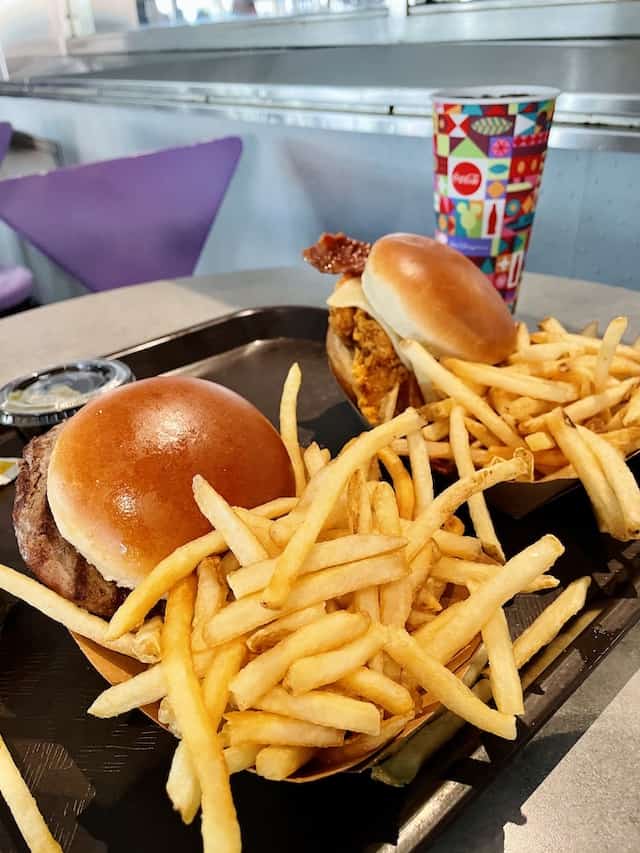 Cosmic Ray's is a great place to eat if you are on a budget. In the past, my kids have shared an adult entree, and since they are so reasonably priced (compared to other Disney food), we were able to save money.
It is still Disney, though, which means it's still pretty steep. My kids are getting older and want their own entrees now. My family of 6 is spending up to $80 at some quick-service meals. You'll need to get creative (pack extra snacks, grab that free water, etc), but you can still make the price of Cosmic Ray's work for your family.
Convenience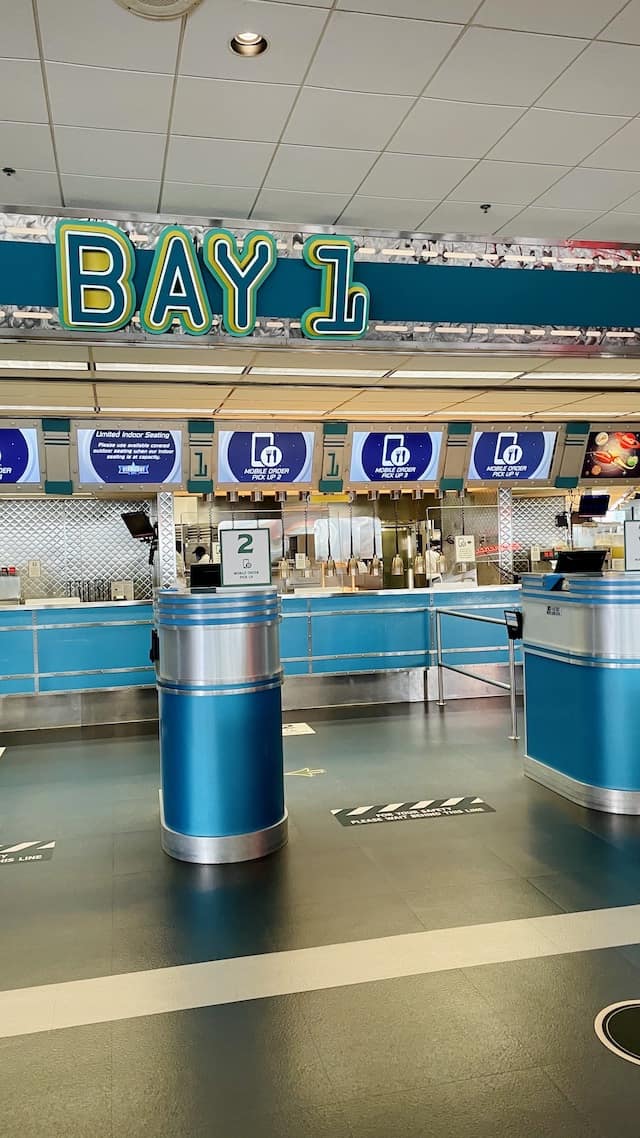 As I mentioned above, Cosmic Ray's is a quick-service restaurant. That means no reservations and no needing to plan for an hour or more of precious park touring time to eat.
With mobile ordering, it is easier than ever to order food at Disney Parks. I am a huge fan of this feature on the My Disney Experience app because I don't have to wait in line to order or try to remember what everyone wants. I can hand my phone off to each person so they can pick what they want.
You can pre-order your food for a specific time meaning you can have it ready to go in the morning before you even leave the hotel or you can order while waiting in line for an attraction.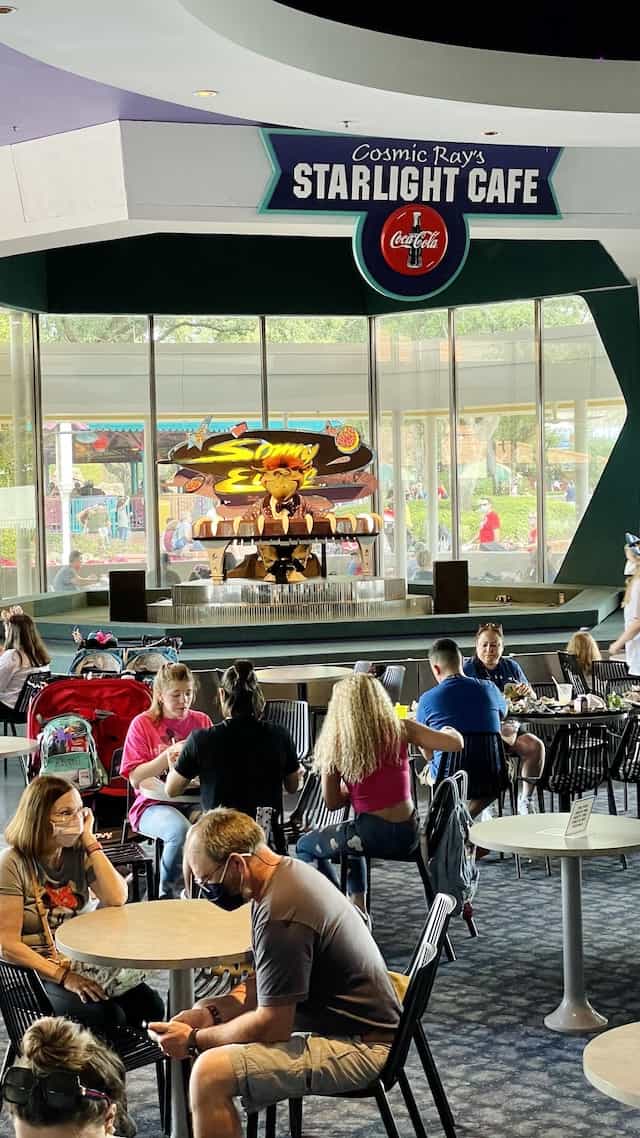 Hit or miss? My vote: HIT.
The only time that is really spent in the restaurant is actually eating! On our most recent time at Cosmic Ray's, we ate around 11:30 right before the lunch rush, and we were in and out in about 30 minutes. We got to listen to Sonny and get our fill before we were off to the next attraction.
So, is Cosmic Ray's an overall hit or miss?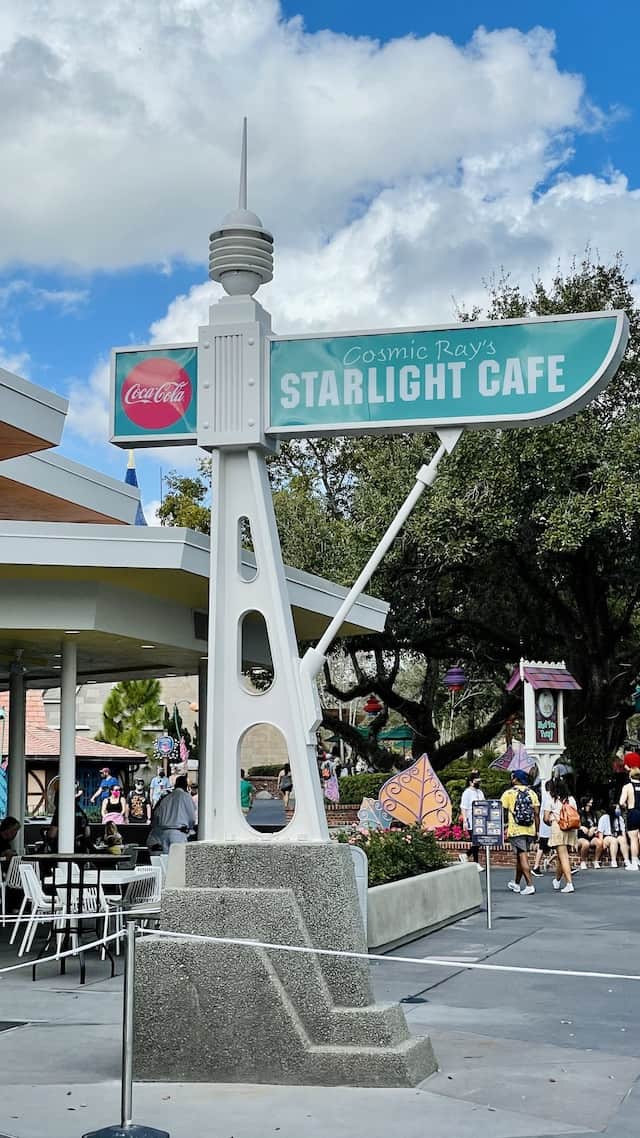 Let's recap:
Food: miss
Atmosphere: hit
Price: hit
Convenience: hit
Four out of the five categories are a hit! And like I said above, the food isn't terrible. There are just so many other great options to choose from.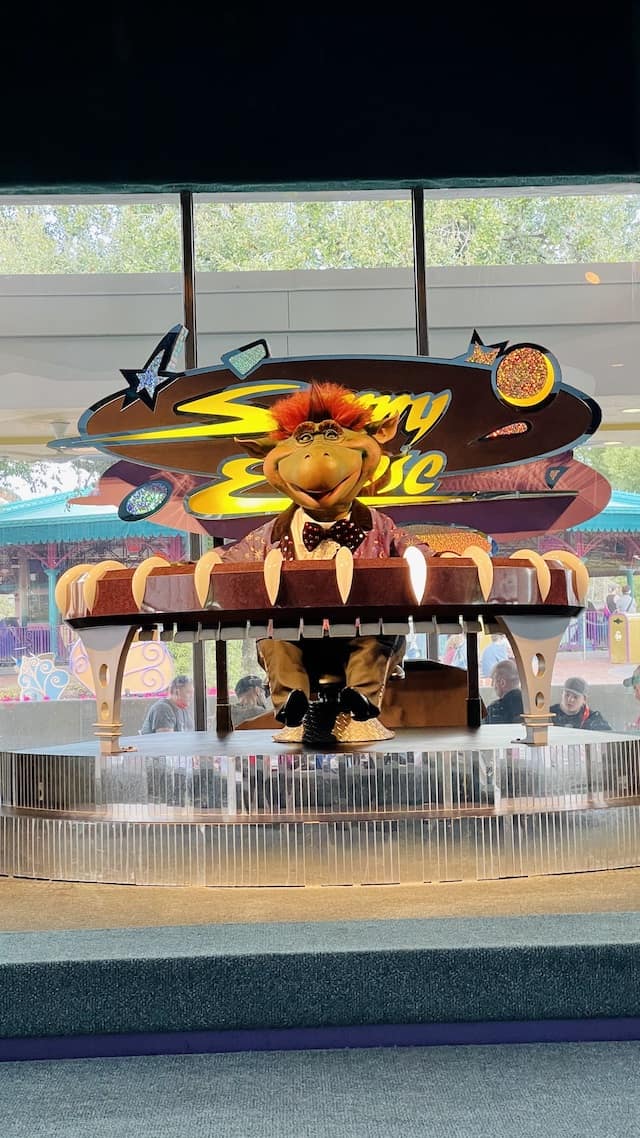 Overall, Cosmic Ray's is a decent place to eat at while at the Magic Kingdom. While there is not a lot of variety, it is sure to please most in your party. And the great thing is, this is quick-service and you can find something to eat elsewhere!
For now, I'll leave you with this quote from my favorite Zorkie:
"You know, I recently heard the universe was expanding. Guess it's time to loosen the asteroid belt!"

Sonny Eclipse
What do you think of Cosmic Ray's? Do you make it a point to eat there every trip or do you avoid it all costs? Let us know on Facebook.