Contempo Cafe is the quick-service food option at Disney's Contemporary Resort. Is it any good, though? Is it worth eating at? I have a full report after eating two meals at the restaurant.
Contempo Cafe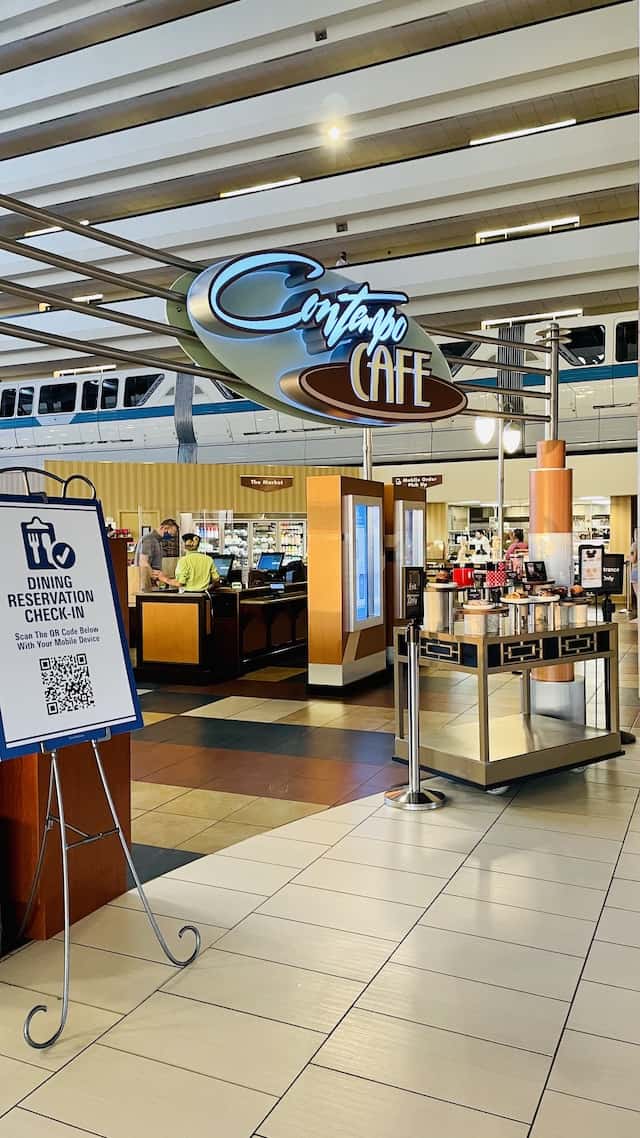 Disney's Contemporary Resort is one of the original resorts built at Disney World. It boasts a quick walking path that will take you to the Magic Kingdom. The monorail also runs through the resort itself.
There are plenty of restaurants to choose from at this resort. From upscale dining at California Grill to Chef Mickey's character breakfast, there are plenty of choices if you are staying here.
Contempo Cafe is the quick-service option at the Contemporary. I took my son on a mother/son Disney trip to celebrate our birthdays, and we stayed one night at Bay Lake Tower. You can read my thoughts on the deluxe studio HERE.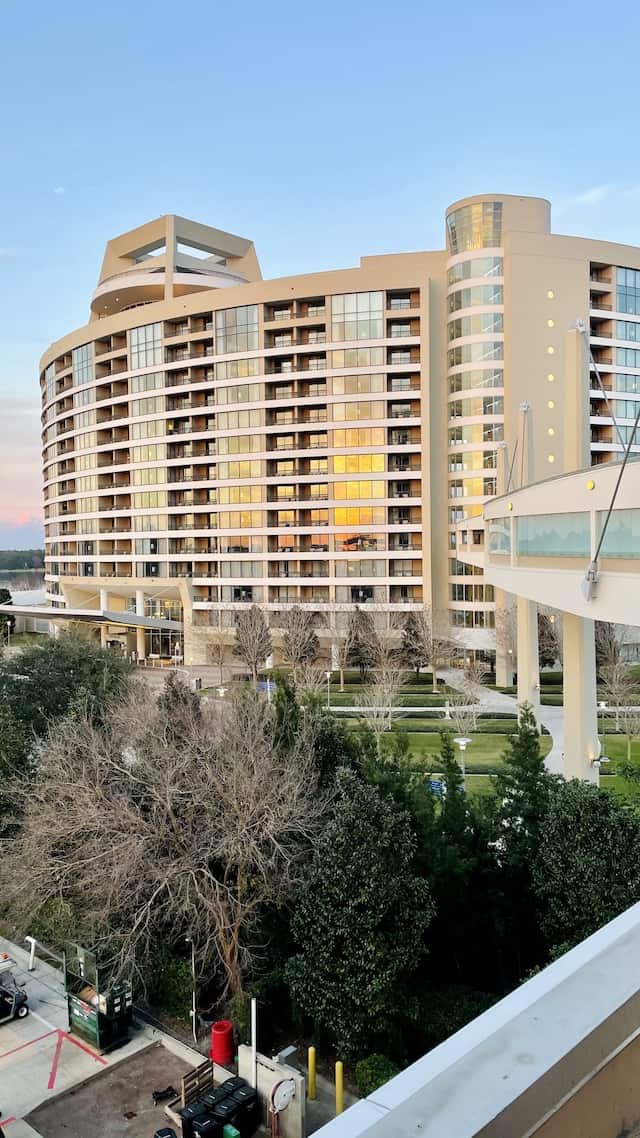 He is not an adventurous eater, so I canceled our reservation for Kona Cafe and decided we would try Contempo for lunch. Later that evening, he was really in the mood for pizza. So imagine my surprise (sarcasm) when he told me he wanted to eat at Contempo again.
Well, at least I have a lot of content for this review! Here's what I thought about lunch and dinner.
Mobile Ordering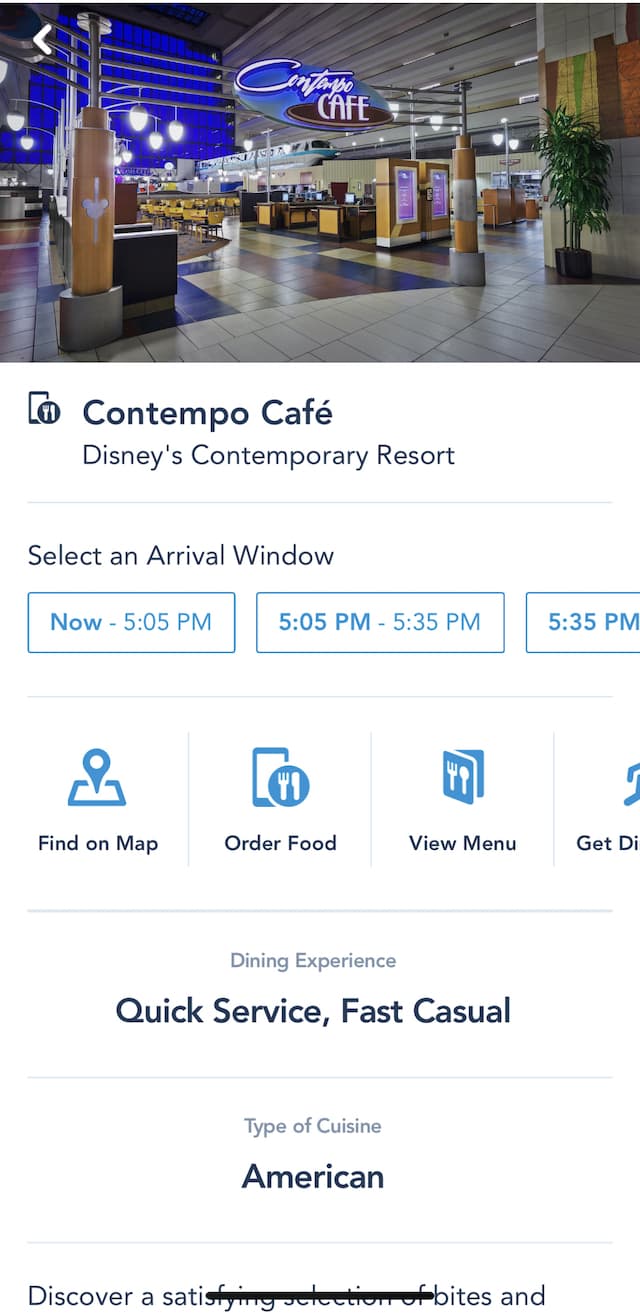 Disney has expanded mobile ordering in the wake of the pandemic. I cannot rave about it enough! I have used it several times since the reopening of Disney World, and I love how convenient it is.
For a full step-by-step guide with instructions for placing your mobile food order, check out Maggie's post HERE.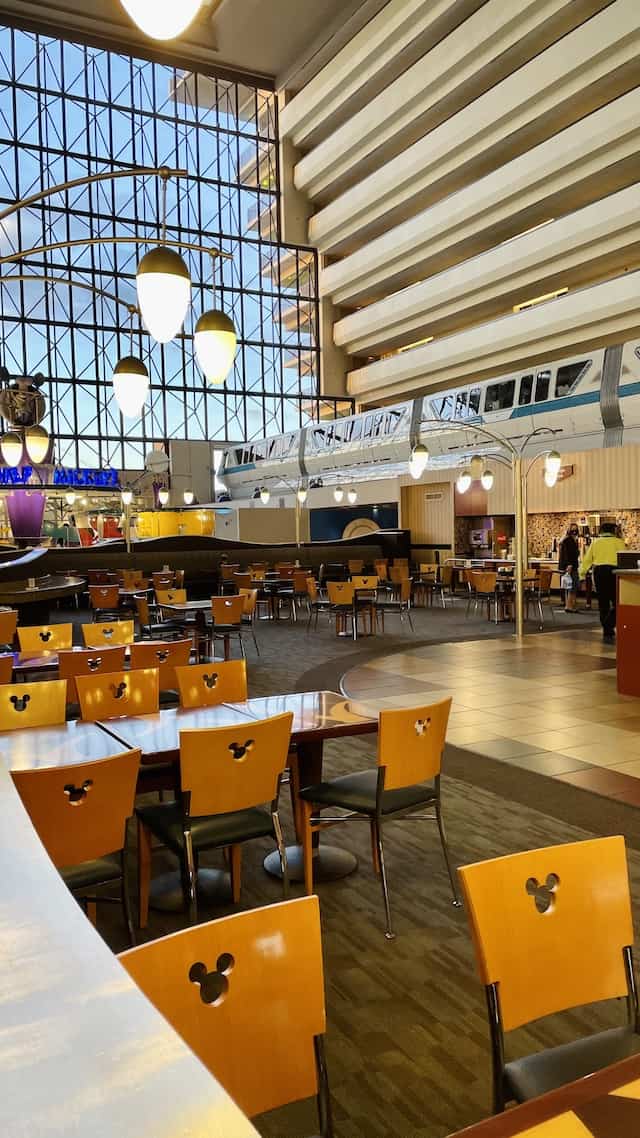 For both meals, we placed our mobile order. I recommend placing it in your room or as you are shopping in the nearby gift shops. Contempo Cafe is conveniently located during the monorail station, too, so you could even place your order while you are on the monorail heading to the Contemporary Resort!
After placing our mobile orders both times, we received our food quickly. Once you get the notification, show your phone to the Cast Member at the entrance. They will let you in so you can approach the pick up counter.
Getting our Food and Drinks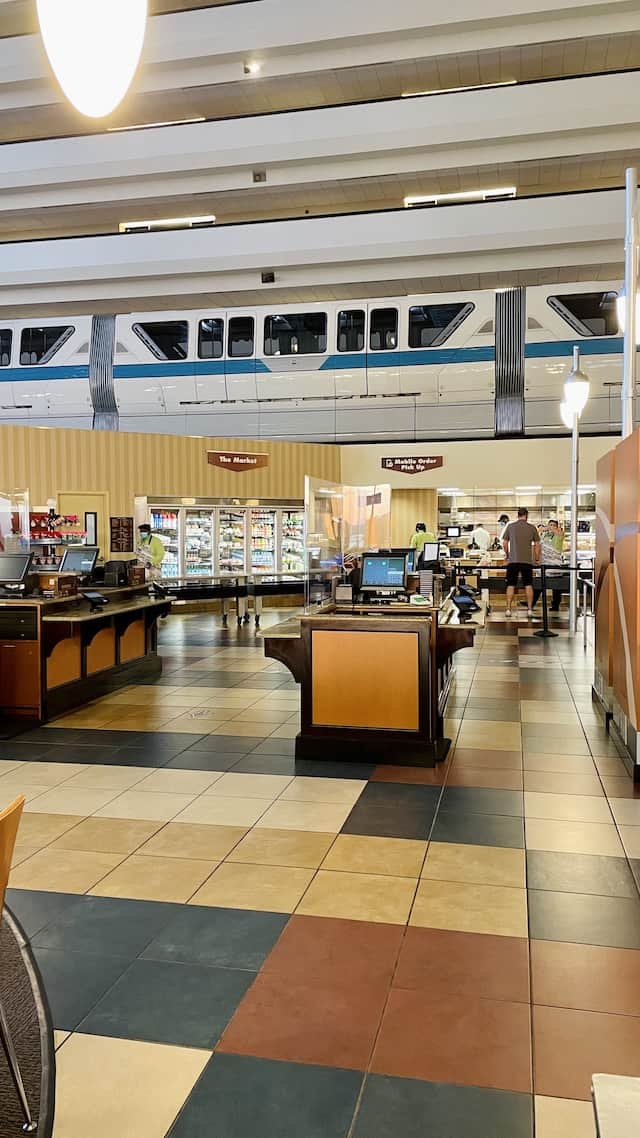 Once we got to the pick up counter, there was a Cast Member there that had the food on the trays ready to be handed off. There are refrigerators for cold items, but since those are behind the pick up counter, the Cast Member will grab those chilled items you ordered.
Since my payment was connected to the My Disney Experience app, I did not need to worry about paying at the registers. One less step of grabbing my wallet out of my Loungefly and getting a paper receipt that I will immediately throw away!
The nearby drink station is also unavailable for Guests to get their own drinks. A Cast Member was there both times we ate to fill our drinks for us. If you have a refillable mug, the Cast Member will not refill the mug. They will give you the drink in a paper cup and then you can choose to drink from that or pour it in your refillable mug.
Lunch Review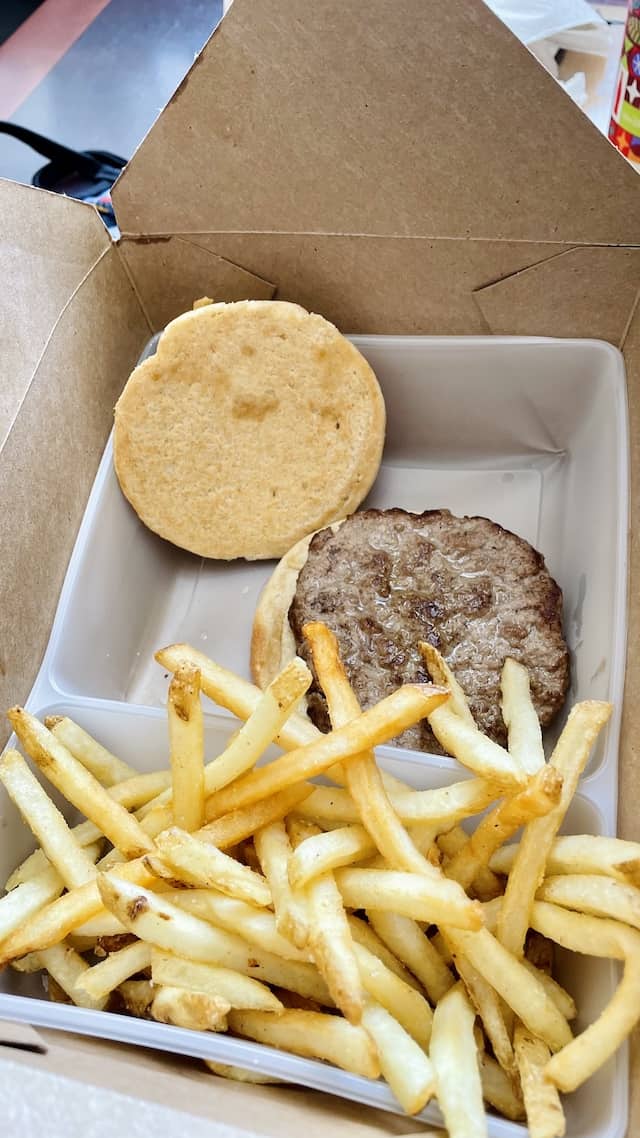 For lunch, my picky son chose a plain hamburger and fries. I won't lie, when I took the top bun off to grab a photo, I was kind of grossed out. I thought to myself, "that looks exactly like a McDonald's burger." And I don't eat at McDonald's for a reason.
However, he loved it! I couldn't believe he finished the entire thing along with most of the fries. I will give the Contempo Cafe some credit on the French fries. They were crispy, hot, and tasty. We prefer thin fries over steak fries so we were satisfied.
I chose the spicy chicken sandwich for my lunch entree. It's a grilled chicken breast topped with chipotle sauce, feta cheese, pickles, lettuce, and tomato. I think I would have preferred if the chicken was fried instead of grilled, but I was pleasantly surprised with this one. This is a good option for adults that wish they were eating somewhere more adventurous.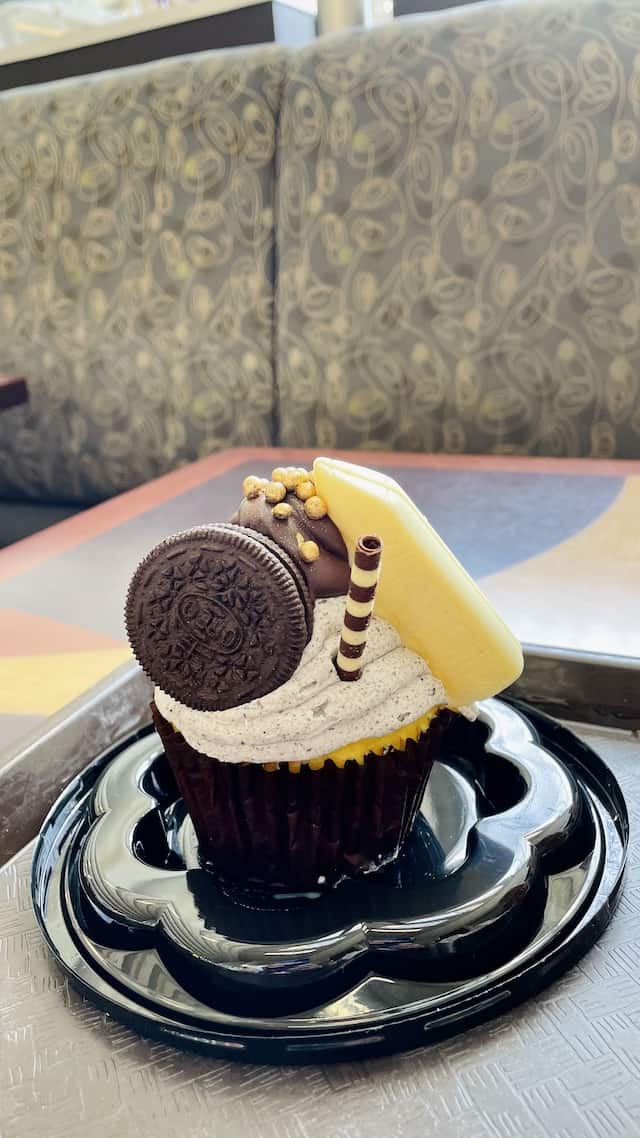 In the spirit of enjoying our first meal at the Contemporary, I ordered the monorail cookies 'n cream cupcake. I was disappointed in this cupcake. Big time. I love all things Oreo, but this was not that great. The yellow cupcake was a pretty standard Disney cupcake so I wasn't expecting much there. However, the Oreo cookie was soggy, and the white chocolate monorail was hard (like I couldn't bite into it).
Overall, we both enjoyed our lunch! I'm glad I tried the cupcake, but I know if I eat at the Contempo Cafe in the future I will be trying a different dessert.
Dinner Review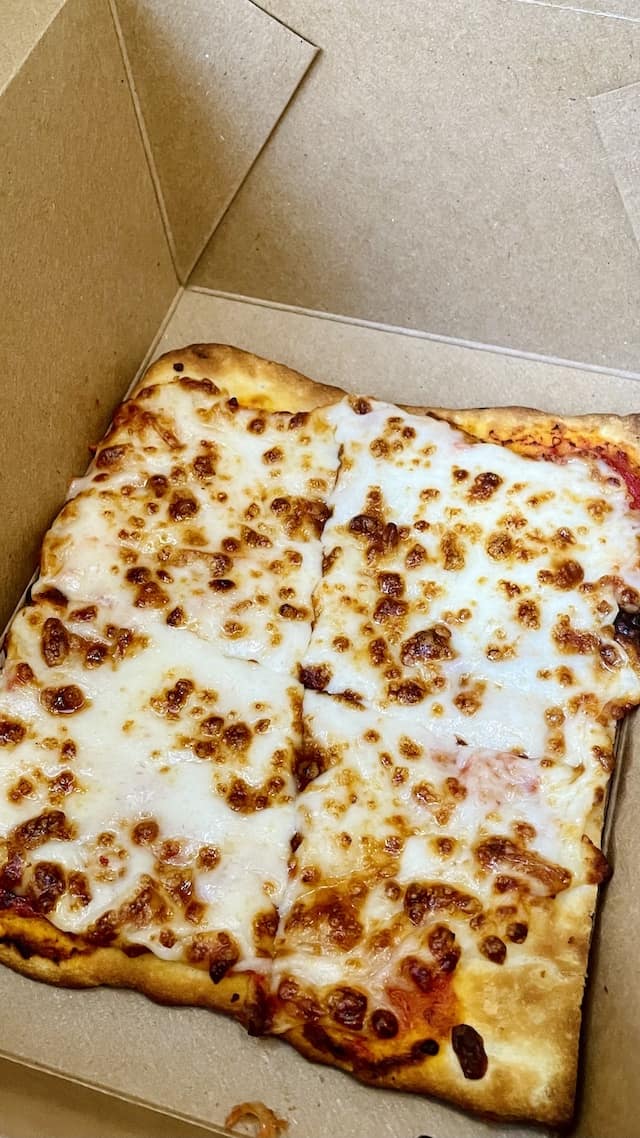 Like I mentioned above, my son was in the mood for pizza after a long afternoon of swimming and shopping at the Character Warehouse. So, we placed another mobile order for the kids pizza for him and the meat lover's flatbread for myself.
The kids cheese pizza was your standard cheese pizza from Disney. That's what I like about Disney. At least they are consistent across the board. You know a cheese pizza at the Contempo Cafe is going to taste the same as the cheese pizza at Pinocchio's Village Haus. He had no problem eating half of it and saving the other half to reheat for a snack later. He only wished the crust was a little thicker.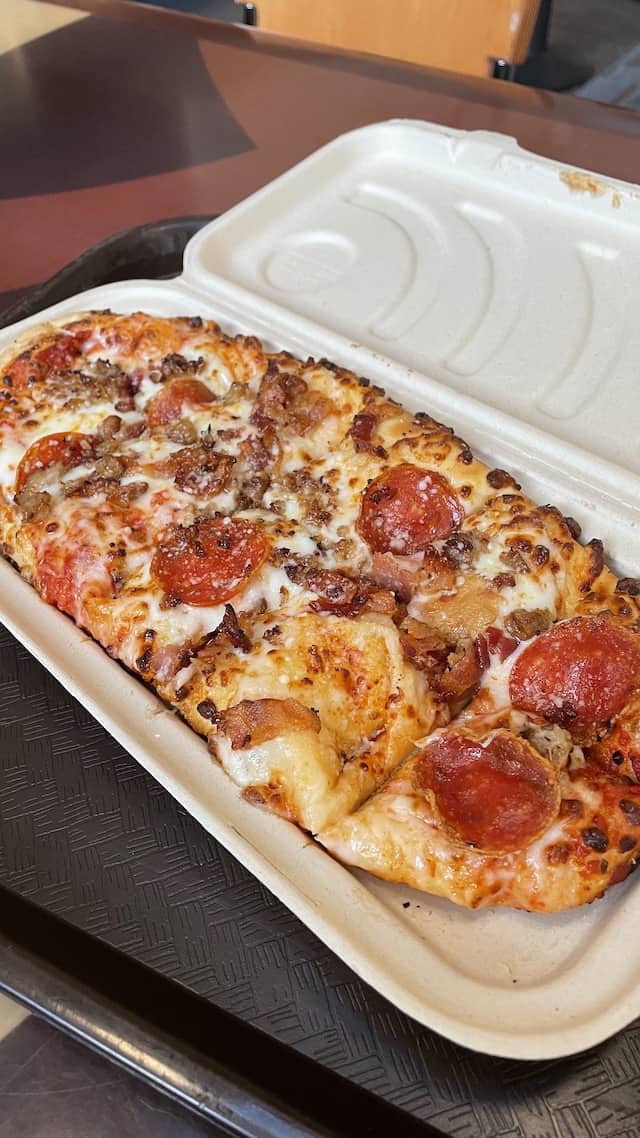 My meat lover's flatbread pizza was like a 6 on a scale of 1-10. I was happy that they didn't offer an adult cheese or pepperoni "flatbread" but instead offered something a bit more sophisticated (if that word can even be used when describing Disney's quick-service).
Overall, I think the food here is better than some other quick-service joints at resorts (I'm looking at you, Pop Century green beans). However, it is still pretty standard Disney fast food. I was happy that they had items my son would enjoy while also appealing to adults.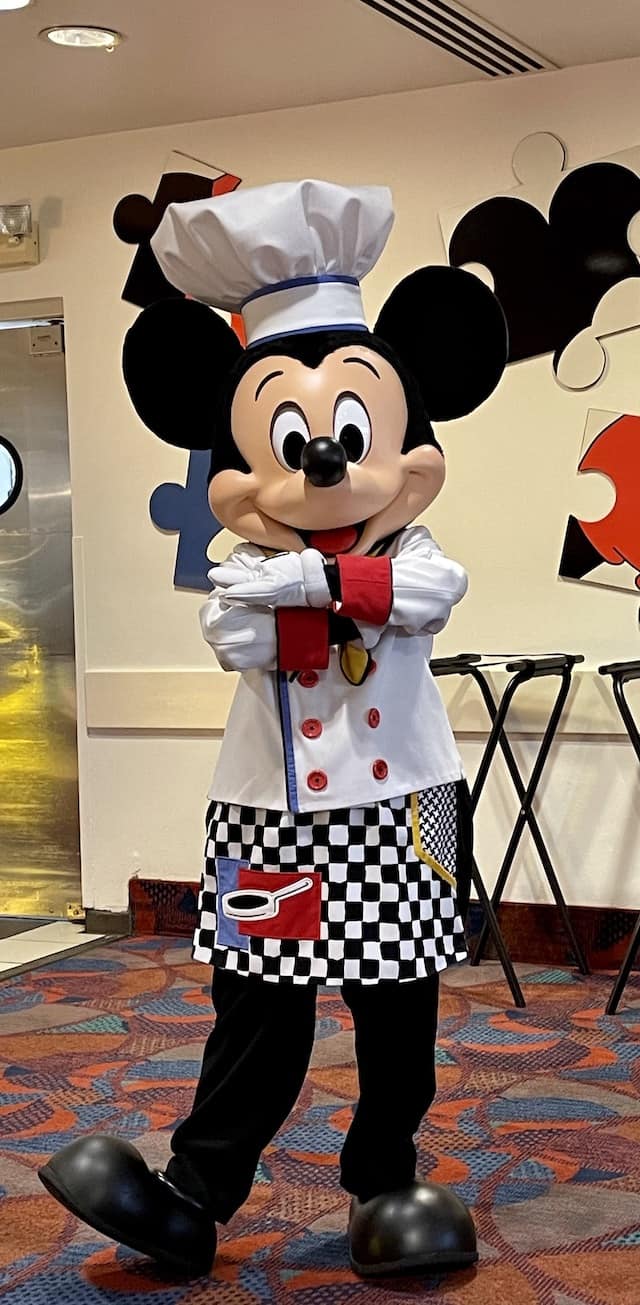 Unfortunately, we didn't eat breakfast the Contempo Cafe because we had reservations for Chef Mickey's! We really enjoyed meeting Mickey and his pals before heading to Magic Kingdom. You can read Maggie's review HERE.
You can see full menus for Contempo Cafe and all restaurants at Disney World by visiting Character Locator!
The Atmosphere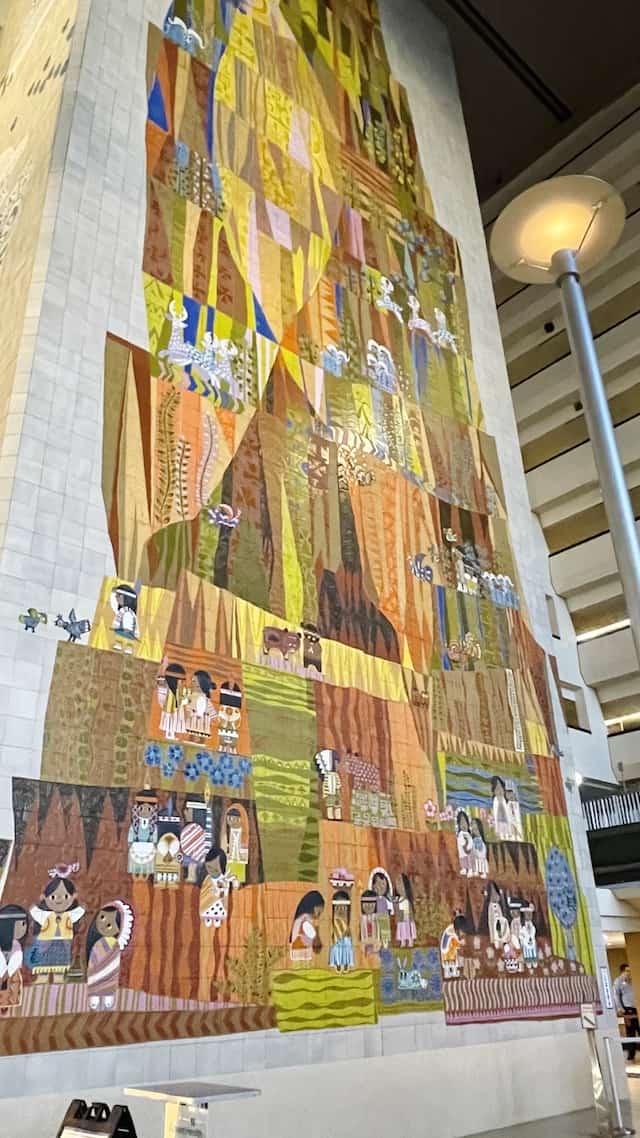 Contempo Cafe is located right next to Chef Mickey's and Outer Rim, which is a bar lounge.
The monorail passes through the resort, and I was quite content to watch it zoom past every few minutes. After dinner, we decided to hop on and take a ride! To get to the monorail station is very easy. Simply exit the restaurant and make a left. You will have your temperature screened and then you follow an escalator upstairs.
Another thing to note about the Contempo Cafe atmosphere are the gigantic murals! Mary Blair, who was behind the it's a small world attraction, created these amazing 90-foot murals right outside the cafe. They feature children and animals from all over the world. I thought these were nice additions to the area!
Final Thoughts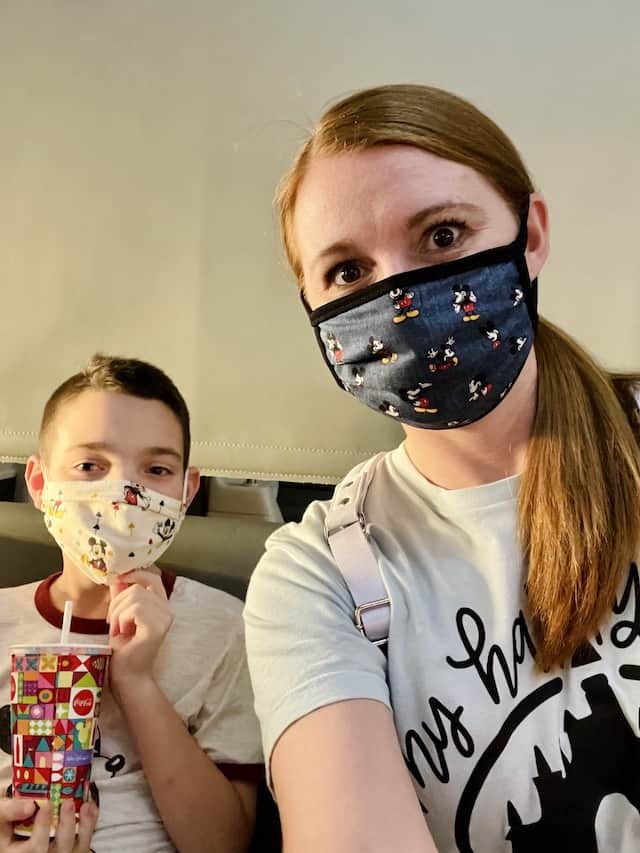 The food really surprised me as I was expecting for these to be sub-par meals. I enjoyed the flatbread more than the sandwich at lunch. Maybe next time I will try the hot turkey sandwich. However, I wouldn't go out of my way to eat here unless I stay at the Contemporary (or Bay Lake Tower) in the future.
The atmosphere was really fun. Watching the monorail go by and talking about the murals with my son was more special than anything. I love that it is just a few steps to riding around on the Highway in the Sky.
What about you? Have you eaten at Contempo Cafe before? What are your thoughts? Let us know on Facebook!