Disney's Contemporary Resort is a short walk away from the Magic Kingdom and staying there feels like you're staying inside the magic! Check out our complete guide to this resort.
Disney's Contemporary Resort opened with the Magic Kingdom back in 1971. Disney fans have a tendency to be nostalgic, and this resort hits that note perfectly.
In addition to the impressive architecture (I mean, a monorail goes THROUGH the resort!) guests are also delighted by the location, enjoying the short walk to the Magic Kingdom.
Guests also appreciate the variety of restaurant options located inside the resort: The Steakhouse 71, Chef Mickey's and California Grill. The quick service option, Contempo Cafe, is a blast to eat at because the monorail goes right by above you!
The Disney Vacation Club section of the resort, Bay Lake Tower, is a separate tower connected by a skyway tunnel. Bay Lake Tower opened in 2009 and adds luxury vacation villas available in studio, 1 bedroom, 2 bedroom and 3 bedroom grand villas.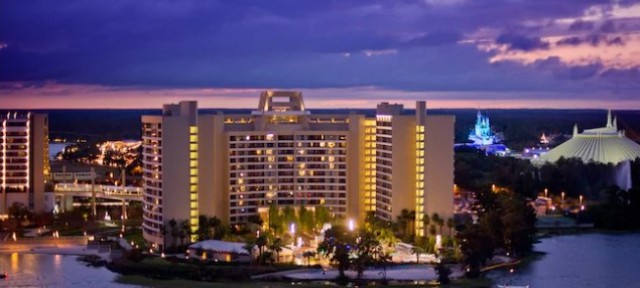 My family's most recent stay at the Contemporary Resort was in Bay Lake Tower, so we will take a look at that resort as well!
Resort Dining Options
The Wave of American Flavors
Our favorite restaurant at Disney's Contemporary Resort is Steakhouse 71. During our most recent stay, we ended up experiencing breakfast, lunch and dinner at the Steakhouse 71.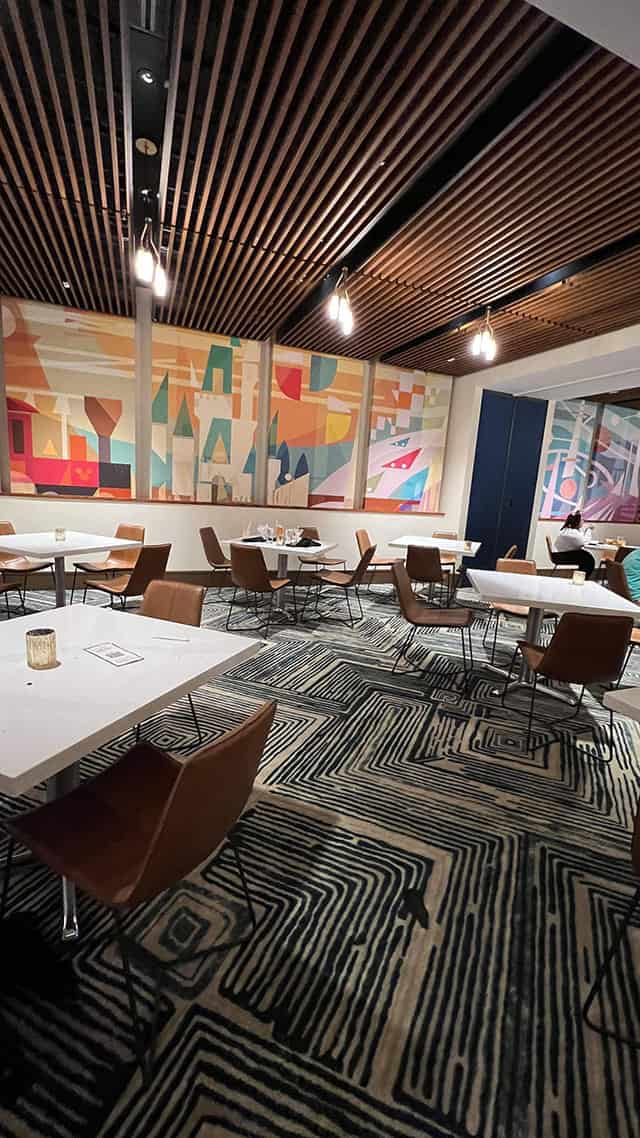 We enjoyed all three meal times! Breakfast offered us delicious pastries, Mickey waffles and avocado toast. Lunch highlights were bao and burgers.
Dinner favorites were the yummy bread and butter and chicken dish!
California Grill Dinner
We also experienced California Grill dinner for the second time. I tried to give them a second chance after our last meal there a couple of years ago was unimpressive and we had poor service.
This time at the California Grill, our experience mirrored the first time. I ordered the steak, which was $59 and was overcooked. I always feel bad sending food back, but for that price, I wanted it medium rare as I had ordered it.
Our server seemed to know a couple at a nearby table and literally spent 20 minutes talking to them while we waited for her to bring us drinks.
Somehow, my family of four got out of there for under $200. But we will not be returning. Our food took almost an hour to arrive and when it did, it was a bit disappointing.
My husband said his sushi was really good, and our daughter enjoyed her pepperoni pizza, but my steak was not good even when it came the second time.
Our overall experience at this restaurant was negative.
Even without fireworks, the view from the top of the Contemporary can't be beat! We spent some time taking pictures out on the observation deck.
Chef Mickey's
During this stay, we did not experience Chef Mickeys. However, Kenny the Pirate himself has a review coming out soon! He recently dined at the new breakfast (sans characters).
Contempo Cafe
We found ourselves unimpressed with the Contempo Cafe's limited lunch and dinner options on this trip.
Mostly, we ate there for breakfast. They offered standard fare of mickey waffles and croissants.
Consequently, we took the monorail over to Disney's Polynesian resort when we wanted a quick bite as we prefer Captain Cook's.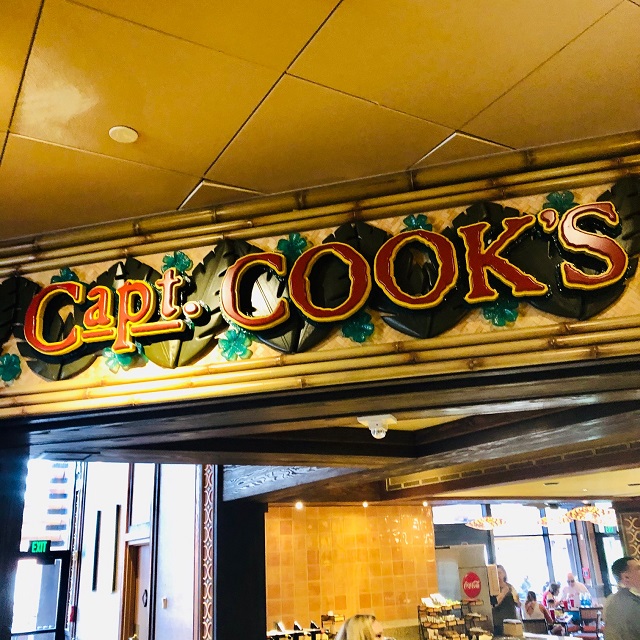 Resort Shopping
Excellent shopping is one of my favorite things about the monorail resorts! All three offer multiple shopping opportunities.
All of the shops at Disney's Contemporary Resort are on the fourth floor near Chef Mickey's, Contempo Cafe and the entrance to the monorail.
Buena Vista Gifts
My favorite store at the Contemporary Resort is Buena Vista Gifts, abbreviated as BVG. I like that the well curated selection of both Disney and non-Disney gifts.
While Lily Pulitzer or Tommy Bahama aren't really my style, it's nice that they offer these options. If I were to buy a piece from these brands, I'd love getting my passholder discount because they are expensive!
BVG offers a great selection of seasonal gifts, mugs, picture frames and t shirts.
Fantasia
Across the hall, my children (10 and 15) enjoy Fantasia!
Fantasia offers toys, tech accessories and lots of books! We purchase most of our Disney Parks Marvel comics at Fantasia.
Fantasia is also the place to get stuffed animals, boasting one of the widest selections on property!
Fantasia Market
Finally, there's the Fantasia Market, which specializes in snacks and convenience store type items. If you need any over the counter medications, toothpaste or the like, stop by the Fantasia Market.
Resort Rooms and Decor
The resort rooms at Disney's Contemporary resort are among the nicest rooms on Disney property!
While we have yet to try the Grand Floridian, I'd say the Contemporary rooms ARE the nicest we have seen. This would include Gran Destino Tower, Yacht Club, Polynesian, Wilderness Lodge and Animal Kingdom Lodge, among others.
The room we stayed at in the main tower in 2017 was in the Tower Theme Park View category. It was very spacious and had a nice bathroom, as well as a balcony overlooking the parking lot and the Magic Kingdom.
I probably wouldn't pay the price difference to stay Theme Park View without fireworks going on, but it still would be nice to wake up to the castle and Space Mountain each morning!
Some people complain that the Contemporary isn't Disney enough. I tend to disagree, because I personally love the subtle Mickey Mouse and Disney touches that are woven in to this luxury resort.
None of the deluxe resorts are "in your face" Disney anyway.
If you like big statues of Disney Characters and less subtle decor, Disney's value resorts offer those! Check out my article on the differences between value, moderate and deluxe resorts here.
Resort Amenities
Disney's Contemporary Resort offers a variety of amenities, some of which remain unavailable during the pandemic.
While the third floor fitness center remains open, the coffee bar and boat rentals are currently unavailable.
Amenities that are NOT Available Right Now
The coffee bar is located on the first floor, across the lobby from bell services. Contemporary Grounds brews specialty Joffrey's coffee drinks.
When the boat recreation reopens, you can take fishing excursions or rent small boats to take out on Bay lake.
Self service laundry is located in the Garden Wing building closest to the tower and can still be accessed by guests. However, dry cleaning and other laundry services provided by the resort for a fee is not currently available.
We were surprised to learn that the poolside showers are closed. Often we will swim on our last day and shower in the resort pool area before heading to the airport.
Swimming Pools and Hot Tubs
Both swimming pools and hot tubs were available during our stay with reduced hours. the feature pool was open 9a.m.-9p.m. and the quiet pool was open 7a.m.-11p.m.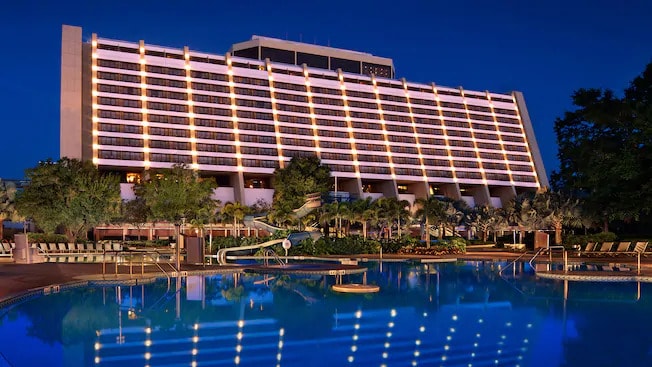 The feature pool at the Contemporary is a little small and feels cramped when it gets busy. The slide is fun, if short, and the quiet pool looks like it was original to the resort in 1971 (because it is).
Guests of the Contemporary resort can not swim at the Bay Lake Tower pool, but guests of Bay Lake Tower can access pools at the Contemporary.
In our view, the pools at the Contemporary resort are one of the weak spots when considering this resort. But we very much enjoyed the pool at Bay Lake Tower.
Bay Lake Tower
The Bay Lake Tower at Disney's Contemporary resort is a grand, quiet resort hotel connected to the main tower via sky way.
The Skyway is a great place to take pictures of the monorail and the Magic Kingdom!
Our Resort Room
We rented a 2 bedroom, lake-view suite from my inlaws, who have a Disney Vacation Club membership but can not travel right now.
We were so grateful to have the space as it was our first family trip since our adoptive daughter came home with us in July!
The 2 bedroom suite had a master bedroom with a king sized bed, a jetted tub with a separate shower/toilet area.
The main room had a pull out couch, a large chair (which I suspect converts to a bed if you so desire), and a full kitchen.
There's also a large dining table, perfect for our LEGO builds! Check out my articles on the Disney Springs LEGO store and on filling evening time with the parks closed!
There was also a laundry room (what! mom heaven!) and a full "guest bathroom" off the main room.
Finally, the second bedroom had 2 queen beds and a full bathroom.
Public Spaces and Swimming Pool
Much like the main tower at the Contemporary, Bay Lake Tower was decorated with lots of subtle and not-so-subtle Mickey touches.
My family loved the pool at Bay Lake Tower and we agree that the slide is superior to that of the main resort. I love that the tower for the slide has big Mickeys cut out of it.
While my kids are too old for the splash pad, the Mickey shaped splash area would be perfect for the younger set!
The main pool had a zero entry area and plenty of room for all of us, even over Labor Day Weekend when the resort was completely booked.
We were warned we may have to wait to enter the pool, but this did not affect us during our stay.
We also very much enjoyed the Cove Bar for lunch. The bartender there was so personable and made us smile. I sent him a cast compliment on twitter.
Overall Impressions
Overall, Disney's Contemporary resort is one of our favorite places to stay! We love being so close to the Magic Kingdom and appreciate the nostalgia of staying in an original resort.
The numerous food options definitely factor into our decision to stay here. We have always loved the Wave and were excited to try the others, even if California Grill was a bit of a let down. Maybe next time we will try Chef Mickey's instead.
We also enjoy the various amenities, such as the shops! We like to stay at this resort during the cooler months when we tend to spend less time at the pool.
Have you stayed at Disney's Contemporary Resort? Let us know what you think of it in the comments