If you can't book dinner at Steakhouse 71, we have an alternative for you. Try dining in the lounge area instead!
Steakhouse 71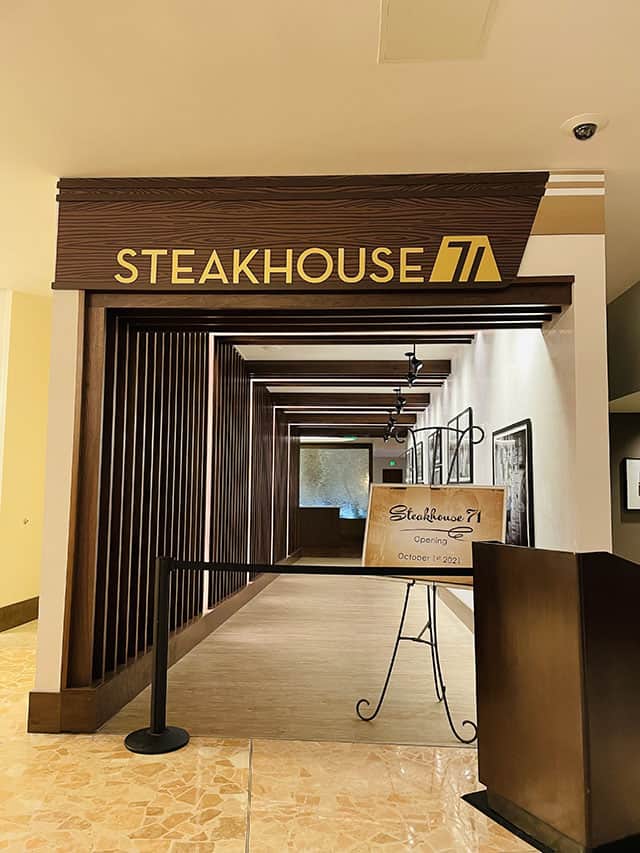 I (Katie P) was lucky enough to get to travel to Walt Disney World to celebrate the beginning of the 50th Anniversary. While there was a lot of action in the Magic Kingdom, there were plenty of other festivities to enjoy as well.
For one thing, Steakhouse 71 had its grand opening to the public on October 1, 2001. This was a particularly special grand opening because the restaurant is housed in the Contemporary, one of Walt Disney World's original resorts!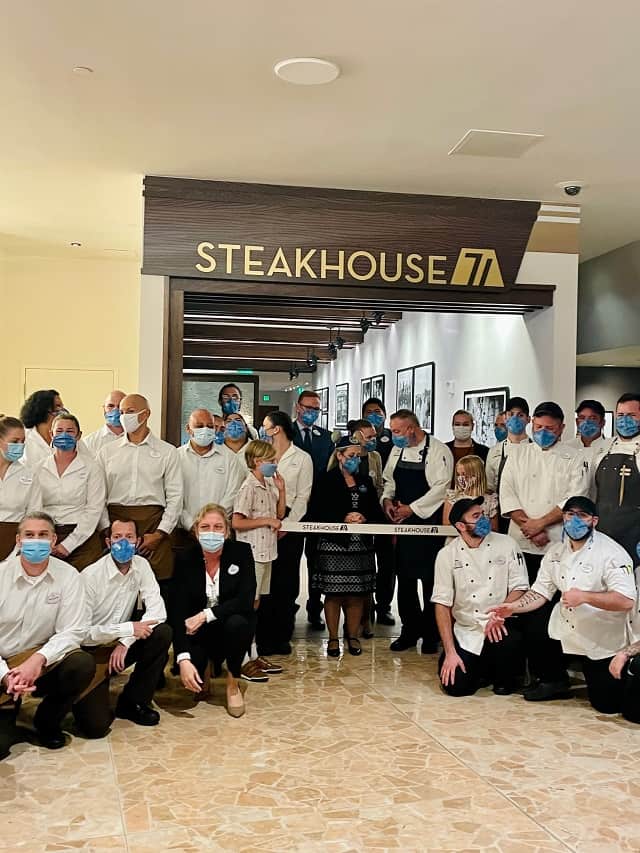 We were lucky enough to catch the grand opening ribbon cutting ceremony. Cast members and guests were excited for the first meals served to the public.
Steakhouse 71 is a re-imagining of The Wave of American Flavors, the restaurant that stood there before. The renovation of the space has given it a whole new feel. However, Wave fans have been satisfied to find that a few favorite menu items remain available.
Steakhouse 71 is a table service restaurant that is open for breakfast, lunch, and dinner. However, guests can also enjoy the lounge area if they prefer. You can check out details about the menus and opening day pricing right here.
Additionally, you can find a full review for breakfast and lunch in the restauraurant HERE.
The Lounge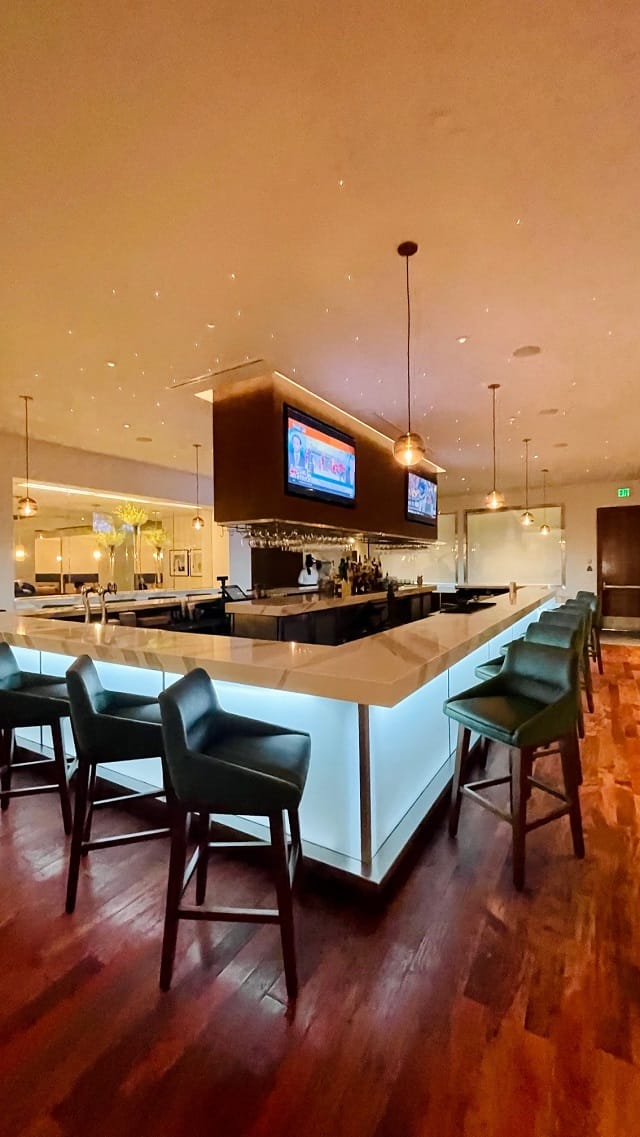 If you want dinner at Steakhouse 71, but you cannot get a reservation, you can always check out the lounge area. It does not have a full menu, but many of the restaurants popular items are available.
When we were there for the 50th Anniversary, we had breakfast at Steakhouse 71 before heading to the October 1, 2021 Magic Kingdom festivities. We enjoyed the experience so much that we inquired as to whether there was any chance of grabbing a dinner reservation.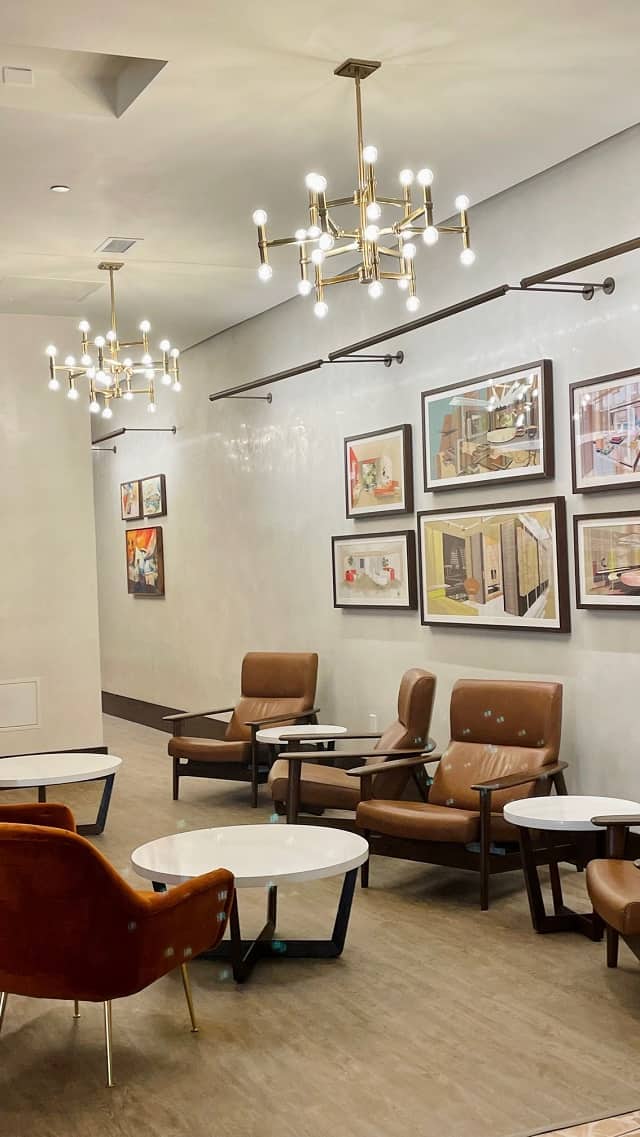 Our fantastic server said the restaurant was booked for dinner, but he made a wonderful suggestion. He said that if we arrived right at 5:00, we could probably be seated right away in the bar or lounge area.
So, we took his advice. And sure enough, when we arrived, we we went to the host and asked if we could place our name on the list for seats in the lounge. We were seated right away.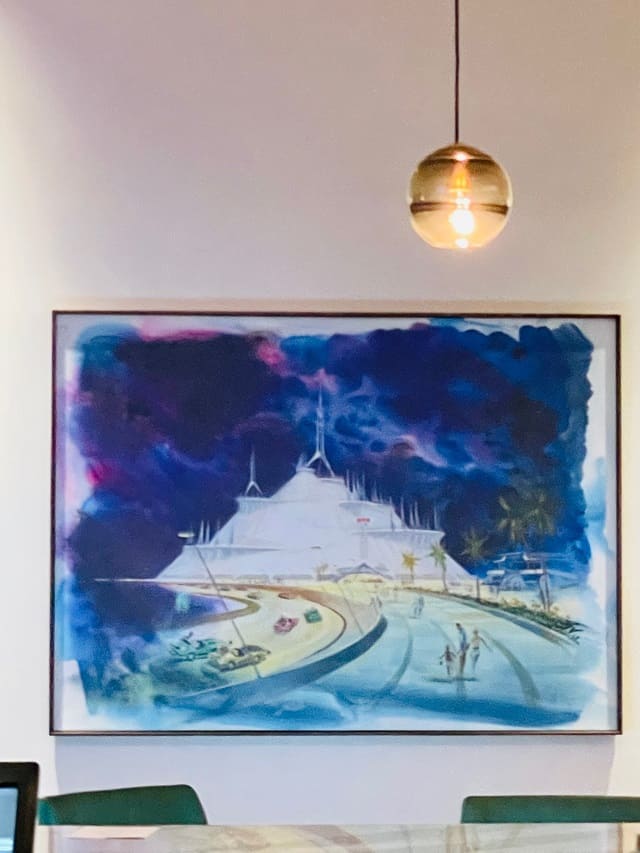 The lounge area is quite nice. I enjoy the vintage look and feel and all the cool art work, particularly a painting of Space Mountain.
The seats at the bar were perfectly comfortable. And, of course the bartender was very friendly. He brought us the limited menus quickly.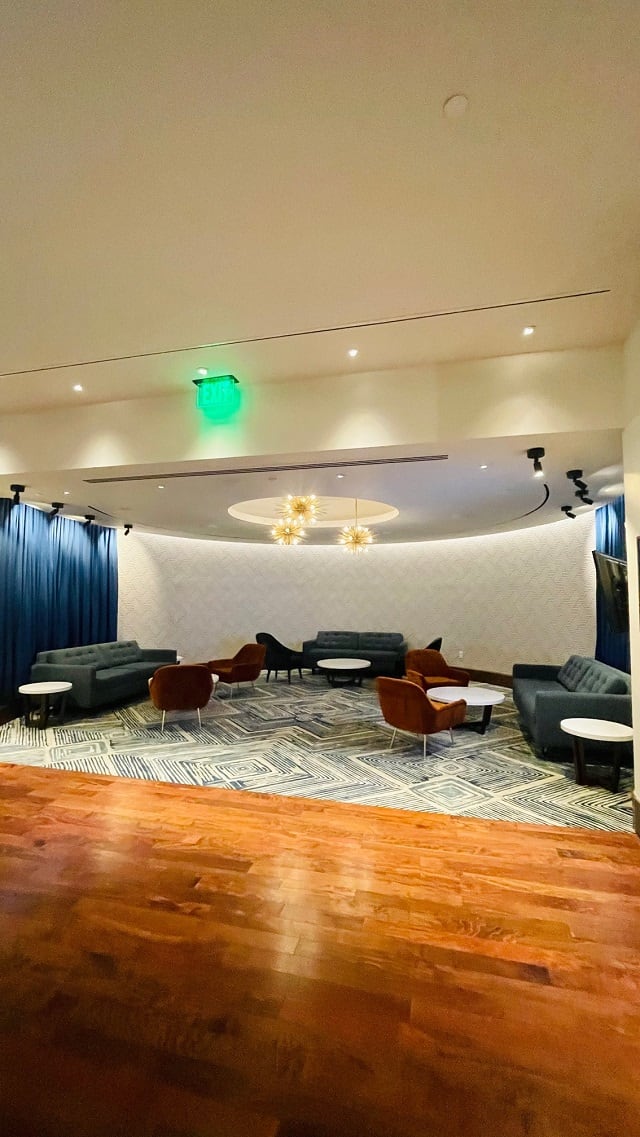 We had no trouble finding plenty to eat on the lounge menus. In fact, there were things we didn't order that I would love to go back and try.
The Lounge Food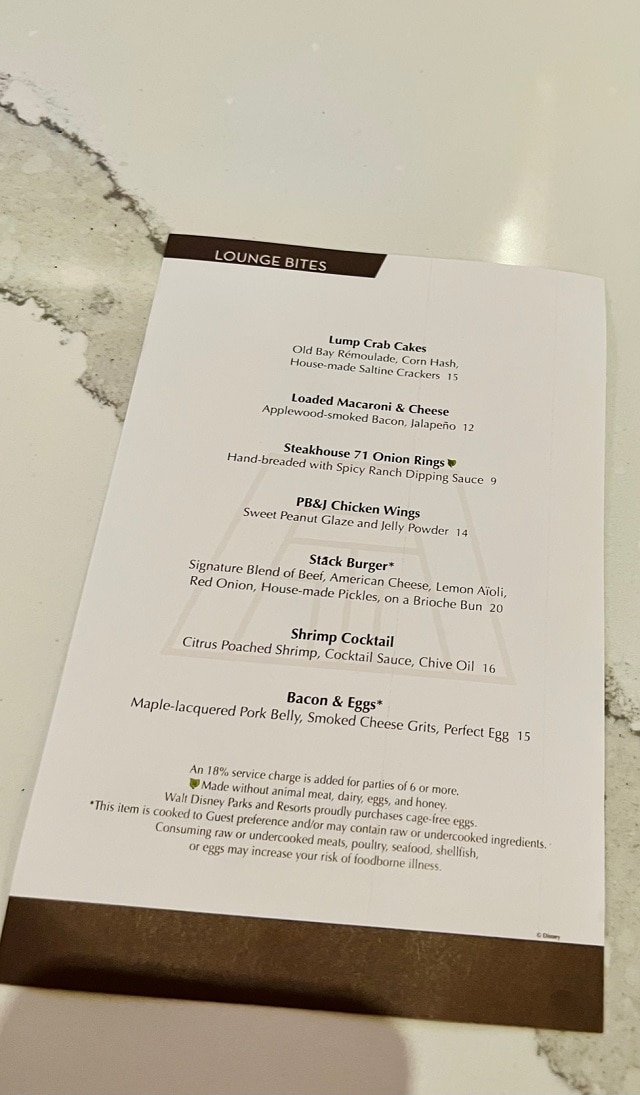 The three of us ordered several different things so that we could taste as many dishes as possible. I have to say that overall, we really enjoyed everything we tried.
The thing I probably enjoyed least was the 50th Anniversary mocktail, which can be found at several locations around the park. It was fun, but I did find it to be expensive for what it was. For a full review of this drink, read here.
The Bacon and Eggs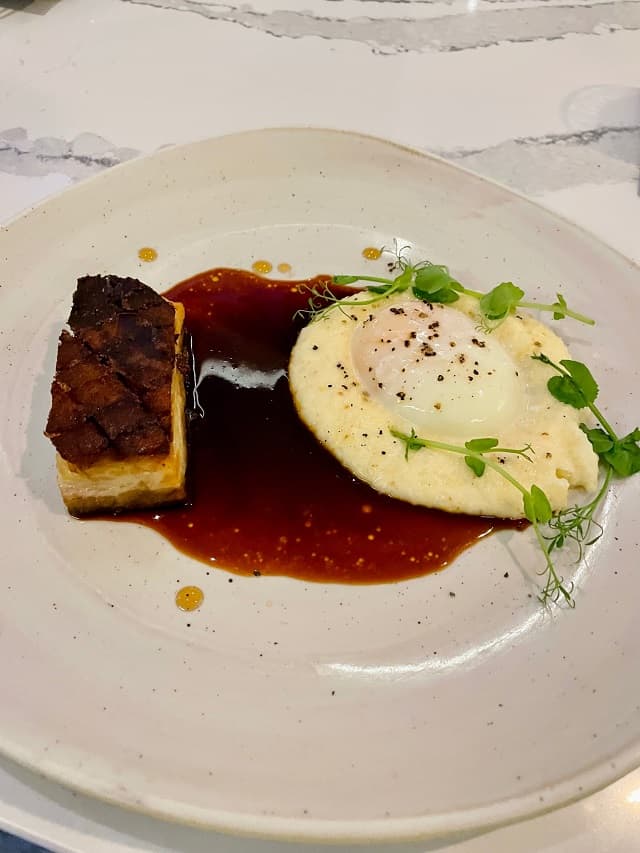 Bacon and Eggs is a dish that was available at The Wave before it was reimagined as Steakhouse 71. The dish is described as Maple-lacquered Pork Belly, Smoked Cheese Grits, and a Perfect Egg. I have to say, it is one of the best appetizers I have had on property.
Seriously, they were not kidding when they said a "perfect egg." The egg was exactly perfect, and it ran beautifully to interact with the flavors of the other components of the dish.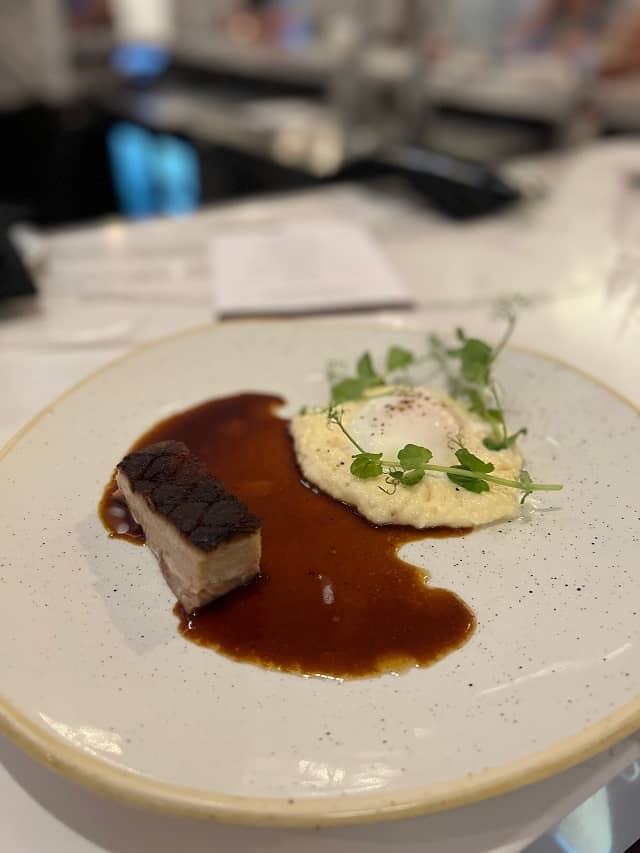 The pork belly was flavorful and delicious and had just enough maple. I have really never met cheese grits I didn't like, but these were exceptional.
This is a dish that I am excited to eat again and again. I think if I were not very hungry, I would skip the main course and just order this.
The Steakhouse 71 Stack Burger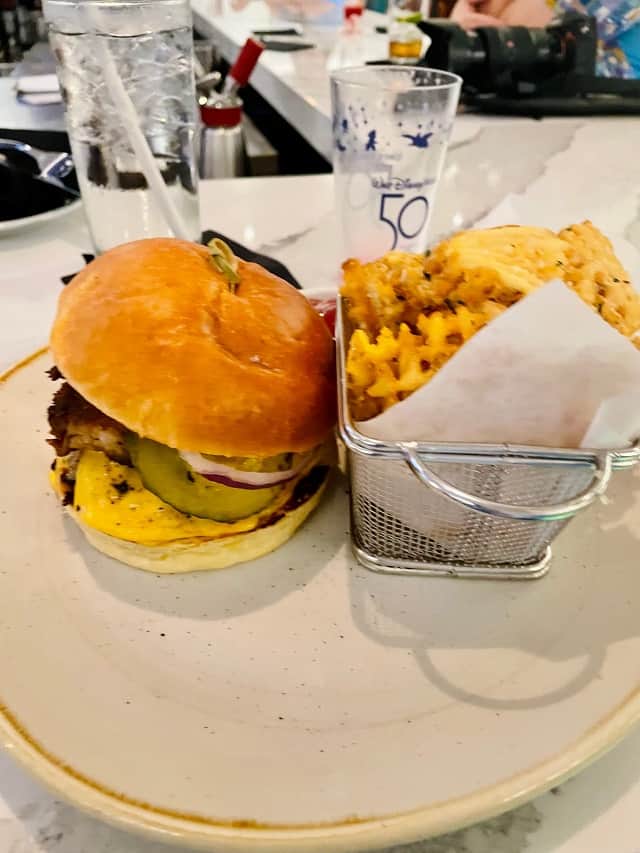 The menu describes this burger as a "Signature Blend of Beef, American Cheese, Lemon Aïoli, Red Onion, House-made Pickles, on a Brioche Bun" It is served with a choice of Petite Wedge Salad, Parmesan Fries, or Pasta Salad.
One of my friends ordered the burger and the parmesan fries to go with it, but of course we all got to taste it. And, oh my goodness, this is an excellent burger.
I am not sure that I have had a better burger anywhere in the parks. This is by far my favorite. If you are a burger fan, this one is a great option for you.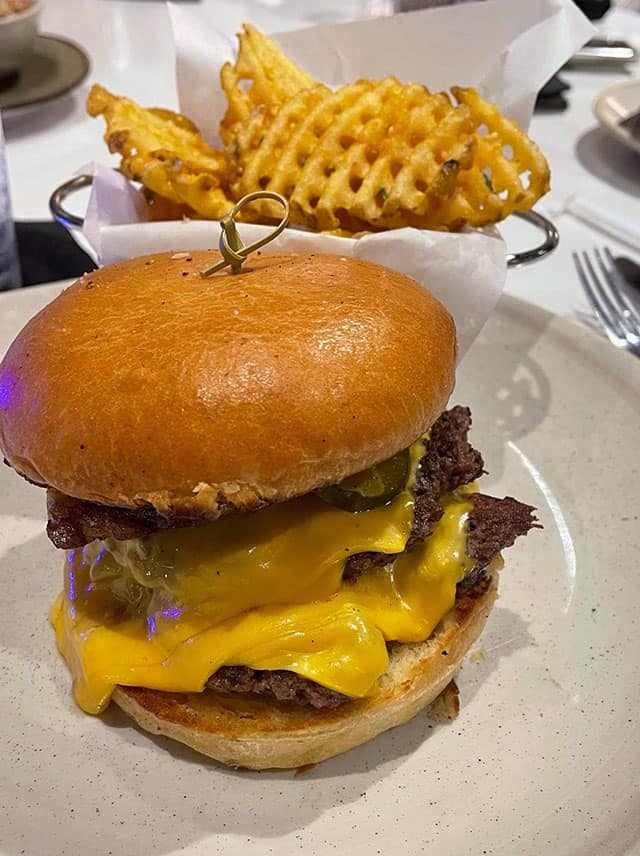 Additionally, I really, really, really loved the fries. They are crispy waffle fries. Ours were served hot and had just the right amount of crisp and just the right amount of parmesan.
I don't usually love ordering fries at steakhouses. However, these were delicious.
The Loaded Macaroni and Cheese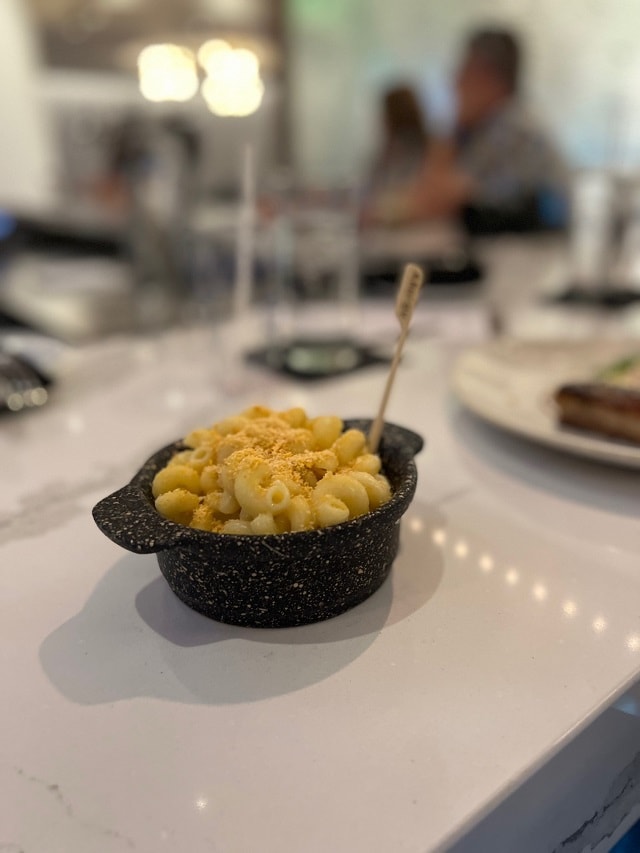 We had to try the Loaded mac n cheese because I like macaroni, and it was there. It normally comes with jalapeno, but I asked for those to be left off.
This was a pretty tasty macaroni. It was less memorable than the other dishes, but it was still good. It is not your typical out of the box macaroni and cheese, so if you love the box stuff and don't like homemade, this isn't for you.
Overall Impressions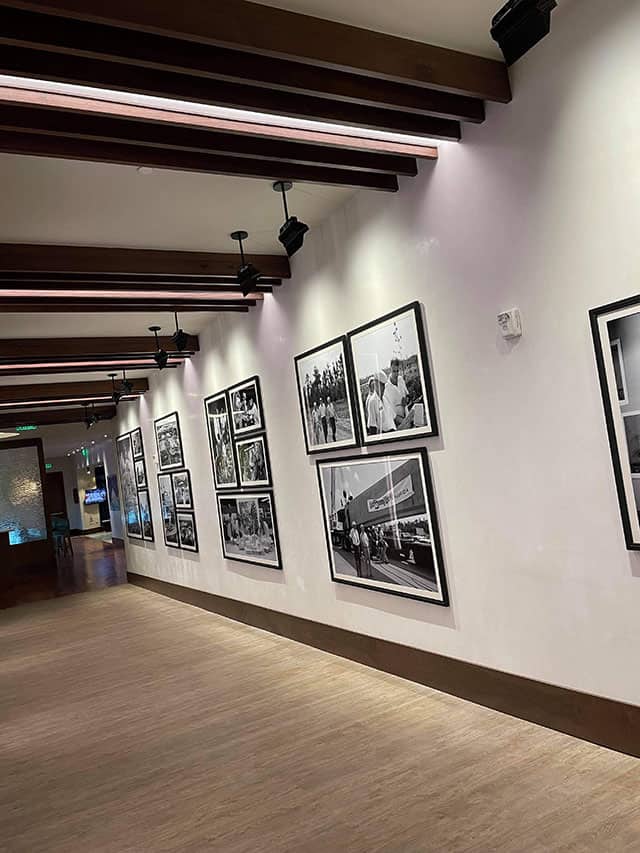 I really enjoyed Steakhouse 71. Our server was attentive. The food was great. The atmosphere was fun.
This is a restaurant that you can easily enjoy even if you are not staying at the Contemporary Resort or Bay Lake Tower. Since it is located on the Monorail, it is easy to just on from the Magic Kingdom to take a break from the park and enjoy a meal here.
Better yet, the Contemporary is within walking distance of the Magic Kingdom. It is a quick walk, so if the Monorail has a line, you can skip it and head on over.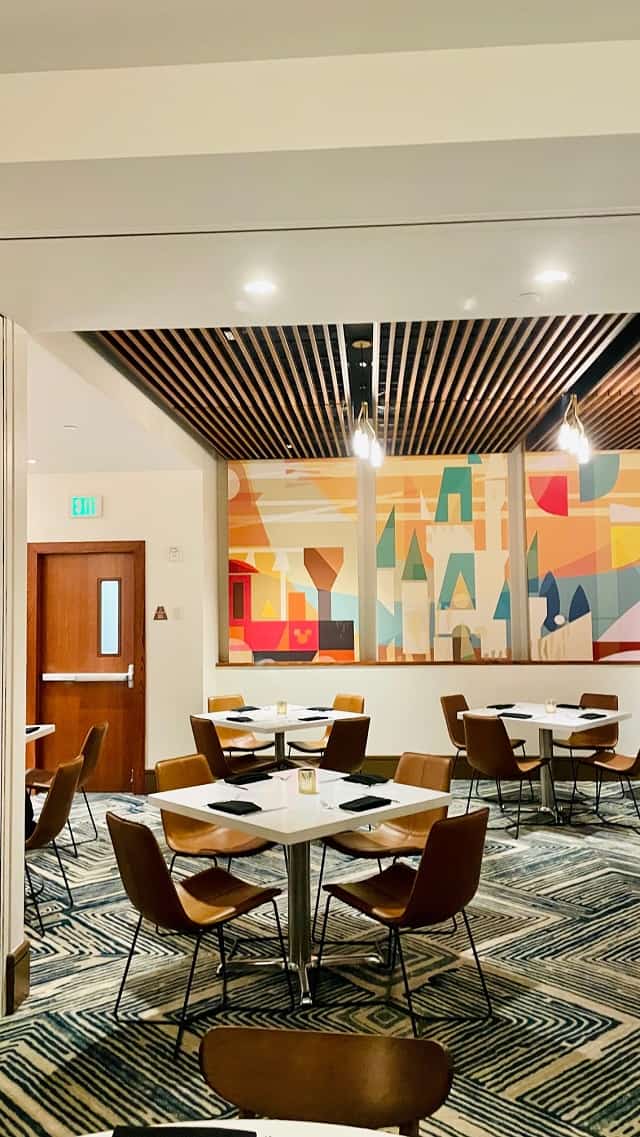 This makes Steakhouse 71 an appealing and easy option if nothing in the Magic Kingdom strikes your fancy or if all of the table service restaurants are booked. You can get a great meal and be back inside the magic in no time.
Have you eaten at Steakhouse 71? Are you planning to try it? Let us know on the Kenny the Pirate Facebook page. Don't forget to join the KtP crew page, too!