Check out this Disney restaurant review and see why The Wave…of American Flavors gets rave ratings!
Are you like me and love to check out ALL the Disney restaurants? If so, you'll want to eat at The Wave…of American Flavors (or, The Wave, as I'll refer to it in this article) on your next visit.
Location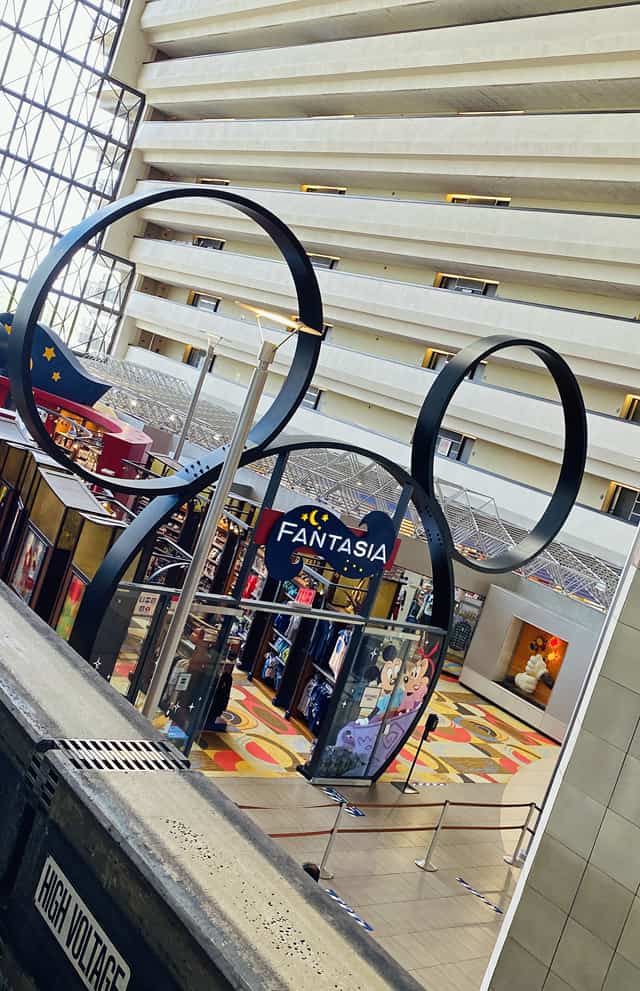 The Wave is located on the first floor lobby at Disney's Contemporary Resort. If you're staying at the Contemporary Resort, simply take the elevator to the first floor. Check out out complete Contemporary Resort guide here.
If you're getting off the resort monorail, it can be a little more tricky. Guests must take the escalator down from the monorail to the resort. Then, take a series of escalators or stairs. For an easier route, take the elevator to the first floor after taking the initial escalator from the monorail. If you're not sure where to go, just ask a nearby Cast Member.
Check-In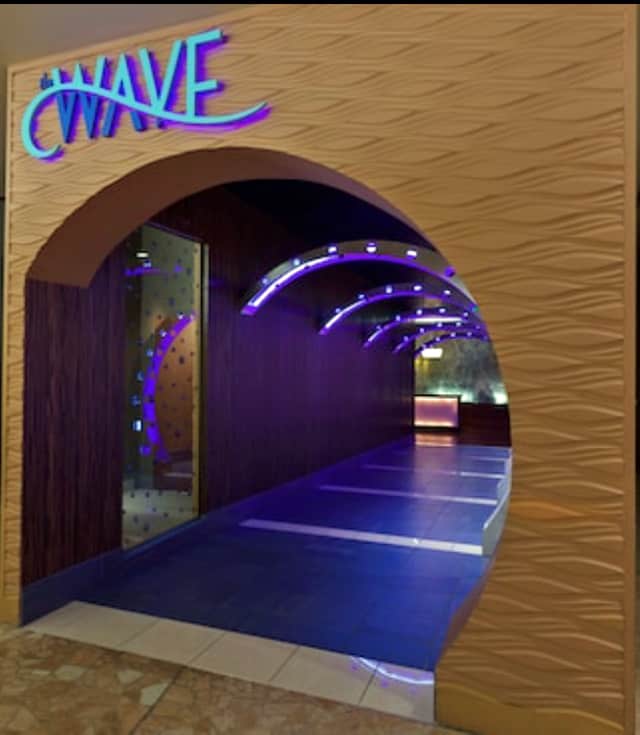 To locate the restaurant entrance, simply look for the futuristic swirling lights mimicking the ocean's movement. It's way cooler than a photograph captures. Guests feel like they're walking through a series of waves.
Once there, you'll find a pleasant Cast Member taking temperatures since reopening. Once temperatures are completed, guests are directed to the nearby hostess stand.
First Impressions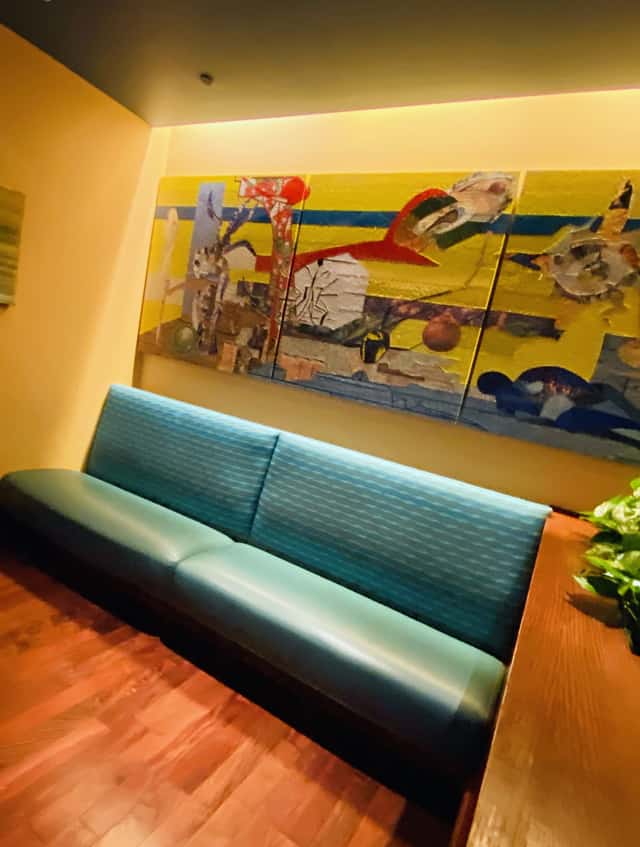 Walking in and seeing the blend of cool lighting and modern decor really captured my attention! My initial impression of the dining room was a bit of a let down compared to the vibrance of the waiting area and lounge.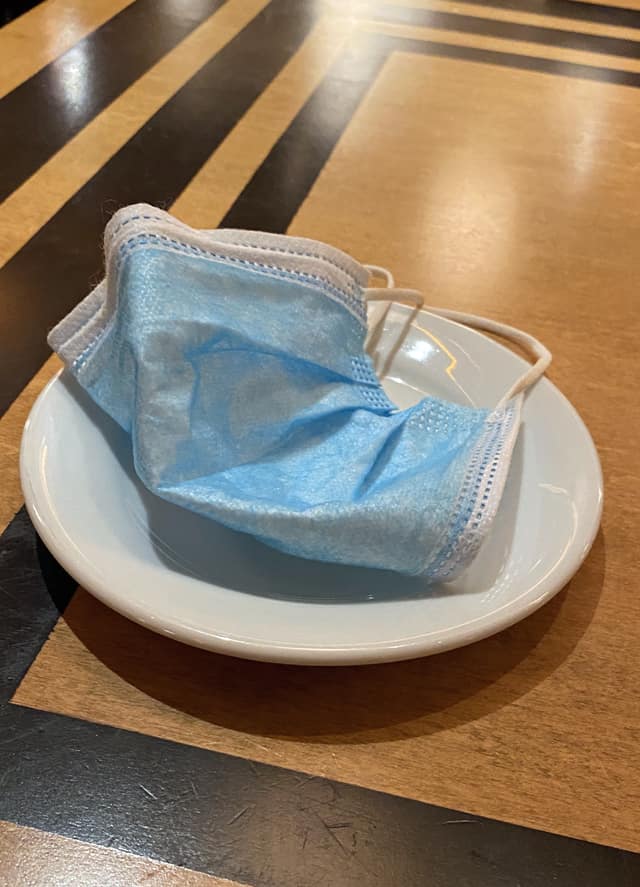 That disappointment quickly faded though when my server promptly appeared. I was given a small plate for my mask. This act was so simple but left me thankful for it and wishing other restaurants did this. Seems to be Murphy's Law that if you put your mask on a table, it ends up on the floor. With this plate, that didn't happen.
My server explained the daily specials with detail and care. He mentioned several times throughout the course of the meal that there was no need to rush through the meal. This was a refreshing change to the hustle and bustle of theme park dining.
Restaurant Theming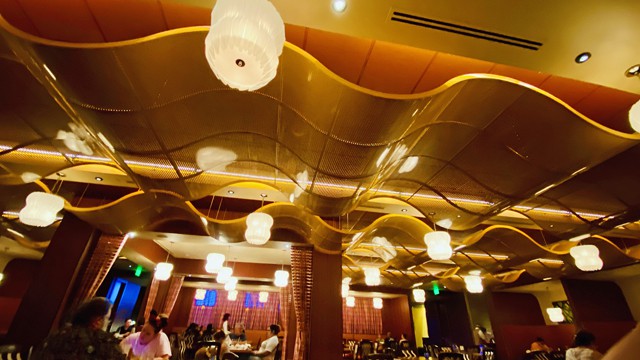 The theming of this wonderful dining location is American cuisine. However, it also focuses on locally grown, organic and sustainable food.
The emphasis at The Wave is freshly prepared, delicious food and drink that is also environmentally friendly. Not only does the Wave evoke a modern vibe, but it also remains very family friendly.
The Wave Lounge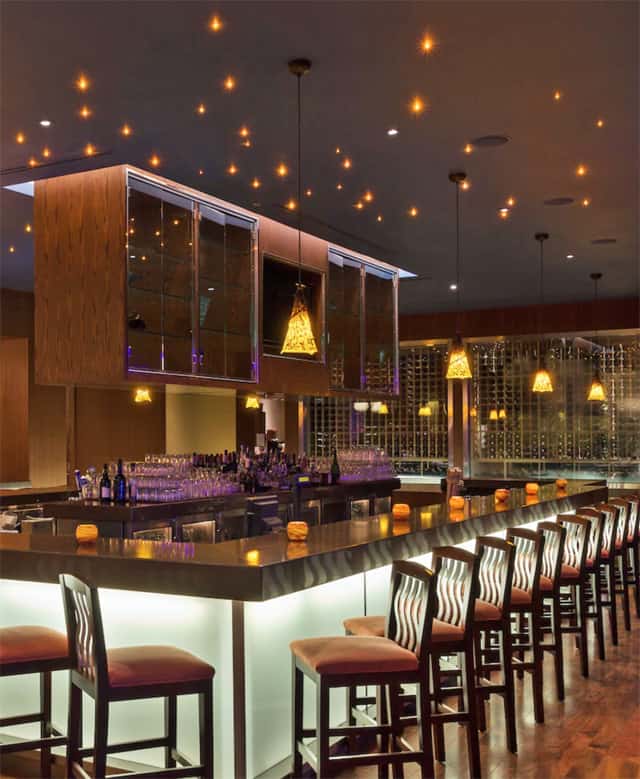 If you're unable to get reservations at the restaurant, check for lounge availability. Additionally, guests can order to go items from the lounge. It's a tranquil place to unwind after a busy park day.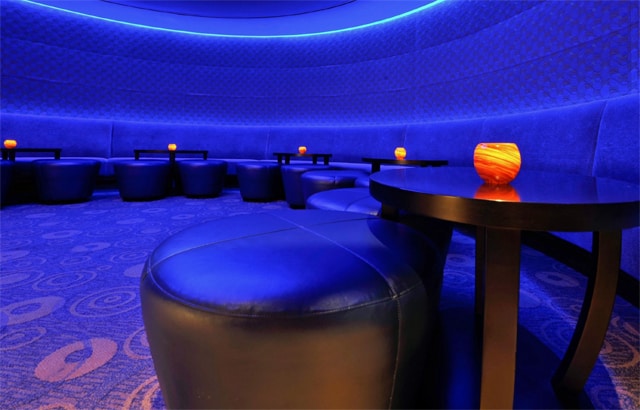 The lighting at both the lounge and waiting area make these spaces very unique. Check out the vibrant blue space that make you feel like you're underneath the ocean.
Menu
Since reopening, Disney has implemented QR code menus like the one above. Simply open the camera on your phone, point toward the QR code, and follow link.
Guests delight in fresh American cuisine at this stylishly contemporary restaurant and lounge.
Diners feast on new American cuisine inspired by a passion for locally and regionally sourced ingredients.
Along with a full menu, dinner features grilled beef tenderloin and seared potato gnocchi.
Breakfast Selections
Start your day with a classic American breakfast such as Eggs Benedict. For a sweeter breakfast, try the Wave's signature sweet potato pancakes served with pecan-honey butter and a side of sausage or bacon. Yum!
For the complete breakfast menu, as well as all Disney World current menus, check out Character Locator.
At lunch, diners choose from a variety of sandwiches, signature burgers, and fresh salads. Check out the current lunch menu below.
Appetizers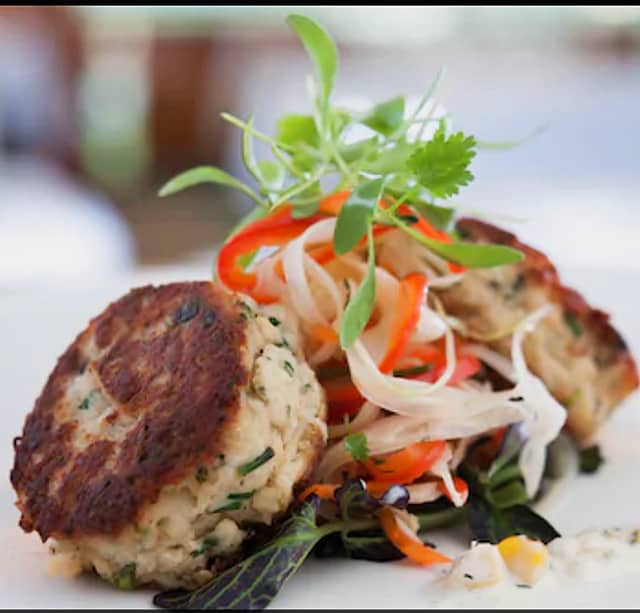 Lump Crab Cakes – Old Bay Rémoulade, Corn Slaw $15.00
Seasonal Soup with Chef's Accompaniment $9.50
Seasonal Salad – Seasonal Accompaniments with Local Greens in a House-made Vinaigrette $9.00
Caesar Salad -Caesar Dressing, Brown Butter Croutons, Shaved Parmesan $9.00
Cauliflower Taco – Roasted Cauliflower, Cabbage Slaw, Salsa Verde (Plant-based) $11.00
Steamed Bao Bun -Slow-roasted Pork Belly and spicy Asian Slaw $11.00
Bacon and Eggs – Maple-lacquered Pork Belly with Perfect Egg and Smoked Cheddar Grits $14.00
Entrées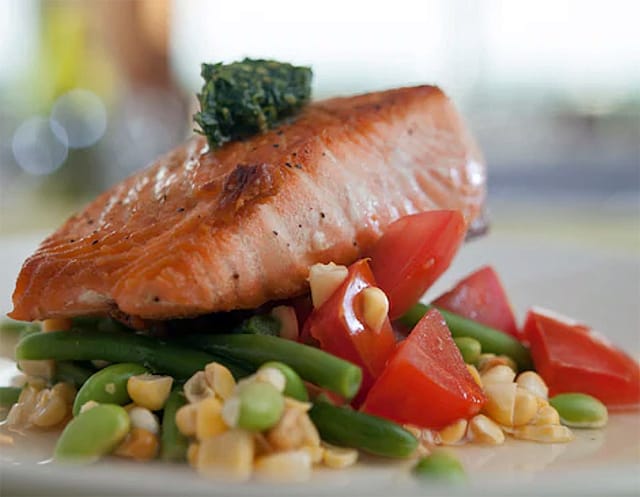 Signature Burger – Signature Blend of Beef, Applewood-smoked Bacon, Cheddar, Red Onion, House-made Pickles, Lettuce, and Tomato on a Brioche Bun $19.00
Sustainable Fish of the Day (Market Price) Quinoa Tabbouleh, Lime Vinaigrette, Pomegranate Molasses, Toy Box Tomatoes
Reuben Sandwich – Swiss Cheese, Sauerkraut, Sunflower Seed Bread $14.50
Chicken Sandwich – Herb-marinated Chicken, Avocado, Applewood-smoked Bacon, Lemon Aïoli, Lettuce, and Tomato on a Brioche Bun $14.00
Soup, Salad, Sandwich – Cup of Soup, Seasonal Salad, Turkey Sandwich $18.00
Desserts
Chocolate Flight – Chocolate Croissant Bread Pudding, Brownie Crème Brûlée, German Chocolate Cake $11.00
Vanilla Crème Brûlée with fresh Berries – A No Sugar added Dessert $7.00
What We Ordered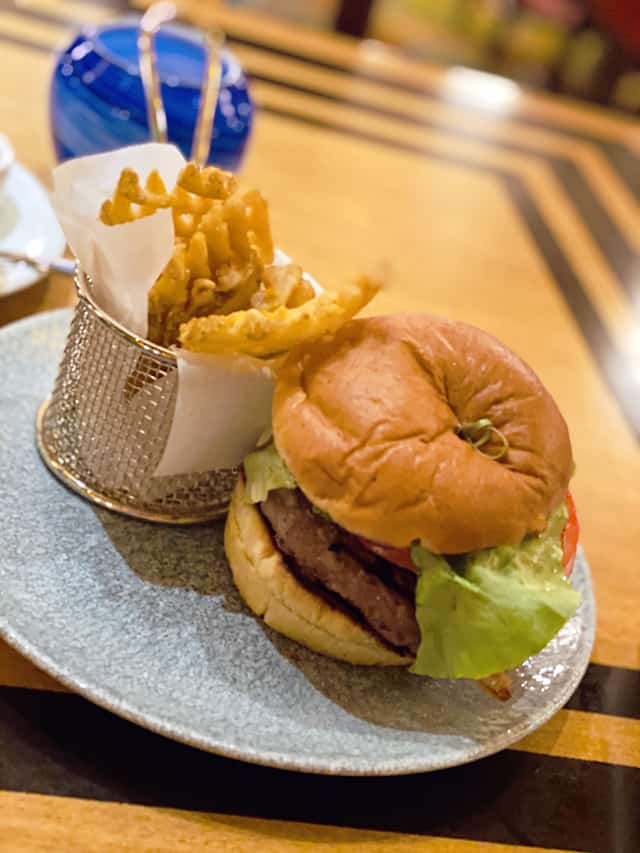 I've dined at The Wave several times for lunch and find the food delightful. First, I ordered the signature burger with waffle fries. Their signature "blend of beef" burger was almost as delicious as my favorite STK burger. The bun tasted freshly baked, and the french fries were hot and crispy.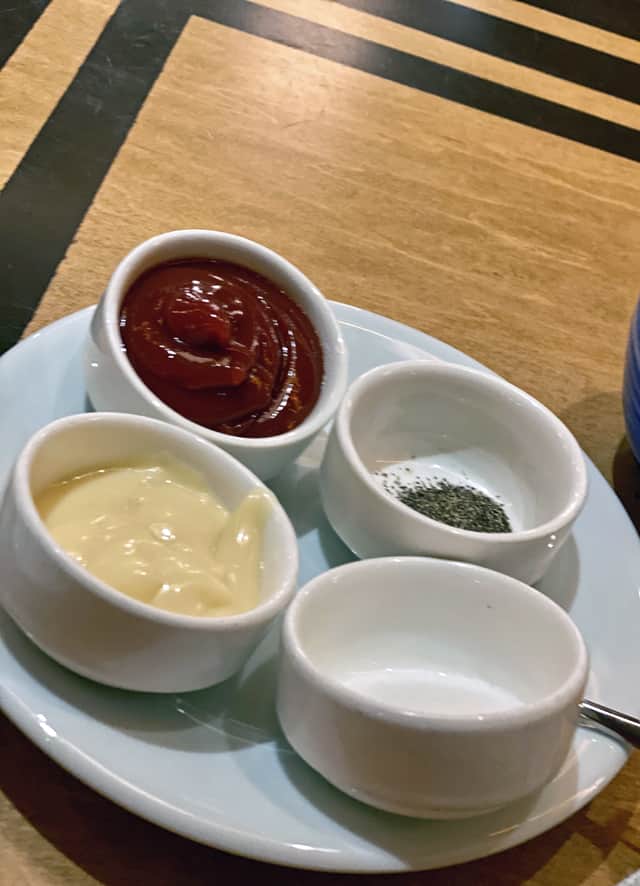 Both the presentation of the fries in the wire basket and the condiments in individual ramekins were visually pleasing. For this visit, I devoured the burger and moved onto dessert.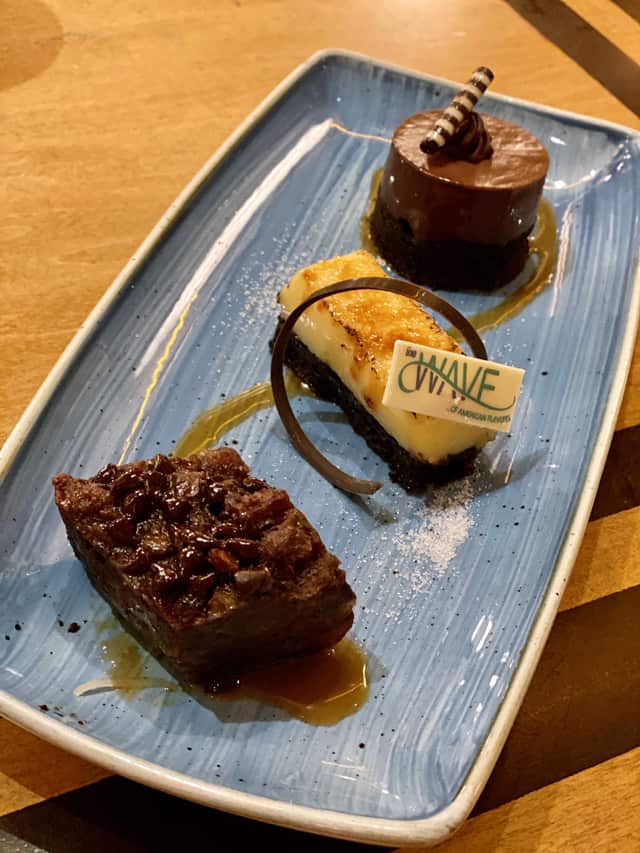 Dessert was the showstopper of this visit! Where else can you order the decadent chocolate flight? When it arrived, my first thought was it's too pretty to eat! That thought quickly passed, and I dove in.
The dessert sampling was fresh and flavorful. Each bite contained the perfect balance of chocolate and sweetness, without one overpowering the other. My favorite of the trio was the chocolate croissant bread pudding shown at the bottom. Total heaven on a plate!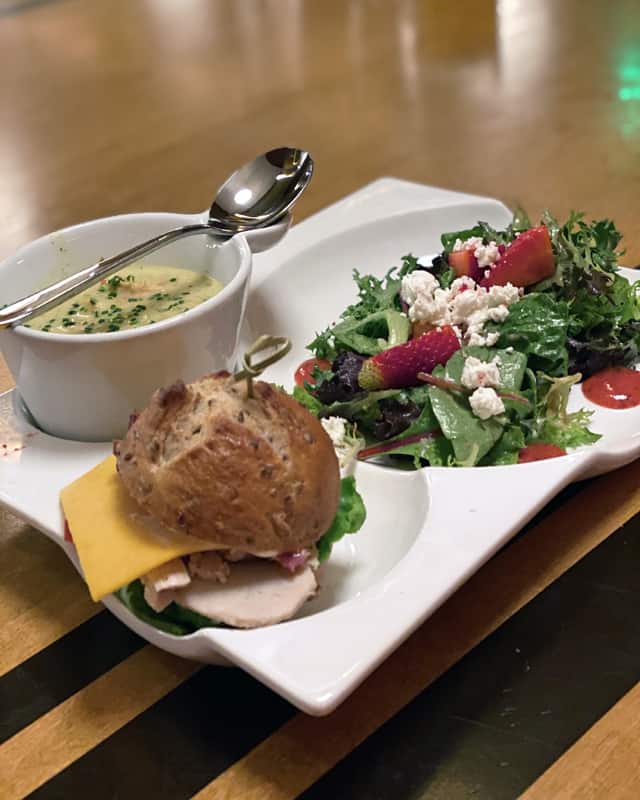 For lunch, guests can choose the soup, salad, and turkey sandwich trio. Our server explained that there's not a choice or soup or salad since both of these are prepared fresh daily.
My friend ordered this, and was not disappointed! On the day we visited, chicken and rice soup and strawberry salad were featured. The smaller portions were a wonderful way to sample many items without becoming too full. Each item complemented each other beautifully.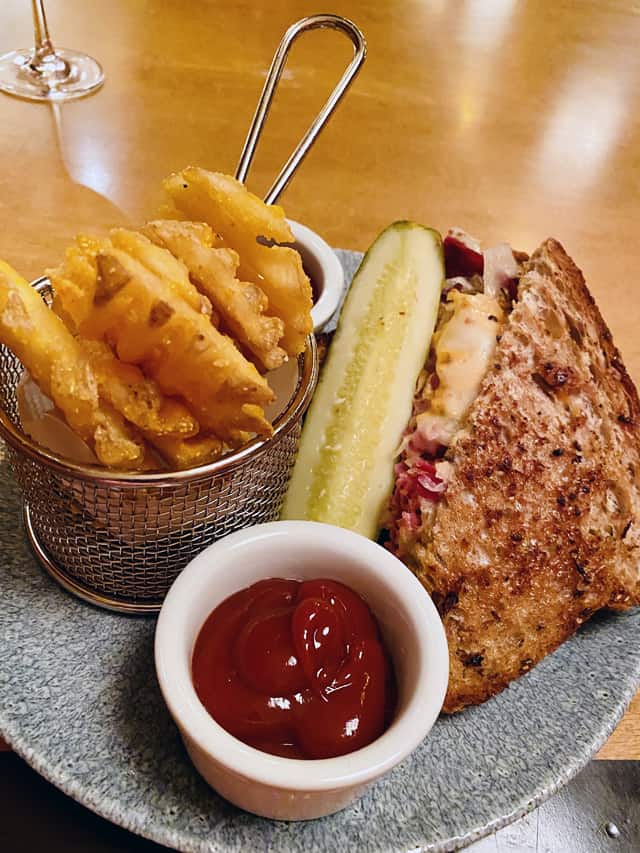 On my next visit, I ordered the reuben sandwich with waffle fries. The rye bread was incredibly fresh and toasted to perfection. As with the prior visit, the waffle fries were consistently crispy and delicious.
Final Thoughts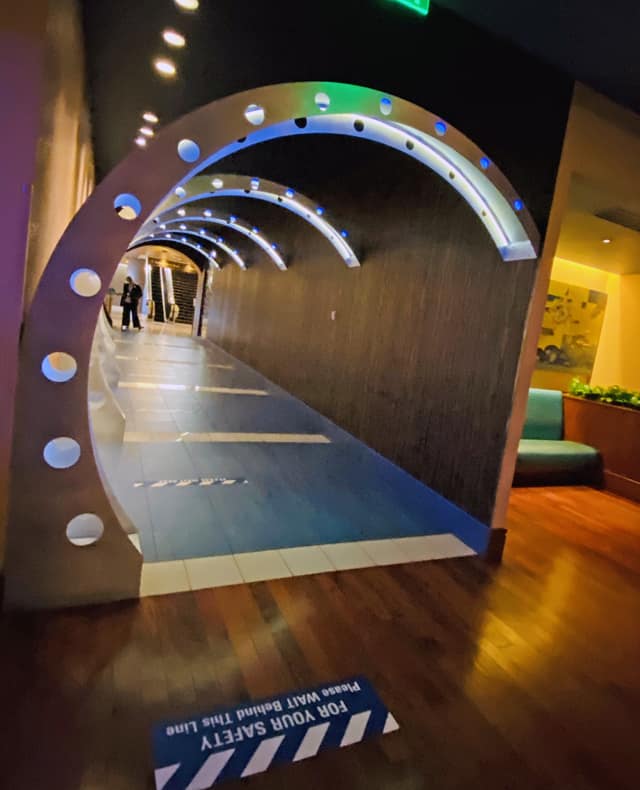 While I've been curious about eating at The Wave, this was the restaurant we would always drop on previous trips. This is partially because we didn't want to leave the parks and also because we weren't sure about the quality of the food.
Note: The sustainable fish of the day was significantly higher priced than the other lunch items. When we visited, it was $30.
Now, however, The Wave is a restaurant that we will visit often, especially for lunch. It's just a quick monorail trip from the Magic Kingdom. The food, atmosphere, and service all surpassed our expectations! I hope you'll take the time to try The Wave on your next Disney visit. You won't be disappointed!
Have you dined at The Wave…of American Flavors yet or are you willing to try it in the future? If so, please share your thoughts below or on our Kenny the Pirate Facebook Page.