I had the honor and privilege of joining thousands of other Disney Guests on the historic occasion of Disney World's 50th anniversary. Was it everything I expected? Here are my thoughts, feelings, and commentary on being in Magic Kingdom on October 1, 2021.
A Dream Come True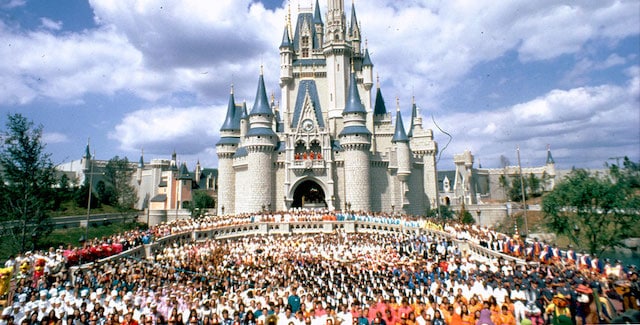 50 years ago Walt Disney World opened, and the world's most popular theme park began making dreams come true for many. But, it is so much more than a theme park. It's a place to go to escape the real world for a little while, to make memories with those you love, and to experience the lands of fantasy, adventure, and tomorrow that Walt envisioned.
I (Monica) remember my family visiting Walt Disney World during the 25th anniversary celebrations when I was a child. The giant cake castle is still vividly pictured in my mind as well as all the fun and magic I experienced that week.
I knew I wanted to be present for the 50th anniversary, and while I have a few trips planned throughout the 18-month long celebration, being there on October 1 was must-do for me.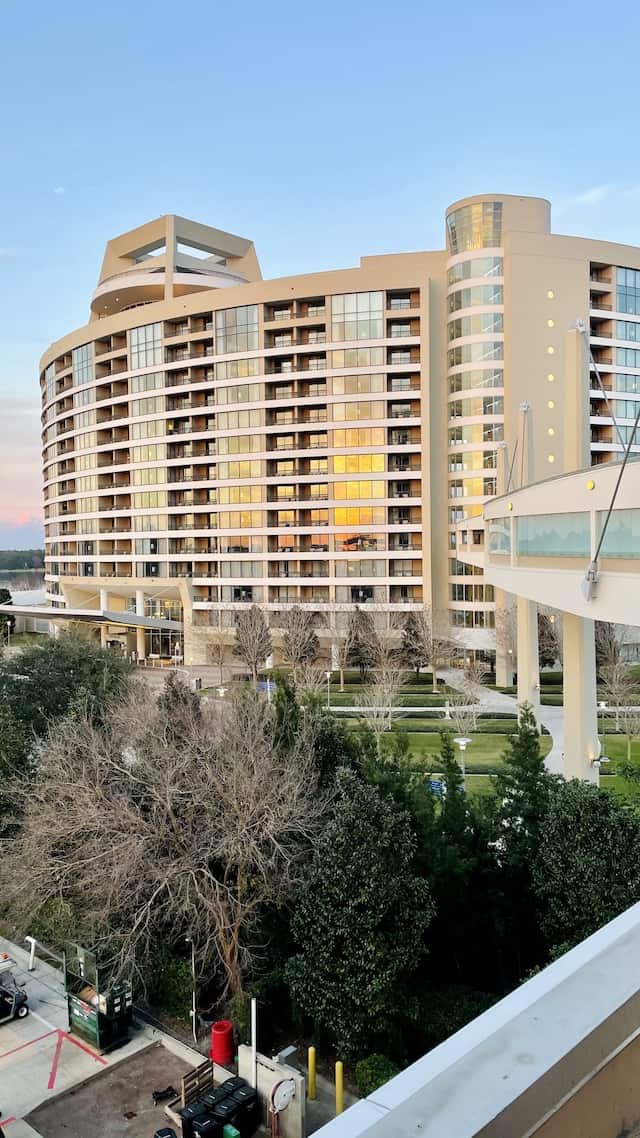 Thankfully, I have other KtP writers who have the same dreams and goals as I do, so we set to work to make our dream come true! We booked a room at Bay Lake Tower so we could be within walking distance of Magic Kingdom. Park pass reservations were made, and as Disney announced new restaurants and fireworks shows we booked those as well.
The wheels were set in motion for one unforgettable weekend! But, how did it all unfold?
Early Wake Up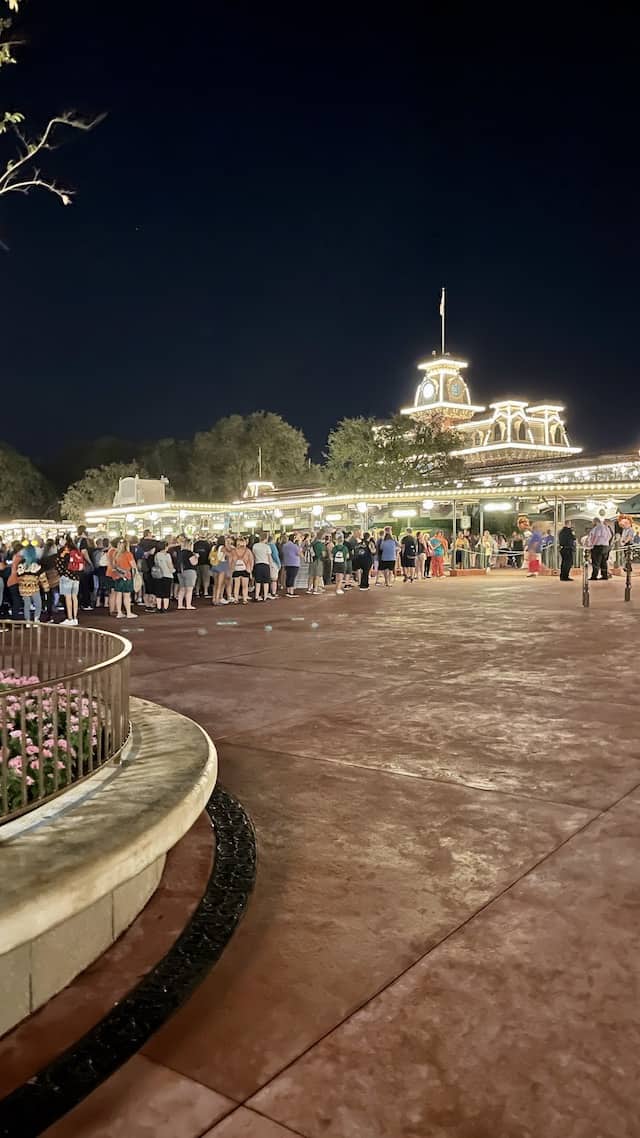 On October 1, 2021 we awakened at 5:30 am to get an early start to the day. The operating hours for Magic Kingdom that day were 8:00 am to 11:00 pm with Early Theme Park Entry beginning at 7:30.
The four of us left the hotel to join the mass of people walking from the Contemporary to Magic Kingdom. We noticed many cars were trying to park/drop off at the Contemporary, which created a major pile up of cars in the area.
The Cast Member directing foot traffic at the crosswalk told us they had been working since 10:00 pm the night before. It seemed like many had already been waiting a long time to enter the gates.
Arrival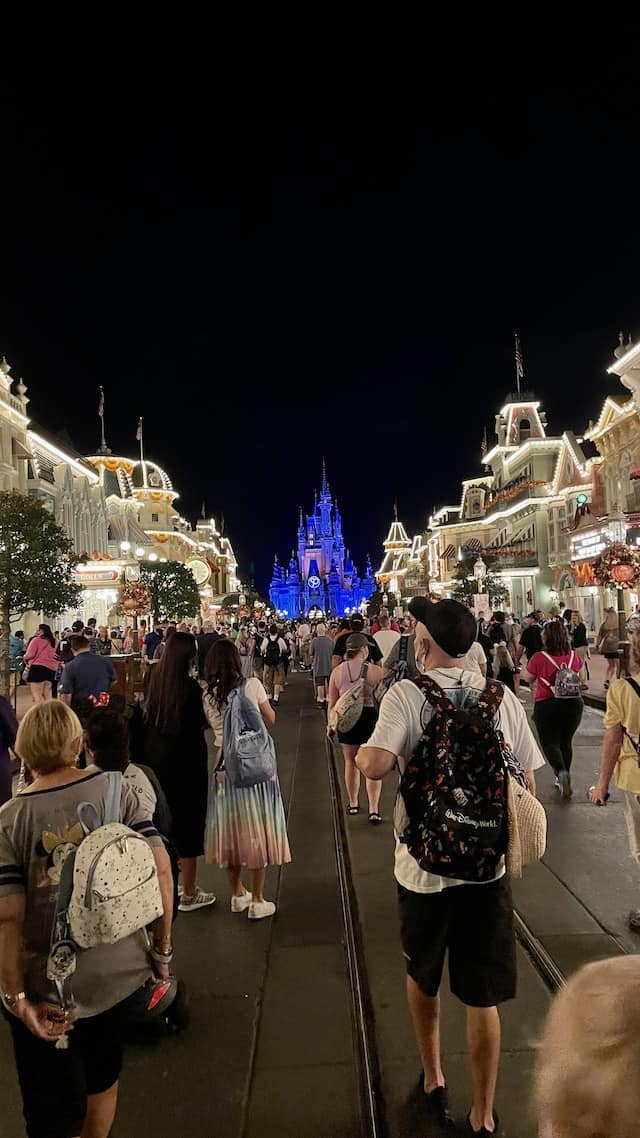 Upon arriving at the main park entrance shortly before 6:30 am, we were let in right away. I anticipated we would not be let in so early, but I suppose a large crowd of people would create a chaotic situation.
The first thing we noticed was the large number of Guests already on Main Street. The shops had already opened as people were trying to purchase limited edition merchandise. It was very chaotic in The Emporium, but thankfully there was a virtual queue process for the Celebration Collection.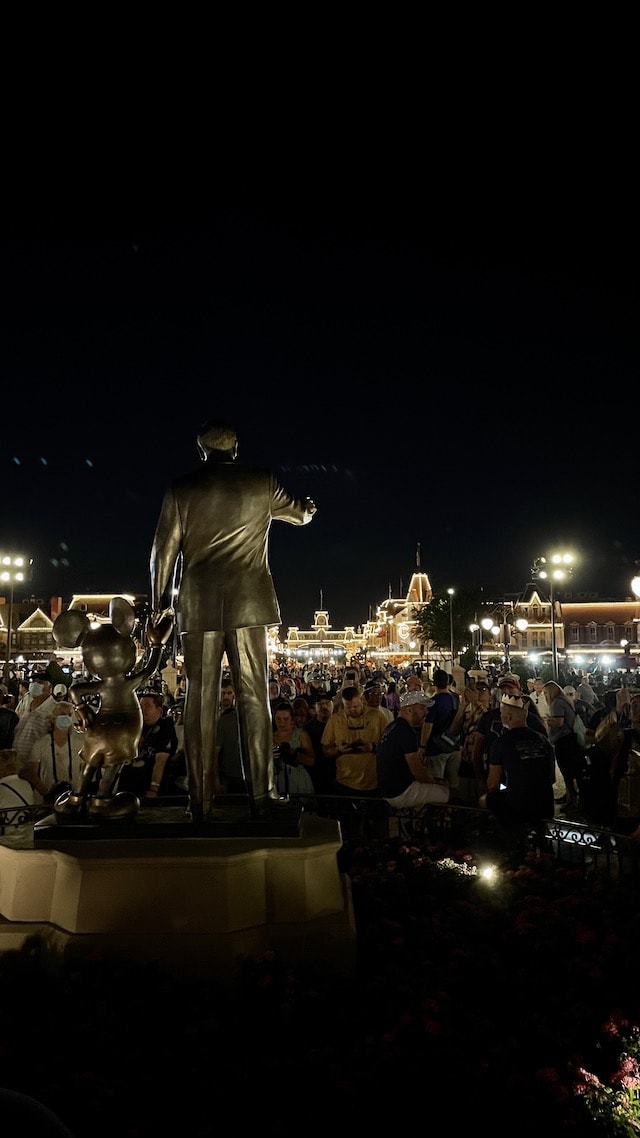 We made our way down Main Street and headed to the Hub where there was already a a crowd of people waiting. They had a large section right in front of the Castle blocked off for media, so we were held around the Partner Statue. Crowds quickly formed behind us, and I was very grateful I was toward the front.
It was surreal being surrounded with other Disney fans eagerly waiting to see what would happen today. We talked with others about the rededication ceremony from the previous night and what might be in store for us as they day wore on.
Character Appearances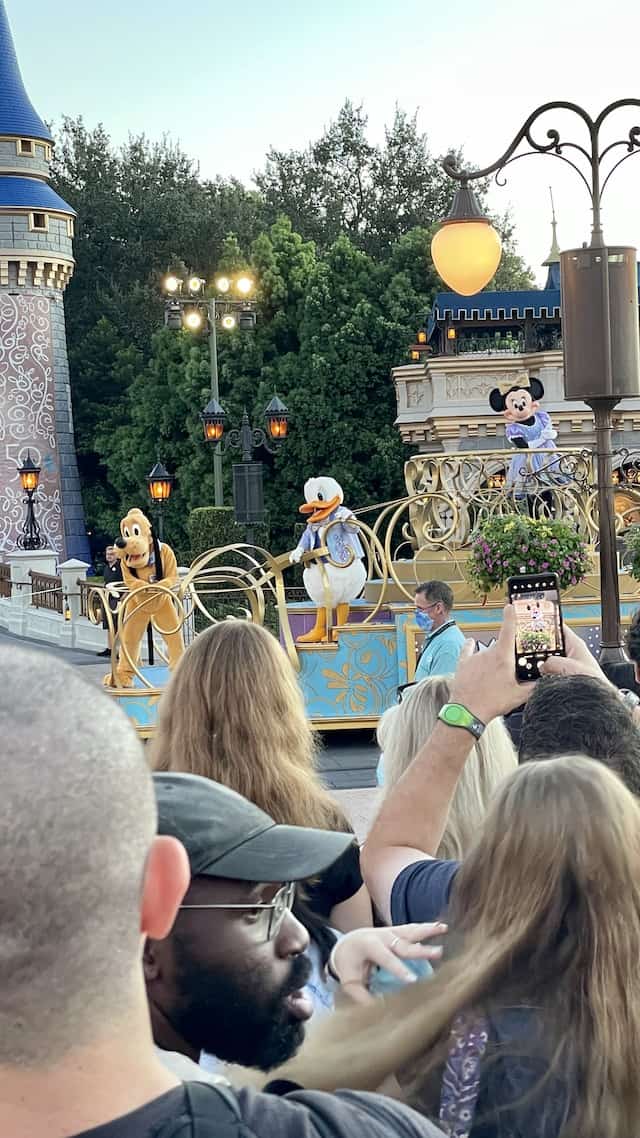 Shortly after 7:00 am, the characters came out in front of the Castle in their new costumes. There was a float already set up for Minnie, Donald Duck, Daisy, and Pluto.
Mickey Mouse joined host Ginger Zee for a Good Morning America segment that aired later that morning. I tried my best to get a good video and photos for you all, but there were a lot of other people with their phones in the air as well.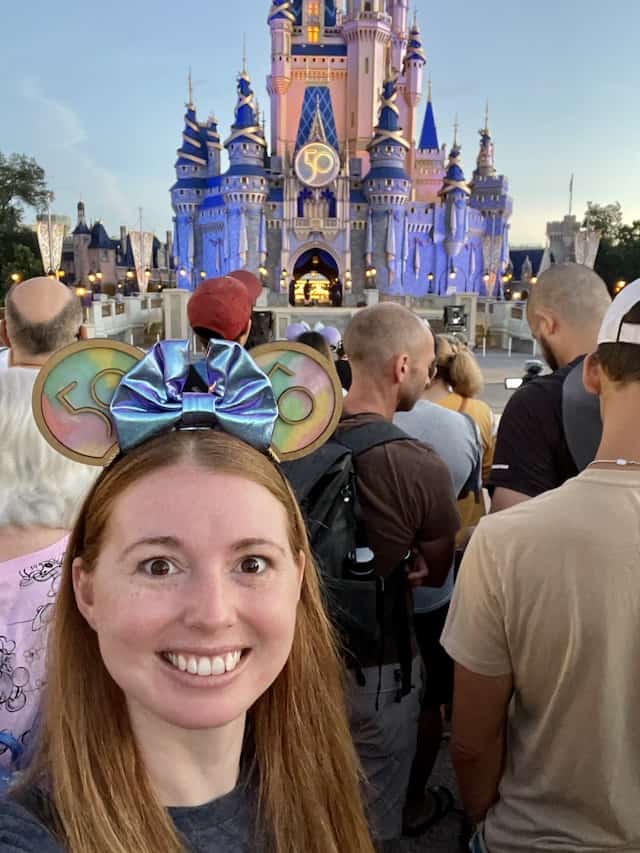 Shortly after that segment ended and the characters left to go backstage, we were let up directly in front of the castle. At this point we were about five rows back and we were ready for whatever would happen next!
Just…a welcome show?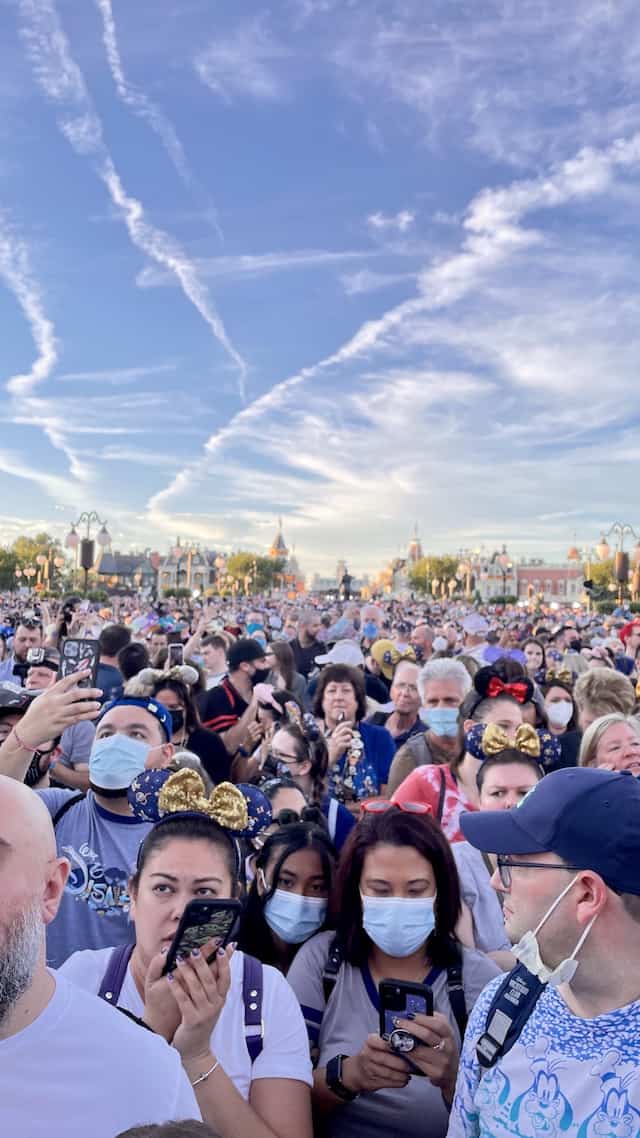 It was now 7:45 am and Early Theme Park Entry had officially started for onsite guests. Except it seemed that no one left the Hub or Main Street to go ride attractions. We all stayed put where we were in anticipation of what may occur at 8:00. Little bursts of fireworks were shooting off every 15 minutes or so, so surely something special would happen.
Would CEO Bob Chapek or President of Parks, Experiences, and Products Josh D'Amaro come out on stage to speak? Maybe Mickey or the other characters would come back out?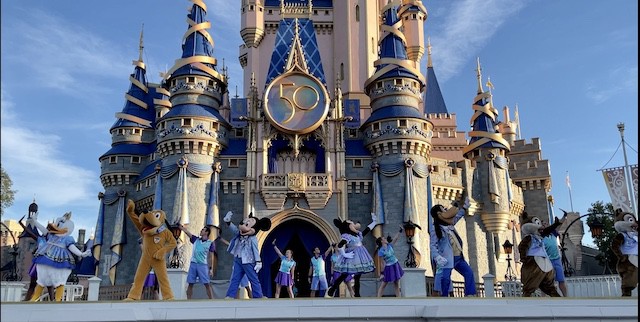 Other than the small fireworks and characters, nothing happened until the Welcome Show began at 7:55 am. It was the first welcome show at Magic Kingdom since the parks shut down last March. The show lasted for the usual 5 minutes, and then we continued to wait…for something else to happen.
But, nothing did happen. Eventually, people started wandering off, and while the Hub and Main Street stayed crowded all day, it was not on the same level as it was waiting for the park to open.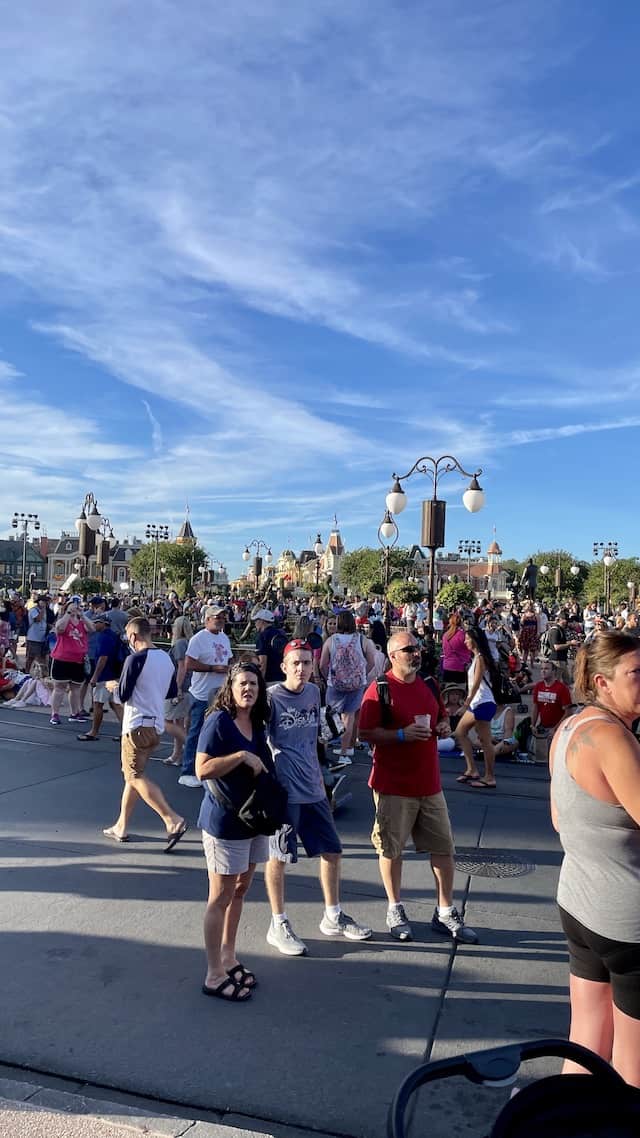 Several people around us commented how disappointed they were that on the 50th anniversary of Disney World, there was no special speech or someone coming out to thank us for being there. It felt exactly like a normal day would. I will not sugar coat it, this was very disappointing to me and the other writers.
We decided to hang out around on Main Street and wait to see if more things would happen.
A media show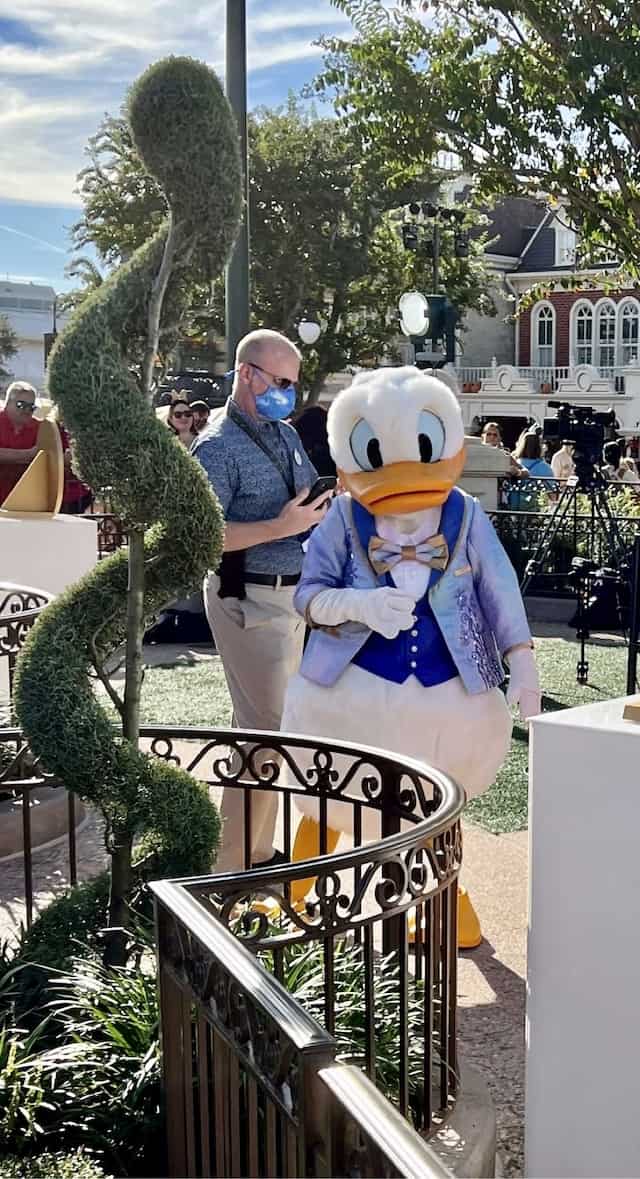 The only thing that happened was the sectioned off areas for media personnel. Disney executives gave interviews near the Hub. It really felt like the only action we saw that day was strictly for media. The characters earlier in the morning were brought out for media. Bob Chapek and Bob Iger were on livestream the night before when no one was in the park. Executives were not talking to fans and Guests but media only.
I don't want to sound so negative, but the sentiment among many we talked to during the day was that we were all expecting something more. It felt like the show was only for media, and people at home watching were seeing a very different 50th anniversary than those of us in the park that day.
Waiting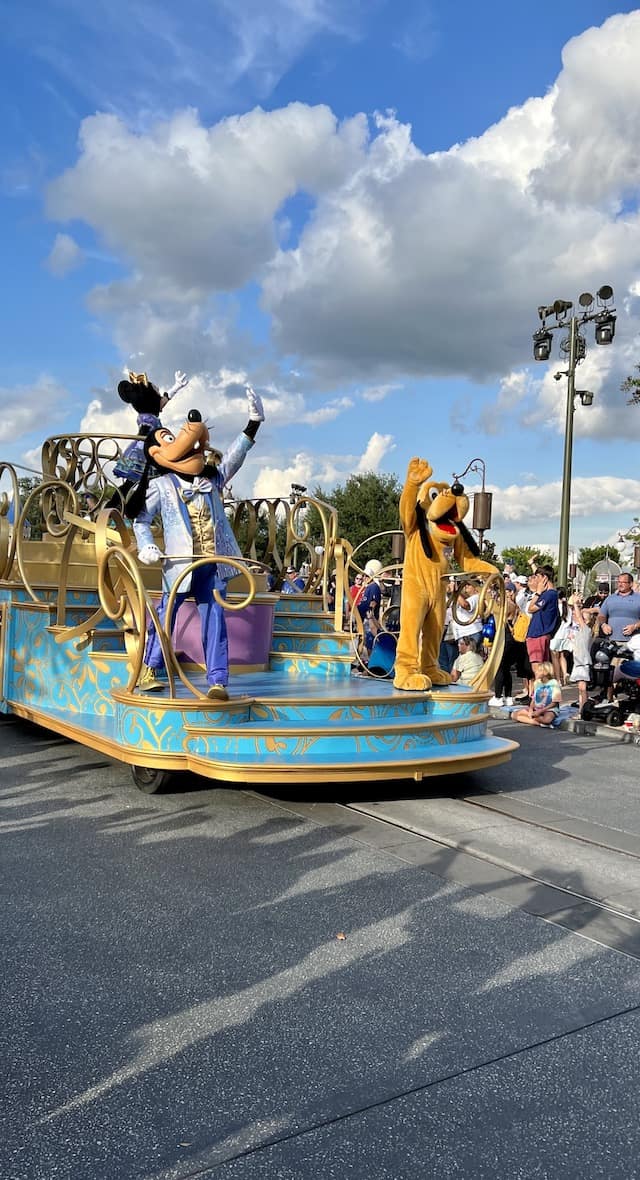 We spent the rest of the morning and afternoon waiting to see the special 50th cavalcade, checking out the new Confectionery and vault shop, shopping at Big Top Souvenirs for the Celebration Collection, and riding a few rides.
Speaking of rides, the wait times were very surprising that day. All of us fully anticipated wait times to be consistently long all day considering how busy it was. However, that was not the case. Many spent their day waiting in line for special merchandise or food instead of rides.
The various popcorn stands always had a line of 50+ people waiting for the new reusable popcorn bucket. Mobile orders were glitchy and unavailable hours in advance. The internet was downright horrible that day.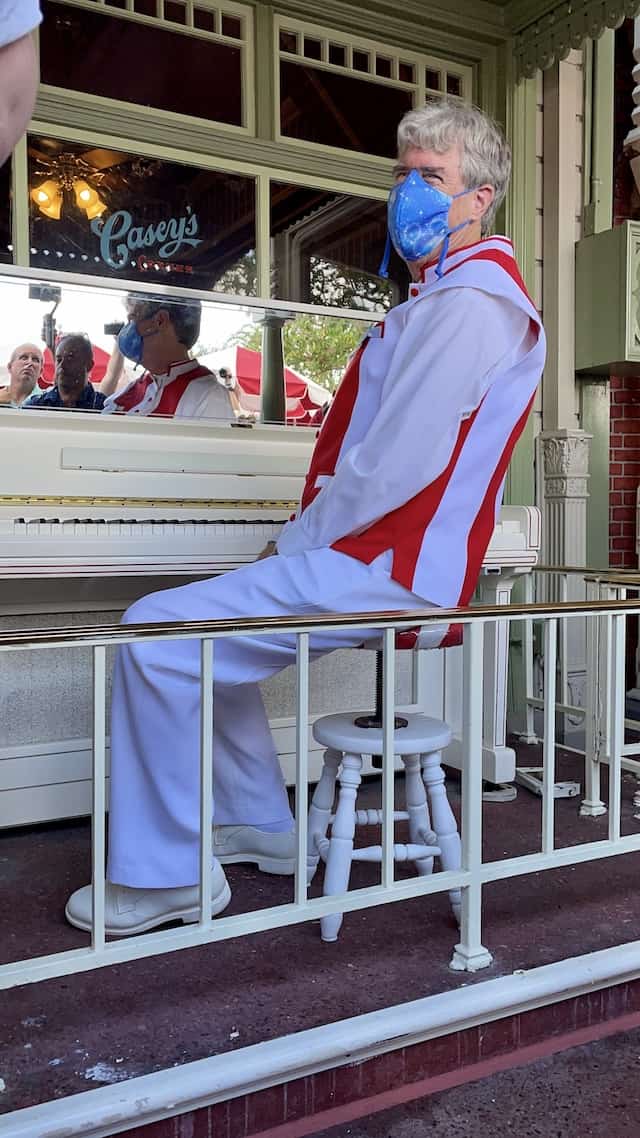 However, one really special treat from that day was having the original Casey's Corner pianist, Randy, playing for us. He was only there for a few performances that Friday. It was little things like this that made a huge difference for me.
It would have been really neat if Disney had incorporated more things from the past. Special banners that indicated an opening day attraction or maybe some older costumes on display somewhere would have honored the past while sharing excitement for the future.
Disney Enchantment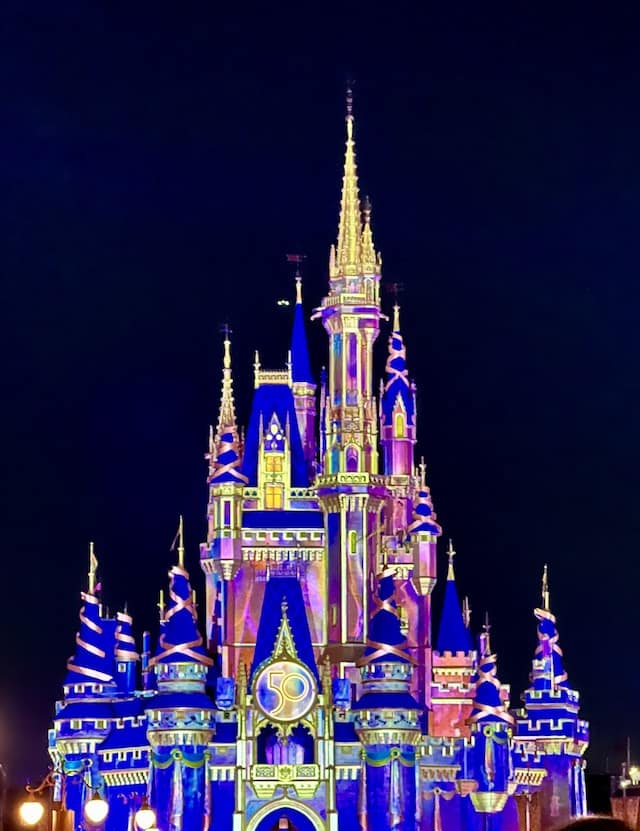 We went to our lunch at Steakhouse 71 (highly recommend – review coming soon!) and made it back to Magic Kingdom by 4 pm to stake out our spot for Disney Enchantment. I was there the previous weekend for one of the final performances of Happily Ever After, and we knew we needed to get a good spot and wait.
The crowd of waiting guests was restricted to edges of the sidewalk only, but by 6:30 pm Cast Members were laying tape down and people were beginning to camp out in the middle of Main Street.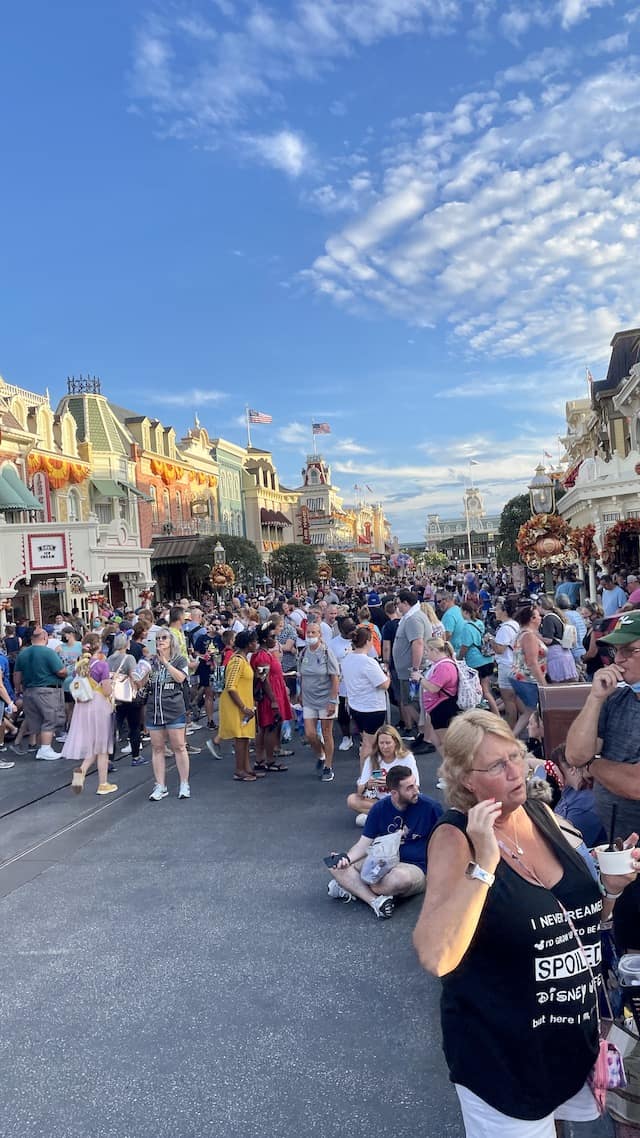 So we waited for 5 hours. Thankfully we made friends with those around us, but we couldn't really leave the area and risk losing our space. We thought maybe executives would come out and speak then before the show, but again, there was nothing. It really felt like a normal day in the park.
We will have more thoughts to share regarding Disney Enchantment, but I will say this. I know there have been many negative reviews of the show and how it doesn't live up to Happily Ever After. Definitely consider holding off judgment until you have the opportunity to see it in person! Give it a fair shot – it deserves to be judged on its own!
Closing the parks down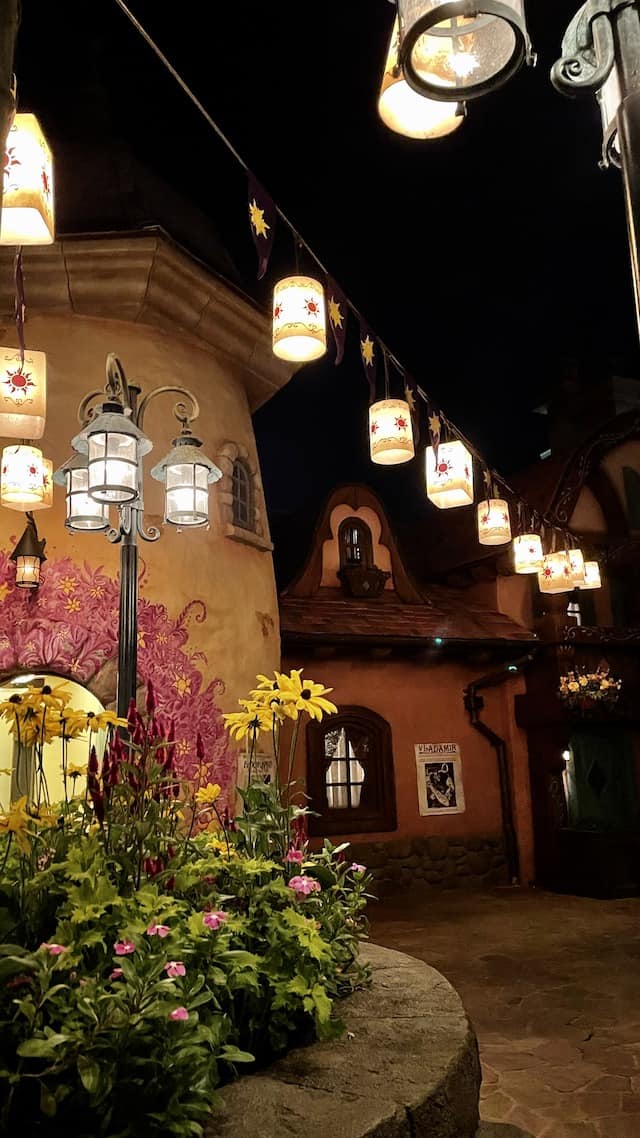 After the fireworks show we still had almost 2 hours in the park. We went and enjoyed some more rides and snacks now that we no longer needed to claim a spot on Main Street.
I've said it before, but staying at the Contemporary for walking privileges to Magic Kingdom is a huge perk of staying there. Seeing the Castle from the resort felt like we never left the magic of the park. Not having to worry about transportation during such a busy weekend was also a blessing.
Final Thoughts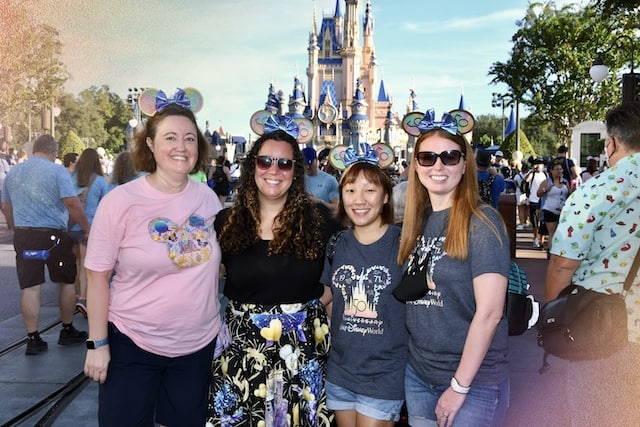 I didn't go in with huge expectations for October 1. Just being there on such a special day and soaking in the atmosphere was my only goal for the day, and anything else would be a bonus.
However, I did find it surprising there was nothing extra from Disney. It honestly felt like a normal (but busy) day in the park. Other than the commemorative poster and map, nothing really distinguished that day from the rest.
I am very grateful I was able to spend Disney World's 50th birthday in the park and stayed at one of the original Disney hotels (the other being the Polynesian).
Were you at Disney World for the 50th anniversary on October 1? What was your experience? Let us know in the comments below or on Facebook.
Are you planning a vacation? Reach out to our trusted travel agency sponsor Authorized Disney Vacation Planner
Mouse Class Travel
!