Disney World is offering SO many treats for the 50th anniversary. Here's what I thought about their special new mocktail offering.
Non-Alcoholic Options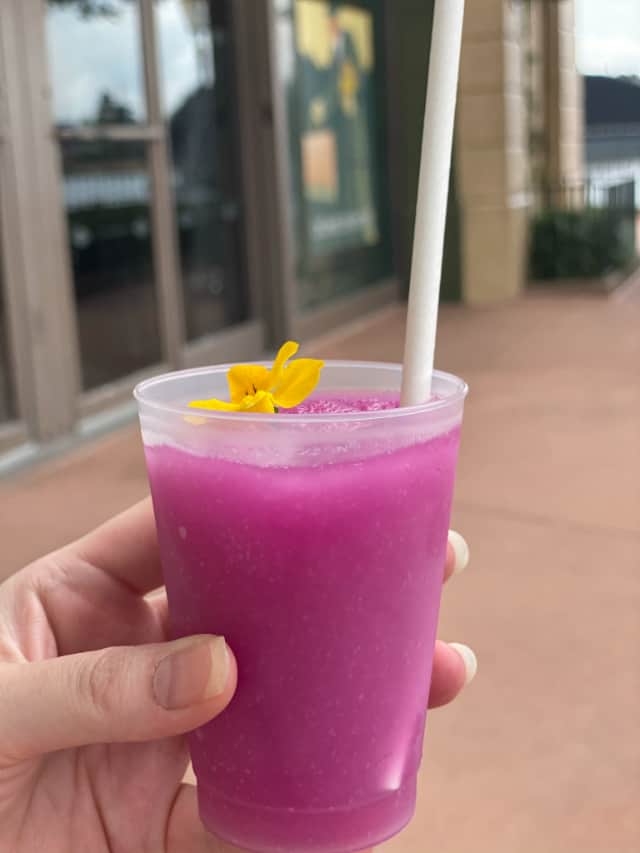 In case you missed it, Disney World has announced 150 (yes, one hundred and fifty!) unique food and beverage items for the 50th anniversary. Among the new treats announced was a mocktail! A mocktail is just a festive drink that doesn't contain alcohol.
As a non-drinker I appreciate being included in the celebration this way! I know a lot of people who don't partake but still relish the chance to drink something special.
I'm working on a guide to non-alcoholic drinks in Disney World for our readers, so I knew I had to try this one!
50th Anniversary Mocktail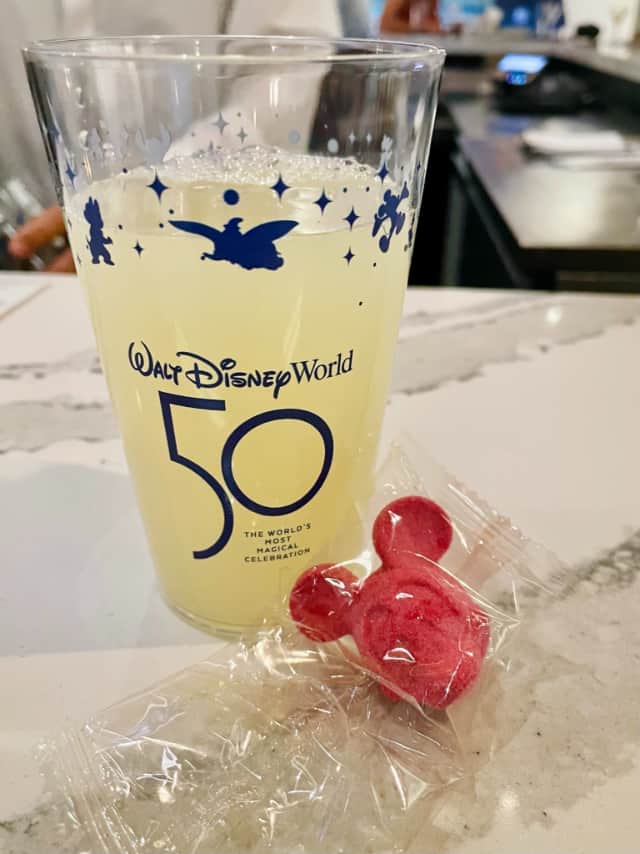 The 50th Anniversary Non-Alcoholic offering was a bit of a mixed bag. My friends and I tried it at the Lounge on Steakhouse 71's opening night, October 1, 2021.
We asked our amazing bartender, Bo, about it and at first he didn't know what we meant. He had to go ask someone about it.
He came back with a big bag full of small, individually wrapped Mickey heads. They're kind of like mini bath bombs, but edible. Yum, I guess?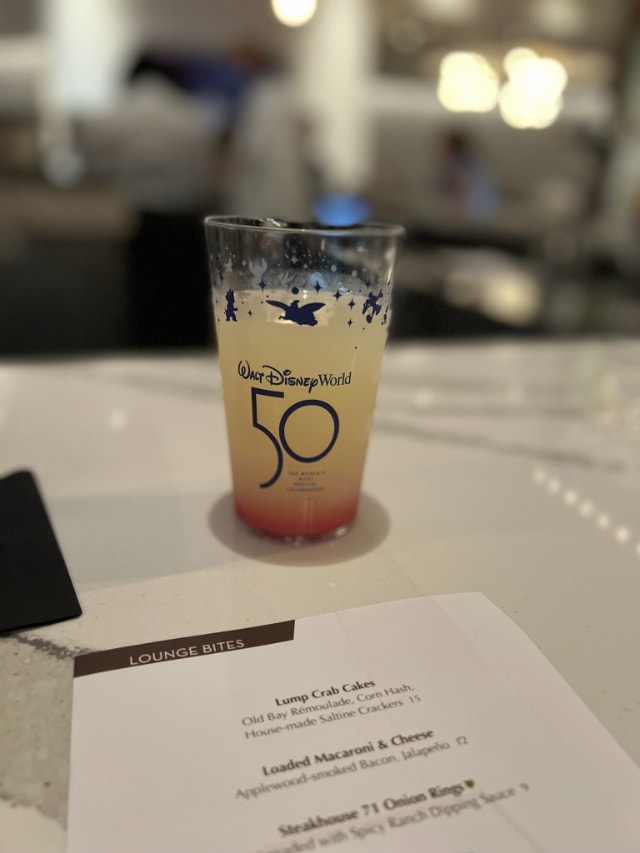 Anyway, Bo took 3 cute souvenir plastic cups and set them on the bar. He produced a gallon jug of store-bought lemonade and poured it, joking that it was his own recipe.
He gave us the three cups of lemonade, each with a Mickey bath bomb on the side. That's it, that's the drink.
Mickey Bomb Time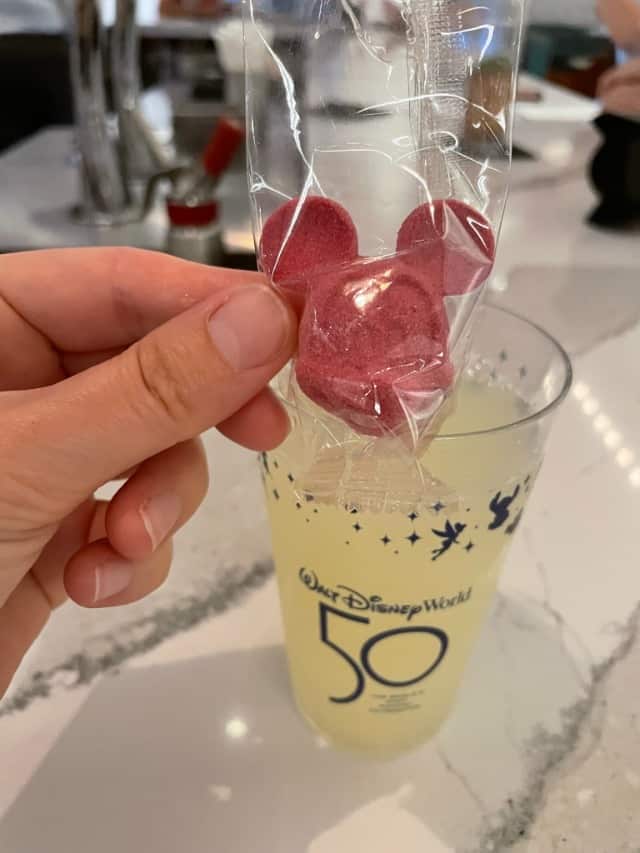 I should probably stop calling them bath bombs. But that's the closest thing in existence to them. I'm going with Mickey bombs from here on in.
Anyway, we took our Mickey bombs and plopped them into the lemonade. It took awhile to fizz, and a helpful woman at the bar told us to stir them up with our straws.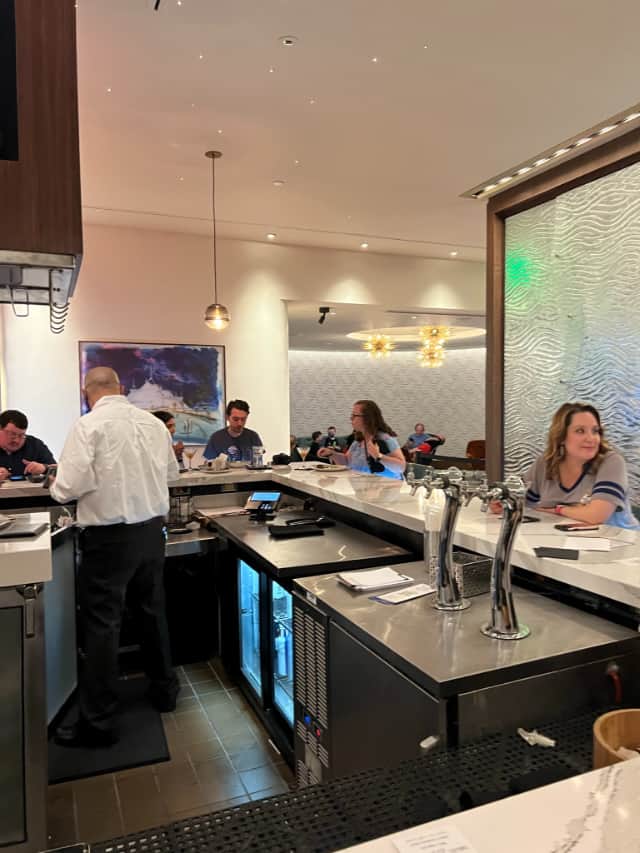 After stirring, the Mickey bomb dissolved and we were left with a pink shimmery lemonade drink. It was kind of pretty!
As far as taste, it was pretty much strawberry lemonade.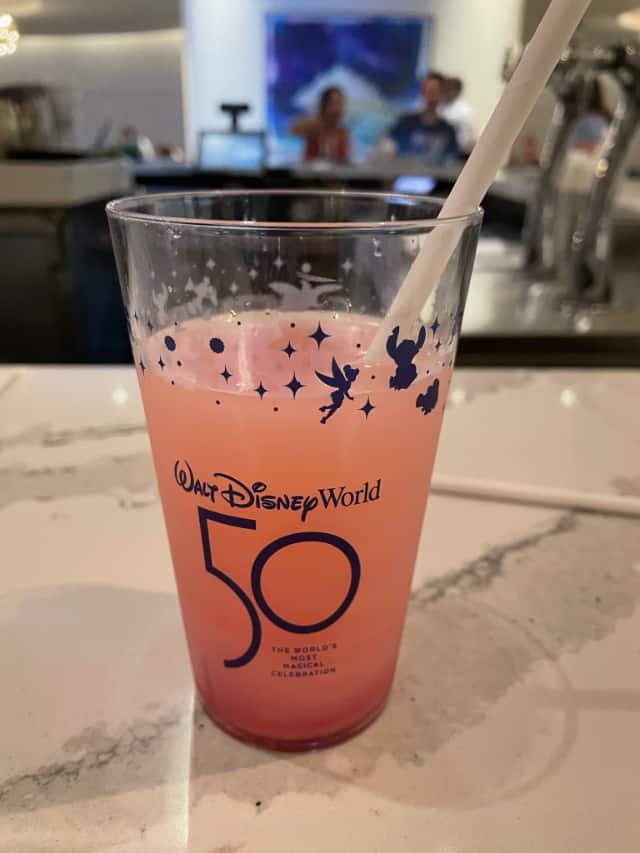 As an adult, I prefer something a smidge more complex, like something with fresh herbs or homemade syrup of some sort. I personally wouldn't order it again. If your child loves lemonade, they will have fun with this.
This happens with non-alcoholic drinks. Sometimes, they really are more kiddie-oriented. Like this one I ordered at Citricos, and they insisted on serving it in a plastic Olaf cup.
My friend treated me to dinner at Steakhouse 71 that evening. I have only just now learned that this is a $10 glass of lemonade! She said I'm worth it, but I disagree.
However, the next day at Disney's Riviera resort's Bar Riva, my friend and I bought just the bombs (in this case orange Pluto), and they charged us $2 each. Not a pricey souvenir for the kids when purchased that way.
The plastic cup is really cute and a useful size juice "glass". I've already used it at home and it makes me smile, so it was a good souvenir! I don't know what people do with the oddly shaped sippers at home, so I avoid those.
Have you tried this drink yet? Or maybe one of the other treats? Let us know in the comments below