Have you been missing the Morocco quick service restaurant? See why the Tangierine Café Food and wine Booth is the next best thing.
Morocco Pavilion Changes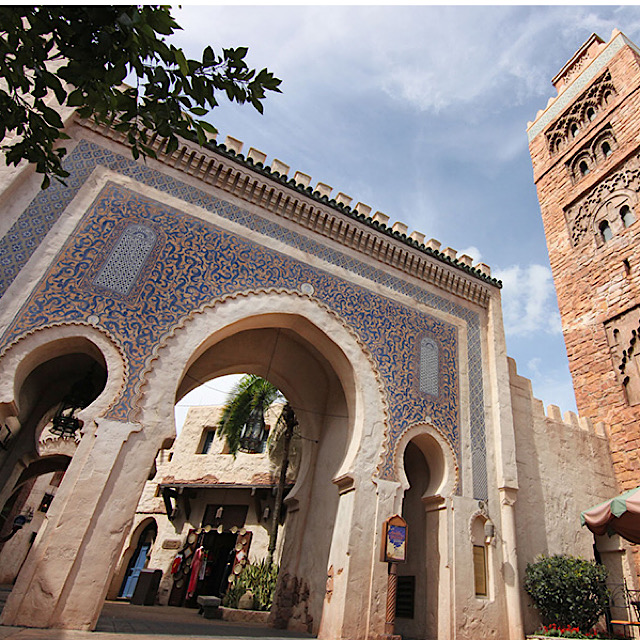 From the narrow paths and markets to the hand-laid breathtaking tile, there's so much to see here. The Morocco pavilion is an immersive experience at World Showcase. Morocco boasts being the only pavilion where the country's government played an important role in designing the pavilion.
However, at the end of last year, we reported that Disney took ownership of the Morocco Pavilion. Unfortunately, this pavilion is still in transition, and many aspects remain closed.
Tangierine Café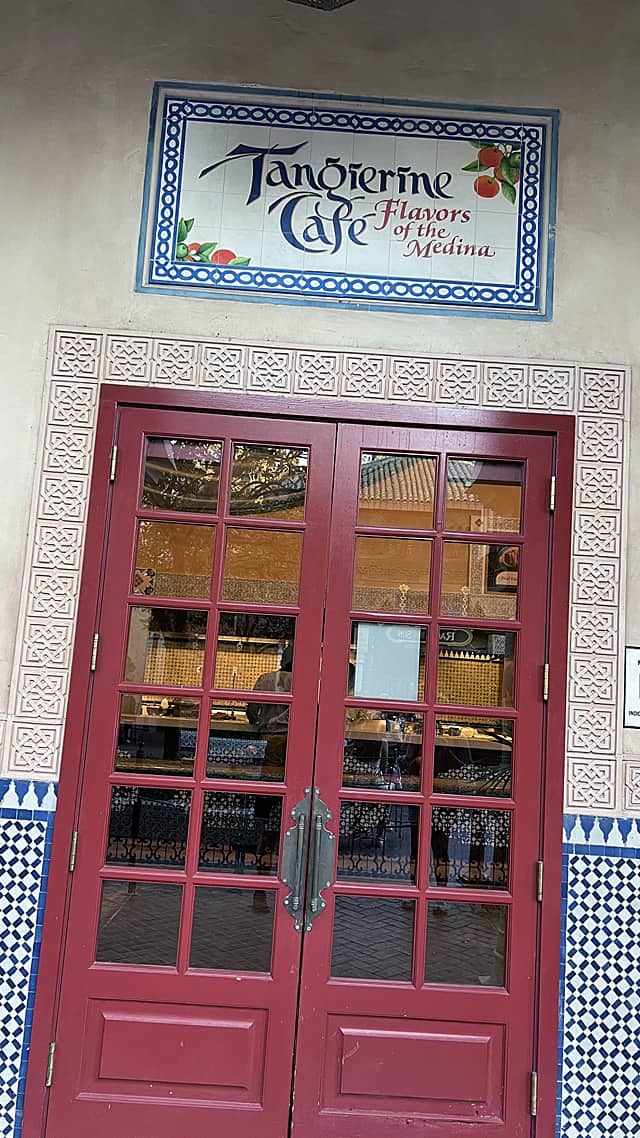 Tangierine Café, one of the most delicious quick service locations in all of Disney, served authentic shawarma platters, tempting pastries and specialty coffee drinks.
However, Tangierine Café never reopened as a quick-service location since Disney shut down due to COVID-19.
Repurposed Restaurant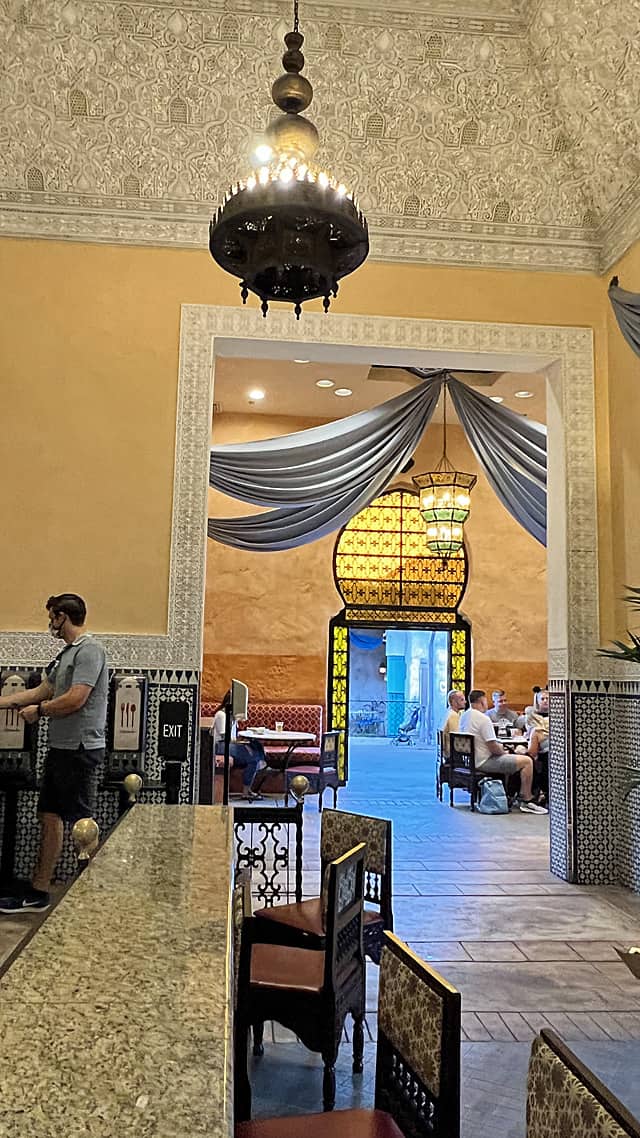 Guests strolling around World Showcase during the Food and Wine Festival will notice Tangierine Café's open doors. When writing my (Susan) Food and Wine Booth menus article, I immediately spotted this menu. Mediterranean cuisine is one of my favorites! Now, instead of serving guests in a quick service capacity, it's been transformed into a Food and Wine Booth.
When I visited this month, I discovered Moroccan pastries for sale across from the Tangierine Café. Between the Food and Wine menu and this walk-up window, most of the original Moroccan menu can be purchased here. At Disney's 2020 Food and Wine Festival, Morocco had a stand-alone booth like other locations. Using the former quick-service location is definitely an upgrade.
Food and Wine Menu Offerings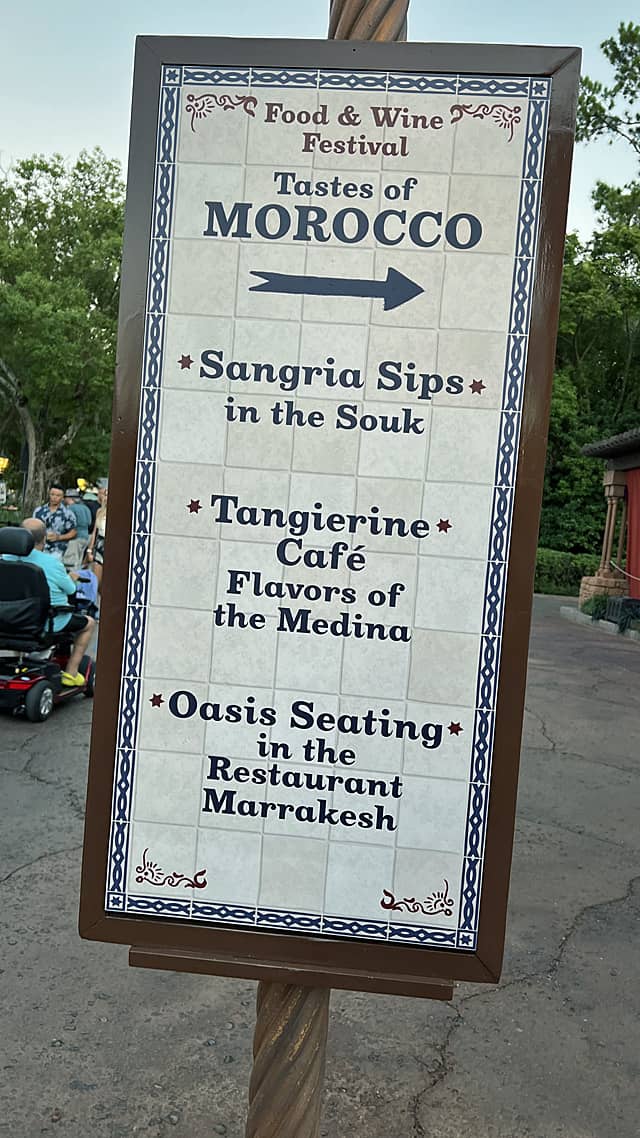 Food:
Fried Falafel Pita with Tahini Sauce (plant-based; new)
Grilled Kebabs with Couscous, Tomato-Onion Salad, and Garlic Aïoli (new)
Lemon-Garlic Chicken
Moroccan Spiced Lamb
Harissa-marinated Beef Tenderloin Tips
Stone-baked Moroccan Bread with Hummus, Zaalouk, and Zhoug Dips (new)
Pistachio Cake with Cinnamon Pastry Cream and Candied Walnuts (new)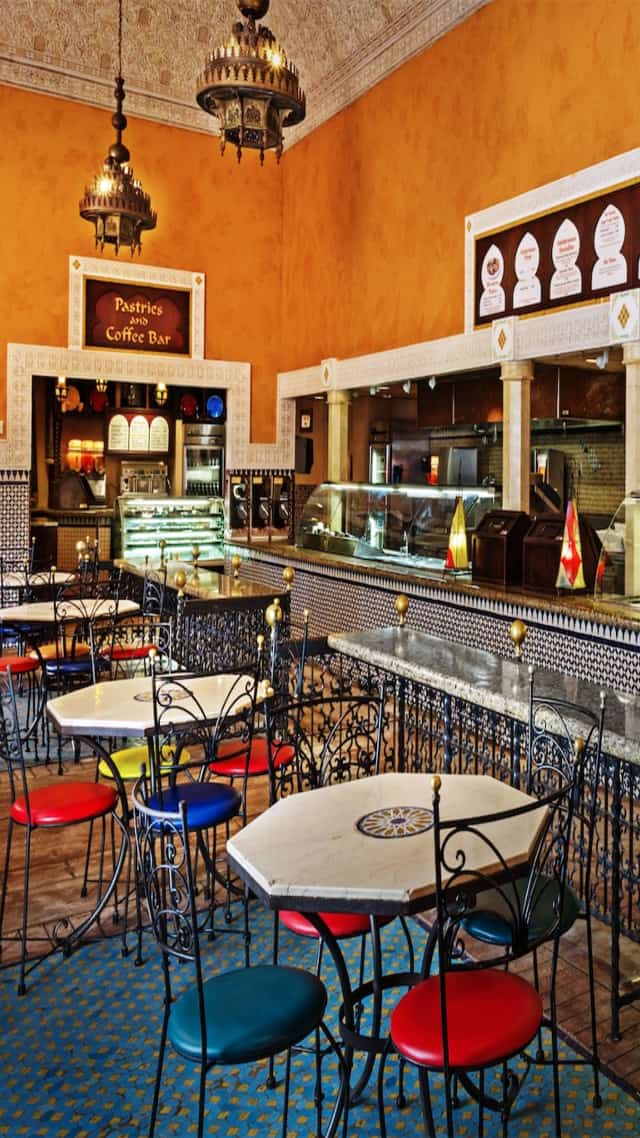 Beverages:
Fresh Orange Juice (non-alcoholic; new)
Fresh Blood Orange Juice (non-alcoholic; new)
3 Daughters Brewing Fig Hard Cider, St. Petersburg, FL (new)
Bold Rock Ginger Turmeric Hard Cider, Nellysford, VA (new)
Woodchuck Cinnamon Nutmeg Hard Cider, Middlebury, VT (new)
Fig Cocktail with White-Cranberry Juice and Fig Vodka (new)
Cider Flight
CORKCICLE Classic Tumbler
Food Reviews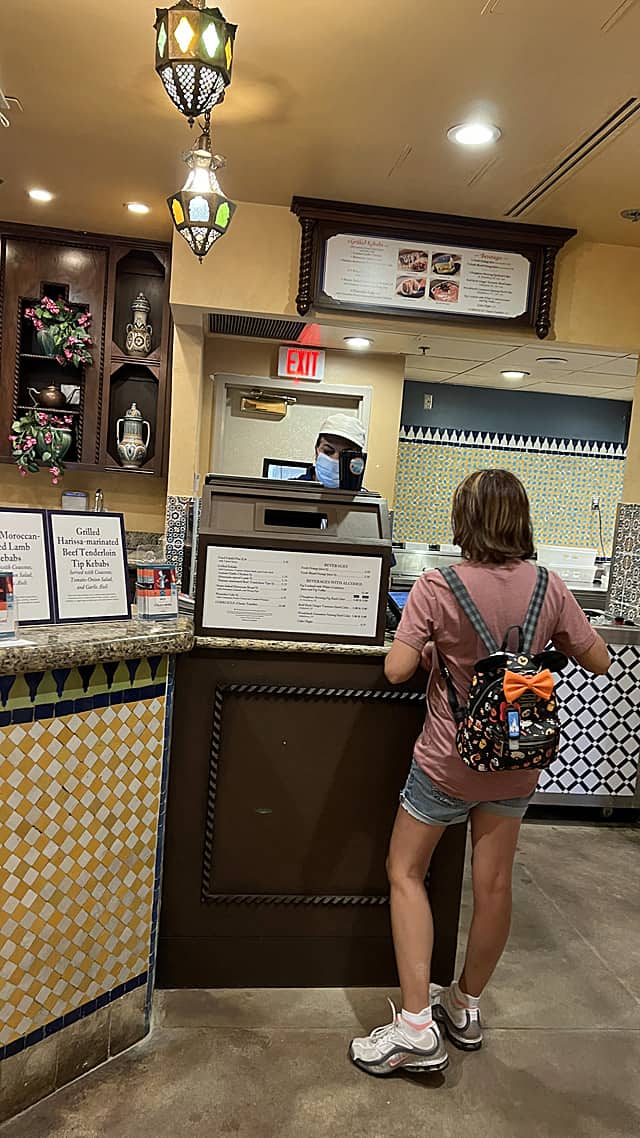 In order to give a full review, I ordered one of everything at the Tangierine Café. Literally I said, "I'll take one of everything." They looked at me like is this all for you?
Being a lover of Mediterranean food, I was eager to try everything. I wanted to see if the dishes lived up to how amazing each photo looked.
Fried Falafel Pita with Tahini Sauce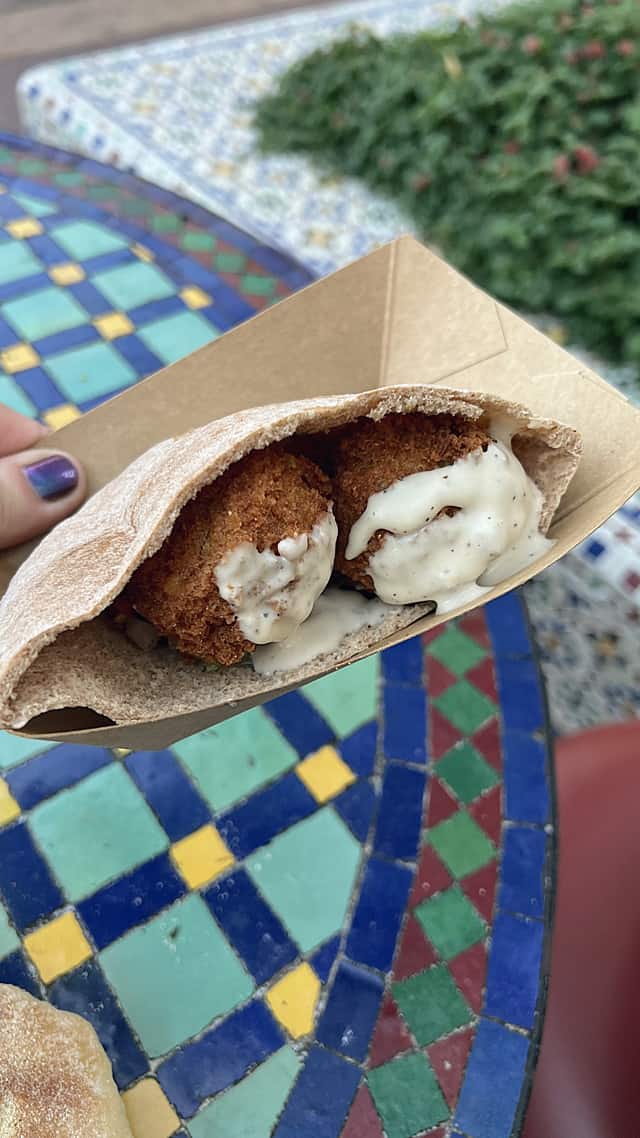 When I've tried Falafel in the past, it's been hit or miss. Sometimes it's dry and crumbly, while other times it is delicious. I'm happy to report that the Fried Falafel here is amazing.
Although it came in a small pita to be eaten as finger food, I ate it the Falafel with the crunchy pickled salad and tahini sauce but skipped the pita.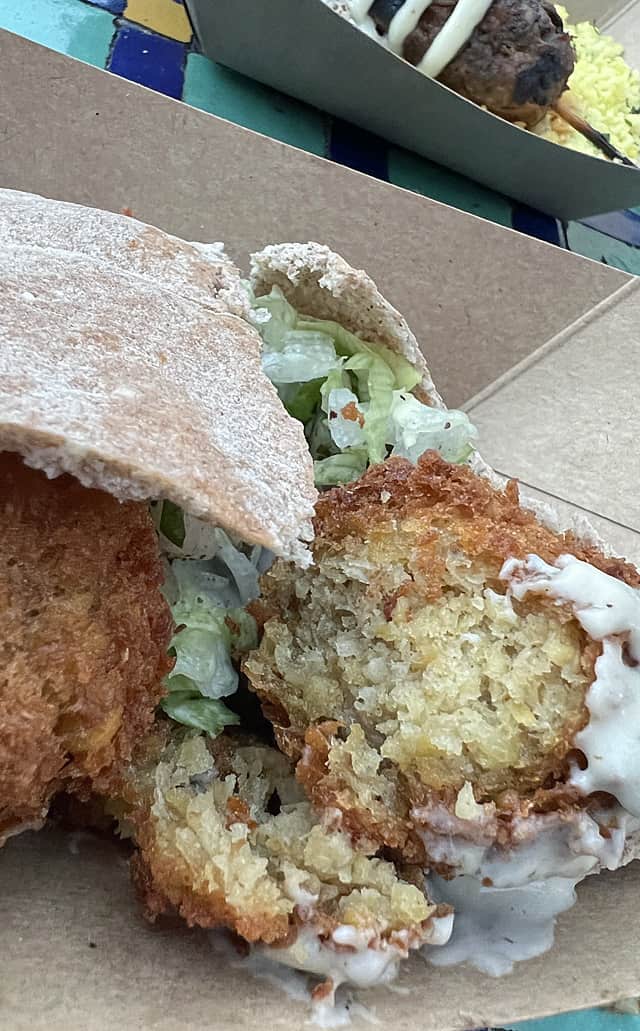 Falafel is a popular Middle Eastern food made of a mixture of chickpeas, fresh herbs, and spices that are formed into a small patties or balls. There were also tiny corn kernels inside that gave it a nice sweetness without overpowering the other flavors.
As a southerner, they reminded me of hush puppies. Frying gave these a nice crunch on the outside while keeping it moist on the inside. As with many Mediterranean dishes, these are plant-based.
Grilled Kebabs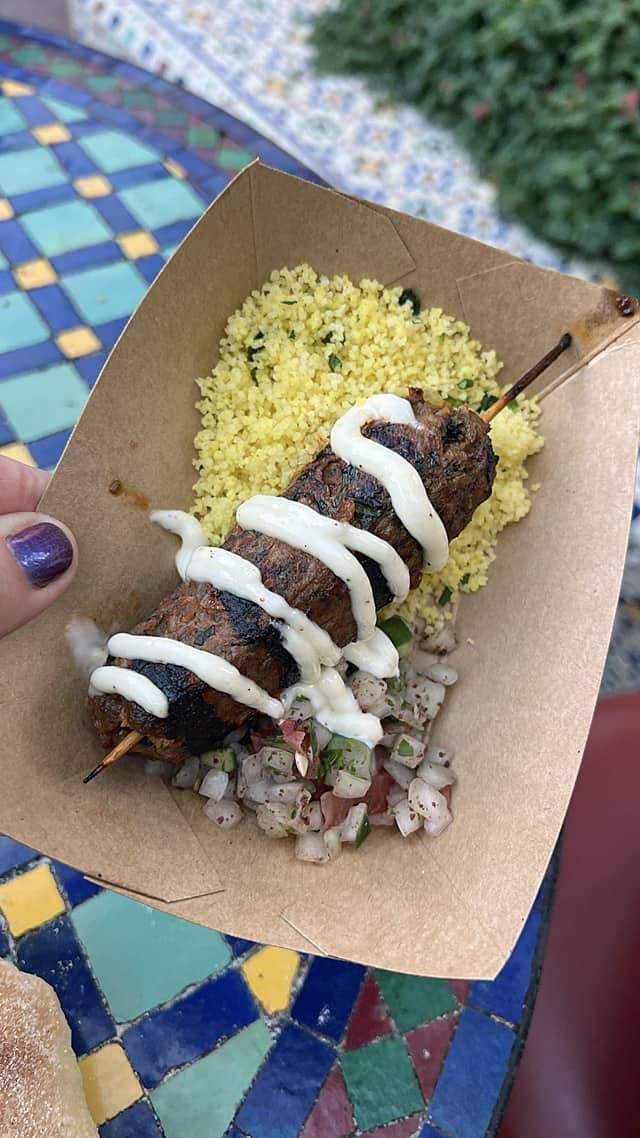 Kebabs and roasted meats found at Morocco have always been some of my favorite food items anywhere at Disney. There were three varieties at this year's Food and Wine booth, each served with Couscous, Tomato-Onion Salad, and Garlic Aïoli.
First, the Lemon-Garlic Chicken had a mild charred flavor and was perfectly seasoned. The tiny kabobs made it easy to try more than one kind. Of the 3 kabobs found here, chicken is the safest choice if you're uncertain about Mediterranean meats.
Next, the Harissa-marinated Beef Tenderloin Tips kabob was my favorite. The meat was tender, juicy, and perfectly prepared. Tiny steaks that were fork tender hit the spot!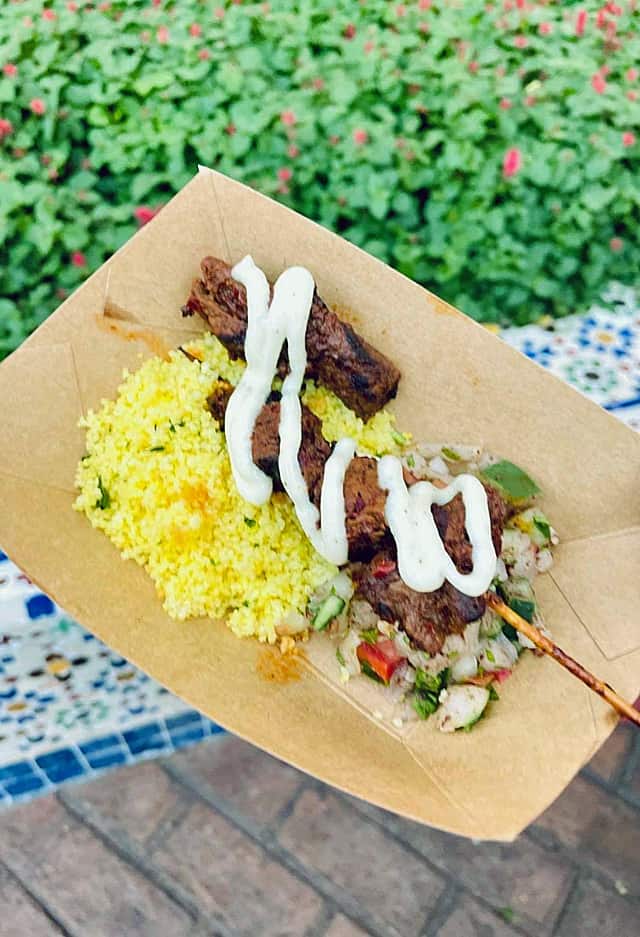 Last, the Moroccan Spiced Lamb contained many herbs and spices. While it had a nice texture, it tasted more like sausage than lamb. I took a few bites but didn't finish this one. The steak was superior!
Moroccan Bread with Dip Trio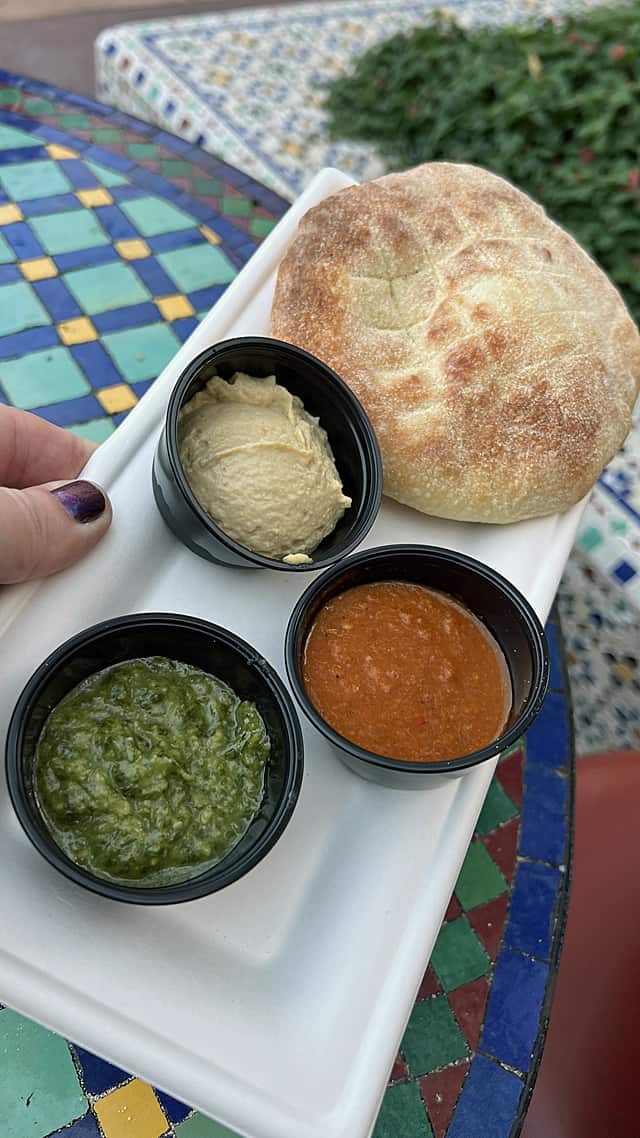 If you like the Naan bread at Sanaa, you'll love the Moroccan bread here! If you're feeling ambitious, you can even make the Sanaa Naan bread, following the recipe here.
The bread comes with a variety of dips, including a chick pea based hummus. Next, you'll receive Zaalouk, traditionally made with cooked eggplant and tomatoes. Overall, I (Susan) found this dip a bit bland. My favorite of the three was the Zhoug dip. It's a spicy cilantro sauce that accompanied the bread perfectly. However, if you're not a cilantro fan, skip this one!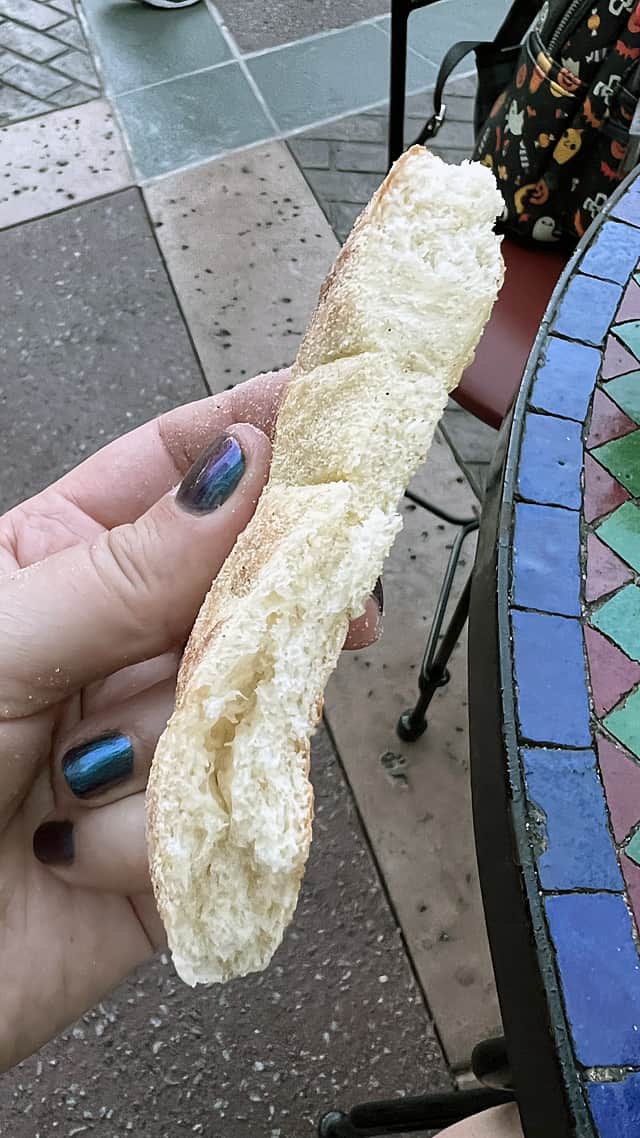 The Moroccan bread tasted freshly baked, light, and fluffy. It was quite delicious on its own.
Pistachio Cake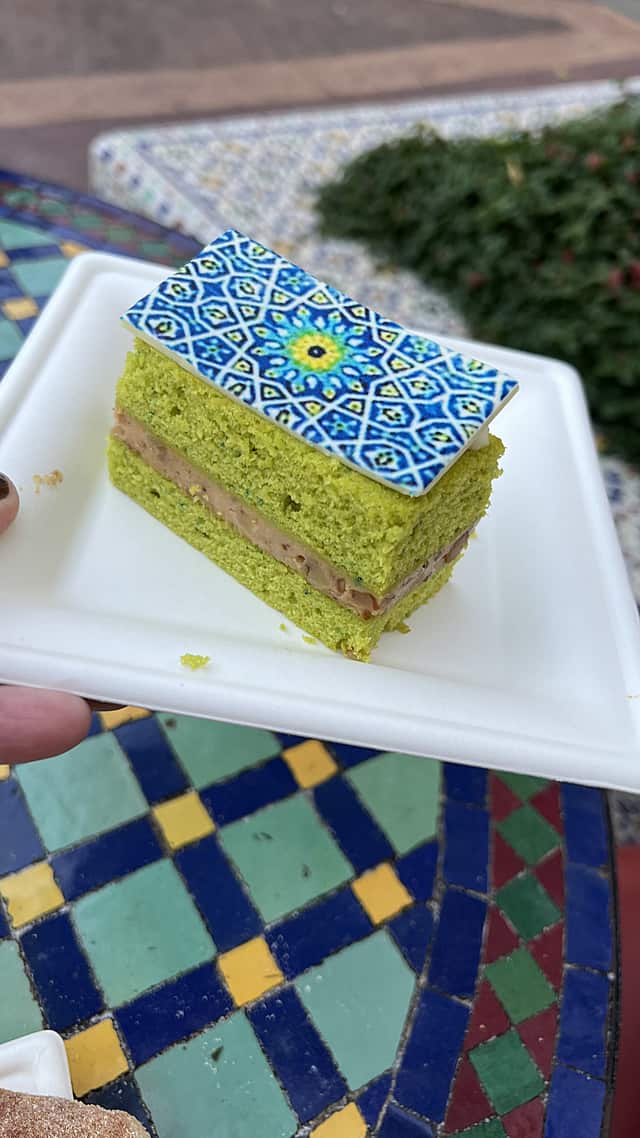 The pistachio cake with cinnamon pastry cream and candied walnuts was my favorite! It is not only gorgeous, but the subtle pistachio and walnut flavors are so delicious. Not overly sweet and just enough of a pop to make it amazing! Hope you'll try this on your next visit!
Overall Thoughts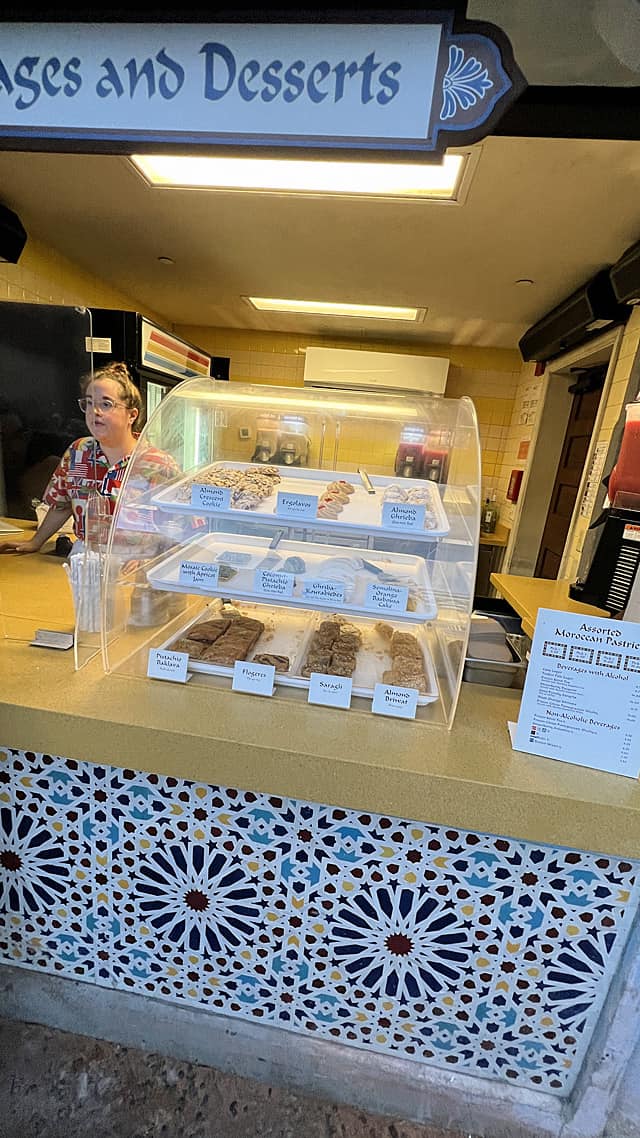 While I'm sad that the Morocco quick service isn't open anymore, the Moroccan Food and Wine booth was a welcome treat! Not only did I enjoy every dish, but I was also thrilled to spot the Morocco pastry walk-up stand across the World Showcase pathway from the Tangierine Café.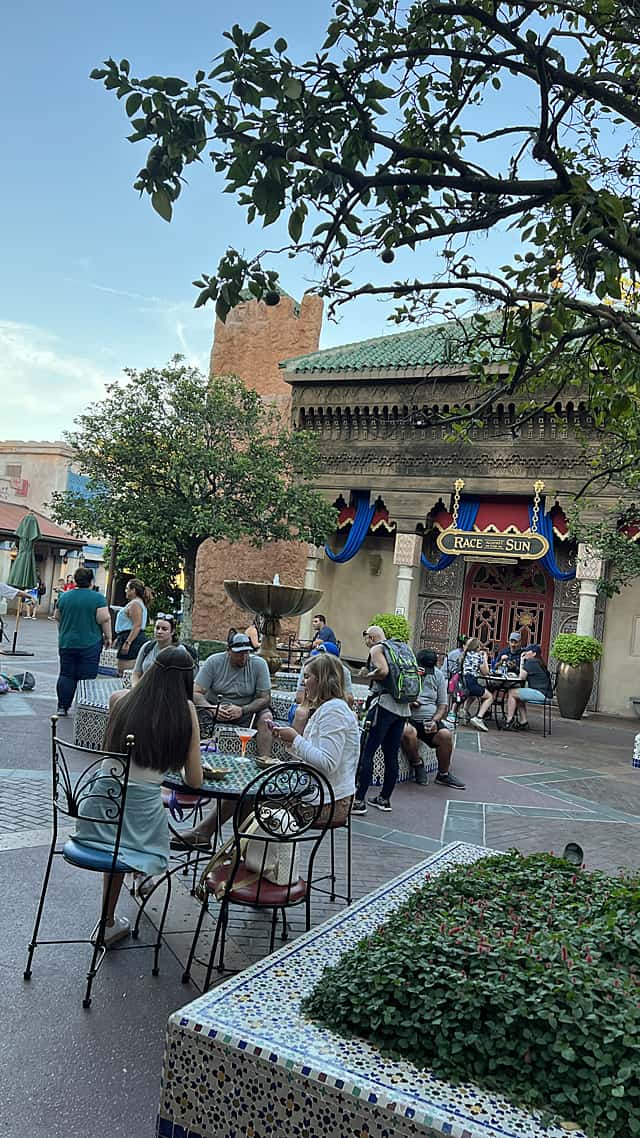 I hope you'll give something a try here during your Food and Wine Festival visit. We chose to sit outside since the weather was comfortable in the seating area shown above. The Morocco Pavilion is such a wonderful part of EPCOT's World Showcase, and I'm really wanting it to fully re-open with genuine goods from Morocco. For now, at least we can enjoy the food samplings from this wonderful pavilion.
Which food booths are your favorite? Will you be visiting Epcot's Food and Wine Festival? Tell us about it in the comments below or on our Facebook page.