Wondering what Disney taking ownership of the Morocco Pavilion will look like? Read everything we know so far on the future of dining, shopping, and cultural representation.
Recently, we shared that the Morocco Pavilion would transfer ownership from the Morocco Embassy and the Morocco Tourism Board to Disney. We were saddened to see EPCOT's World Showcase is losing a unique international ownership. At that time, a timeframe was given to change ownership by the end of 2020. However, Disney didn't provide additional details.
Cultural Representatives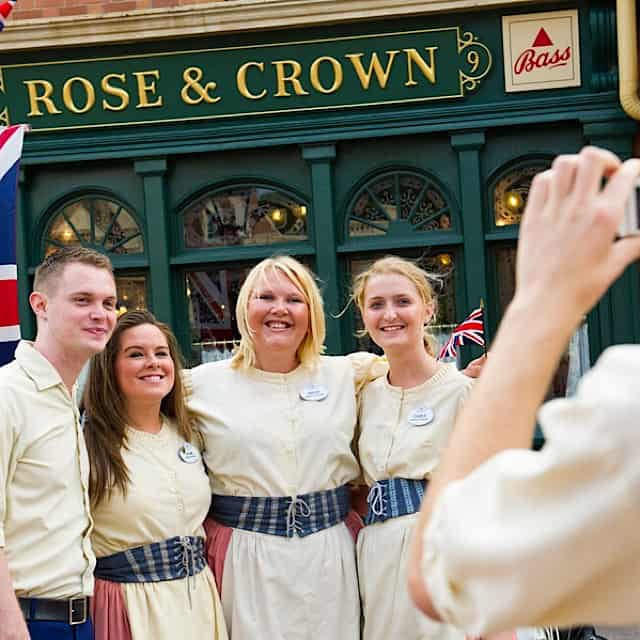 On April 18, EPCOT suspended the Cultural Representative Program due to COVID-19. As a result, participants were sent home, and EPCOT's World Showcase remains staffed without Cultural Representatives. Unfortunately, World Showcase just isn't the same without them.
History of Morocco Pavilion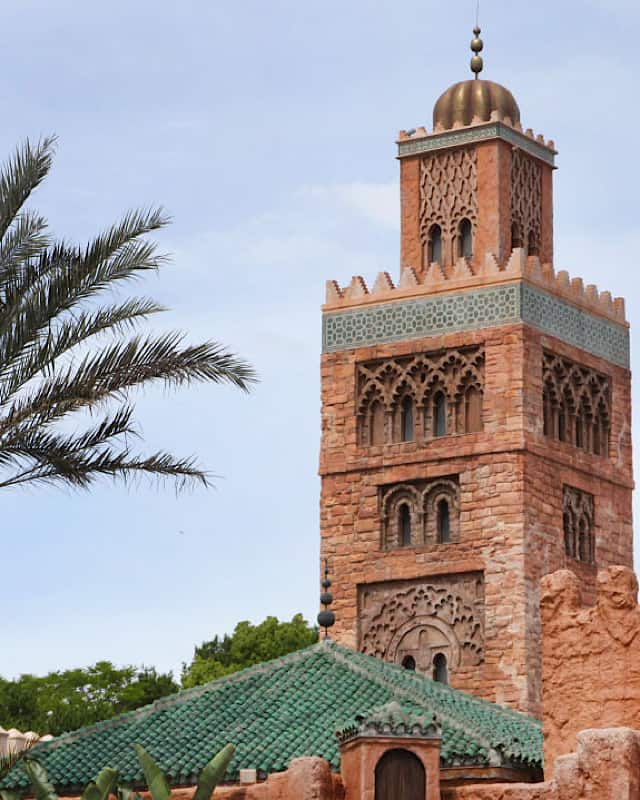 Imagineers drew inspiration from real life landmarks, landscape, and architecture from each of the the countries in EPCOT's World Showcase.
From the narrow paths and markets to the hand-laid breathtaking tile, the Morocco pavilion is an immersive experience at World Showcase. Also, Morocco boasts being the only pavilion where the country's government played an important role in designing the pavilion.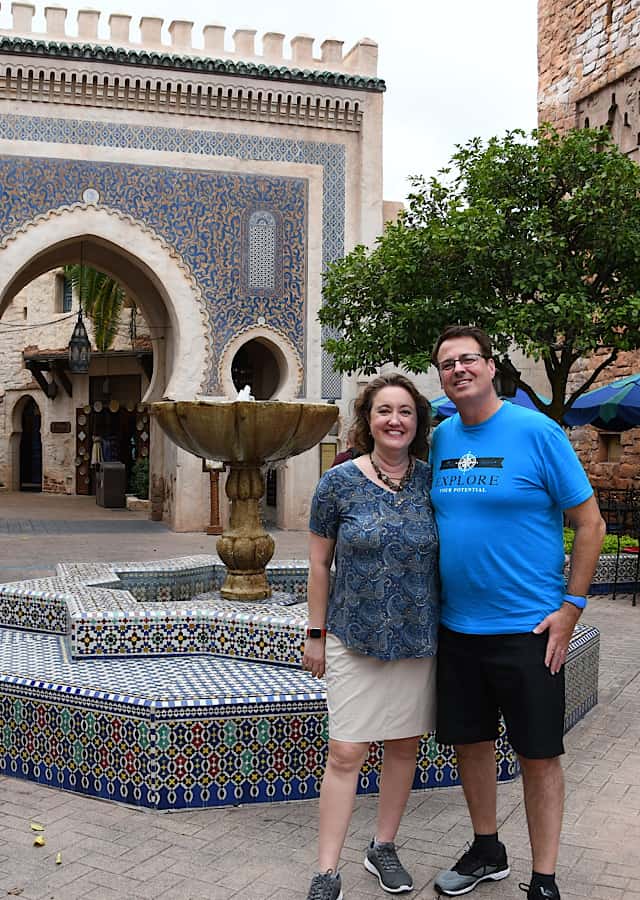 This pavilion features the Koutoubia Minaret, a replica of the Koutoubia Mosque in Marrakech which is the a large mosque in Morocco. Read historical details for each World Showcase pavilion inspiration here. In addition, Morocco is filled with wonderful holiday traditions.
Change in Ownership Announcement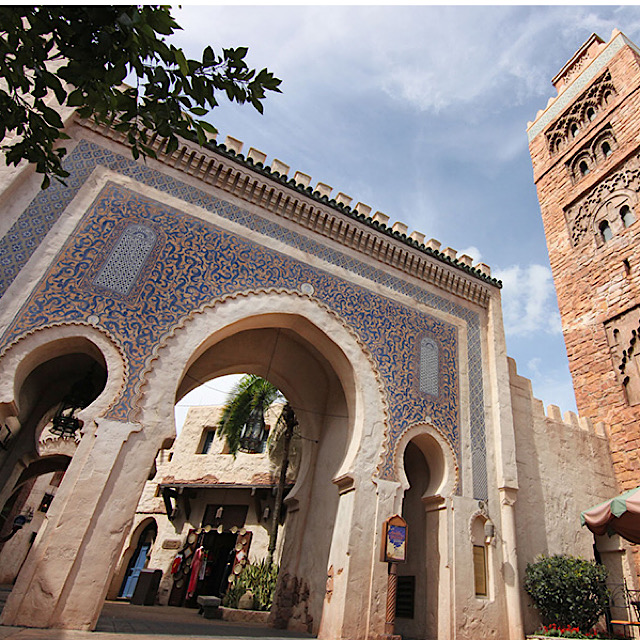 Jacquee Wahler, VP Communications Walt Disney World Resort, and Rashid Choufani and Rachid Lyazidi, Operating Participants Morocco Pavilion released the following joint statement:
AFTER MANY YEARS OF WORKING TOGETHER, DISNEY WILL ASSUME OPERATIONS OF THIS IMPORTANT PART OF EPCOT. UNDER DISNEY'S OPERATION, THE PAVILION WILL CONTINUE TO HONOR THE RICH TRADITION AND LEGACY IT HAS SINCE IT OPENED.
I (Susan) have mixed feelings about this change. How much of Morocco's authentic feel will be kept intact?
Also, the operating participants that ran the Morocco Pavilion also oversee operations for the henna cart in Disney's Animal Kingdom and Paradiso 37 in Disney Springs. These locations remain unchanged.
Morocco Shops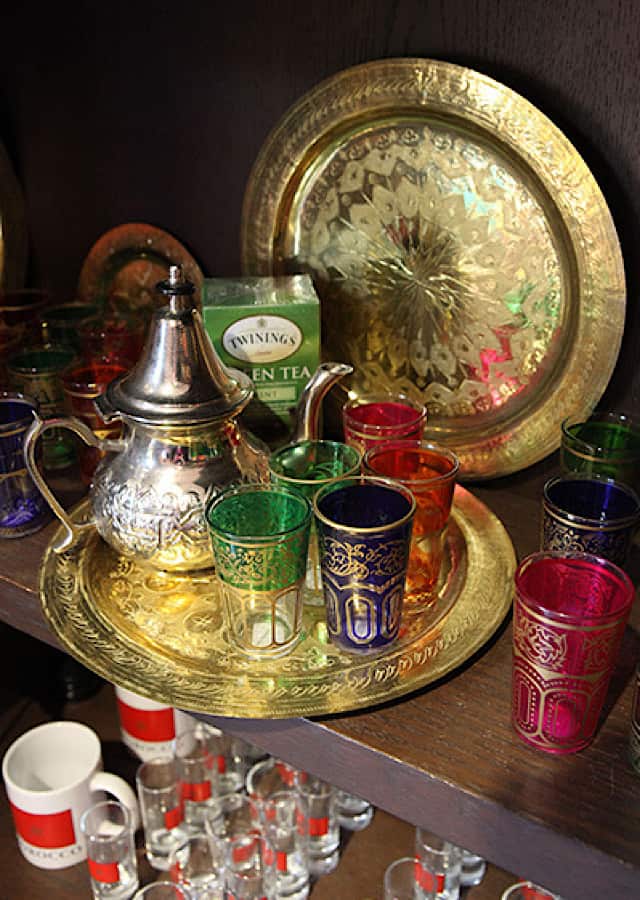 Under Morocco ownership, the pavilion included several authentic shops that evoked a feeling of being transported to any one of Morocco's outdoor markets and villages.
Tangier Traders included traditional Moroccan clothing, shoes, and accessories. Handmade daggers were for sale at this location. Medina Arts offered shoppers traditional crafts and beautiful ceramic ware. Shoppers looking for rugs and hand knitted carpets went to Casablanca Carpets.
The Brass Bazaar previously featured mosaic fountains, brass or silver plates, Thuya wood merchandise, and mirrors. Included in this shop is an outdoor bazaar area where guests could find handmade baskets, Moroccan instruments, and authentic cooking vessels.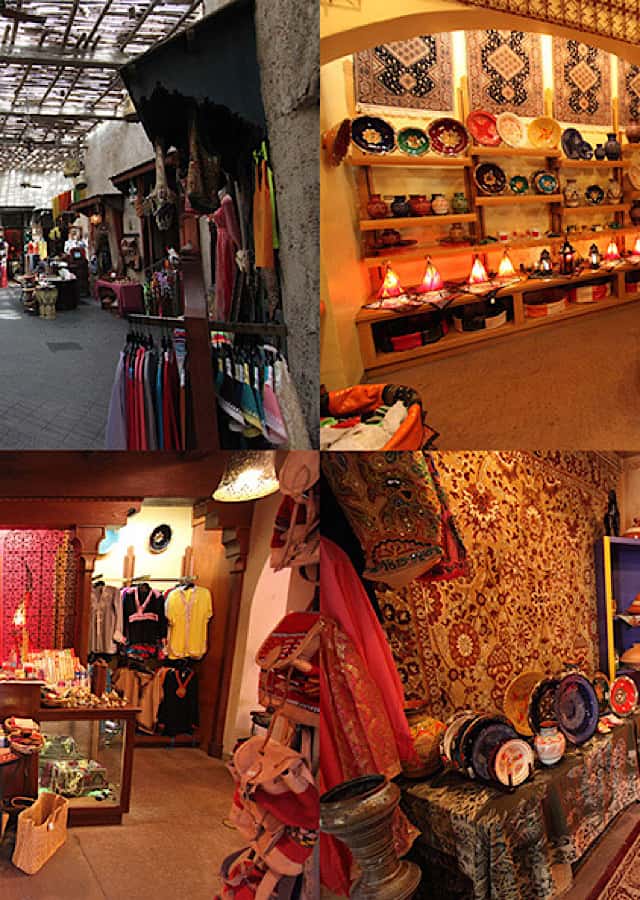 Just yesterday, EPCOT guests reported that Morocco Shops have all of the above shopping locations are closed. I'm wondering what type of merchandise will be available when they reopen?
When I've shopped here in the past, while appreciating the authentic merchandise, I also wished there was a hint of Disney magic there. Other shoppers relished the break from Disney theming. For better or worse, there was ZERO DISNEY MERCHANDISE.
Which Shop Reopened?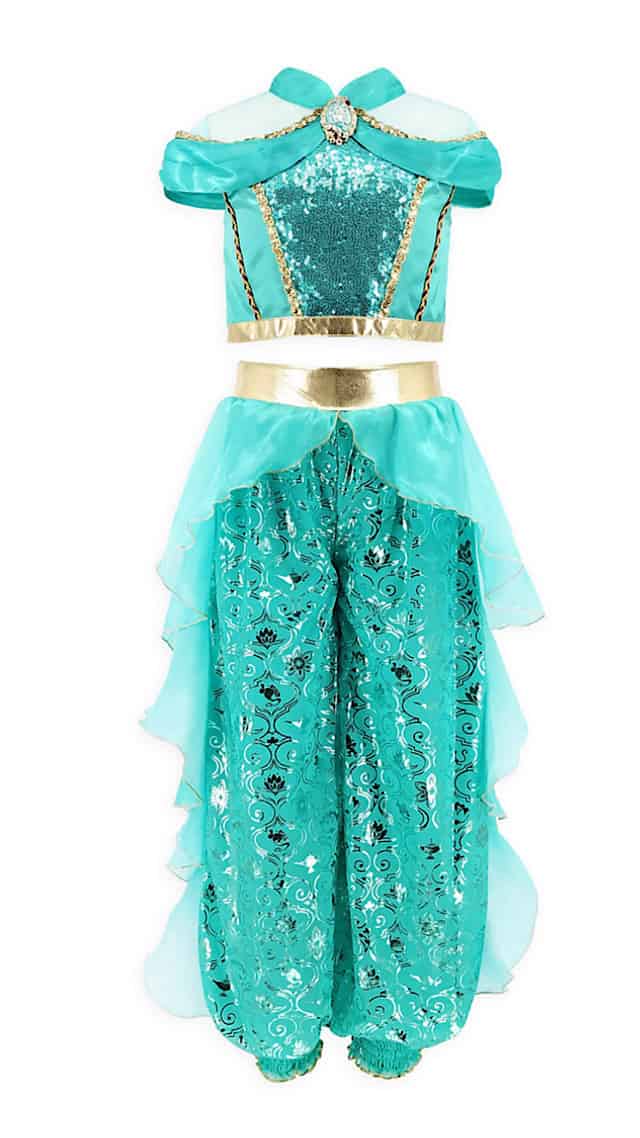 However, one Morocco shop has reopened with new merchandise! Across the pathway from the main shops, Souk-al-Magreb, previously offered a variety of merchandise found in other shops.
While guests can find authentic Moroccan ware, Jasmine themed merchandise is taking over the area. EPCOT guests spotted just about anything Jasmine you can think of. So, no more lack of Disney merchandise. What do you think about this change?
Restaurant Marrakesh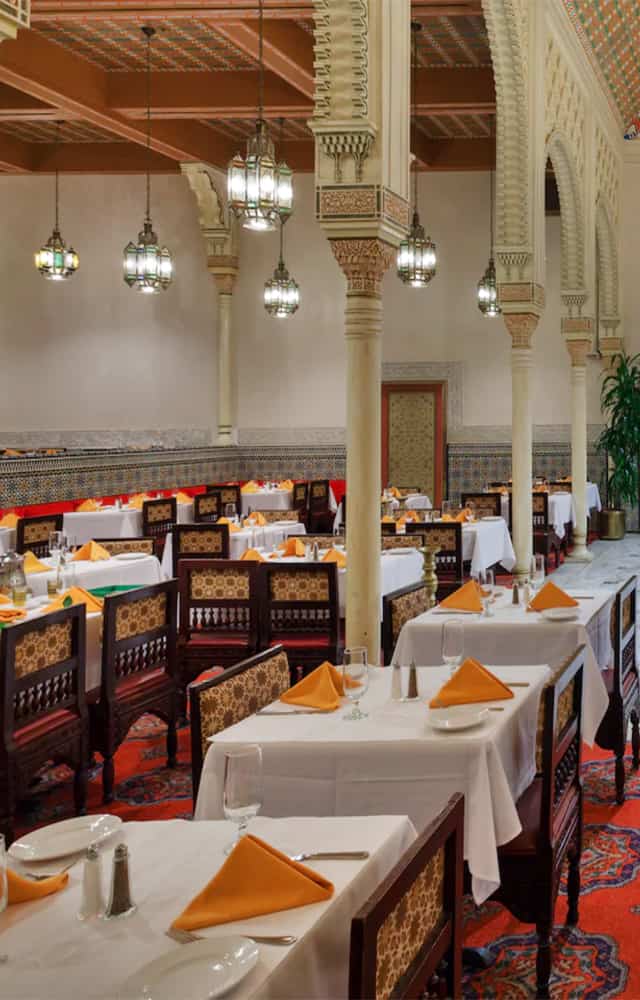 Guests enjoyed savory cuisine and belly dancing that transport diners to the heart of Morocco. Checking Disney's website, the menu hasn't changed. However, this is another dining location that did never reopened after Disney's shutdown.
It seems like we always pushed this reservation aside for others, and never ate there. I'm regretting that now, and hope so much that they bring back the live entertainment. As of now, Disney is laying off performers rather than bringing them back. Keeping my fingers crossed that this changes in the future.
Tangierine Café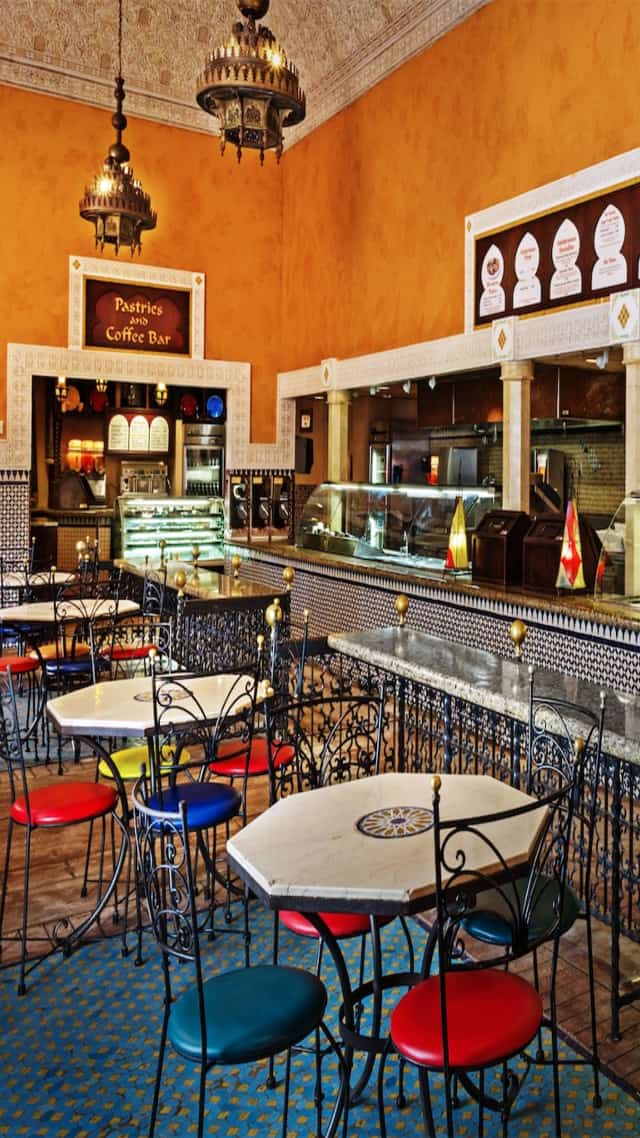 Tangierine Café, one of the most delicious quick service location in all of Disney, served authentic shawarma platters, tempting pastries and specialty coffee drinks. However, Tangierine Café hasn't reopened since Disney shut down due to COVID-19. With the increased crowds and capacity, hopefully this restaurant will become available.
Spice Road Table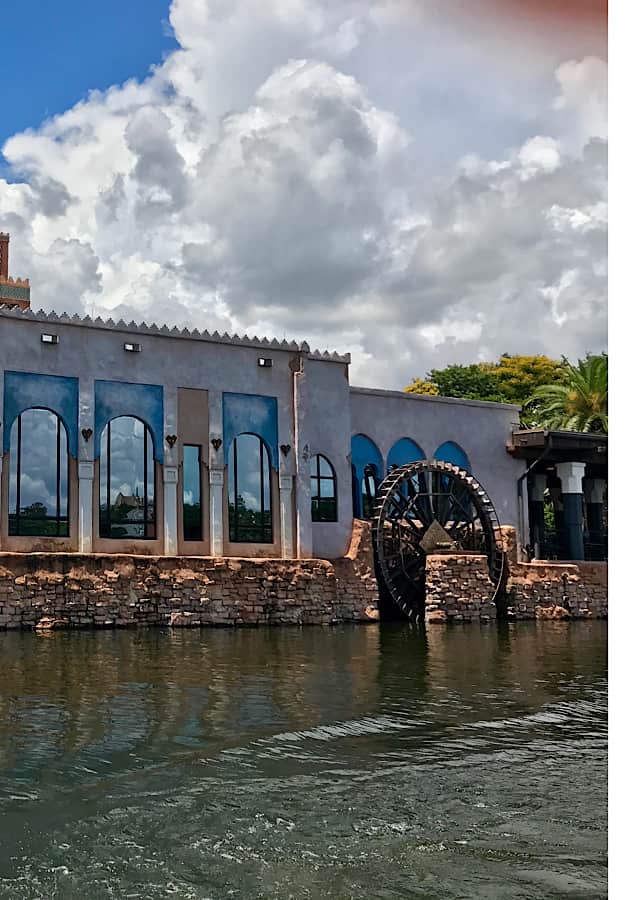 Spice Road Table is the only restaurant located at the Morocco Pavilion that reopened in July. This open-air restaurant gives guests a chance for a table service meal without breaking the bank. We shared that the restaurant would stop accepting reservations beyond mid-December.
However, yesterday My Disney Experience updated to say Spice Road Table is currently unavailable. Then, beginning December 13, My Disney Experience changes reflect available hours.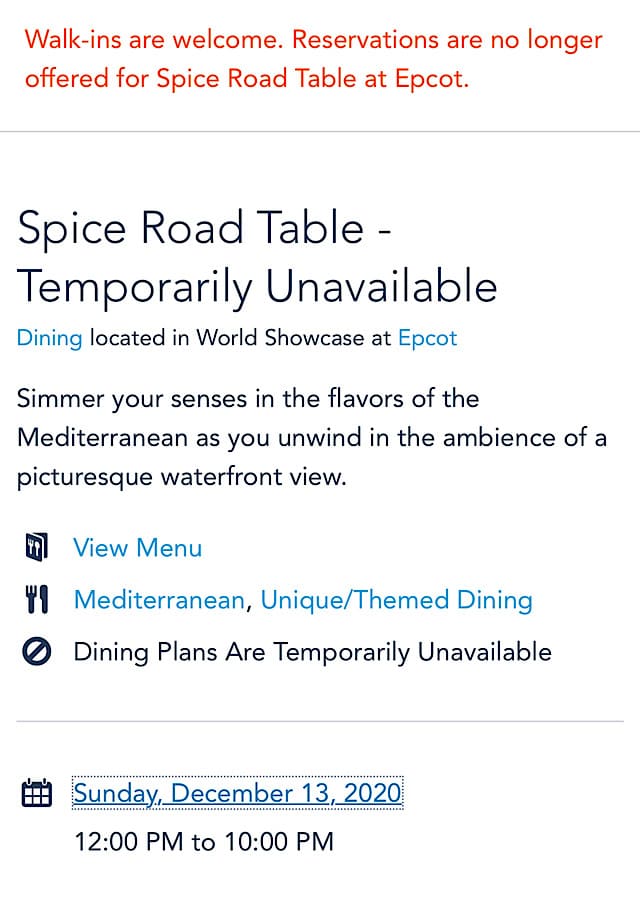 Another change is the menu. Previously, diners could choose from entrees such as roasted chicken, chili-rubbed salmon, and coriander-crusted rack of lamb. Appetizers including brie fondue, fried calamari, hummus and imported olives, hummus fries, and spicy garlic shrimp were offered.
New Menu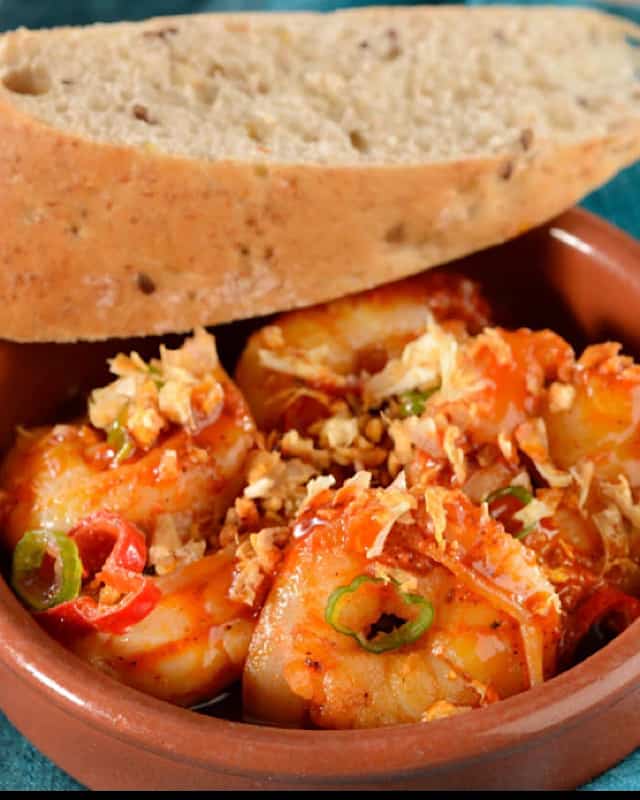 Now, instead of choosing between lunch and dinner menus, there is one lounge menu. Check out the revised menu below. It contains a large variety of small delicious plates. There's even a dessert sampler. Yum!
Hummus Fries -Citrus Chipotle and Preserved Lemon $10.00
Pomegranate-Chili Crispy Cauliflower – Red Pepper Aleppo Sauce $11.00
Fried Calamari – Rémoulade and Harissa Sauce $12.00
Grilled Lamb Kefta – Tzatziki, Radish, Cherry Tomato Confit $12.00
Naan Spreads – Hummus, Chermoula, Marinated Olives, Za'atar $10.00
Spicy Shrimp – Chili, Garlic, Peri Peri Sauce $12.00
Tiropitakia – Cheese-filled Phyllo, Cucumber-Tomato Relish $9.00
Dolmas – Grape Leaves filled with Rice, Herbs, Marinated Olives, Lemon $9.00
Spiced Chicken – Ras el Hanout, Mint Yogurt $11.00
Spice Road Table Sampler – Lamb Kefta, Tzatziki, Spiced Chicken, Tiropitakia $15.00
Dessert Platter – Assorted Moroccan Pastries $9.00
In addition to the above small plates, guests can choose from a variety of beer, wine, and signature beverages.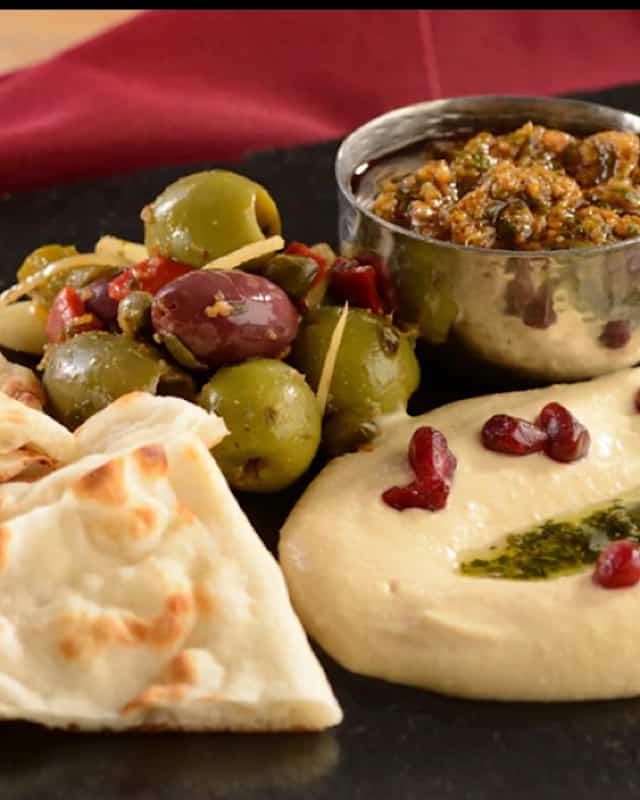 My Disney Experience states walk-ins are welcome now. When Spice Road Table first opened, it didn't take reservations. Also, it was excluded from the dining plan. That changed when Disney added entrées to the menu. Now, it looks like the restaurant is reverting to no reservations and small plates.
Are you looking forward to seeing what changes Disney will make here? Or will you miss the authentic experiences? Please share your thoughts below or post on our KtP Crew page.