Tucked away inside the beautiful Grand Floridian Resort is Citricos, a lovely restaurant that has been recently rethemed in a supercalifragilistic way. This restaurant's theming pays homage to Mary Poppins while offering a menu of Florida cuisine with a Mediterranean influence. Was the newly reimagined Citricos "practically perfect in every way?"
Citricos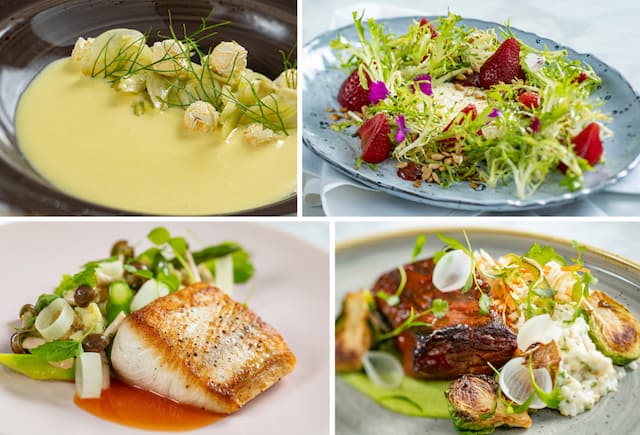 After an extended closure, Citricos has finally reopened at Disney's Grand Floridian Resort!
This signature dining experience closed last year and has reopened with brand new dishes and brand new theming!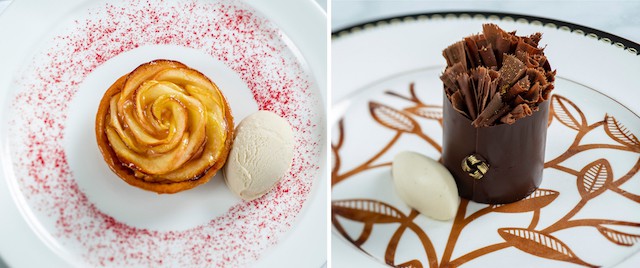 We were so excited to hear that Citricos was now reimagined with a Mary Poppins theme, so we had to give it a try! Did this new experience live up to our expectations?
Atmosphere and theming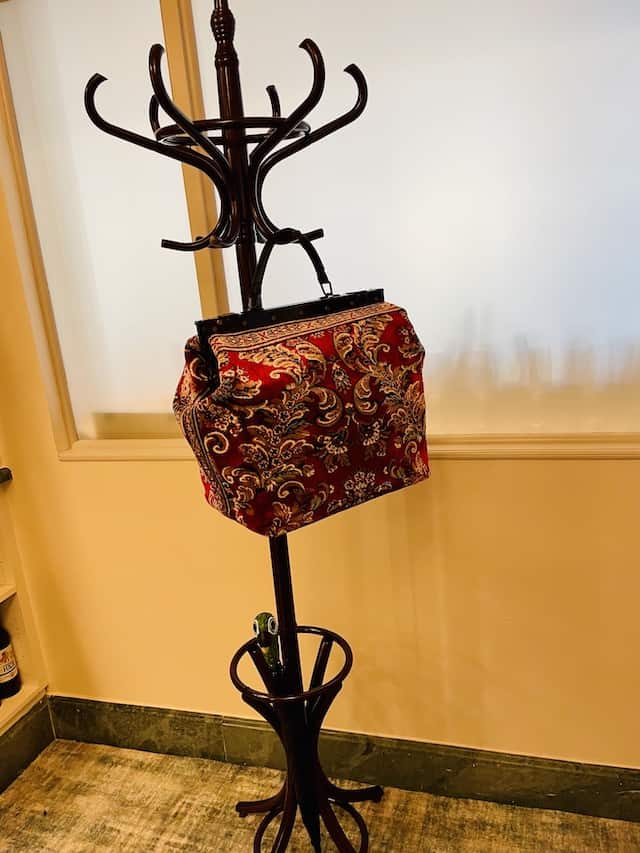 Let's start with the new theming at Citricos. I (Jamie) won't lie, the theming was what got me excited to try Citricos! As an avid Mary Poppins fan, I had to see what Citrico's take on my beloved film would be.
As we entered the restaurant, we were greeted by a lovely check in desk and entry area.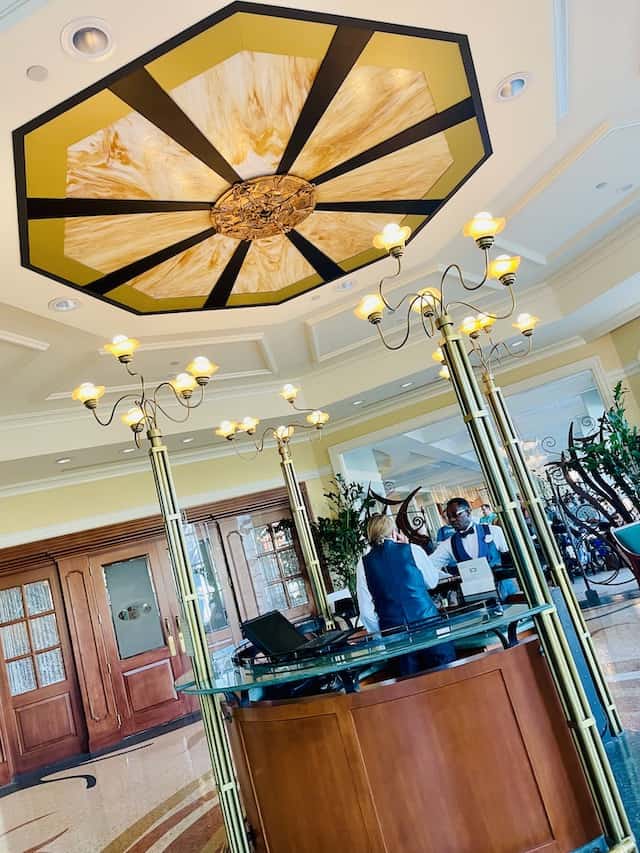 The restaurant has a main dining room, a bar area, a smaller dining room, and a private wine room.
The bar area does offer some limited seating.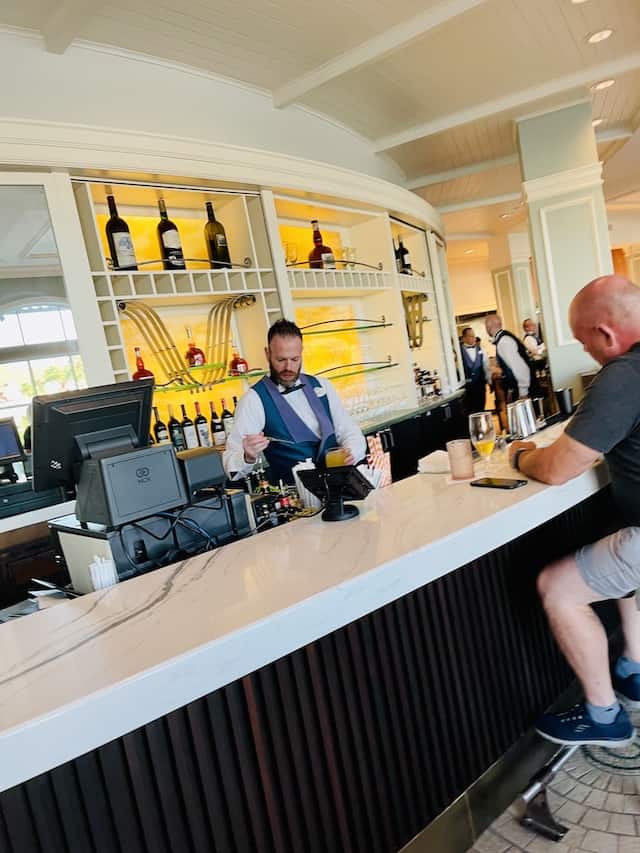 The kitchen is open to the dining room so you can see the amazing chefs at work!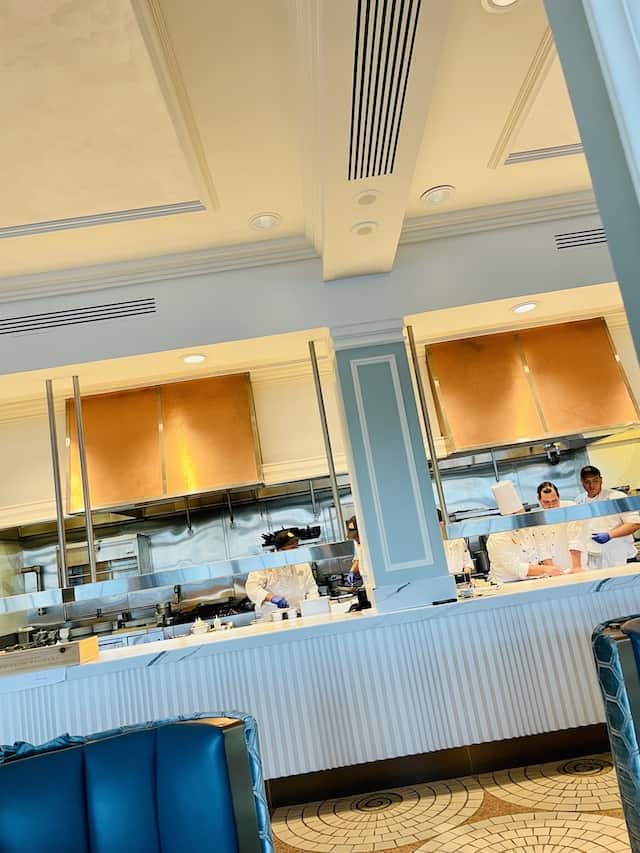 Mary Poppins theming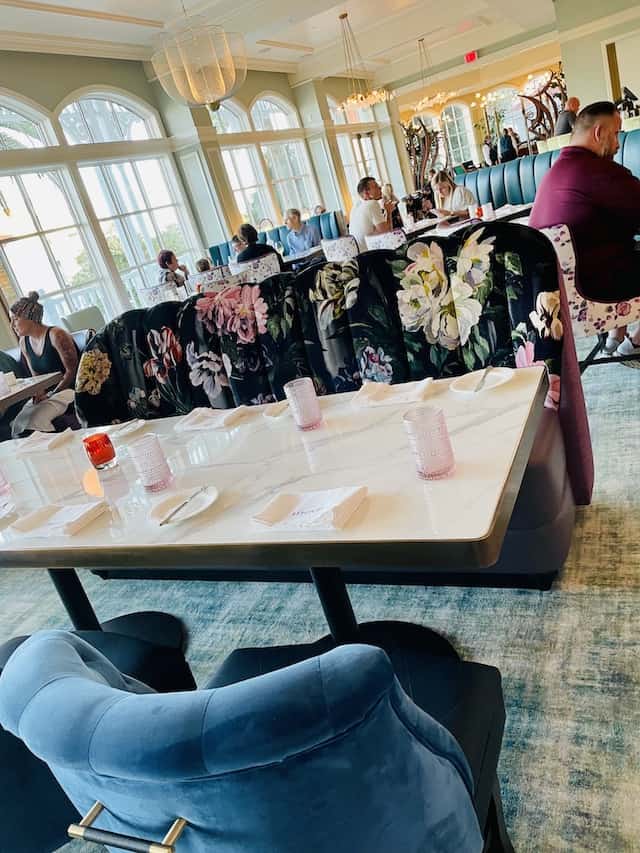 The nods to Mary Poppins were there, but if you didn't know the restaurant had been re-themed to honor the films, you likely wouldn't recognize them. However, I thought the subtlety was elegant and fit in with the beauty of the restaurant perfectly.
The main dining room is stunning with subtle touches to the Mary Poppins films. For example, the couch was inspired by Mary Poppins famous carpet bag.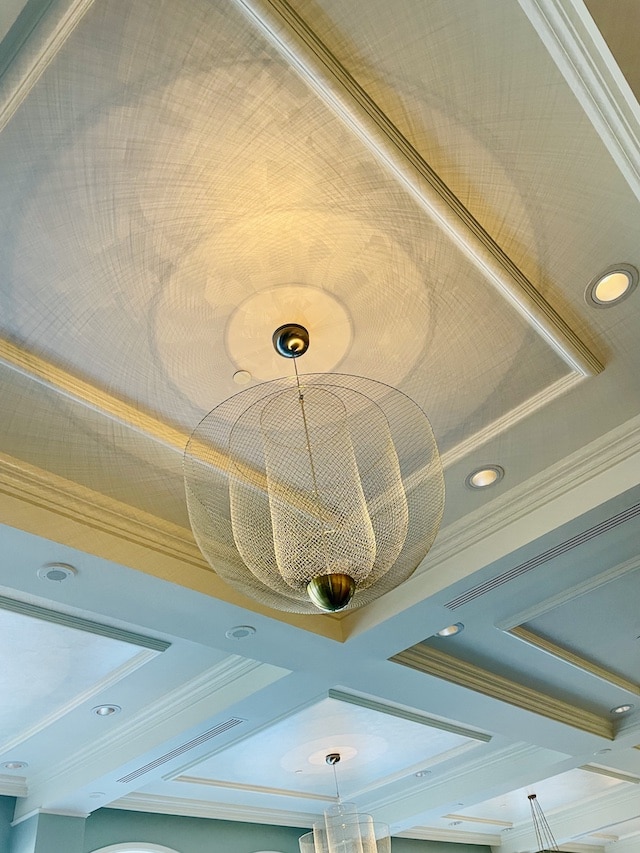 The light fixtures are inspired by Mary Poppin's famous parasol. It was one of the first things we noticed!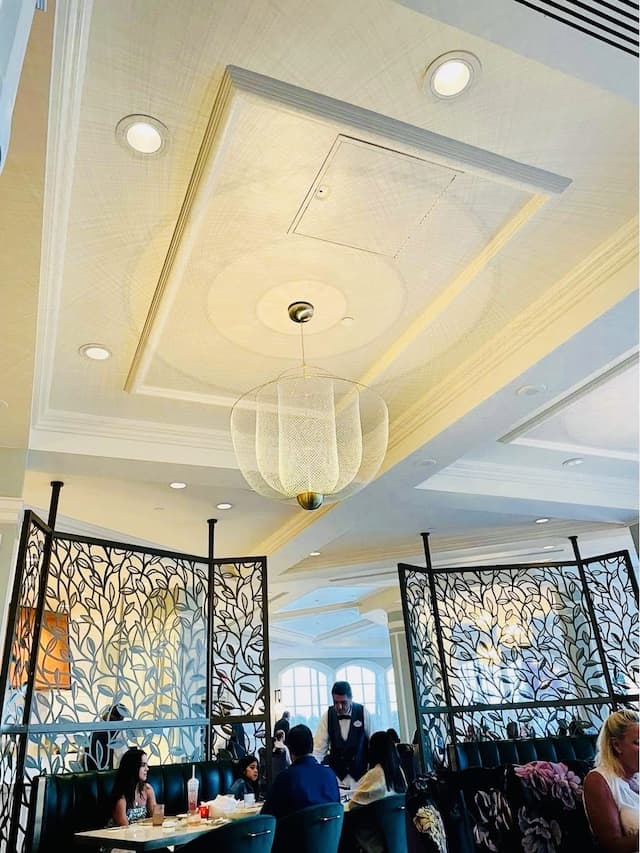 The leaves in the gate reference the scenes in the movies when the wind changes and Mary Poppins flies in among the rustling leaves.
The lights are reminiscent of street lamps and feature butterflies and robins from Mary Poppins Returns.
Many of the chairs throughout the dining room featured cherry blossoms, reminding you of 17 Cherry Tree Lane.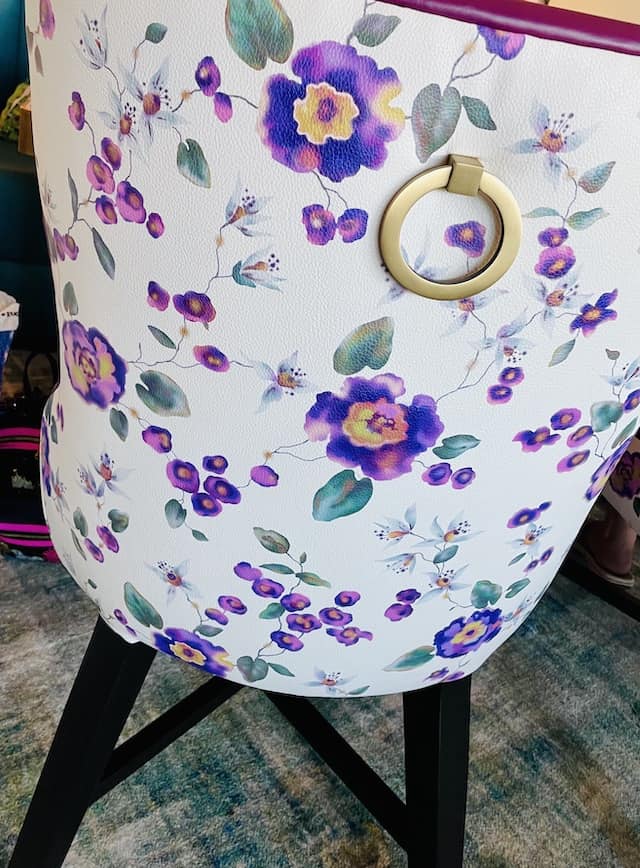 The carpet was perhaps the most subtle detail of them all, but true Mary Poppins fans will love this!
The carpet is reminiscent of Burt's chalk paintings. Remember when he smudges them?
Private Sommelier Room
The restaurant also has a private wine room, and it is here that theming is strongest. This room is not yet open, but when it does Guests will get an elevated food and wine experience.
The light fixtures in here are even more elegant and are inspired by Mary Poppin's parasol.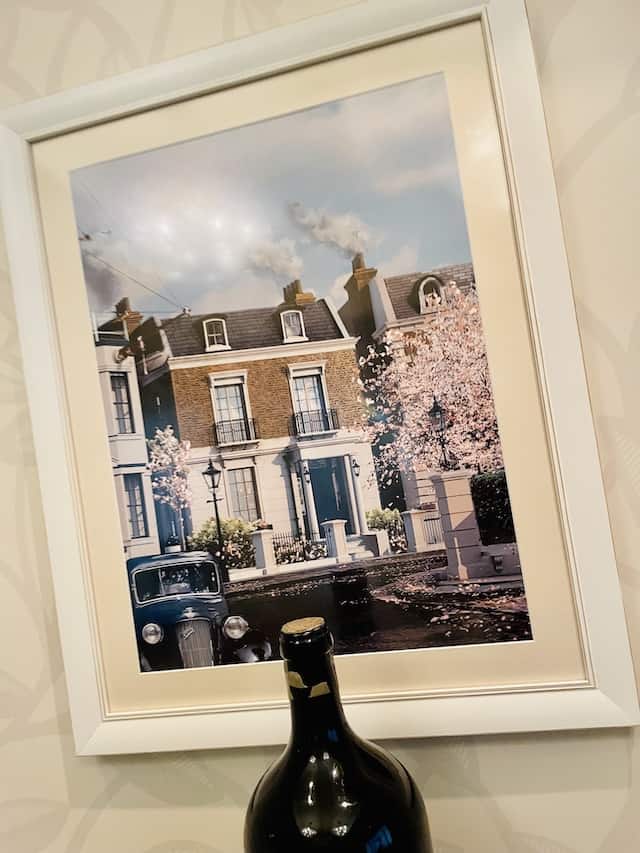 There is stunning artwork displayed of 17 Cherry Tree Lane.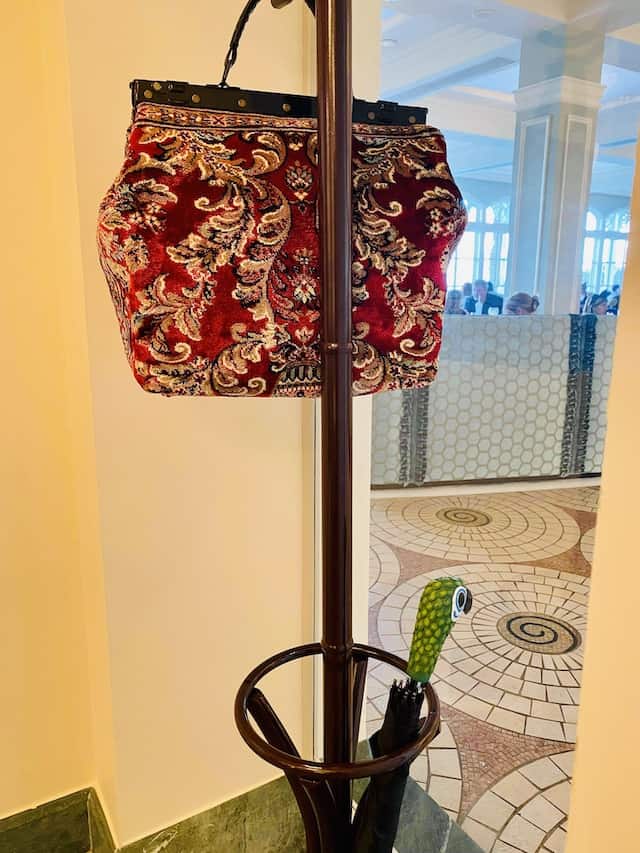 The wine room features the most exciting touches of all! Mary Poppin's carpet bag and umbrella.
The view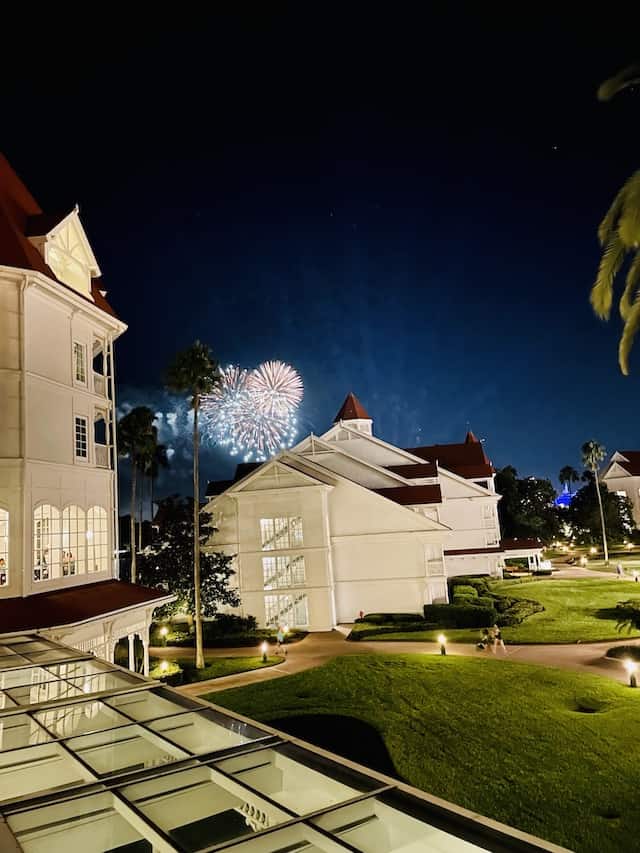 As we dined, we were lucky enough to finish right as one of the final "Happily Ever After" shows at Magic Kingdom was beginning.
We stepped out onto Citrico's tiny balcony and caught a stunning view of the fireworks bursting over the Grand Floridian!
Pirate tip: Schedule dinner for about 1.5-2 hours before the fireworks begin. As you finish, you should catch the entire Happily Ever After show.
Delicious food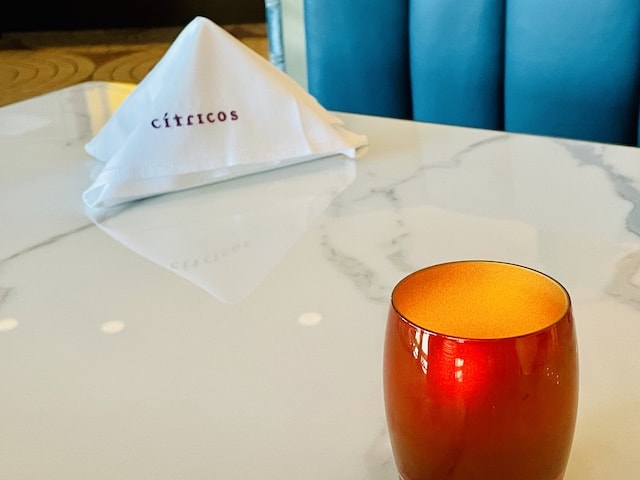 If we thought the atmosphere and theming were amazing, we were certainly in for a treat with the delectable food we were treated to!
There were several of us dining, so we were able to sample many of the offerings on Citrico's menu.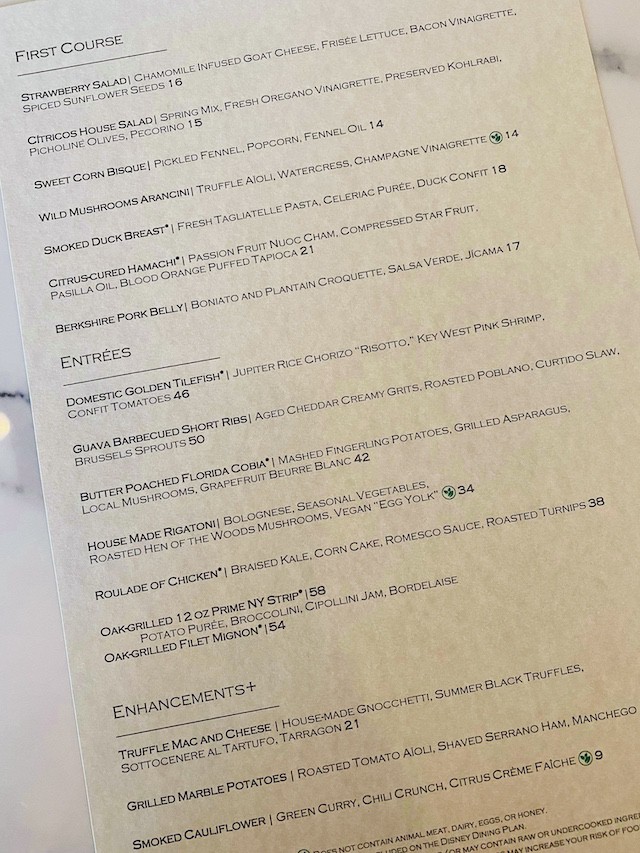 First course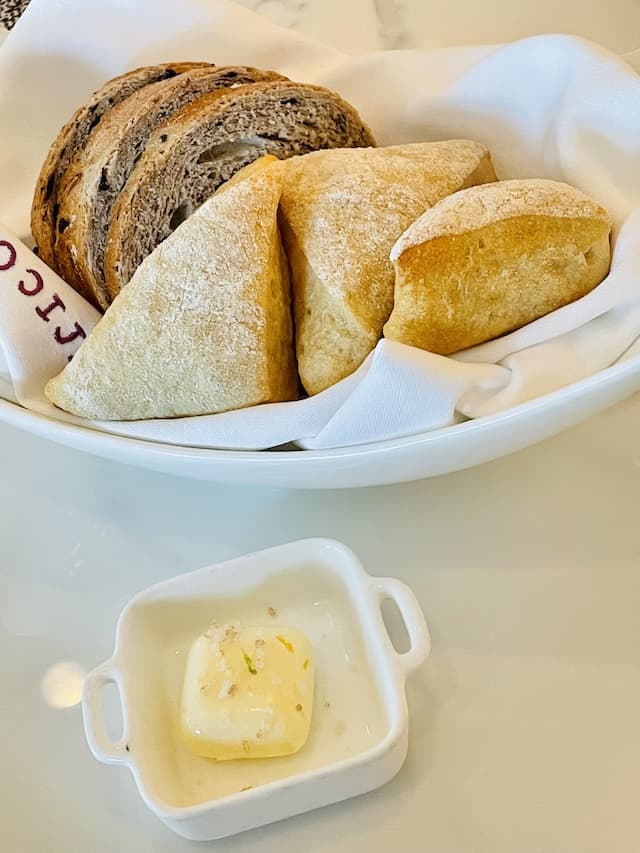 The bread service has a Ciabatta bread and Rye with olives. The Rye bread was very soft inside with a crispy crust. The Ciabatta was very hard on the outside but delicious inside.
The bread was served with a delicious salted butter.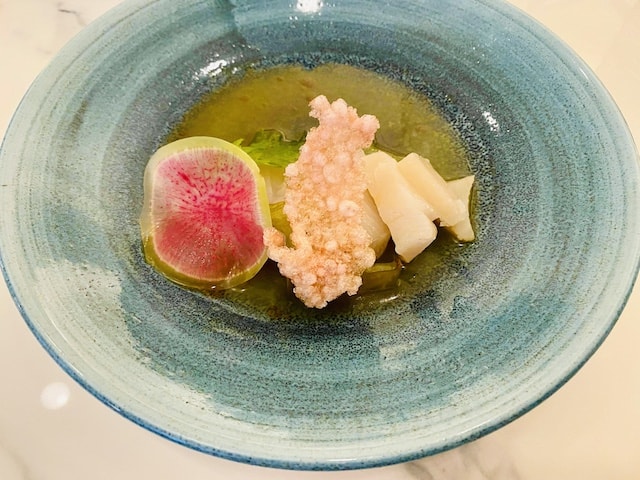 The Citrus-cured Hamachi is passion fruit nuoc cham, compressed star fruit, pasilla oil, and blood orange puffed tapioca. The sauce was absolutely amazing in this dish. It mixed sweet, salty, and spicy in a way I've never experienced before!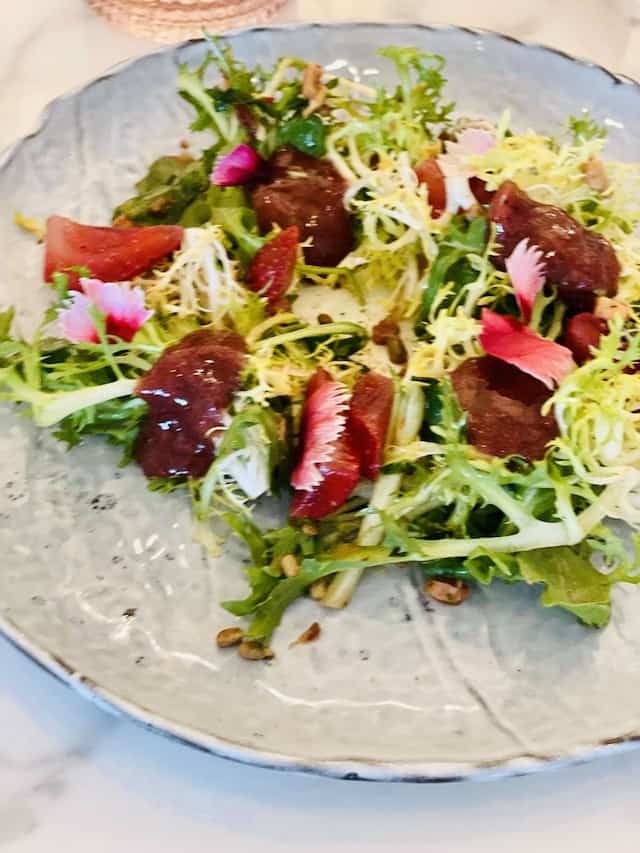 The Strawberry Salad was served with chamomile infused goat cheese, frisee lettuce, spiced sunflower seeds, and topped with bacon vinaigrette. Kate said it was some of the best salad she has ever had on property.
Entrees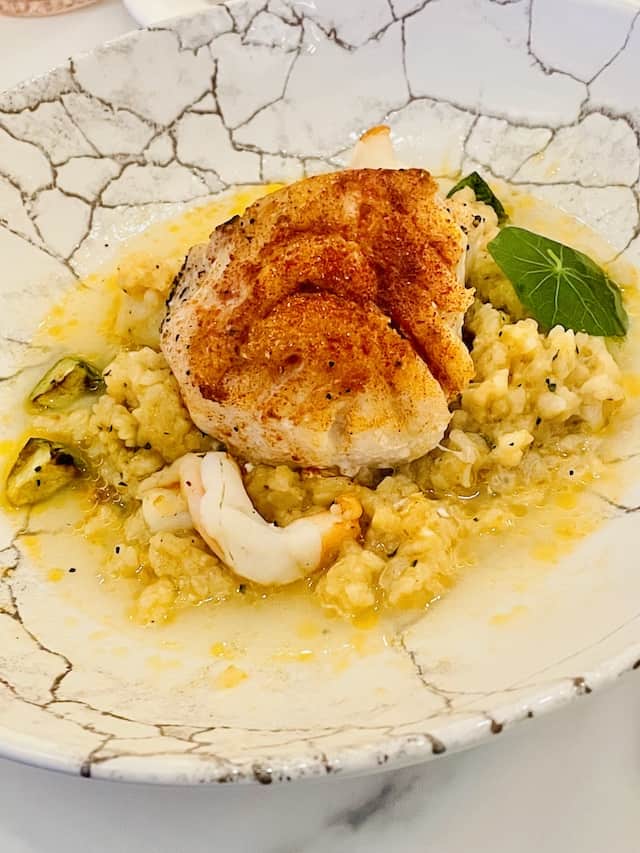 The Domestic Golden Tilefish was a hit! The fish itself was very mild and flaky. The shrimp were delicious and came right from the Florida Keys.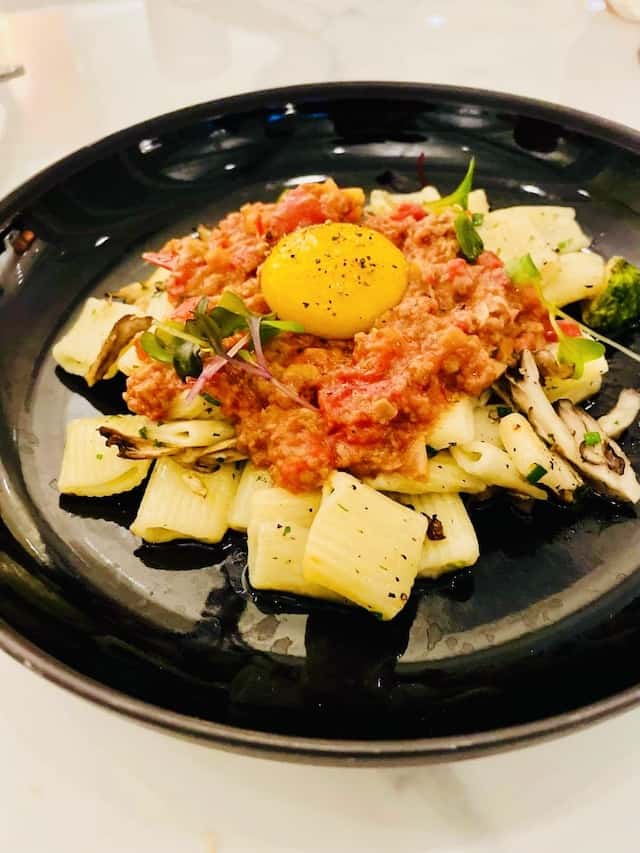 The House Made Rigatoni got rave reviews as well! It came topped with an "egg yolk" that was meant to be broken and added to the sauce. It did not taste "eggy" at all and gave the dish a very unique flavor.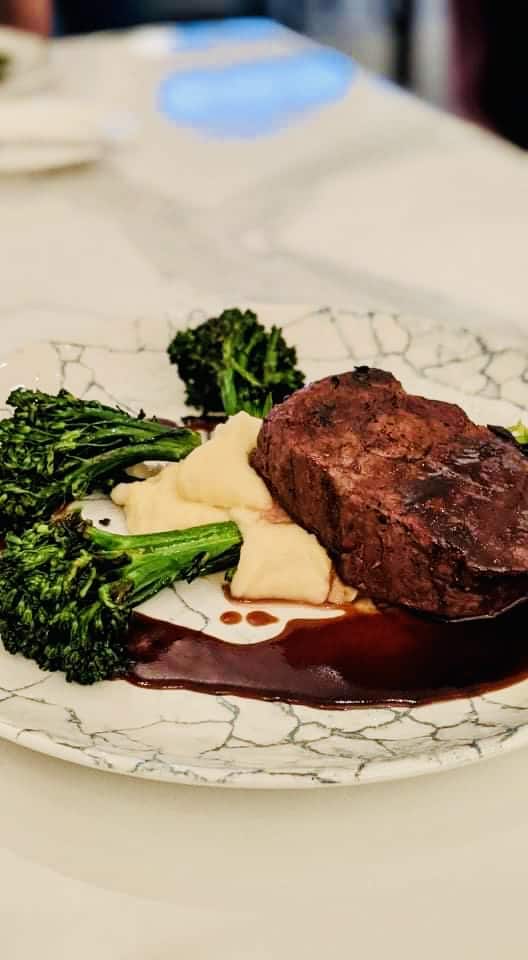 The Oak Grilled Filet Mignon was cooked perfectly and extremely tender. It was served with potato puree and broccolini. All but the broccolini got rave reviews for this dish!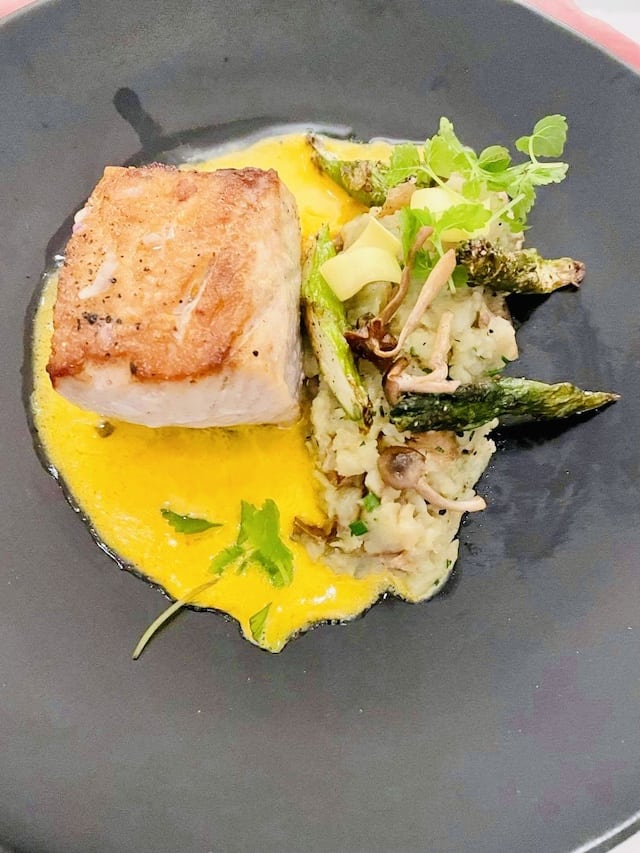 The Butter Poached Florida Cobia was also delicious and served with mashed fingerling potatoes, grilled asparagus, local mushrooms, and grapefruit beuree blanc.
Enchancements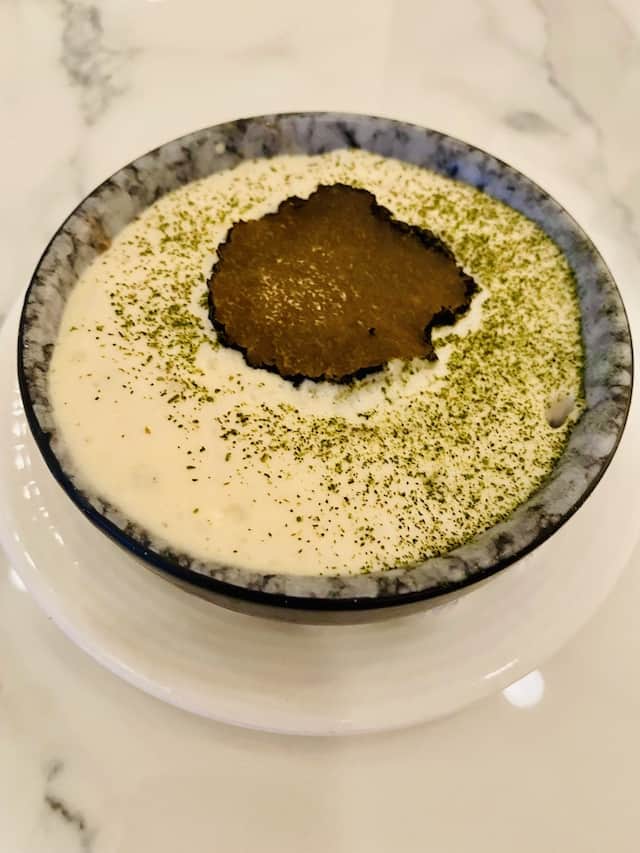 The real winner of this entire meal was the Truffle Mac and Cheese. This was unlike anything I've ever tasted before and definitely not your average mac and cheese!
It's made with house made gnocchetti, summer black truffles, sottocenere al tartufo and tarragon. This dish had a very strong truffle flavor and was filled with mushrooms. If you love truffle, you must try this!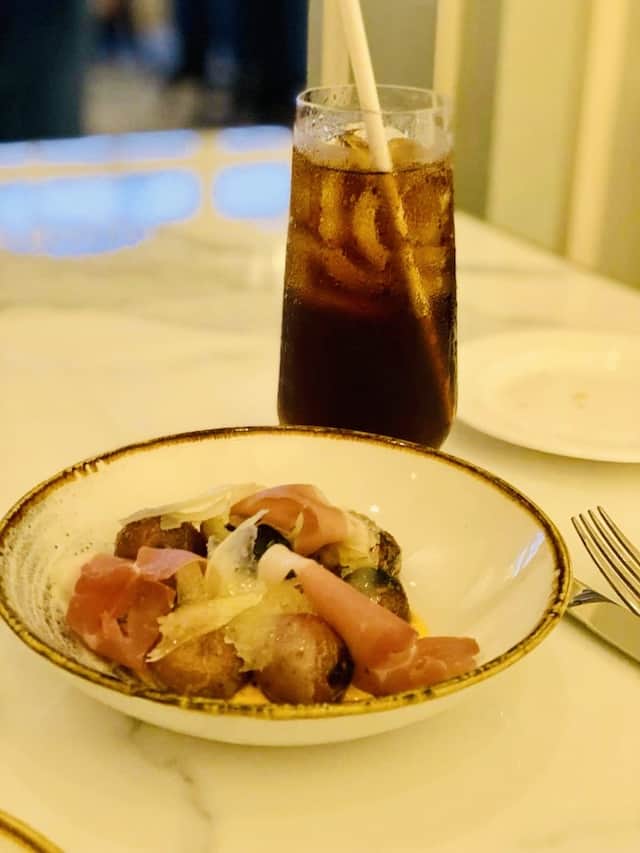 The grilled marble potatoes were delicious, but nothing to write home about. The potatoes were not cooked long enough and therefore not very tender.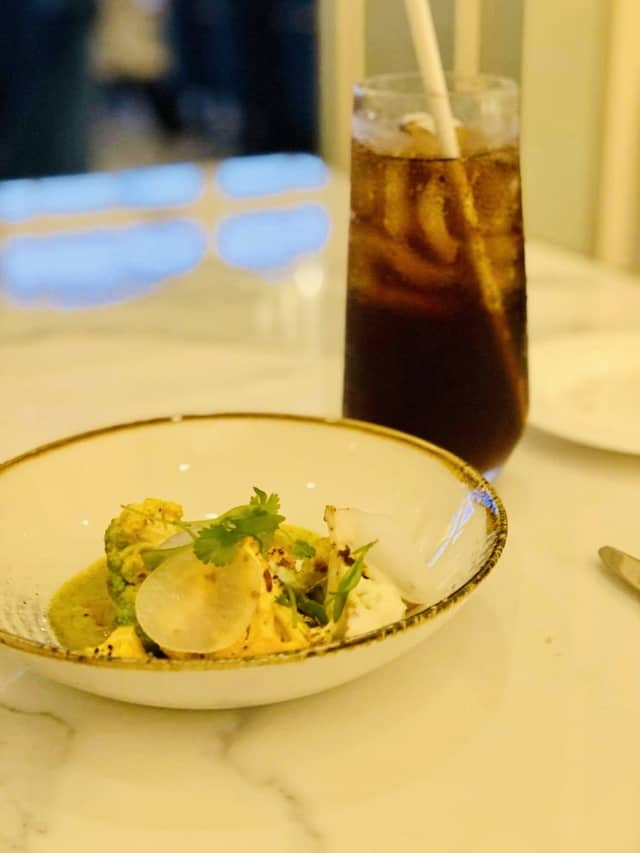 The third enhancement offered, smoked cauliflower, was not very good at all and we wouldn't try it again. It was spicy but not tasty.
Overall thoughts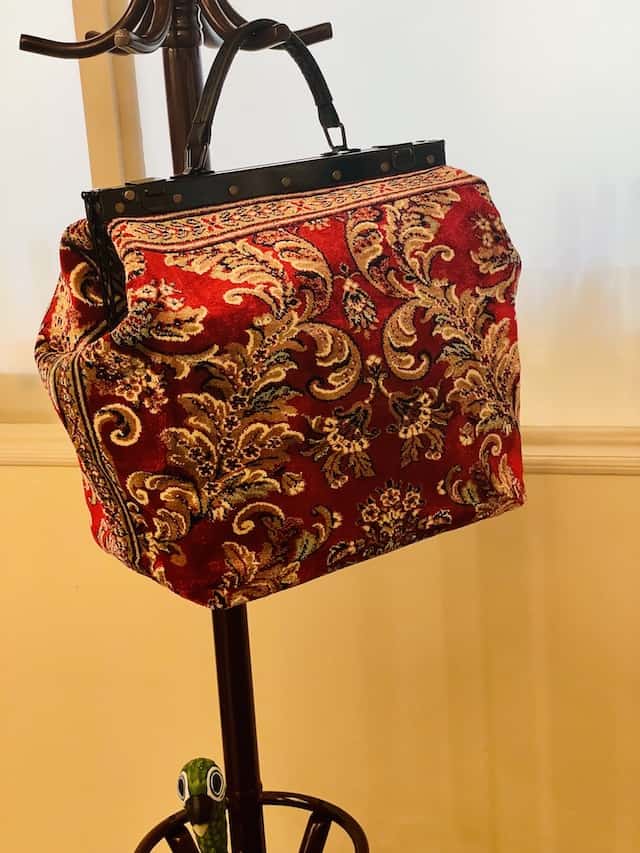 We loved every single second we spent dining at Citricos, and we would most definitely recommend!
While this meal was expensive, the whimsical but elegant theming and the outstanding food make this a "practically perfect in every way" meal and we can't wait to head back!
Will you be dining at the newly rethemed Citricos? Share your thoughts with us on Kenny the Pirate's Facebook page, or join our crew and continue the discussion!
Are you planning a vacation? Reach out to our trusted travel agency sponsor Authorized Disney Vacation Planner
Mouse Class Travel
!