If you are looking for a family friendly restaurant that offers great food, you might want to add Steakhouse 71 to your dining plans for your next visit to Walt Disney World.
Steakhouse 71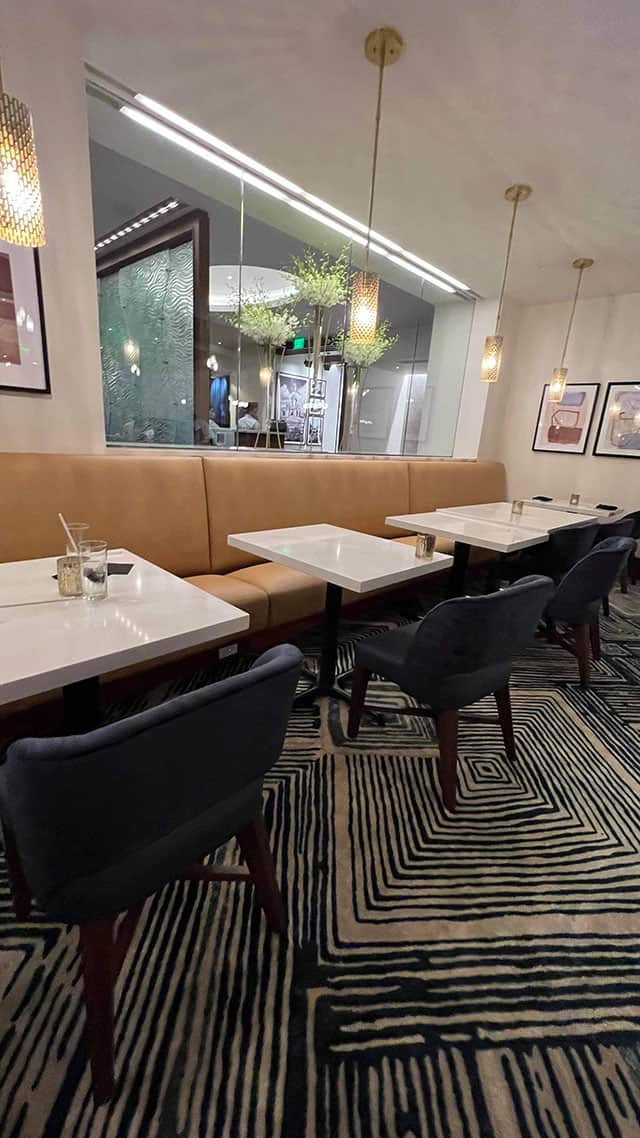 Steakhouse 71 opened to guests on October 1st coinciding with Walt Disney World's 50th anniversary. The restaurant gets its name from the year Disney's Contemporary Resort first opened in 1971.
Guests might remember visiting The Wave prior to when the location was reimagined into Steakhouse 71. The restaurant looks back to the design and feel of the 1970s but with a modern twist.
If you are looking for some nostalgia and you enjoy the history of Walt Disney and Walt Disney World, this is the place to be.
In fact, many of the menu items are inspired by some of Walt Disney's favorite dishes.
Location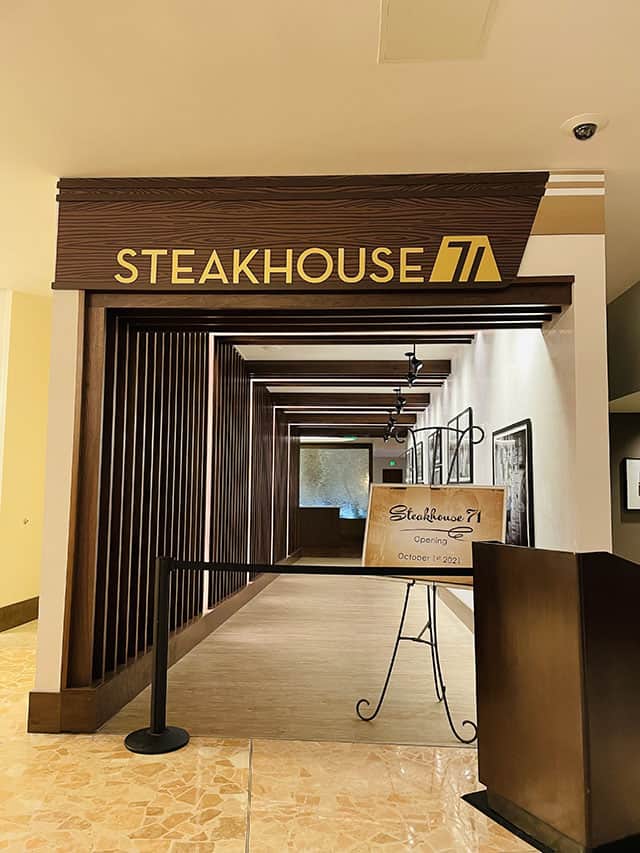 This location offers breakfast, lunch and dinner and is located in Disney's Contemporary Resort. Hours for each meal are as follows:
Breakfast 7:30 a.m. to 11:00 a.m.
Lunch 11:30 a.m. to 2:00 p.m.
Dinner 5:00 p.m. to 9:00 p.m.
For menu details and pricing, take a look at this post HERE. Don't forget you can also find menus and pricing for every restaurant at Disney using Character Locator!
Since it is only a short walk or monorail ride away, this restaurant would be a fantastic choice if you have plans to start or end your day at the Magic Kingdom.
Nods to Walt Disney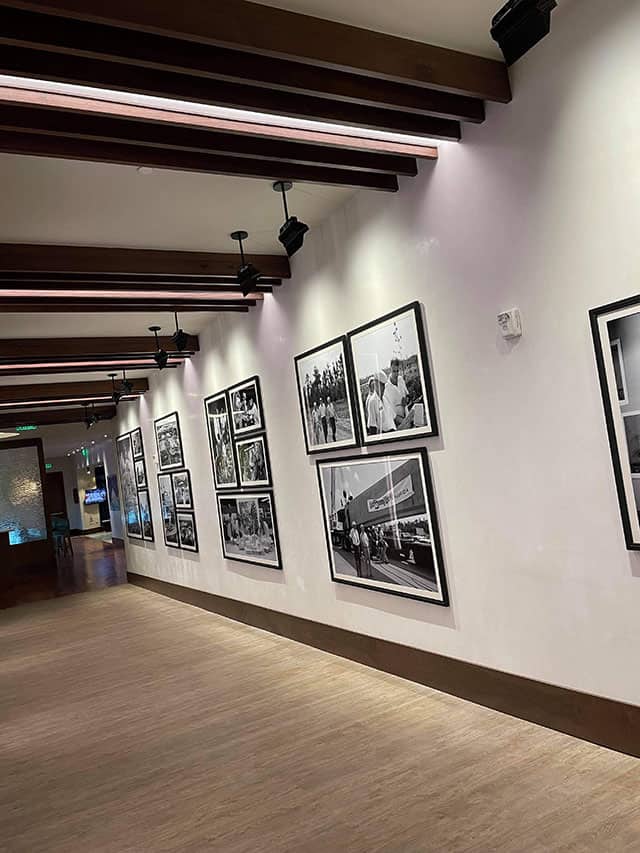 Guests are immediately welcomed with a feeling of nostalgia and memories of Walt Disney himself. Along the hallway are historical photos of Walt Disney and photos that capture significant moments of the opening of Walt Disney World.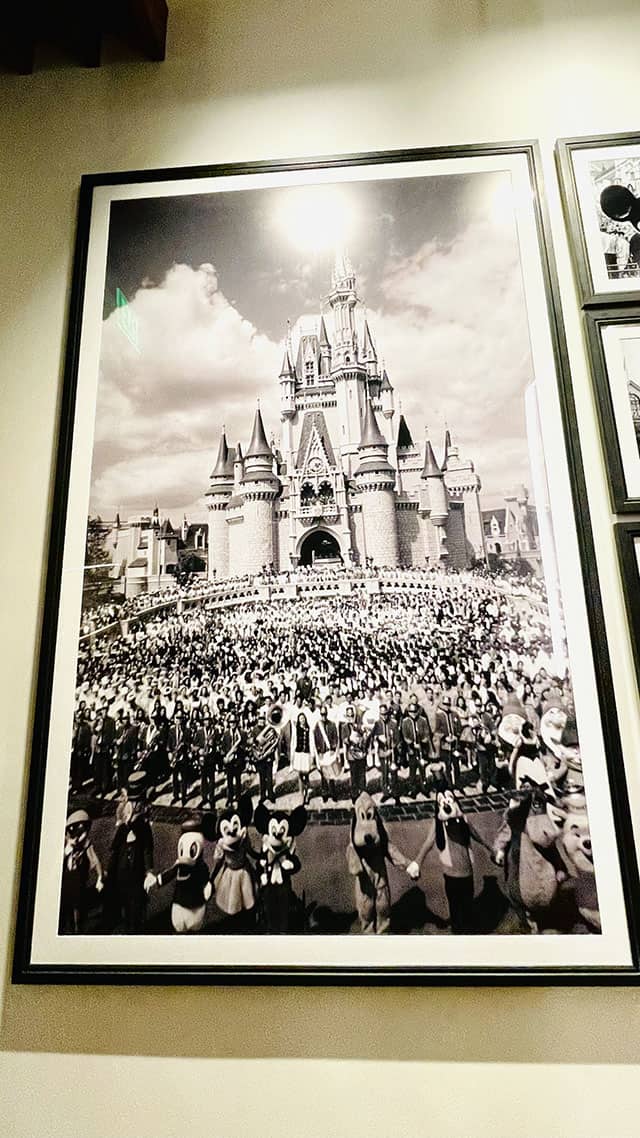 I (Maggie) enjoyed admiring all of these stunning memories, especially this one of Opening Day. It felt pretty surreal looking at this picture fifty years later on October 1st!
Checking in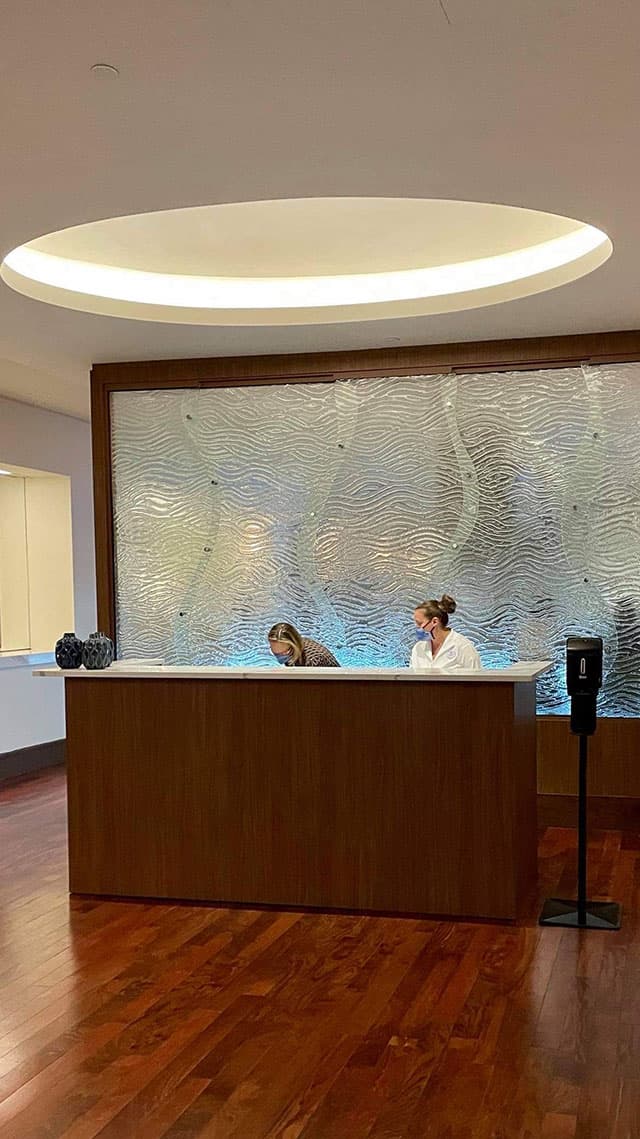 I was fortunate enough to visit Steakhouse 71 on opening day with a few other friends on October 1st. After discovering the restaurant was going to be open during the anniversary, we knew we just had to visit.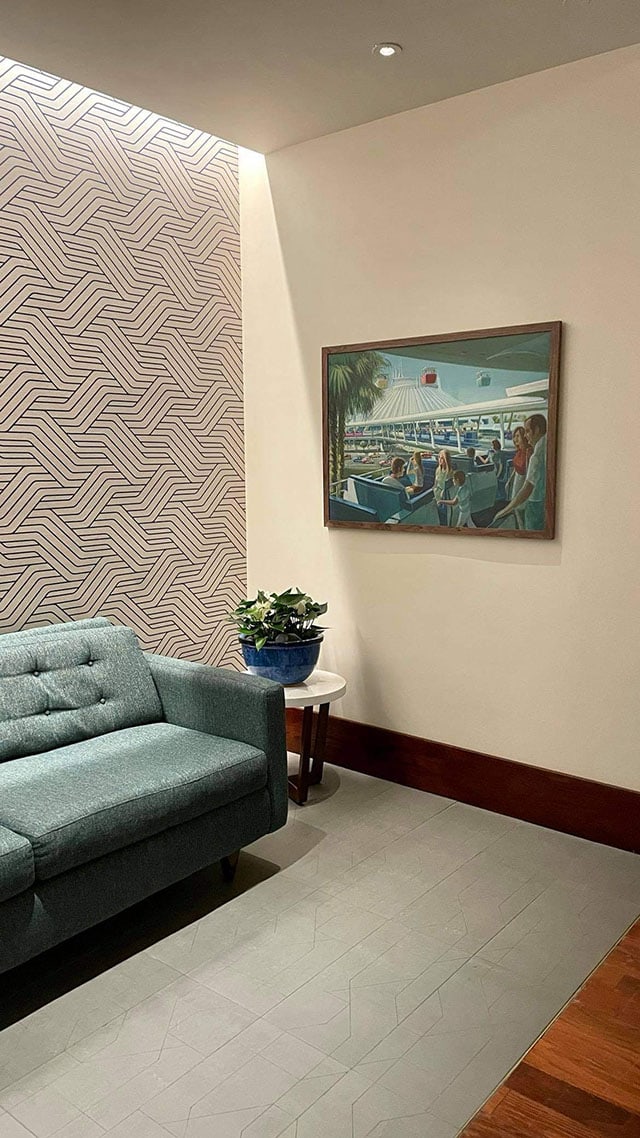 The waiting area is very comfortable and has plenty of space and seating. One of the great things you will notice throughout the restaurant is the artwork.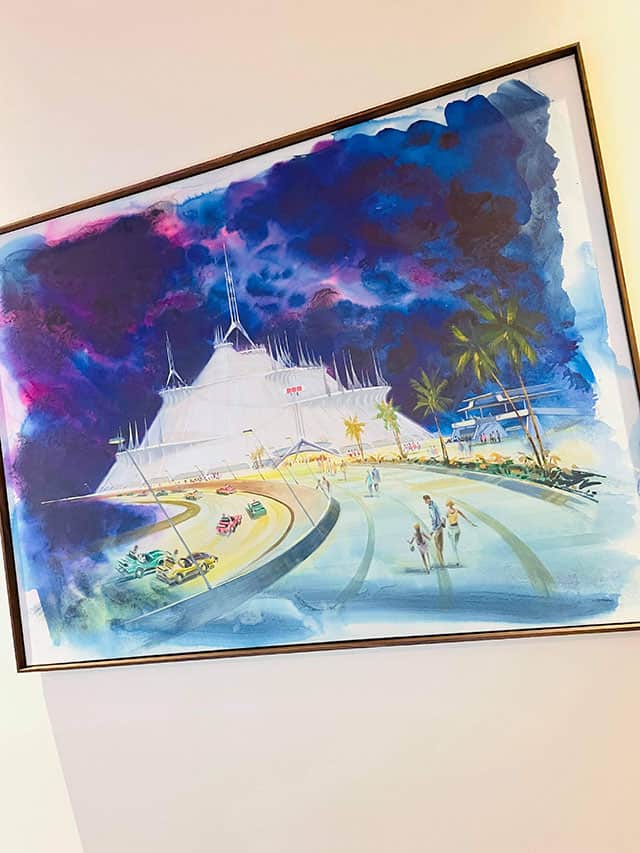 During the 1970s, there was a dramatic shift in art. Artists emphasized photography and this is also the period in which Modern Art grew to be very popular.
If you are an art lover like myself, be sure to check out all of the various artistic pieces here.
The Atmosphere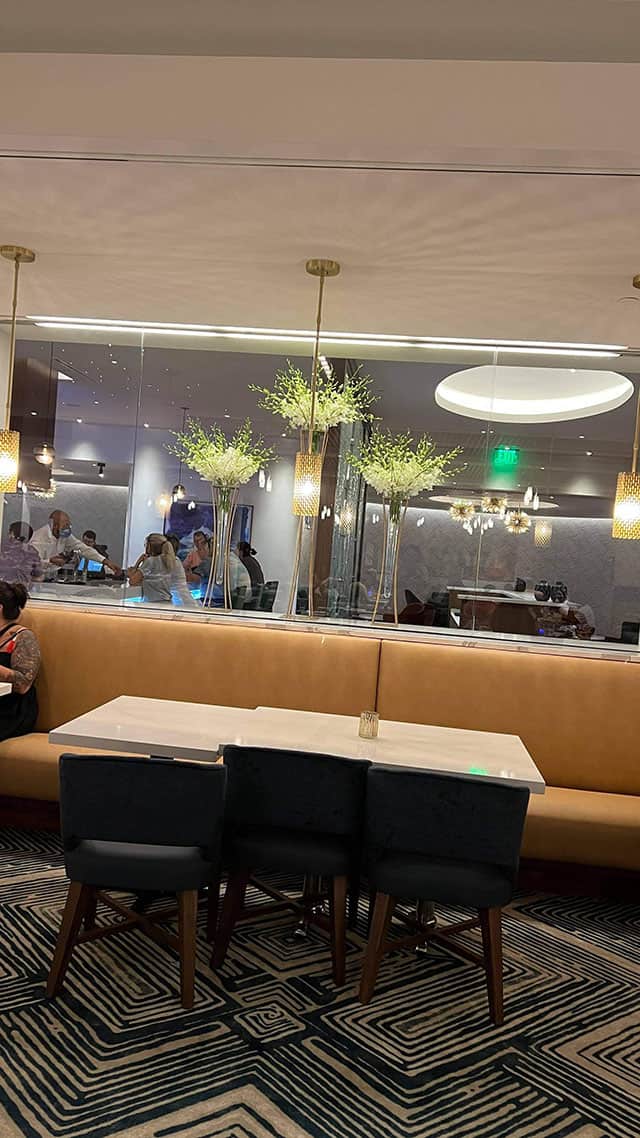 Guests will notice the bold, modern atmosphere of Steakhouse 71. Disney describes it as being "comfortable and sleek".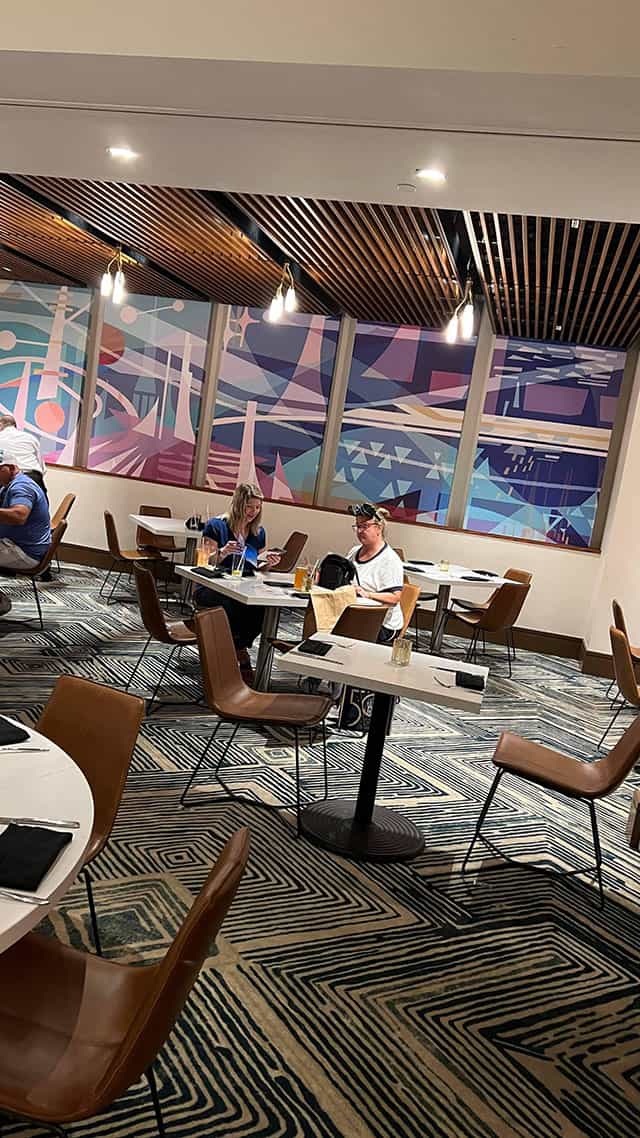 All of the paintings and art pieces are bold and colorful. I love the references to Walt Disney World and Disney's Contemporary Resort. Check out the monorail in the photo shown here above. It is so abstract and modern. The purple colors remind me so much of Space Mountain, too.
Breakfast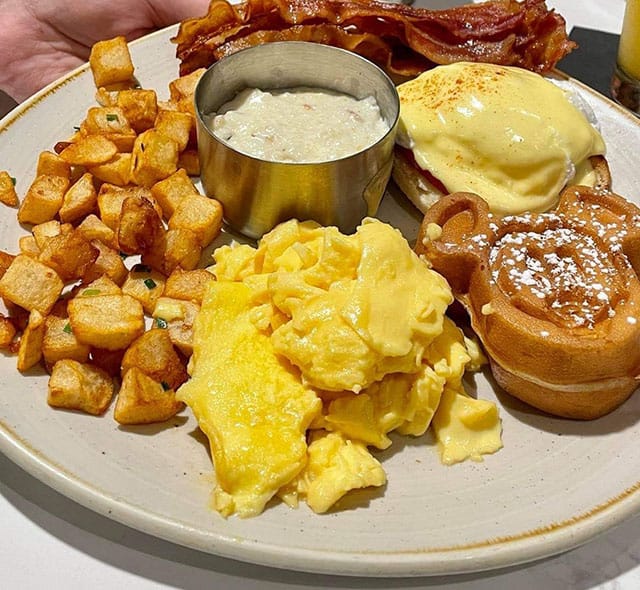 During our visit, we were able to visit for both breakfast and lunch. I know for my next trip, I definitely want to try dinner!
Pictured above is The Steakhouse 71 Feast, which includes Eggs Benedict, Scrambled Eggs, Bacon, Sausage, Mickey-shaped Waffle, Bacon-Cheddar Grits, Breakfast Potatoes, and Fresh Fruit.
The grits tasted like potato soup with cheese and bacon and had a smooth consistency. The waffles were hot, crispy and delicious.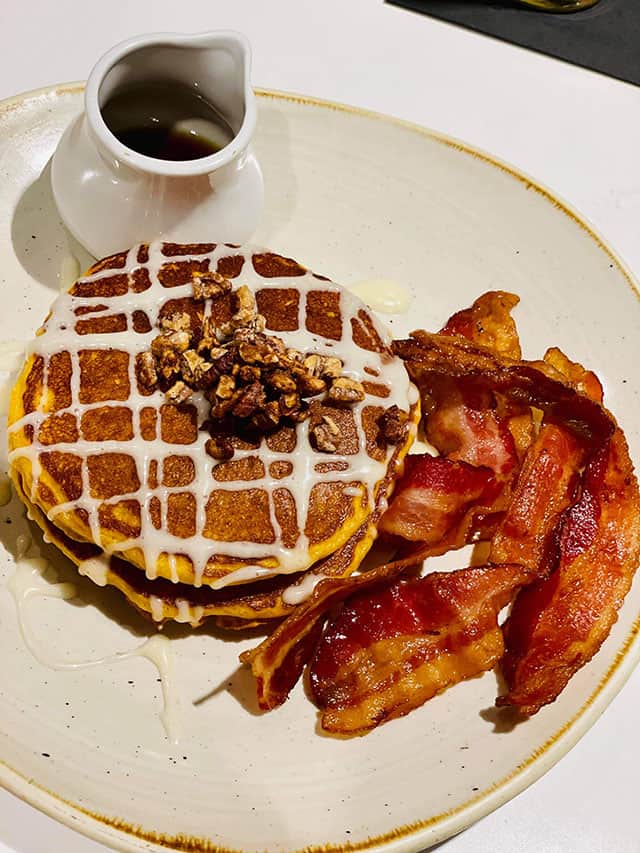 Steakhouse 71 also offers Seasonal Pancakes. Since our visit was during October, the pancakes were pumpkin flavored. They were absolutely delicious and came drizzled with a not so sweet cream cheese topped with pecans.
The cream cheese and pecans complemented the pumpkin flavor quite well. It was a perfect mix of flavors for fall! It was so good that an extra side was requested and they gladly honored it.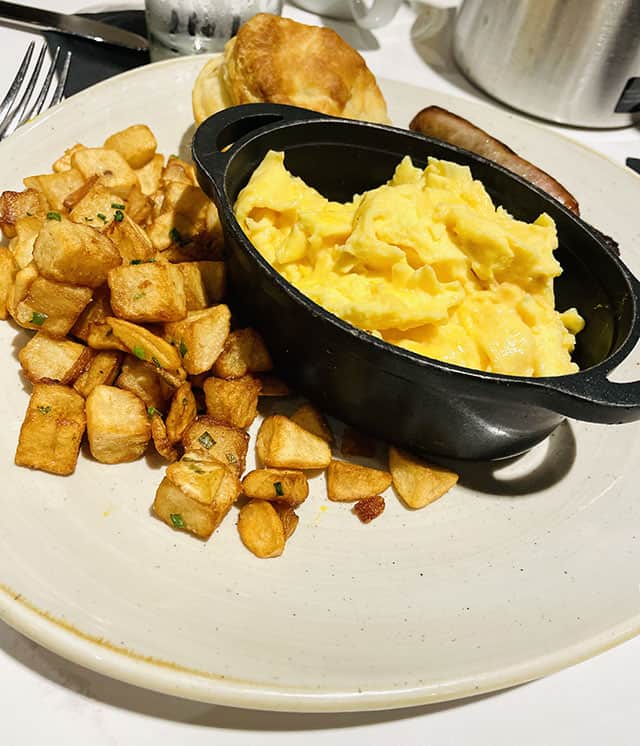 We also enjoyed The American and Eggs Benedict. The American included Two-Eggs Cooked-to-order with Breakfast Potatoes and choice of Bacon, Pork sausage, or Chicken sausage.
My breakfast was not a disappointment. The eggs were light and fluffy and potatoes were nice and crispy.
The Eggs Benedict was perfectly prepared and accompanied with a creamy hollandaise sauce. The bacon was crisp but not overdone, and the potatoes were quite tasty.
Lunch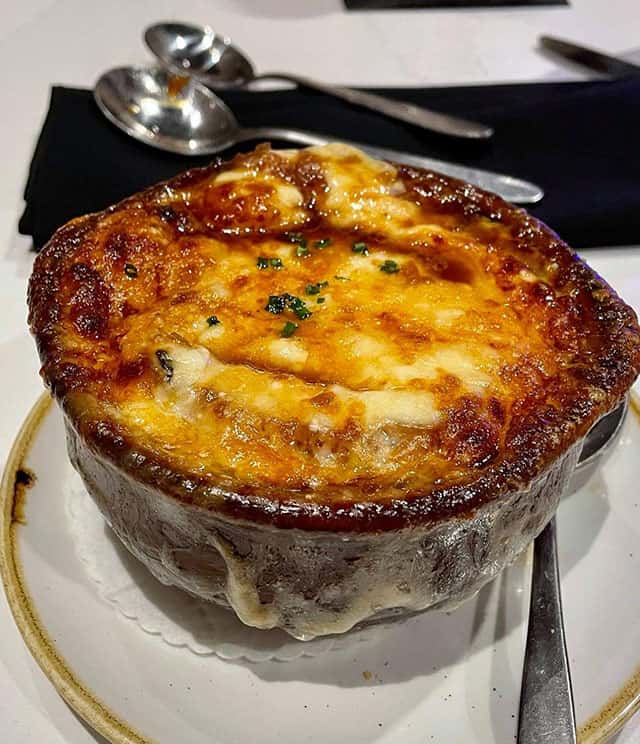 Lunch was outstanding! Monica enjoyed the French Onion soup and said it is probably the best she has ever had, even better than Be Our Guest. Take a look at how cheesy it is on top!
The soup was full of flavor and I (Maggie) regret not getting this.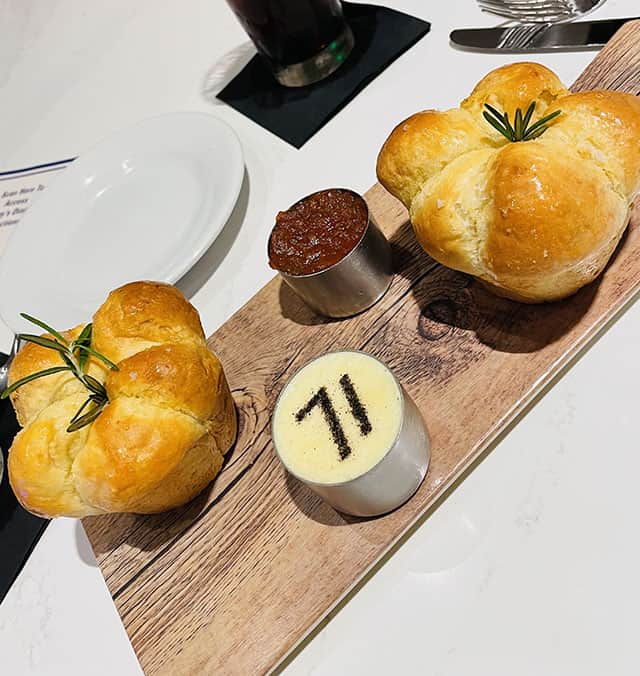 While I did not have the French Onion Soup, I did enjoy the Sea Salt-dusted Potato Brioche, which came with butter and a roasted garlic-tomato spread. This was delicious and my mouth is watering just looking at this picture.
I was not sure what to expect from potato brioche, but it was light, fluffy and freshly baked. The sea salt added just enough flavor but did not overpower the dish.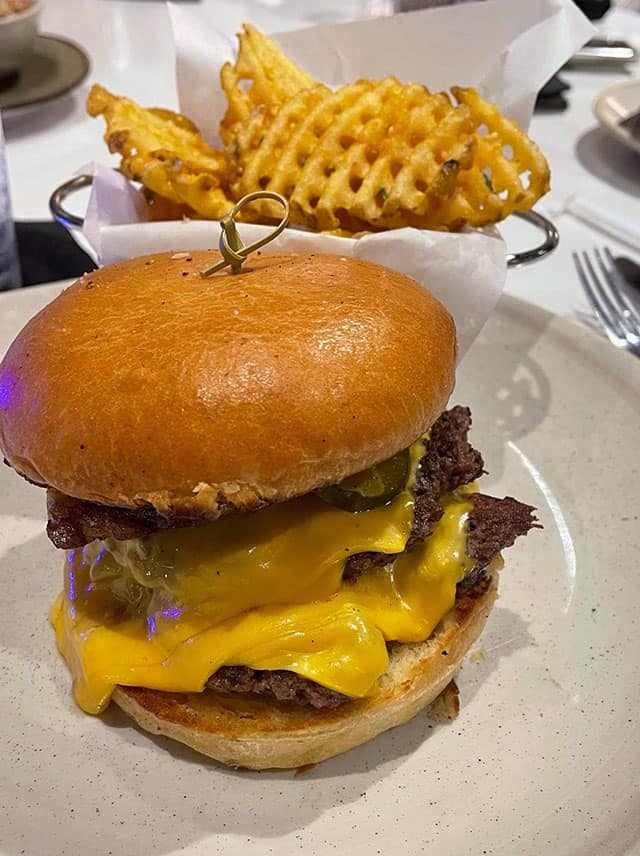 The Steakhouse 71 Stack Burger could be one of the very best burgers on Disney property. One thing to be aware of is that it does contain pork, so if you do not want pork, be sure to request that when you order.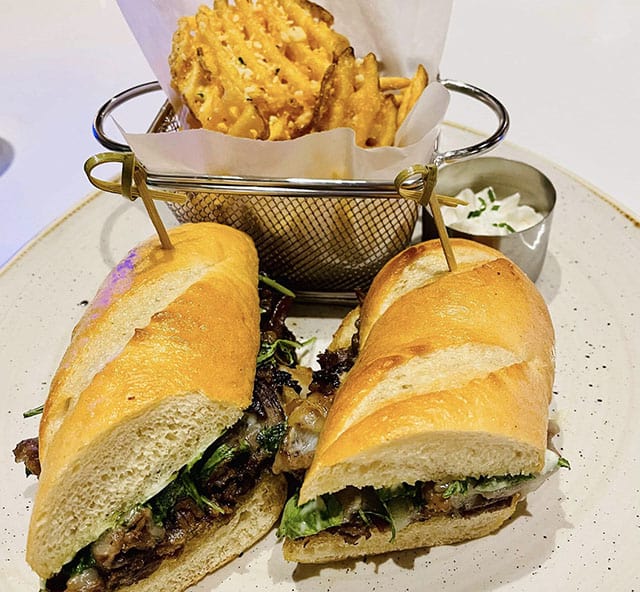 The Prime Rib sandwich included Shaved Prime Rib, Caramelized Onions, Herb Aïoli, Provolone Cheese, Arugula, and Horseradish Cream. It is served with a choice of Petite Wedge Salad, Parmesan Fries, or Pasta Salad.
This sandwich was quoted by my friend as being "the best sandwich I've ever had at Disney. The shaved prime rib, caramelized onions, and provolone paired beautifully with the horseradish sauce. I cannot wait to go back and get this again!"
As a side note, our table sampled the pasta salad, and we thought it was just okay. Nothing spectacular, and we all agree that the French fries are the superior side.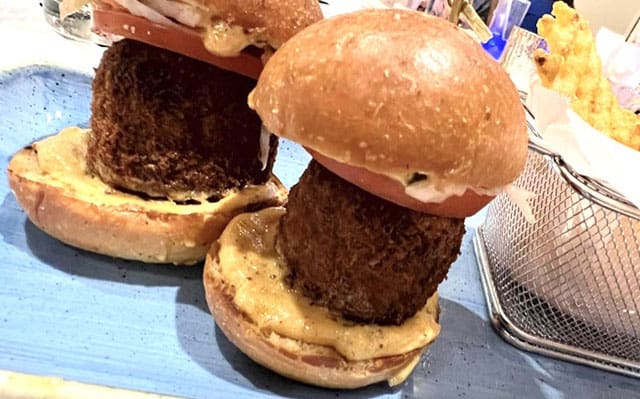 Susan had the Crab Cake Sliders. They were fresh and nicely prepared. Even though it was mostly crab, it lacked chunks of crab. They were fresh but not outstanding.
The fries were similar to ones from The Wave and served crispy, hot and fresh.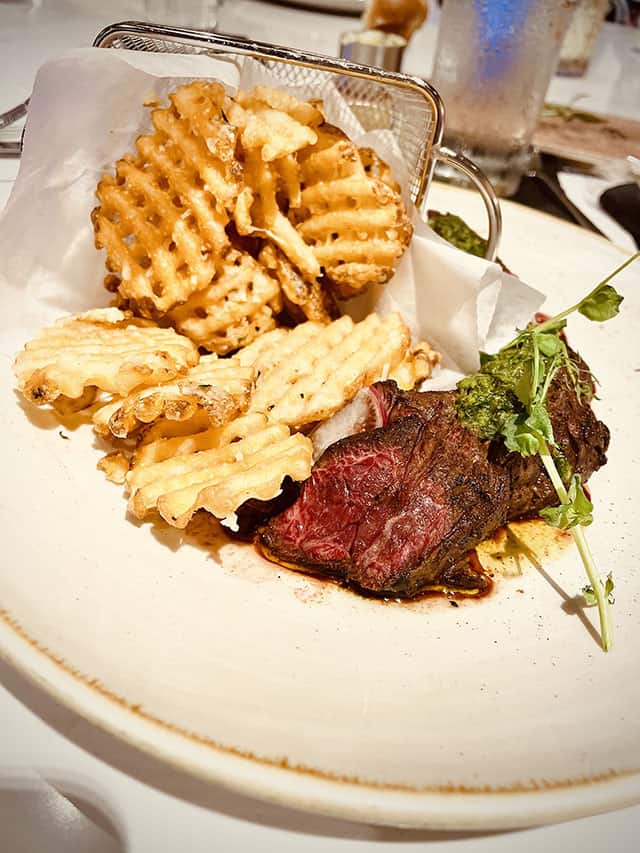 I had the Steakhouse "Frites" which includes Hanger Steak, Garlic-Parmesan Waffle Fries, Chimichurri, and Truffle Aïoli. The steak was served at the perfect temperature and tender.
Dessert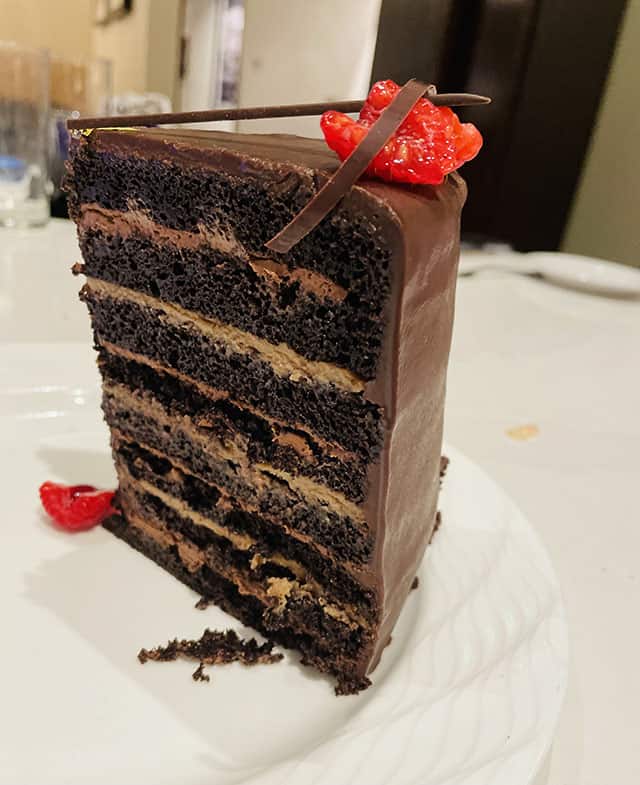 Even though we had a lot of food during our lunch, we had to try dessert! We selected the Steakhouse 71 Chocolate Cake.
There is something special about this particular dessert. The cake has 15 layers of whiskey-infused chocolate cake, chocolate mousse and raspberries. Why 15 layers? It is a nod to how many floors Disney's Contemporary Resort has!
Final Thoughts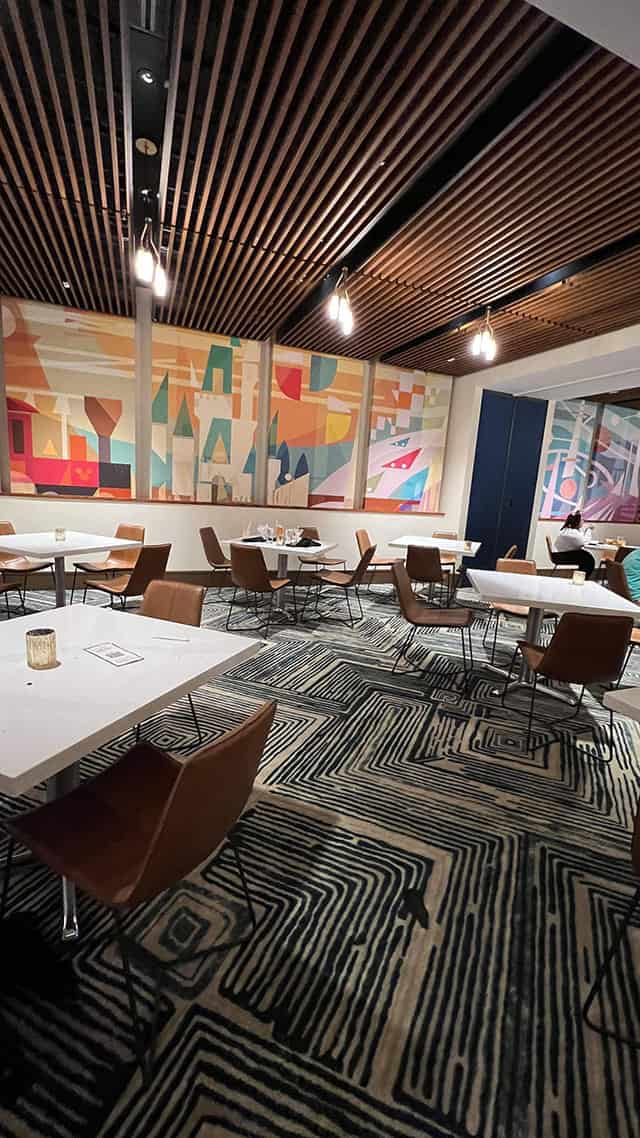 Steakhouse 71 is simply the best. In my opinion, I did not notice anything that I did not like at this restaurant. The atmosphere, nostalgia and food are all fantastic!
Prices are very reasonable and our service was very accommodating. Everyone in our party agreed it was definitely one of their favorite restaurants at Walt Disney World and we cannot wait to return. I would definitely recommend this restaurant if you are looking for a new place to try that offers outstanding food.
One thing to take note of is our dining experience was very long. This could have been due to opening day, but if you do make plans, allow for a rather long dining experience to enjoy it all. Advance reservations are highly recommended and can be made online up to 60 days in advance.
Have you visited Steakhouse 71? What was your experience like? Tell us all about it in the comments below or on our Facebook page. Keep the conversation going in our crew, too!