Have you wanted to venture inside the Beast's Castle? Check out my review of this culinary cabaret from the forbidden West Wing of the Beast's Castle.
Be Our Guest Restaurant
Be Our Guests Restaurant is located in Fantasyland at Walt Disney World's Magic Kingdom. They offer both lunch and dinner. The price is fixed to include a 3-course menu of French cuisine that will delight both the young and the young at heart.
Pricing for this meal is a bit steep at $62.00 for adults and $37.00 for children (3-9 years of age).
Be our Guest includes a fixed price to include a 3-course menu of French cuisine.
Themed Dining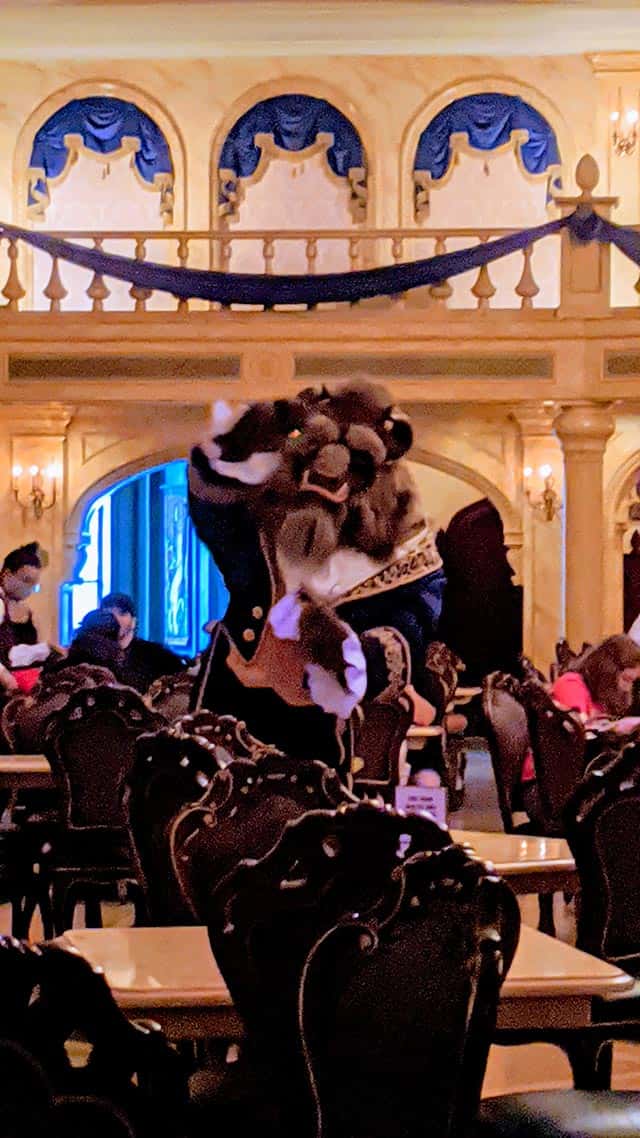 This is a themed dining meal where the Beast roams throughout his castle and greets Guests. Prior to the Park closures, Guests could meet the Beast and have photos taken by PhotoPass photographers.
Unfortunately, at this time, Character meet and greets are still unavailable. Guests can still enjoy seeing the Beast as he makes his way through the Castle. Unlike other Character Dining, the Beast does not pause and pose for pictures such as at Topolino's Breakfast and at Chef Mickey's.
Here is a full list of all character meals currently offered.
Dining Reservations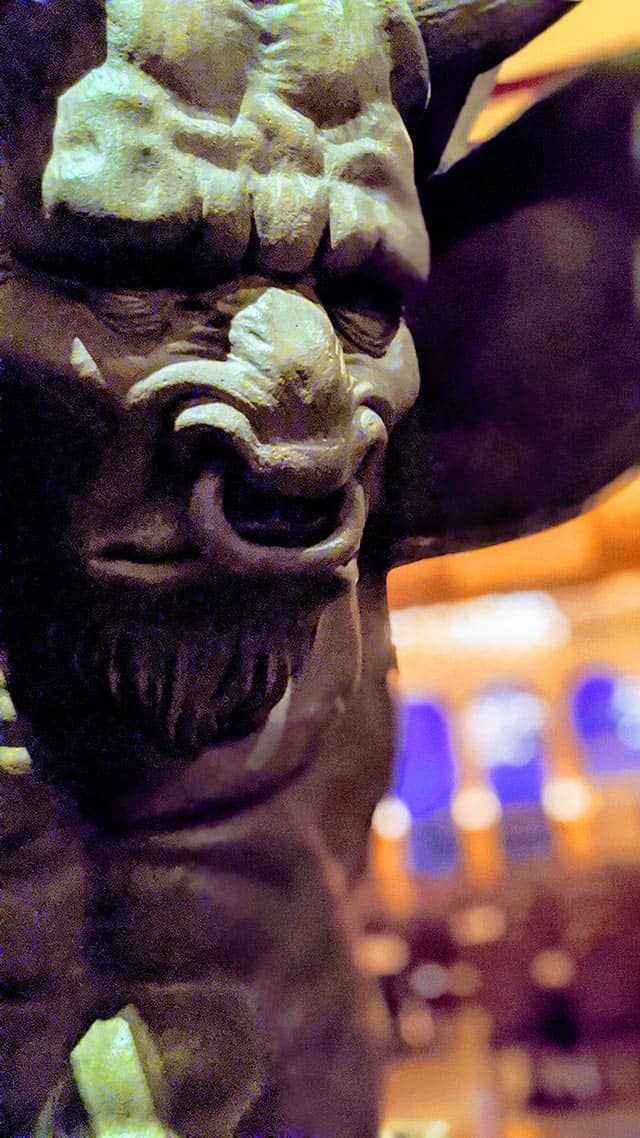 Dining reservations are highly recommended for Be Our Guest Restaurant, and at this time they may be made up to 60 days in advance. If you are unable to get a dining reservation at 60 days, don't give up hope.
Be sure to keep checking for a dining reservation in the days leading up to your vacation. In the past, I have have been fortunate to secure dining reservations a few days in advance of our Magic Kingdom day. Check out this great guide how to get dining reservations for the most popular Disney Restaurants.
Themed Dining Rooms
Castle Gallery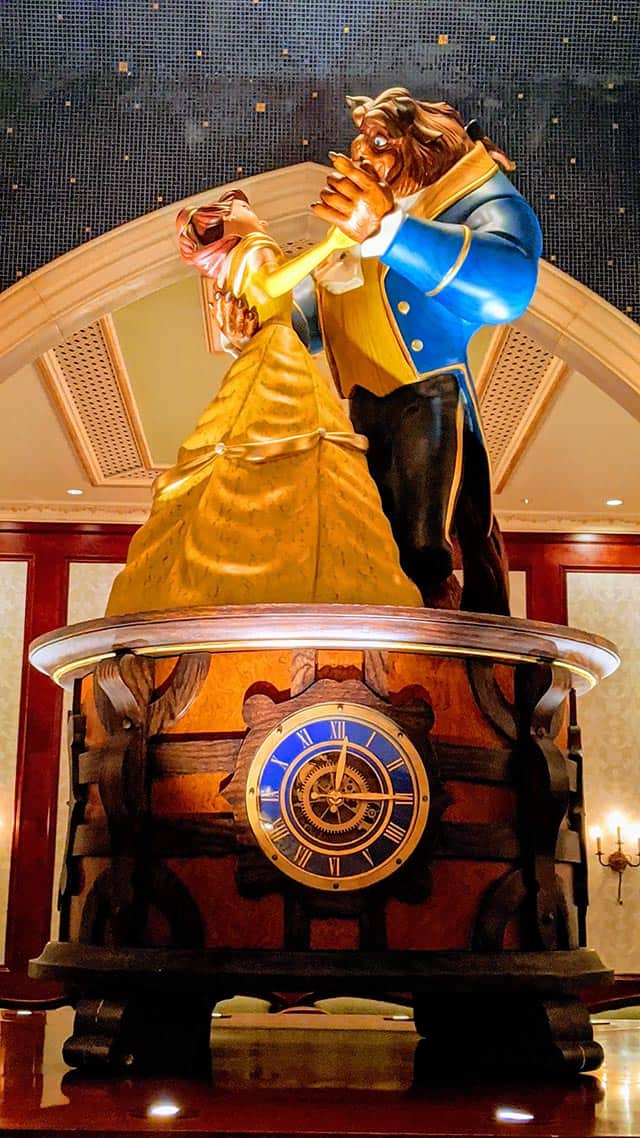 There are three beautifully themed dining rooms. Guests are invited to tour the entire castle before, after, or even during their meal. To the far right of the the castle is the Castle Gallery.
This dining room is gorgeous with beautiful artwork of Belle, the Beast, and all of our favorite enchanted pals found throughout the Beast's Castle. The beautiful focal point of this room is the large music box.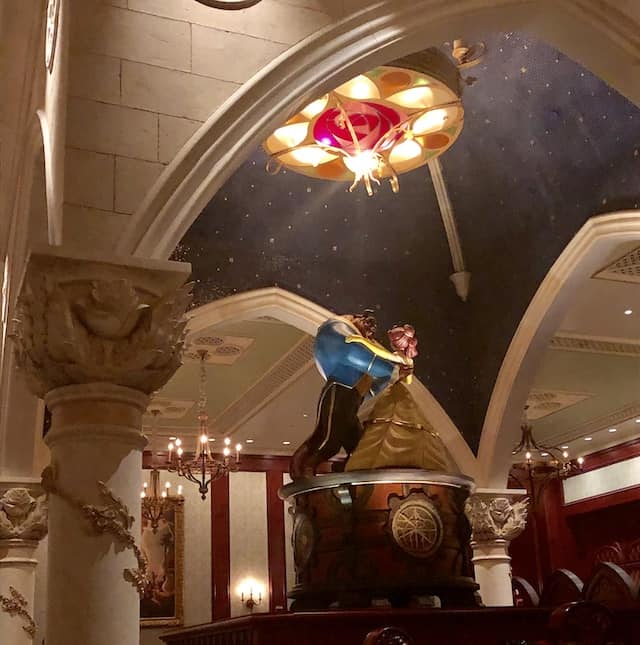 The idea behind this beautiful centerpiece is that Maurice, Belle's father, created this in honor of the couple. Maurice's Cottage, inside the Enchanted Tales with Belle, even has a drawing and maquette for this music box design.
Guests are invited to "get swept up in the romance of Belle's private library, and inspired by the larger-than-life figures of Belle and Beast dancing."
Grand Ballroom
The middle of the castle is the Grand Ballroom. "Go for baroque in this magnificent ballroom with its high, domed ceiling, chandeliers, and snow laced Gothic arches." I personally love the snow gently falling outside the castle windows in this dining room.
This is also where the Beast spends most of his time as he walks around the restaurant so if seeing him up close is important to you, this would be the room to sit.
Don't forget to look up to take in the gorgeous ceiling. I think even Michelangelo would be impressed with the beautiful heavenly scene on this castle's ceiling.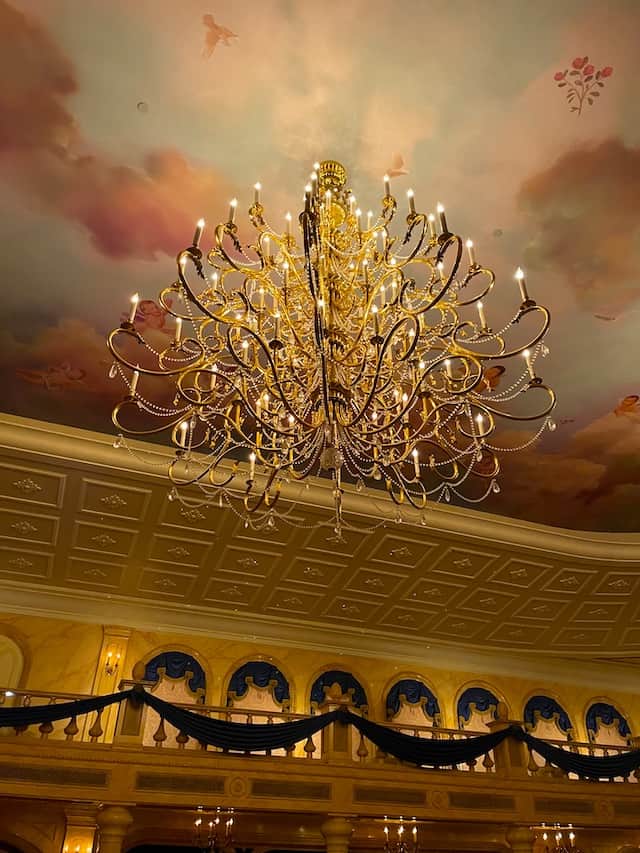 Look closely at the cherubs that are featured in this scene. The faces of the cherubs were actually inspired by baby photos of the Imagineers that worked on this project.
West Wing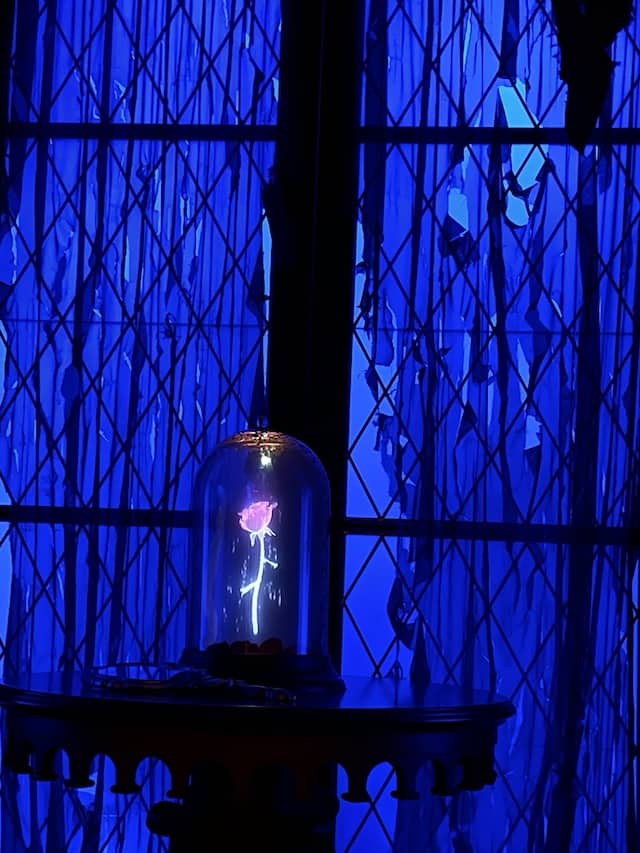 Guests are invited to "Dine in the Beast's mysterious West Wing study- if you dare- and perhaps even spy his enchanted rose."
This room appears to have received the brunt of the Beast's temper with ripped tapestries, light features that have been ripped from the walls, and torn wallpaper.
My Favorite Dining Room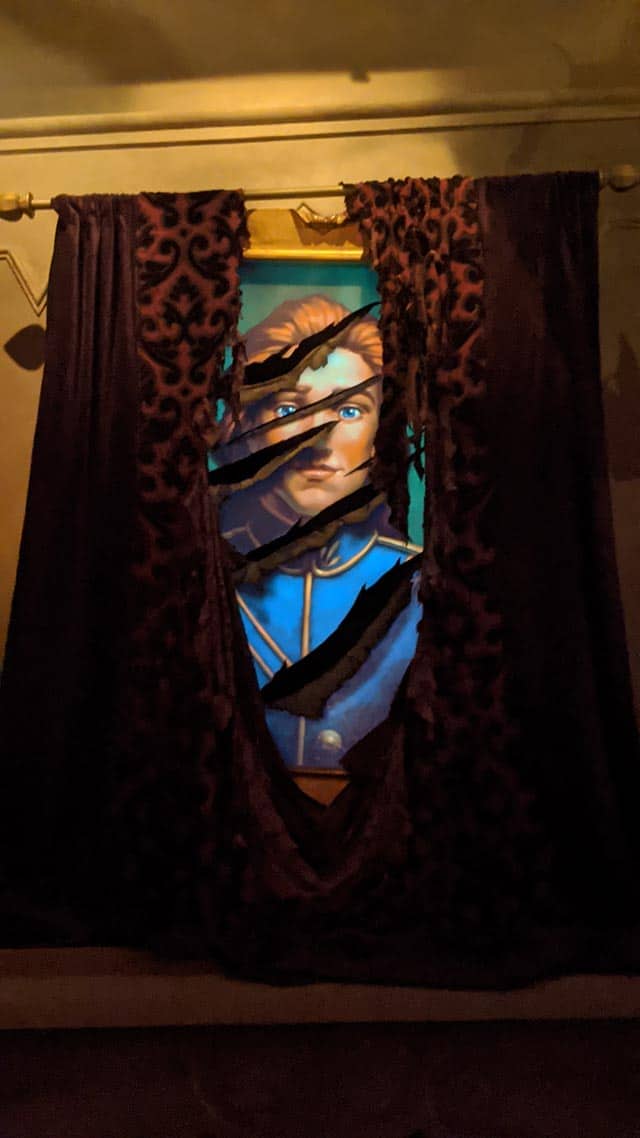 My family has now had the opportunity to enjoy dining in each of these three dining rooms. Which is our favorite? Believe it or not, the West Wing. During our last visit, we requested to experience the West Wing.
Once we were seated our server invited us to gaze at the Prince's portrait, as featured above. She told us that if we kept a close eye on it, we may see it transform right before our eyes.
When dining, be sure to listen closely to the thunder just outside the castle. When you hear the loud clap of thunder and see the lightening, be sure to glance up at the portrait of the Prince. The portrait transforms into a "horrible, monstrous beast."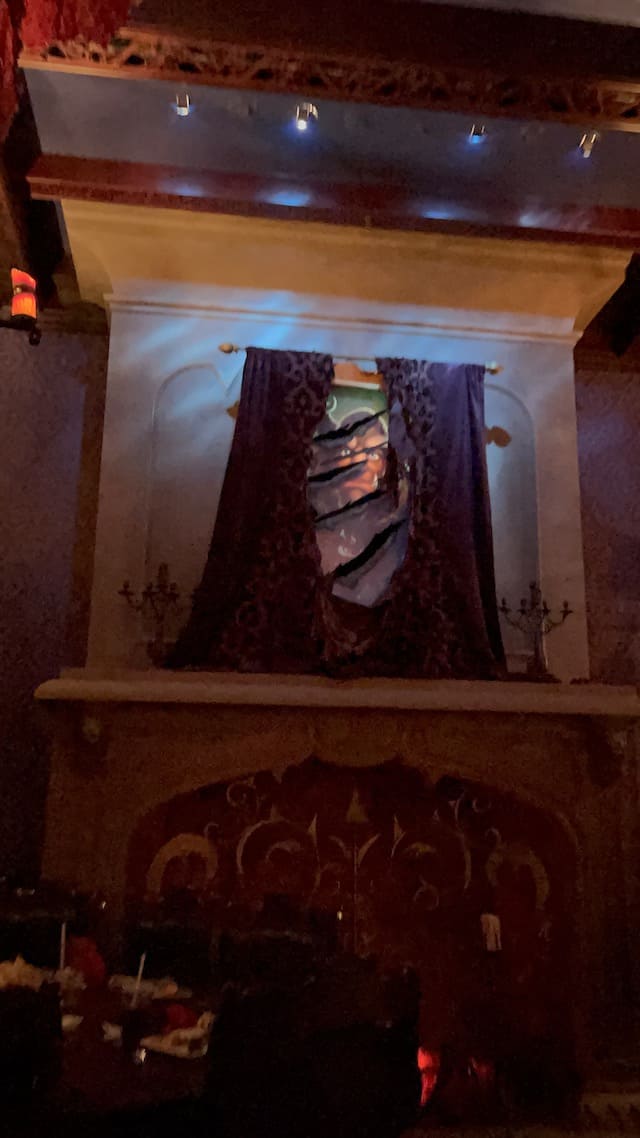 This room has now become my absolute favorite to dine in. We loved the more intimate feel of this room and that it seemed less trafficked by Guests than the other dining rooms.
Just as a bit of a warning, this room is a bit darker and it has the sound of storms and thunder with flashes of lightening. This may not be a desirable dining room for those with photosensory sensitivity.
Food Review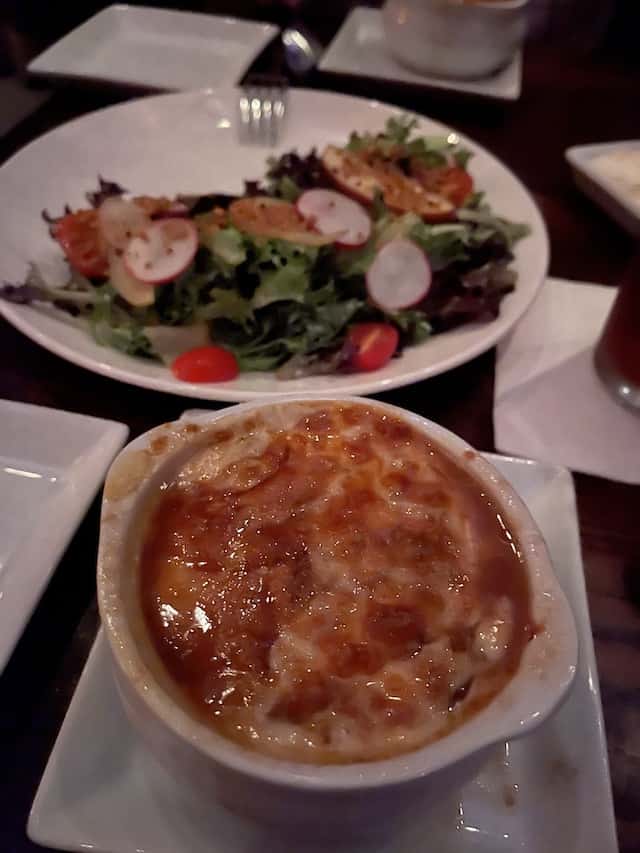 Of course we have to talk about the food. As mentioned above, this price is fixed to include a 3-course menu. For our appetizer my husband and I (Donna) chose to split the French Onion Soup and the Mixed Field Greens. The French Onion Soup alone is worth this dining reservation in my opinion.
I love the rich taste and the absolute yummy topping of melted Provolone cheese. This is one of my favorites. In retrospect, I wish I had ordered my own cup of French Onion soup. It is really that delicious.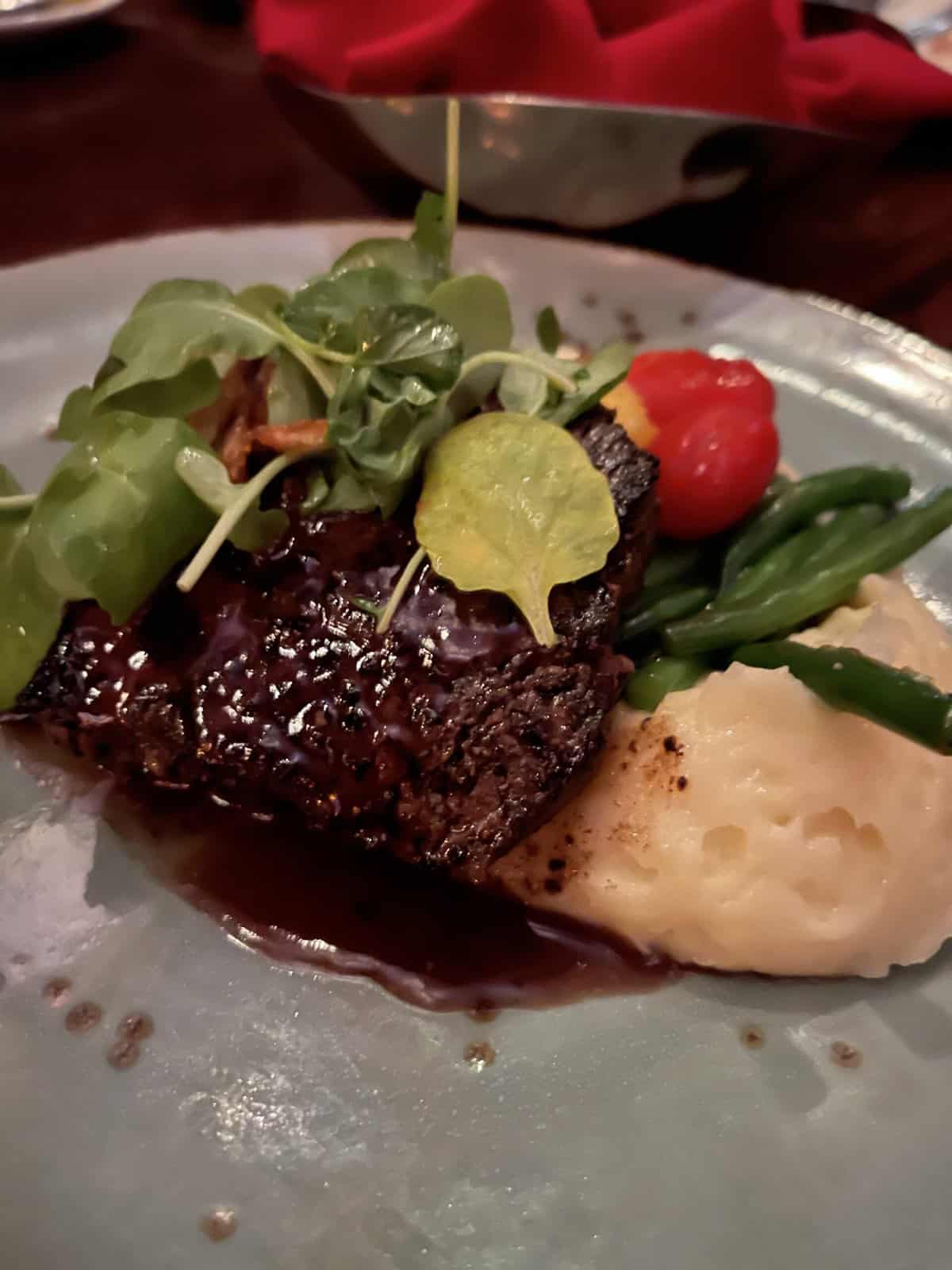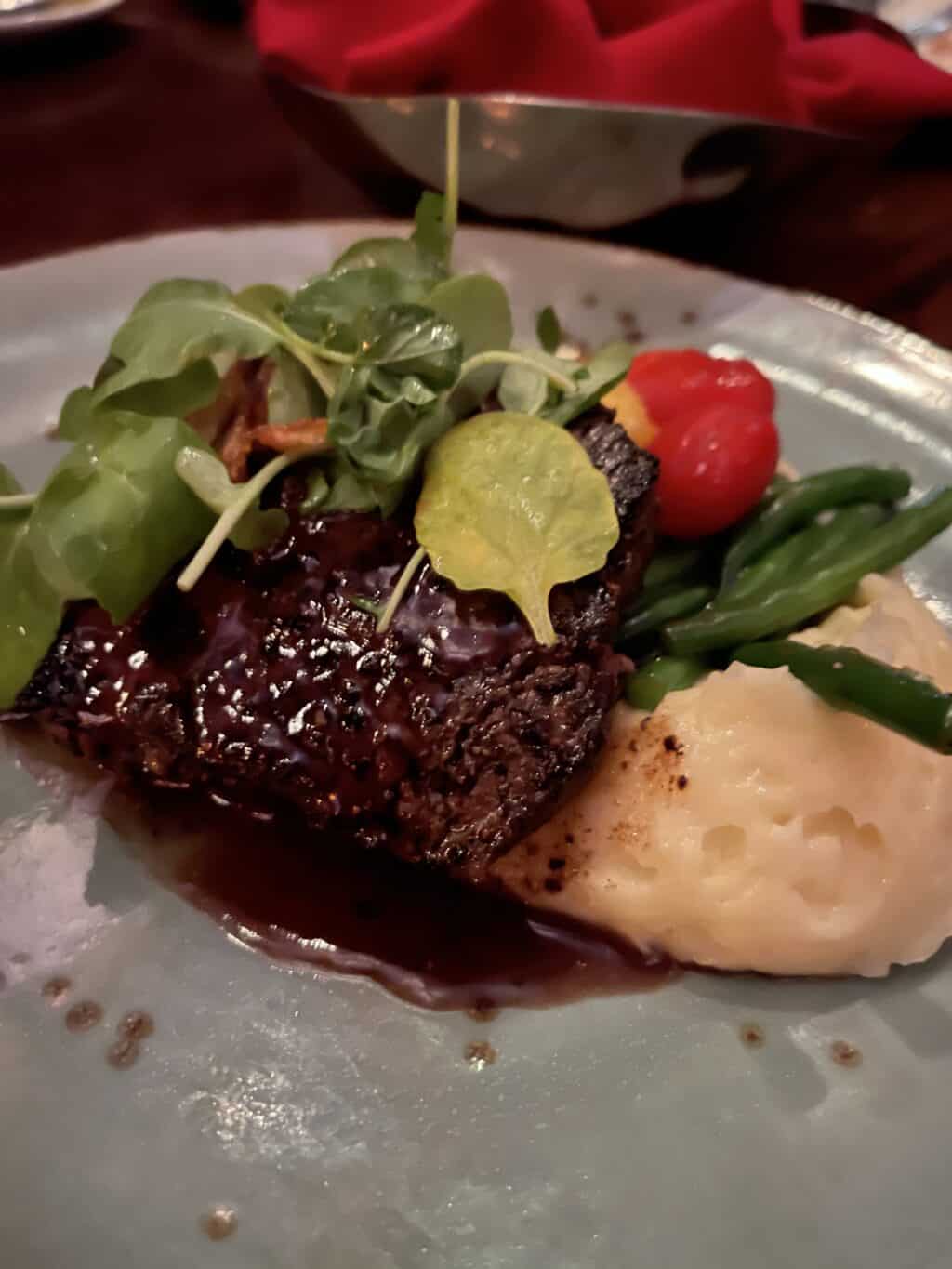 For my entree, I chose the Center-cut Filet Mignon. This was served with Robuchon Yukon potatoes, seasonal vegetables, and cipollini marmalade with a red wine glaze. I love a good steak, and this was well worth the price in my opinion.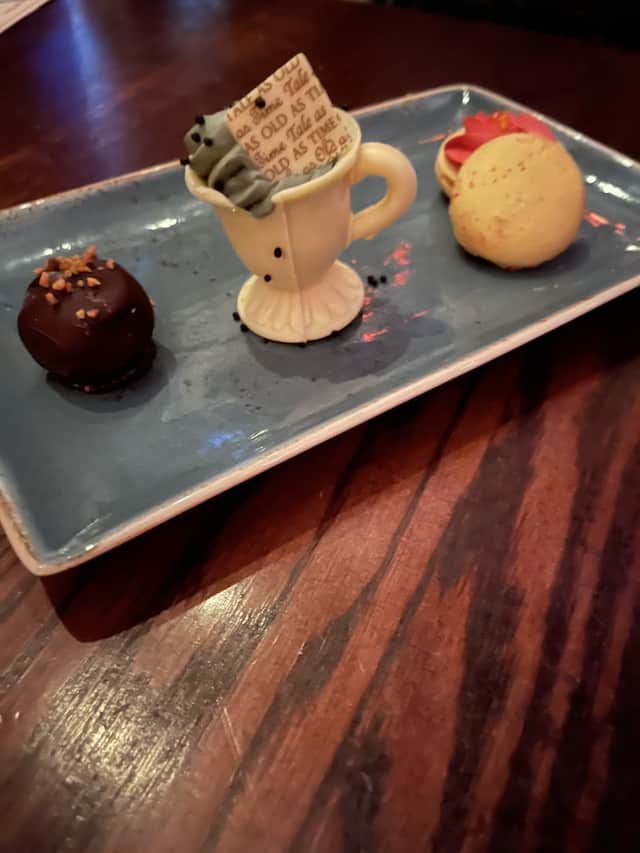 A great way to end this enchanted meal is the chance to try the "grey stuff." It truly is delicious! The dessert trio is absolutely scrumptious. You will enjoy a dessert tray including a lemon jam macaron, the "grey stuff" nestled inside the yummy white chocolate tea cup, and a dark chocolate truffle.
The proportion of each of these desserts was perfect at the end of such a delicious dinner. Also be sure to check out this great review of the food at Be Our Guest HERE.
Want to Dine in a Select Room?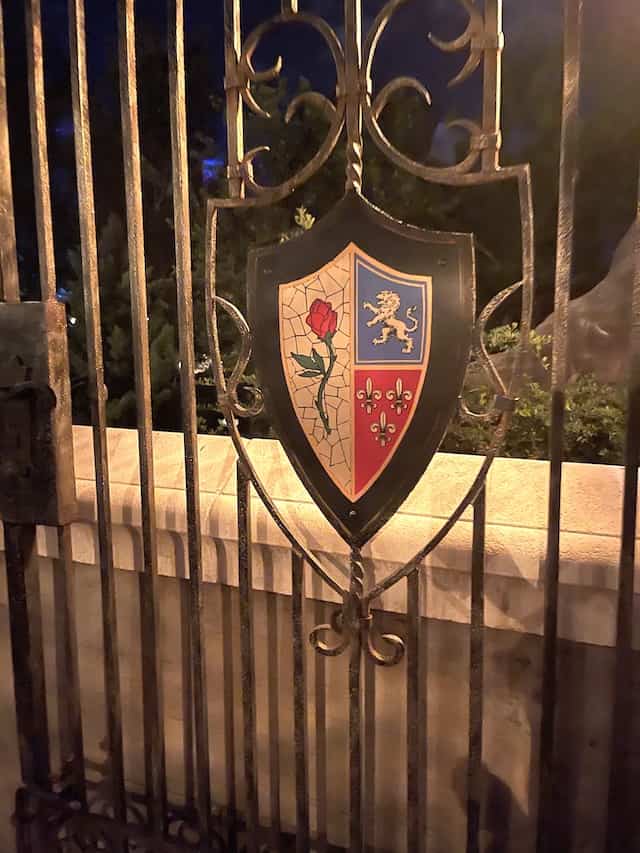 I would definitely choose to dine at Be Our Guest and would request the West Wing Dining Room. A Cast Member shared that they will try to allow Guests to prefer certain dining rooms when possible.
Fifteen minutes prior to our dining reservation, we arrived at the check-in entrance at the front of the Beast's Castle. We shared our dining preference with the Cast Member and we were told that this may add an additional few minutes for our wait time.
Fifteen minutes prior to our dining reservation, we arrived and shared our dining preference with the Cast Member to ask for seating in the West Wing.
In no time at all we were being seated to enjoy our meal. It was truly the perfect end to our day in the Magic Kingdom.
Have you enjoyed dining at the Be Our Guests Restaurant in the past? Do you hope to enjoy this on a future trip? Which is your favorite dining room? Share your thoughts with us on our Facebook Page.