Are you considering Disney's Steakhouse 71 for breakfast? Read on for a full review!
Steakhouse 71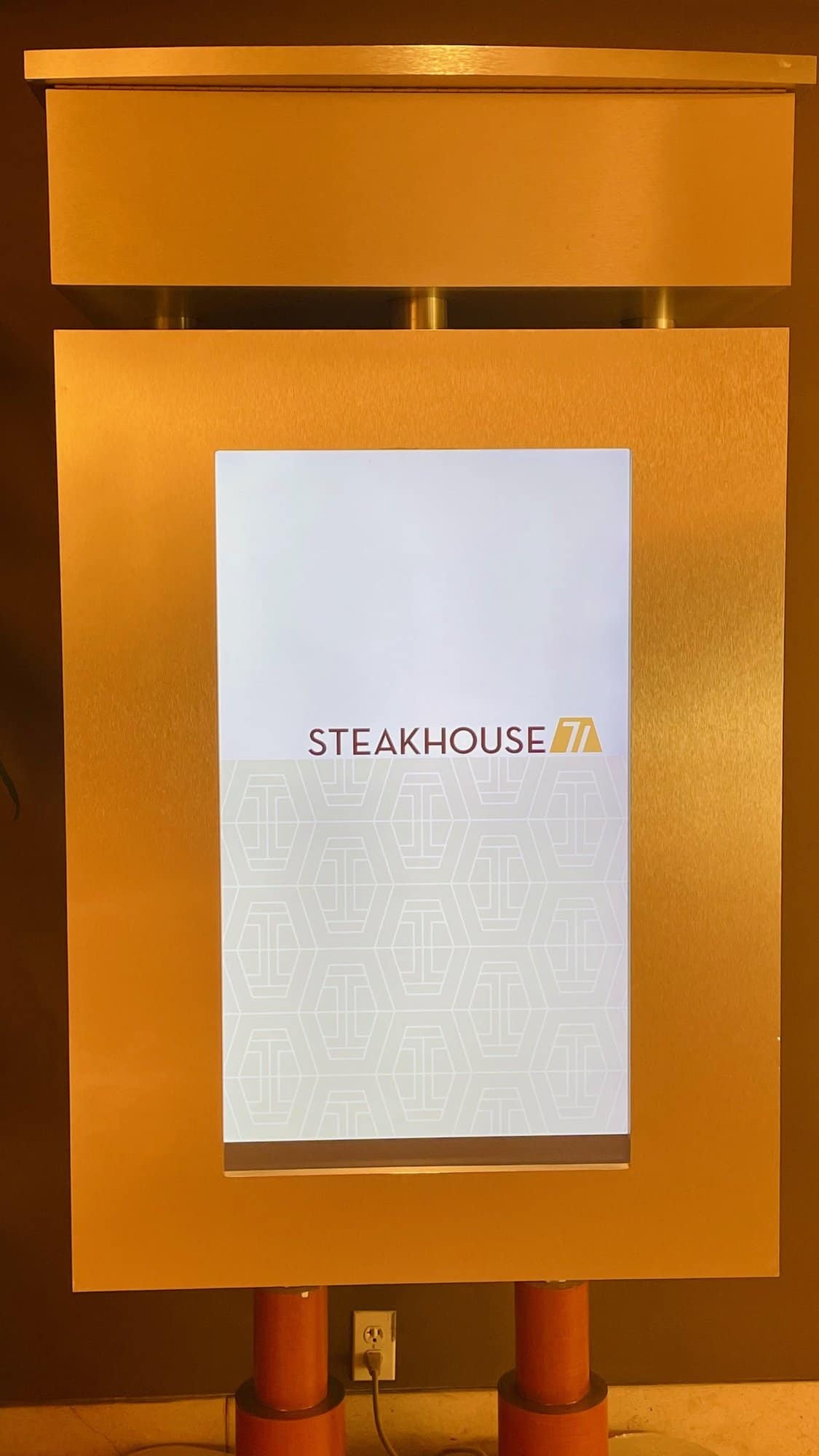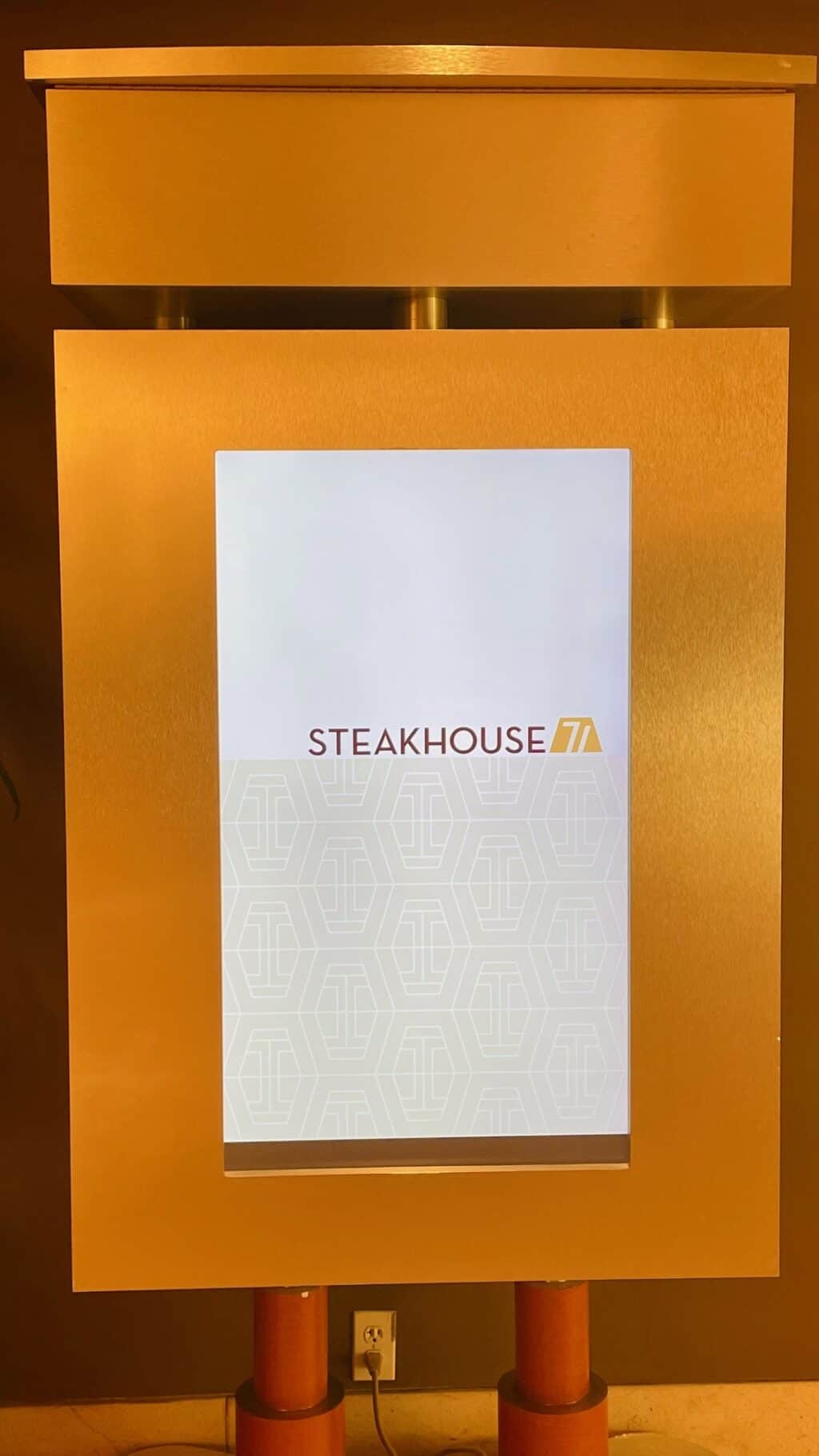 This year, Walt Disney World announced the reimagining of the Wave…of American Flavors at Disney's Contemporary Resort. The restaurant was redesigned and is now a brand new table service experience.
Steakhouse 71 opened its doors on October 1, 2021. The opening coincided with the first day of Walt Disney World's 50th Anniversary celebration.
It also coincided with the 50th anniversary of the Contemporary, one of Walt Disney World's original resort hotels. It is only fitting that this new restaurant make its home in the A-frame hotel.
Breakfast at Steakhouse 71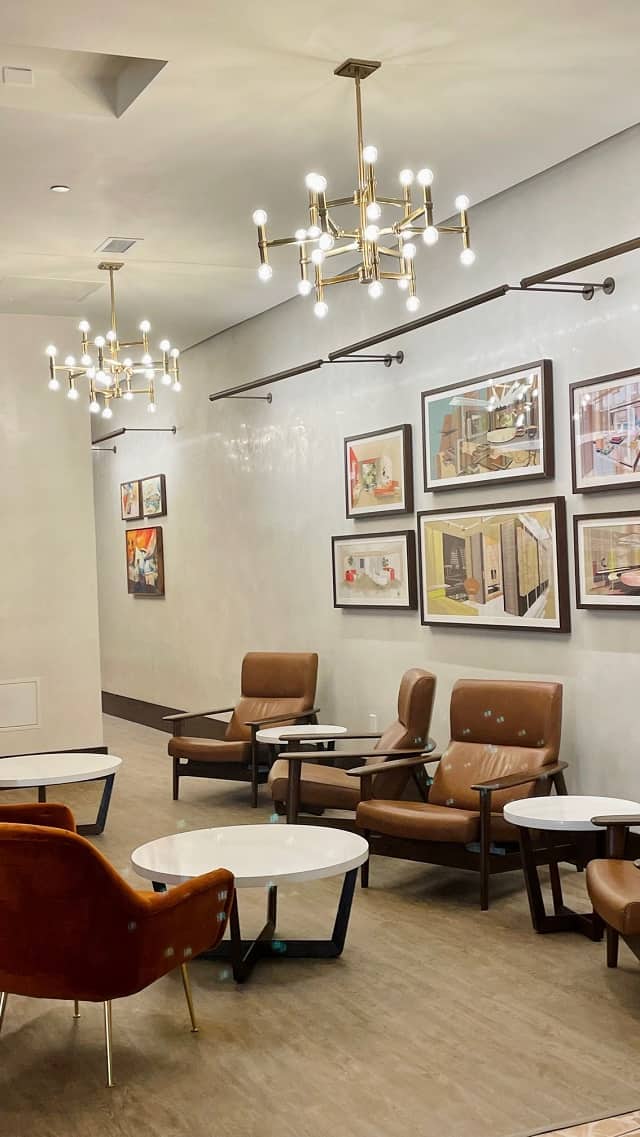 Many Walt Disney World goers loved breakfast at The Wave…of American Flavors. So, Steakhouse 71 had a lot to live up to in terms of bringing breakfast to patrons with fond memories of its predecessor.
My friends and I (Katie P.) were lucky enough to have breakfast at Steakhouse 71 on its opening day. I never had the Wave's breakfast, so I was not going into the experience with any comparisons in mind, just the excitement of trying the new meal.
Atmosphere
Upon entry, guests are immediately welcomed with a feeling of nostalgia and memories of Walt Disney World's past. Along the hallway are photos that capture significant moments of the opening of Walt Disney World.
The restaurant also has bold colorful artwork to display featuring colorful scenes. This painting of Space Mountain and Tomorrowland Speedway is a sweet wat to capture Tomorrowland.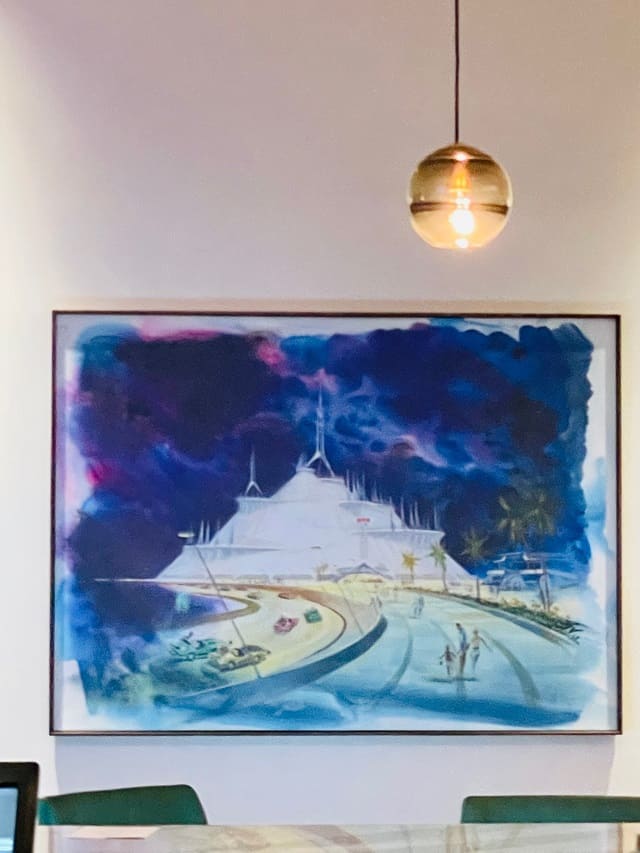 The colors and style of the Magic Kingdom murals around the restaurant are reminiscent of Mary Blair of Small World fame. This ties in nicely with the entryway to the hotel as well as the mural at the Contemporary's Monorail Station.
I particularly loved spotting the Hidden Mickeys! Can you see one in the mural?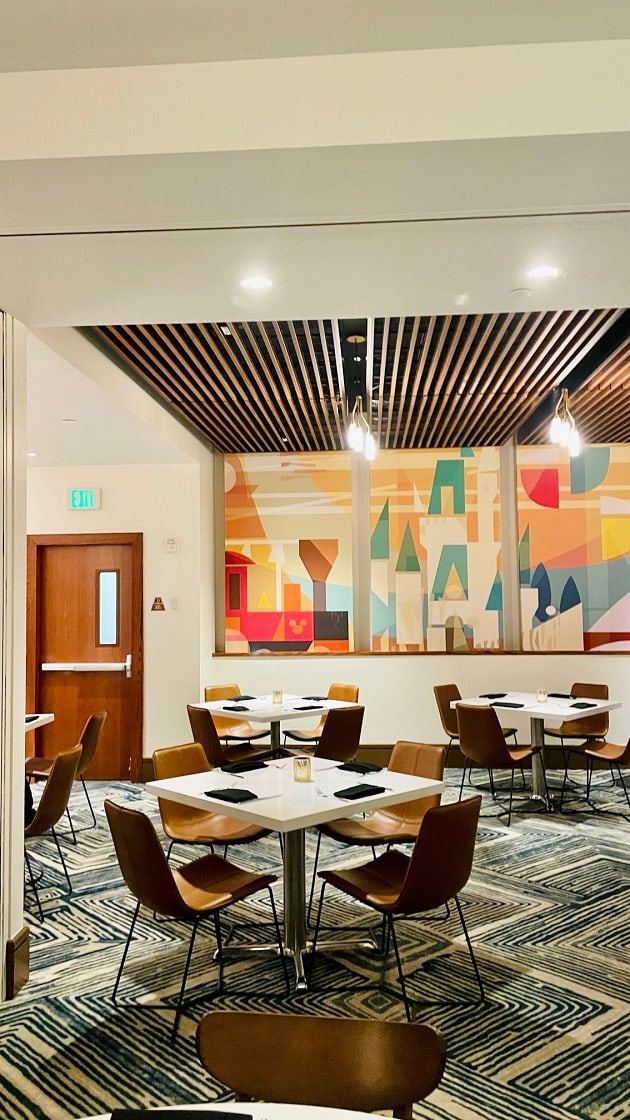 Chances are, if you love vintage Disney artwork and photography, you will enjoy taking a look at these magical pieces. I had as much fun enjoying the art as I did eating the food.
I felt the whole display was a clever way to make the restaurant feel bright. Despite the fact that it has no windows or natural light, a space that could easily feel dark actually felt open and light.
Check In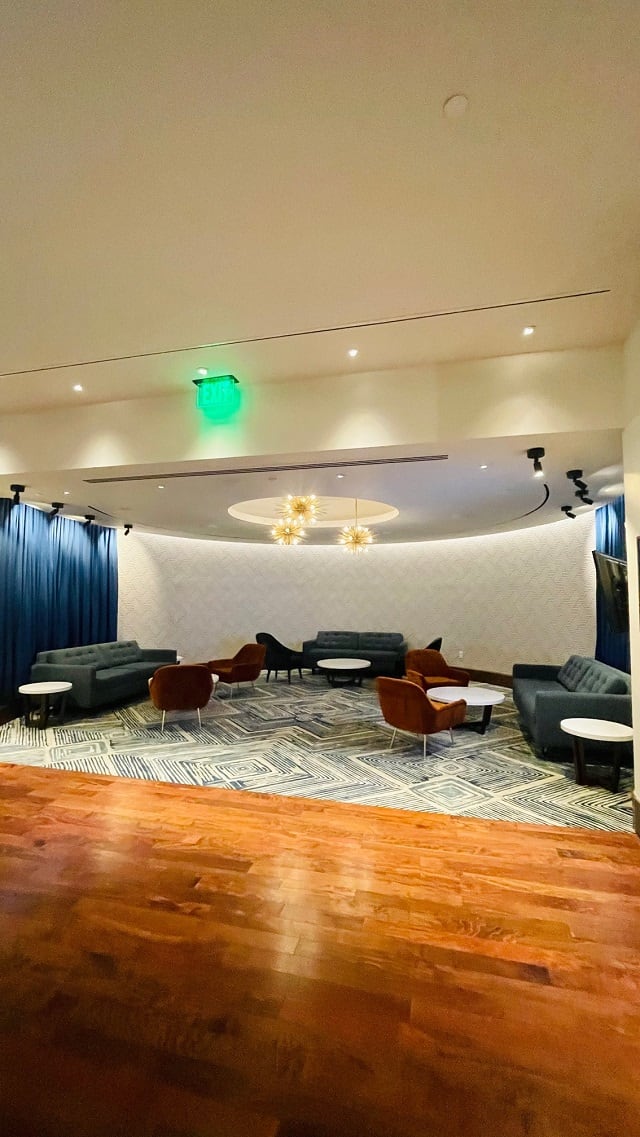 Check in for our meal was quick! We had very little time to look around at the waiting area, which was decorated with retro vibes and comfy furniture.
I have heard that Steakhouse 71, like many Walt Disney World Restaurants, can get a little backed up in its reservation times with guests waiting as long as 45 minutes past their reserved time. However, this was not the case for us. We were seated quickly.
Breakfast Timing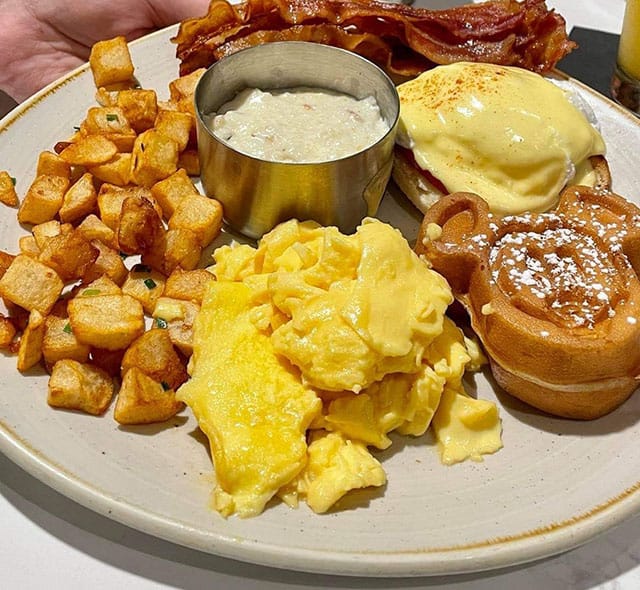 Breakfast is typically served at Steakhouse 71 from 7:30 am to 11:00 am. This means you can easily enjoy breakfast prior to heading to Magic Kingdom or you can even head to Magic Kingdom early and enjoy a nice brunch if you time it right!
However, those times might shift, so keep an eye on Walt Disney World's website just in case. You should also note that the dining experience here took a long time-well over an hour, even without having to wait long to be seated. So, make sure you do not stack it too closely to your other plans.
The Breakfast Menu
Steakhouse 71's breakfast menu is primarily standard American breakfast fare. Most notably it includes a nostalgic favorite in Walt's Prime Rib Hash.
It also includes seasonal pancake offerings with something new to try throughout the year. And of course, what Disney breakfast menu is complete without Mickey waffles?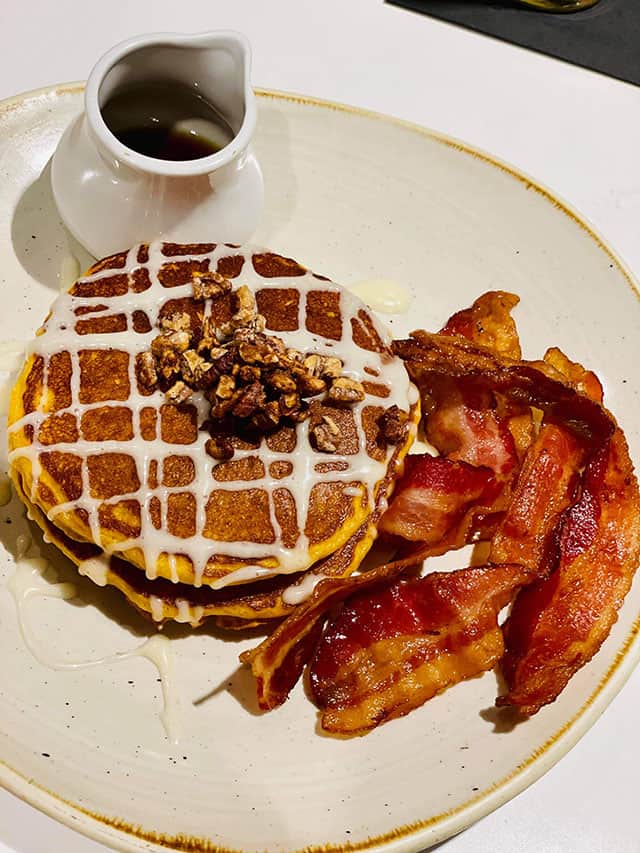 For those who prefer a plant-based diet, the menu indicates items that are meat-free for you. This includes being free from dairy, eggs, or honey as well!
You can check out the full menu for each meal and pricing right here. Please note that these details are subject to change.
Dishes We Tried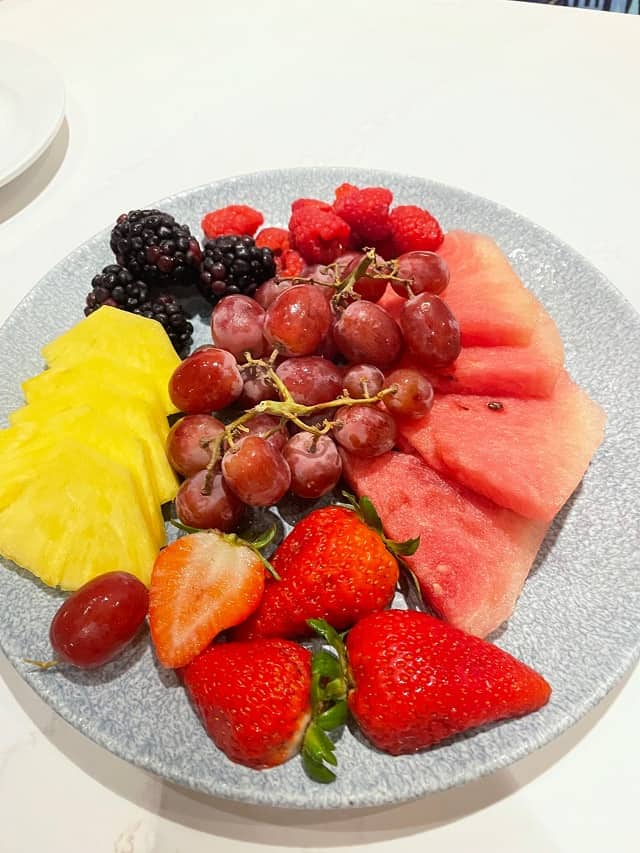 First up, we had to have the fruit plate. It featured strawberries, pineapple, watermelon, blackberries, and raspberries.
The fruit was fresh and sweet and perfect, and it was a delicious start to breakfast! It also provides a thin veil of satisfaction from eating real nutrients during a vacation full of not-so-health-conscious choices.
Anyway, I highly recommend splurging on one for the table. I will definitely do it again when I eat there next.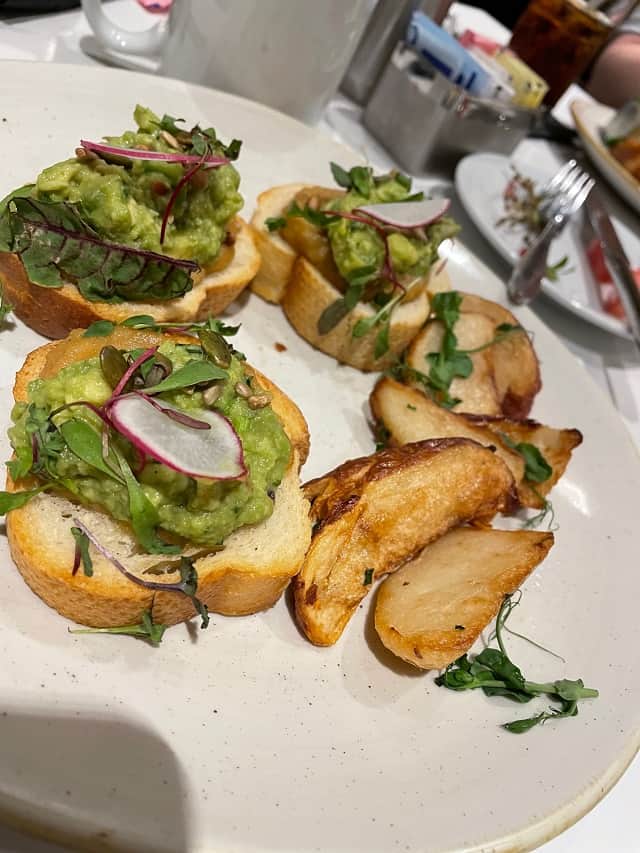 We also tried the avocado toast and breakfast potatoes. This is a dish free from dairy, eggs, meat, and honey. This dish was tasty and hearty, and I feel that people who are consumers of animal products would not miss them here. It was a nice balance of flavor.
I am not big on onions, and while they are not overpowering, it was a little onion-y for me to want to order as my entrée next time. However, the friends I was with enjoyed it just fine.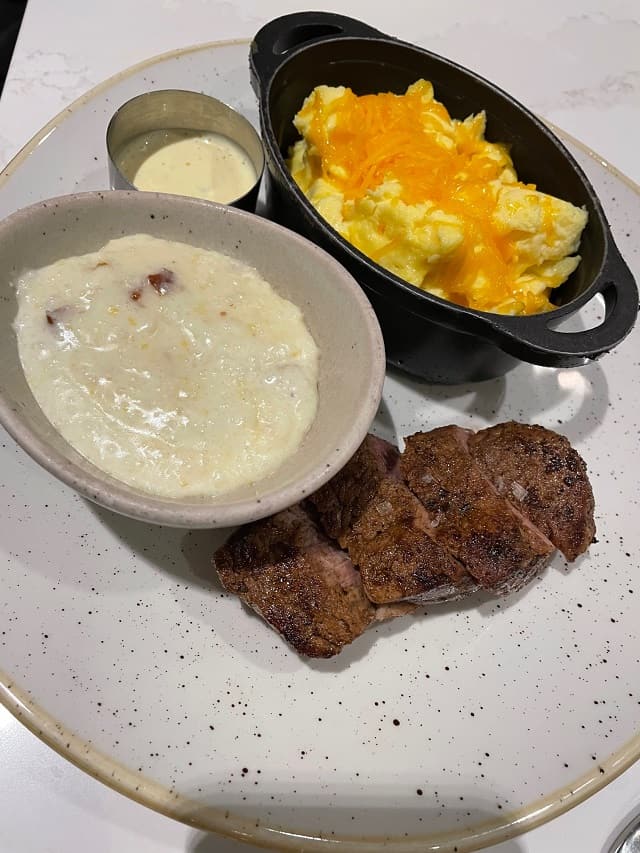 I had the steak and eggs for my dish. It came with eggs, which I asked for scrambled with cheese. While the steak does not make my top 5 steaks at Disney list, I did think it was tasty! It was cooked nicely, and it was tender.
I also enjoyed the béarnaise sauce. However, it would have been fine to enjoy the dish with just salt and no sauce because the steak itself was good!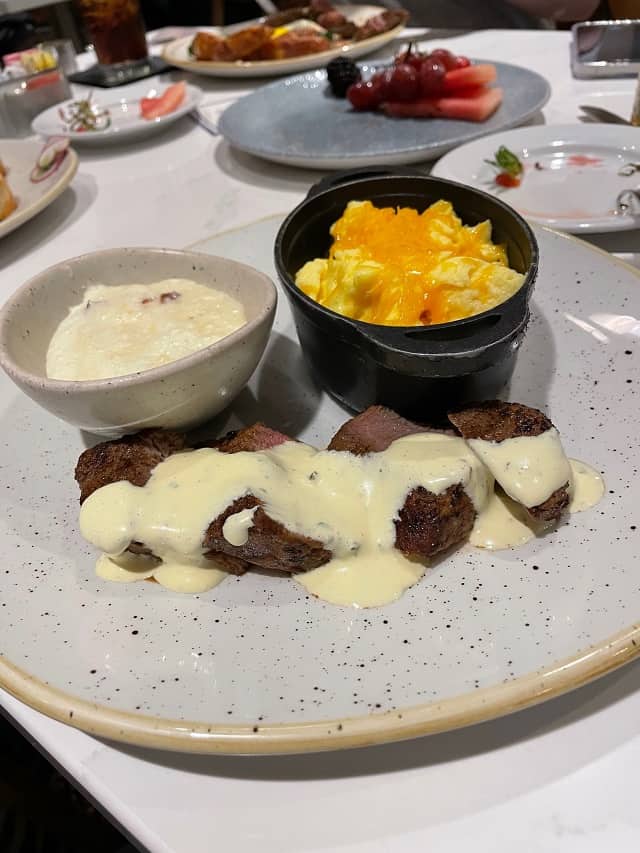 I also had to try the grits. I am a huge fan of grits, so I substituted my potatoes.
They are not my very favorite grits on property because that honor goes to Kona. However, they did not disappoint. They were creamy and flavorful, and I would love to enjoy them on a cold day.
Pixie Dust!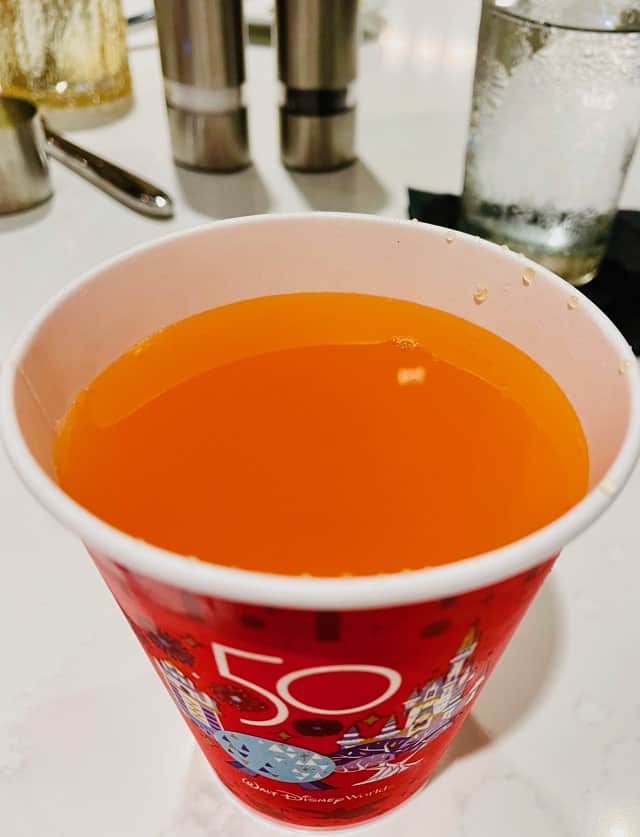 I asked our server if Steakhouse 71 serves my beloved POG Juice. He said sadly, they do not.
However, at the end of the meal, the manager came around to check on us. He said, "I hear that you were asking for some POG," and produced 3 to go cups full!
He let us know that at the time Steakhouse 71 did not have POG, but he went to a bar area elsewhere in the Contemporary and was able to find us some that is used for mixed drinks. Of course we thanked him profusely and made a note to send him a Cast Compliment.
I do not know whether they have added it to the menu since the return of POG. If you have been since October and found POG on the menu, let me hear from you in the comments.
Overall Experience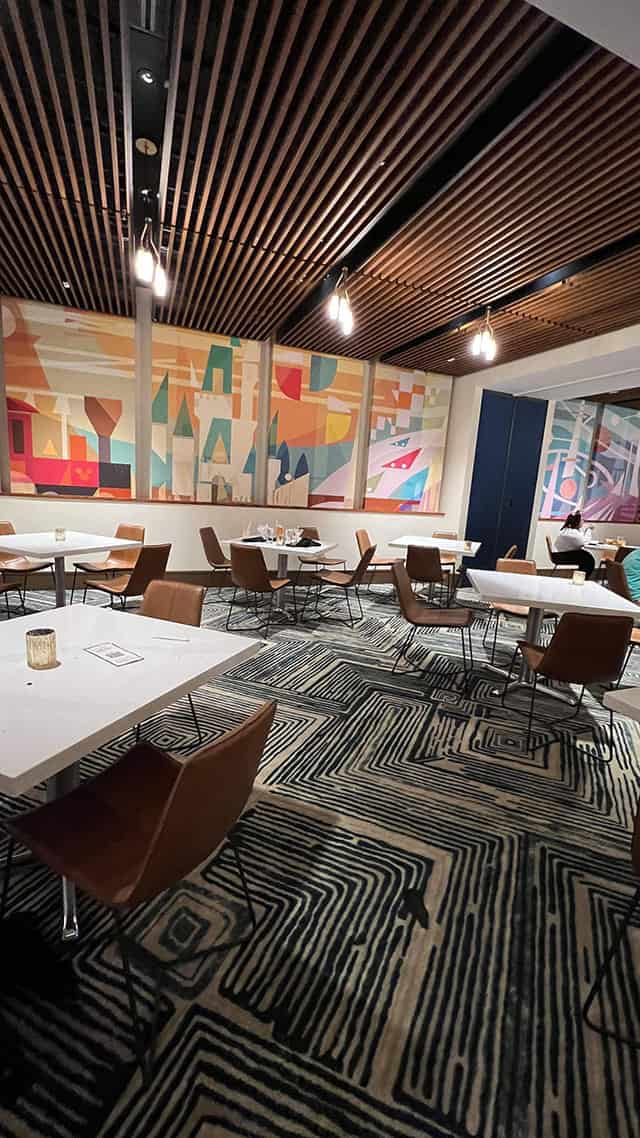 Overall, we had a great time at Steakhouse 71. I really can't think of anything negative about the experience. Our server was attentive. They food was delicious. I love the art and décor.
Now, you may be thinking to yourself, "Of course you got good service and food, you are a blogger." However, this was not any sort of media event.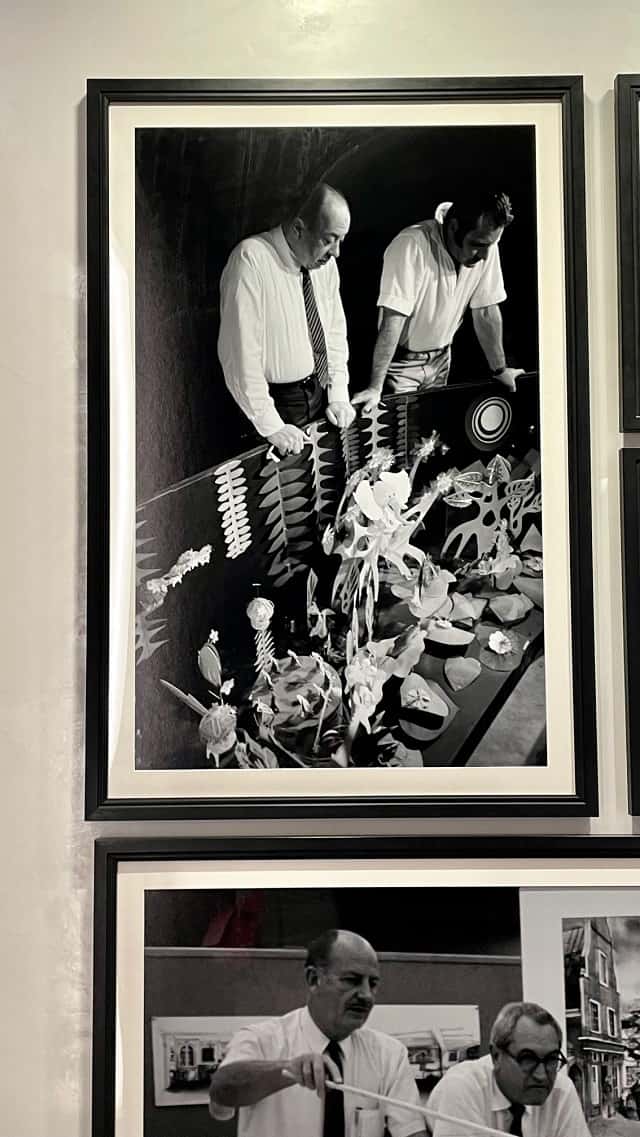 And, I did not identify myself as a blogger or someone who would be reviewing the restaurant later. To the staff, I imagine I am no one of consequence.
If I had to fault Steakhouse 71 for anything, I might mention, as I stated earlier, the experience is a bit slow. I typically expect this when I eat at a signature restaurant or do a character dining experience. However, with table service, I generally expect it to be a bit faster.
So, if you are planning on eating at Steakhouse 71, give yourself at least 90 minutes as you would a character meal or a signature meal. Also, be sure to give yourself cushion for travel time unless you are staying at the Contemporary or are planning to walk from MK.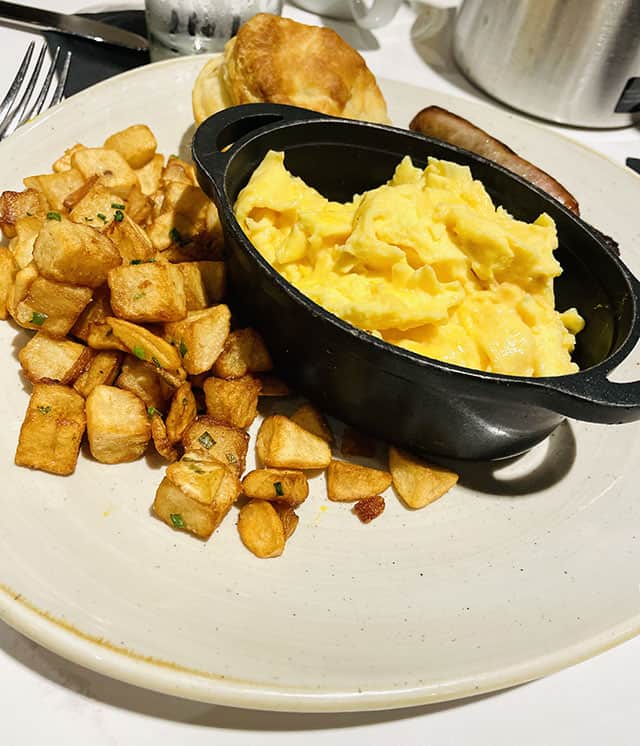 And remember, restaurants can run behind in Walt Disney World, even with an advanced dining reservation. So, I do not recommend stacking any other time sensitive experiences with a reservation just in case. If you do, mention it to your server so he/she can try to accommodate you.
Overall, my party and I liked it so well that we decided to return for dinner! We did not have ADR, so we chanced a walk-up at the lounge. You can read all about it right here!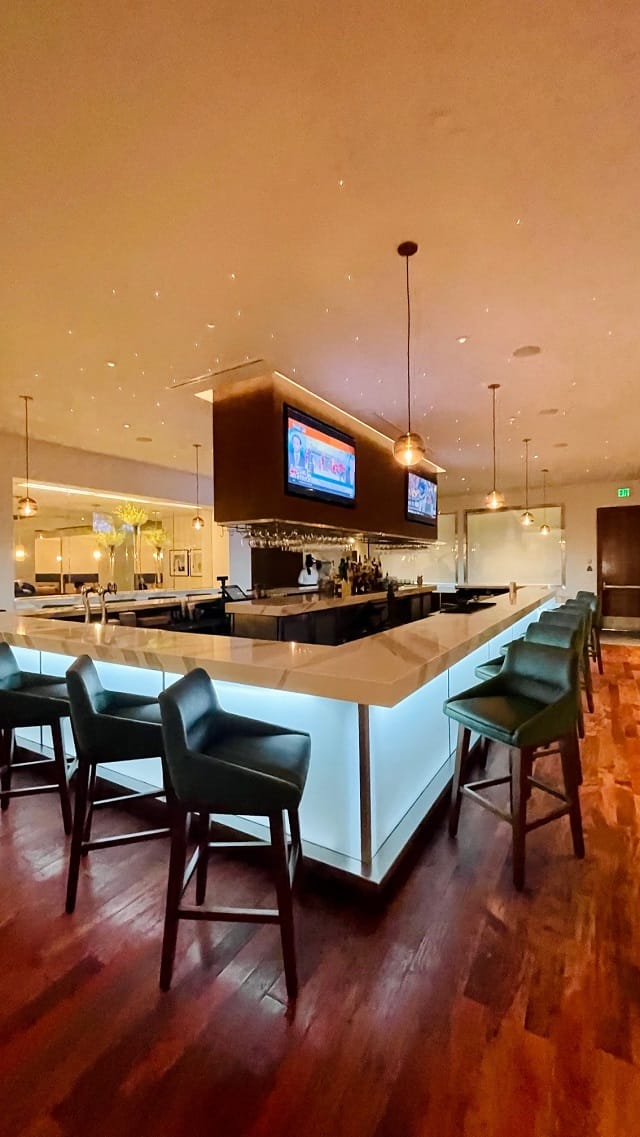 KtP writers have eaten EVERY meal at Steakhouse 71. You can read about Maggie's experiences with Steakhouse 71 right here! The review includes lunch.
Have you visited Steakhouse 71? What was your experience like? Tell us all about it in the comments below or on our Facebook page. Keep the conversation going in our crew, too!