Do you or someone you travel with enjoy the idea of having a nice steak during your Walt Disney World Visit? Here are 5 of my favorite Walt Disney World Steaks. Which one tops your list?
Theme Park Fine Dining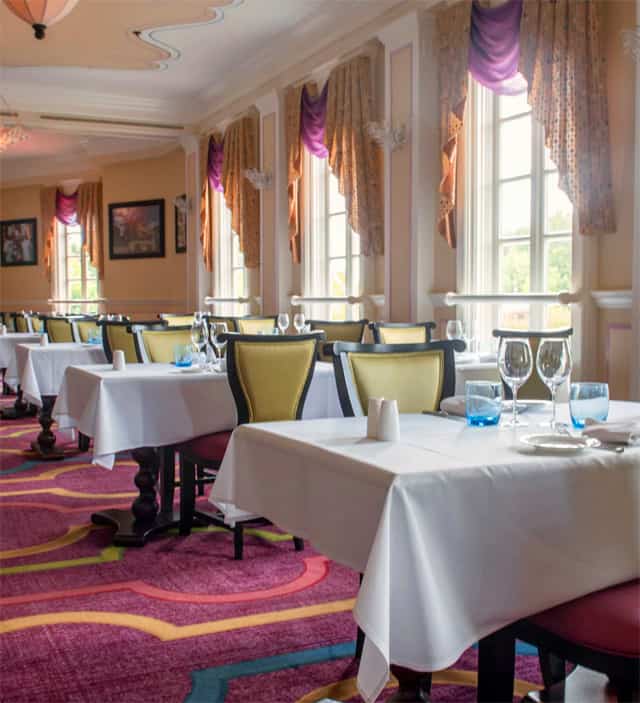 It never ceases to amaze me how many downright decent and even delicious sit down meals exist in Walt Disney World. Theme parks where I am from are relatively limited in terms of offerings to chicken strips, burgers, hot dogs, and maybe pizza. But, Disney has some restaurants that offer fine dining experiences.
In fact, Walt Disney World offers signature dining and table service dining in all four theme parks. Many of these eateries serve steaks.
I do not tend to eat steak very often at home. But in Disney, every day feels like a celebration, and what better way to celebrate than with a delicious meal, specifically one that includes a nice filet mignon?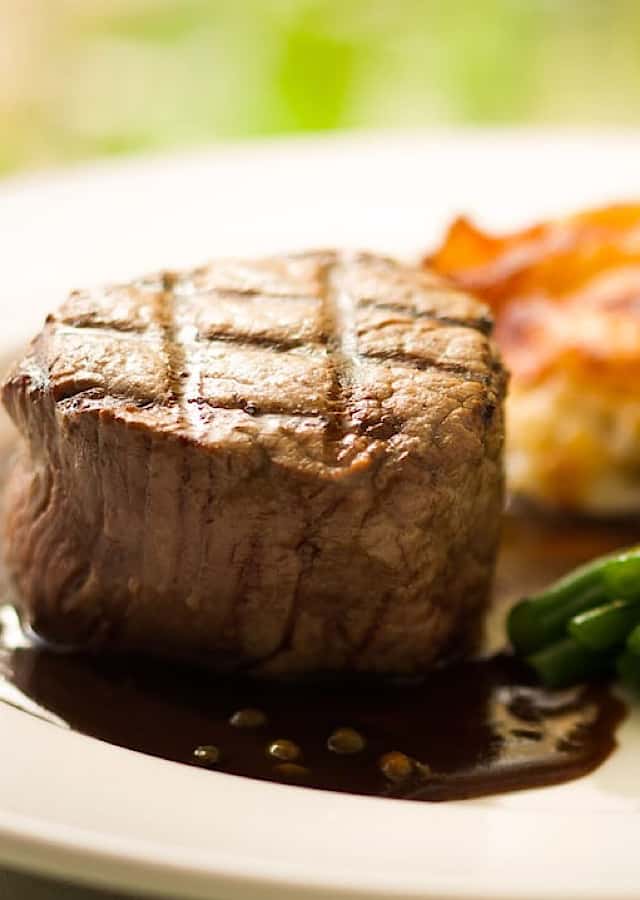 For the purposes of this review, I am only going to consider restaurants that have currently reopened at Walt Disney World. I am also only discussing theme park and resort hotel dining this time. It is true that there are delicious steaks at Disney Springs, but those are for another day.
Now, without further delay, here is where you can find 5 of Walt Disney World's best steaks.
5. California Grill
California Grill, located on the 15th floor of the Contemporary, offers one of Walt Disney World's best views. It also offers a nice filet. If you aren't craving fillet, there is also a 20-oz bone-in rib-eye steak. I am a filet person, so I have not had the rib-eye.
The filet's preparation had been known to change now and then. The current offering is a filet served with jumbo asparagus, spring onion vinaigrette, aligoté potatoes and fig-onion demi glaze.
It is a delectable dish. I have only been once, but I would not hesitate to try it again.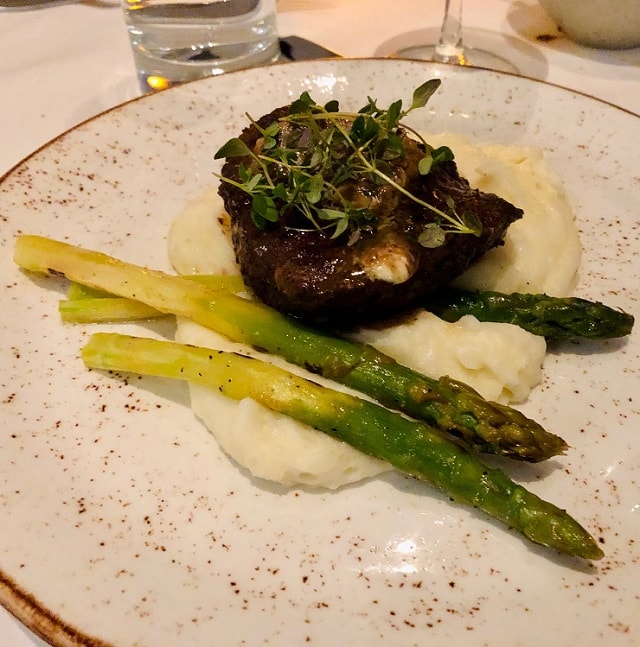 Moreover, I'd go back because I have a fondness for the beef wontons. If you need a nice appetizer when you go, try them. You won't regret it.
Of course, the primary draw of the restaurant is that view I mentioned earlier. It makes a great vantage point for fireworks viewing. California Grill pipes in the music, and you can watch them from the large windows in the dining room or outside on the rooftop. Either way, it makes for a great meal and a fun show, and I like to check it out on arrival day if I don't have park tickets.
4. Be Our Guest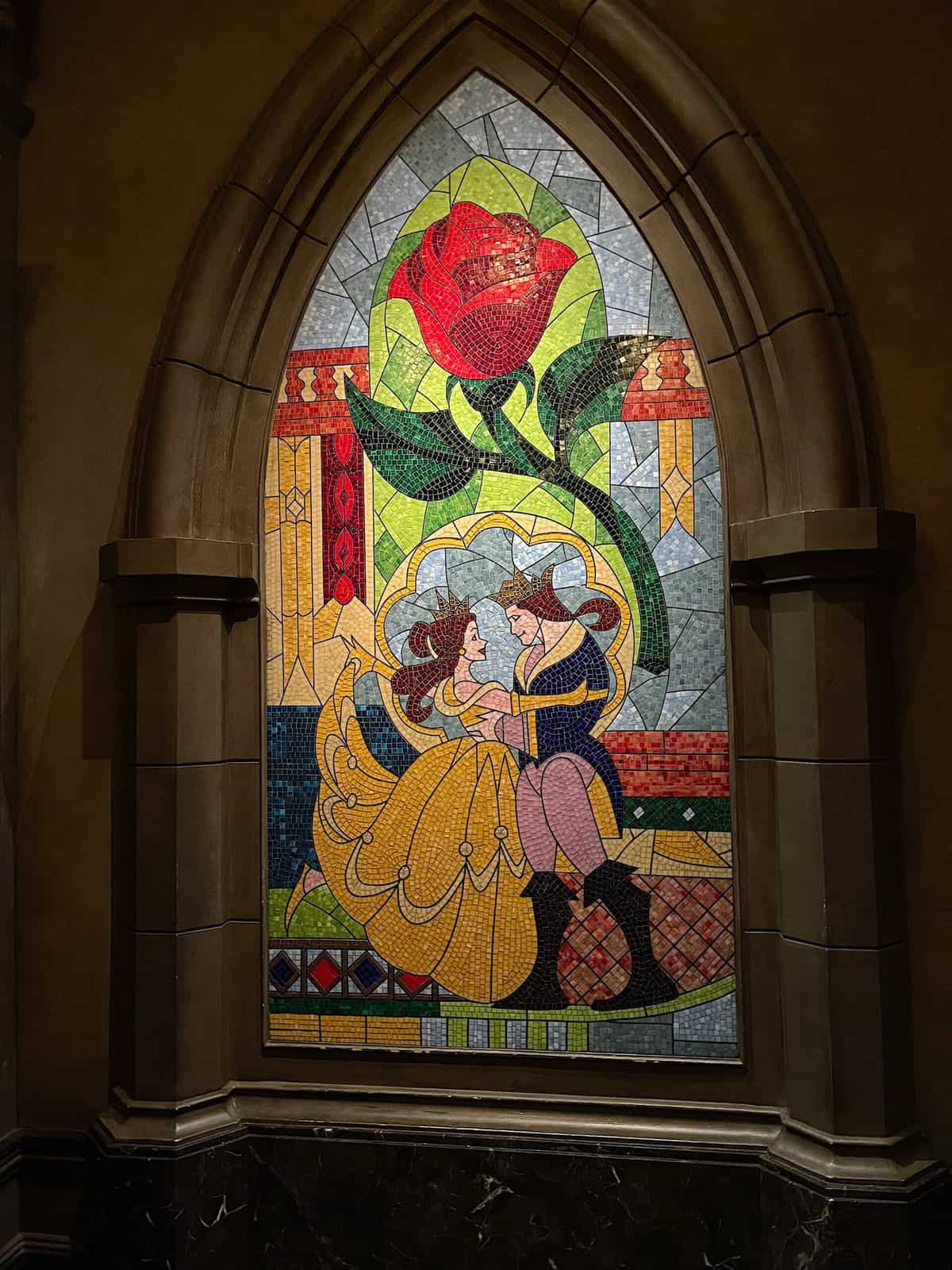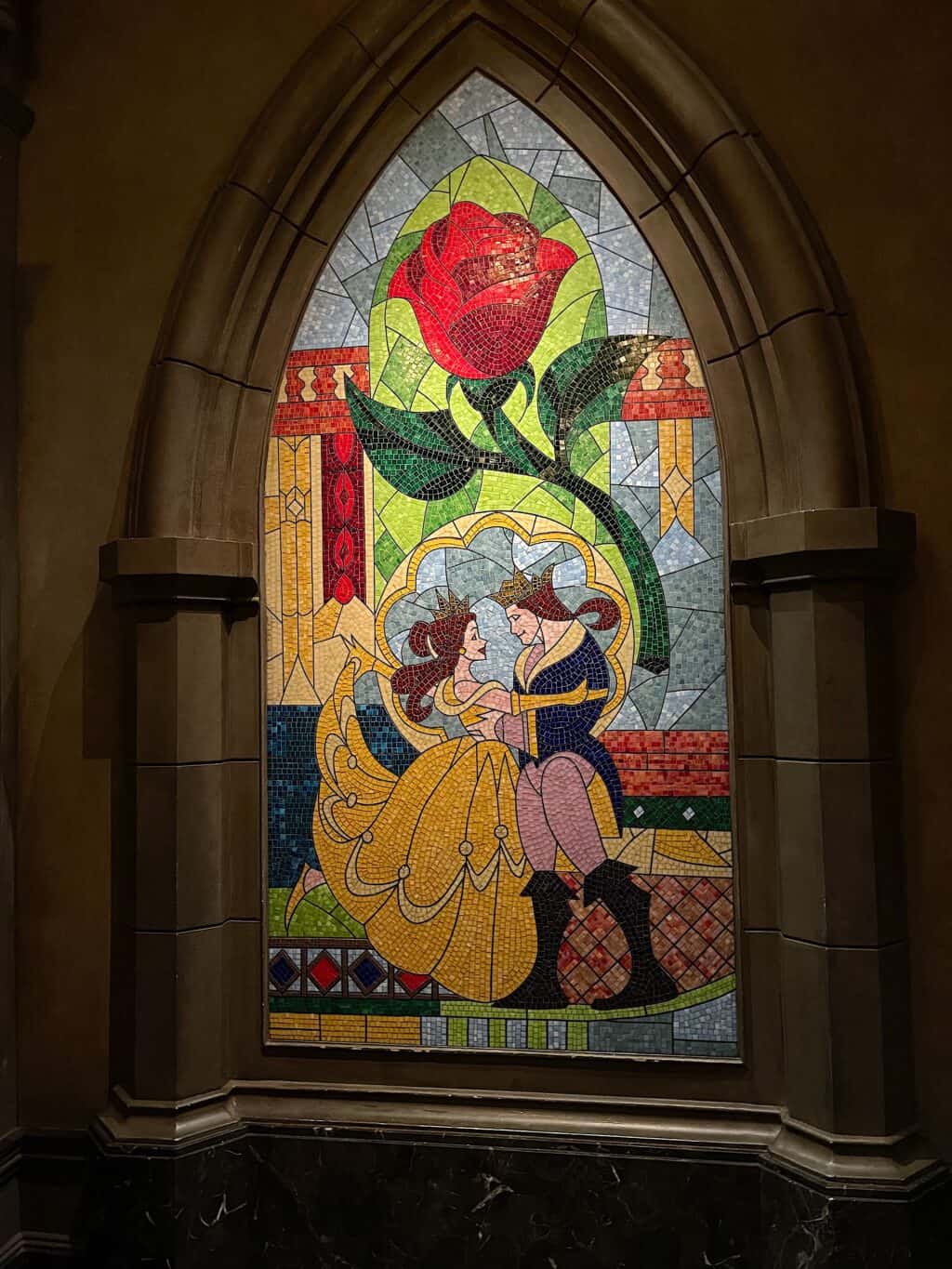 Be Our Guest gives guests visiting the Magic Kingdom a chance to experience dining in the Beast's caste. I have on occasion heard people not that Be our Guest is overpriced and overrated. The restaurant is currently not offering its quick service meals that were popular prior to the pandemic.
Currently, guests have only the prix fixe menu options available at both lunch and dinnertime, and breakfast is not an option. I have had the prix fixe dinner at Be Our Guest a number of times, and every time I have received a delicious meal.
I found the adult portions to be worth the cost. The kid menu is another story. The pricing there does seem overblown for children who will eat 3 bites of the entrée and some dessert, but I digress.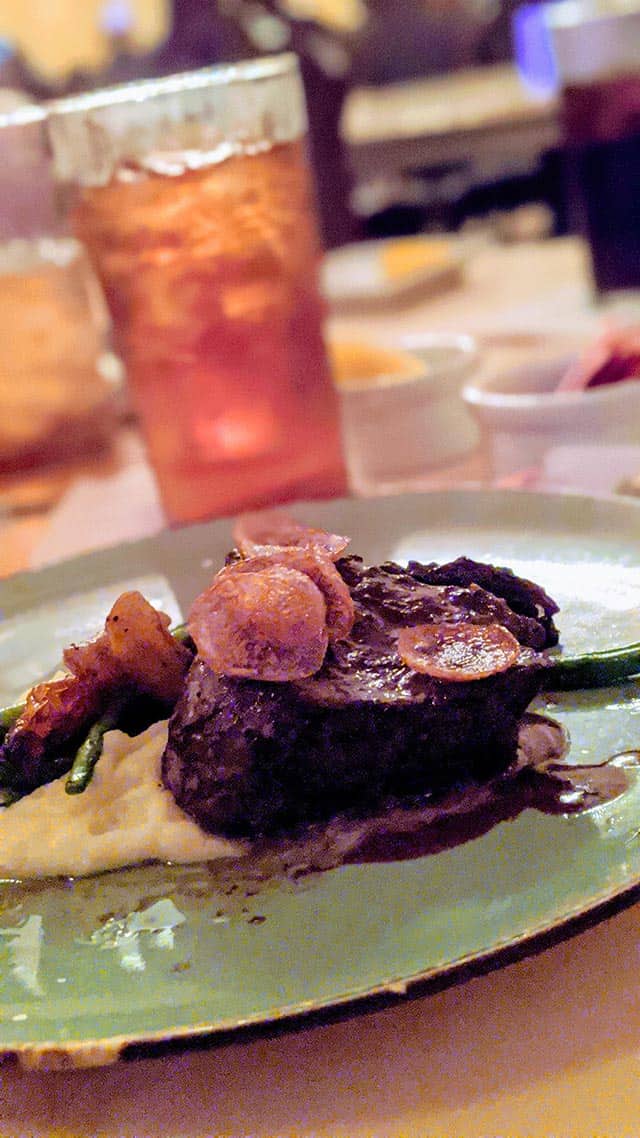 To me, the star of the menu is the filet. It is currently prepared with a Red Wine Glaze. Every time I have had it, it has been tender and delicious and perfectly prepared. I honestly don't know how anyone who has had this steak did not enjoy Be Our Guest.
In fact, I enjoy it so much that I have never ordered anything else. I have tried things off the plates of my dining companions, and the only thing I'd think of ordering instead is perhaps the sea scallops because they are also excellent.
Now, the vegetables served along side the steak aren't always as impressive as sides I have had at other restaurants. It currently comes with robuchon yukon potatoes and seasonal vegetables. Sometimes they are excellent, and sometimes they are nothing more than subpar green beans.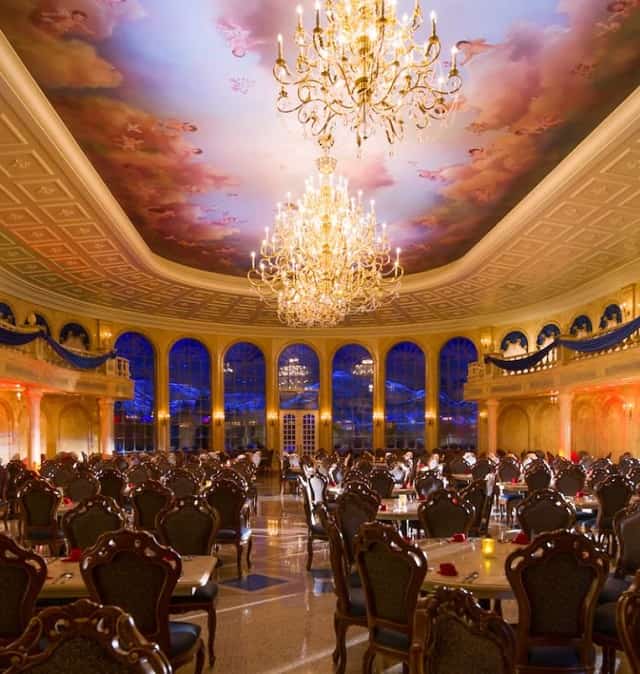 Even so, the meat has never failed to impress me. If BOG has had bad days, I have missed them all.
Want more on dining in Beast's castle? To read Heather's Be Our Guest review, click here. Donna also recently dined at Be Our Guest, and you can read her review HERE.
3. Le Cellier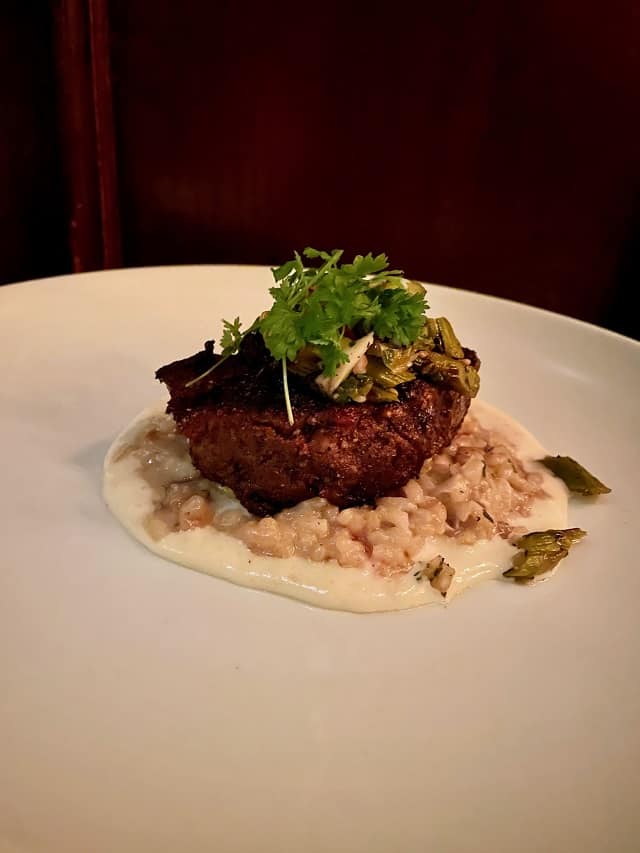 Le Cellier is located in Epcot's World Showcase in the Canada Pavilion. It is a lovely restaurant designed to be reminiscent of a cellar in a Canadian hotel.
It, like Be Our Guest, is another restaurant that people love to label as "overrated." However, I disagree rather vehemently.
Anyone who has read my Le Cellier review knows that I cannot get enough of it. Not only does it appeal to me on a nostalgic level, but I find it outright delicious every time I dine there.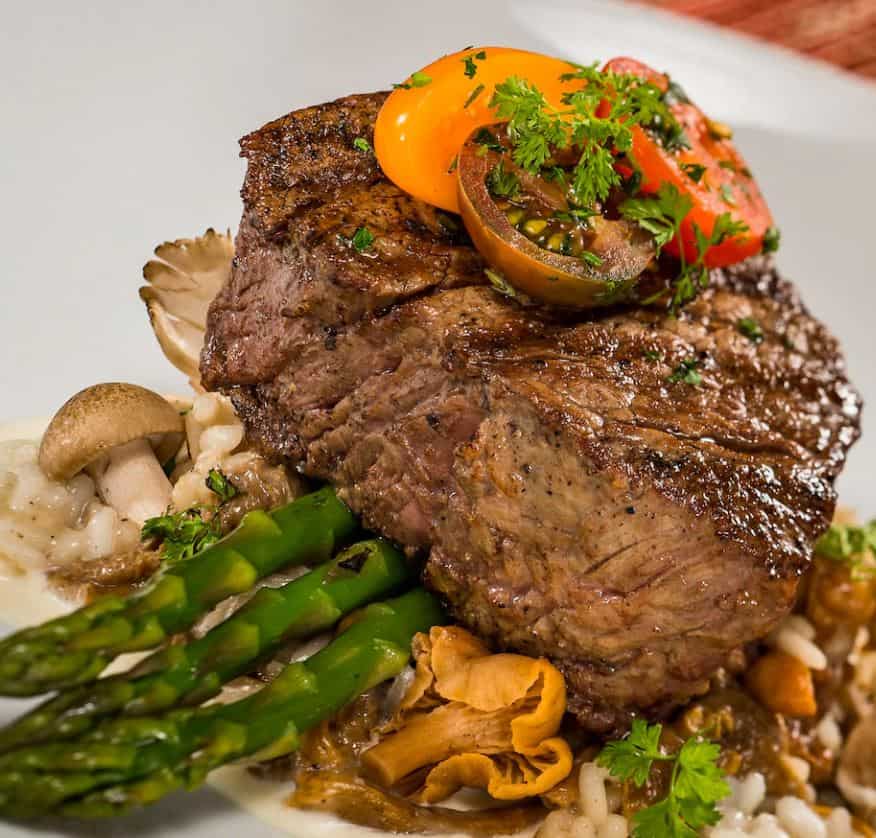 I cannot begin to guess what people do not enjoy. Like Be Our Guest, if Le Cellier has had a bad night, I missed it. The only thing I have been disenchanted with was a poutine that was overly salty.
The filet, in particular, is delicious. I have had several different variants and loved them all. The current offering is a AAA Canadian Tenderloin prepared with asparagus-tomato relish and truffle-butter sauce and served over mushroom risotto. Every component is delicious.
The flavor profile is magical. And beyond that the filets are always cooked beautifully. They are typically fork tender and have a tendency to just melt in your mouth. It falls somewhere on the spectrum of excellent to outstanding every time.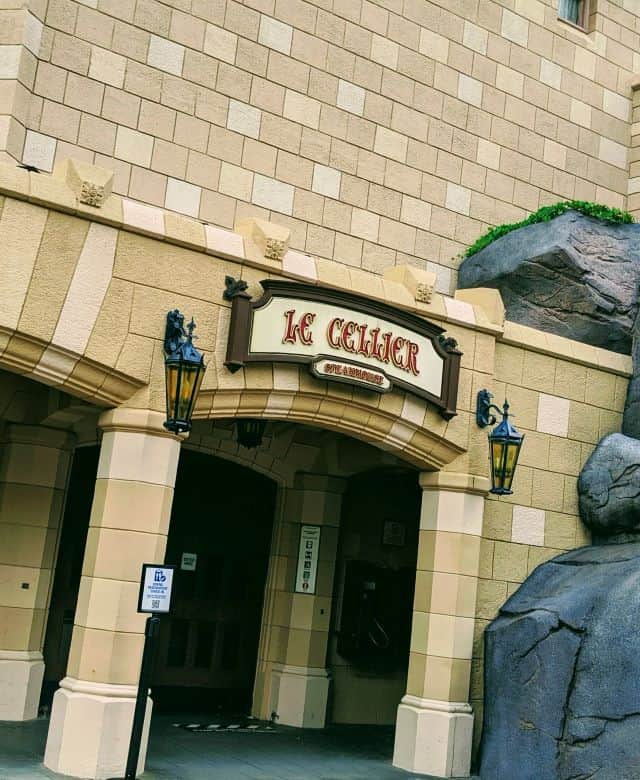 If you are not a filet person, there are other steaks as well. Le Cellier offers a ribeye and a New York strip if that is your preference.
If you don't want to spend signature restaurant money and want a taste of Le Cellier, you can get a smaller, similar rendition of the filet if you visit Epcot's International Food & Wine Festival. The Canada Pavilion typically offers a small portion of filet that is one of the festival's best dishes.
2. Citricos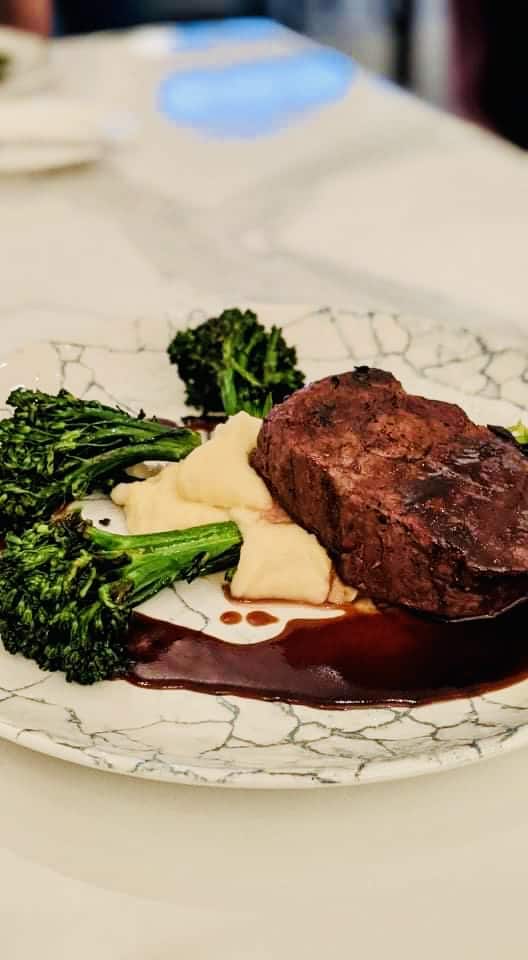 The newly reimagined Citricos has opened its doors to rave reviews, and they are well deserved. Our KtP Writing team had a chance to check out the grand re-opening. You can read Jamie's full review here.
While almost everything is amazing, I had to try the The Oak Grilled Filet Mignon. I have to say, in keeping with the Mary Poppins theming of the restaurant, it was practically perfect in every way.
The menu description makes it sound irresistible. It is an Oak Grilled Filet Mignon accompanied by Potato Purée, Broccolini, Cipollini, and Bordelaise.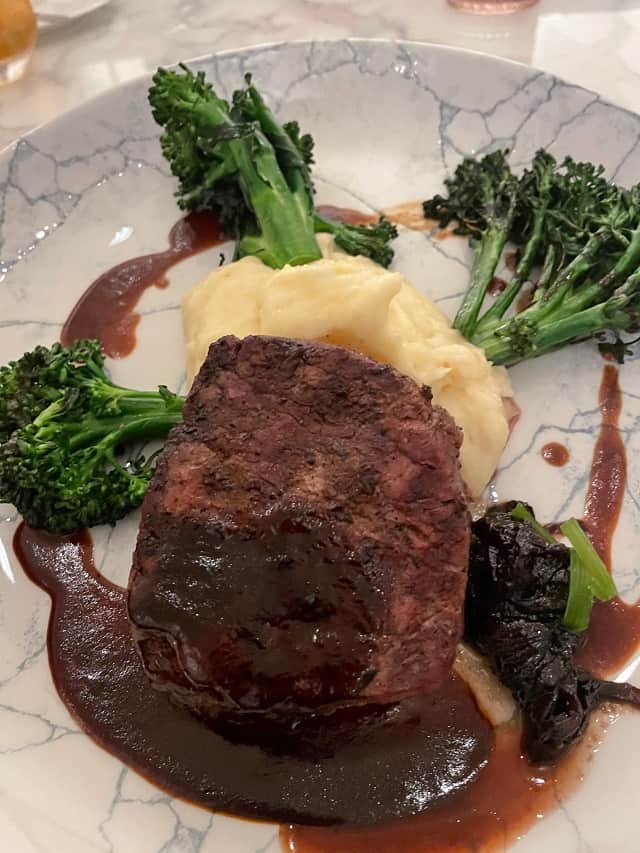 The filet itself was tender and flavorful and delicious, and the Bordelaise is nice. However, trying it with a bit of the Cipollini gave it an entirely different dimension, so don't ignore that little pile of caramelized goodness if you notice one on your plate.
While I generally prefer to step outside of potato puree, these potatoes were pretty fantastic. I even liked the broccolini, something that is not always true (looking at you 'Ohana).
Overall, this dish, while not particularly photogenic, is especially delicious. I will be so torn when I return to Citricos because there are so many good things to try, but I know how nicely they prepare a filet. This is such a fantastic problem to have!
1. Topolino's Terrace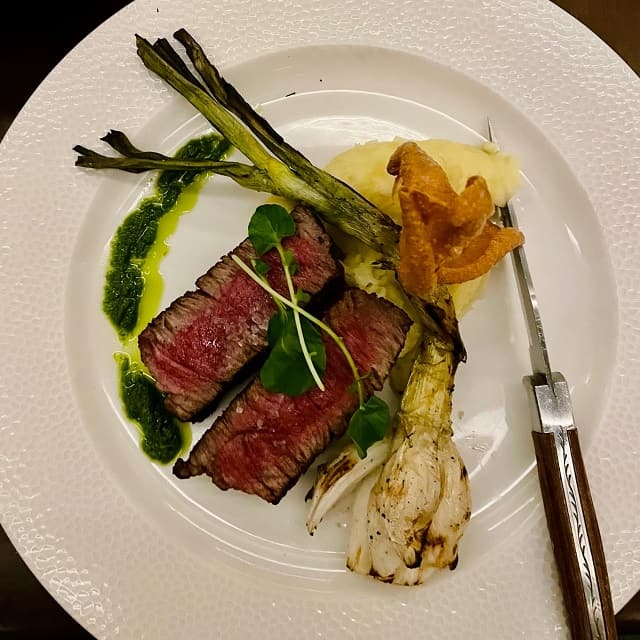 Coming in at the number one spot for me is Topolino's Terrace. I have only been once, but once was all it took.
This was hands down the best filet have had at Disney. It was perfect.
Topolino's Terrace is located at the Riviera Resort, Disney's gorgeous new DVC property. For a review of Riviera, click here.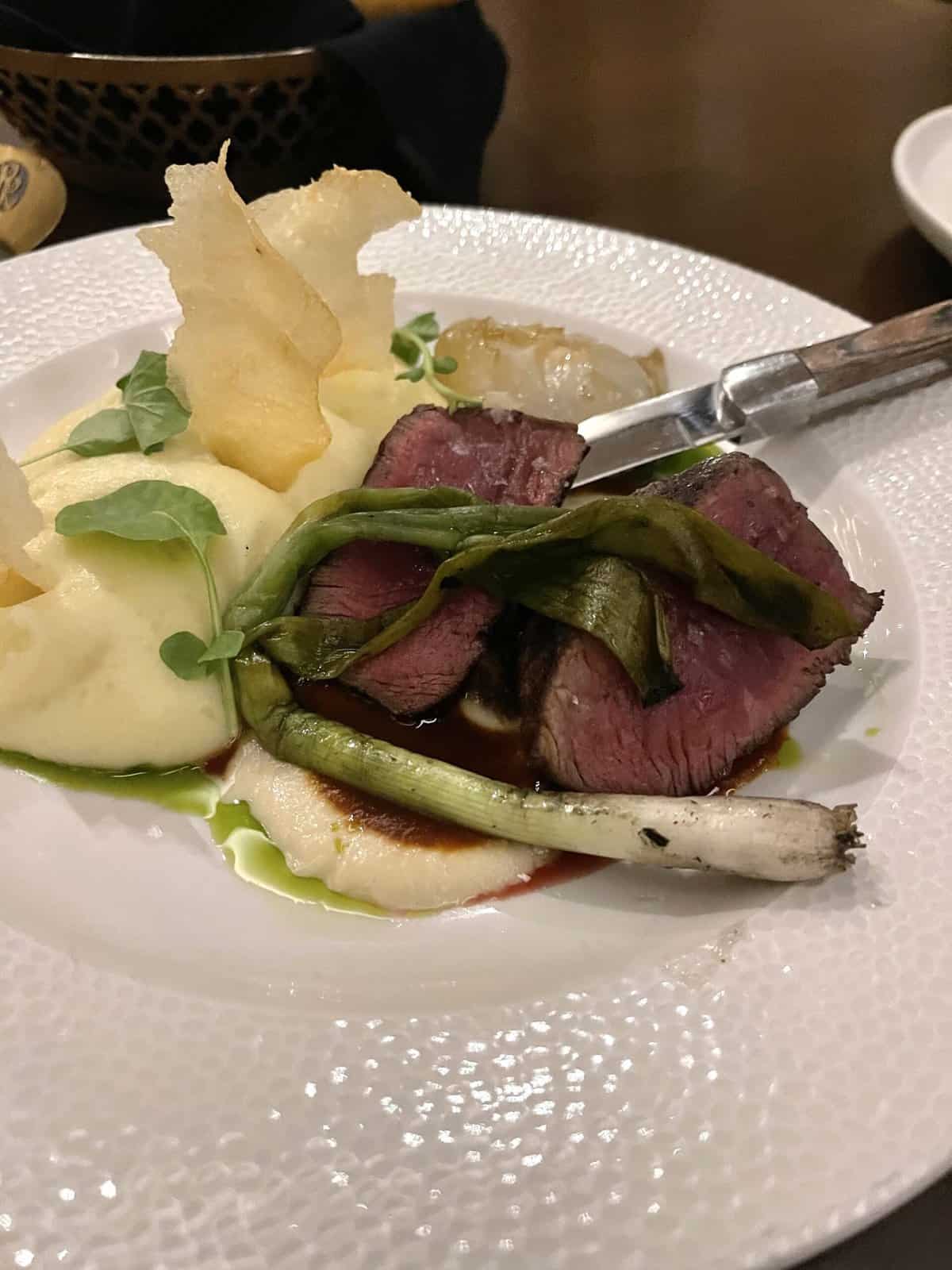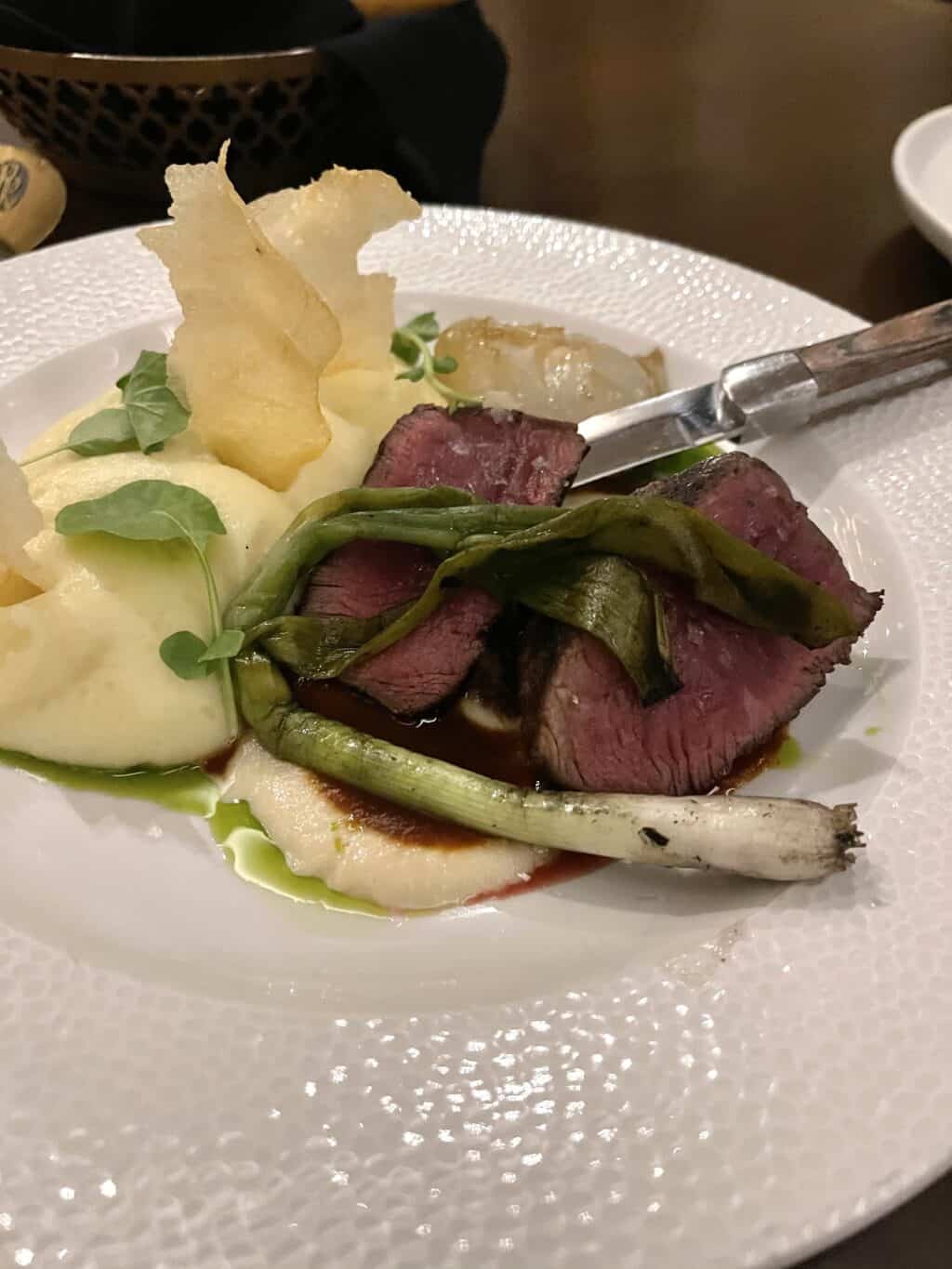 Currently, their steak offering is a delectable filet mignon. It is prepared with potato purée, soubise, pickled scallions, onion jus, and guanciale shallot jam. I don't know what guanciale shallot jam is, but I think I must like it because I like everything about this steak.
If you have a chance to dine at Topolino's, you absolutely should. Everything we tried was amazing. You will enjoy it, even if you do not like red meat. Read a more detailed review of Topolino's Terrace's dinner options HERE.
Oh, and in case you wondered, the steak at breakfast is also amazing, though quite different from the dinner option. For a full review of breakfast, click HERE.
Other Locations with Steak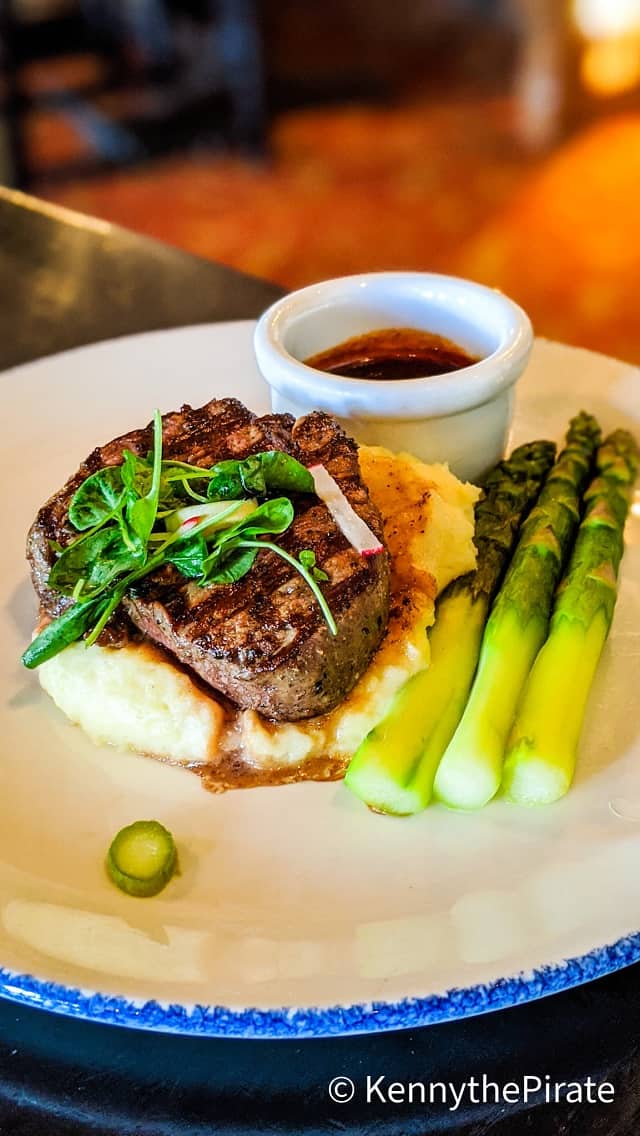 Of course, there are a number of other places to find perfectly good steaks in Walt Disney World. To me some of them have been inconsistent. But, there are many people who enjoy them, and you will likely have good luck with most any of them.
Hollywood Brown Derby has a filet that many people rave about. I have had it once when it was amazing and once when it was pretty good. I wouldn't hesitate to have it again except for the fact that I love the Cobb Salad so well and end up choosing it instead and saving my beef night for another day of the trip.
Cinderella's Royal Table, located inside of Cinderella Castle in the heart of the Magic Kingdom is a magical dining experience. It almost made my top 5 because it was so good last time I ate there. However, it was not great the time before that, so the consistency gives me pause.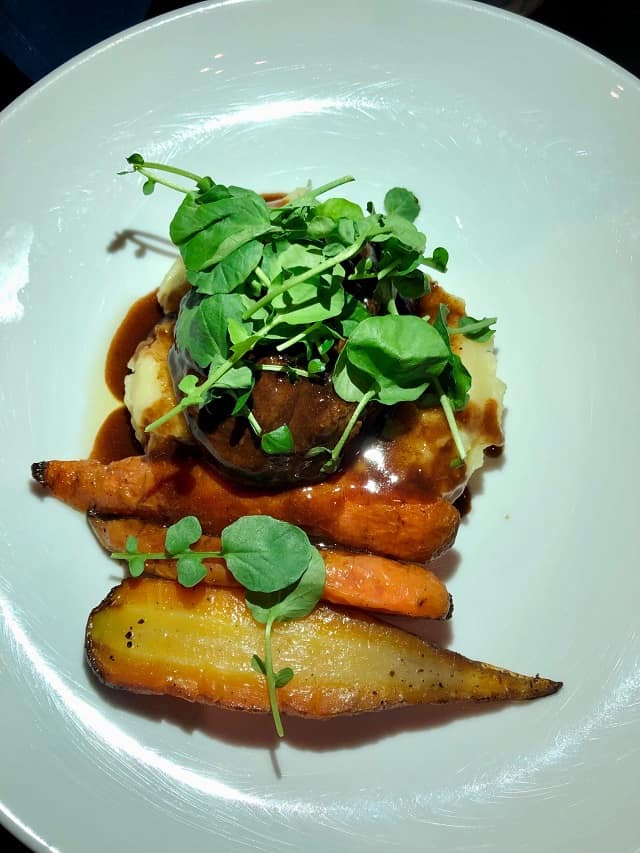 The good news for those who would like to dine at CRT is that I have heard that my more recent positive experience is the new norm. And I truly enjoyed my steak. The chef cooked it and all of the accompaniments nicely.
Mama Melrose in Hollywood Studios serves a steak that I have not personally had YET, but I have heard amazing things about. I have also heard it can be inconsistent. Here is a review from Christina describing her most recent experience.
Narcoossee's boasts a delicious menu, and included is a delightful filet. I do not know anyone who had not enjoyed the experience of dining here. So, if Citricos is booked, up, you could try it as a Grand Floridian alternative.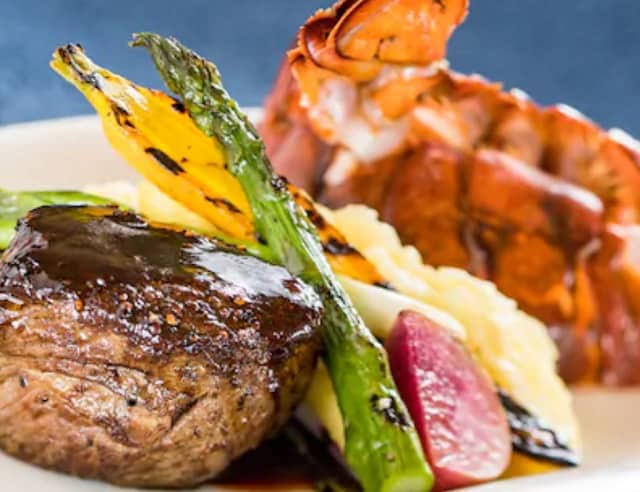 Chefs de France is a table service restaurant in the France Pavilion over in Epcot's World Showcase. It also serves a filet of its own. Appropriately titled
filet de boeuf grillé, sauce au poivre vert pommes purée et haricots verts, this dish is comprised of grilled tenderloin of beef, green peppercorn sauce, mashed potatoes, and green beans.
Several of our KtP writers enjoy this restaurant and say the meal is delicious. To read Christina's review click here.
Tiffins, Animal Kingdom's signature restaurant, serves a steak with one of the most unique flavor profiles on property. The menu describes the dish as South African braai spiced beef tenderloin prepared with Dhania butter and cola demi-glace. It comes alone or as part of a surf and turf dish.
Skipper's Canteen also offers a steak, a NY Strip called Dr. Falls Signature Grilled Steak. Guests can expect an adobo-seasoned New York strip accompanied with chorizo hash, collard greens with caramelized onion purée, and crispy farofa. For Maggie's review of the place, click here.
Steaks We Can't Wait to See Return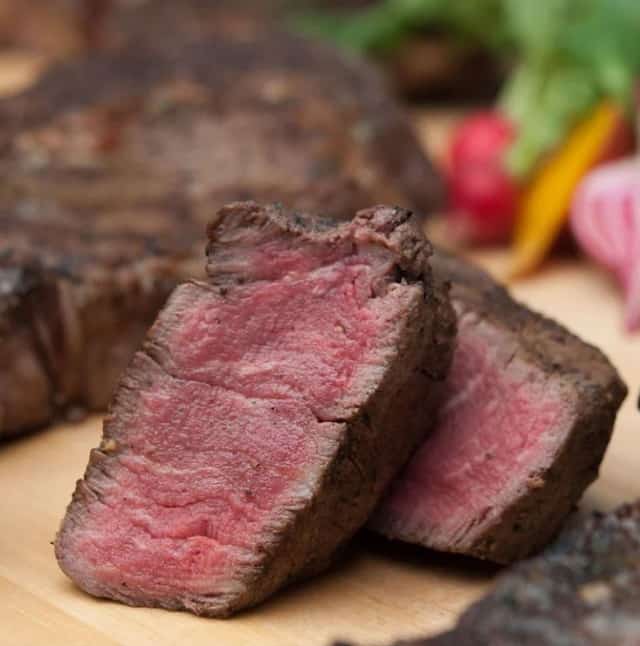 As you are likely aware, we are still waiting on a number of Disney restaurants to reopen. Some of them have delicious steaks. I am looking forward to each reopening.
Flying Fish is located on the Boardwalk, which is also right outside of Epcot. While it is a seafood restaurant, many people will tell you that it also serves a delicious steak. When it comes back, let's hope it's better than ever.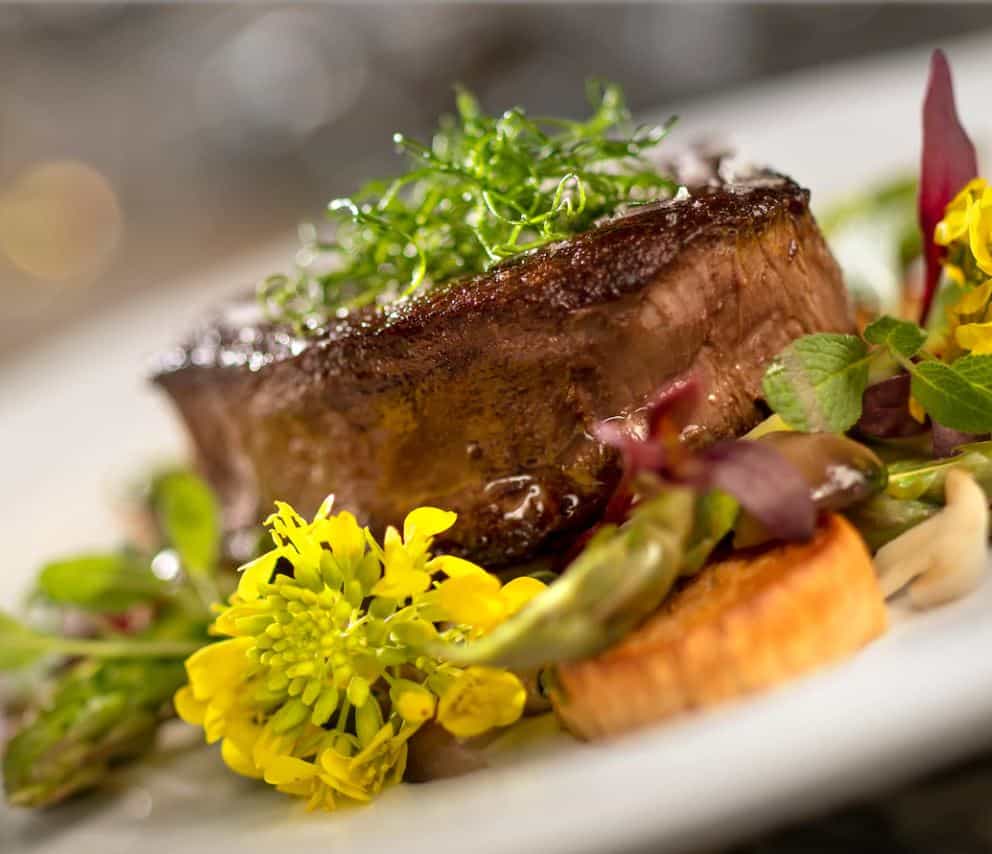 Jiko over at Animal Kingdom Lodge has yet to reopen. But when it does, perhaps it will reopen with its steak. It is another that is popular with fans.
The KtP team will keep you updated as re-openings are announced. Keep an eye on the blog for news so that you can grab your ADRs.
Have you ever had any of these great steaks on the list? Did we miss any of your favorites? Let us know on Kenny the Pirate's Facebook Page, or join our crew and continue the discussion!