Have you considered eating at Tiffins in Disney's Animal Kingdom? Not only will you enjoy a delicious meal, but you may also get a private tour. Check out my experience to decide if you would like to give it a try.
Tiffins
It was the end of our day at Animal Kingdom, and my travel party had a Tiffin's reservation for an early dinner. A storm cropped up out of nowhere. Rather than ducking into a gift shop, we decided to scoot into Tiffins a bit early to escape the rain.
I (Katie P) checked in and let the host know we were a little early. Since the waiting area was empty, she said it wouldn't be a problem if we hung out until our time. As I admired the display in the waiting area, I asked her about one of the sketches.
I wondered whether it was an original Joe Rohde sketch or a print. She said it was original. So, of course, me being me, I asked to take a photo and apologized for being "such a tourist."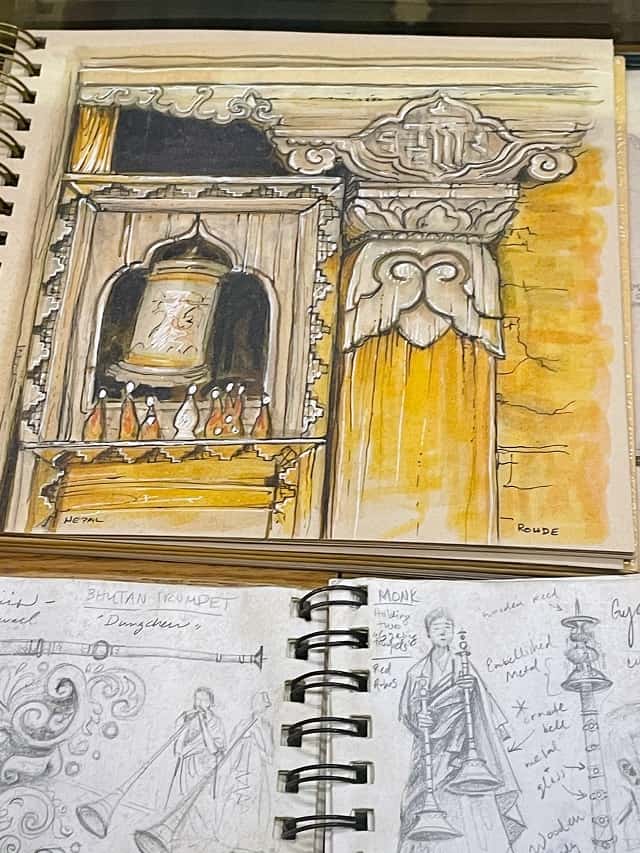 For those unfamiliar with Joe Rohde, he is the former Disney Imagineer who served as a mastermind behind Disney's Animal Kingdom. You can see his eye for detail and authenticity throughout the park. Needless to say, I am a huge fan of his work.
The next thing I knew, a Cast Member who had witnessed the scene asked if we'd ever had a tour of Tiffins. He said he was sure I'd enjoy it if I were a fan of the park, which I am. Animal Kingdom is one of my favorite places on the planet.
The Tour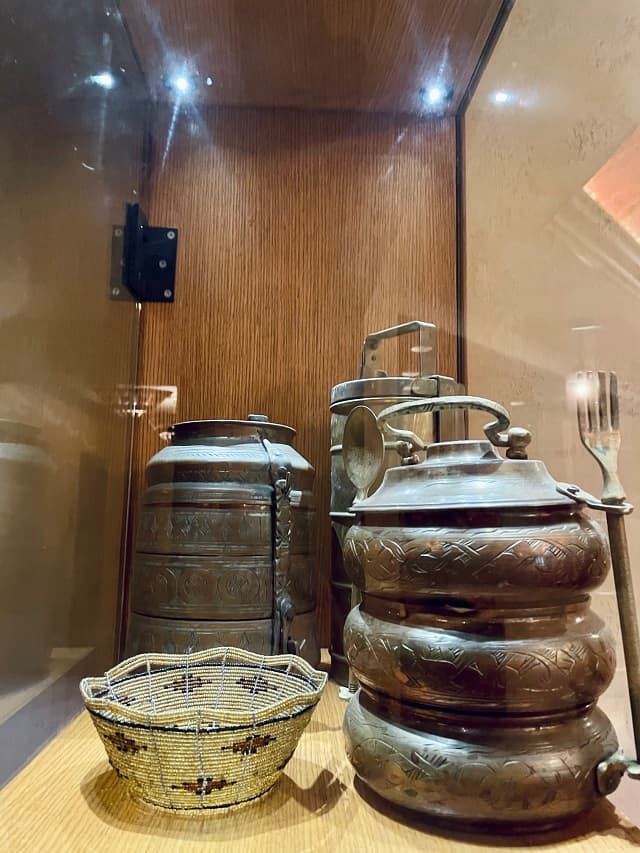 The tour started with an explanation of the restaurant's name. As it turns out, "tiffin" is the Indian word for a lunchbox used by travelers. A tiffin has a clever design; it is a metal pail with different tiers that allow the warm items to be stored at the bottom and the cooler ones at the top.
The restaurant just happens to have several tiffins on display near the front. So, if you go, you will know what it is and can perhaps impress your travel companions with that bit of trivia.
Our guide went on to say Tiffin's is special because it "holds the story of the park." And indeed the restaurant is decorated with mementos of the park's imagining and its history.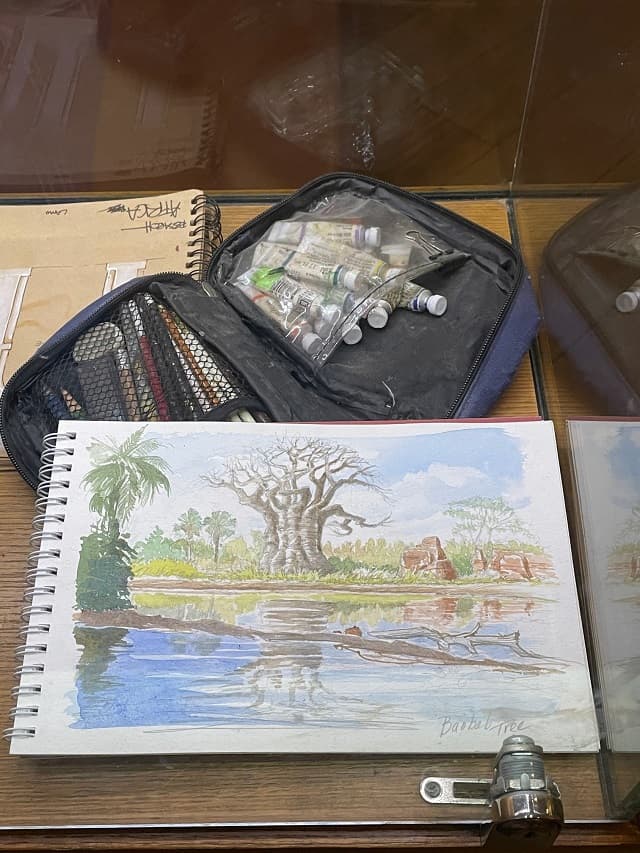 As I mentioned, the entry way houses several sketches from Joe Rohde's trips that helped him to draw inspiration for the parks. Some are his works while others are the works of other Imagineers. These sit next to mementos from the trips.
There was also a photo display featuring pictures of Imagineering team members on their travels. If you have a chance to peek at the photos, you will probably recognize some of the inspiration for the park.
The Galleries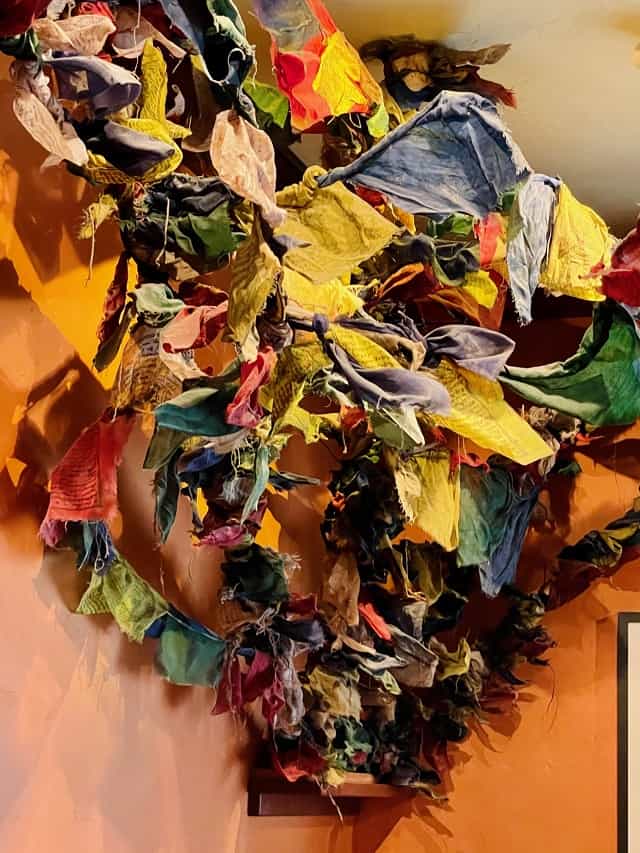 Tiffins has 3 separate galleries, each of which serves as a dining room. But, did you know that each of the galleries has a unique theme? One is the Trek Gallery. This room is unique in that it has an art instilation made of the prayer cloths.
The next gallery is the Safari Gallery. It features wall art made from architectural details encountered on the travels. I love it and wish to create something similar some day.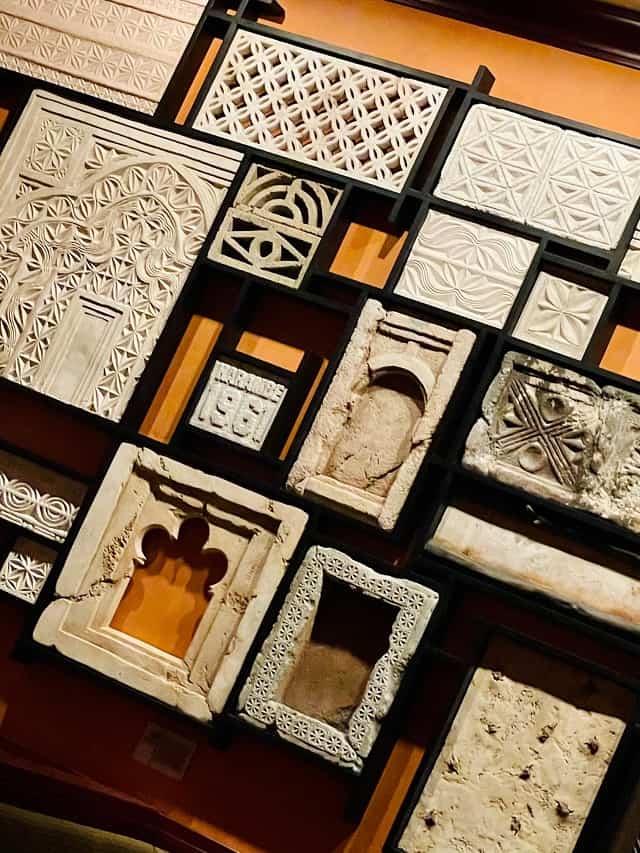 It also has sketches of wildlife and a unique mixed media piece. It features wire and elephant sketches.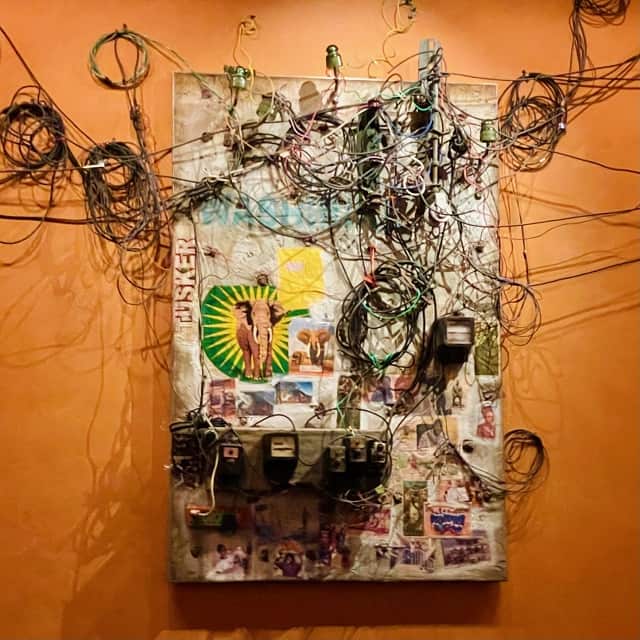 Finally, the Grand Gallery is the largest of them and contains many statement pieces. This is the room we eventually dined in.
One of the art pieces is a mural made from retired costumes from the original Rivers of Light show. It also features wildlife light installations.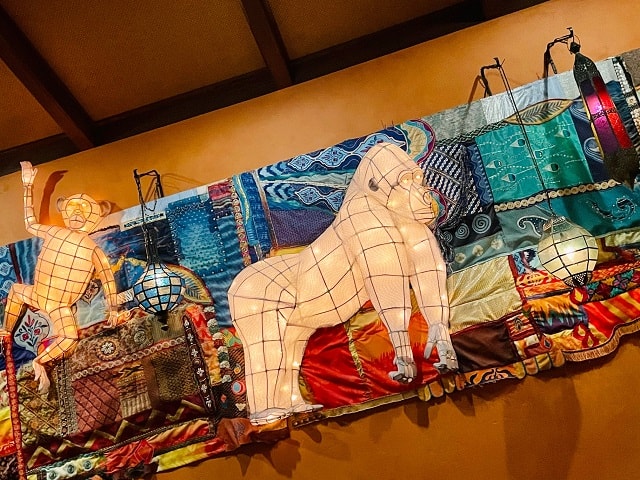 The gallery also holds one of the headdresses from The Festival of the Lion King. Nearby a collage of butterflies hangs on the wall. This piece, called "Small Wonders," draws inspiration from It's Tough to be a Bug.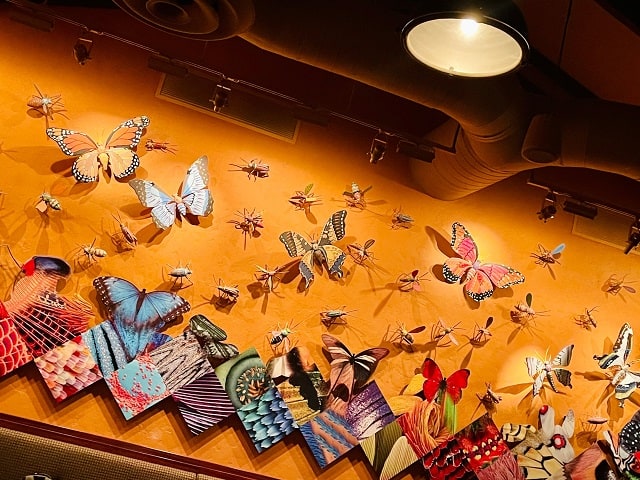 One of the most conspicuous pieces is a set of totems in the middle of the room. These sculptural pieces once sat in front of Camp Minnie-Mickey, but they have a new home in the restaurant.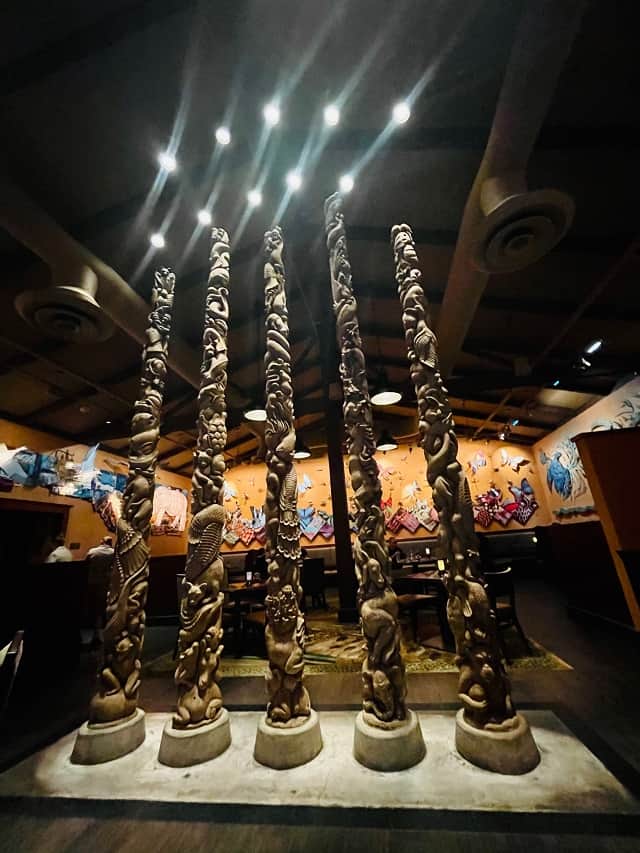 One striking piece is a mixed media called "Tiger Surrounded." It depicts a busy city expanding with buildings and closing in on the tiger's territory. Our host told us that the artist created it as a solemn reminder not to take nature for granted.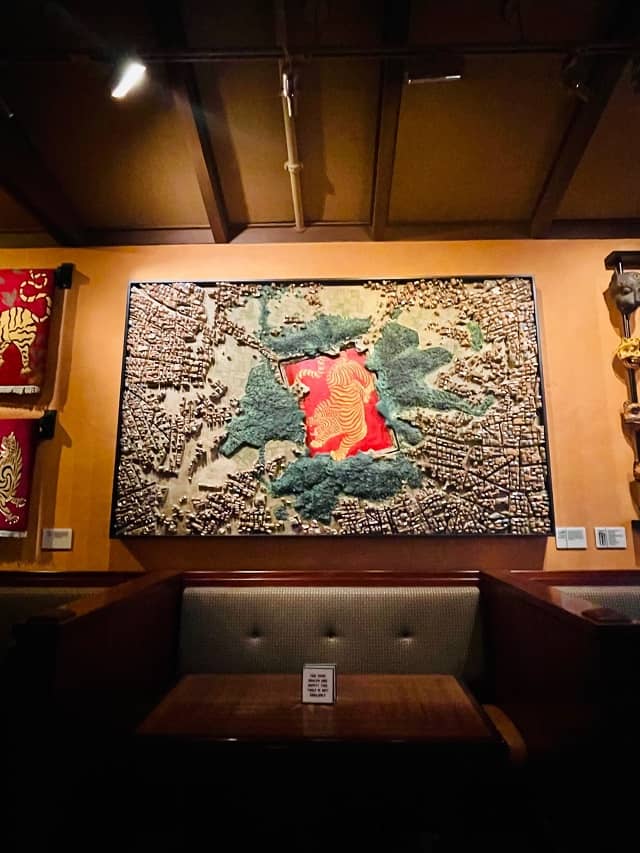 As a self identified Dis-nerd, I loved everything about the tour. We arrived early to avoid getting doused in rain and instead found ourselves doused in Pixie Dust.
The Food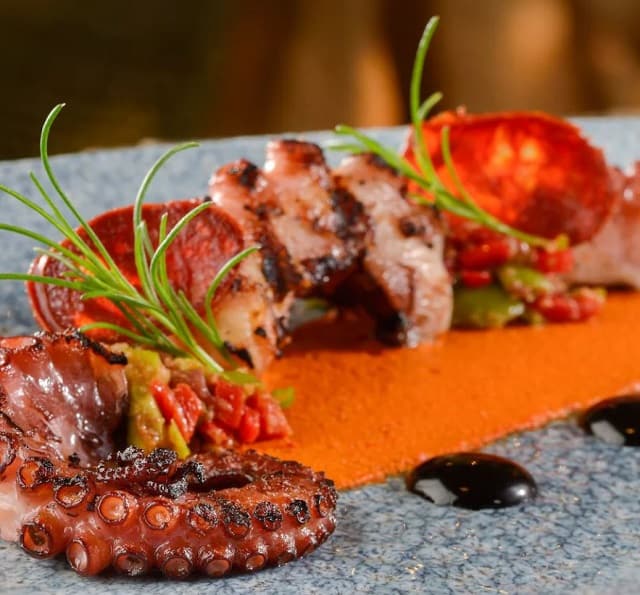 The ambiance was perfect for someone like me, and I think even a non-Disney adult would enjoy it. However, most of you reading probably want to know about the food.
Tiffins offers a unique menu inspired by Asian and African flavors. Appetizers include Spiced Chickpea Falafel, Charred Octopus, or the signature bread service. I someday want to try each of these things, but we had quite a day of enjoying Animal Kingdom's desserts and only hungry enough for the main dish.
While there are a number of tempting options including a beef short rib or shrimp and grits, I opted for the surf and turf. It is a South African braai spiced beef tenderloin prepared with Dhania butter and a cola demi-glace.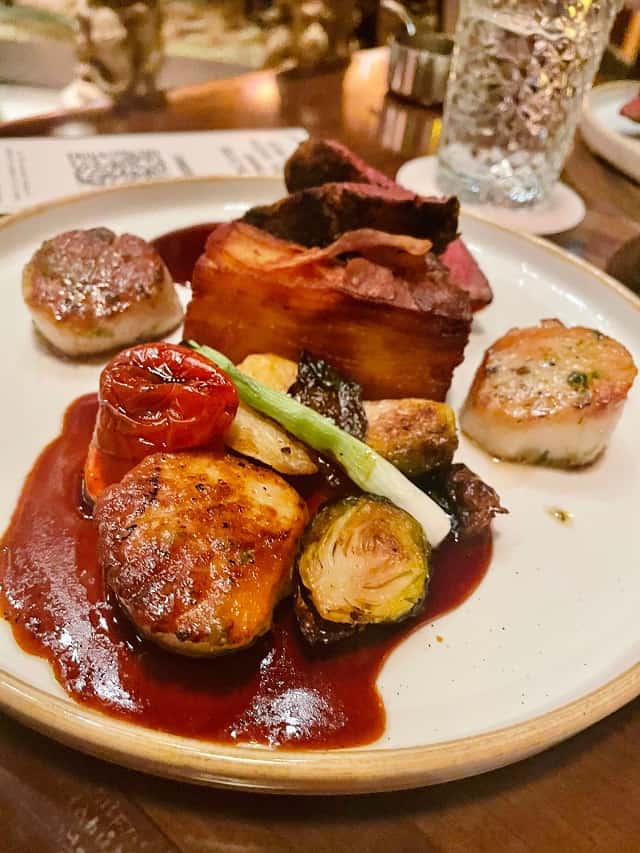 Seared scallops accompany the beef. The sides include potato pavé and grilled vegetables.
My dining companion ordered the same. However, he requested the dish be prepared with just salt and pepper instead of the braai rub.
I will say the scallops were perfectly prepared. Both of us found them to be savory and delicious.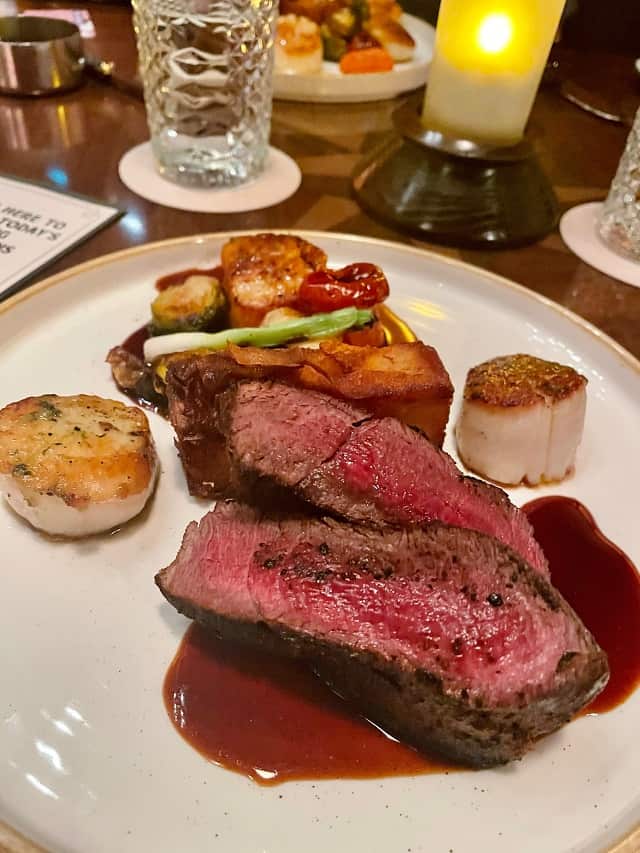 I also enjoyed the potato pave. It was something I have not had before, and it was delicious. Most of the vegetables were tasty though there was something I did not care for.
The beef tenderloin was had a different flavor profile than anything I have tasted. While I enjoyed the dish, it was not my favorite steak I have ever had. In fact, it was a little less tender than I would prefer. However, it was not a disappointment. It was good, but not something I will dream of. I do, however, occasionally dream of the art.
Final Thoughts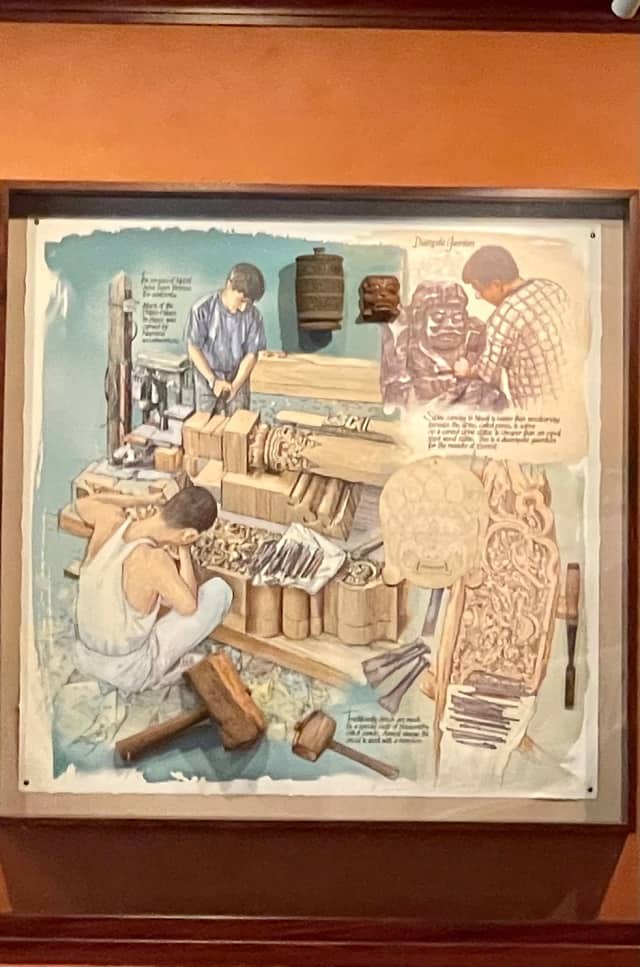 While I was not blown away by the beef, I did thoroughly enjoy the rest of the meal. I would not hesitate to try Tiffins again if I am in the mood for a signature meal.
And, I especially enjoyed the kind offer of the tour while we waited out the storm. Our guide definitely received a well deserved cast compliment.
If you love Animal Kingdom and want to bask in its backstory, you will enjoy the experience of dining at Tiffins. It is a unique way to experience the Rohde less traveled.
Have you ever eaten at Tiffins? Do you plan to go on a future trip? Tell us about it in the comments below or on our Facebook page. Or keep the conversation going and share them with us in our crew, too!