Mama Melrose's Ristorante Italiano restaurant has been on our must-do list for a couple of years now. On our last trip earlier this year however, our experience made us think about taking a break for a bit. Check out my Mama Melrose Review!
After hearing how many viewers on Facebook enjoyed the steak at Mama Melrose's, I had to give it a try. We had been aware of the restaurant for many years but never seemed to have time to fit it into our schedule.
Once we finally gave it a try, we loved it! I really enjoyed the steak as everyone suggested I would. It was tender and had that wood-grilled smoky flavor I love. Recently, I had the opportunity to bring my whole family along for dinner here. My dad has been dying to try this place for sometime now, and I was hoping it would live up the hype for him.
Check-in
We checked-in for our reservation time, and the place was packed with people. They said they were running about 15 minutes behind, and that was, in fact, about how much longer we waited.
The wait wasn't a issue for me, as it gave my family time to relax after booking it there from across the park.
Atmosphere at Mama Melrose
One thing I love about Mama Melrose's is the decor. The entire restaurant is themed to look like a backlot warehouse that has been reimagined into a restaurant.
The walls and ceilings are covered in celebrity memorabilia, string lights, vines, food decorations, and other eclectic mementos.
When you are escorted to your table you get to pass by the open kitchen area.
I love that you can see the chefs at work and catch a glimpse at the roaring wood-grill stove.
Food
Everything started off well. Our server came over right away with bread and seasoned olive oil and took our drink order.
Unfortunately, for my review, things took a nose dive from here.
My brother arrived late to dinner because he was working off-site. When he arrived, our server made some jabs at him for being late.
They were cute once or twice, but he didn't let up on him for the whole meal.
Main Course
After perusing the menu, we decided to start off with the Carne D'Italia Flatbread.
The pizza was really good. It came generously topped with pepperoni, house-made sausage, pancetta, and spicy marinara sauce (which really wasn't spicy). However, it wasn't much of a flatbread. It had a higher crust like a regular pizza.
Unfortunately, after we placed our appetizer and food order, that was the last we saw of our waiter. Our food and drinks were brought over by other waiters and kitchen staff. He never came back once to check on refills or how our meals were.
We tried to flag him down once to ask for a pitcher of sangria for the table, because my mom's was excellent, but he never brought it. Not sure that is what Mama Melrose would want for her review.
When our food was delivered, there were also issues.
Three of us ordered the Charred-Strip Steak served with four-cheese macaroni with pancetta, aged balsamic-shallot butter, and a chianti wine reduction sauce.
I have ordered this item every time I have visited Mama Melrose and always loved the flavor. Unfortunately all of our steaks were a mess this visit.
They were riddled with fat, to the point there was more fat than meat it seemed. My mom's steak, which was ordered medium, was completely raw inside. It took us forever to track down someone to reheat it because our server was MIA.
My dad ordered the Sustainable Fish, which on this night was Salmon served with pappardelle pasta tossed with puttanesca sauce and grilled asparagus.
The salmon was very tasty and perfectly cooked, however the noodles were terrible. They were extremely tough and not edible at all.
When we finished our meal we waited and waited for our server to show up, but no such luck. We had to ask another server to find him and send him over so we could pay.
Once he finally showed up, he asked if we wanted to see a dessert menu, but by this time we were so frustrated and ready to leave so we asked for the check.
My Thoughts
Over many visits, we have enjoyed the food at Mama Melrose, but after this meal we felt a much needed break was in order. I understand all restaurants have a bad night once in a while, and it doesn't mean we will never return. I hope after a little break we will return and be wowed by their experience once again.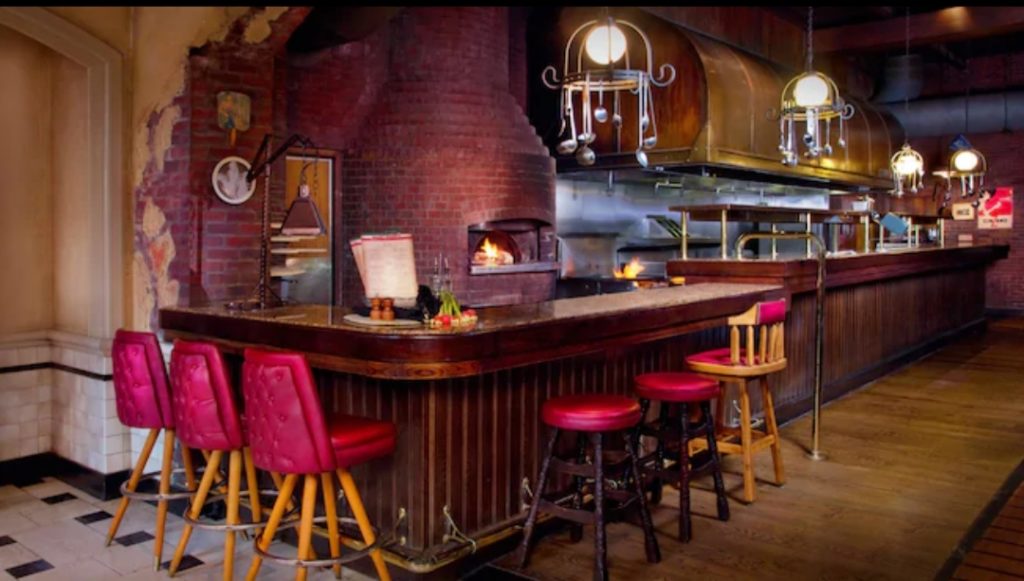 Read a more positive review from fellow writer, Amanda. Also stay tuned for another review post reopening with safety measures and more.
Have you ever eaten at Mama Melrose's Ristorante Italiano? What was your experience like? Is this a must-do or a no-go for your family? Let us know on facebook.
-Christina