Pinocchio Village Haus is a quick service dining location in Fantasyland at Disney's Magic Kingdom. Check out our review of food and decor, including a photo tour.
Guests dine on Italian favorites at this quaint cottage themed restaurant. Guest enjoy a variety of flatbread pizzas, salads, and chicken strips. For dessert, take a trip to Pinocchio's Pleasure Island with chocolate gelato.
Mobile Ordering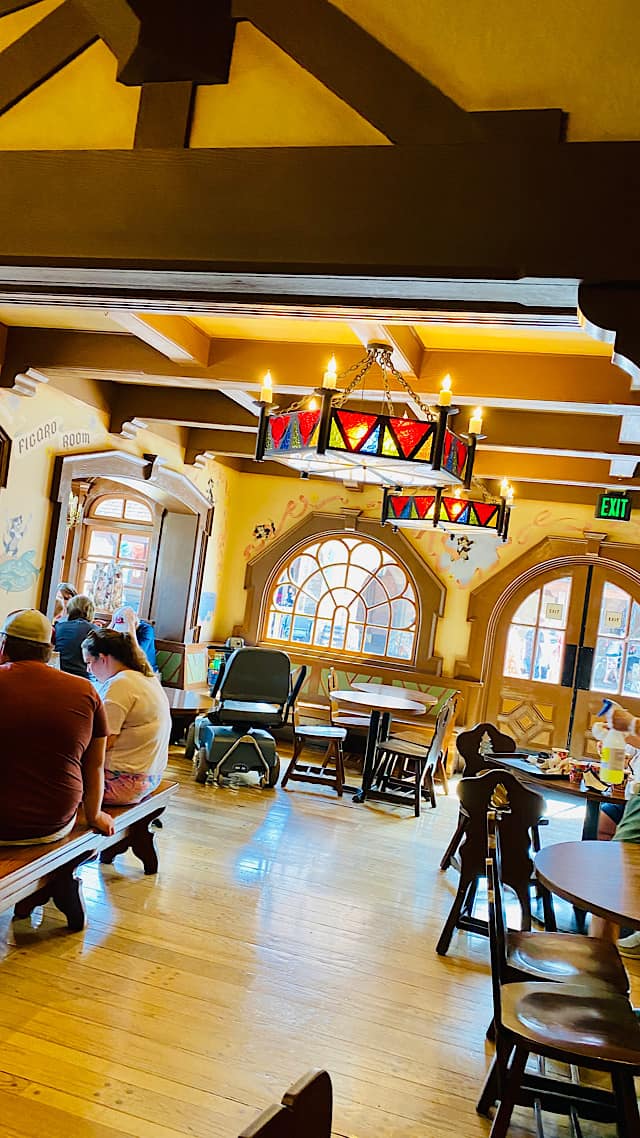 Before the park closed in the spring, a few quick service locations offered mobile ordering. When we visited Disney, we used it at every available location. However, there weren't many places using it at that time.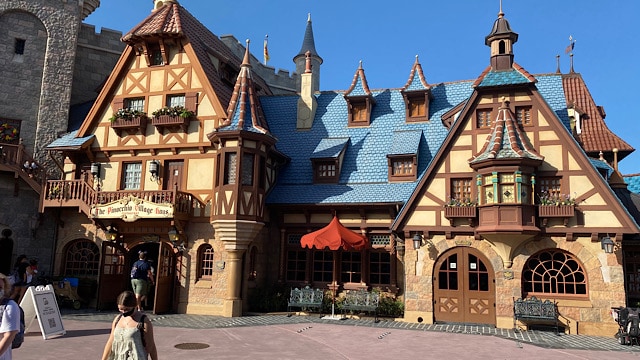 Since reopening, mobile ordering is available at select quick-service dining locations throughout the theme parks, Disney Springs, and Disney Resort hotels. Be sure to check out Disney's website for locations offering this service because they can often change.
Disney is also expanding mobile ordering to include Disney table service restaurants to go. Check out the available locations here in our recent article.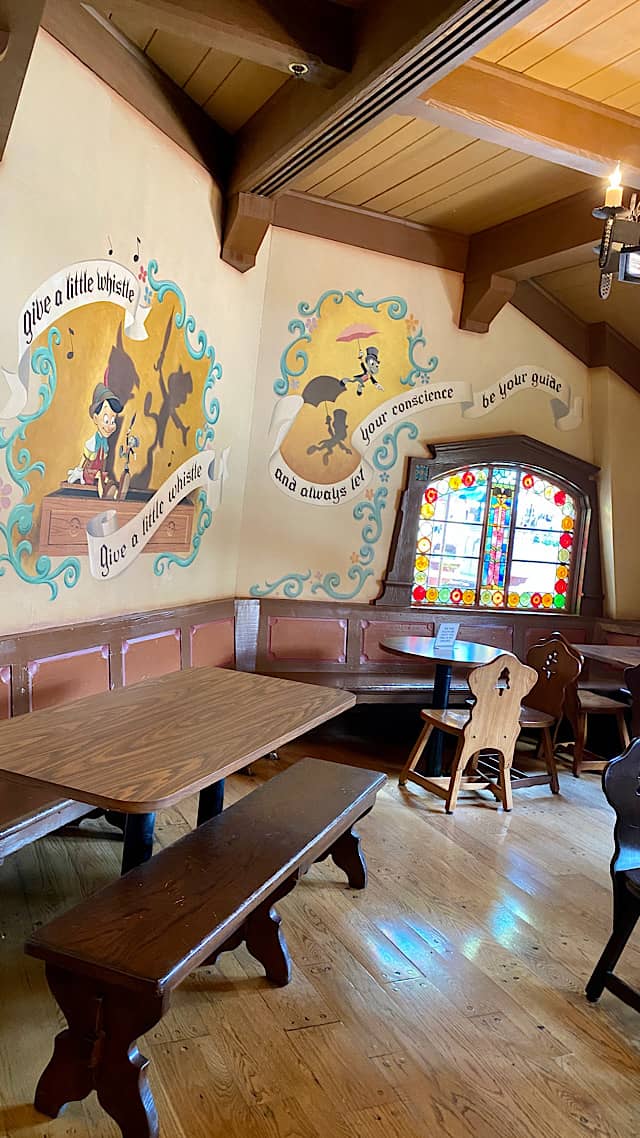 Instead of just going to the location and mobile ordering, guests now receive an arrival window to order and pick up food. Also, payment methods have been expanded to include Disney gift cards, Disney dining cards, Apply Pay, and Disney redemption cards.
Pick Up Area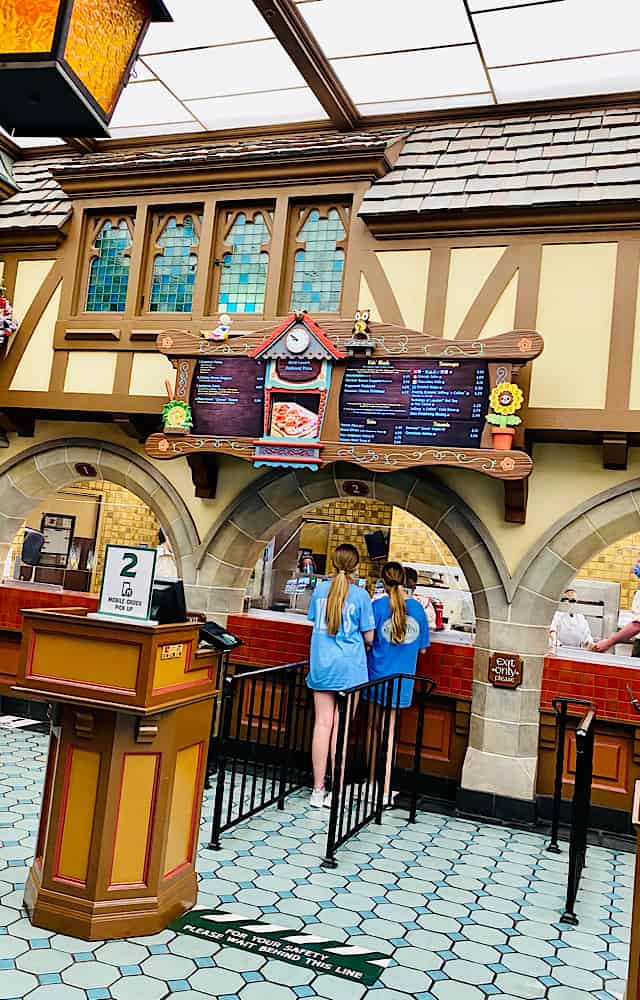 After receiving a text notification that your food is ready, simply show to a Disney Cast Member located at the Pinocchio Village Haus doors. They will direct you to the correct pick up window to get your food.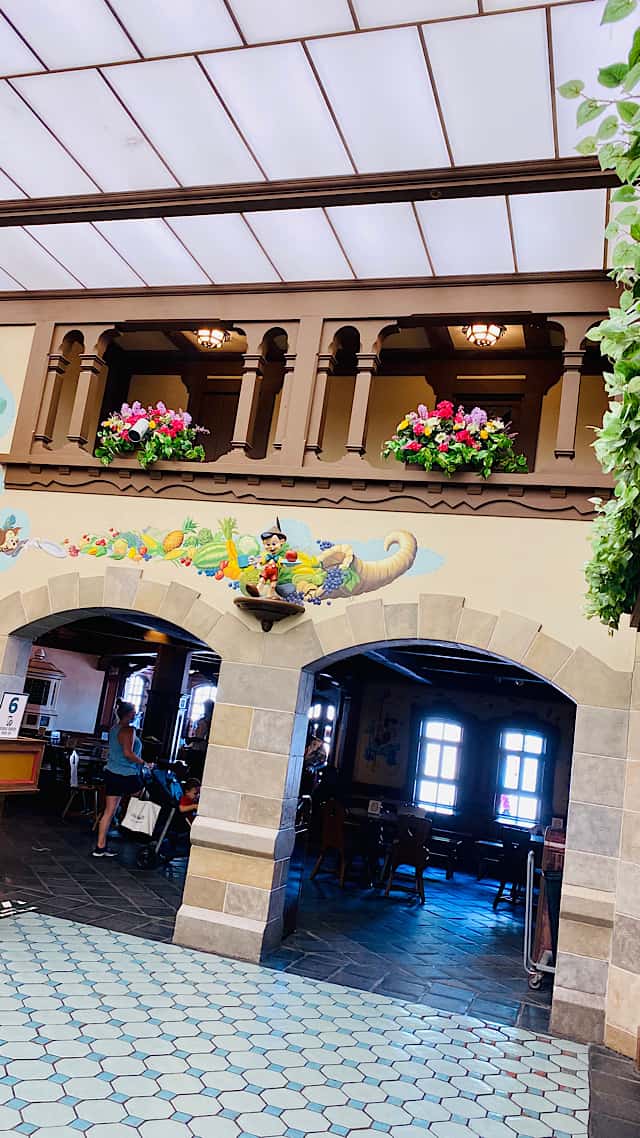 This pick up window also shows up on your phone. I just love the Bavarian details located throughout this area. Be sure to look up at the various scenes.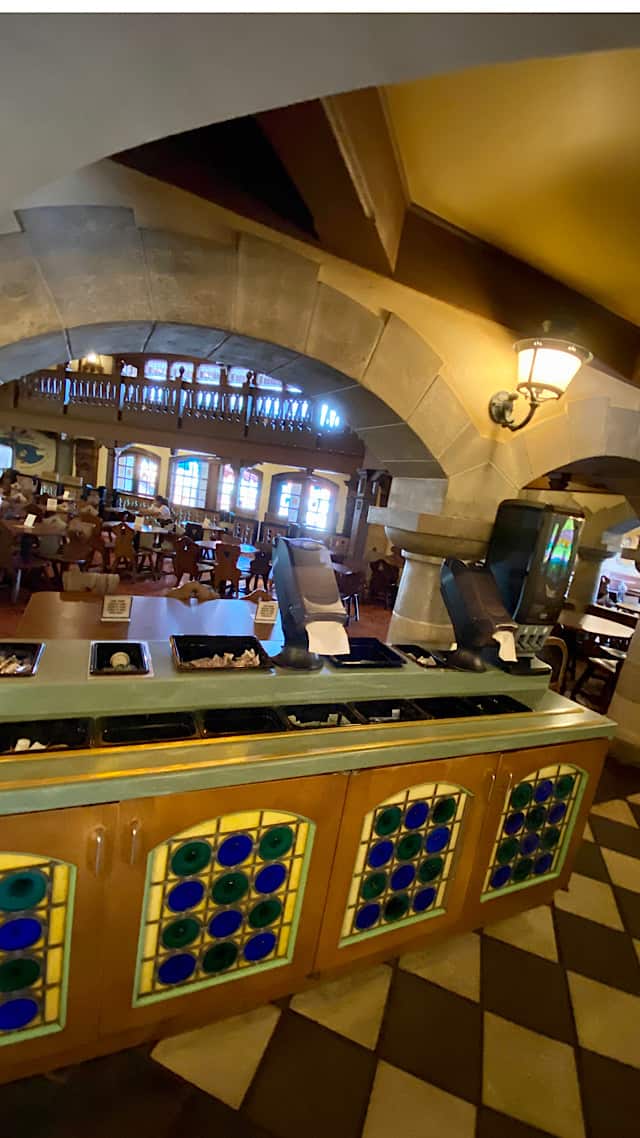 After picking up food, go to the utensil and condiment area shown above before searching for a table. We usually send someone ahead to scout out tables while everyone else picks up needed condiments. This place can get pretty busy, and when you add in the unavailable tables due to physical distancing, it may take several minutes to find a spot to sit.
Pinocchio Village Haus Entrées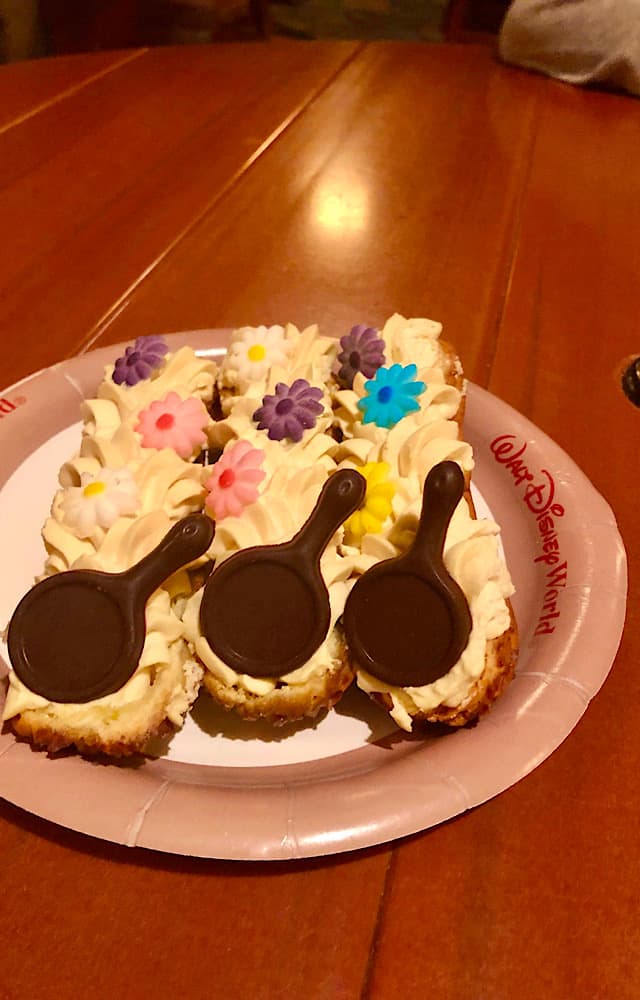 Along with seasonal treats, guests find the following main dishes at Pinocchio Village Haus:
Gourmet Cheese Flatbread – Flatbread topped with Tomato Sauce, Cheddar, Mozzarella, Provolone and Parmesan $11.99
Meat Lovers Flatbread – Flatbread topped with Sausage, Pepperoni, Ham, Bacon, Tomato Sauce and Mozzarella $11.99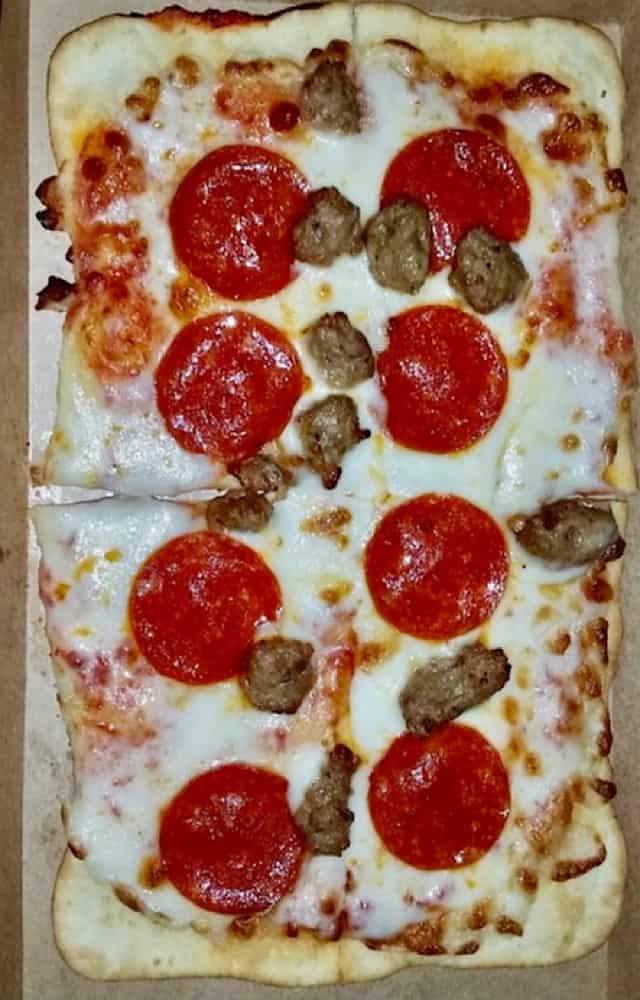 Antipasto Salad – Romaine, Tomatoes, Diced Cucumber, Diced Red Onion, Salami, Provolone Cheese and Diced Ham tossed with Balsamic Vinaigrette $9.99
Margherita Flatbread – Flatbread topped with Shredded Mozzarella, fresh Tomatoes and Mozzarella Pearls $11.99
Pepperoni Flatbread – Flatbread topped with Pepperoni, Tomato Sauce and Mozzarella Cheese $11.99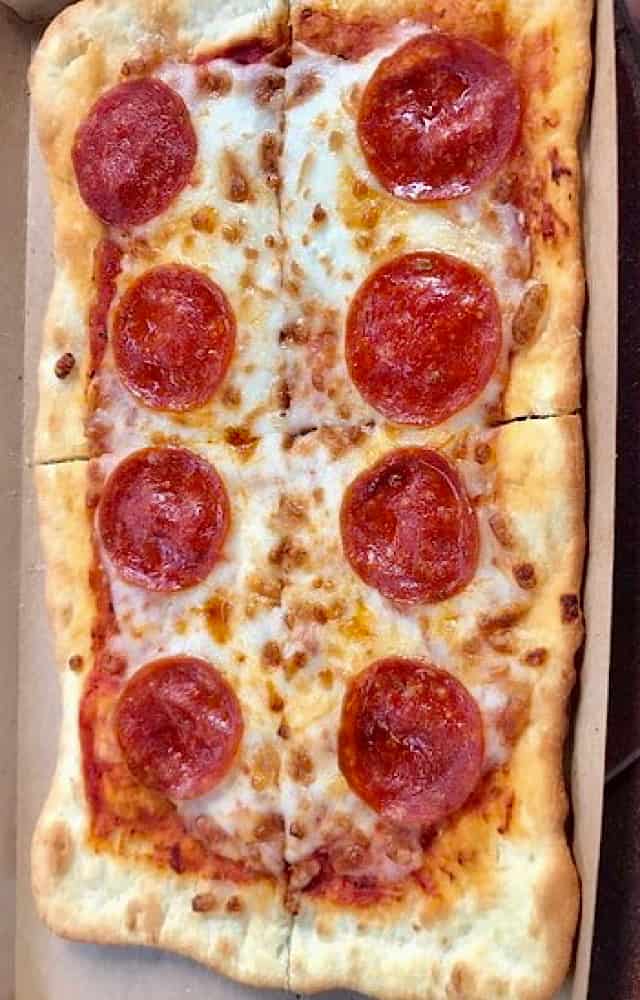 Chicken Strips – Served with French Fries $9.99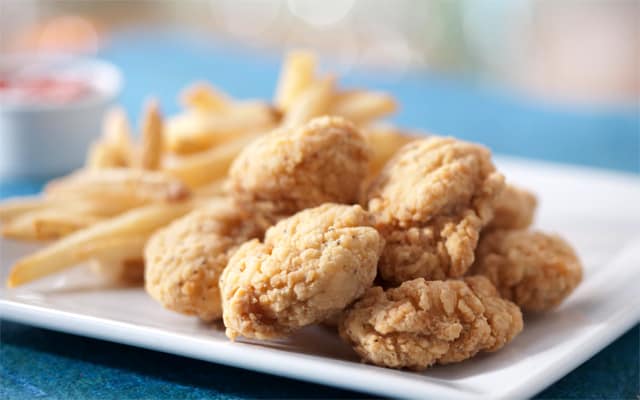 Plant-based "Cheese" Pizza – Pizza topped with Tomato Sauce and "Mozzarella"
Pinocchio Village Haus Sides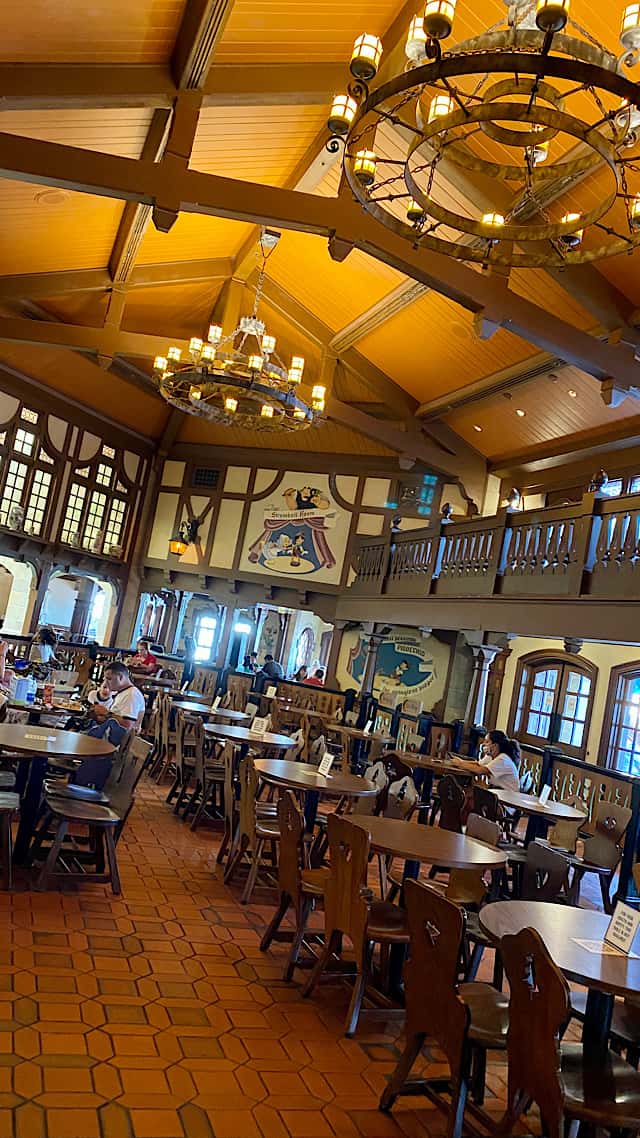 Garlic Breadsticks served with House Marinara Sauce – $4.99
Side Antipasto Salad – Romaine, Tomatoes, Diced Cucumber, Diced Red Onion, Salami, Provolone Cheese and Diced Ham tossed with Balsamic Vinaigrette – $4.79
Small Side Salad – Romaine, Tomatoes, Diced Cucumber, Diced Red Onion tossed with Balsamic Vinaigrette – $3.79
Tomato Basil Soup – $3.99
French Fries – $4.49
For a complete listing of Disney World menus, attractions, touring plans, and so much more, visit Character Locator.
Other Menu Items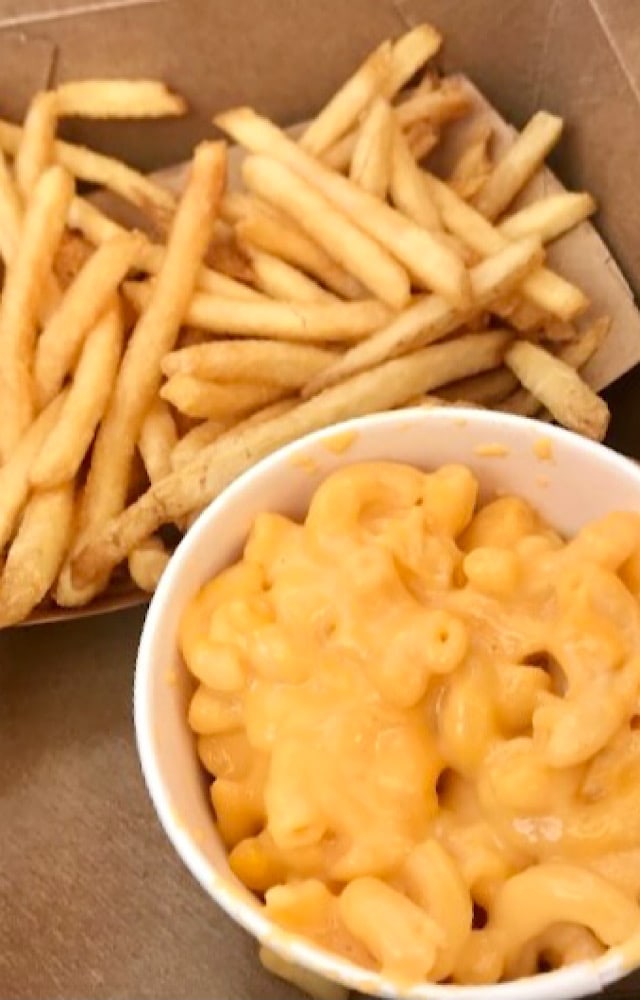 Pinocchio Village Haus offers a variety of children's menu items, including the ever popular peanut butter and jelly Uncrustables. Also, before Disney closed, children could order pepperoni or cheese flatbread, chicken strips, and macaroni and cheese.
Currently, however just Uncrustables are listed on the children's menu. You can always ask about getting another item if your child prefers flatbread or chicken strips since they are on the current menu. Children's portions offered are half the adult entrée portions.
Pirate Tip: Adults with lighter appetites can also order from the children's menu at no additional charge.
Thoughts on Food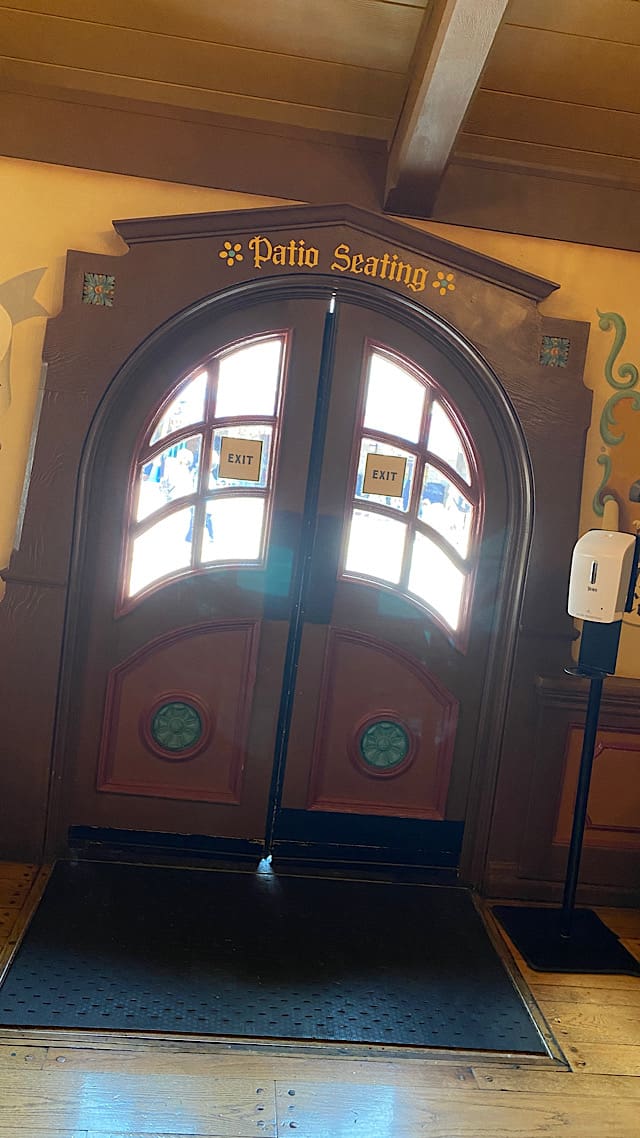 When you consider gourmet food, guests don't exactly think of quick service locations at Magic Kingdom. This certainly holds true for Pinocchio Haus Village. The flatbread, along with other menu items, are acceptable meals, but not anything particularly memorable.
With that said, if you're tired of quick service burgers and Mexican cuisine at Magic Kingdom, flatbreads are a nice change of pace in theme park food. Also, the food was served relatively quickly, hot, and fresh. Three wins in my book!
Amazing Restaurant Details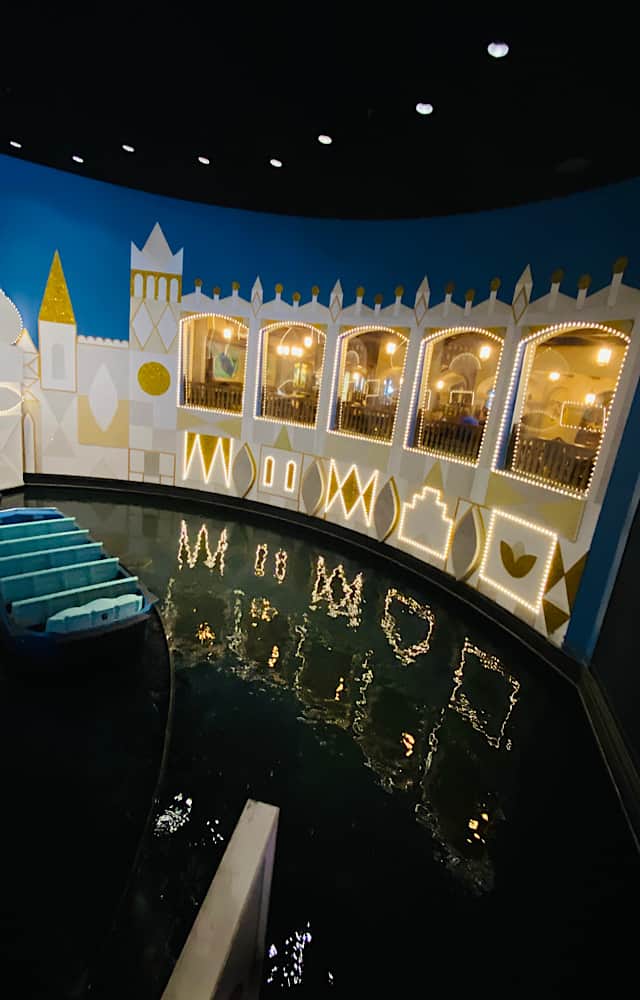 Pinocchio Haus Village has been in Disney's Magic Kingdom since it opened in 1971. The charming theming of Pinocchio Haus Village totally sets it apart from most Disney World restaurants.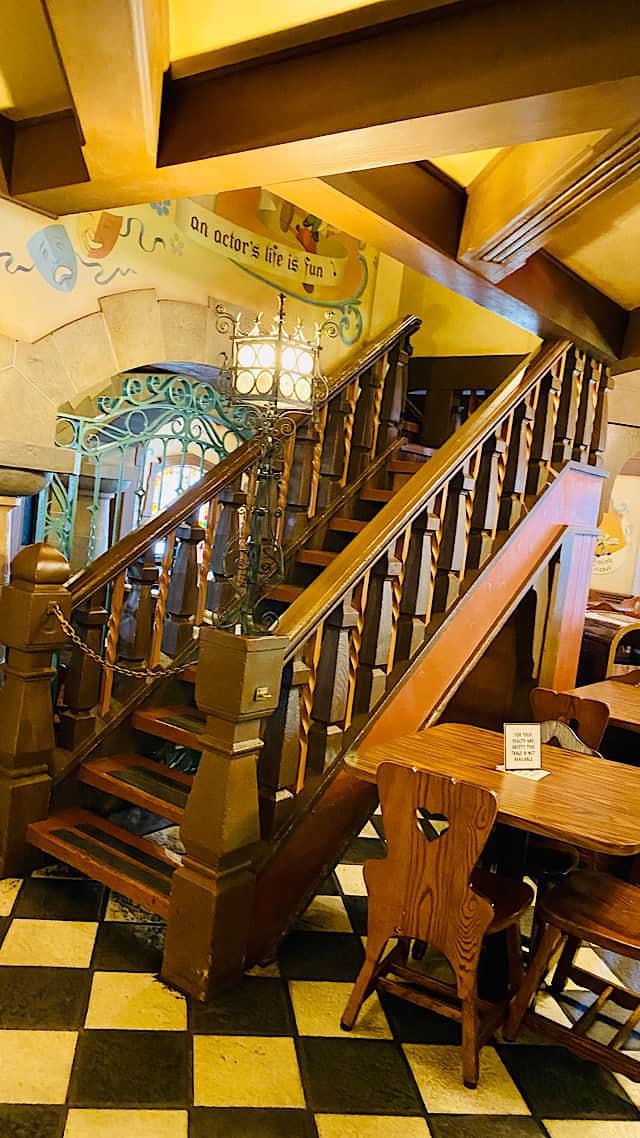 Also, the restaurant consists of several small dining rooms, as well as a large area in the center. Although it has an upstairs dining area, this has been closed since Disney reopened.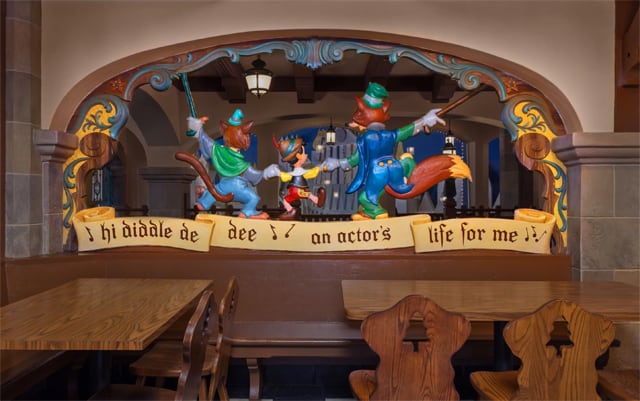 Each dining room displays colorful and whimsical murals depicting beloved scenes from Disney's Pinocchio movie. These murals, as well as Bavarian details, such as dark woods and carvings, are quite charming.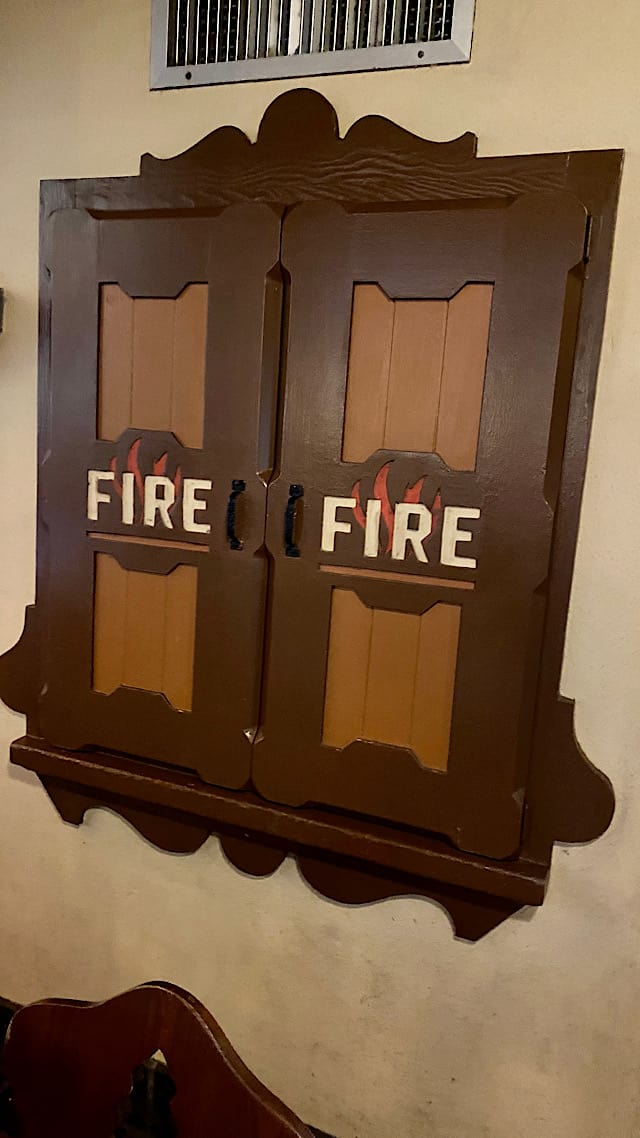 Fantasyland is a perfect setting for Geppetto's unique workshop. Also, check out the "fire box" to tackle an emergency. Every wood shop has to be prepared! So many unique details to take in it's hard to take it all in.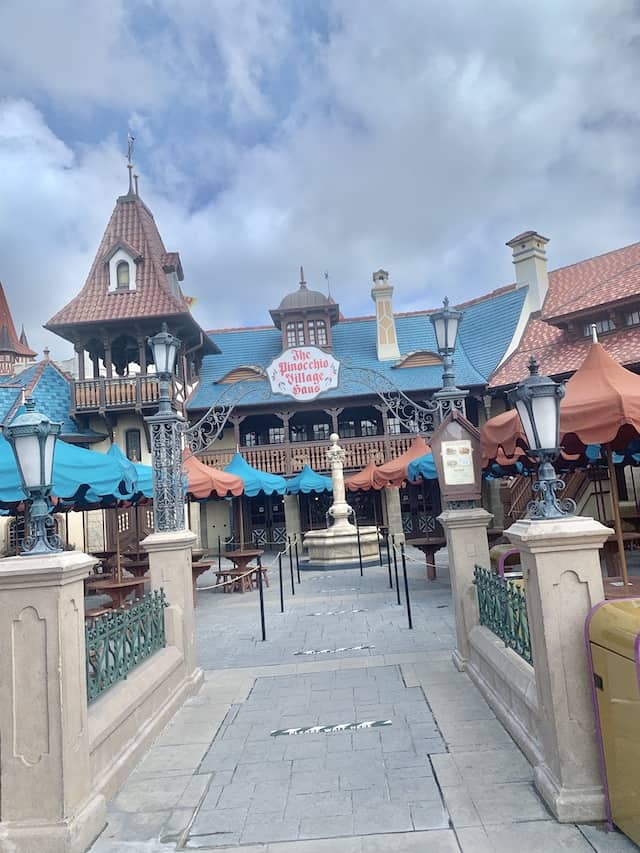 In addition to indoor dining, guests can sit at several outdoor tables located in the restaurant's patio. It is lovely to just sit and take in all of the wonderful Fantasyland sights and sounds!
Blue Fairy Wish Book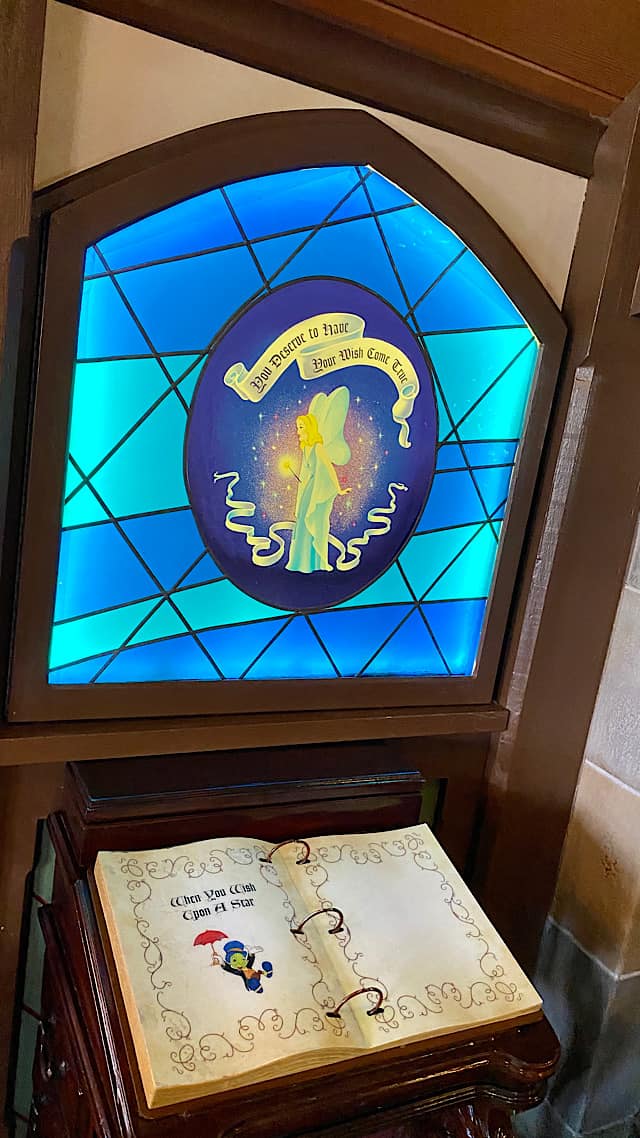 There's even a Blue Fairy Wish Book located in Pinocchio Haus Village so guests can wish upon a star just like in the movie! Before Disney World closed due to COVID-19, this consisted of a paper book where guests could write their magical wishes.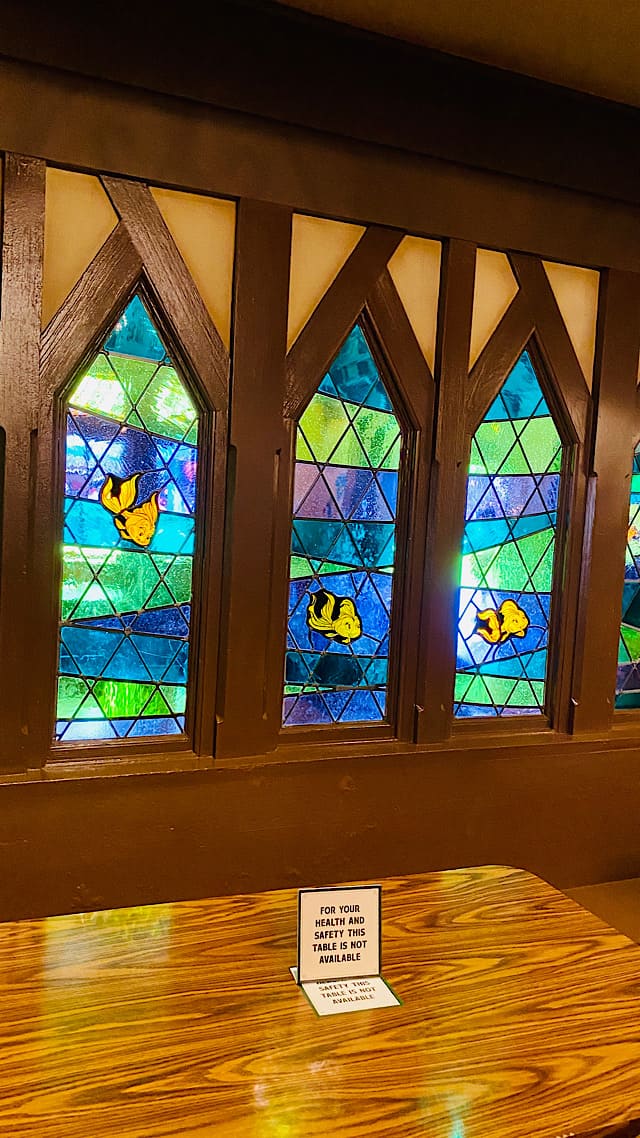 There was a slot to place these wishes in a box behind the book. However, after reopening, the box became sealed, and although the book itself remains, the paper pages are gone. To learn more about this Blue Fairy Wish Book and other hidden treasures at Magic Kingdom, read our article here.
My Favorite Part of this Restaurant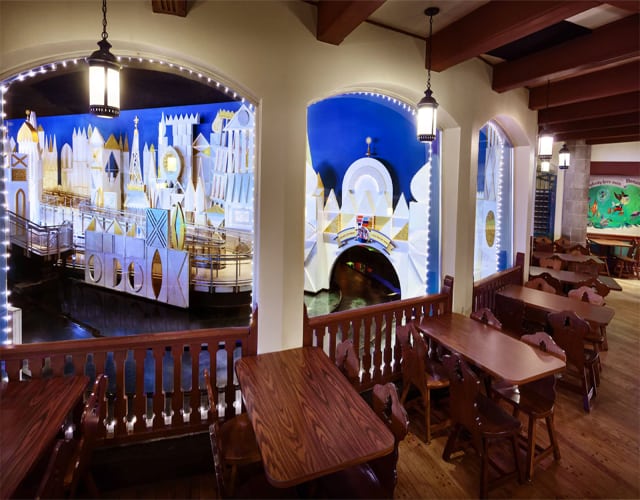 The hidden gem of this charming restaurant are the coveted tables overlooking it's a small world Attraction. Guests can not only view the boats floating into the attraction, but they can also wave to them!
Waving back and forth is such a treat! Even with masks on, guests see boat goers eyes light up as diners above wave enthusiastically through the large glass windows in Pinocchio Village Haus.
Best Time to Dine Here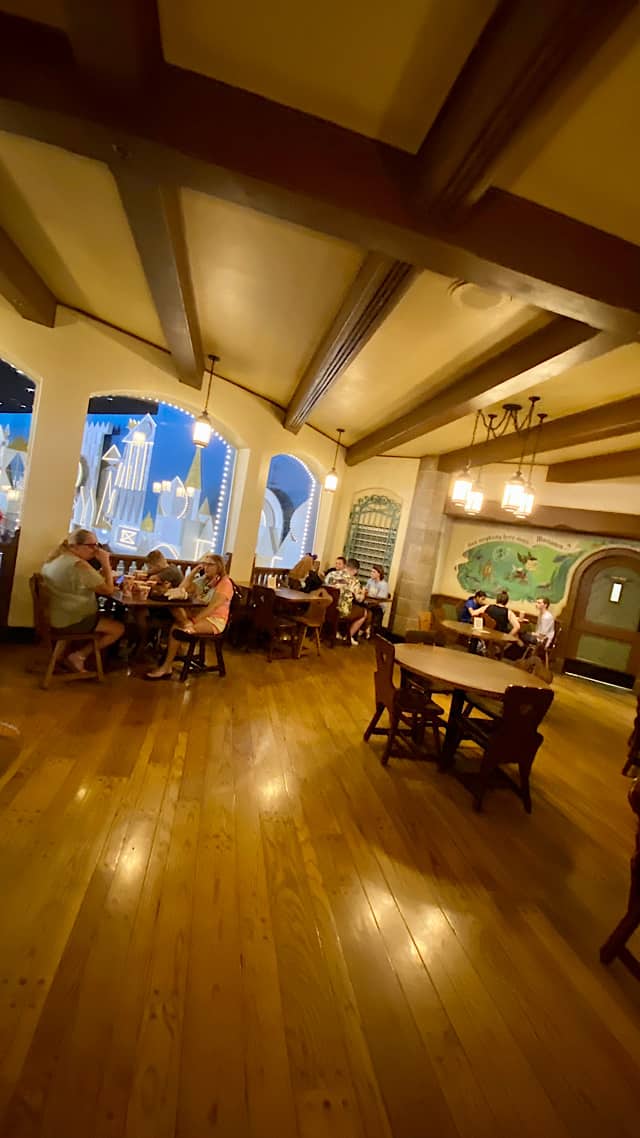 Pinocchio Village Haus is one of the few locations at Disney World where guests can actually order pizza. And not just the frozen type pizza found elsewhere at Disney's theme parks, but actual flatbreads. The food is served relatively quickly and served fresh. Also, free entertainment is included if you're lucky enough to score a window seat overlooking It's a Small World.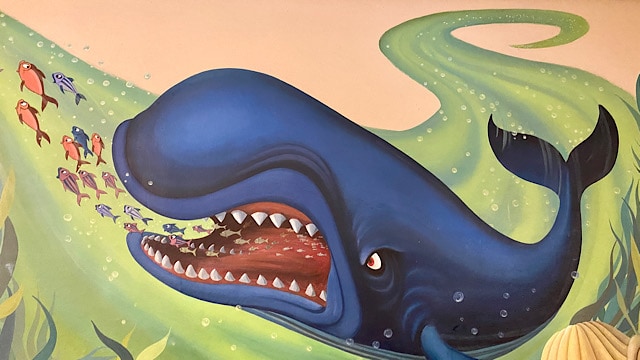 However, I only recommend dining here at less popular times. During the busiest times of the day, Pinocchio Village Haus is not only overcrowded, but can become downright hectic trying to locate a table. I made this mistake the first time dining here, and walked around carrying my food looking for any available table for over 5 minutes.
Great Rest Spot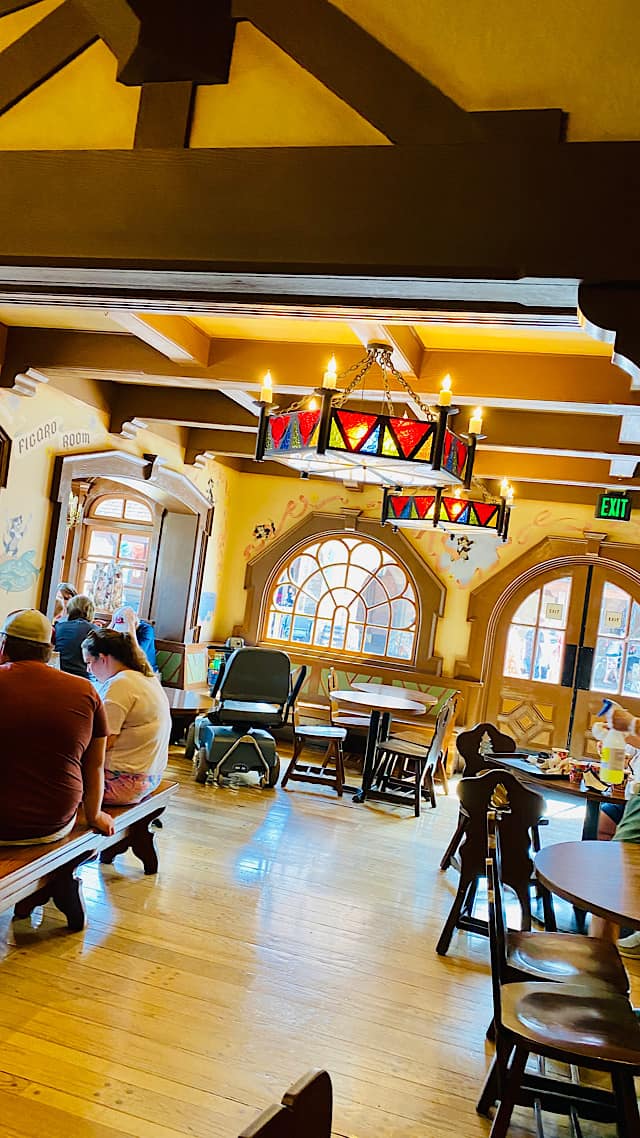 Also, if you need somewhere to rest and take your mask off, try one of the Magic Kingdom's relaxation stations. Read details here on where to find all relaxation stations, including pictures, here.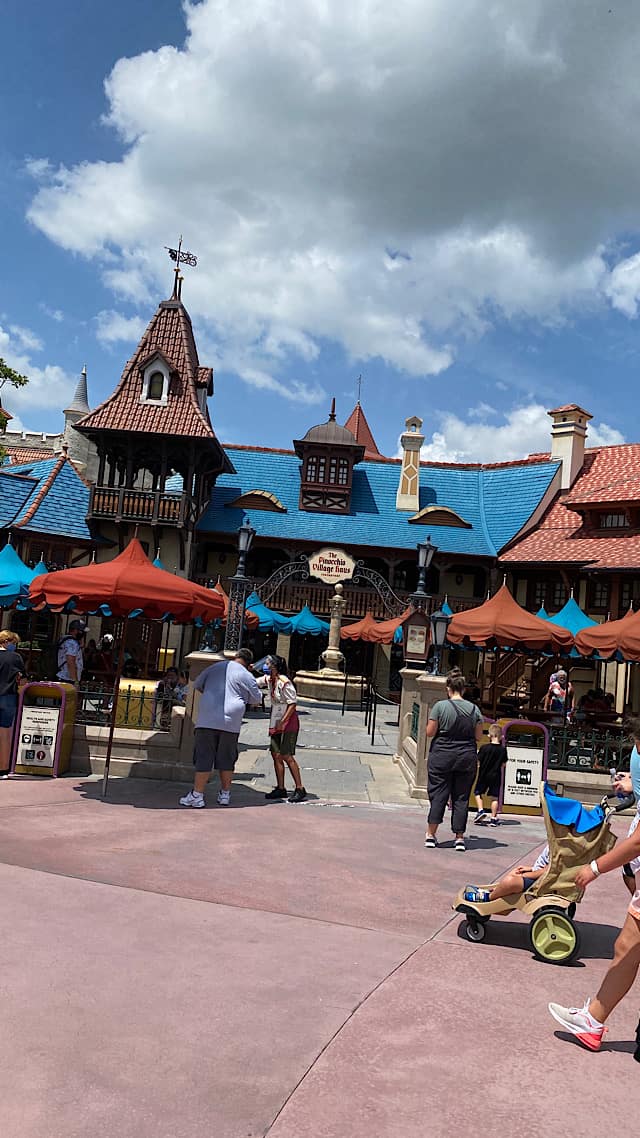 For guests wanting to experience the scenic restaurant spots Pinocchio Village Haus offers, simply come here during a less busy time, and ask for a glass of ice water.
Cast Members are happy to oblige and pass out free water to everyone that asks. Then, you can sit and wave at oncoming it's a small world boats mask-free and take a break from the theme park's busy pace.
Have you dined at Pinocchio Haus Village? If so, what are your thoughts on the food and decor? If not, would you consider dining here after reading our review? Please share your thoughts on our Facebook page and by commenting below.