Adding a mask to the brutal Florida heat and humidity makes it challenging for guests to stay in the parks all day. Walt Disney World Relaxation Stations provide mask-free rest areas in all Disney Theme Parks. Read here for locations, photos, and details.
In an effort to keep guests safe, Disney World requires a mask of all guests age 2 and over in all theme parks, resorts, and Disney Springs.
Although I absolutely agree with wearing masks for COVID protection, throughout the day they feel like an oven heating your face. Masks are unbearable if they stay on your face too long.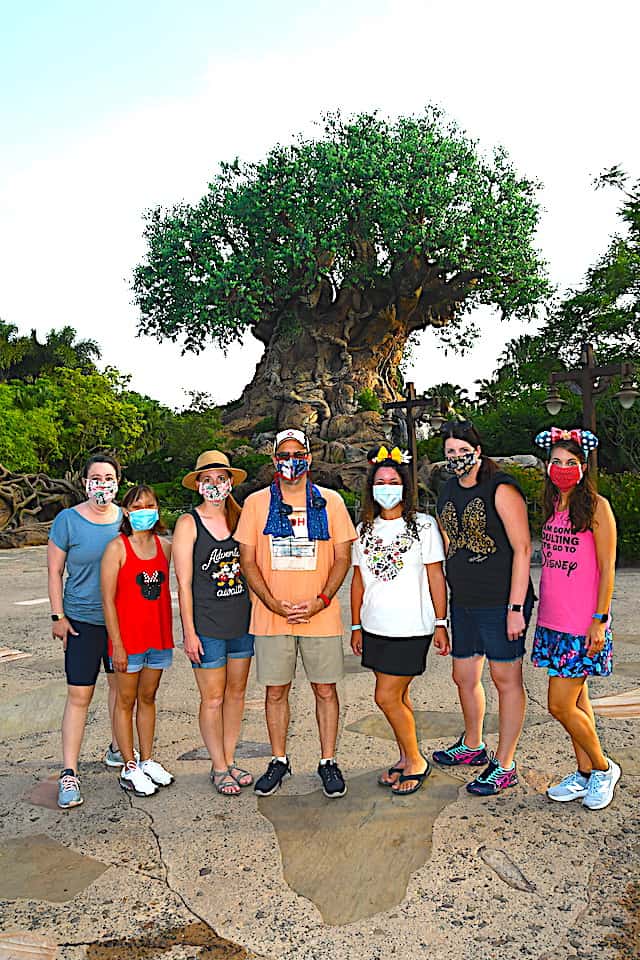 Temperature screenings take place before entering Disney Theme Parks and Disney Springs to further ensure guests safety.
Taking a Break From the Heat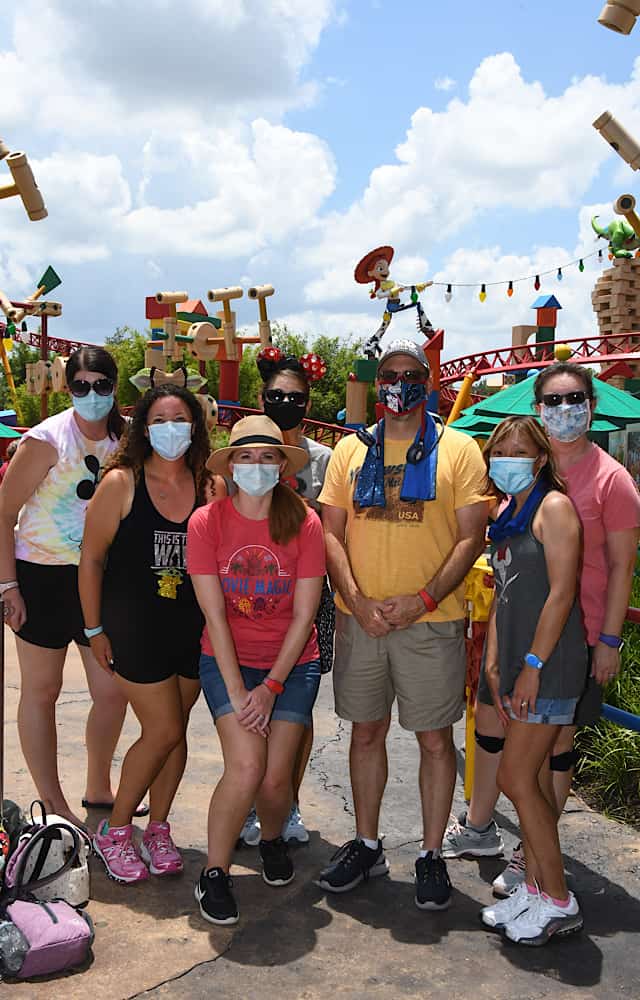 Guests must take a break from both the extreme Florida heat and from wearing a mask. Disney recently updated its mask policy saying that you must be seated to remove masks to eat and drink. In other words, if you're walking around, riding attractions, and viewing shows, masks must be worn covering each guest's nose and mouth.
Cooling Off in Restaurants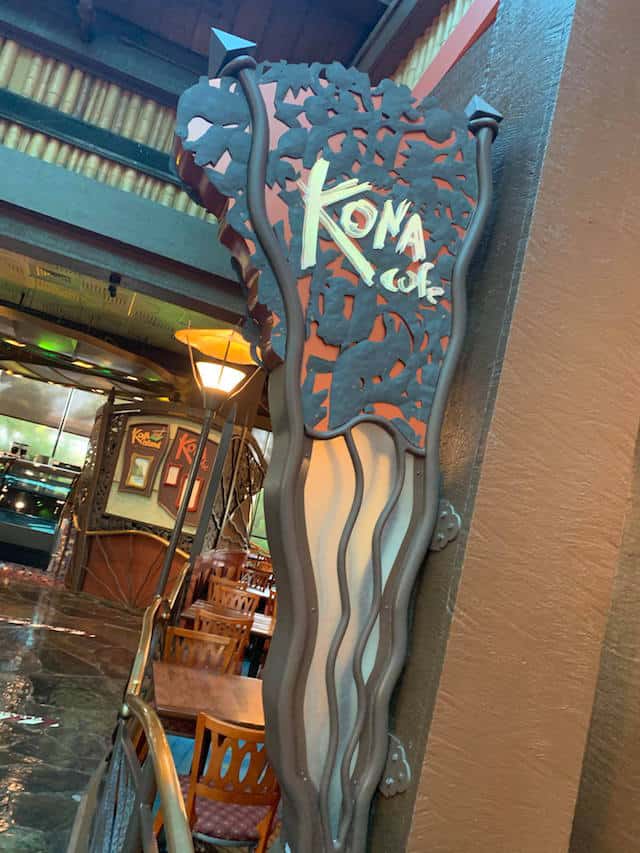 A wonderful way to cool off and remove masks is by dining inside the park. During opening day, our writers group experienced both quick service and table service meals. Quick service meals had mixed reviews. Some were so hectic that it was extremely difficult to even find a table with about 60% of tables blocked off for social distancing.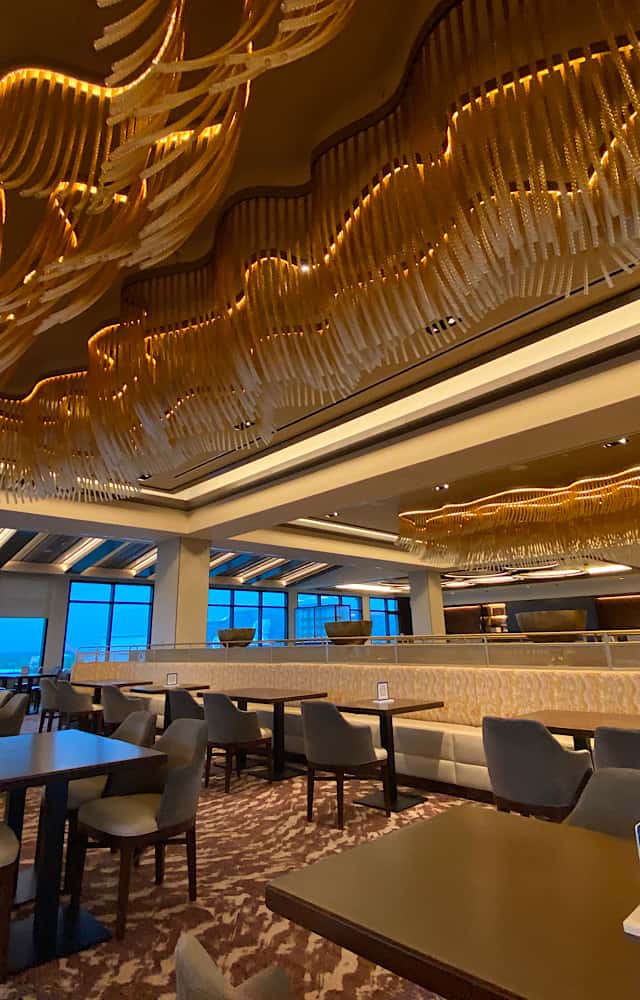 At the same time, we went inside quick service locations and to get a free glass of water at a table to cool off. When quick service restaurants weren't crowded. This was a refreshing break!
However, we preferred the uncrowded atmosphere of table service restaurants in the theme parks. We relished sitting down in an uncrowded restaurant. Servers bringing food, drinks, and utensils make table service an extra treat.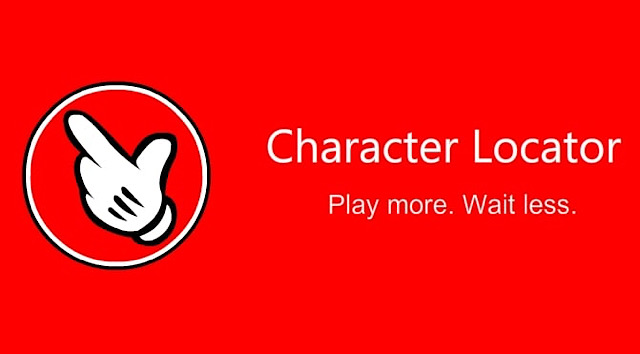 In between meals, we took breaks at Walt Disney World's Relaxation Stations to cool off and take a remove masks.
For a complete list of relaxation stations in all Disney theme parks, refer to the maps in Character Locator.
Relaxation stations are labeled in bright blue, and these maps are an easy way to find not only relaxation stations, but also detailed information on everything that's open at Disney!
Walt Disney World Relaxation Stations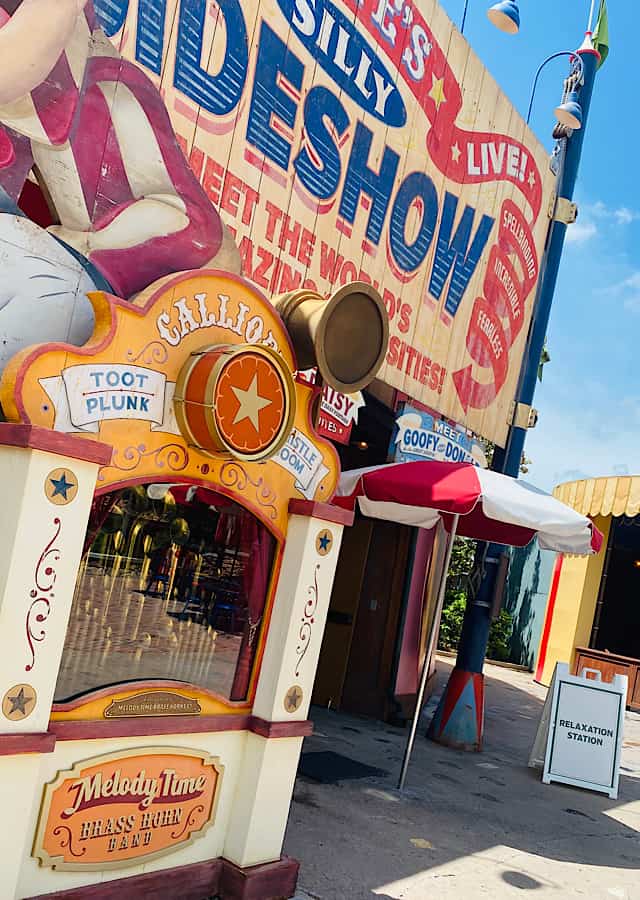 Other than restaurants or finding a spot to sit outside to eat or drink, relaxation stations are the only locations where guests are allowed to remove masks. In each Disney World theme park, there are indoor and outdoor locations for guests to relax and cool without wearing a mask.
Cast Members are located at each entrance to welcome and instruct guests where to sit. Some locations have chairs and/or tables removed while others simply have signs that instruct guests that the table is unavailable.
Cast Members explained that if/when relaxation stations get busy, they may limit guest time to 30 minutes.
All relaxation station locations we stopped at or walked by on our trip were very uncrowded so time spent at relaxation stations was not an issue.
Each location displays a "Relaxation Station" white sign along with a hand sanitizer dispenser at the entrance. Cast Members encourage guests to continue social distancing.
Also, guests are instructed to leave masks on until they are seated. Disney is utilizing a mix of closed restaurants and outdoor seating areas for relaxation stations.
Magic Kingdom Relaxation Station Locations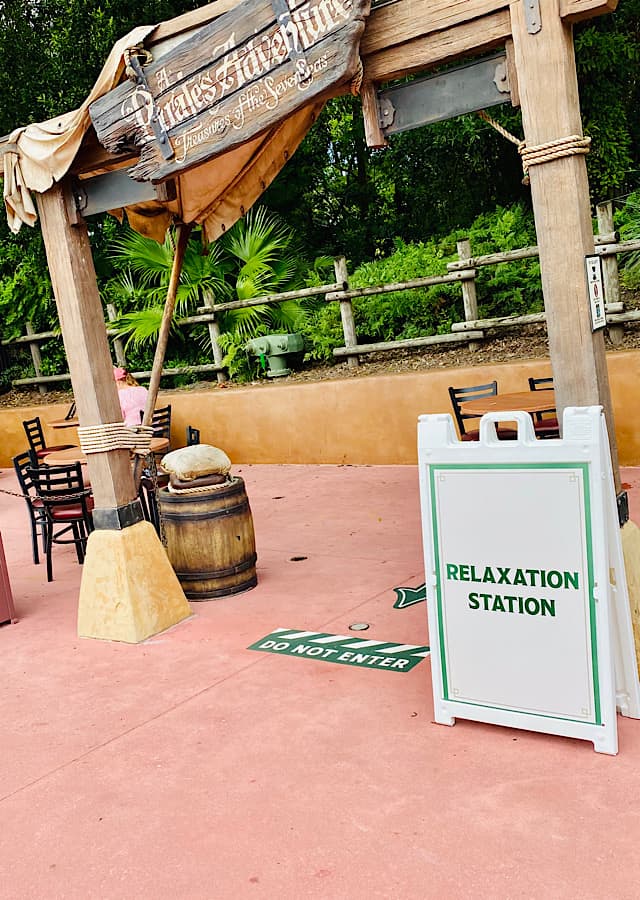 Magic Kingdom has three relaxation stations spread out throughout the park.
The first relaxation station is between Frontierland and Adventureland at the Golden Oak Outpost. Guests choose from spread out tables to the left of right of the entrance. We stopped here for a break on one of our KtP Writers Days.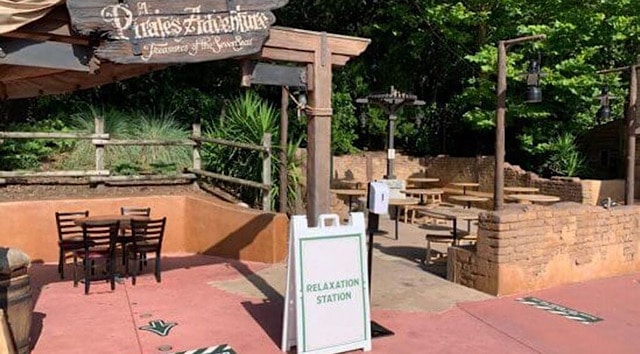 Cast Members allowed all 8 of us to stay together since there was no one else to the left of the entrance. We were even able to spend time together as a whole group and even pose for a group selfie.
Although we enjoyed being together this relaxation station location provided little to no shade. We breathed a little easier, but this was our least favorite mask-free area. In cooler months, this would be a more enjoyable location.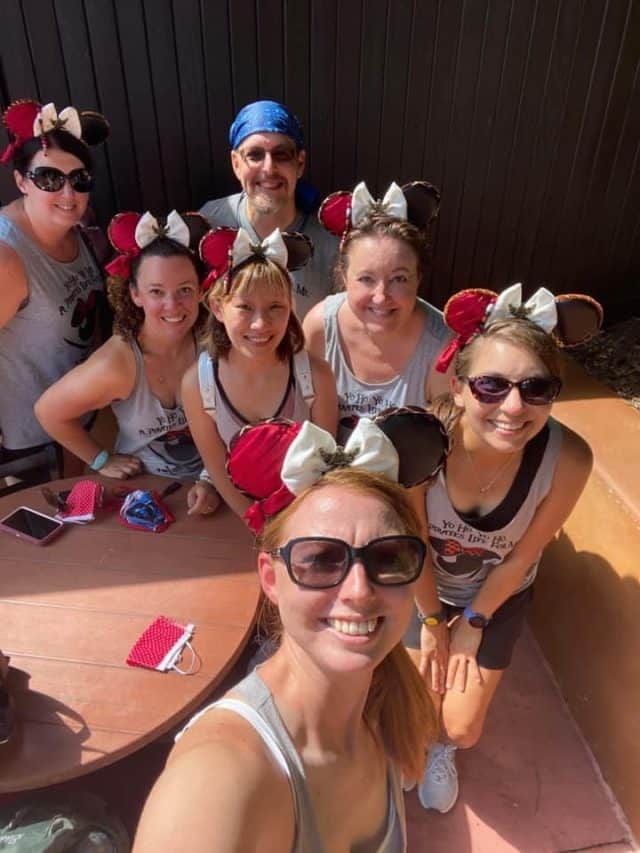 The only indoor relaxation station inside Magic Kingdom is located at Pete's Silly Sideshow in Fantasyland. This area formerly held character meet-and-greets that have been suspended. The air-conditioning ran super cold on our visit, which we loved!
Cast Members instructed each group of 4 guests to gather on a large floor dot or table. Since our group was larger than 4, we split up and sat at 2 separate tables.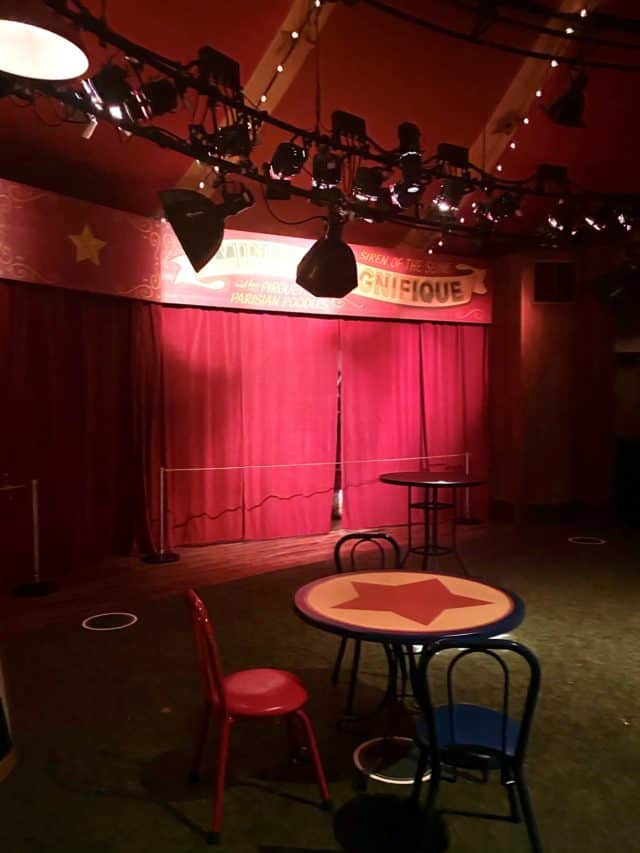 This was our hands-down favorite Magic Kingdom relaxation station! The air-condition was frigid and cooled off us off to the point of being cold. It was such a nice break from the brutal Florida heat and humidity.
We spent time drinking water, socializing, and recharging. The people are spread out more than they appear to be in the photo below. Each green dot and table is ten feet apart from one another.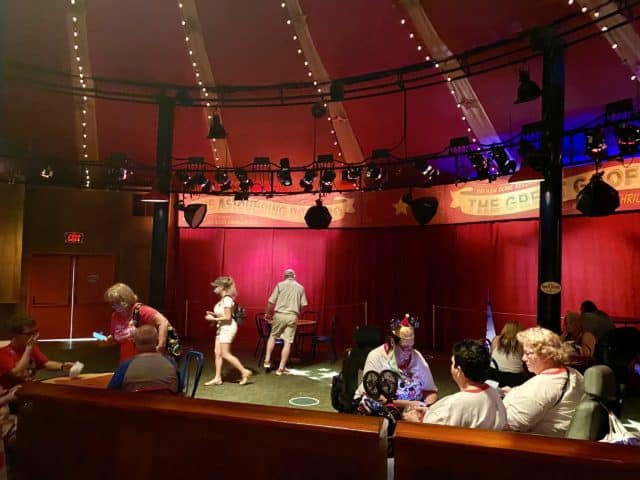 Tomorrowland Terrace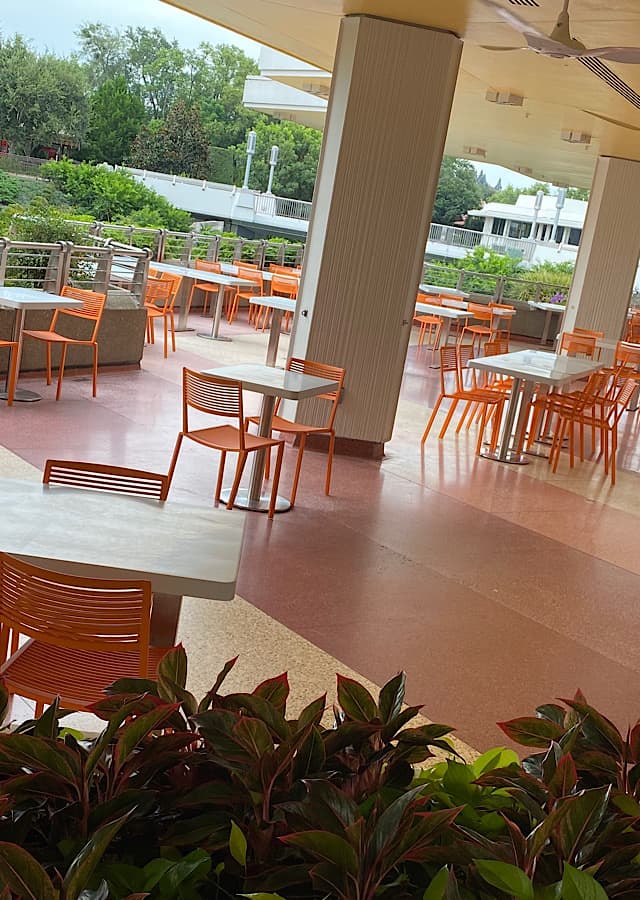 The final Magic Kingdom location is Tomorrowland Terrace, which is also closed for dining. Also, Tomorrowland Terrace is an open-air location that provides guests with fresh breezes, but not air-conditioning. The advantage of this location over Golden Oak Outpost is the shady tables.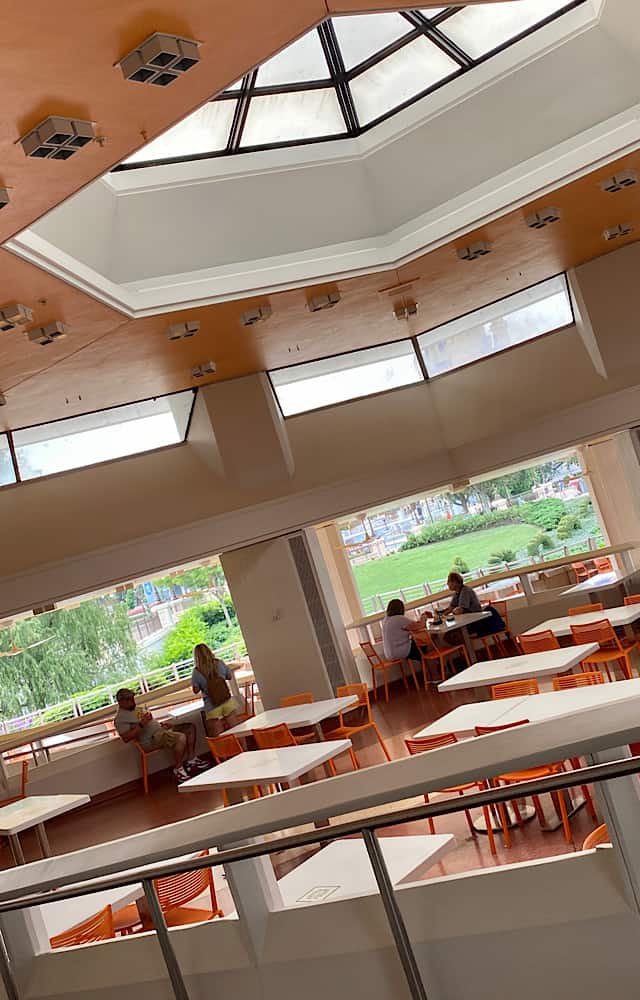 This is the most spacious relaxation station with ample seating available. Walking by, however, we never saw more than a few guests here at a time.
UPDATE: Seasonally, Tomorrowland Terrace will serve the Columbia Harbor House menu.
After the holiday surge of guests, this may return to a relaxation station. We'll update any changes here. For the full story along with news of two other exciting re-openings, click here.
Hollywood Studios Relaxation Station Locations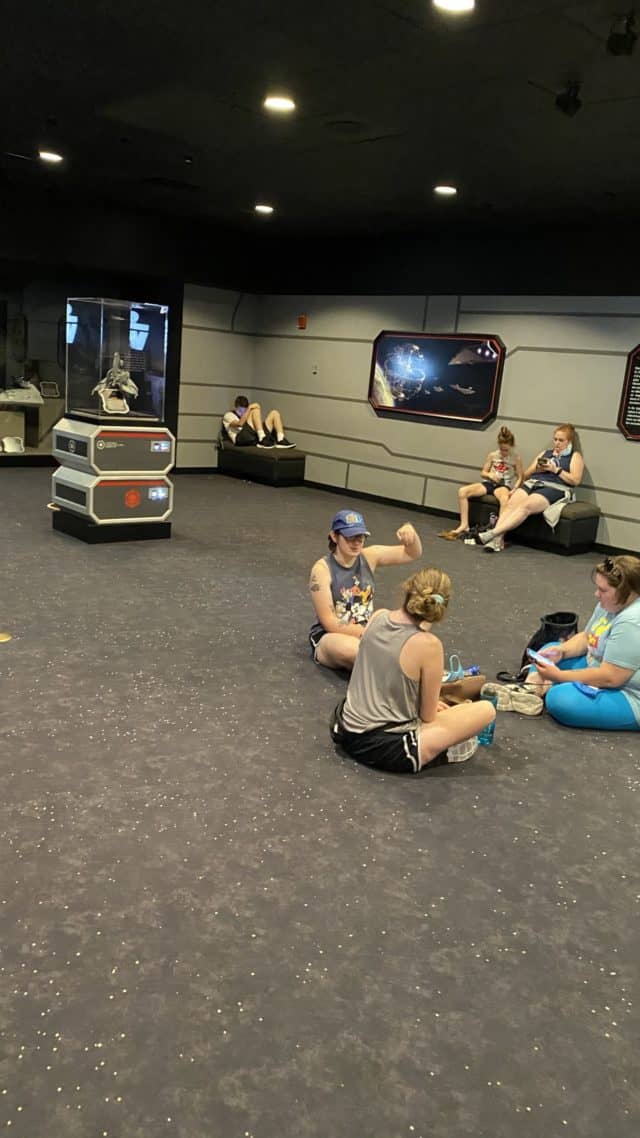 Previously, Disney had a relaxation station at Star Wars Launch Bay with indoor and outdoor seating.
While the Indiana Jones Epic Stunt Spectacular show is still unavailable, the theater itself is not. This past summer it was used as a mobile ordering location.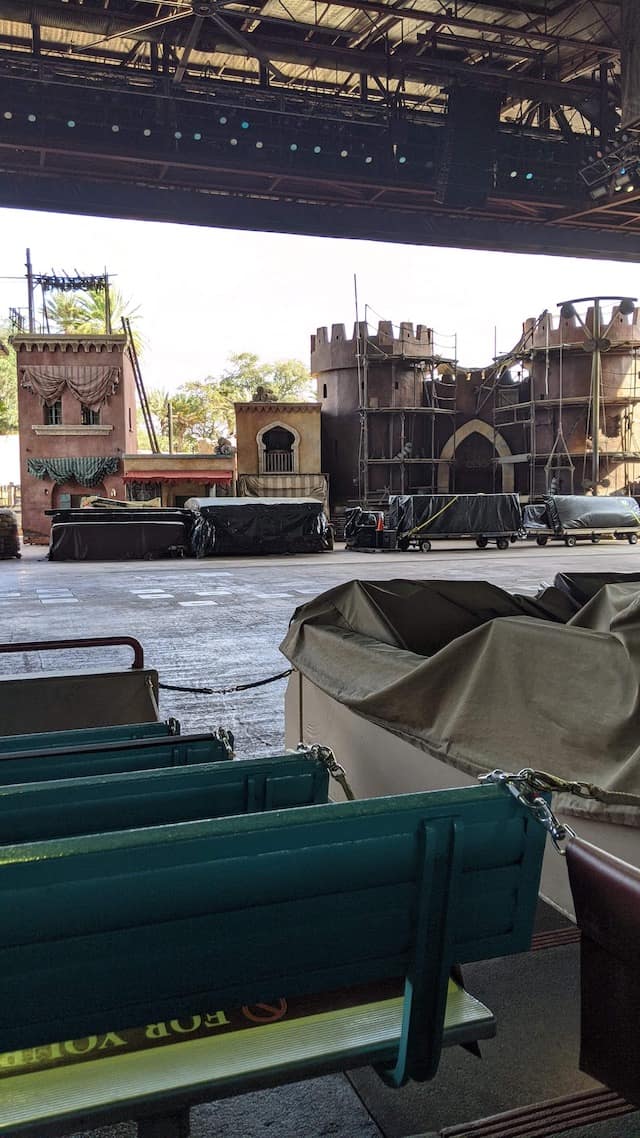 The show has been closed since the reopening of Disney World parks more than 6 months ago. Disney has converted the theater into an outdoor relaxation station. Unfortunately, Hollywood Studios no longer offers any indoor relaxation stations. That will be tough in the summer!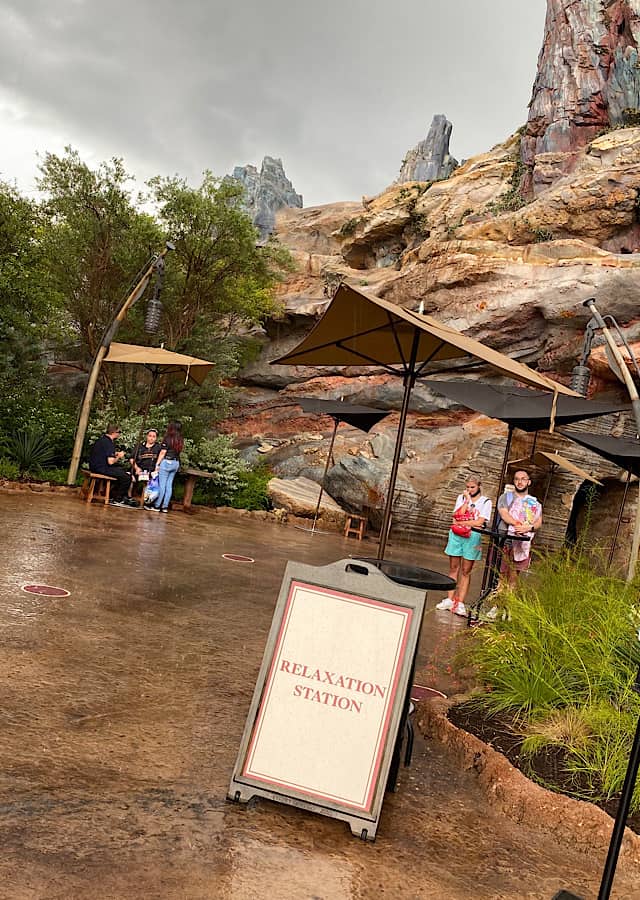 Meanwhile in Batuu (also known as Star Wars: Galaxy's Edge), Disney provides an outdoor relaxation station. Umbrellas are located at every table to provide shade. As you can see, the groups are very spread out.
However, when as we passed by this location, a rainstorm came through and made me jump when lightning hit close by! Thankfully, we ducked through the stores on our way to the Smuggler's Run queue right before the bottom fell out!
EPCOT Relaxation Station Locations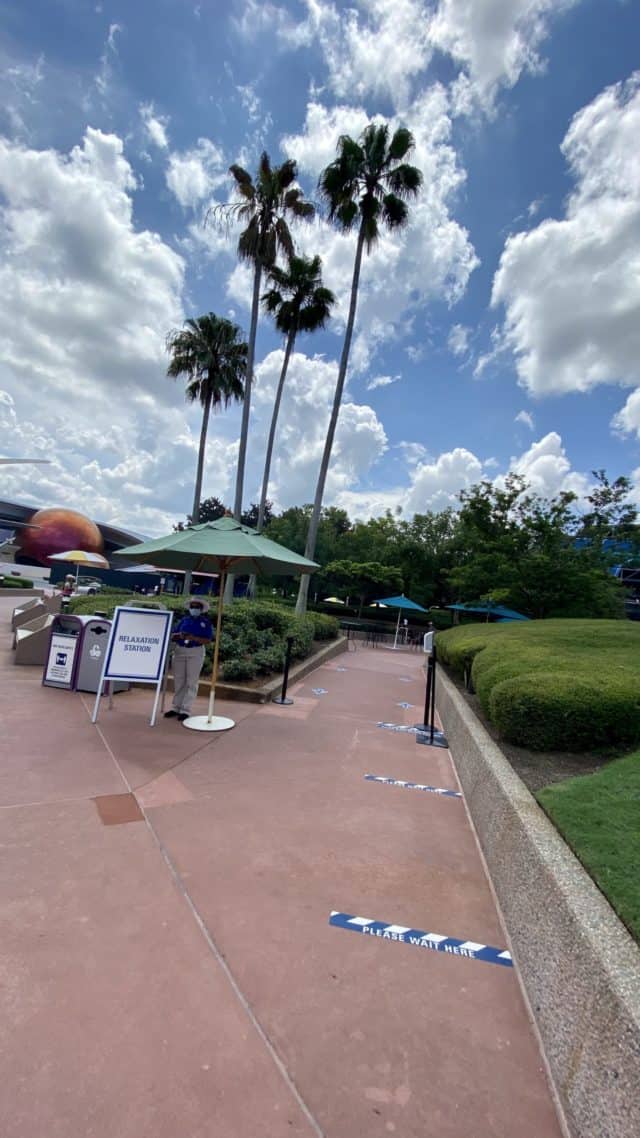 EPCOT has 3 relaxation stations spread out throughout the theme park. The first location in Future World near Test Track and Mission: SPACE.
Guests are instructed to wait by parties at each line on the floor. However, we never saw a line of any kind.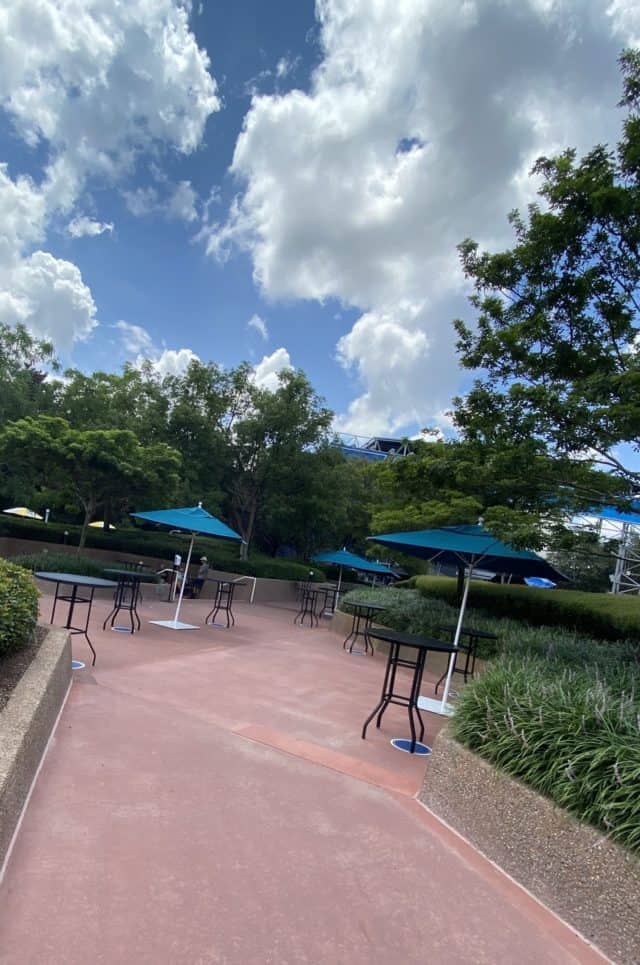 Like the relaxation station at Star Wars: Galaxy's Edge, this is an outdoor location with umbrellas provided at each table.
However, like many tables at EPCOT's Food and Wine Festival, its standing only here.
EPCOT's only indoor relaxation station is found inside Akershus at the Norway Pavilion.
It provides a large space for guests to spread out and cool off.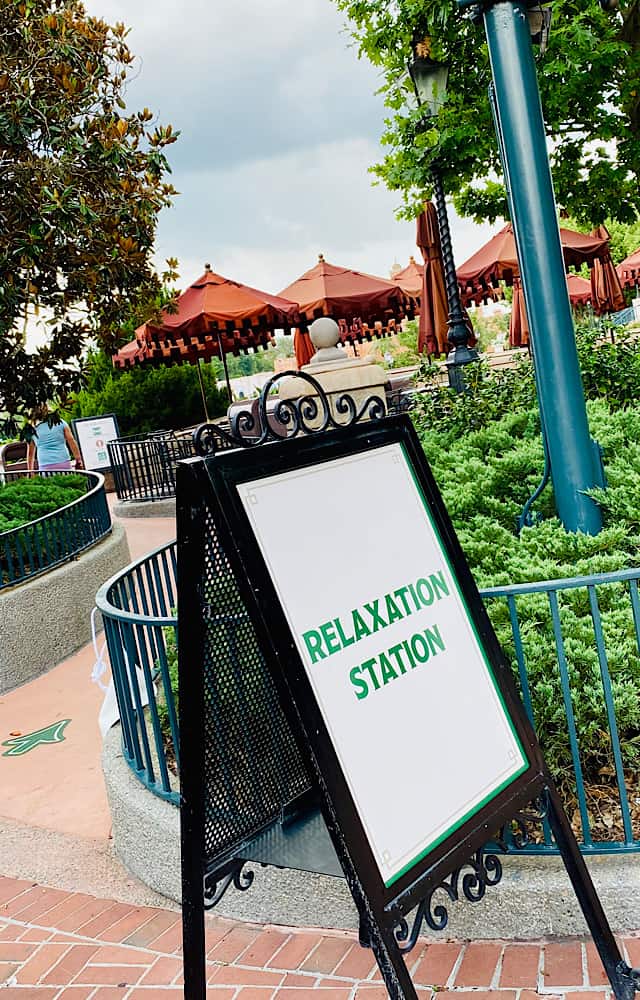 Outdoor seating near the United Kingdom pavilion previously served as a relaxation station. Now, it is used for seating for Yorkshire County Fish Shop.
Epcot's Morocco Pavilion is getting new theming, and most of the pavilion isn't currently open. As a result, Disney decided to use this area as a relaxation station.
Animal Kingdom Relaxation Station Locations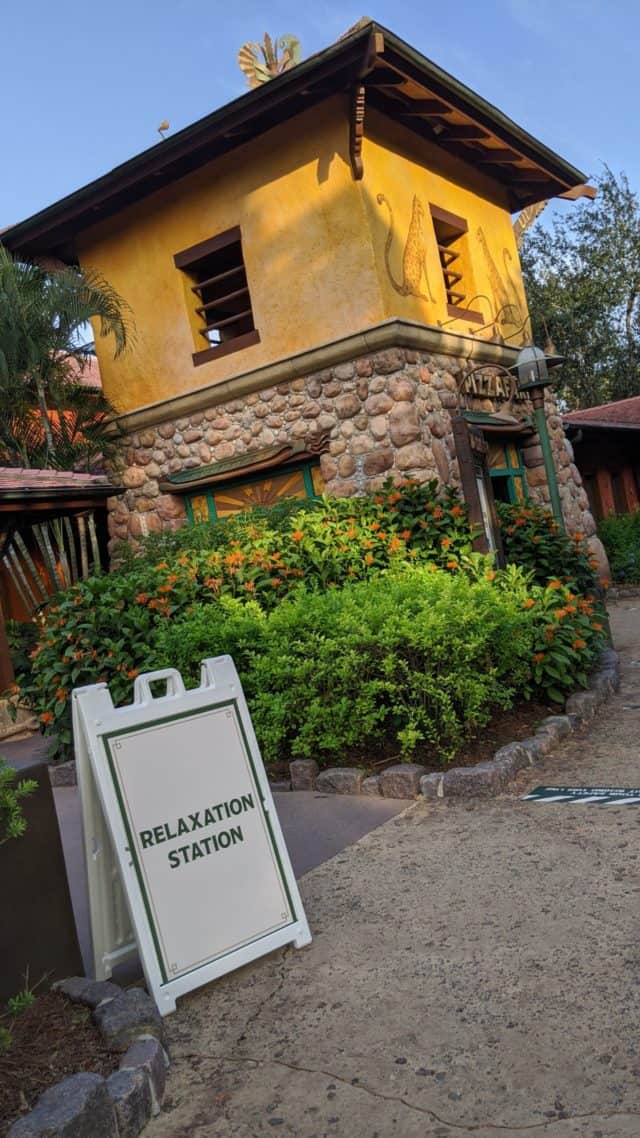 Animal Kingdom provides guests with 2 relaxation areas.
Pizzafari is closed to dining, and provides the only indoor mask-free area within Animal Kingdom.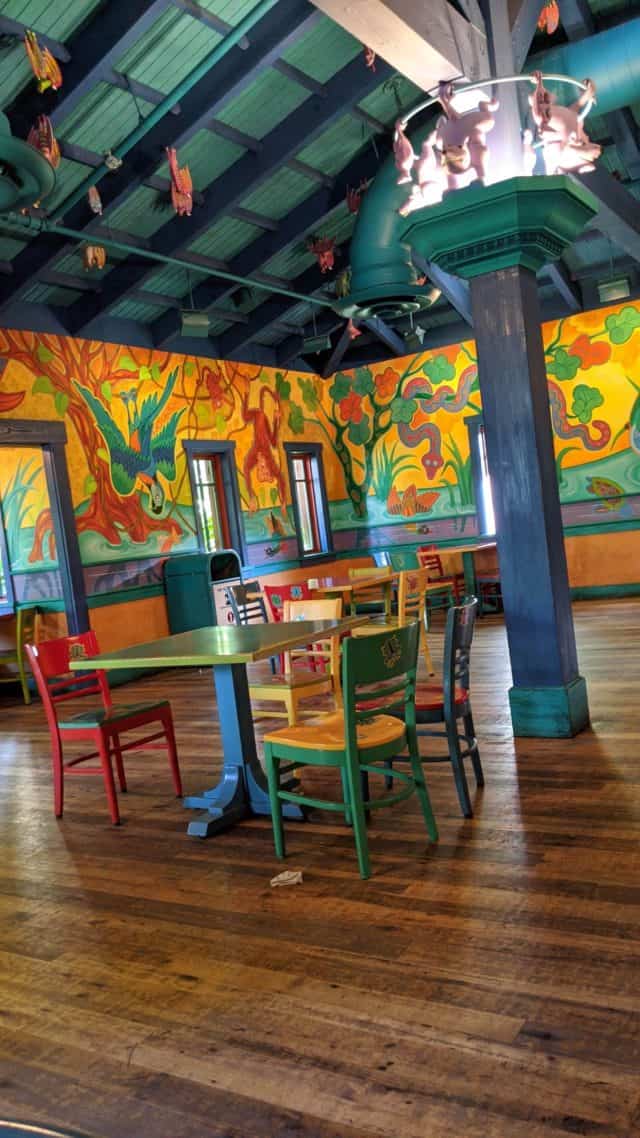 Another relaxation station can be found in Asia at the Upcountry Landing. This is one of my favorite locations to eat since its right on the water.
It's a lovely view and catches winds off the water also.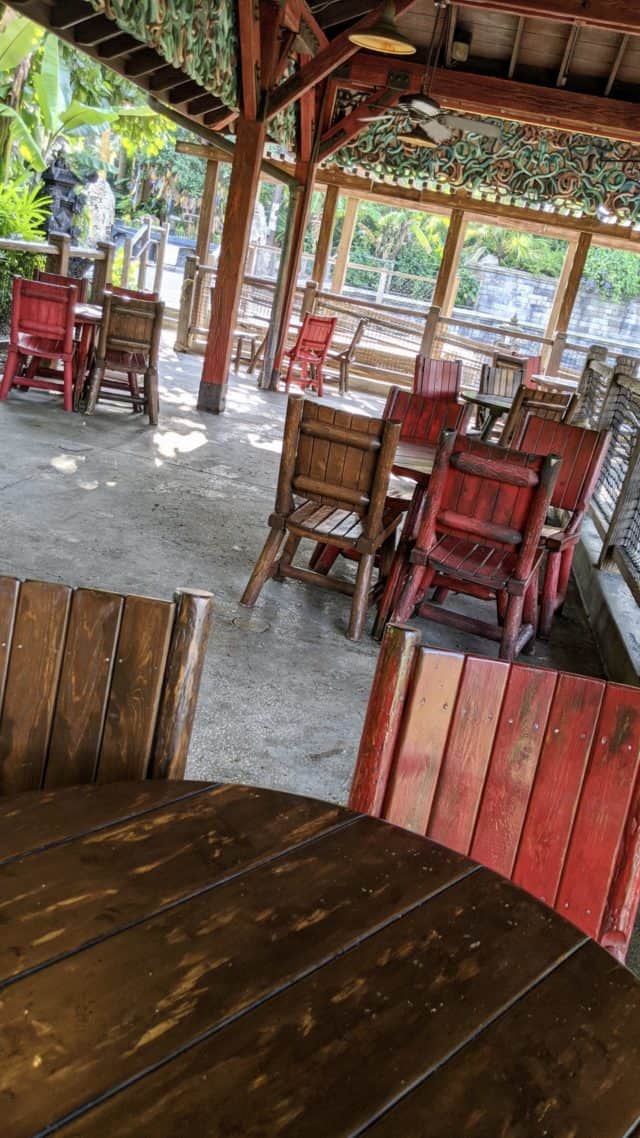 Another wonderful treat at the Upcountry Landing is viewing of Animal Kingdom's cavalcade right from your table!
Seating is also under pavilions which provide needed shade.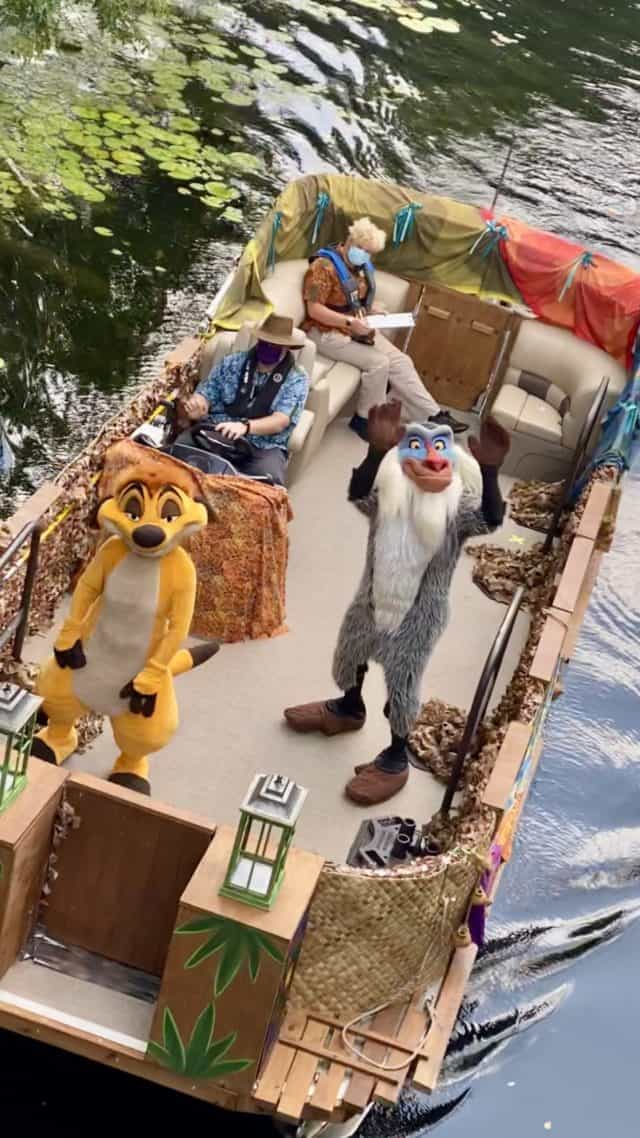 Final Thoughts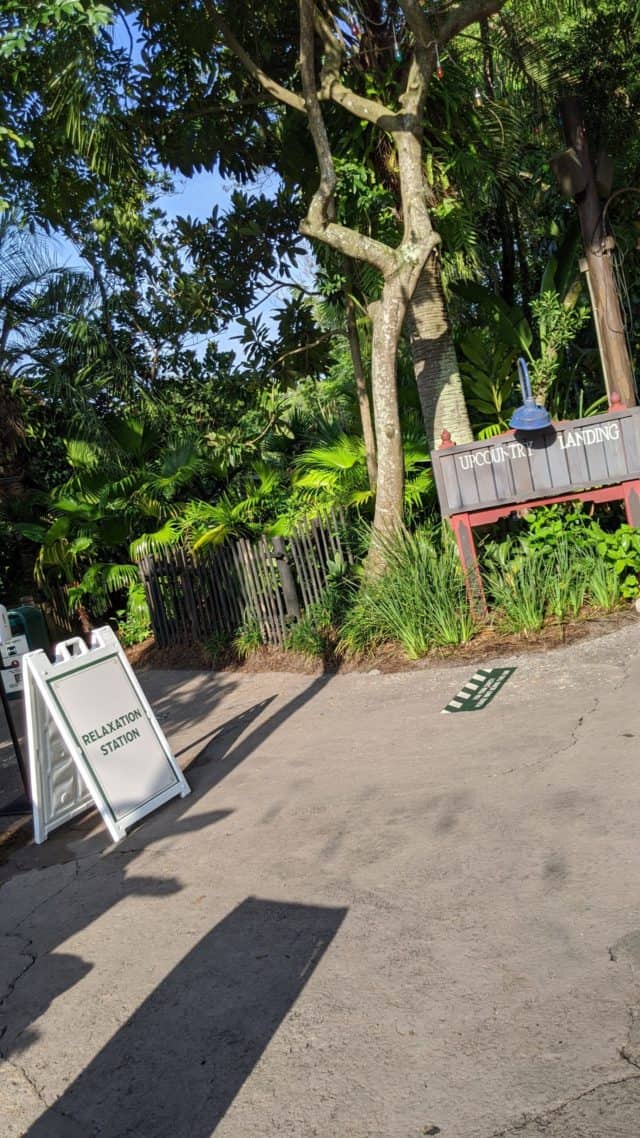 Visiting in mid-July during Disney World's opening week, we found these relaxation stations to be life-savers! Guests can easily overheat, and with wearing masks all-day, this makes cooling off even more challenging. I'm so glad that Disney took this into consideration and is providing mask-free areas for guests to cool off!
If you're comfortable social distancing indoors, I highly recommend using the air-conditioned relaxation stations. This is so important to combat the Florida heat and humidity. If you're more comfortable taking masks off outdoors, seek out relaxation stations with umbrellas.
What are your thoughts on the Walt Disney World Relaxation Stations? Let us know on Kenny the Pirate's Facebook Page, or join our crew.