Curious how temperatures are taken at Disney? Wondered what happens if your temperature is too high? Read everything we learned about temperature screening here.
Disney has done an excellent job encouraging social distancing and other health and safety procedures.
Temperature Checkpoints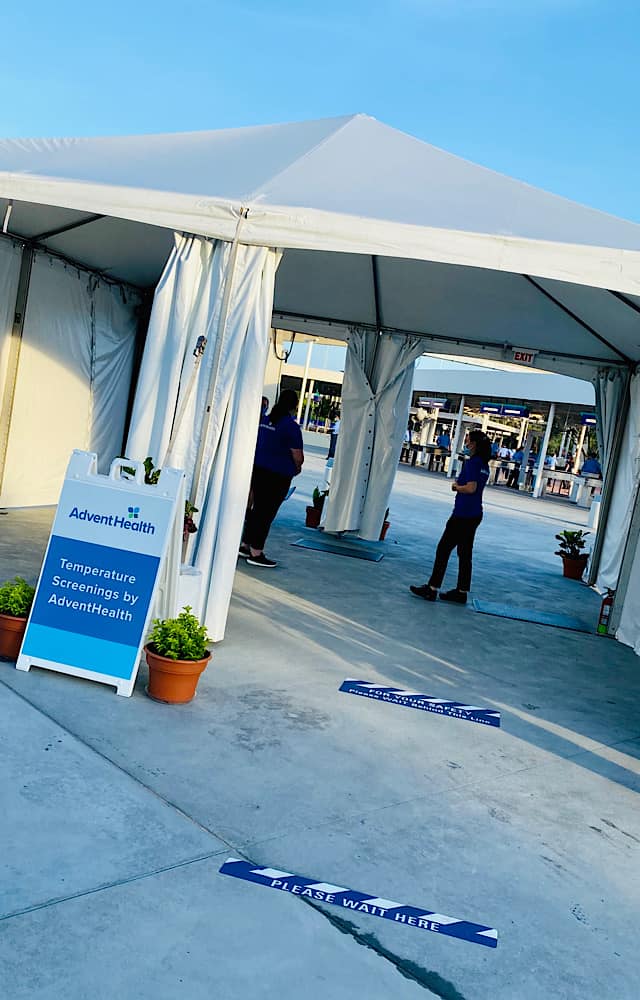 In addition to wearing masks and social distancing, Disney is requiring all guests and Cast Members to have their temperature taken before entering Disney Theme Parks and Disney Springs.
Hand sanitizers are available for guests at each temperature tent also. There are also hand sanitizers and hand washing stations throughout Disney Park – including at the entrance and exit of almost every attraction.
Disney utilizes Advent Health to conduct temperature screenings, etc. They have a very organized system in place, and temperatures are taken very quickly. We never experienced a wait due to the line continually moving and having 2-3 people taking temperatures at each area.
Tents are set up before arriving at the security point at all Disney theme parks, Disney Springs, as well as the Ticket and Transportation Center. They even have them in place at the Polynesian before getting on the Monorail!
Disney set up social distancing signage that say "please wait here" to separate groups. We saw these on the ground frequently throughout the park also, including ride lines.
Our Experience at Ticket and Transportation Center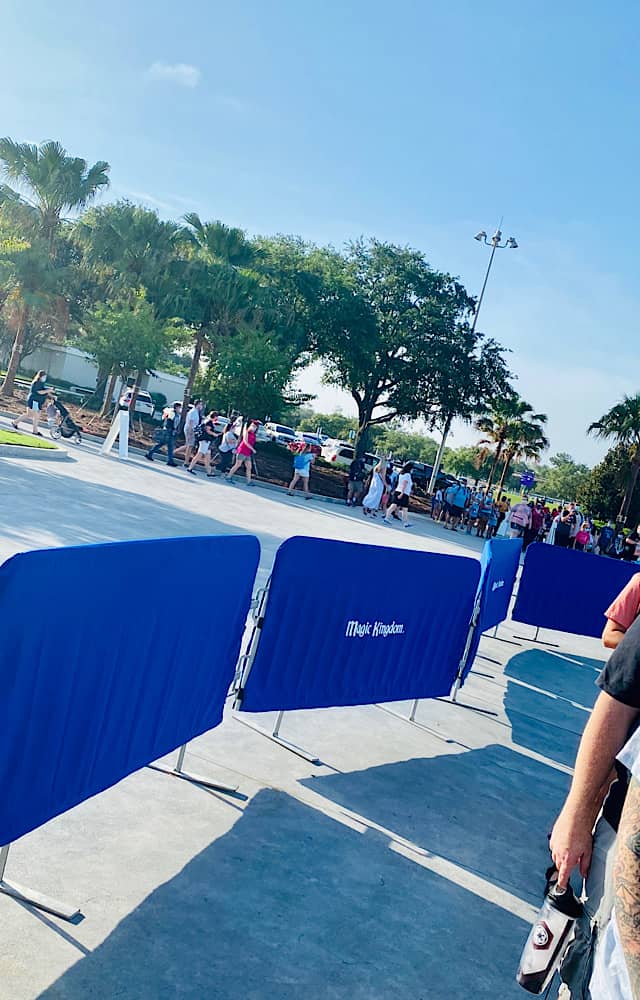 A fellow writer, Monica, and myself, Susan, attended AP Preview Day at Magic Kingdom (which was so amazing)! Due to Disney not running buses from resorts for the event, we traveled to the Ticket and Transportation Center by Uber.
The event began at 9:00am, and we were told the monorail to Magic Kingdom would begin running at 8:30am. We were so excited we just couldn't wait that late and arrived about 7:45am. Turns out we were the first people there before they even opened the parking lot!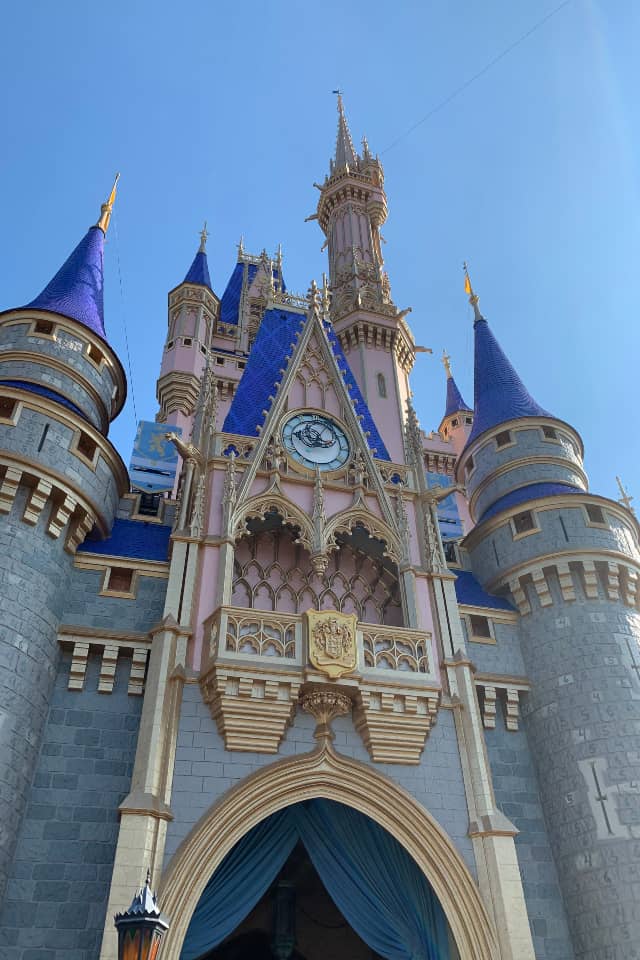 We didn't mind being there early, especially since the line really grew after we got there. The only negative was being in the sun for so long. Check out the long line above right before opening. We began to really worry about overheating and running a fever.
What If Guests Overheat While Waiting?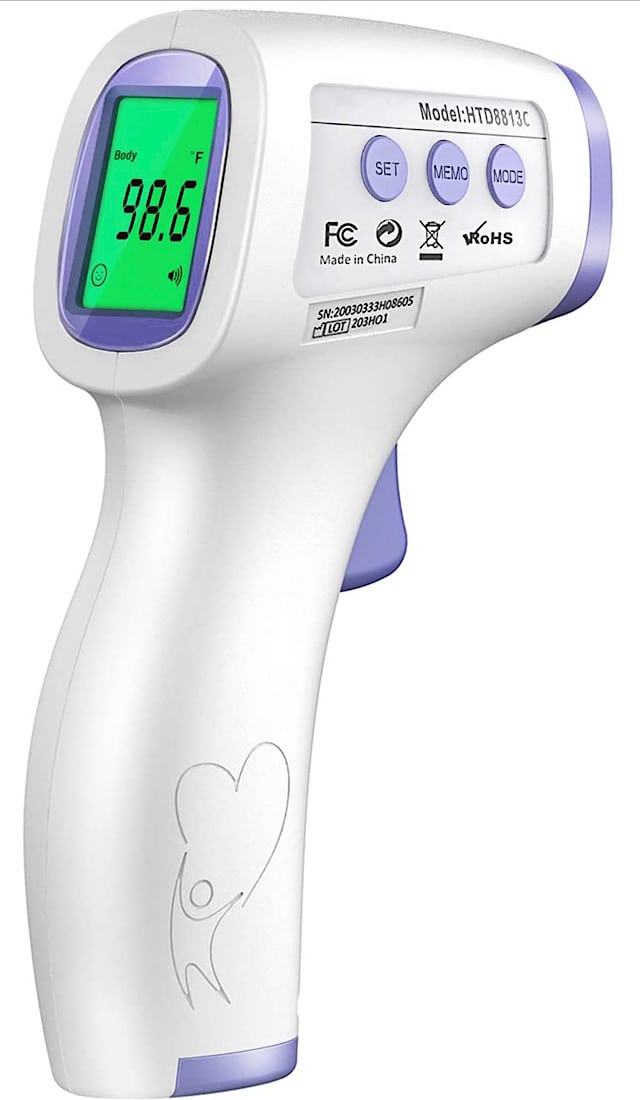 Since we were in front of the line, we had ample time to ask Advent Health questions about temperature screening. They explained that they used infrared medical grade thermometers similar to what's pictured above.
I found it interesting one of the Advent Health representatives said temperatures were taken at the "subdermal" level. He stated they don't take temperatures on the forehead surface, but deeper than that. These are high-tech scanners!
They also told us that the heat/sun will not affect a Guest's internal body temperature, and these scanners are checking for that internal temperature.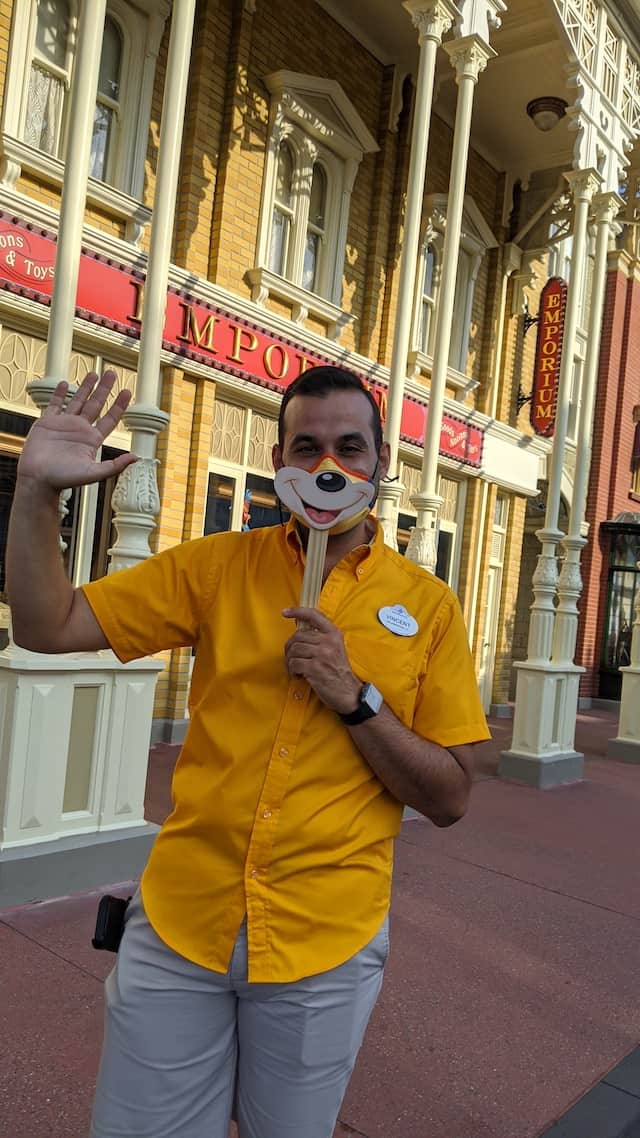 The infrared thermometers are contactless and only take a second (or so) to read temperatures. They literally wave it at your forehead, and cheerily tell you you're good to go. Even though they told us not to worry about the heat, we still did until we got the all clear to enter.
Check out our very own KtP Writer, Monica, photographed for the Orlando Sentinel before entering Magic Kingdom on opening day, 7/11/20!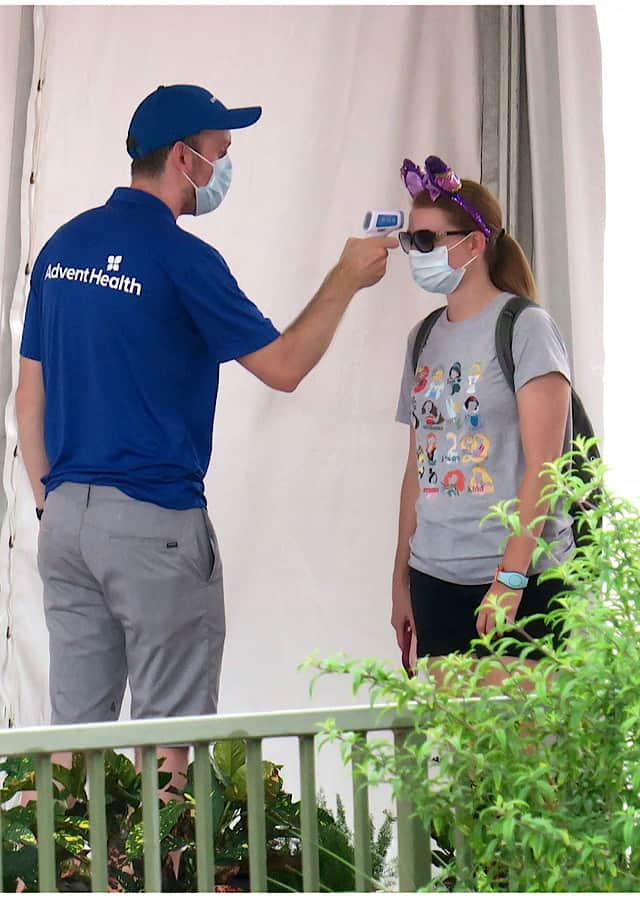 We learned from Kenny the Pirate that men must remove their hats to have their temperatures taken. He encouraged us by sharing steps Disney has in place if temperatures were above the acceptable level also.
If guests have an elevated forehead temperature, Advent Health will take guests' temperature behind the ear before having them proceed to cool down area. If the behind the ear reading is acceptable, then the guest and their party are allowed entry into Disney Parks and Disney Springs.
If temperatures are still higher than the allowed threshold, guests are escorted to a cool down area.
Cool Down Area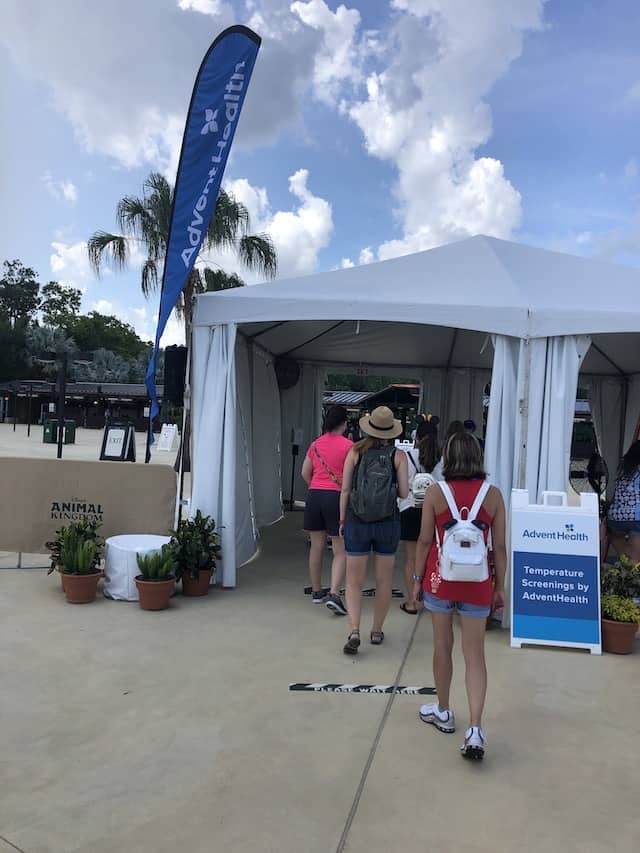 Even though Advent Health workers did not disclose the cutoff temperature for being allowed entry, Disney released the following statement:
Based on guidance from health authorities, anyone displaying a temperature of 100.4 F or above will be directed to additional location for rescreening and assistance. Those with temperatures 100.4 F or above will not b e allowed entry; those in their party will not be allowed entry either.
Disney is sending a clear message to stay home if you're running a fever. They suggest checking temperatures of everyone in your group before you leave home as "an extra layer of protection." Hopefully having the entire party denied entry will discourage guests from coming if they're not sure about their temperature, health, etc.
The "additional location" Disney refers to is another white tent set up for guests to sit and cool off in the shade. Tents are located on the far side of the security checkpoints. Guests are provided the cool air of a fan and ice water.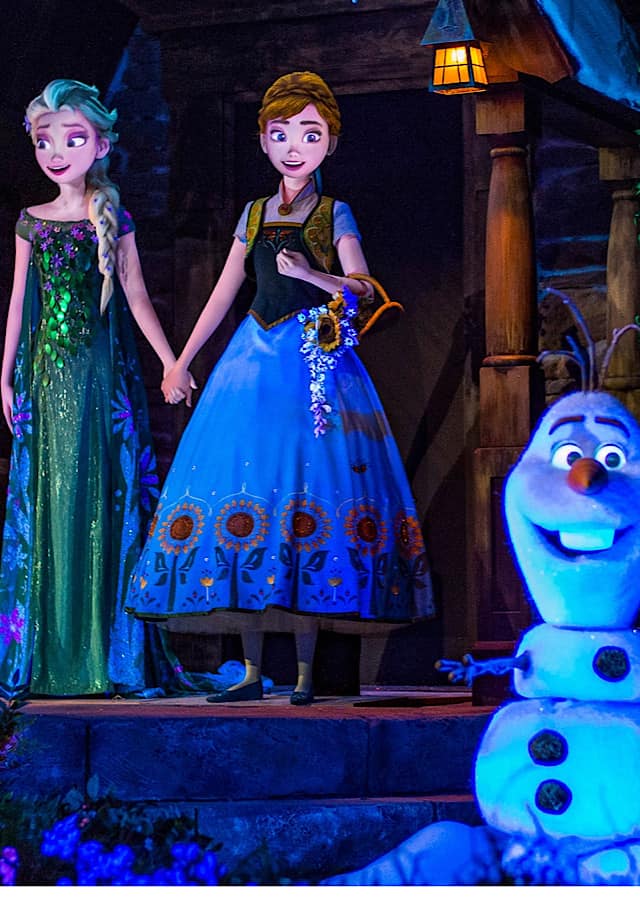 The premise behind the cool off area is to give guests that may overheat walking, in the heat, etc., to have time and space for their body to give an accurate temperature reading. After being given a reasonable amount of time, refreshing cool water and air, temperatures are retaken.
Disney states that after the subsequent temperature screening reads 100.4 or above, no one in the party will be allowed entry to the parks. We didn't witness anyone entering or leaving the cool-off tents on our visit.
Final Thoughts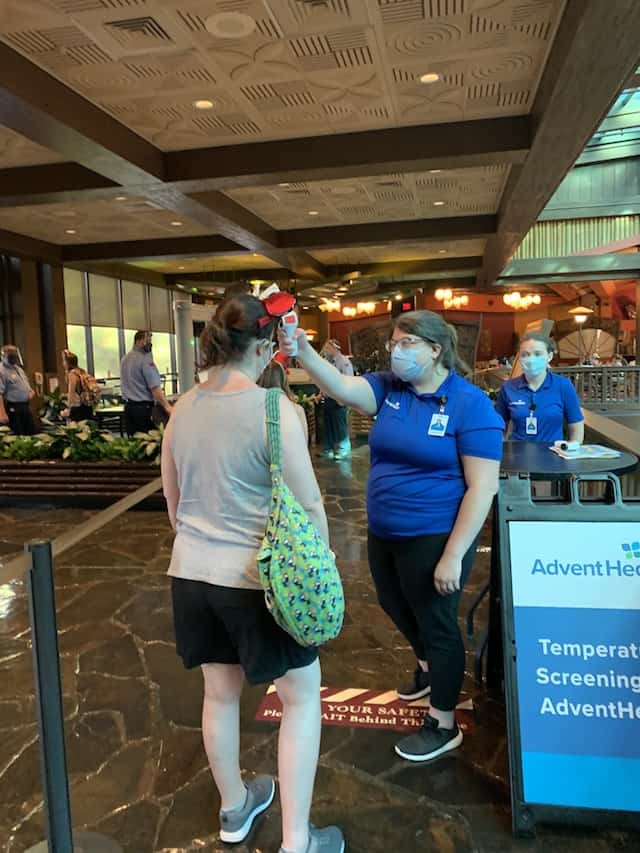 Coming from the monorail resorts, temperatures are taken before loading into monorail. This is due to security screening also happening before riding monorails, and guests being allowed to go straight to turnstiles to enter Magic Kingdom.
As of now, the EPCOT monorail isn't running.
The Evolv Scanner used at Disney's Animal Kingdom and Disney Springs scan for temperatures as well, but aren't being used at this time. Check out more details on these amazing Evolv Scanners here.
The Kenny the Pirate writers agree that Disney is doing a phenomenal job with social distancing and cleaning procedures to ensure guests have a safe experience. Although we stressed about our temperatures and the heat, no one had an elevated temperature.
Tell us what you think about the temperature screening process. Please share your thoughts with us on Facebook. You can also join our KtP Crew and continue the discussion there!
Are you planning a vacation? Reach out to our trusted travel agency sponsor Authorized Disney Vacation Planner
Mouse Class Travel
!