"It's beginning to look a lot like Christmas, everywhere you go." Do you want to add a bit of Disney magic to your holiday decorations this year? Check out all of the great crafting and decorating ideas below.
MagicBand Garland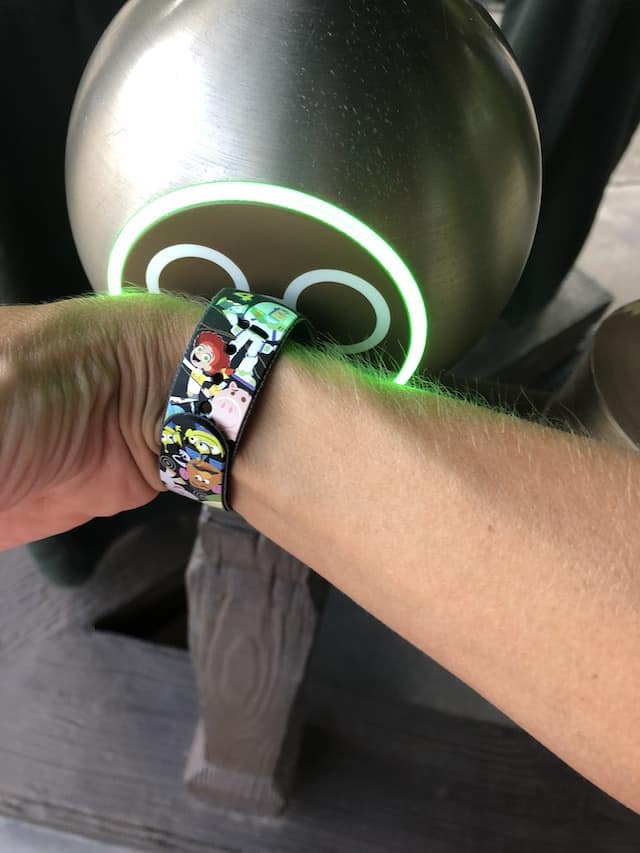 This year, our Disney themed Christmas tree received a bit of an upgrade. Our collection has grown over the years, and a bigger tree was needed. In my mind a bigger tree also gave us a good reason to add a bit more Disney magic to make it complete.
Our first addition to our Disney tree came from a repurposed source. During our downtime earlier this year, I was inspired by Heather's post to create a Mickey Mouse wreath from our MagicBands.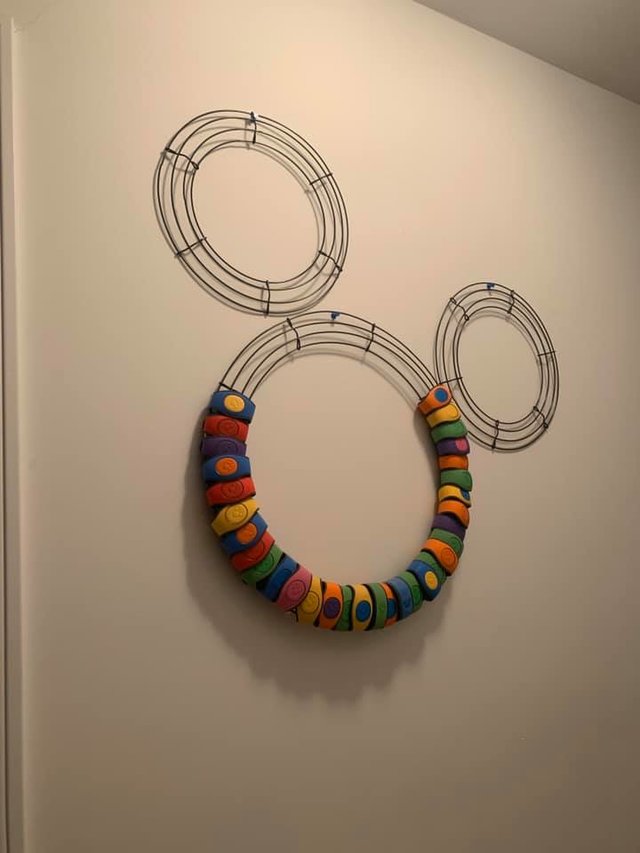 My children get more excited picking out their MagicBand each day of the trip than they do picking out what clothes they will wear. After creating our wreath, my family has gazed at our MagicBand wreath and reminisced about each Disney trip.
I wanted to bring memories from our past Disney trips to our tree. As I was gazing at our MagicBand wreath, I knew that these needed to be added to our tree. My kids helped me take off each MagicBand to create a long garland that we strung around our tree.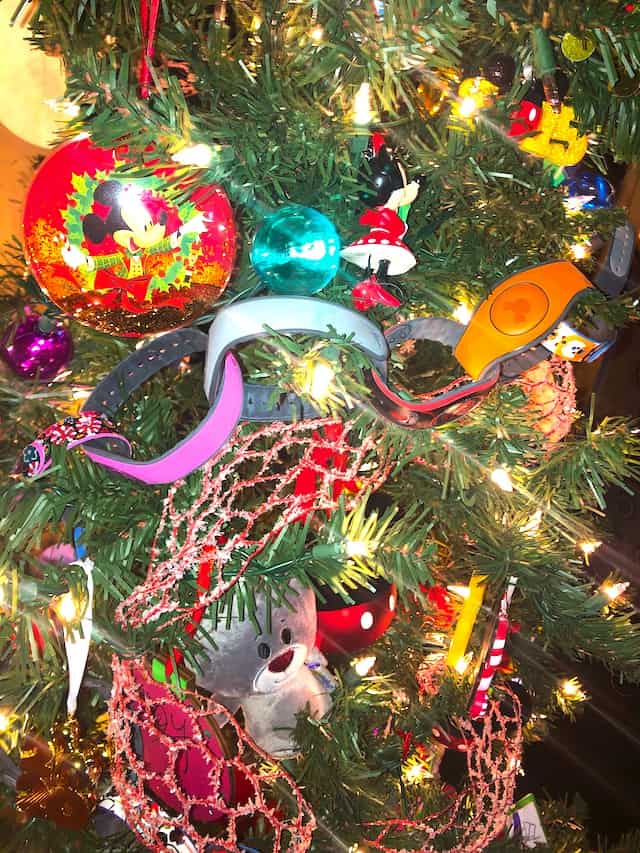 This was such an easy addition and after Christmas, we can simply reattach them to our Mickey Mouse wreath again. Unfortunately, Disney will be changing their policy for complimentary MagicBands for the New Year.
They will still sell MagicBands at a discount for Resort Guests, but we still hope to add a few more MagicBands to our collection in upcoming trips.
create a garland from your collection of magicbands to surround your tree with magical disney memories.
Favorite Disney Ornaments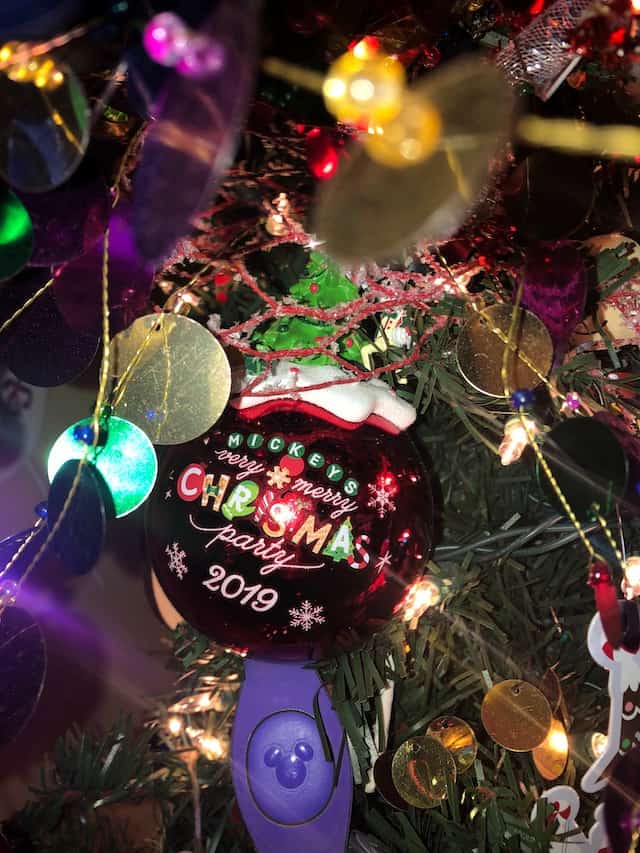 Each year, our family adds a few Disney ornaments to our collection. We have added dated ornaments for the years we were able to visit the Disney Parks. Beautiful ornaments have been added from past Mickey's Very Merry Christmas Parties.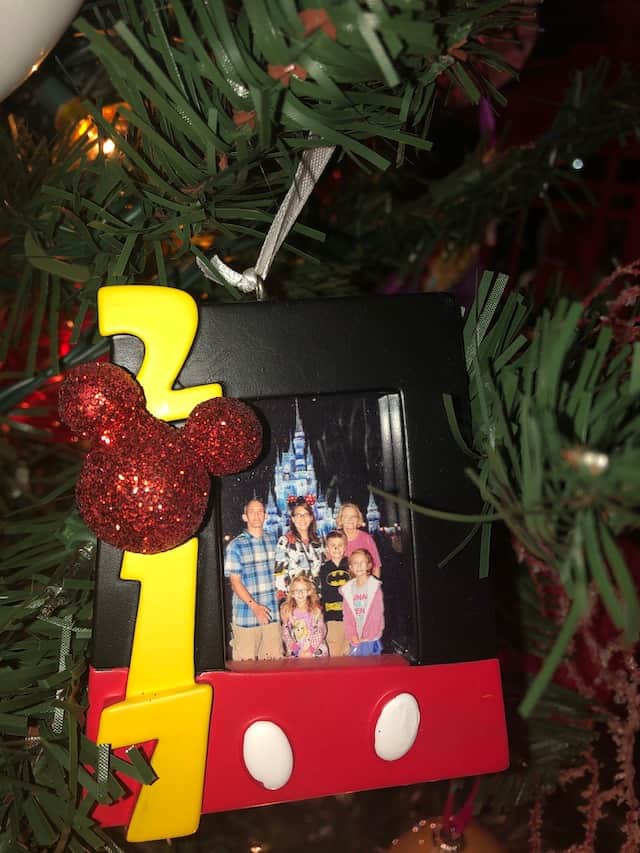 These ornaments help us remember all of the magic and memories that have been created at our home away from home. This year as we were decorating our Disney tree, one of my children suggested that we begin collecting ornaments inspired by our favorite Disney rides and attractions.
I am always happy to shop when it includes my 2 favorite things: Disney and Christmas. This year we will be adding this Snow White ornament to our Disney tree to remember one of our favorite attractions, 7 Dwarfs Mine Train.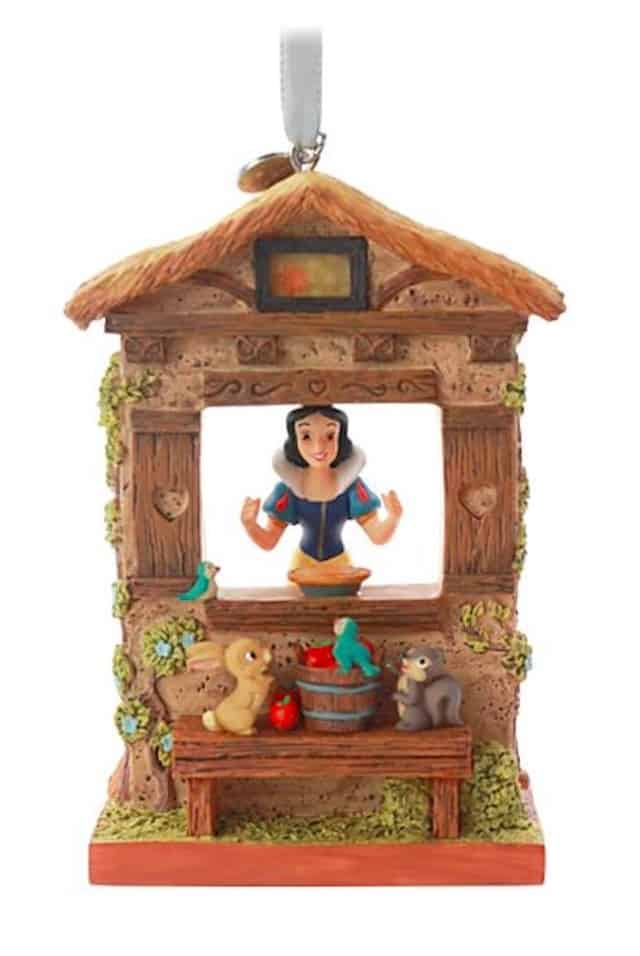 This will be such a fun tradition each year and sure to bring back magical memories as we hang and collect them each year.
add dated ornaments to remember each year's visit to the disnEy parks and even favorite attraction-inspired ornaments.
Autographed Ornaments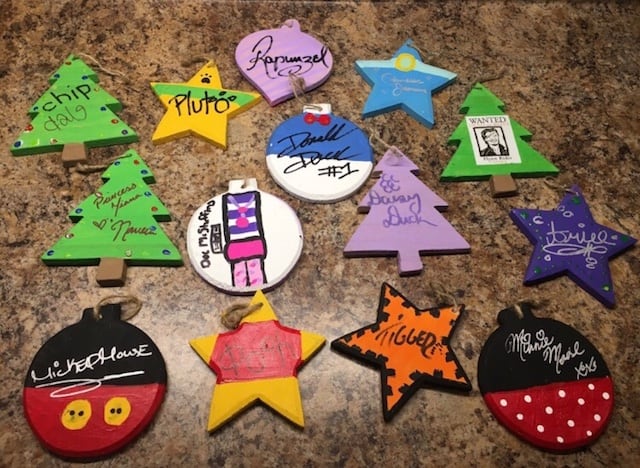 One of my favorite parts of visiting the Disney Parks is meeting our favorite characters. Unfortunately, this looks a bit different for 2020. We are hoping that in the future we may be able to interact and receive signatures from our favorite Disney Pals.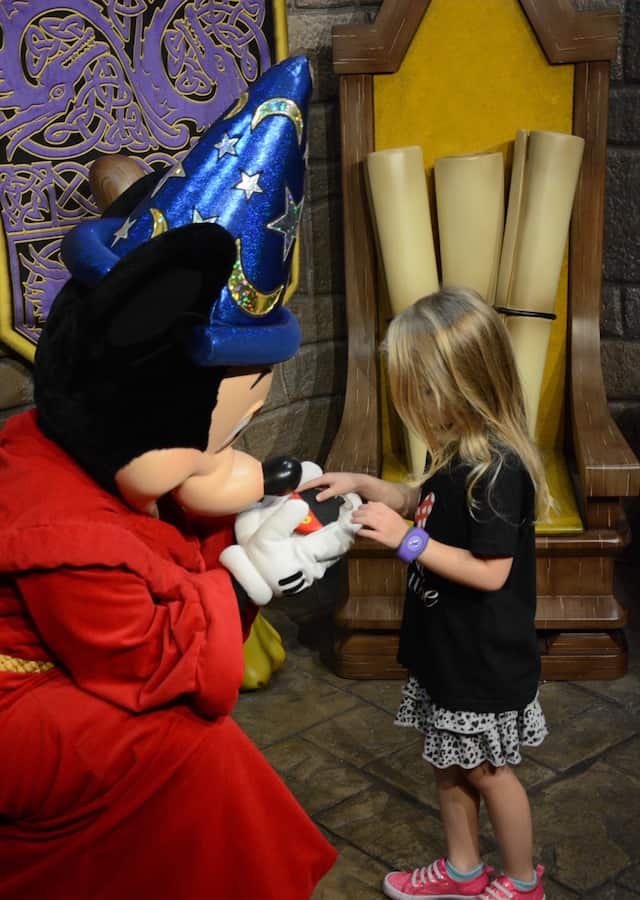 In preparing for Disney trips in the past, our family would paint unfinished ornaments as a few of our favorite characters. During our trips, these ornaments led to great character interactions. Now these ornaments are fun keepsakes.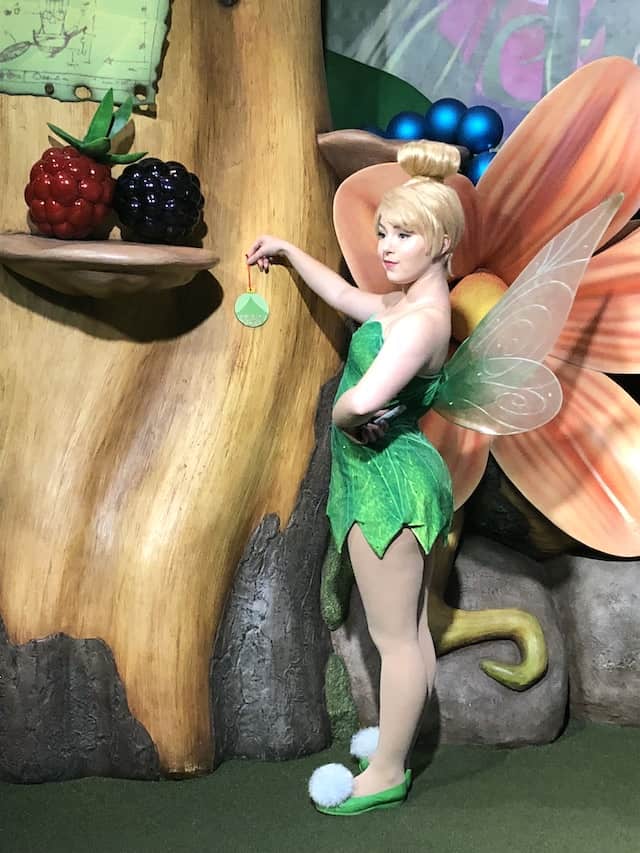 Even if you may not be able to receive autographs on these ornaments this year don't fret. You can still add your favorite character inspired ornaments to your tree.
We simply purchased unfinished ornaments in packs of 5 for a very reasonable price from Hobby Lobby. Grab a simple all-purpose craft paint and let your creativity go wild.
This will be a great at home craft that Disney fans both young and the young at heart can participate in.
create disney character ornaments from unfinished wood ornaments and all-purpose craft Paint.
Tree Topper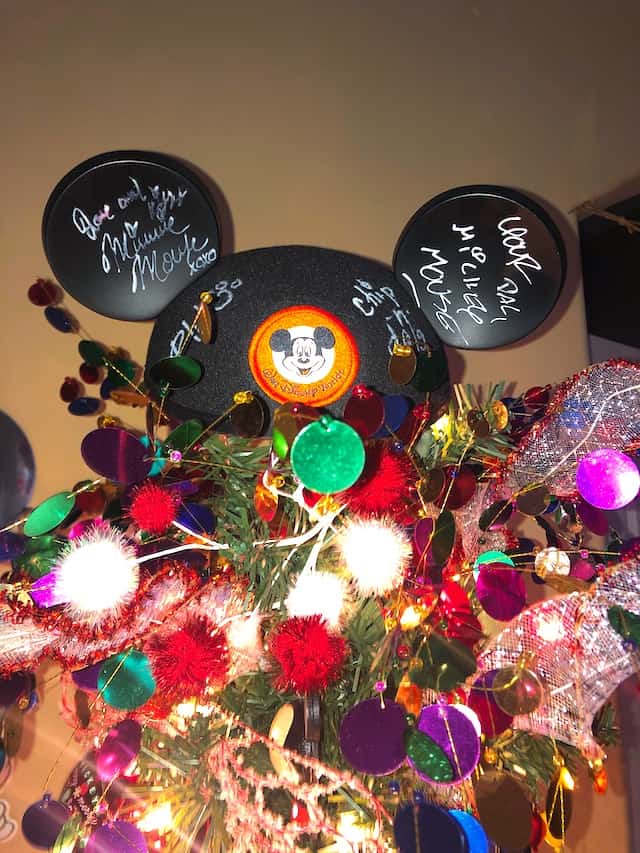 This idea actually came from my sister. She loves to visit antique stores and she found vintage Mickey Mouse ears to add to her Disney Christmas tree.
I loved this idea and asked my mom if she still had my Disney ears from my first Disney trip. Over the years, these ears had been misplaced. I wouldn't let that minor set-back keep me from creating a little Disney magic.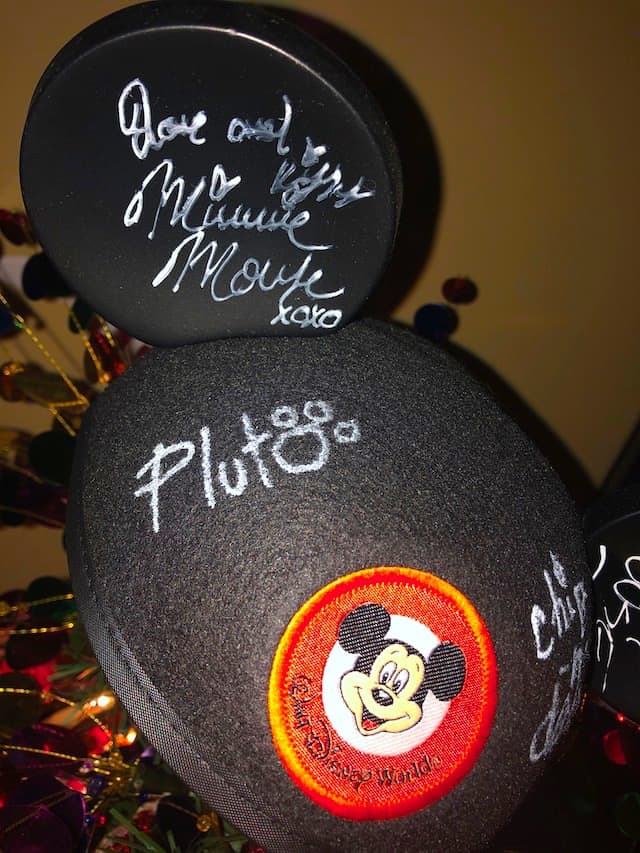 During our next trip to Walt Disney World, I purchased the same classic Mickey Mouse ears that I had received during my first trip to Disney. To add a bit more magic to our tree topper, I had Mickey and his best pals sign it. It turned out absolutely perfect.
Mickey Mouse ears make an adorable tree topper and can be easily autographed with a fabric marker.
Disney Inspired Stockings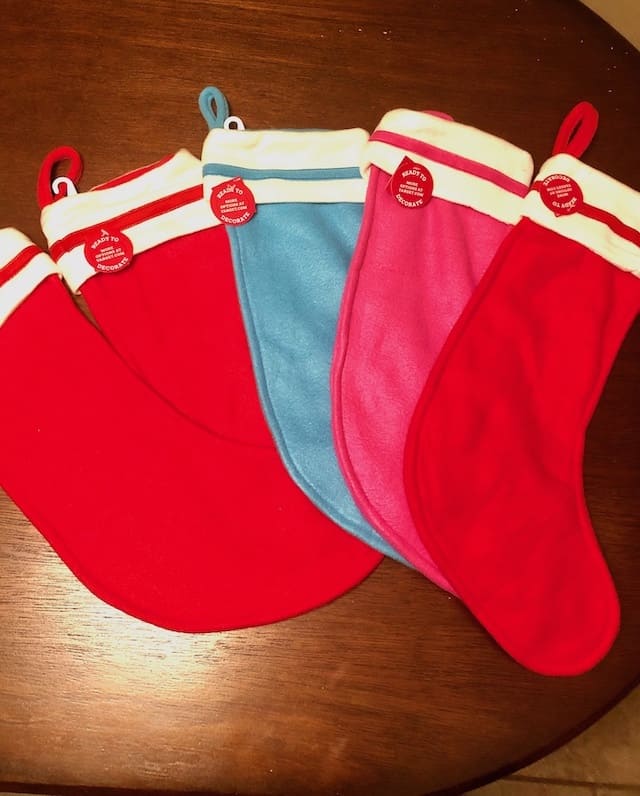 Last year, I purchased stockings from Target. I had hopes of finally creating Disney character stockings. Luckily, 2020 has created additional time to work on at-home projects.
For this project, I simply created a toe and heel template to use for each stocking. After visiting our local craft store, I was able to pick up colored felt to add details to each character stocking. We also picked up buttons and bows for added embellishments.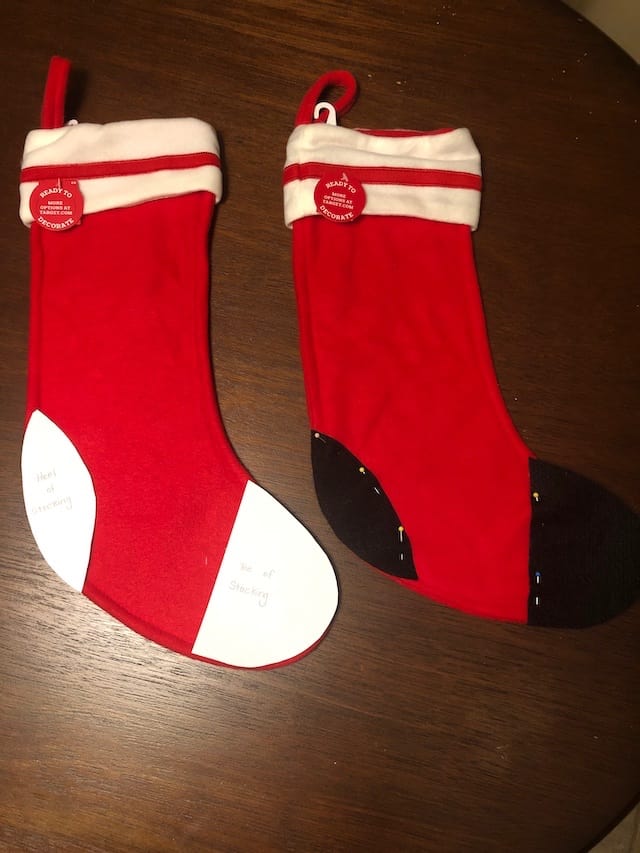 For a more lasting effect, sewing would have been the best option. I decided to opt for the easiest option and added these felt pieces and embellishments on with my trusty glue gun.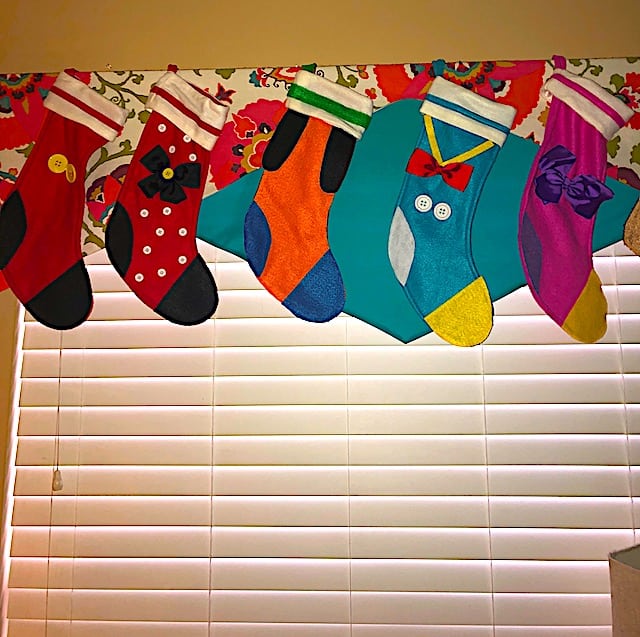 Add Disney Decor to the Outdoors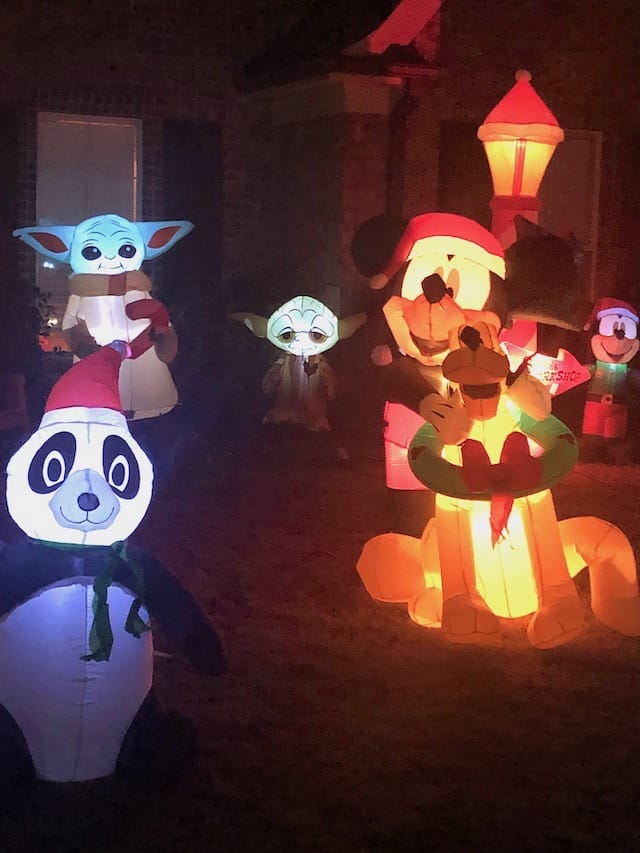 My neighbors learned early on that our family loves all things Disney. Over the years, our neighbors have given us several Disney Christmas decorations. Of course, my husband's frequent visits to Lowes has helped our outdoors decorations have a bit more Disney magic.
I absolutely love blow molds, and these Mickey and Minnie blow molds help to welcome Guests into our home. All of the blow molds and the Mickey Mouse topiary were purchased at Lowes.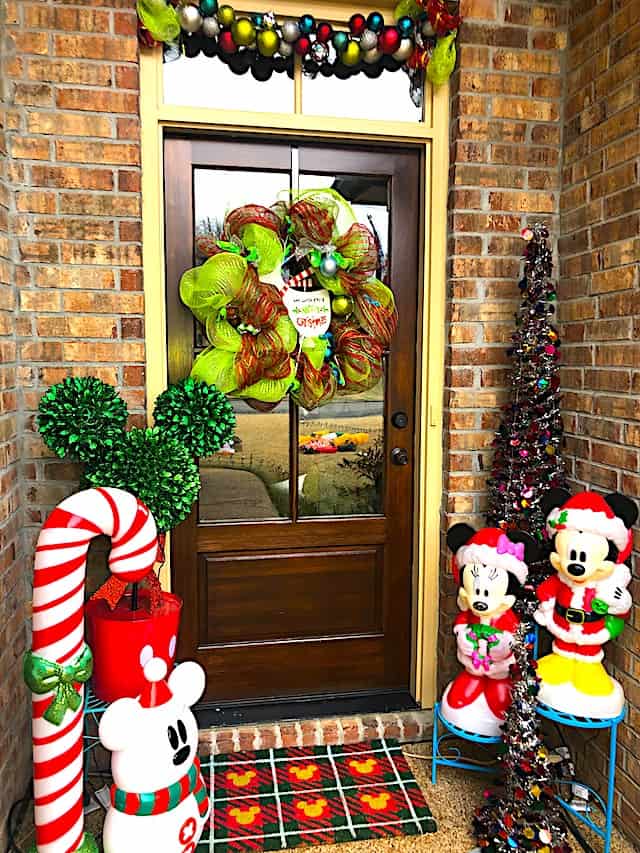 The Mickey Mouse themed welcome mat was purchased for $6.99 at our local Ross store. My son enjoys decorating the outside just as much as I do. We strung our Mickey Mouse color changing lights on our bushes. A Mickey Mouse projector allows our house to be scattered with colored Mickey Mouse heads.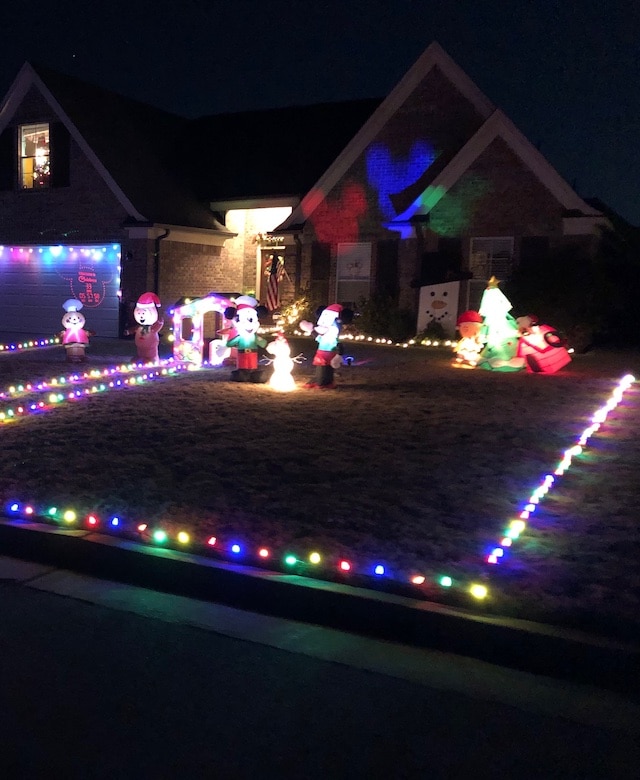 We have a few Mickey and Minnie inflatables in our yard. Of course, we had to add "The Child" to our holiday display this year. It is so much fun for our family to enjoy these decorations and to also spread a bit of Disney magic to cars going by.
Want a great DIY project to create a Mickey Mouse wreath for your home? Check out Kate's tutorial to learn how to create this stunning wreath. This will be sure to make your home merry and bright this Christmas.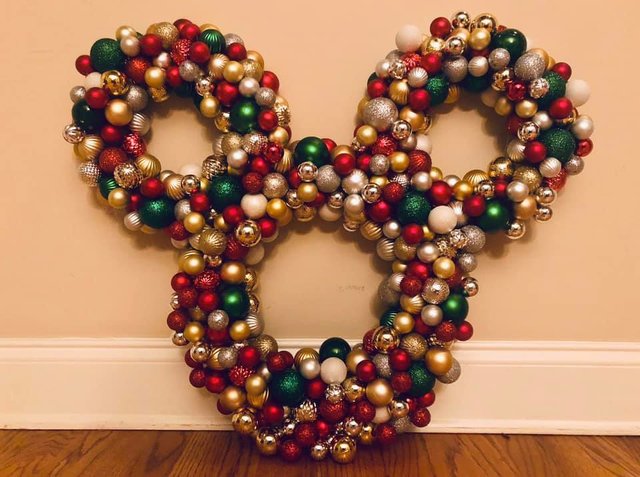 What are your favorite ways to bring the magic of Disney to your holiday decorations? Which idea listed above was your favorite? Share your thoughts and photos with us on our Facebook Page.