As we continue to look for things to do with our downtime, we here at KennythePirate keep bringing you fun activities. Here is another activity to add some Disney magic into your home, and it includes your leftover MagicBands!
We are all trying to find ways to entertain ourselves with the Stay-at-Home mandates that most states now have. Some of us are even trying to bring some magic back into our lives from having to cancel or reschedule trips.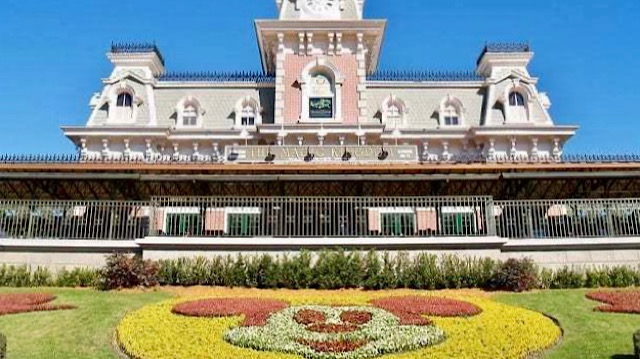 I know my upcoming trip will most likely not be happening, but I am holding on to hope. Disney is all about believing in the power of magic right? One can dream.
Throughout the closure, we have given you many ideas of ways to add that magic. Here are a few that we have already shown you:
These things have definitely helped me with my Disney blues. Normally we have these feelings after a vacation. However, we are feeling this with just the parks being closed.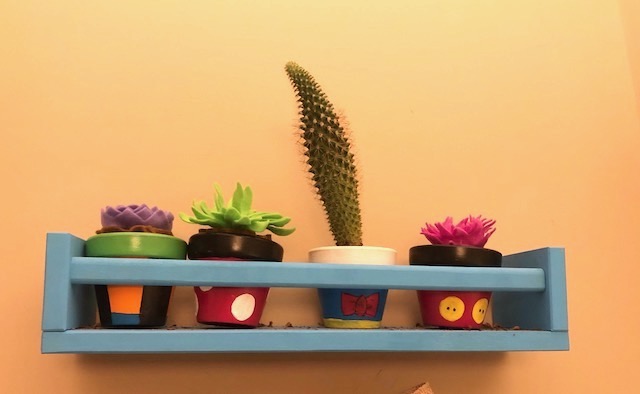 We will continue to post more fun activities for you and your family to enjoy during this downtime. Be sure to check back daily for new things!
I have all these MagicBands
If you have traveled to Disney a few times you may have a few MagicBands. My family enjoys doing split stays. A split stay is staying at more than one hotel during a vacation.
When we do a split stay, you get a MagicBand for each hotel stay. We are also Annual Passholders, so we get a band with that too.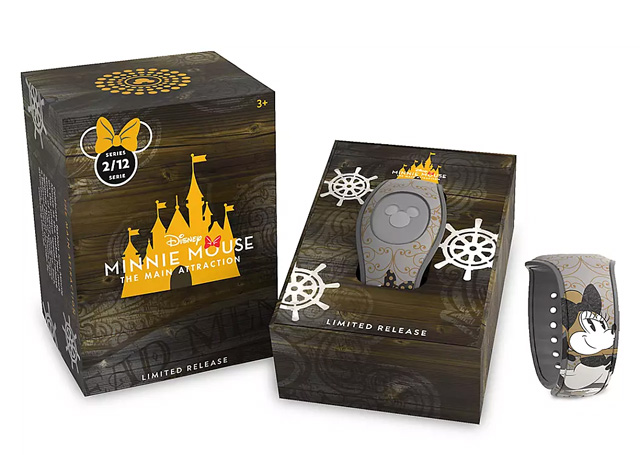 Yes, you can decline bands, but it is fun to get the bands in the mail. I like having different colors to make different combinations with my bands.
With each hotel stay or Annual Pass purchased you receive a complimentary MagicBand. The complimentary MagicBands are a solid color. You can choose from gray, yellow, green, blue, orange, red, purple, and pink.
You can swap the puck out and place it in a different colored band. Be careful though, those screws are small!
If you are receiving a MagicBand with a hotel reservation or Annual Pass purchase you can upgrade your MagicBand for a small fee. This is a fun way to add some personality to your band.
There are many options to pick from for premium MagicBands. There are some that are even exclusive to hotel reservations or Annual Passholders.
If you want to customize your band, you need to do so 11 days before your stay. You can find when you need to customize by on the My Disney Experience website.
Not staying on property but still want a Magic Band? Order one from shopDisney.com!
What can I do with all my MagicBands?
Some just throw their bands in an old shoebox, but not me! I have found a fun way to display my bands.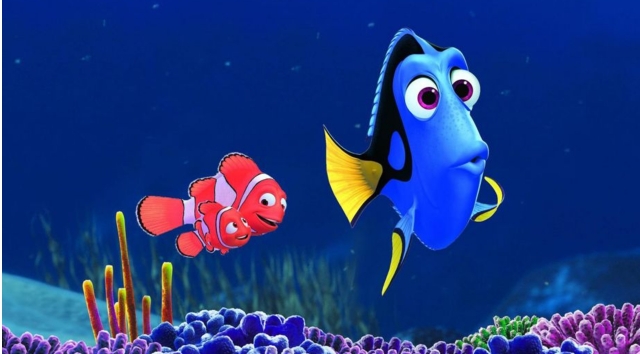 Because we do so many split stays, we have collected a few bands over the years. I also want to bring a little Disney into my home. Everything is better when it's shaped like Mickey!
Making a display for MagicBands
I do not take credit for this idea, just how I put it together myself. I found this on the internet a few years ago. I think it's a fun way to display your MagicBands.
I love to add some Disney or Mickey touches into my home. Not only does this display our Disney love, but it is also a display of all our Disney vacation adventures.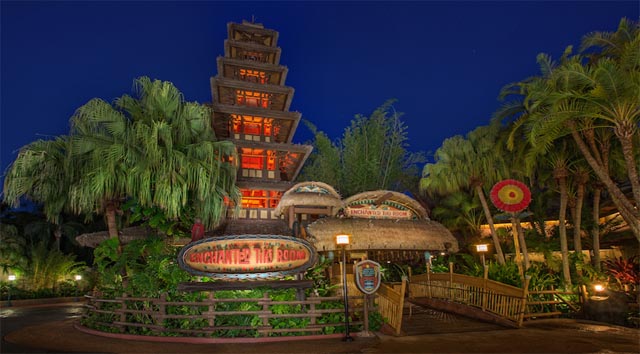 What you will need
Since most of us are in a Stay-at-home mandate, your availability to these items may be limited. I am not encouraging anyone to venture to a store to find these items if you are in a stay-at-home mandate.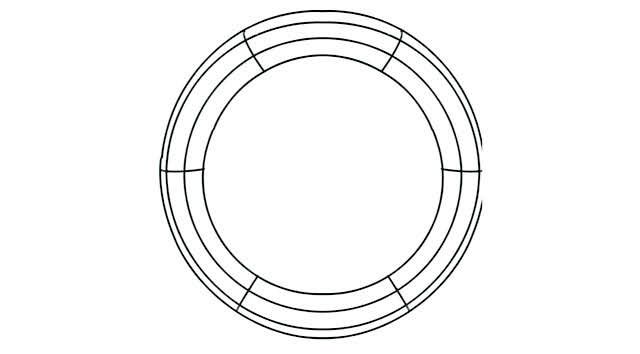 All you will need are three floral wreaths and three nails to hang them. One large wreath and two smaller ones.
You can find these wreaths at Michaels and Dollar Tree. Michaels is currently offering curbside pick-up.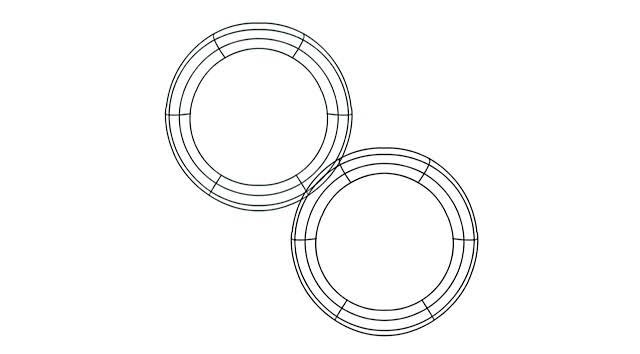 Another option would be getting these items delivered. Dollar Tree has suspended shipping to keep their stores better stocked. However, you could use either Michaels or Amazon.
If you head to the Dollar Tree, fellow writer Amanda has some suggestions on great items for your next vacation. We can keep hope alive that the rescheduled trip will go on!
I have seen people connect their floral wreaths. I chose to keep my wreaths separate. Do what works for you.
How to assemble
Assembly is easy! All you have to do is place your Magic Bands onto the wreaths. Bunch them together or spread them out. Create a pattern or organize them by Disney trip.
I decided to fill up our large wreath first. Once that is filled, I then will move onto the smaller wreaths. I also kept the MagicBands all going the same direction.
This is your creation, so make it fun. Have the family join in and have each person place their MagicBands onto the wreaths. This is a good time to reminisce about past trips to see the Mouse!
If the kids are involved, let them place their bands however they choose. What better way to spend some downtime than putting MagicBands onto the wreath. I won't lie, I thought the process would go faster.
Show it off
Now it's time to display your masterpiece! Choose a place in your home that needs a little Disney magic. Maybe you already have a place where you display your ears, pins, or vacation pictures.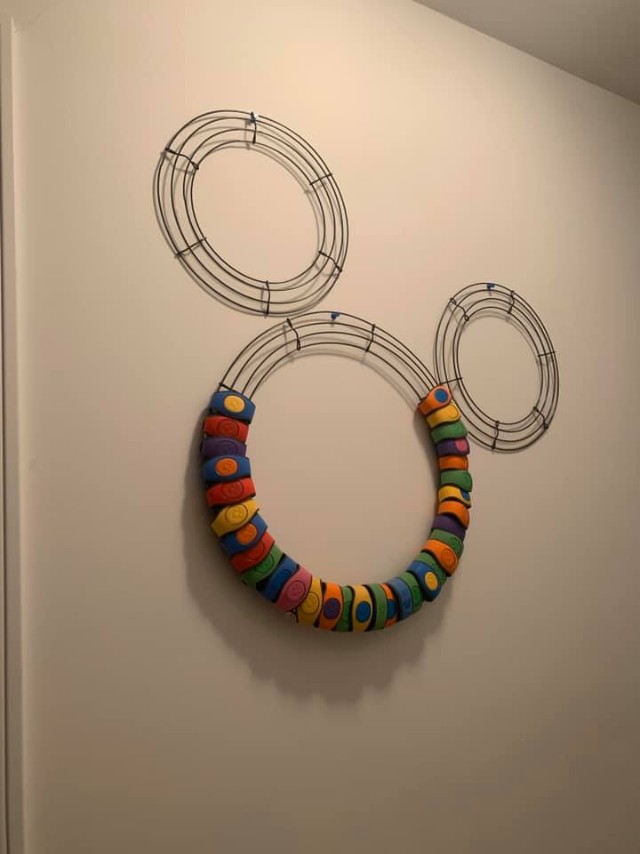 I chose to place my Mickey MagicBand display at an angle. This is me pretending to be crafty! You can choose how you want to display yours – straight or at an angle.
I don't have enough Magic Bands
if you don't have enough MagicBands, that's ok! This is a work in progress. It does not have to be complete to show off your love for Disney. You can also buy smaller wreaths to make it look more full.
My Mickey MagicBand display is not full, and it will take some time to completely fill it. Just gives me another reason to go back!
What do you do with your MagicBands? Will you be making one of these Mickey displays? Let us know on the KennythePirate Facebook page. Don't forget to join the KtP crew page too!
-Heather Alosa