Has your Disney My Experience App been left unopened for far too long? We are still waiting to hear when Disney Parks will re-open, but Disney has given us a new reason to get excited to open our Parks app once again. Continue reading to learn about this fun activity for you to bring home a bit of Disney magic.
Animation Experience
The Animation Experience has been found in the Disney Parks and it is such a great experience for both young and not so young alike. A Disney Animator takes time and leads guests through simple step-by-step instructions in drawing classic Disney characters.
In the past, this experience was found in Hollywood Studios but has recently moved to the Rafiki's Planet Watch in Animal Kingdom.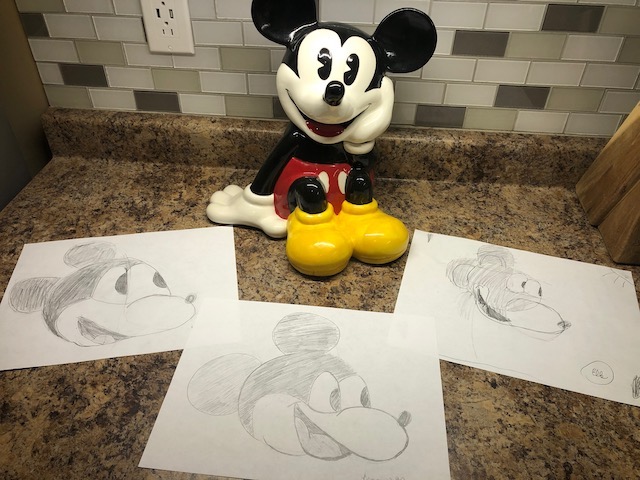 Last week, Jamie shared a tutorial from Disney Parks Blog that had us all creating a vintage Mickey Mouse like a true Disney animator. This was such a great resource to help bring a bit of Disney magic during your downtime.
Disney Parks App
Yesterday, I received a notification on My Disney Experience app of a new featured section entitled Disney Parks Artist Studio. Guests can simply click on the link and follow the instructions to draw their own Mickey Mouse in the comfort of their home.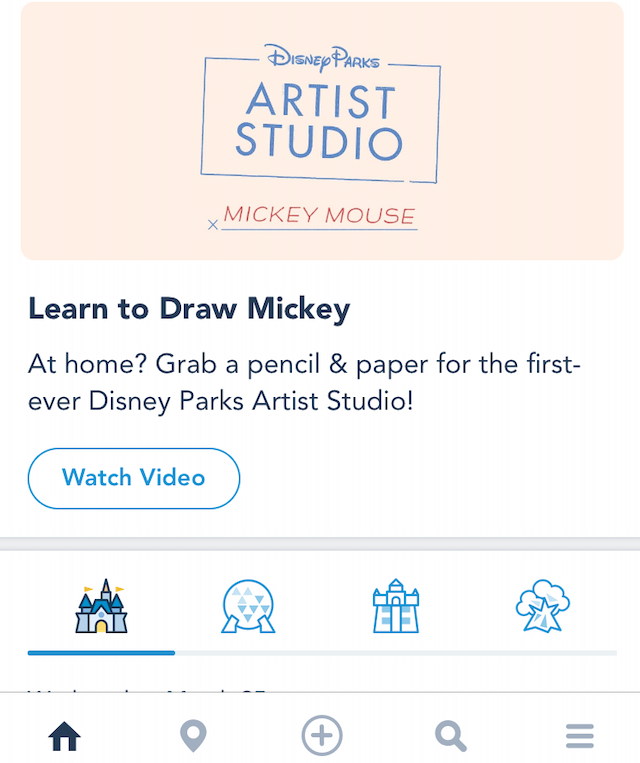 Step 1
Draw 3 circles to start the basic outline of Mickey Mouse. Using small guidelines in the center of your large circle will help keep his other facial features symmetrical.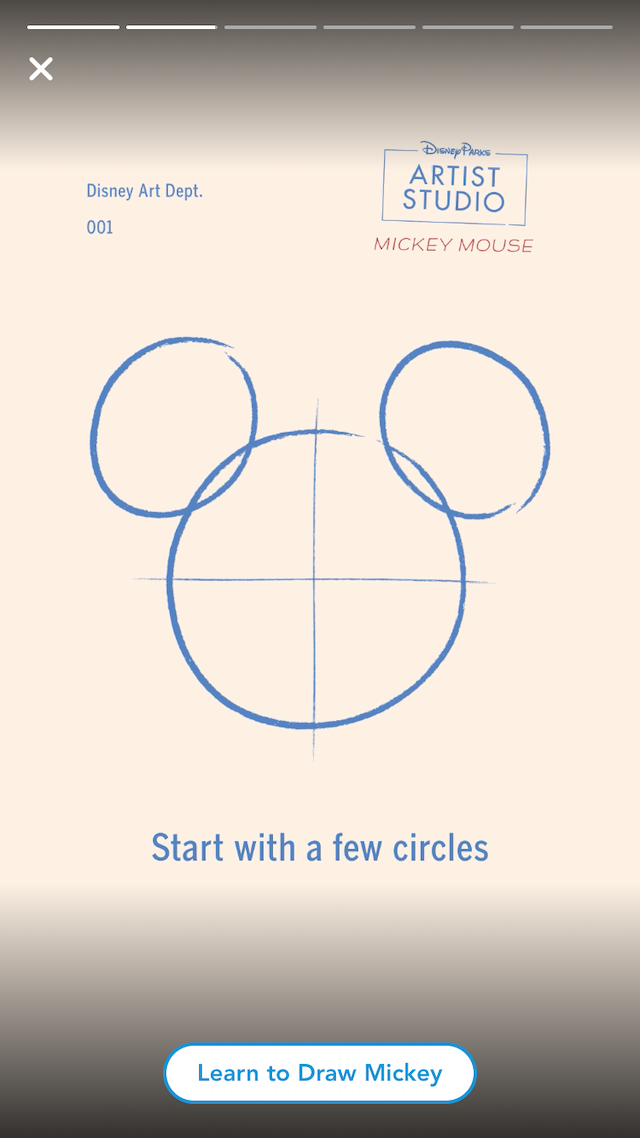 Step 2
Add a nose and eyes. We can start to see Mickey come to life!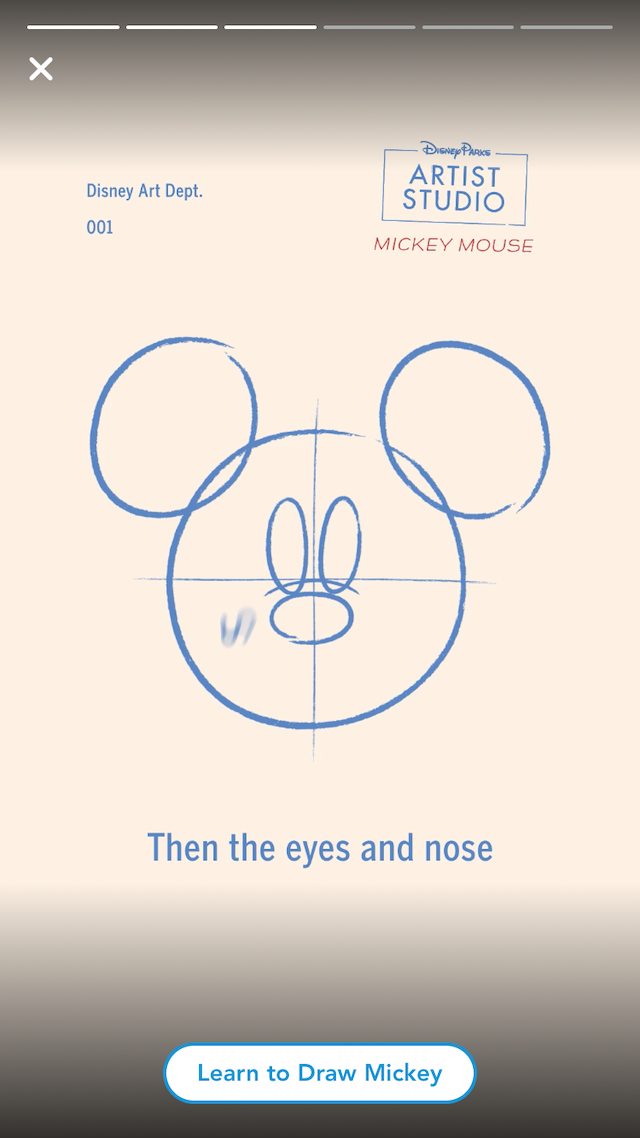 Step 3
Now it's time for a smile: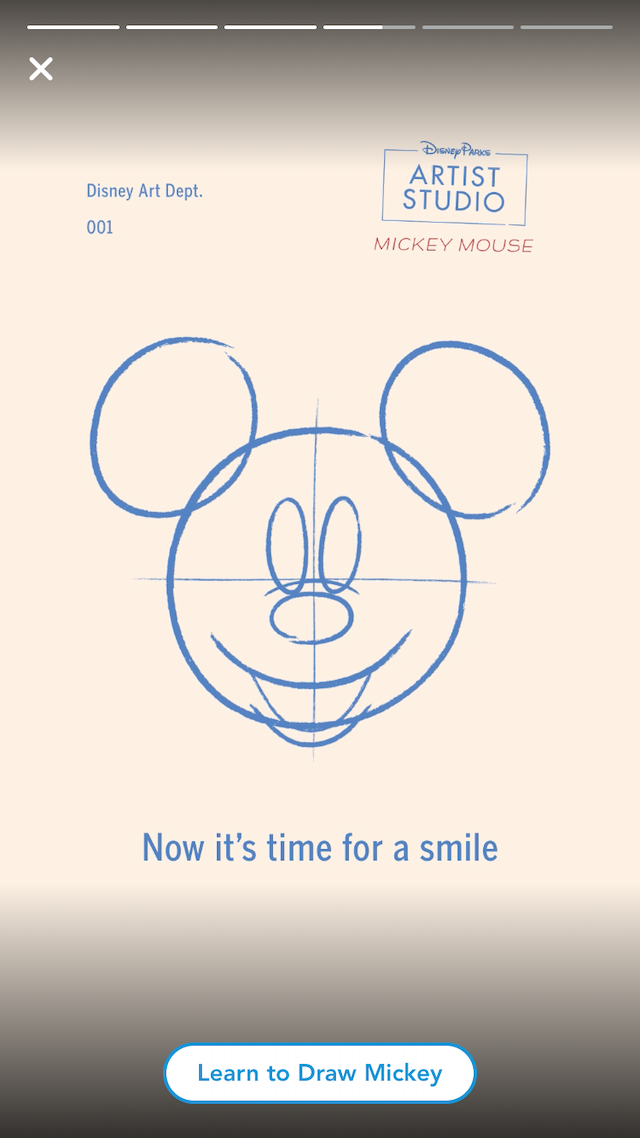 Step 4
Add details to the outside of his face: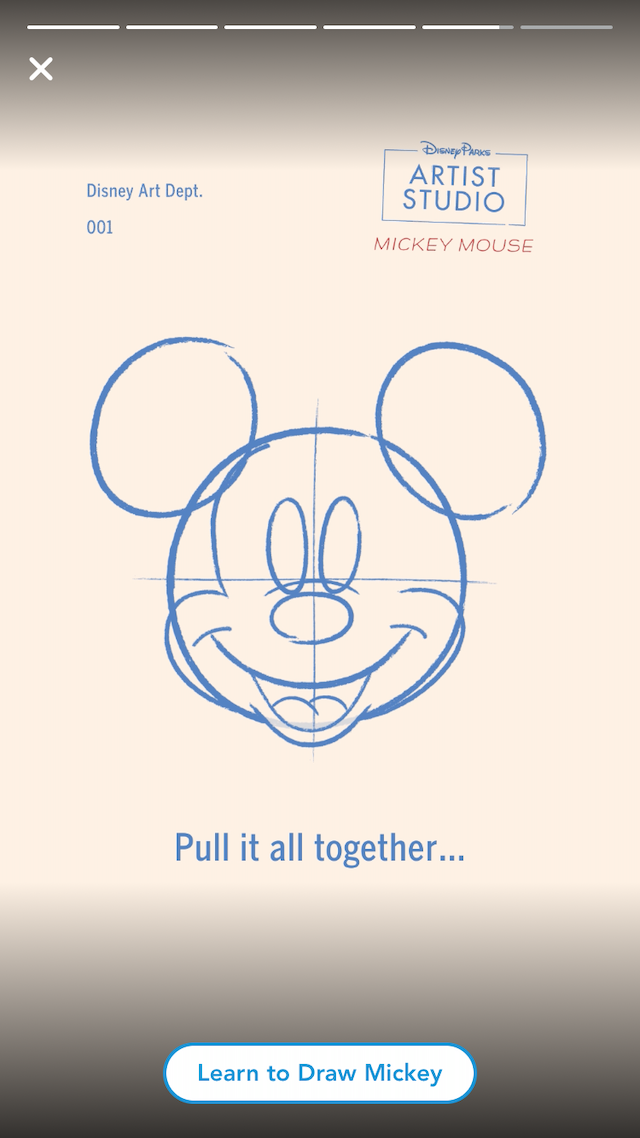 Step 5
Add a few finishing features and there is our favorite Mouse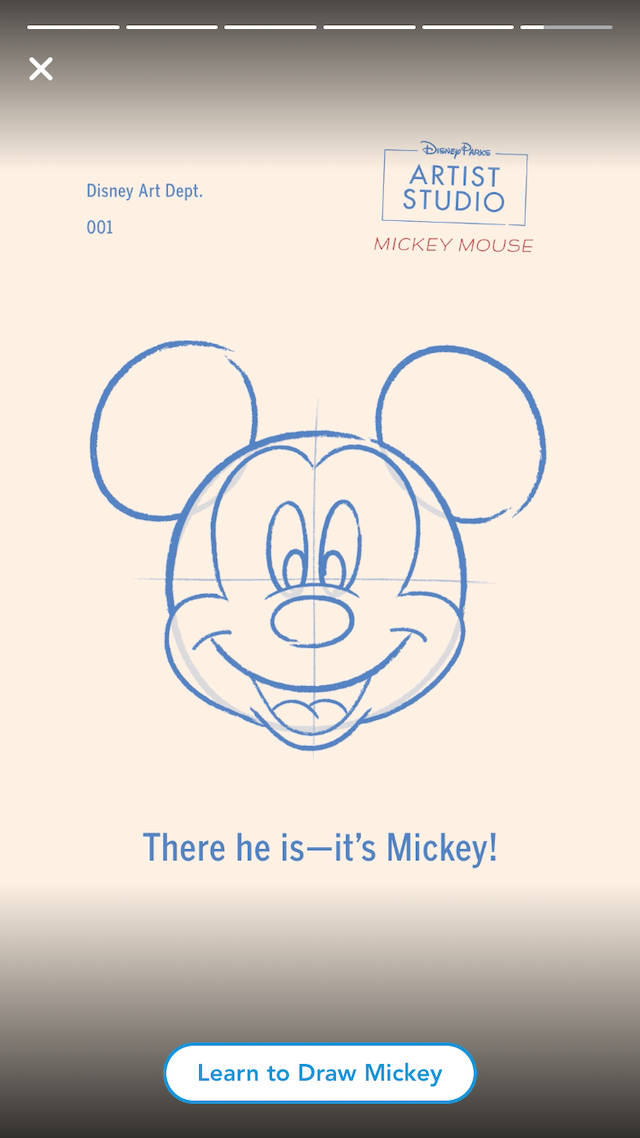 More Fun To Come
Disney Parks will be adding additional characters in the days to come. Walt would be proud that Disney Parks helped us to remember, "I only hope that we don't lose sight of one thing, that it was all started by a mouse." ~Walt Disney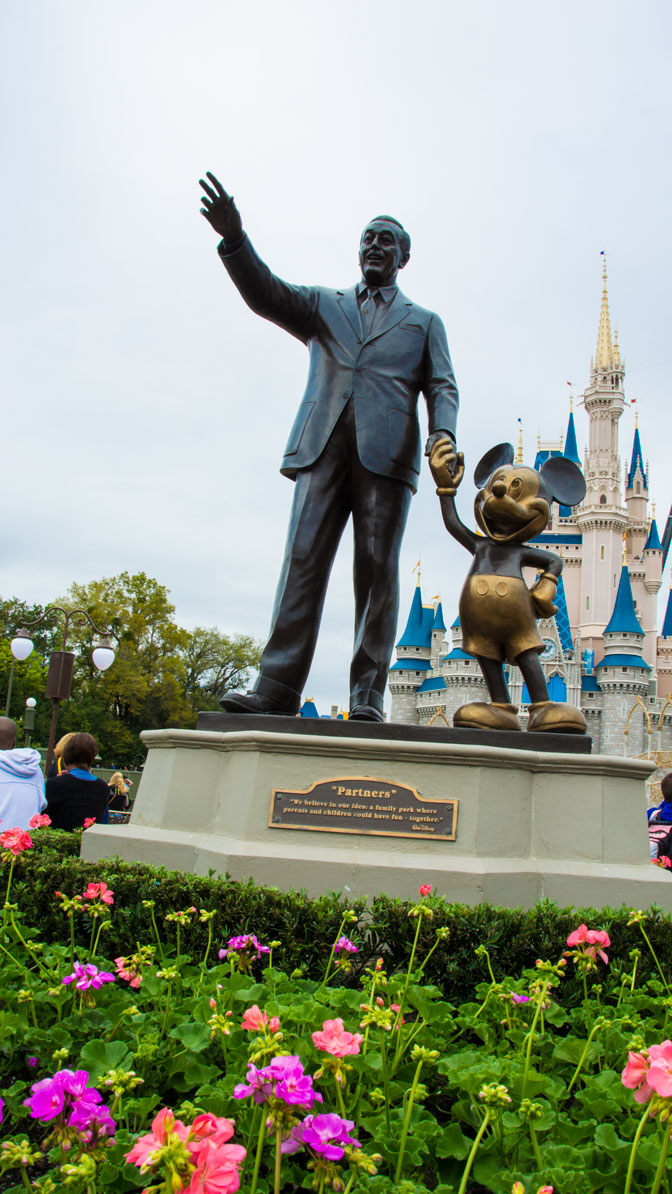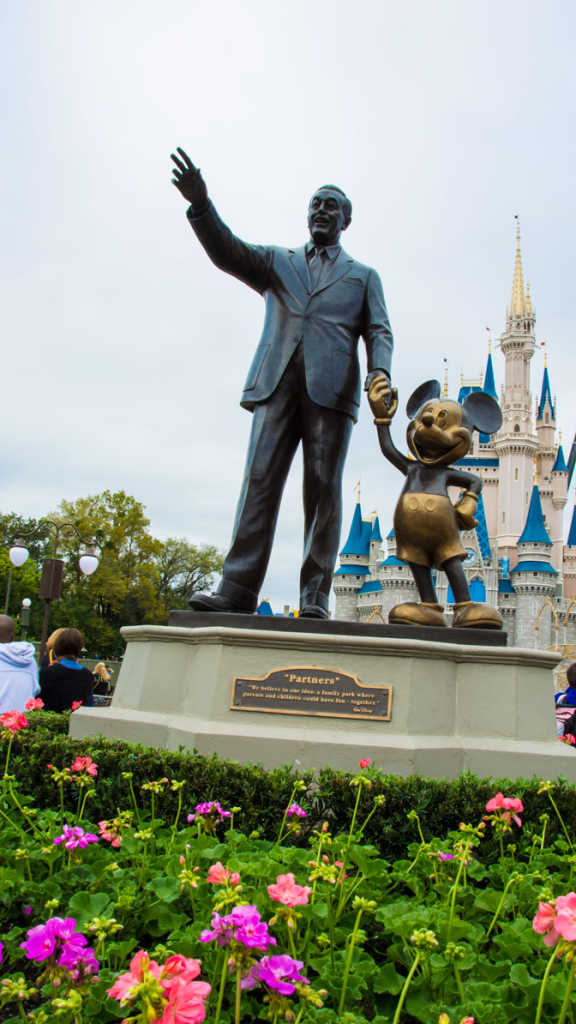 My children really liked this tutorial because it moves fairly quickly. If you need more time, simply re-start the video and click on the image to get to the step you are needing.
Other Ways to Bring Disney-fy Your Downtime
Jamie shared another great boredom-buster available on the My Disney Experience app: Mickey & Minnie's Trivia Game At Home.
Read how to fill your home with the sounds of the Disney Parks. Learn how you can tour Animal Kingdom with an Imagineer.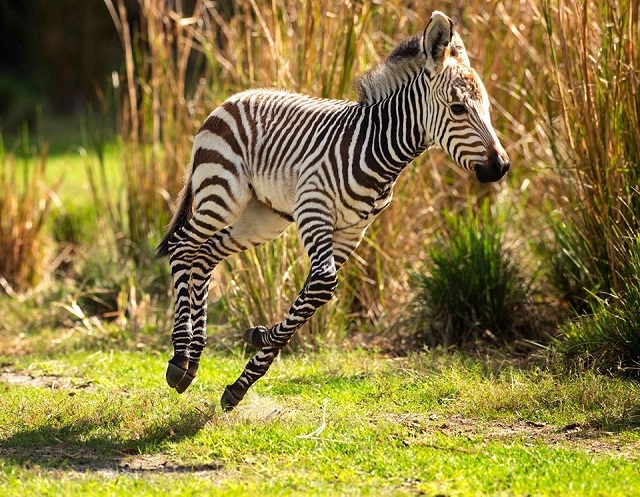 We also have educational resources to bring a little magic as your child is learning at home with Disney prompts for writing and STEAM classes with a touch of Disney magic. Be sure to keep following the Pirate Crew for even more great ways to Disney-fy your downtime.
Will you and your family be sharpening your artist pencils to draw like a Disney animator? We would love to see your pictures of your completed creations. Please share them on the KtP Planning Crew and on our Facebook page.