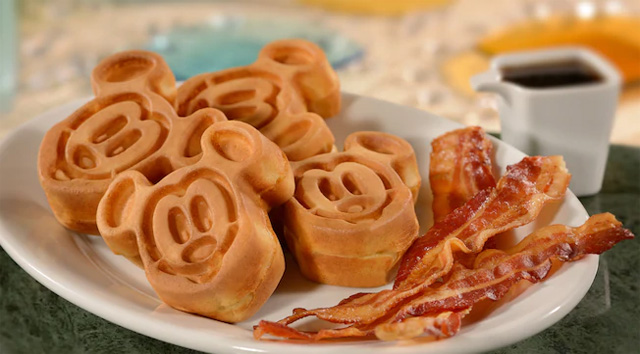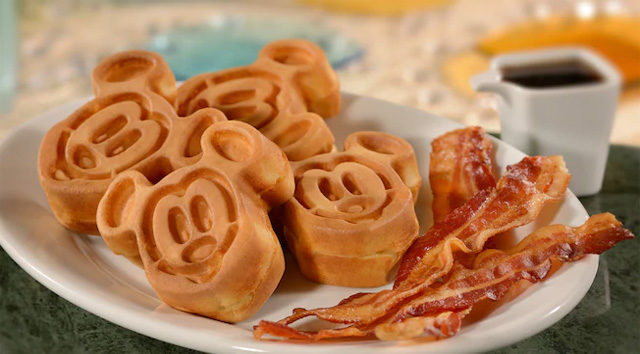 Right now, we're all at home, practicing social distancing while schools, businesses, and our beloved Disney theme parks are closed. A little Disney magic is just what we need to add some joy to our days. I've been busy searching for ways to add magic to our lives, and so we decided to try to recreate a Disney-inspired character breakfast in our home!
When my family visits Walt Disney World, one of our favorite experiences is Character Dining. Character Dining in Walt Disney World is an experience like none other.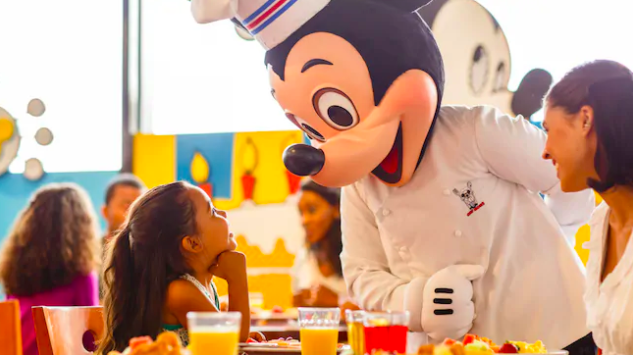 Disney Character Dining
Character Dining takes place in restaurants all over Walt Disney World. At these dining experiences, you'll be treated to a delicious meal, while different characters stop by and visit you right at your table!
The meals are usually served family-style with a platter in the middle of the table, or buffet style. There are a few restaurants like Cinderella's Royal Table and Bon Voyage Adventure Breakfast that offer several menu choices instead of a buffet.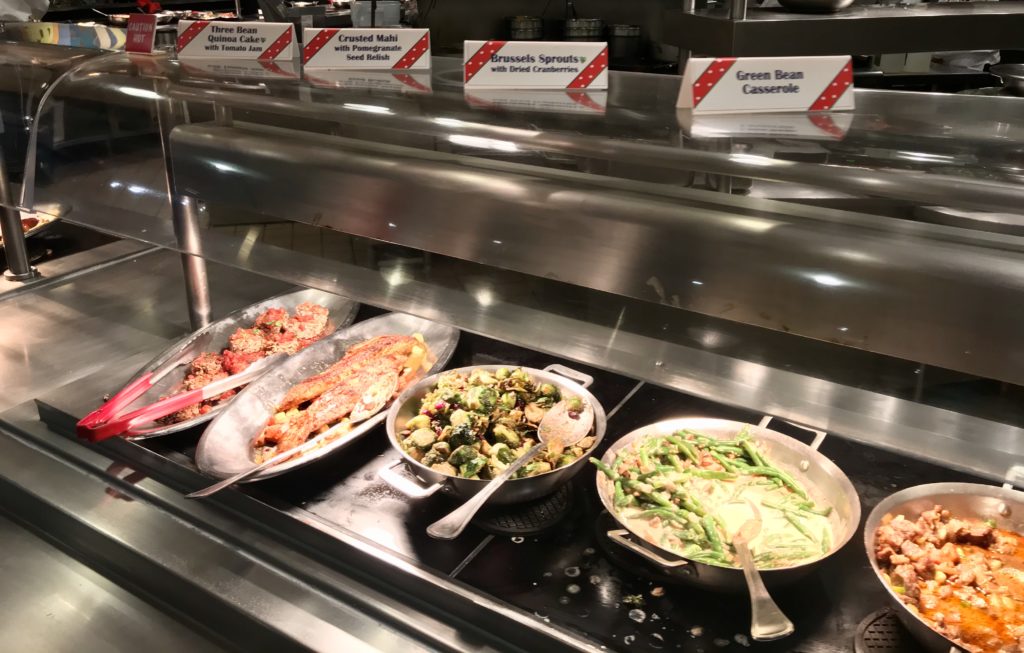 There are different themed character dining experiences available, such as Princess dining at Cinderella's Royal Table in Magic Kingdom, Safari dining at Tusker House in Animal Kingdom, or even Disney Junior themed dining at Hollywood Studios!
Our writers here at Kenny the Pirate love character meals! You can check out our favorites HERE.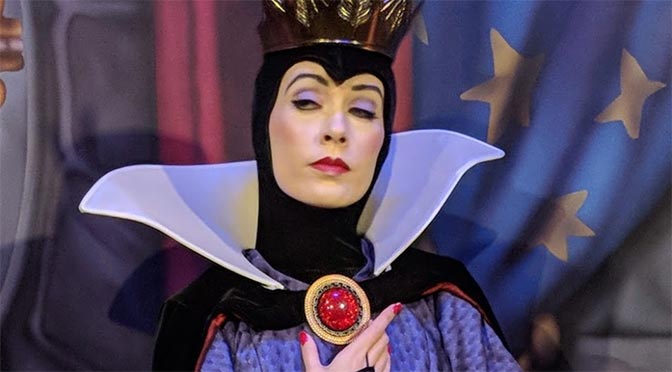 My family's favorite way to dine with characters is at breakfast, for several reasons.
Most importantly (for us anyway), breakfast is slightly less expensive than dining with characters for lunch or dinner. The price alone can differ more than $20 per person between meals so that extra money adds up when you're feeding a large family!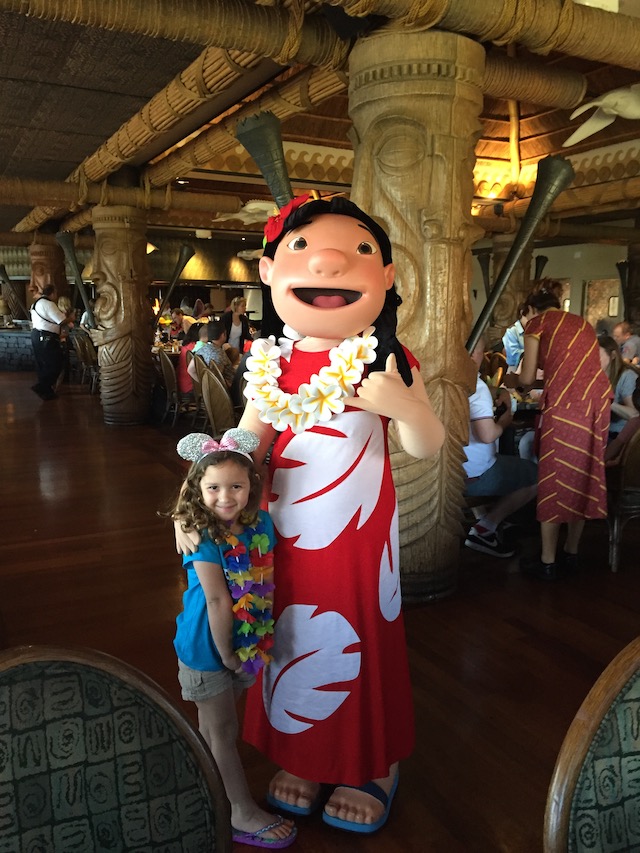 Another reason we prefer to dine with characters at breakfast is because we love to schedule our meals for early mornings when the park is not yet open.
On our vacations, we like to see and do all the things! Sitting in a restaurant when we could be out "seeing the world" is not our idea of good use of time! We prefer to enjoy our meals while the parks are closed and then stay busy in the parks for the remainder of the day.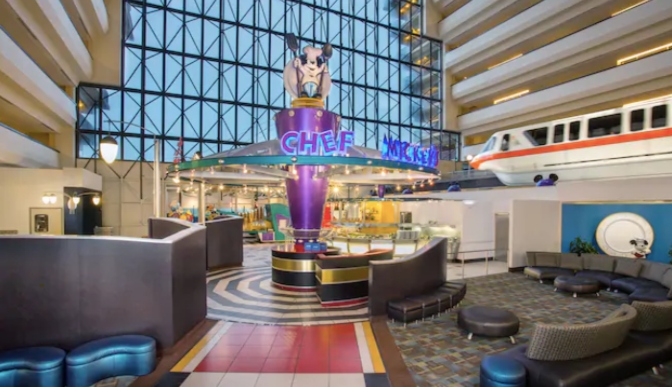 Of course, this strategy is not for everyone. Some people prefer to use character meals as a way to sit down, take a break, and get out of the sun for a little while. This makes sense as well, and every family should do what works for them.
Either way, character meals are a great way to meet some characters and enjoy a fun meal!
Since my family loves to eat breakfast with characters so much, one Walt Disney World breakfast item has become a family favorite. We love Mickey waffles!
Mickey waffles, simply put, are magical.
Not only are they delicious, but they are shaped like our favorite mouse, Mickey! As my 8 year old daughter likes to tell me, "everything is more magical when it's shaped like Mickey."
I couldn't agree more.
Mickey Waffles at Home
When Walt Disney World announced they would be temporarily closing due to the concern of the rapidly spreading coronavirus, I began to think of ways I could bring some Disney magic home to my children.
I remembered our love of Mickey waffles, and decided that a Mickey waffle maker is just what we needed!
I went on to shopDisney and found this wonderful Mickey waffle maker!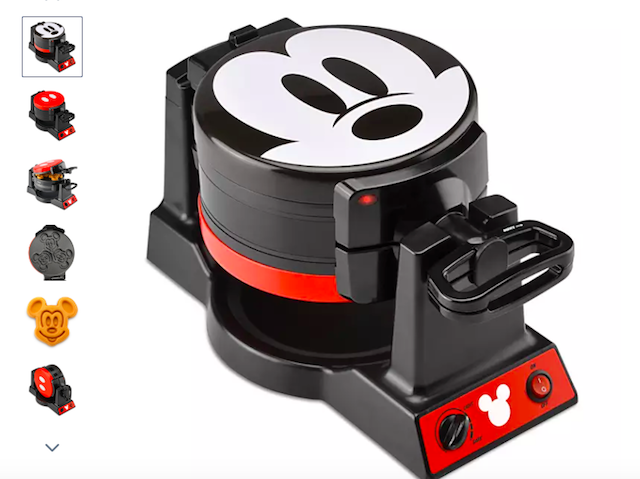 I've had my eye on it for a while, but I figured now was the best time to splurge on a fun surprise like this for my girls. And, who am I kidding? For MYSELF!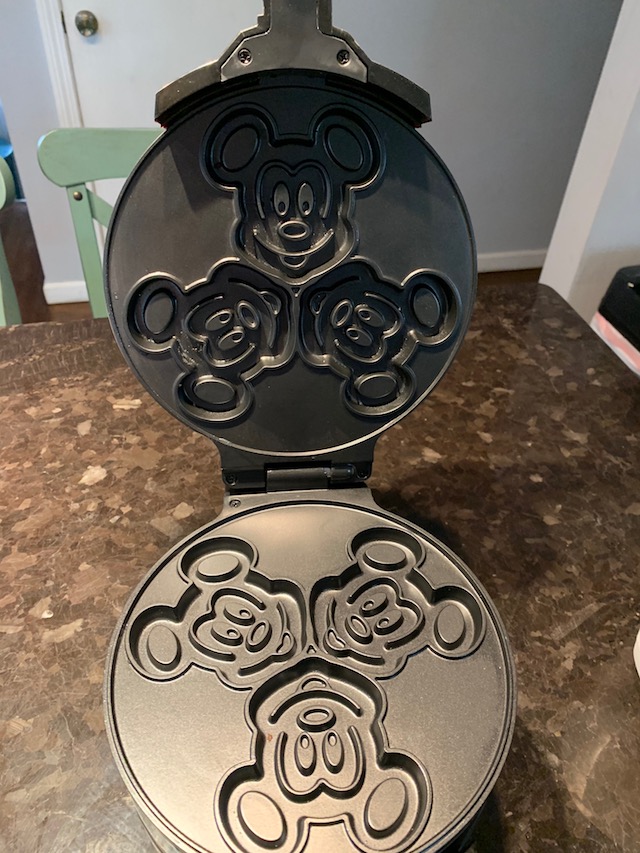 I also did some research and found out that Amazon sells the waffle mix that Walt Disney World uses to make their waffles. I went back and forth on this one, as I know I could make waffle mix from scratch or just use a packaged waffle mix, but I knew it wouldn't be the same.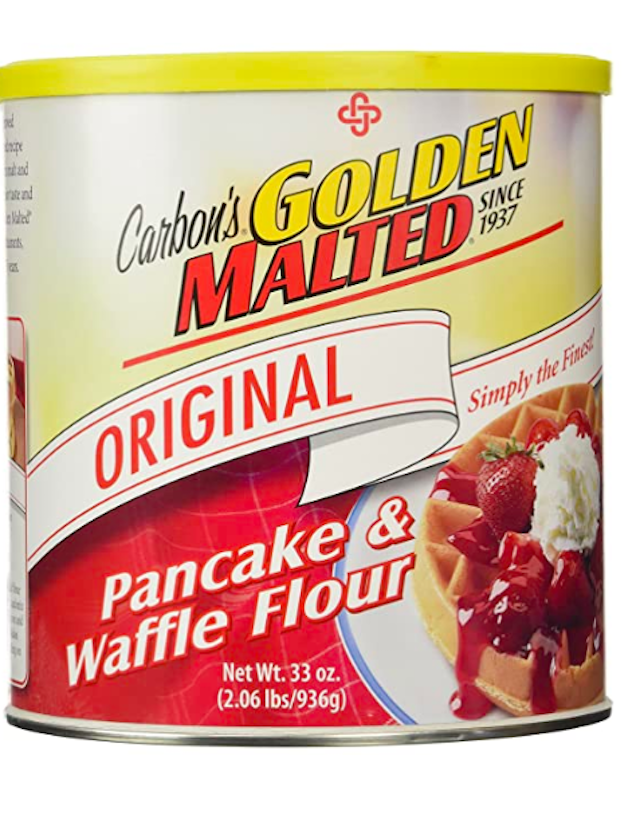 So I went ahead and splurged again and bought the mix. It's for the kids, right?
When my items arrived, I began planning my character meal.
How could I bring the characters to my home? Well, with three kids, the toys really add up, so my idea began to take shape.
My girls have a particular love for Disney Character Figure Sets, so I had plenty of characters to choose from!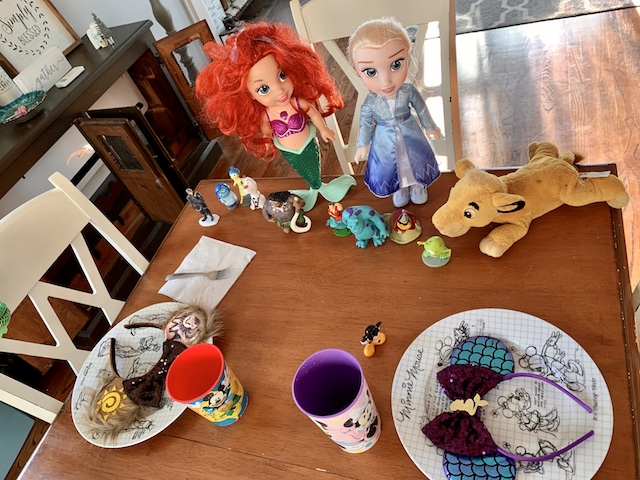 Since we were having our own character meal, we could invite whoever we wanted!
I decided for this character meal to feature their favorite princesses, and some monsters from Monsters, Inc. Gaston was also in attendance, along with two Mickeys!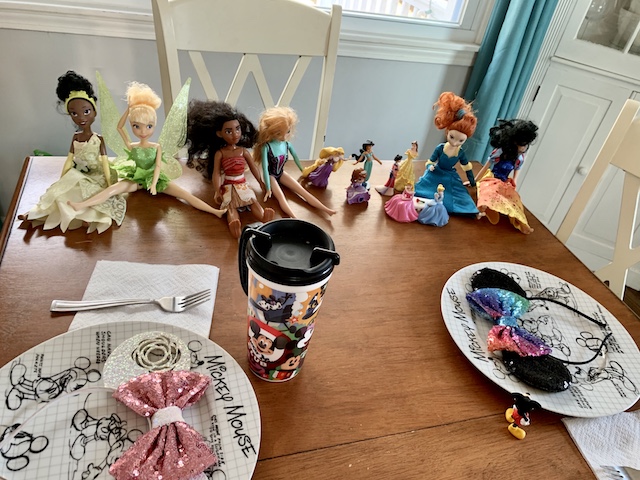 We also had Olaf, Moana, Maui, Tinkerbell, Joy and Sadness, Kristoff, and Simba.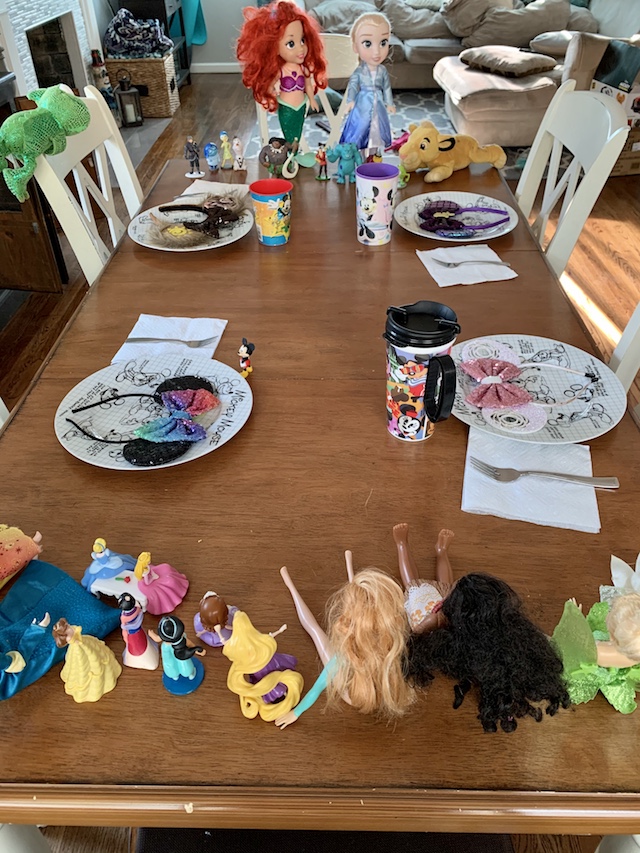 Of course, no character meal would be complete without Minnie ear headbands!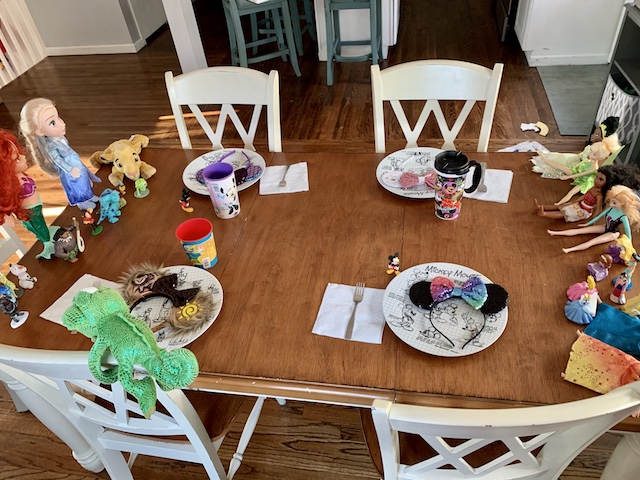 I set the table with my Disney themed plates and cups. I even included a resort refillable mug for fun!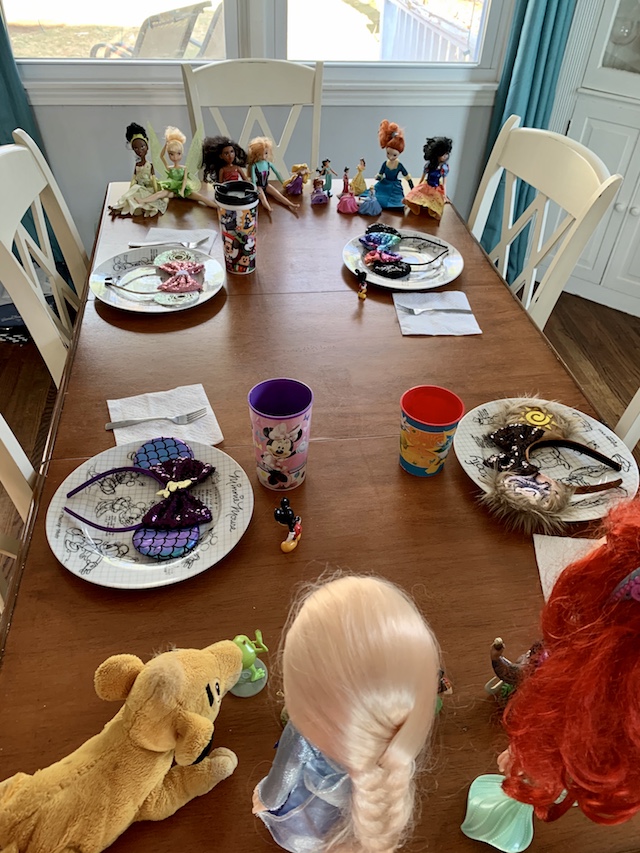 When the girls saw the table, they squealed in delight! While I finished setting up and cooking, they ran to put on their favorite Disney inspired clothes to top off our experience.
We played our favorite Disney music in the background, and sat down to start on our Mickey waffle feast!
The Results
The waffle mix was worth the splurge. It did taste just like waffles from the "most magical place on Earth."
The waffle maker took a little getting used to, but ultimately we figured it out. The waffles came out looking exactly like the ones we are so used to from Walt Disney World.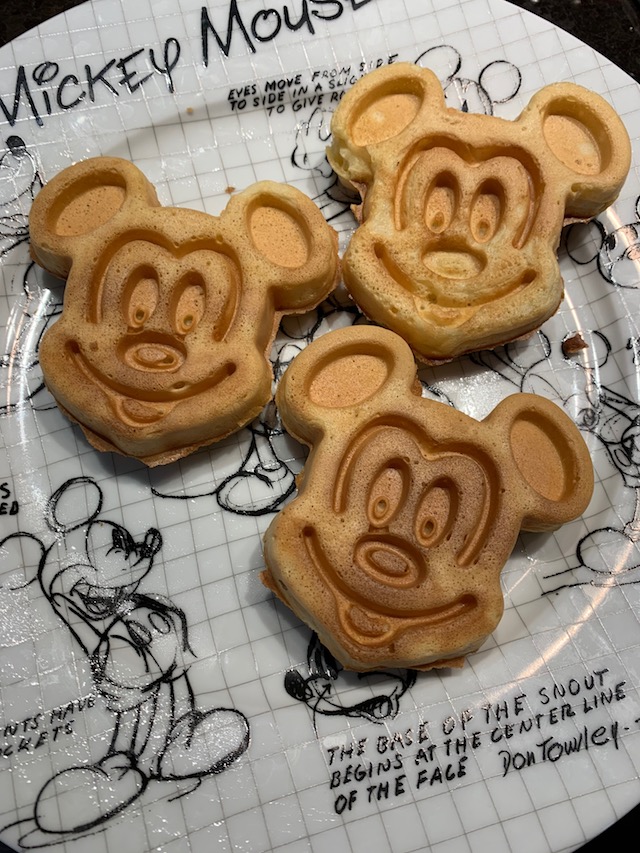 One of my daughters cannot eat gluten, so she was not able to eat the waffles as we prepared them. We used a gluten-free waffle mix for her waffles.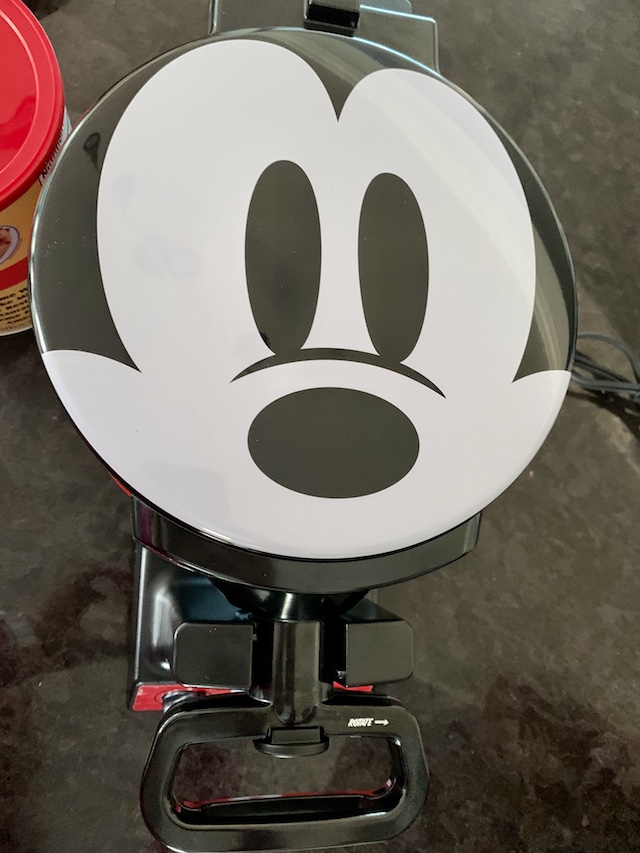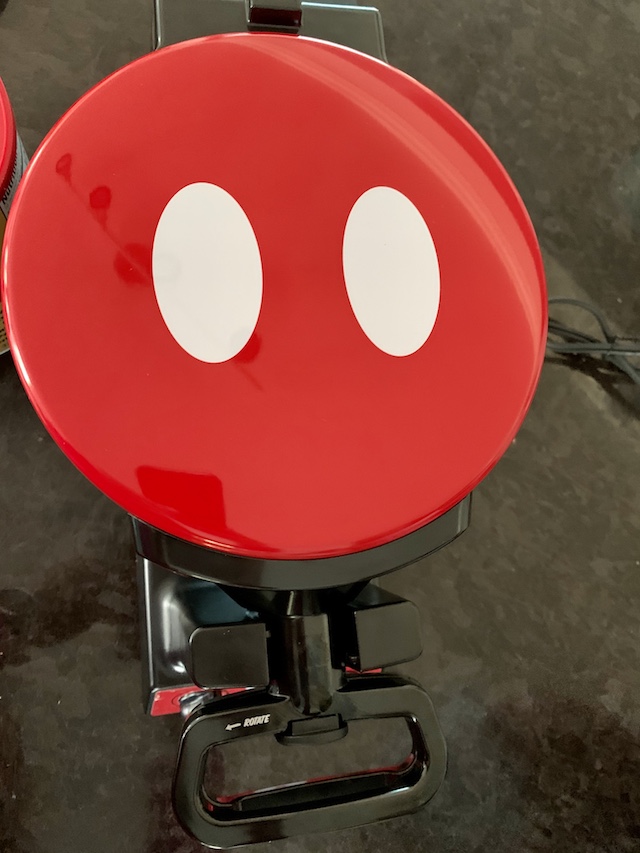 This particular waffle maker has a special feature that allowed us to cook her waffles separately without the fear of cross-contamination! It is double-sided, meaning we were able to cook the gluten-free waffles on one side while cooking the regular waffles on the other! It was so nice to be able to prepare both sets of waffles at the same time.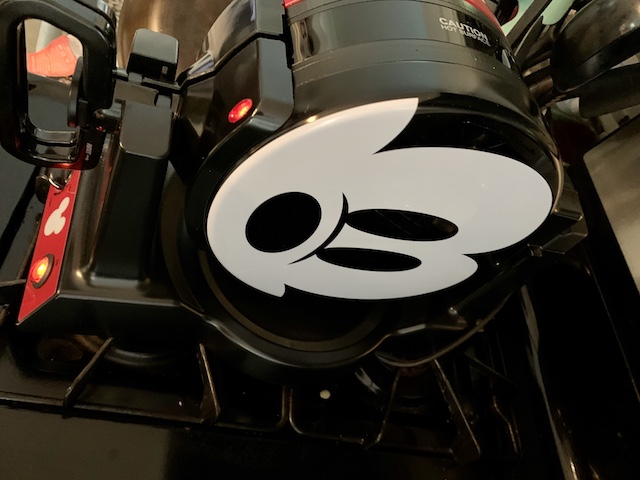 Her waffles did not come out looking exactly like ours, but she still loved them nonetheless. And the Mickey shape made them magical, of course!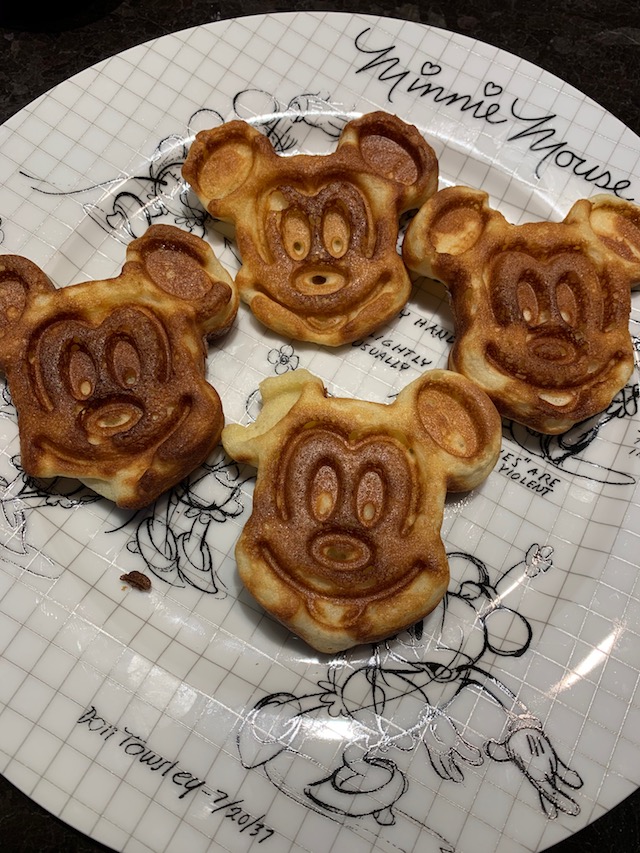 Even if you didn't need to make two separate batches of waffles, this would work out for you if you wanted to prepare a large batch quickly!
Disney Magic
As we ate, we talked about our favorite memories of our Disney World vacations. We had lots of laughs as we remembered some of our most fun moments in our "most magical place on Earth."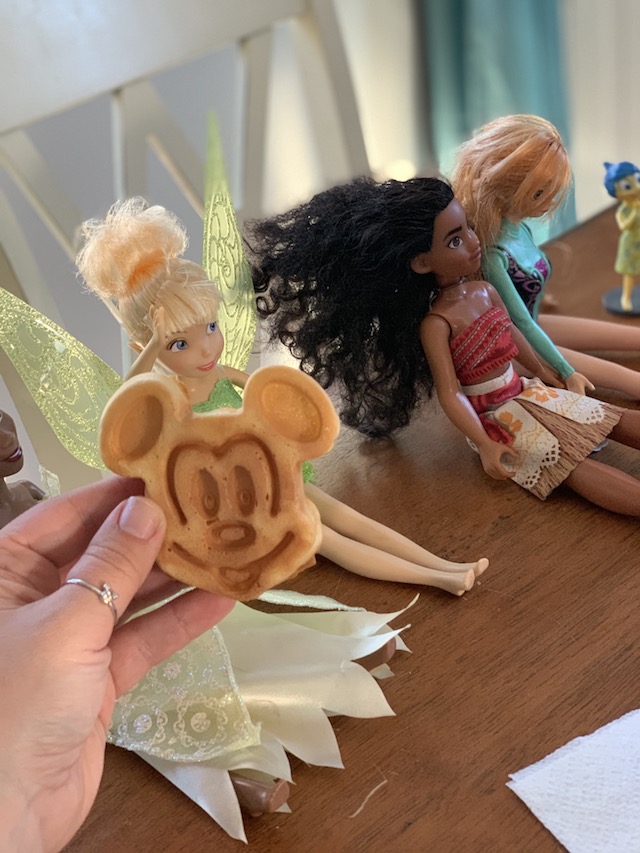 We even talked about our upcoming trips, and my younger girls decided they were going to try some new rides that had previously scared them!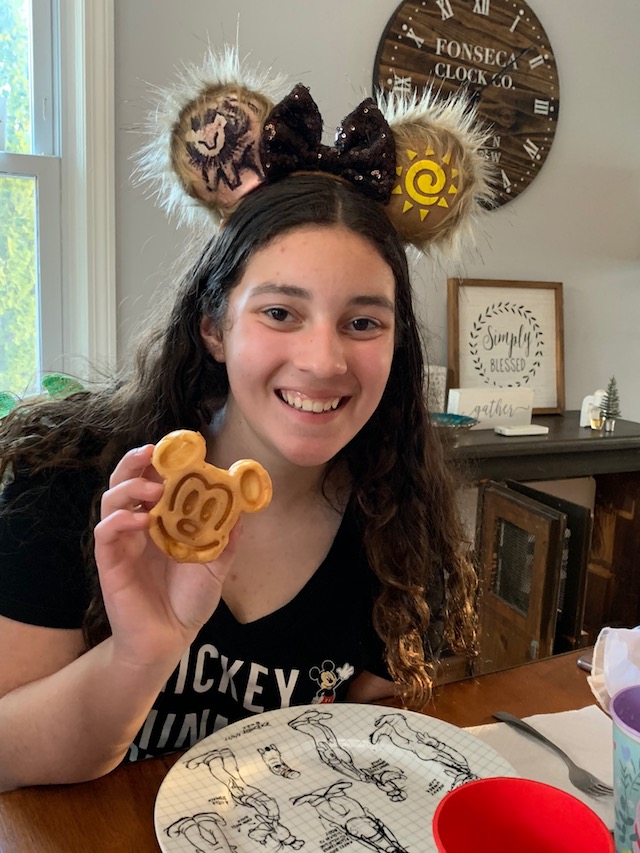 All in all, it was such a fun meal and it truly added joy to our day. The next morning my daughter's first question was, "can we have another Disney character meal today?"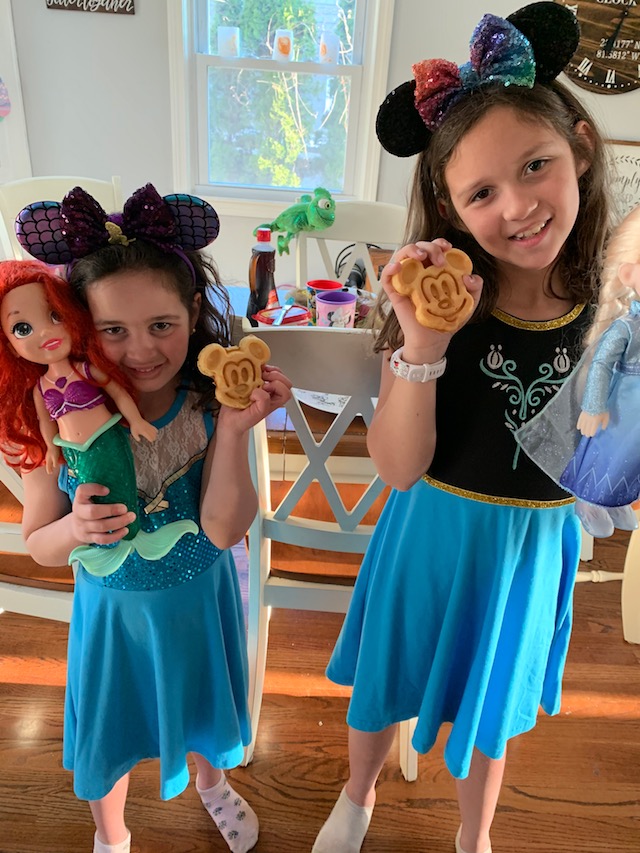 Yes, I think we probably will.
How are you adding Disney magic to your days at home? Have you tried a Disney inspired character meal at home? Let us know on Kenny the Pirate's Facebook Page, or join our crew and send us pictures!
Jamie Fonseca