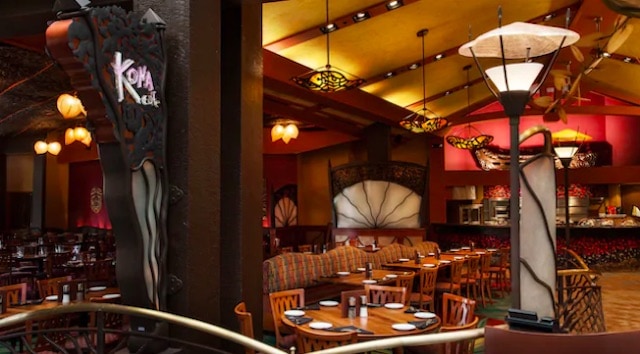 Did somebody say Tonga Toast? If you haven't had the opportunity to try the world famous Tonga Toast that has been on the menu at Disney's Polynesian Village Resort since it opened in 1971, make sure you check out our full review before you head over to Kona Cafe for breakfast.
Transportation to Kona Cafe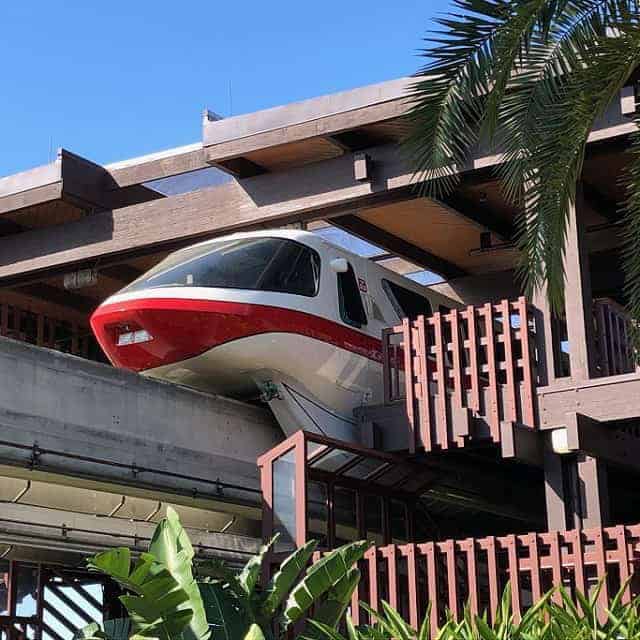 Kona Cafe is located on the second floor of Disney's Polynesian Village Resort. If you are driving a personal vehicle or arriving via ride share, like an Uber or Lyft, you will need to show the security guard at the gate your ID and reservation information.
Typically the easiest way to get to the Polynesian Village Resort from the Transportation & Ticket Center or Magic Kingdom by taking the resort monorail. However Disney recently announced a major refurbishment for the Polynesian Village Resort and the monorail line will not be available.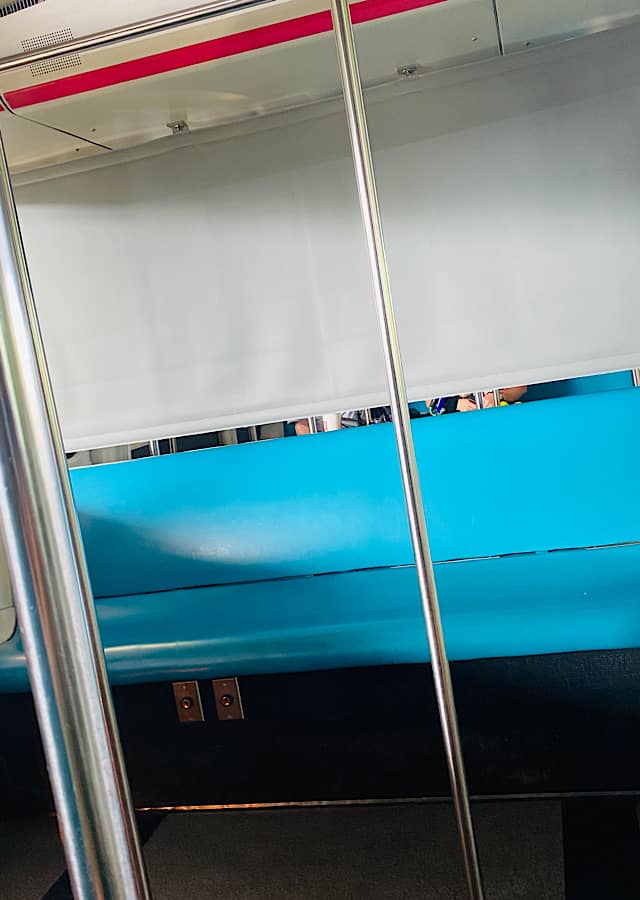 Another option is to hop on the designated Polynesian Village Resort Boat, also known as a water taxi, that travels to and from Magic Kingdom. My family enjoys riding the water taxi to Magic Kingdom after breakfast.
It is also very quick and easy to walk from the Transportation and Ticket Center to the resort. There is a beautiful sidewalk lined with palm trees that connects the Transportation and Ticket Center to the Polynesian Village Resort.
Once at the Transportation and Ticket Center you can ride the express monorail or ferry to Magic Kingdom.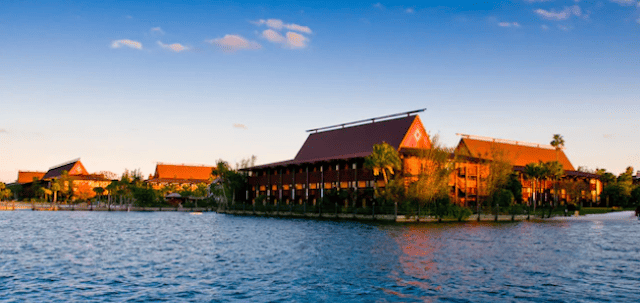 Reservations for Kona Cafe are highly recommended and available to book 60 days in advance. If you aren't able to secure a reservation prior to your arrival, you can try your luck at the new walk up waitlist option that Disney recently implemented.
Disney's Polynesian Village Resort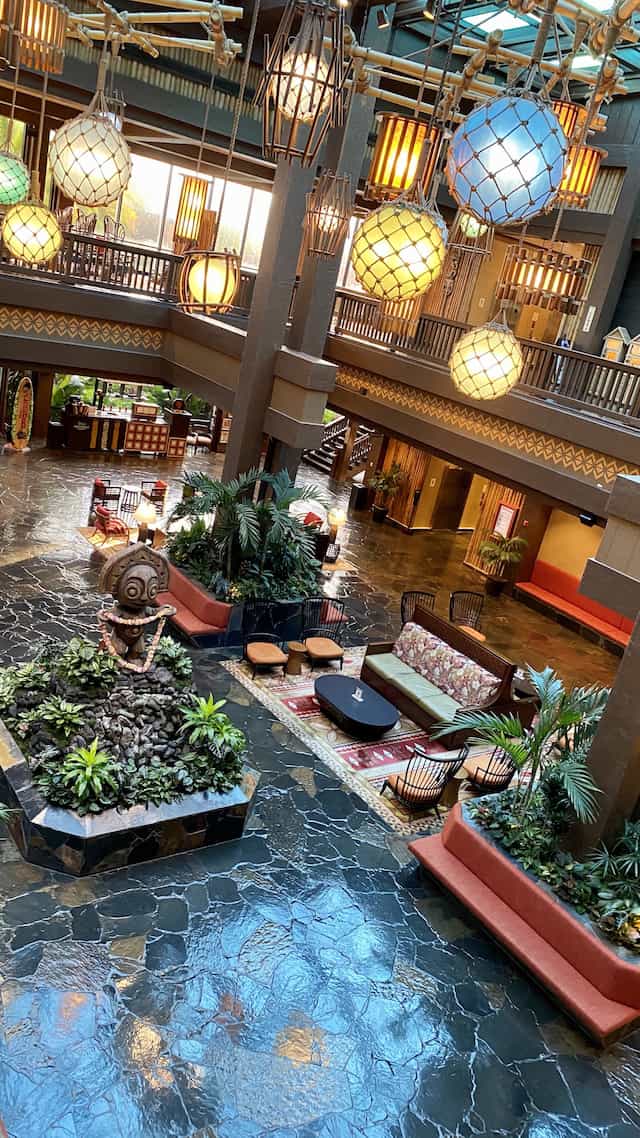 Located on the Magic Kingdom Monorail Loop, Disney's Polynesian Village Resort transports guests to a island themed oasis. From the moment you arrive, everything from the authentic decor to beautiful ukulele filled music strumming in the background contributes to the the tropical resort vibe.
Kona Cafe is one of many restaurants at the Polynesian Resort and serves breakfast, lunch and dinner. Unfortunately not all of the resort's restaurants have announced reopening dates. We recently shared that the Tambu Lounge is serving guests again and we look forward to Disney announcing reopening dates for 'Ohana and The Spirit of Aloha Dinner Show.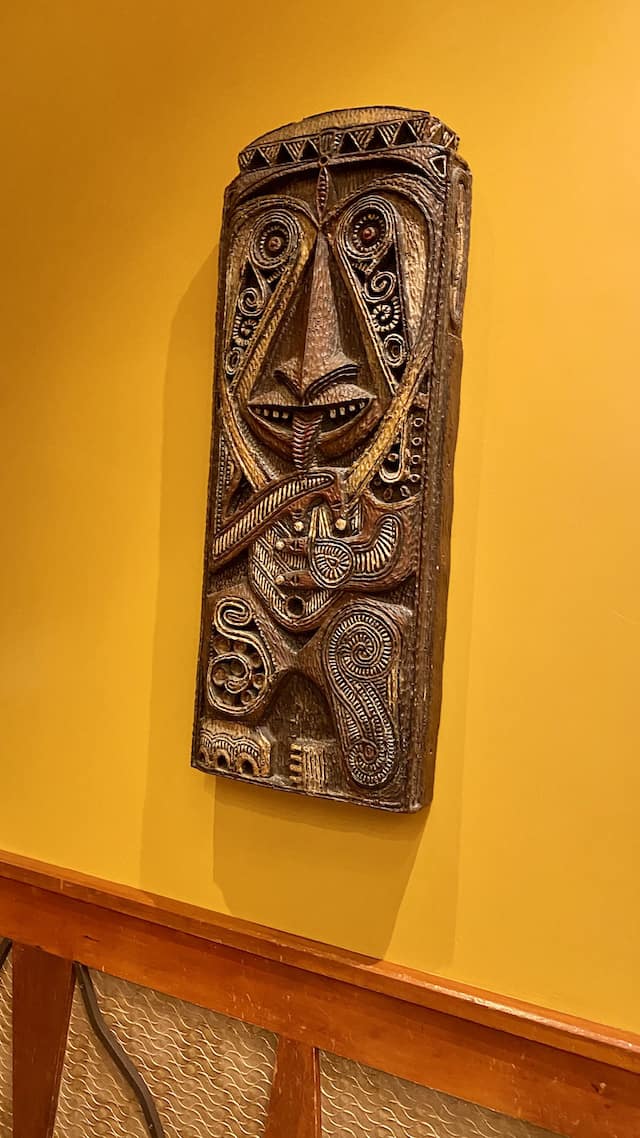 Disney's Polynesian Village resort is currently only open to Disnty vacation club members and will not fully reopen to guests until summer 2021 after resort and room renovations are complete.
Disney's Polynesian Village Resort has both traditional and Disney Vacation Club rooms. You can read Kate's full review of the resort and all about her stay in a deluxe studio suite HERE.
Kona Cafe Menu with Prices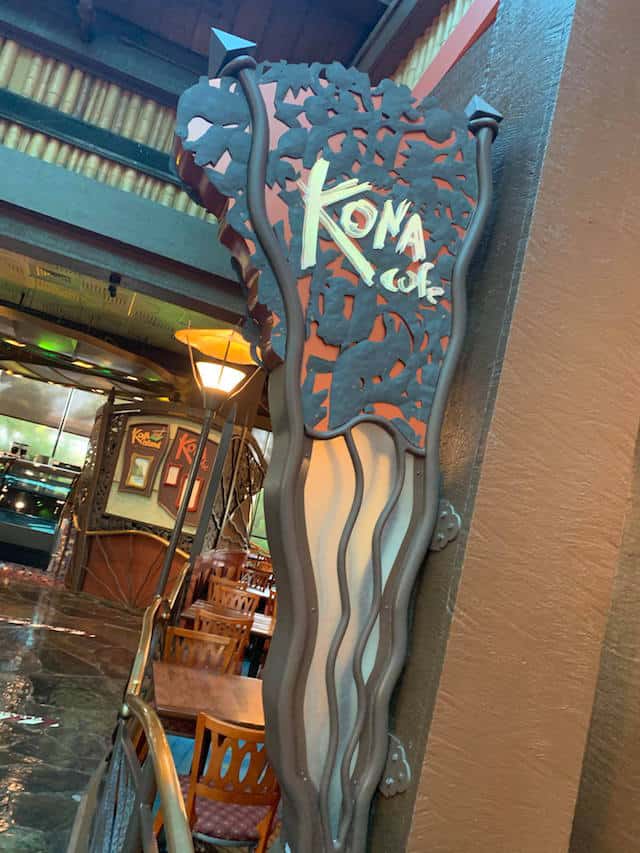 Kona Cafe reopened in July with a smaller breakfast menu. There are currently only four choices of breakfast entrees.
$16 Tonga Toast – Banana-stuffed French Toast rolled in Cinnamon Sugar and served with a Strawberry Compote and your choice of Ham, Spiced Ham, Bacon, or Sausage
At our KTP Writer's Retreat in July we all ordered tonga toast!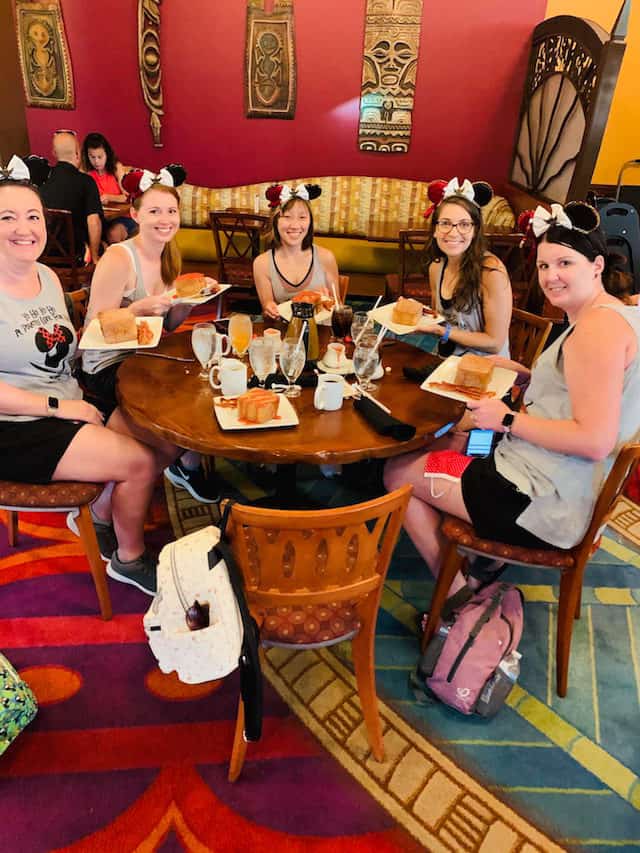 $12 Plant-based Loco Moco – Plant-based Eggs, Plant-based Sausage, Coconut Milk, Rice, Pico de Gallo
$14 Two Eggs-Any Style – with Home-fried Potatoes and your choice of Ham, Spiced Ham, Bacon, or Sausage
$14 Macadamia Nut Pancakes – with Macadamia Nut Butter, Pineapple Sauce, and your choice of Ham, Spiced Ham, Bacon, or Sausage
Sides
$5 Bacon, Pork Sausage, Ham, or Spiced Ham
$6 Creamy Grits with Smoked Gouda
$7 Steel-cut Oatmeal with Apples
$5.5 Fresh Fruit Cup
Kids' Create-Your-Own Entrees come with the choice of two sides. The side choices available include Bacon, Sausage, Breakfast Potatoes, Yogurt with Strawberries or a Fruit Cup.
$8 Scrambled Eggs
$6 Oatmeal with Dried Cranberries
$8 Mickey-shaped Pancakes
$8 Minnie's French Toast
There are a variety of speciality drinks also available. I enjoy the resort's famous Liliko'i Juice and many guests recommend the Freshly Brewed Joffrey's Coffee Hawaiian Kona Maragogype Press Pot.
Breakfast Review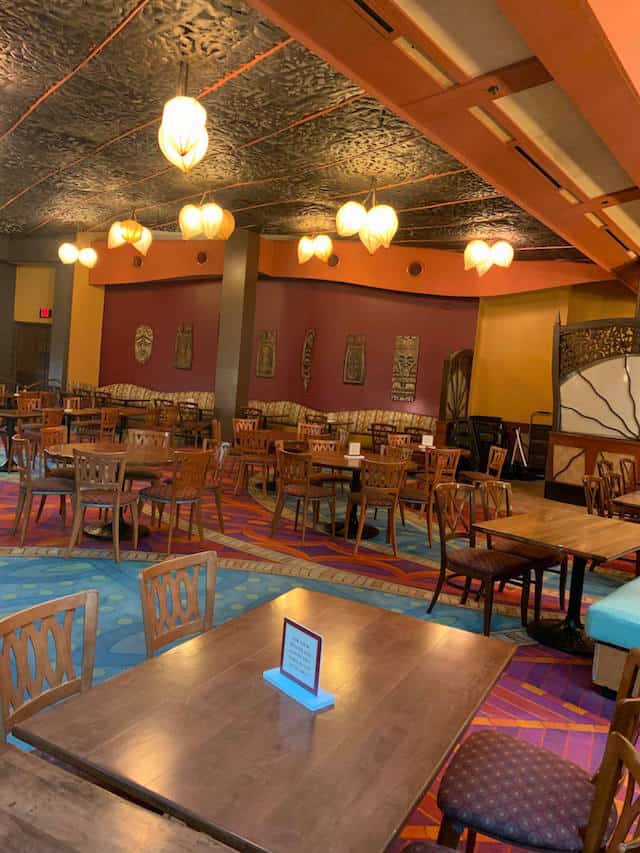 I have been to the Kona Cafe twice since it reopened in July and both were excellent. We used mobile check in when we arrived at the restaurant and were seated by the hostess within a few minutes.
On my second visit to Kona Cafe since it reopened in July, the hostess also checked our temperatures before seating us. Disney's expanded temperature screenings now include table service restaurants.
Kona Cafe is a small open air restaurant and several tables were marked not available as a method to distance dining parties. This made the restaurant feel almost empty with only a handful of tables being used by guests eating breakfast.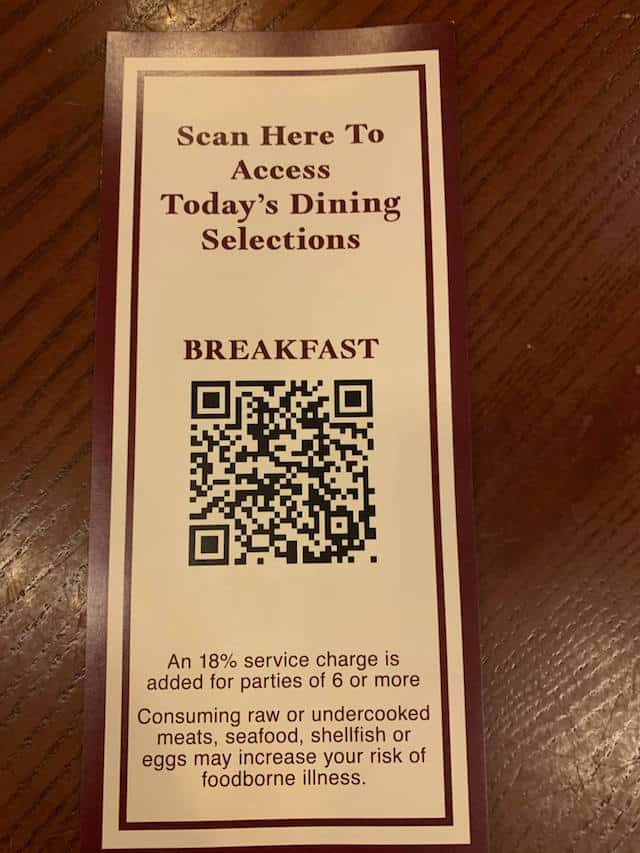 Guests are encouraged to scan a QR code that has been placed on their table to view the Breakfast menu.
I highly recommend ordering Tonga Toast! Tonga Toast is banana stuffed sourdough bread, battered, deep-fried, and dusted with cinnamon-sugar. It is served with Strawberry Compote and after your first bite you realize why it has been on the menu at the Polynesian Resort since it opened in 1971!
It is very sweet and very filling. Tonga Toast is served with your choice of Ham, Spiced Ham, Bacon, or Sausage.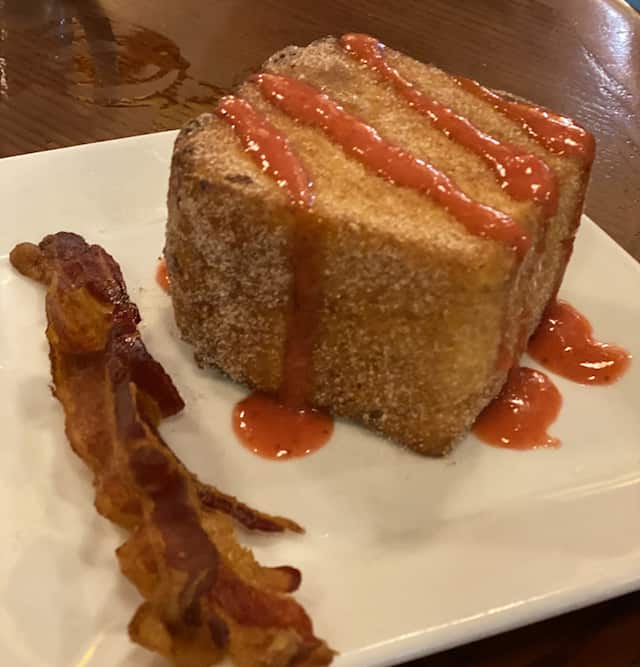 You can also find Tonga Toast at Capt. Cooks quick service restaurant that is located at the Polynesian Village Resort.
It is very similar to the entree served at Kona Cafe but does not include Strawberry Compote.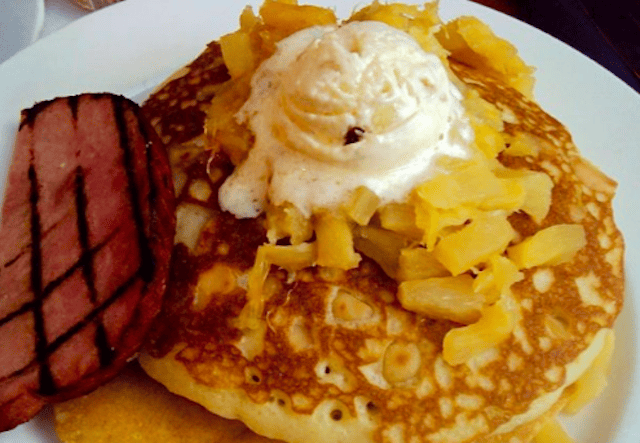 Macadamia Nut Pancakes is another very sweet but delightfully delicious breakfast option at Kona Cafe. Three light and fluffy pancakes are topped with Crushed Pineapple and Macadamia Nut Butter. They are served with a side of syrup and your choice of Ham, Spiced Ham, Bacon, or Sausage.
The pineapple and macadamia nut butter combination is so perfect, I didn't even use the syrup.
If there are multiple people in your party, I recommend ordering both and sharing so you can enjoy a taste of both these amazing entrees.
Final Thoughts
Kona Cafe is an excellent option for breakfast if you are planning a park day at Magic Kingdom. Although it is an official table service restaurant, the servers are excellent and you can quickly have a full breakfast before heading to the park.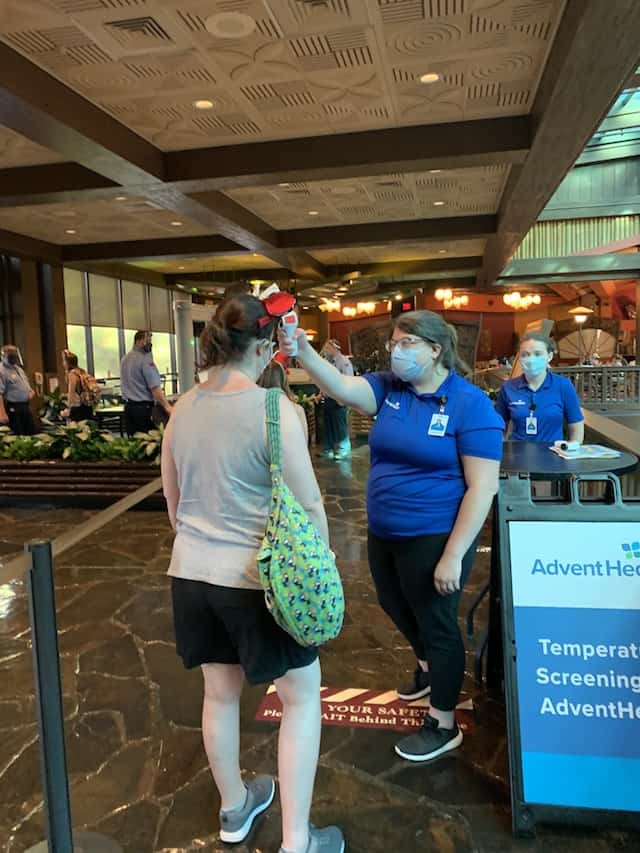 A bonus to starting your day at the Polynesian Village Resort is that you can take the monorail or boat to Magic Kingdom. Guests that board the monorail at the resort have their temperatures checked and go through security screening prior to boarding.
This means you can go directly to the ticket turnstiles and avoid any long security lines when you arrive at the park. Guests that take the resort boat will complete their temperature check and security screening when they arrive at Magic Kingdom.
Make Your Own Tonga Toast at Home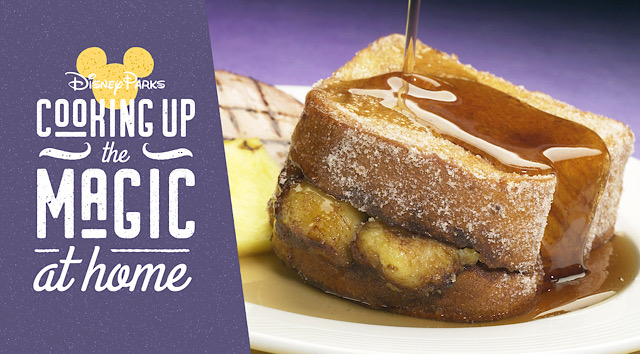 You don't have to wait until your next visit to Walt Disney World to try Tonga Toast! Check out this Magical Moments article that includes the full recipe and a video with step by step instructions to replicate Tonga Toast in your own kitchen.
What is your favorite meal at Kona Cafe? Are you team Tonga Toast, Macadamia Nut Pancakes or something different? Let us know on Kenny the Pirate's Facebook Page or join our crew and continue the discussion!
Jess Watkins