'Ohana means family. Family means nobody gets left behind or forgotten. So it's safe to assume if you eat at 'Ohana at the Polynesian Resort, no one will be left behind or forgotten since this all-you-care-to-eat meal means everyone in your travel party will get their fill!
'Ohana is a sit-down restaurant located at Disney World's Polynesian Resort. Breakfast features character meets with Lilo, Stitch, Pluto, and Mickey in his Hawaiian attire.
My family had the opportunity to feast here during a recent trip. It was our arrival day and also our Mickey's Very Merry Christmas Party day. We wanted something laid-back that wouldn't use up a park ticket. 'Ohana seemed like a great choice!
Check-In
Our reservation was at 10:45 a.m. and we arrived at 10:30 a.m. There was a rather long line just to check-in at the restaurant! Everyone wandered around the gift shop nearby while one of the adults in our party waited.
We finally made it to the front of the line at 10:45 a.m. and was told it would be a few more minutes to get called to our table. I am glad we arrived early!
Many restaurants consistently run late at Disney, especially as the day goes on, so it is always a good idea to arrive early for your reservation.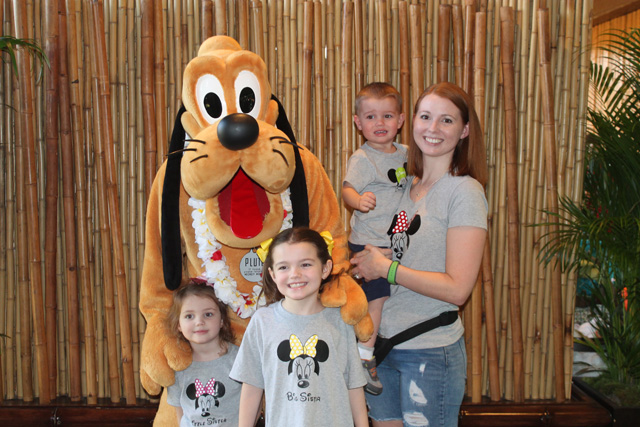 While we were waiting to get called to our table, we had the opportunity to meet Pluto. He was located just outside the restaurant for guests to meet, and the line was not long at all.
We were then called back around 11:00 a.m., and by this time we were hungry! We wanted brunch to allow us to sleep in a little and act as our breakfast and lunch.
Atmosphere
The atmosphere of 'Ohana is really fun with a Polynesian vibe. There are wooden tiki statues and it has the tropical setting I had been craving since booking our reservation 6 months prior.
On the way to the table, we were given the pineapple-coconut breakfast bread, and our server greeted us shortly after to get our drink order and see if there were any special dietary requests. The only thing we requested was bacon for my son since he does not care for sausage.
It took a little while to bring the drinks out to us, and we were a little thirsty because the pineapple-coconut bread was just too good to leave alone! The bread was very delicious, light and fluffy with a great flavor.
The Food
A little while later we received our food. I was hoping we would get to meet some characters first to help entertain the kids and so our meal wouldn't be interrupted often but that did not happen for us.
The dish they bring the food out on is massive! With such a wide variety of food, all 8 of us were able to find something we liked.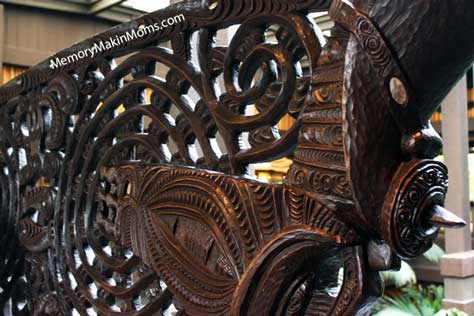 Menu selections come family-style and feature scrambled eggs, Island-style fried potatoes, Hawaiian pork sausages, Hawaiian-style ham with pineapple compote on top, and a variety of fruit. Plus, an assortment of bread like biscuits, Mickey waffles, and their delicious pineapple-coconut breakfast bread are also included.
All of us really enjoyed our food, except for my husband. He just did not care for it – nothing in particular, he just was not a fan. He also thought the Bloody Mary was too spicy.
We got a second and third refill on our food – when we asked for more sausage an entire new pan was brought out to us. We thought that was wasteful, but maybe since there were 8 of us our server assumed we would need more of everything anyway.
Characters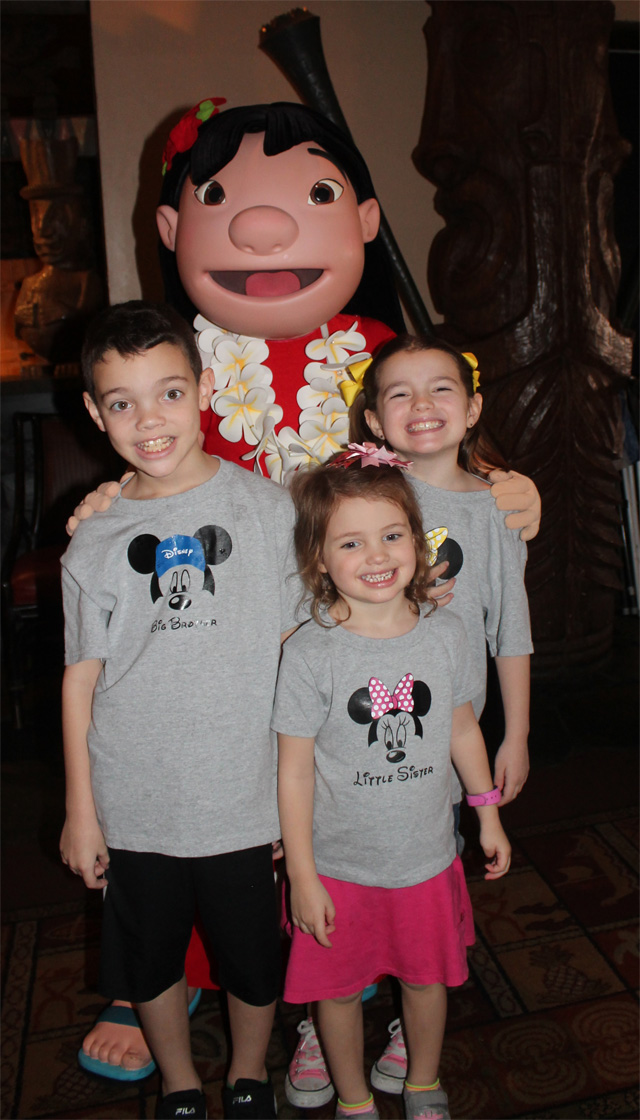 During our meal, all the characters slowly made their way around our table. First, Lilo and then Stitch and Mickey Mouse.
My youngest was very frightened of the characters because this was his first trip to Disney World and the first time meeting them. I wish I had prepared him a little more, but I am glad he got over this fear pretty quickly. Later that night he loved meeting the characters at the Christmas party!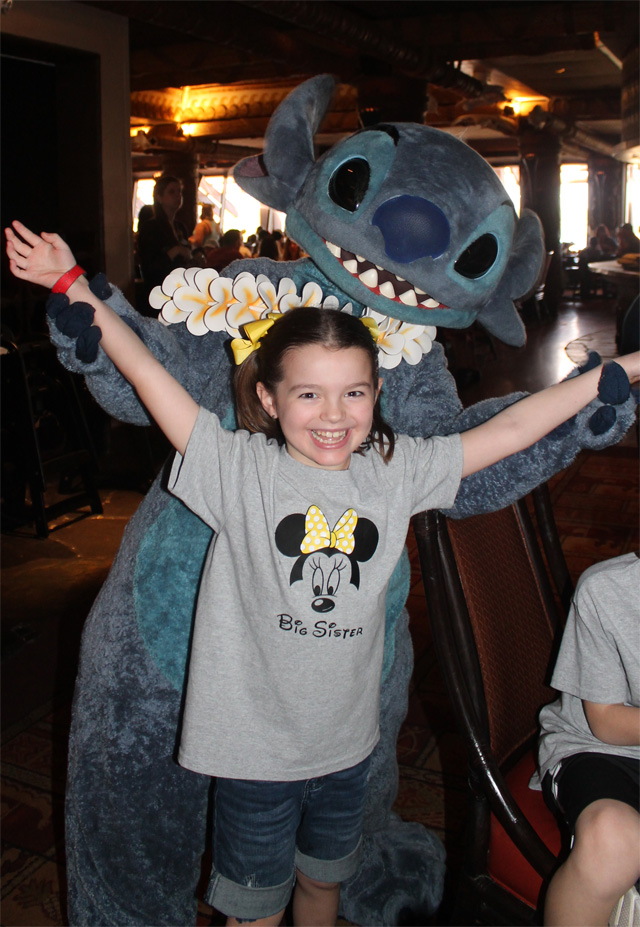 We loved the interaction with Stitch! He was rather mischevious and played around with my kids. He took a liking to my oldest daughter in particular. Check out interaction ideas on Character Locator to help you get some ideas for meeting all characters!
Music and Dancing for Kids
Towards the end of the meal, all of the kids were called to join the dance line around the restaurant. Three of my children enjoyed this fun activity, but my soon-to-be 9 year old was not convinced he should participate. The dance line is optional, so don't feel like you have to force your children to do it.
We were given our instruments and off we went around the restaurant!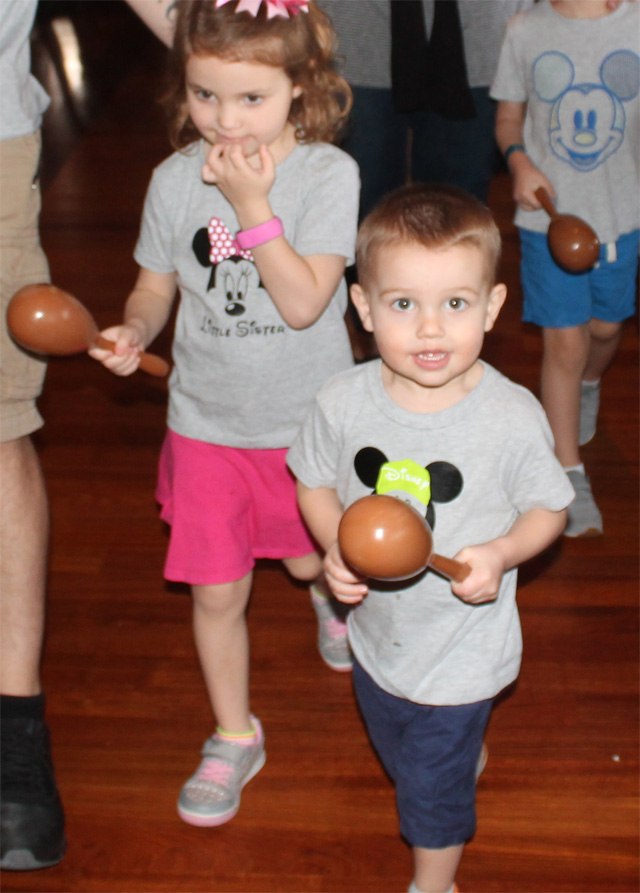 At the end of the meal, we paid for our food. Breakfast costs $41.00/adult and $24.00/child ages 3-9, or you can use your Disney Dining Plan for one table-service credit.
This restaurant is very popular so reservations are highly recommended. You can walk up and try, but there is no guarantee you will get a table.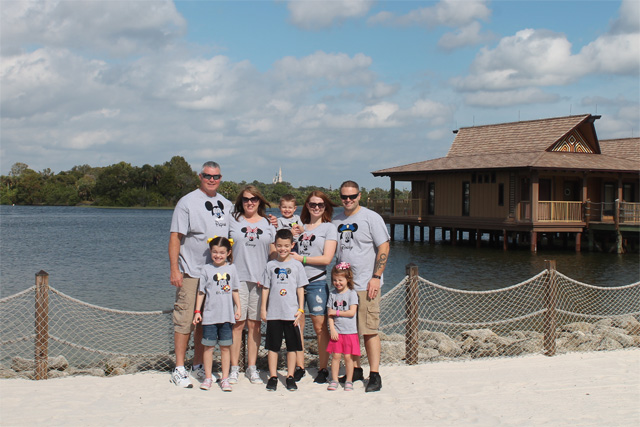 Dining at 'Ohana also gives you the opportunity to check out this resort. Afterward, we went down to the beach area and let the kids play for a little while. We could also see Cinderella Castle in the distance, and I can't let an opportunity go by without snapping some photos in front of it – no matter how far away it is!
Pineapple-Coconut Bread Recipe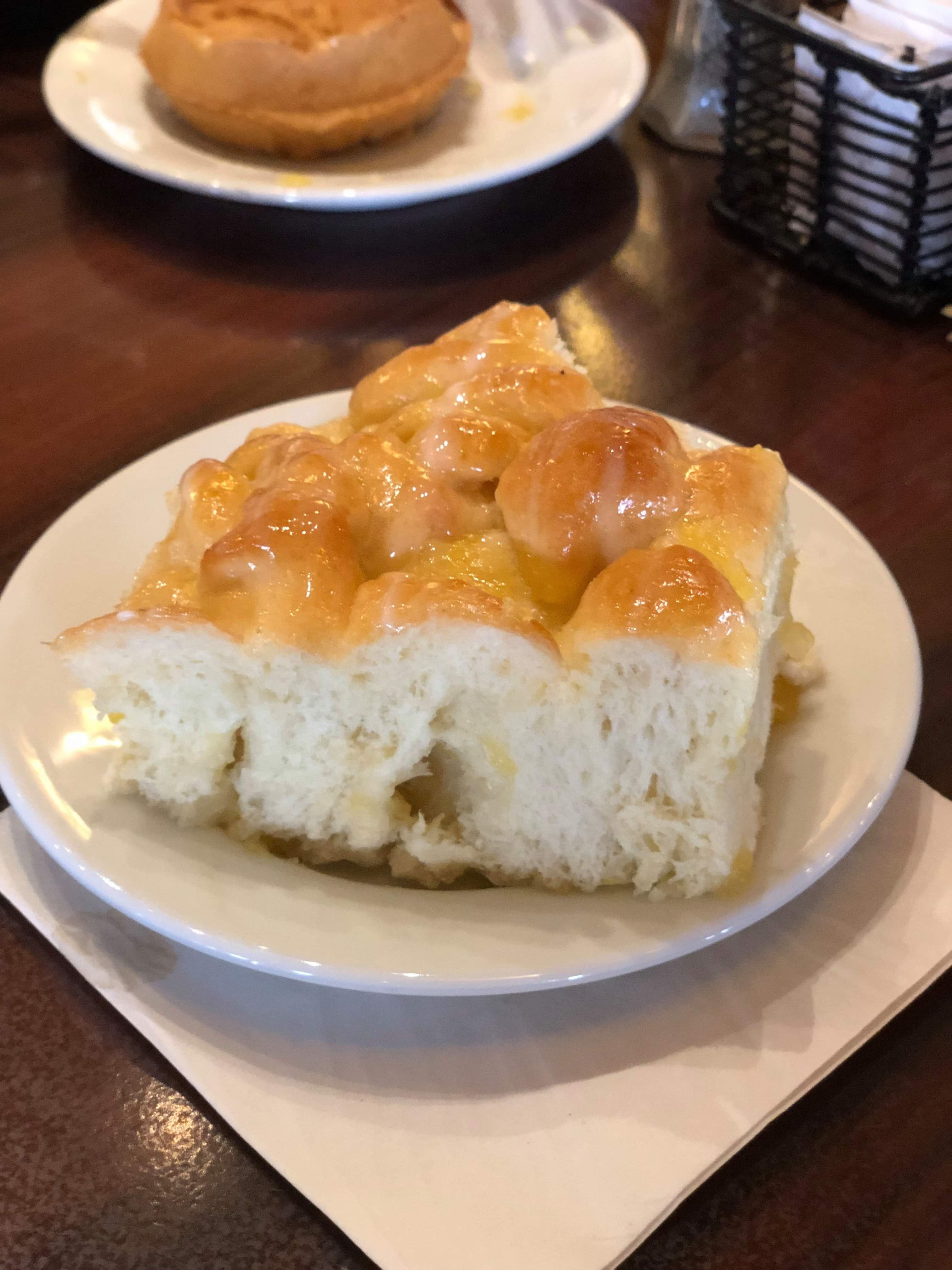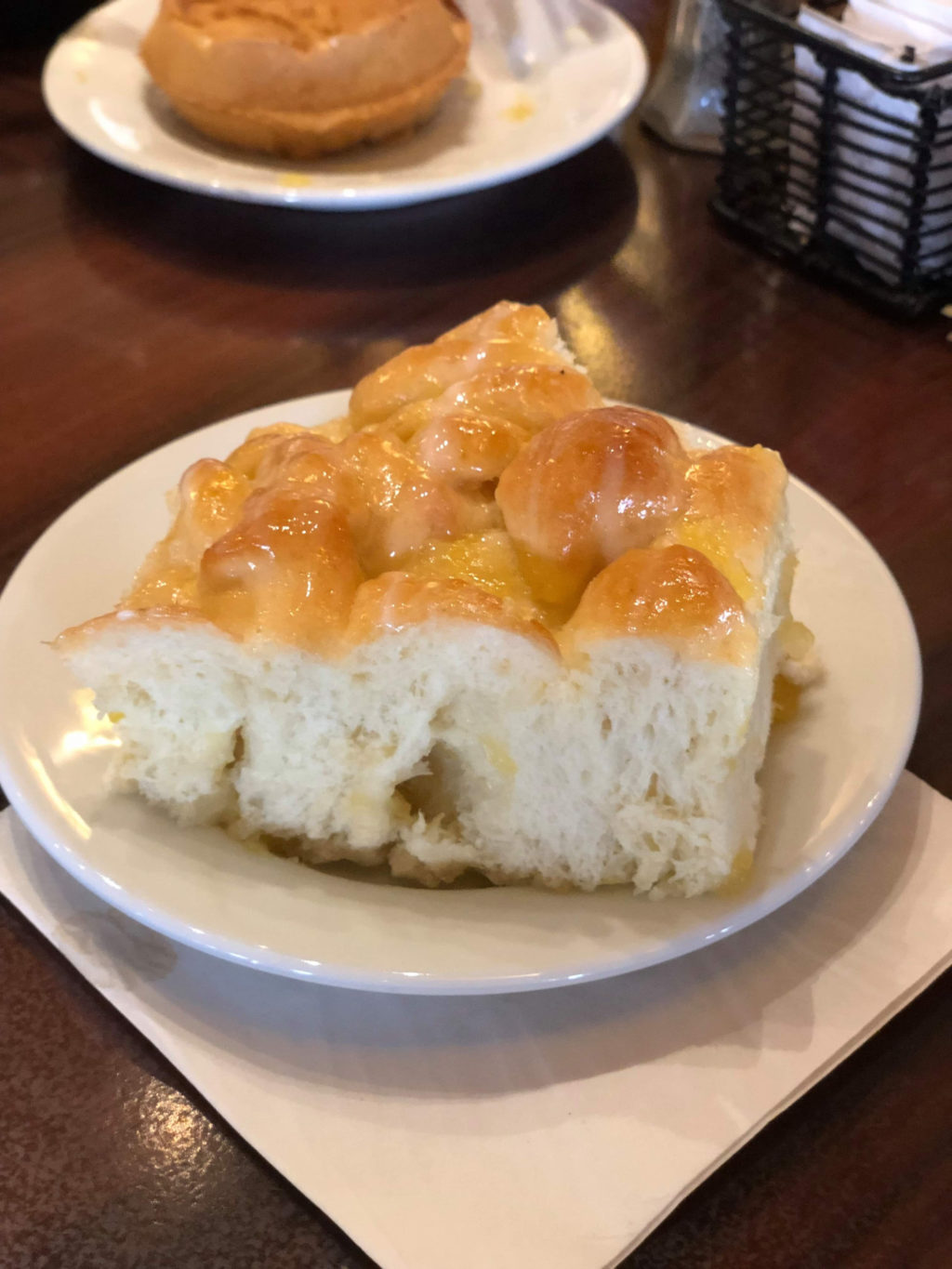 I still think about that pineapple-coconut bread and have found a recipe for it! I am going to have to try it soon! Here is the recipe; if you try it out let me know how it tastes!
Ingredients:
1 3⁄4 cups warm water
1 egg yolk
2 tablespoons butter
4 1⁄2 cups bread flour
1⁄2 tablespoon salt
1⁄3 cup sugar, divided
1 (1/4 ounce) package dry yeast
1 (20 ounce) can crushed pineapple, drained
1 cup shredded coconut
1 cup sugar
2 tablespoons cornstarch
Directions:
Pineapple/Coconut Procedure
1. Combine drained pineapple and coconut in bowl.
2. Combine 1 cup sugar and cornstarch in separate bowl and mix well.
3. Add sugar and cornstarch mixture with pineapple/coconut mixture and mix well.
4. Refrigerate for 1 hour.
Bread Procedure
1. Mix water, 1 tbsp sugar (from 1/3 cup), and yeast in small bowl. Let proof for 5 minutes.
2. Add egg yolk to yeast mixture.
3. Put flour in food processor with bread blade.
4. Add salt, butter, and remainder of sugar and process until incorporated.
5. While processor is running, slowly add yeast mixture through shoot in top of processor. 6. Process until a soft ball forms and then run processor for about 2 min longer.
7. Transfer dough to bowl coated with cooking spray, cover with plastic wrap sprayed with cooking spray and let rise in warm area until it doubles in size. (about 1 hour).
8. Roll dough out onto floured surface until it is a 2″ thick rectangle.
9. Spread the pineapple/coconut mixture over top of dough.
10. Fold dough onto itself and cut into pieces with pizza cutter.
11. Place pieces into greased 9 x 13 pan to cover.
12. Cover pan with plastic wrap coated with cooking spray and let rise in warm place–about 1/2 way up pan.
13. Bake at 325°F for 20-25 minutes or until golden brown.
14. Let cool, cut and serve.
15. Place pieces into greased 9 x 13 pan to cover.
16. Cover pan with plastic wrap coated with cooking spray and let rise in warm place–about 1/2 way up pan.
17. Bake at 325°F for 20-25 minutes or until golden brown.
18. Let cool, cut and serve.
Recipe courtesy of food.com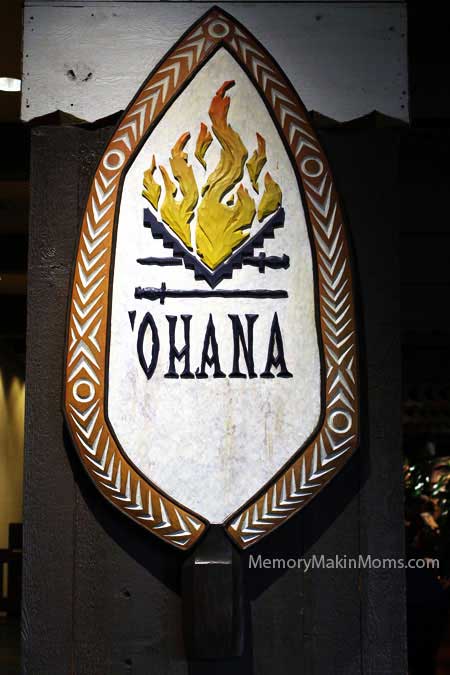 Overall, we loved the atmosphere of the restaurant and the fun character interactions. All but one of us loved the food and would eat there again. Now, we just need to convince my husband to give it another try!
Have you ever eaten at 'Ohana? What do you think? If you haven't dined there yet, I hope I have convinced you to make reservations for an upcoming trip! Let us know your thoughts on the KtP facebook page! You can also share this review with your friends by clicking the large blue Facebook button below.
-Monica S.