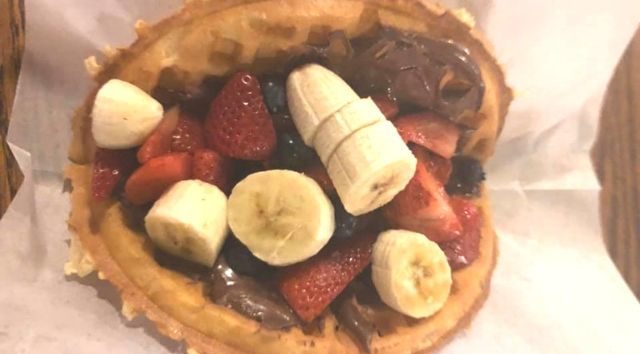 The Kenny the Pirate Writer's Crew has a lot of behind-the-scenes discussions about what we might bring next to our readers, but our discussion almost always comes back around to one thing: FOOD!
One enjoyable (read: delicious!) part of Disney World is the endless food choices! Whether you like to sit down to table service meals (especially Character Meals!), eat on the go with an endless variety of snacks, or pick up something quickly with quick-service meals, there is literally something for everyone.
If you're anything like me, you already know quick-service restaurants are the way to go at Disney World! Not only will they save you money, but they're also fairly quick, so you'll have more time for other vacation activities.
One of the best features of quick-service restaurants is that many offer mobile ordering, so you can order your food and it is ready by the time you arrive to pick it up!
KtP writers were recently asked: What is your favorite quick-service restaurant? Our writers came back with some mouthwatering favorites!
Jamie
I am a big fan of Pecos Bill Tall Tale Inn and Cafe in Magic Kingdom. It is so hard to pick a favorite meal at this restaurant because I've never been unhappy with anything I've ordered! I love the fixins bar, and I can create endless assortments of meals by varying the toppings I use there! In fact, I ask for a second plate just to fit all of my fixins!
I always make a point to visit Pecos Bill every time I am in the Magic Kingdom. It might be the meal I look forward to most! You can read Kenny's tips for what to order at Pecos Bill here.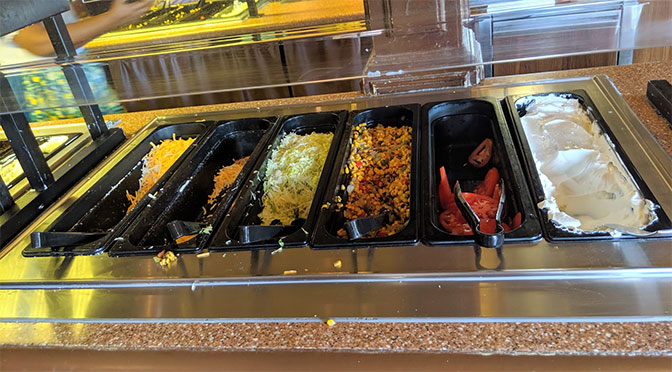 Amanda
My family's most favorite quick service is Les Halles Boulangerie-Patisserie in the France Pavilion at Epcot. We've tried quite a few of the menu items here and have been very happy with all of them!
The bread they use for the sandwiches varies and they are all dreamy! My favorite and usual order is the Dinde B.L.T. (Turkey, Bacon, Lettuce, Tomato, and Garlic Aioli) and a cup of the Bisque de Homard (lobster bisque).
My super picky 7yr and 2yr old even love the food here and is the one place they will ask for more! It's a win! Save room for the Napoleon! You'll thank me later!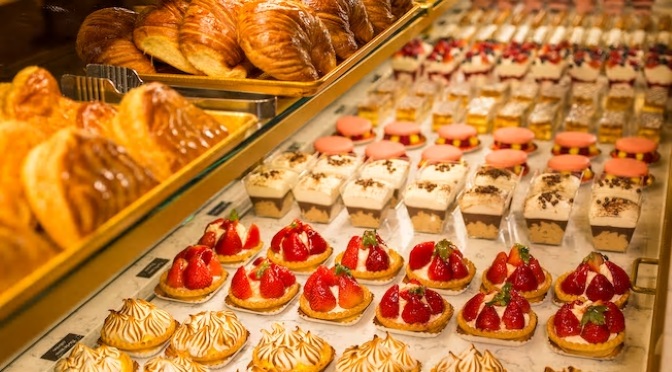 Kate and Marisol agree with Amanda's choice.
Marisol
We love this location as well! I like to buy the large baguette that costs a couple of dollars and we eat it as a snack along with butter! Delicious and super cheap!!
Hungry for more? Read Kate's review of Les Halles Boulangerie-Patisserie here.
(Note to self: try Les Halles Boulangerie-Patisserie!)
Kate
My very favorite quick-service restaurant is Satu'li Canteen over in Animal Kingdom. It has one of my favorite salads anywhere (real-world or Disney World). Their rice bowls and kid options are also fantastic.
On top of that, the blueberry cream cheese mousse is one of the tastiest desserts in Walt Disney World. We love the ample, air-conditioned seating and the sweet staff of Cast Members who always go above and beyond to make our experience great.
One Cast Member recognizes my little girl when we visit and gifts her cupcakes when we see him. You can read more about Satu'li Canteen here.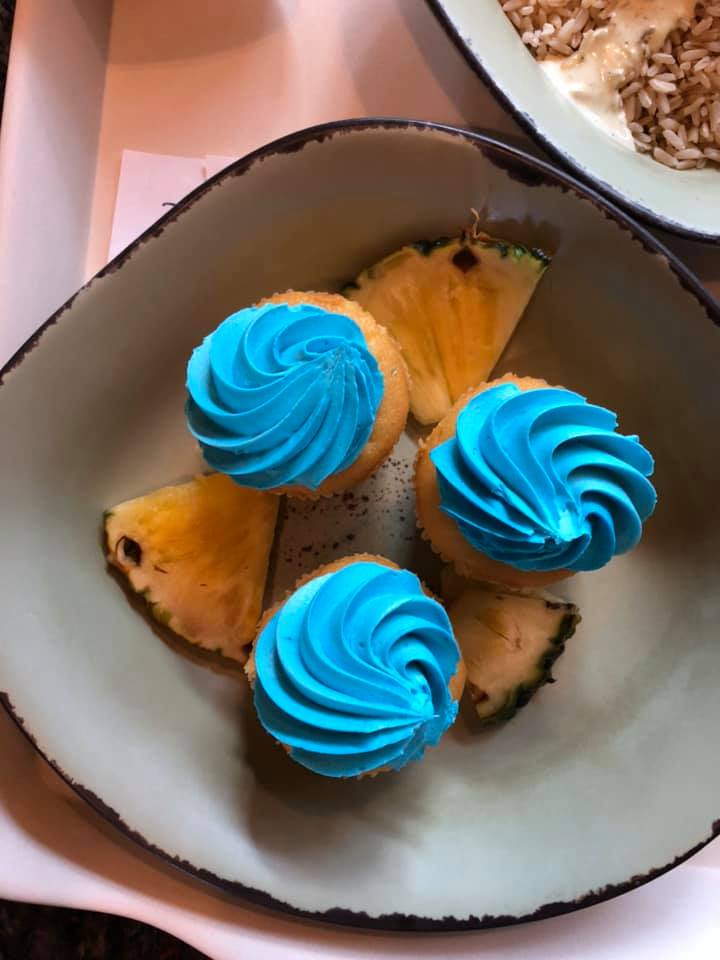 (Adding this one to my must-try list!)
Melody
Columbia Harbour House is my favorite because it's usually not busy and we can get a seat upstairs to look out a high window onto the Magic Kingdom crowd (so fun!). The food is good.
Les Halles is my favorite food, but there are usually no seats. Sunshine Seasons is my favorite place for dessert.
(Hmmmm…..another mention of Les Halles….I think I've been missing out!)
Tara
I love Columbia Harbour House in Magic Kingdom because the food is pretty good. I often get the lobster roll when I go – yum!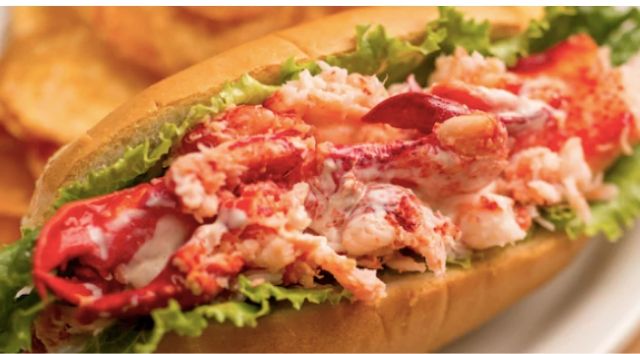 (Ok two votes for Columbia Harbour House…..another add to the list!)
Maggie
I will also say Satu'li Canteen in Animal Kingdom! Love the rice bowls, atmosphere, and great service!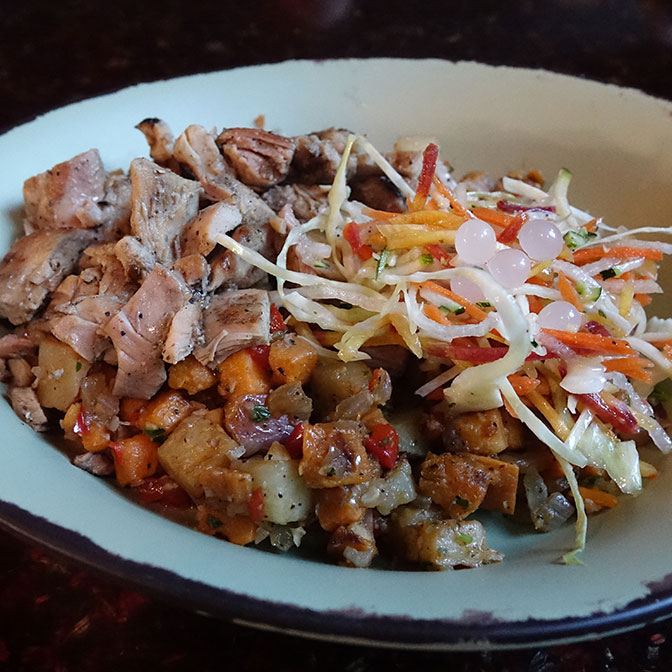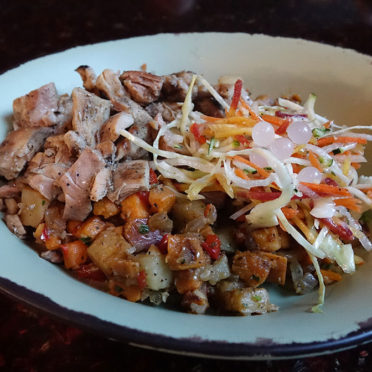 Susan
So many favorite QS hangout spots! But hands down, our favorite is Flame Tree BBQ at Animal Kingdom. The food is delicious and plentiful (we usually share). We love the ample outdoor seating where you can see Expedition Everest as well as water features and birds.
It's a very relaxing spot to dine and escape the crowds.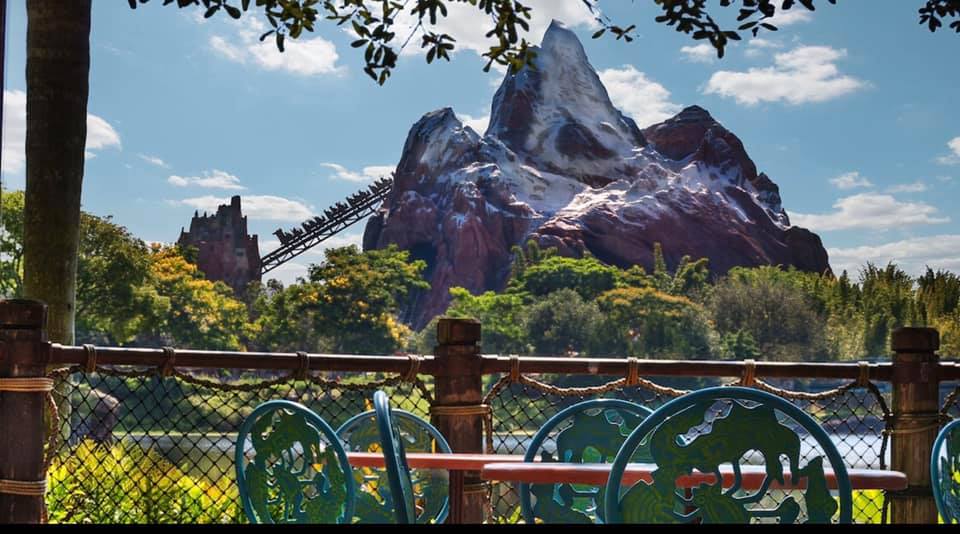 Dinner with a view, I love it!
Monica
I love the corn dogs and funnel cakes at Sleepy Hollow in Magic Kingdom! I know that's so standard but I just love walking around Magic Kingdom with my giant corn dog and funnel cake. I wish there was more designated seating, but I can usually find a bench nearby or grab a snack right before the fireworks.
Rebecca
Our favorite quick service place is Sleepy Hollow refreshments!! The Nutella and fruit waffle is the stuff of dreams. I make them at home now too. I can't tell you how many times I have eaten here and gotten a funnel cake. But I was wrong- Nutella waffle is the way to go!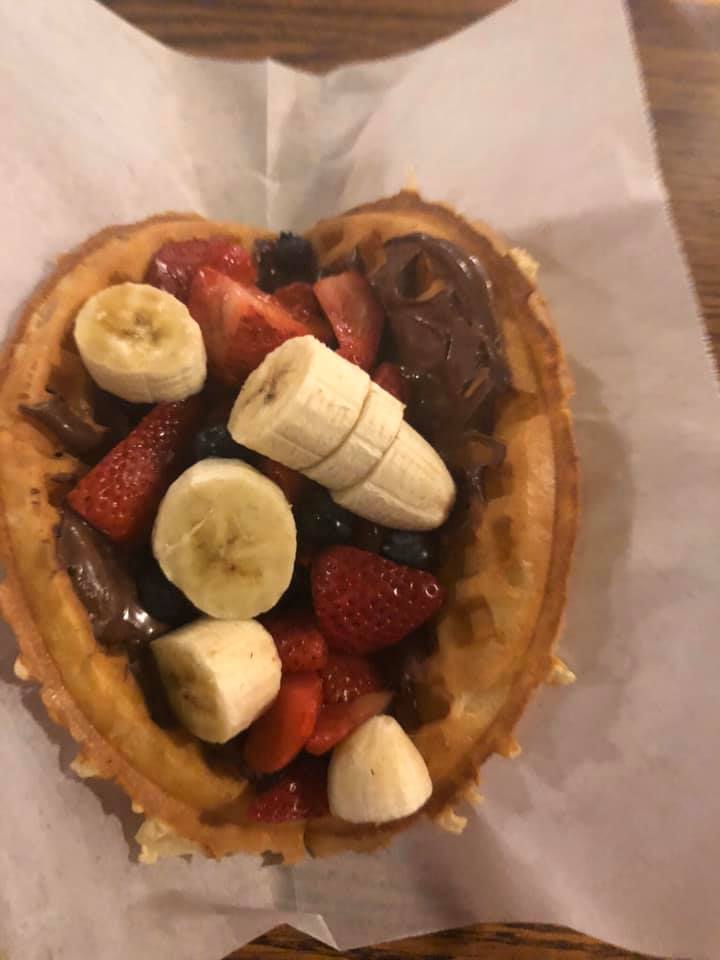 I actually prefer mine sans banana but you do you.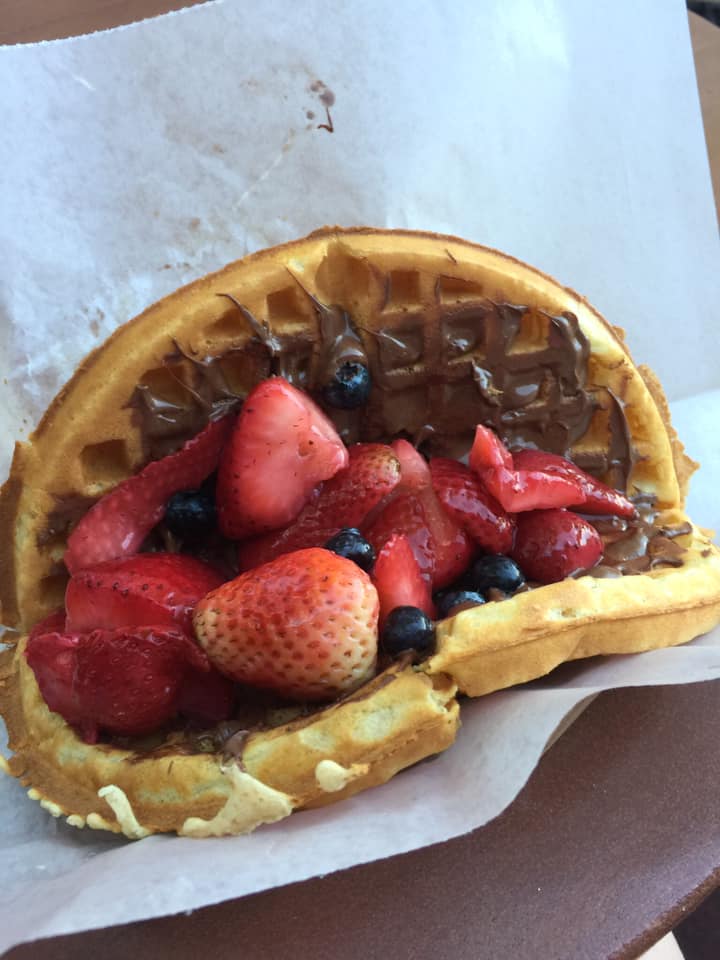 Our writers seem to prefer Satu'li Canteen in Animal Kingdom, Sleepy Hollow in Magic Kingdom, Columbia Harbour House in Magic Kingdom, and Les Halles Boulangerie-Patisserie in the France Pavilion at Epcot. I don't know about you, but I've got a new list of must-try places for my next visit to Disney World that I can't wait to tackle!
What is your favorite quick-service restaurant? Let us know on Kenny the Pirate's Facebook Page, or join KtP Crew and join the discussion!