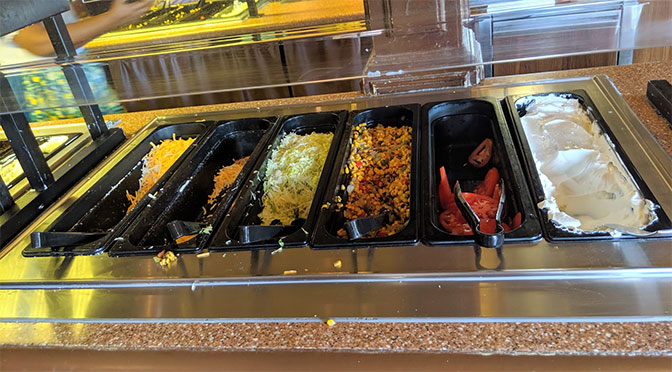 Yes, you read the title correct.  I visited the Magic Kingdom yesterday and looked at available Keto friendly options and decided on one that cost me only $5.32.  Here's the details. KtP
I chose to visit Pecos Bill Tall Tale Inn and Cafe for lunch.  When you enter, you'll notice  large self-serve salad bar in the ordering area.  It contains lettuce, cheese, tomatoes, sour cream, southwest corn salad, pico de gallo, salsa, jalapenos, and onions.
[the_ad id="38585″]
I went to the order area and requested "A side of taco beef and a cup of ice water."  The taco beef was served in a small bowl, it was a full scoop serving.  I requested a plate, so I could create a taco salad.  They gave me a small paper tray.  Next time, I will request a "to go" box, as that is larger.
I took my paper tray over to the salad bar and created the taco salad that I desired  and topped it with the taco beef.  It was large enough for me to feel full until dinner time, which would come around 6:00pm without needing a snack in between.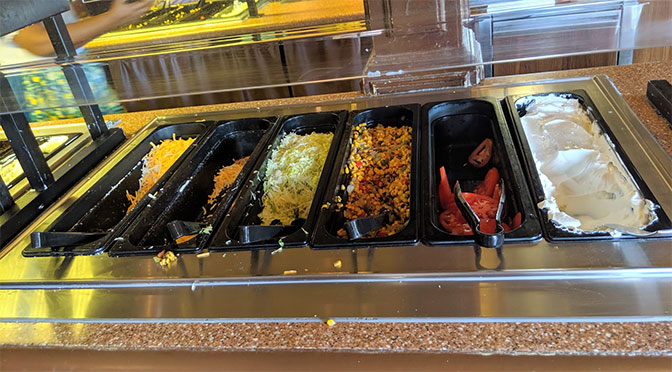 One thing I've noticed since giving up sugar for my health is that I feel more full with this type of eating plan.  I don't find myself wanting to snack all day long, like I did when I consumed a heavy sugar and carb load.  When I do want a snack, I turn to things like walnuts or pecans and cheese.  I've lost almost 30 pounds and all my health numbers have improved as well.
When you're in Disney, you have to work a bit and think a bit when you are following a low carb and/or low sugar diet.  There are NO sugar free desserts at any Magic Kingdom counter service, so you'll have to avoid dessert or eat some apple (strict Keto people don't eat apples, but I do) or a pickle.  There aren't many options.
Disney has done a great job expanding their plant based offerings, but hasn't really paid attention to the 100 million pre-diabetic or diabetic Americans yet.  It seems like offering menu items that are clearly marked as low carb would be helpful for nearly 1/3 of the population.  In the mean time, choose things like this $5.32 taco salad or fajitas and don't eat the shells.  If you were to order the full Nachos serving, the cost would have been $12.49 plus tax!
I was not able to order the side of taco beef from mobile order, I had to ask a person actually taking orders.  Usually, you can do this at other restaurants by ordering only meat portion like chicken or beef.
Hope this helps!  Feel free to leave me any questions in the comments or my Facebook or Twitter accounts.
KtP