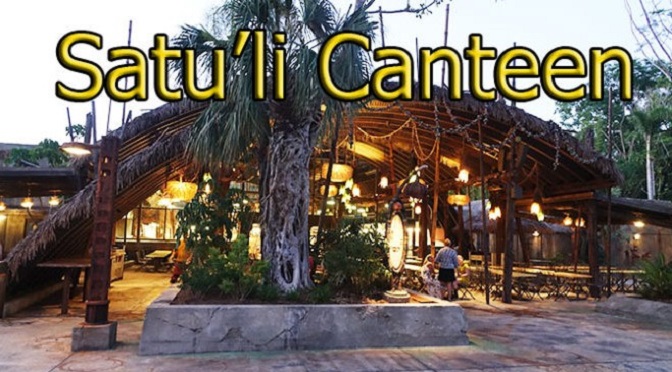 Satu'li Canteen is one of Walt Disney World's best Counter Service Restaurants. It is absolutely repeat worthy.
Animal Kingdom boasts a strong collection of restaurants as well as solid snack options. But my favorite of the all is Satu'li Canteen. It is one of my  "Must Do" quick service restaurants. We make a point of visiting during every trip.
Satu'li Canteen is a quick service restaurant Animal Kingdom's Pandora. It is part of the Disney Dining plan, and it costs one QS credit for a meal. Some items are snack credits. It has ample seating with both air conditioned indoor and shaded outdoor options. We LOVE it as an escape from the midday heat.
The menu primarily hinges on a build-your-own bowl system. Guests can select a base of either salad greens, rice, potato hash, or noodles.  Next, they chose a protein: shrimp, beef, chicken, tofu, or a chicken and beef combination. Finally, they top it off with a dressing.  I love the herb, but people RAVE over the black bean vinaigrette.
The restaurant offers special bases for those with dietary restrictions. If you mention it to the host or hostess, he/she can provide you with a menu of choices beyond what is listed at the registers. Walt Disney World also does an excellent job of listing their allergen friendly menus here (scroll down).
If you have a party of 4 or more and are feeling particularly indecisive, you can order a family feast with portions of each protein and try all of them. If you have more diners along with you, you can add on extra portions.
Satu'li also serves quesadillas as well as its own spin on burgers and hot dogs, including cheeseburger pods, which are essentially the components of a burger nestled in a steamed bun. These are offered on the kids' menu, but I know plenty of adults who order the hotdog for themselves.
Here are some of the dishes we have tried: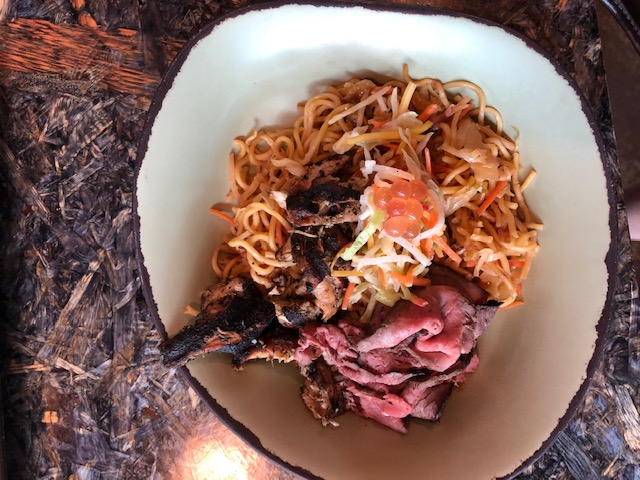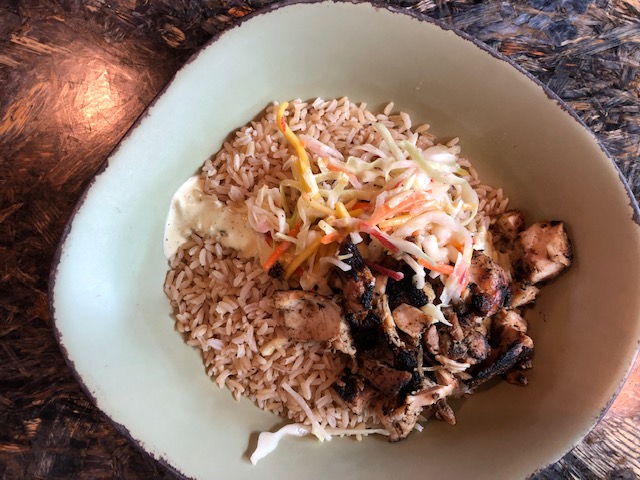 Not pictured is the salad, which is the best Disney salad I have ever had. It has a mixture of greens, quinoa, beats, and an array of other produce tucked into it.
There are more than 64 combinations of bowls to try, and after tasting many of them, I honestly don't think you can go wrong. My favorite bases are the salad greens and the rice, but my husband prefers the noodles. My mother enjoys the potato hash.
My little boy was upset that they removed the sustainable fish from the menu, but once he discovered the hot dog, he forgot about his old favorite.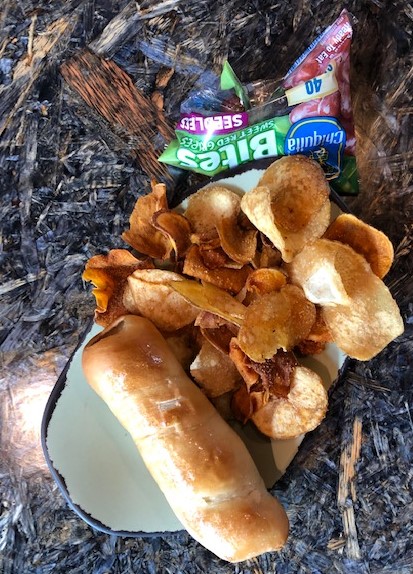 My children love the hot dog.  The roll wrapped around it is delicious.  The chips are a nice touch, and they always love when restaurants offer the bagged grapes instead of the bagged apples. My littlest traveler could probably exist on these grapes alone.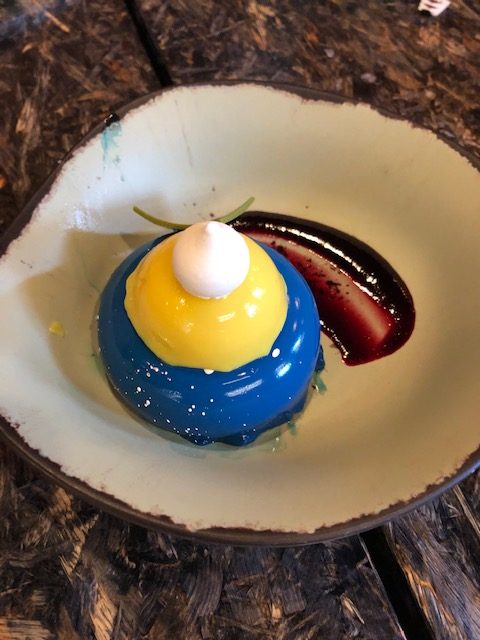 We think the mousse is a stand out dessert.  It is light, sweet, but not too sweet, and a great size for sharing. It is a great use of a snack credit if you are on the dining plan and crave something sweet.  The only problem with it is that it rivals my favorite Animal Kingdom snack, the pineapple spring roll, and I usually cannot eat both.
More than the food, I appreciate the stellar service the restaurant offers. If I go in with my stroller, someone always offers to carry the trays to the table so that I do not have to juggle a tray and the stroller. And even though the drinks are self served, I have found cast members offer to go fill them for me if I have my children along. In fact, I have sent many a cast compliment to the CMs who work here.
Everyone in my travel party loves this place. From the excellent service and delicious food to the air conditioned seating area, it is a restaurant that delivers. And while you really cannot go wrong with many of the delicious eateries at Animal Kingdom, Satu'li is ever so slightly more right than the other options. Even if you don't care for Avatar, Animal Kingdom's Pandora might still be appealing, if not for the rides, then certainly for the food.
Want More on Satu'li?  Click: here for Kenny's Review of the  original menu
What is your favorite Animal Kingdom Restaurant?
Are you planning a vacation? Reach out to our trusted travel agency sponsor Authorized Disney Vacation Planner
Mouse Class Travel
!