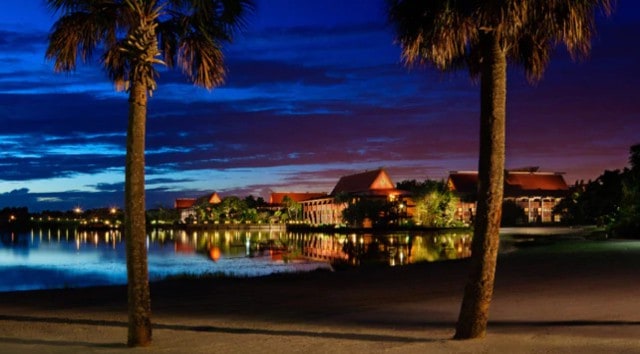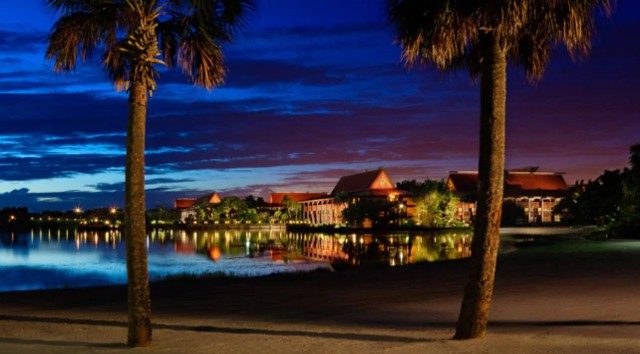 We rented DVC points to stay in a studio room at Disney's Polynesian Resort in Walt Disney World before the parks closed. It was absolutely perfect for us.
Renting DVC points is a tricky game. Click here to read more about the process. However, it is the most affordable way we have found to stay at the Polynesian. It is certainly less to rent points than it is to stay in at the Polynesian resort, even when the rooms are discounted.
We can stay there on rented points for not too much more per night than it would cost to stay at moderate resort using rack rates. So, if we are certain we will not need to cancel the trip or change our dates, we go with DVC rental points.
Please note with the uncertainty of COVID, you may want to fully consider whether this is right for your family and look into travel insurance.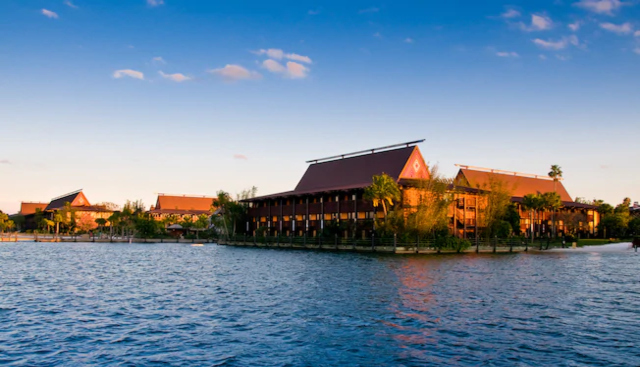 The Polynesian has spoiled us. It is relaxing and easy. If you have read any of my other resort reviews, you know that I prefer a walkable resort.
While this one isn't the most compact property, it is easy to get to the amenities in just a few minutes, even from the furthest building.
The DVC Buildings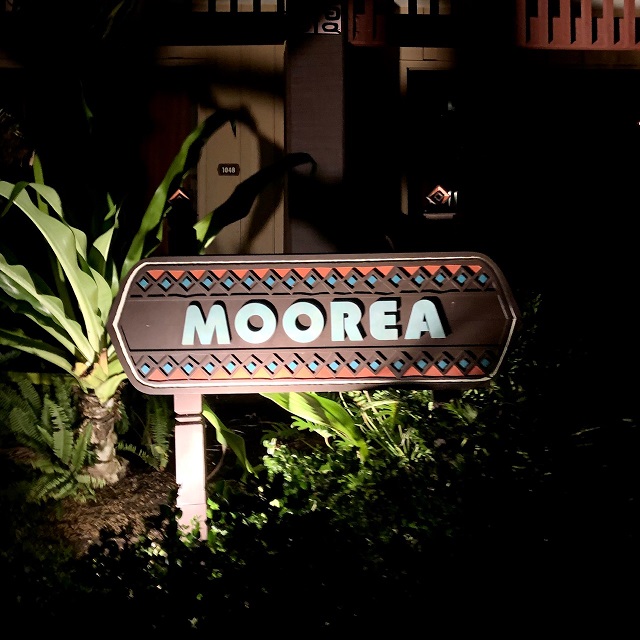 There are 3 buildings in the DVC area of the Polynesian. They are named Moorea, Pago Pago, and Tokelau. There are also 20 Bora Bora Bungalows on the water that sleep 8, but they are significantly more expensive.
As far as buildings go, some people have a strong opinion on which is "best." However, I have stayed in both Moorea and Pago Pago, and I really have no preference and do not make specific requests.
I suppose if I HAD to pick, I might give the edge to Moorea because the laundry facilities are in that building, so if you want to do laundry on your trip, that might be more convenient.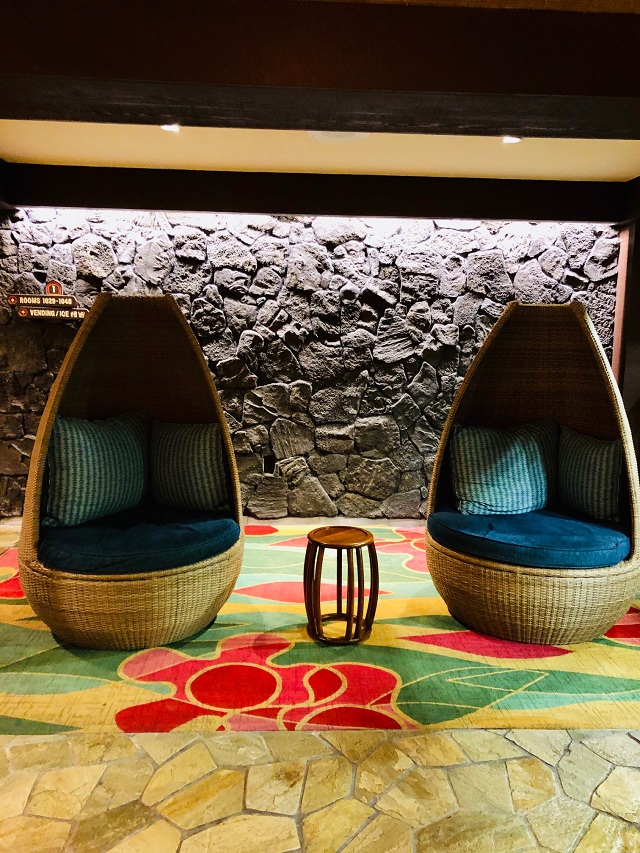 Also there is a large elevator available as well. So if you are traveling with 2 EVCs or an EVC and a stroller, that might help you.
The buildings have nice seating areas and lounge areas. I never saw anyone using them, but they look cozy.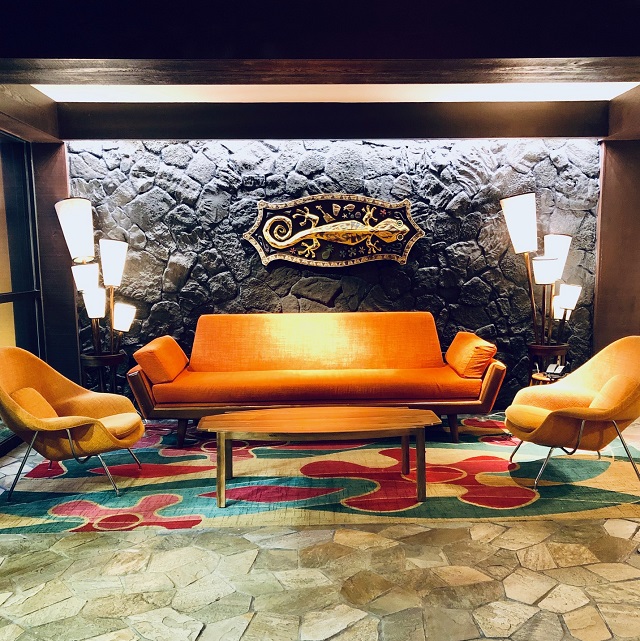 The Studio at the Polynesian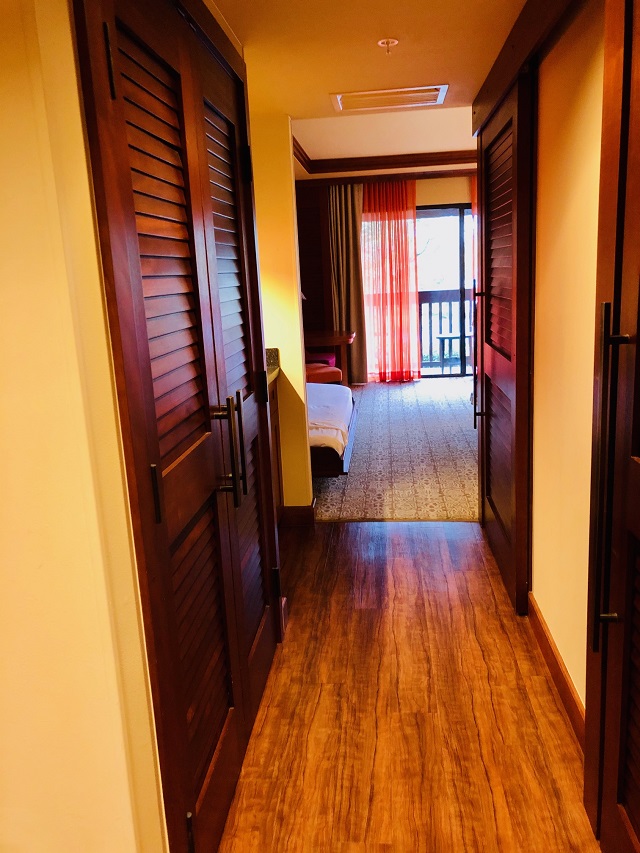 The standard view deluxe studio rooms themselves are well equipped for vacation fun. They sleep up to 5 people plus an infant. They are the largest deluxe studio rooms DVC has to offer.
When you first step into the Deluxe Studio units, you will see a nice hallway with a nook that is perfect for parking a stroller. The closet doors, kitchenette, and bathroom doors line the hallway. Then it spills out into a sleeping/living area.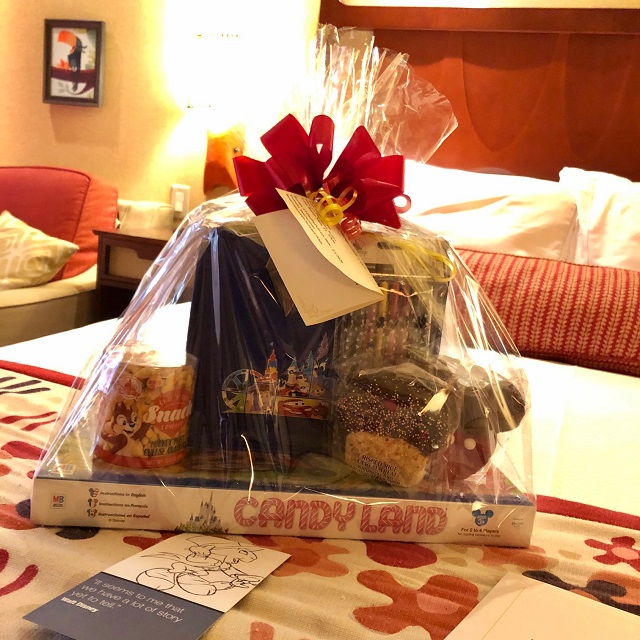 We found a gift waiting for us when we arrived. Gifts like this are not included in the stay. A relative sent this to surprise my children. To read more about in room celebrations, click here.
Each room has a queen bed to sleep 2 guests. We found the bed to be comfortable.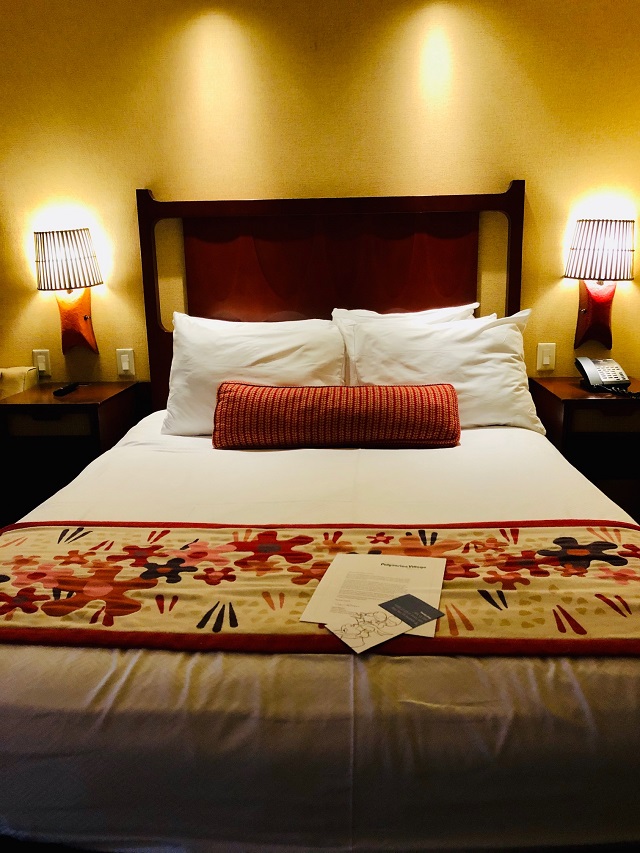 There is also a twin sized bed that pulls down from the TV stand just beneath the flat screen TV.
My children love this bed.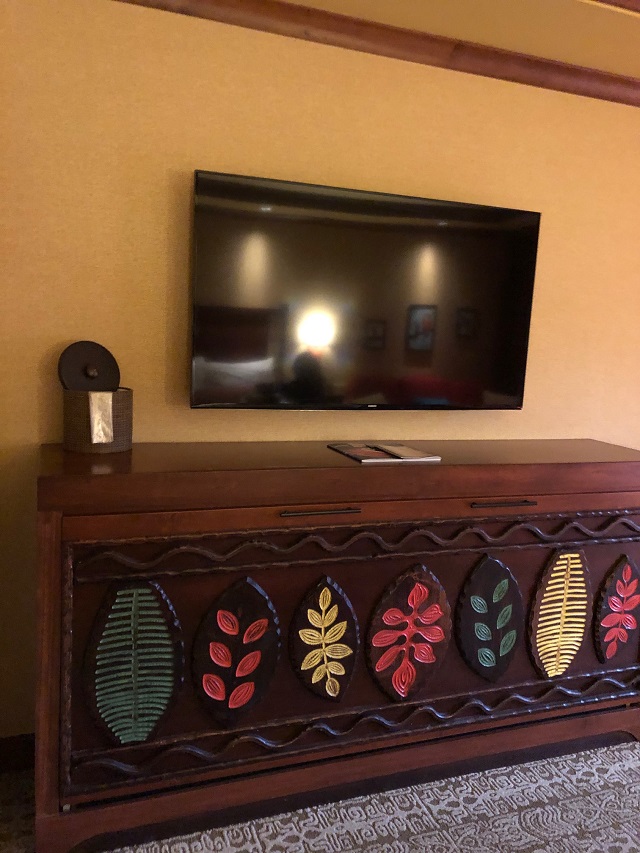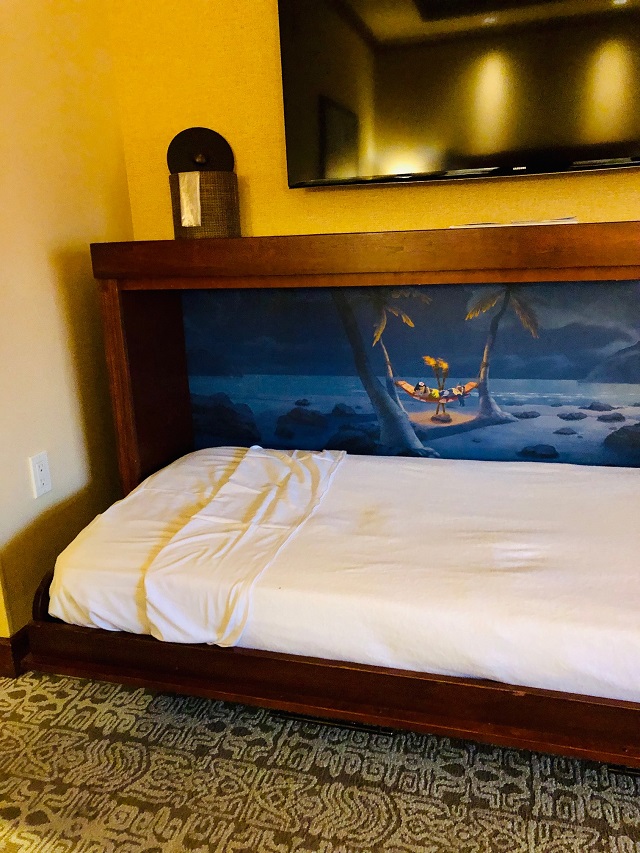 The final sleeping space is a queen sized sleeper sofa. One of my children slept on it and found it perfectly comfortable.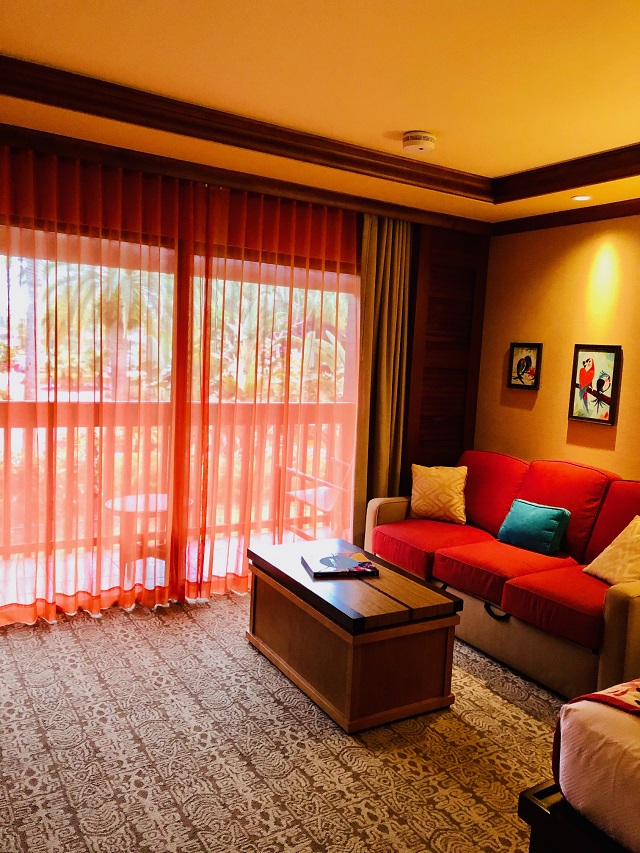 There is room for a pack n' play, which is conveniently provided in the closet if you need it. If you have twins, you could probably fit 2 in here.
The seating area has a small round table and two chairs. There is also a festive lamp.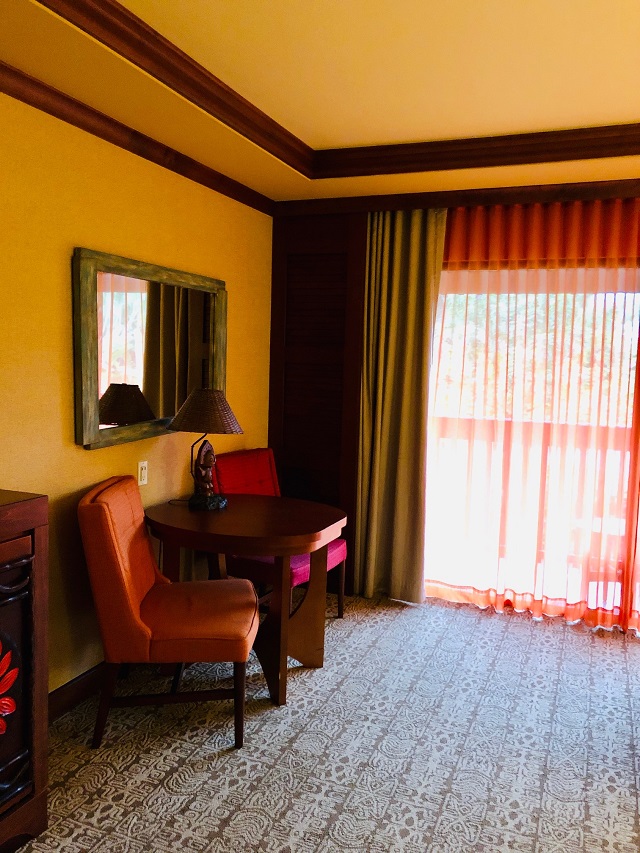 The decorations have a tropical vibe, and there are some nods to Lilo and Stitch, Tiki Birds, and Peter Pan's Mermaids.
It is not overly done, and we think they are relatively pretty as far as Disney themed rooms go.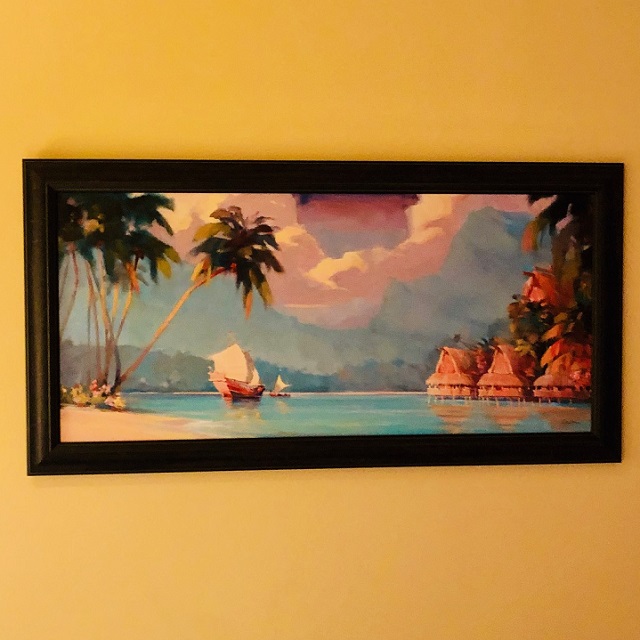 The rooms have a mini kitchenette. It is equipped with a mini fridge, coffee maker, and microwave.
There is a sink and a cabinet stocked with dishes and cutlery to use during your stay.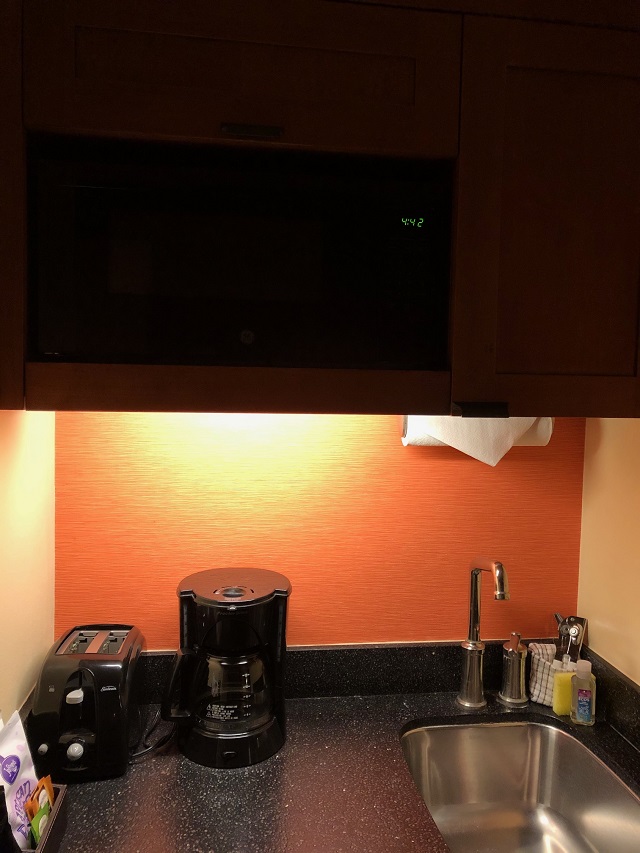 There is a relatively roomy closet to hang a few things in. The in-room safe is located here.
The most notable thing about the studio bedrooms is that they have what I call 1 3/4 bathrooms.
The way the DVC sales pitch describes it, it is one bathroom with 2 separate bathing areas.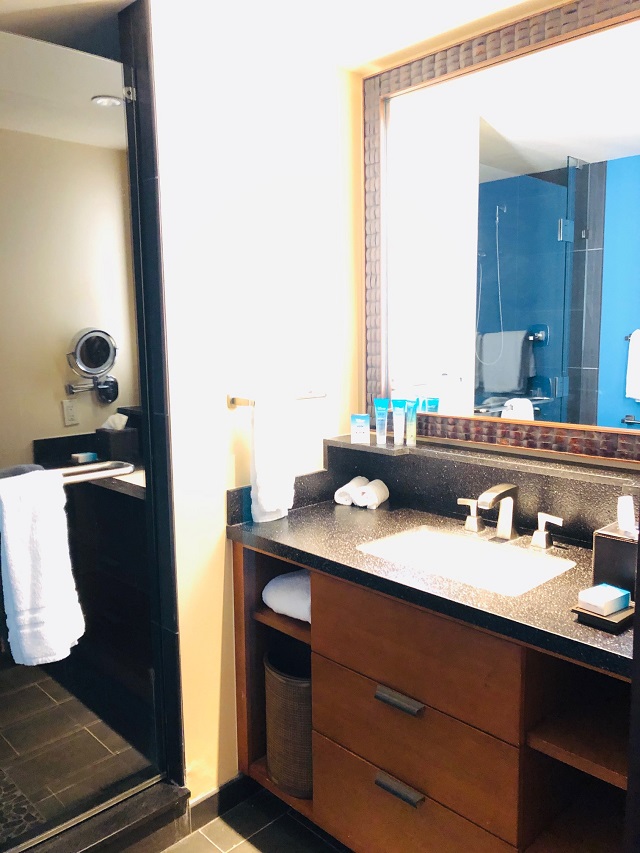 The partial bath has a lovely shower as well as a sink, but there is no toilet. It is odd to me that there is no toilet, but I will say, it is super helpful to have multiple places to brush teeth and bathe.
We really love the odd not-quite-bathroom.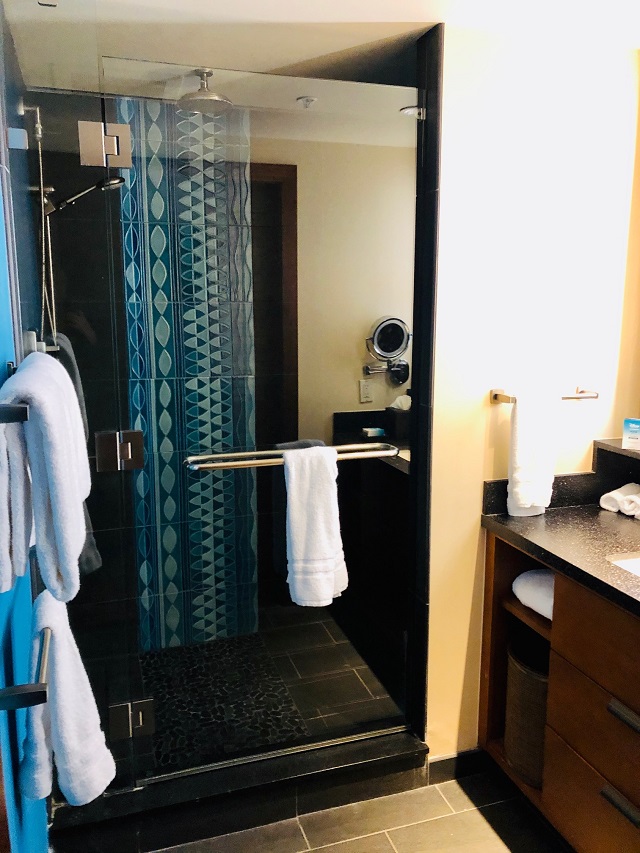 The full bath has a shower/tub combo. This is nice for us since we have tiny children to bathe.
It also has a sink and a toilet.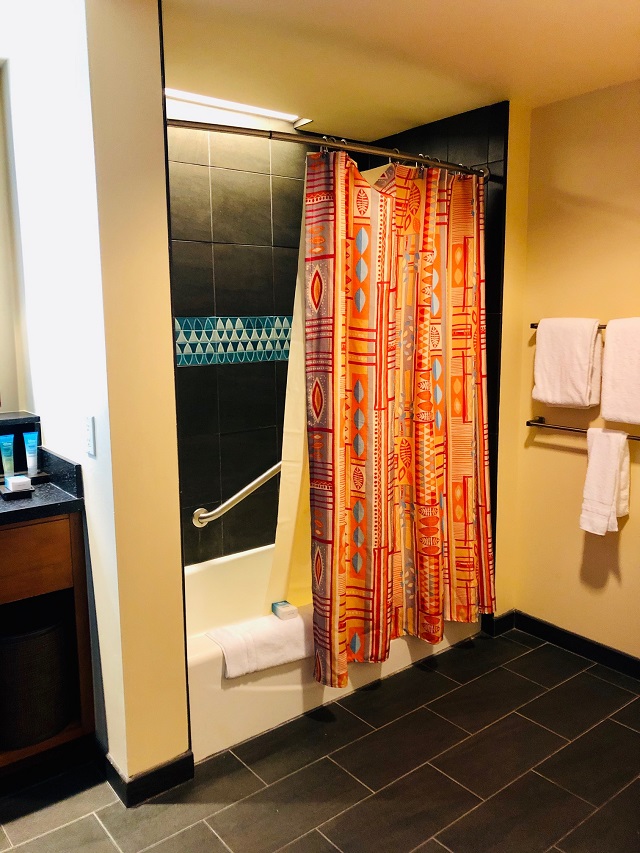 Mousekeeping had only stocked half the amount of towels the rooms are meant to have. A simple call to the desk solved the problem quickly.
For those who are new to DVC, mousekeeping only cleans the room and refreshes your towels on the 4th night of your stay. Having enough to get you that far is important.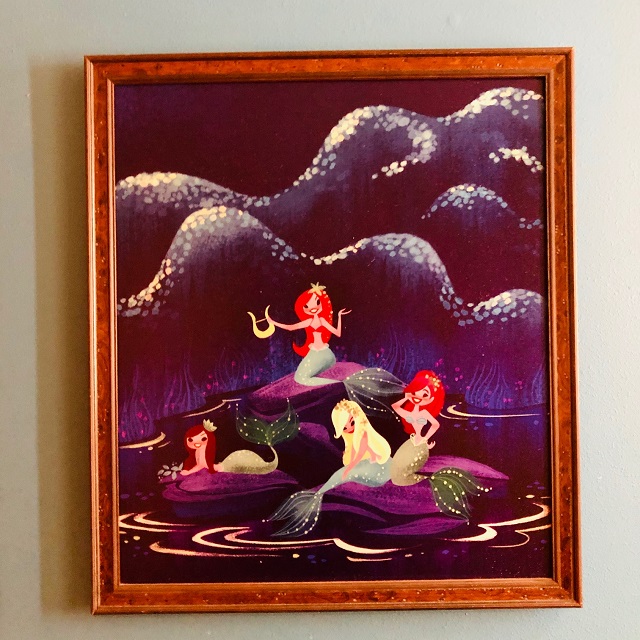 Some of you are also probably noticing that the wall units for shampoo, conditioner, and body wash have not been installed. Travel sized products are currently still available (when we stayed there in early 2020).
Outdoors
I really love the balcony and seating area that the upper level rooms have. The first story rooms have a nice patio.
Even our standard room had a peaceful view.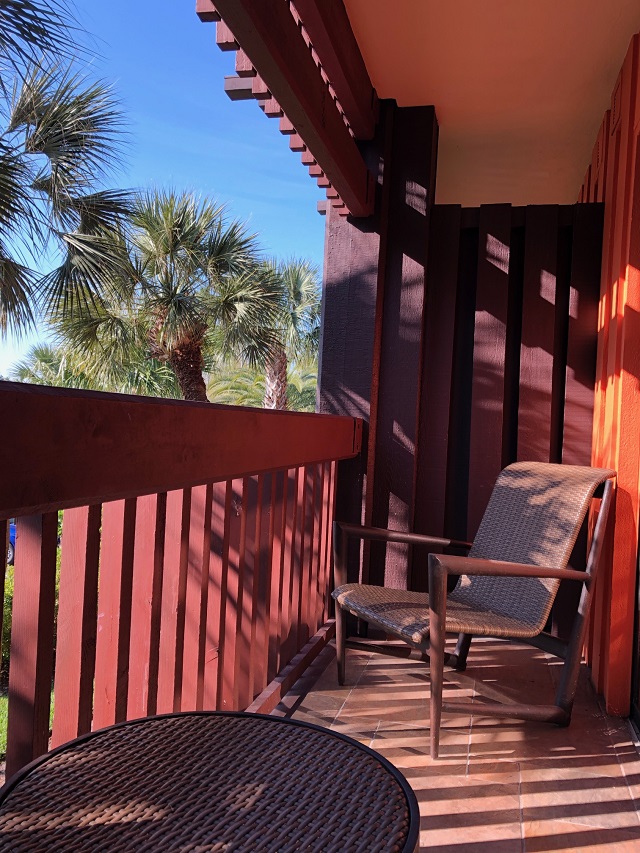 Thoughts on the Room
The room feels spacious, even when sharing with 4 people. We were comfortable, and we didn't notice much noise from surrounding rooms.
The one complaint I have is that there is not a good deal of storage. There is one drawer under each side of the bed. The coffee table has storage inside, but otherwise, that is it unless you count the little drawers in the bedside tables. There is no dresser.
The bed is elevated, so you can fit your suitcases underneath to keep them out of the way. I suppose you could just stay packed and slide the suitcases out like drawers if you wanted to.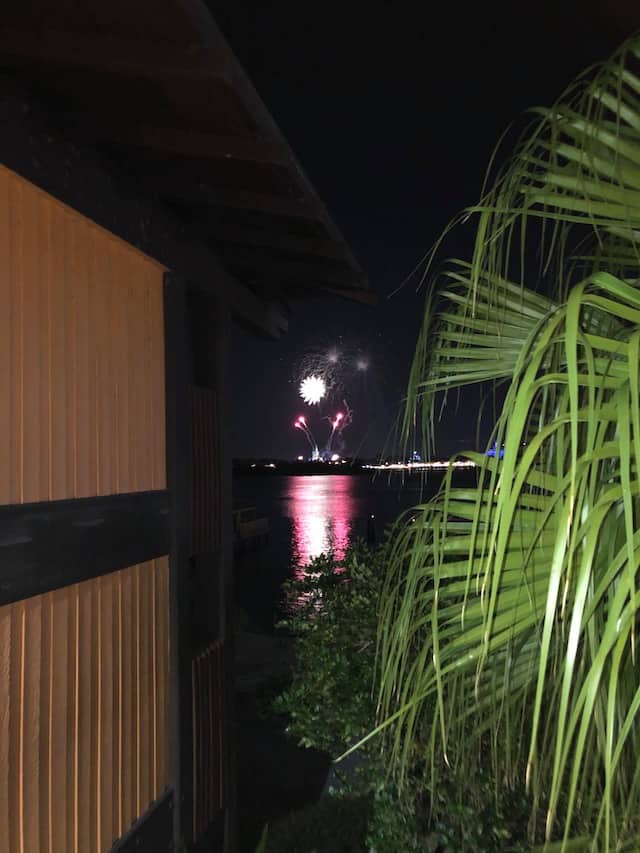 We also had a pleasant surprise. Even though we had a standard view, we were able to walk out to the steps just outside of our room and see fantastic views of the Magic Kingdom.
We had our own private viewing of the fireworks on the evening of our arrival. There was no music but it was still a nice surprise.
Resort Amenities
We love the rooms, but we love the resort itself more. Polynesian is just so easy to enjoy. I could probably stay there and not even visit the parks.
What am I saying – I love the parks!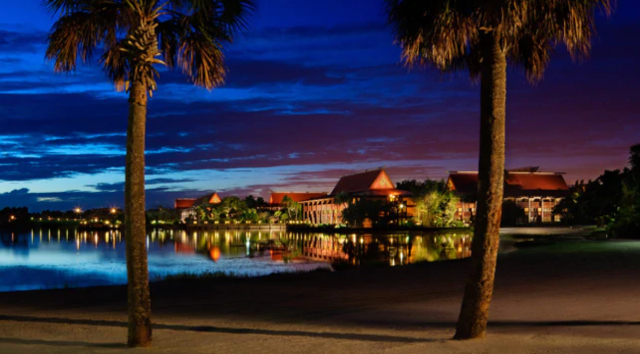 The Great Ceremony House
The front desk and lobby are located in this 2 story building. This is also where you will find bell services and the concierge as well as the property's restaurants.
At check in, the resort provides leis for all guests, which is a fun, festive touch. My little girl was especially excited about it.
The Restaurants
Disney's Polynesian Resort is home to a number of delicious eateries that include quick service and table service options. Although it does lack a signature restaurant, to me it has some of the best dining options of any of the resort hotels.
I have trouble justifying meals in the parks when the resort itself has plenty of goodness to offer.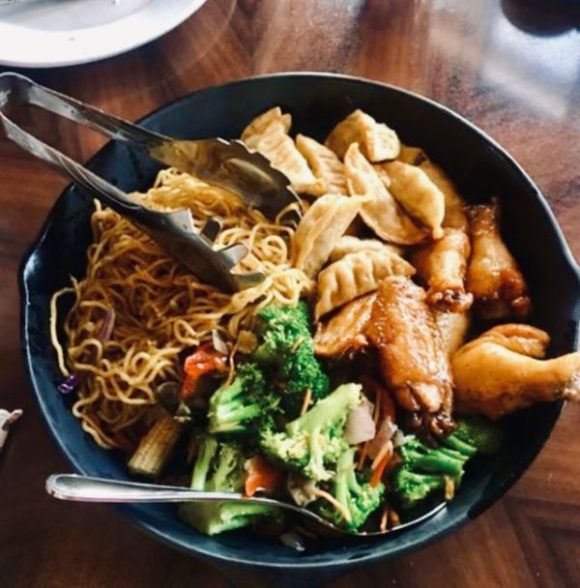 'Ohana is an extremely popular all you care to enjoy restaurant. At breakfast, it is a character meal featuring Lilo and Stitch. For a review, click here.
The dinner is something people rave about, and it features skewers of meat, noodles, and bread pudding. For a review, click here.
Captain Cooks is one of my favorite quick service restaurants. I try to dine here even when we aren't staying at the Polynesian. It has unique options and meals for picky eaters as well. For a review, click here.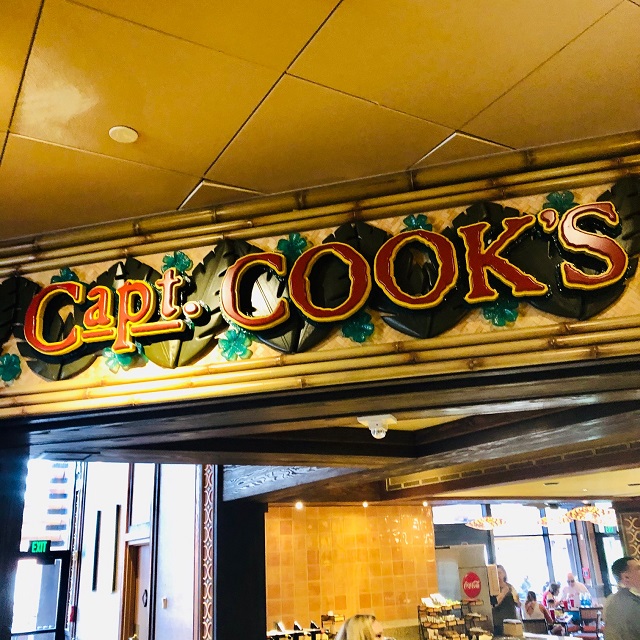 Kona is a fun table service restaurant that features one of my favorite breakfasts anywhere on the planet. I love it so much that I celebrated my birthday here once. It also provides lunch and dinner options, and is only one table service credit for those on the dining plan.
Trader Sams Grog Grotto is an extremely popular bar. People line up for a seat. Visitors who are not staying at the Polynesian go out of their way try it out.
Tambu Lounge is another bar area that also serves lunch and dinner. We have ordered single servings of 'Ohana food here before with ease.
The Oasis Bar and Grill at the pool is a surprisingly delicious little gem. It has several unique dining options and my favorite QS burger. Review coming soon!
Barefoot Pool Bar is available as well and has a variety of items to dine on poolside.
Pineapple Lanai is the Polynesian's Dolewhip window. I frequent it more than I care to admit when we stay at the Poly. It often has a few unique seasonal menu items to enjoy. Review coming soon!
Kona Island serves breakfast pastries in the morning. In the afternoon and evening hours, it has made-to-order sushi! It's super tasty, and convenient if you are craving a California roll.
Spirit of Aloha Dinner Show is a luau style dinner show that guests can purchase tickets to enjoy. This is one of the few Polynesian experiences I have not personally taken part in, but people tend to rave about it. For a review, click here.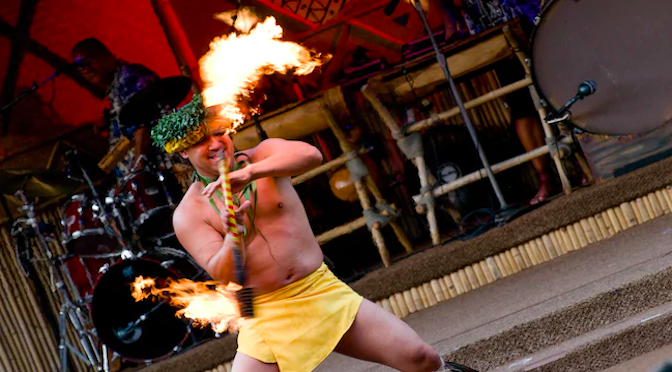 The Pools
The Polynesian has a fantastic pool area. We definitely schedule time for the pool during our visits.
The Lava Pool is a large pool with a 140+ ft water slide, caves, and waterfalls, and a zero-depth entry point. It's fun to explore and enjoy.
The Oasis Pool is a second, quieter pool. It has shaded areas and a bar and grill area. It is typically peaceful.
The Kiki Tiki Splash area is a splashpad/water playground area complete with 2 water slides, bridges, and plenty of nooks to explore. My children love it.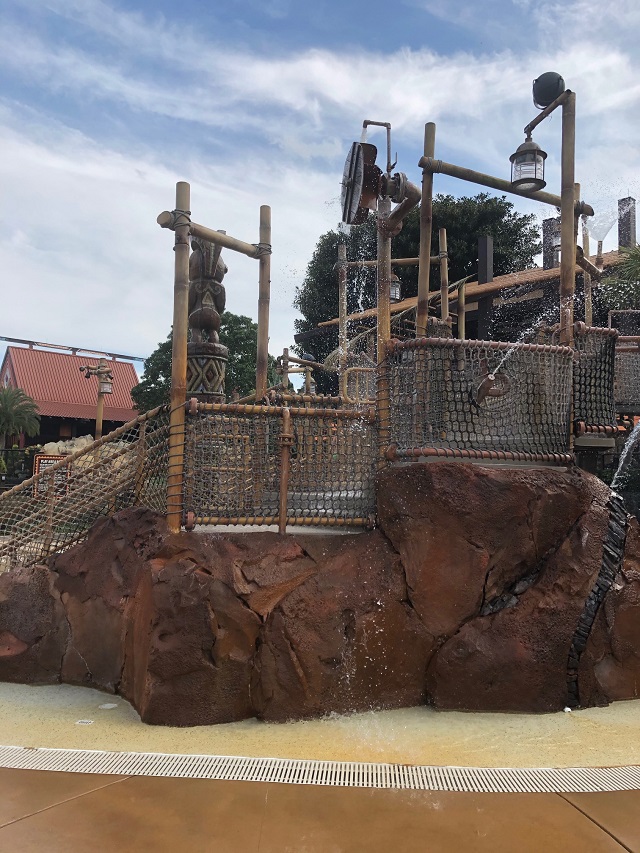 The Grounds
There is a nice green lawn at the Polynesian. Families play games there during the day. During the evening, one of the resort activities often calls for Movies Under the Stars, which occurs on the lawn.
There is also a beach. We LOVE watching the fireworks from the beach at the Polynesian. The music is piped in, and you get nice view.
It is a little less magical with Happily Ever After than it was with Wishes because the castle projections are less impressive from a distance, but it is still a fun experience.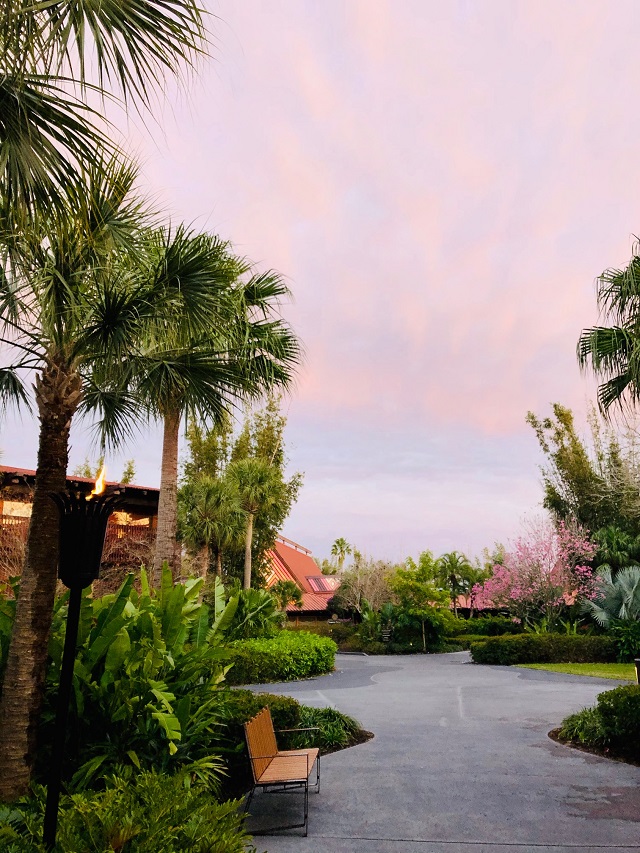 There are palm trees and tiki tourches everywhere you go. It has an unmistakable Hawaiian vibe.
Transportation at the Polynesian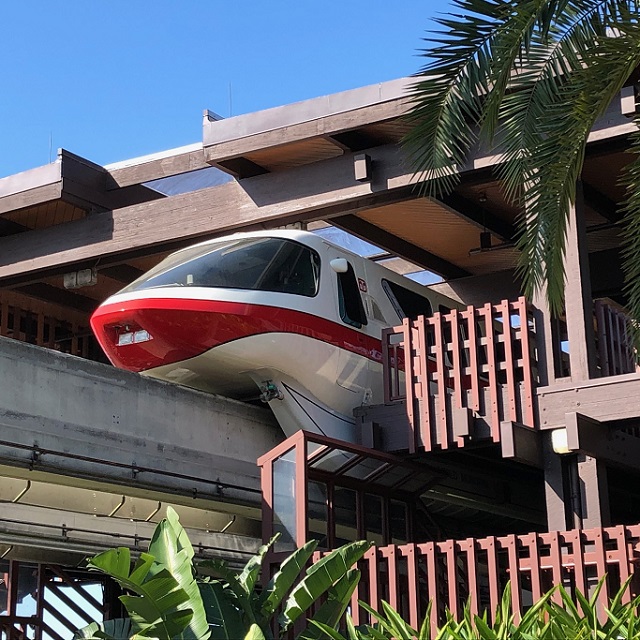 The Monorail: The convenience of the monorail is lovely. There are two options for taking the monorail from the Polynesian. Guests can walk to the Great Ceremony House and take the Resort Monorail to Magic Kingdom.
Or they can walk to Ticket and Transportation Center and take the Express Monorail to either Epcot or Magic Kingdom. In my opinion it is the most convenient monorail resort if you want to get to Epcot.
Water Transportation: If you prefer the ferry, you can easily scoot over to Tickets and Transportation and sail to Magic Kingdom. There is also a boat launch outside of the Great Ceremony Hall.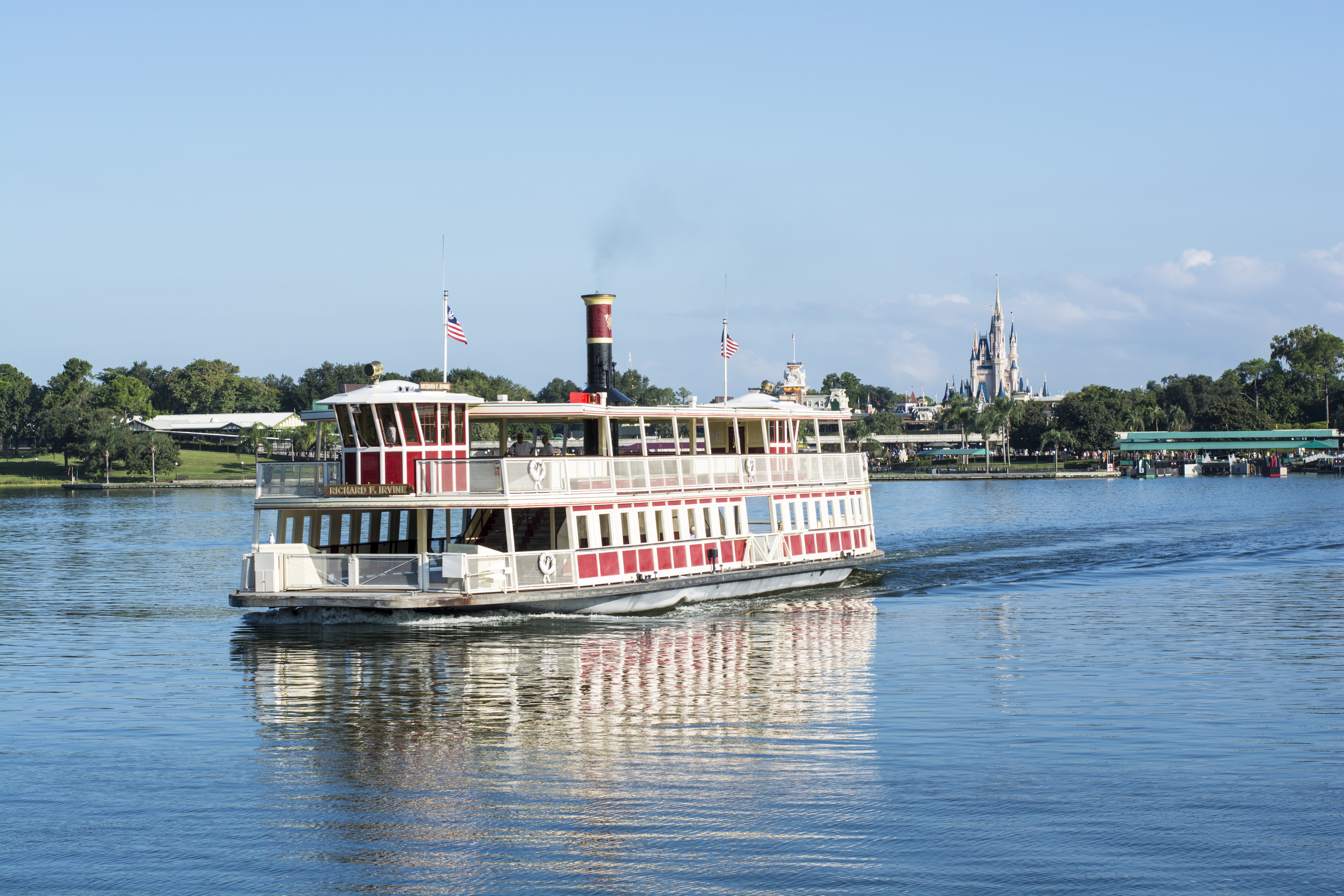 The Buses: The bus transportation area looks nice because there are plenty of shaded benches. However, during busy times, such as first thing in the morning, I have found it to be one of the more chaotic bus experiences I have had.
There is no rhyme or reason to whether the buses will stop at the far or near end of the stop. There is no obvious place to stand in line since many people are using the benches. It becomes a bit of a free-for-all with no regard for which guests have been waiting the longest.
I once saw a Cast Member try unsuccessfully to organize everyone. People ignored him. I have been a little appalled at the aggression from other Guests at this particular stop. I would write it off as a one-off situation, but I have experienced a mess at this stop on multiple occasions.
It might also help to know that sometimes the bus service is shared with the Grand Floridian on the way back from the parks. This is not a huge deal, but it can mean you will not have a direct trip from the parks to your resort.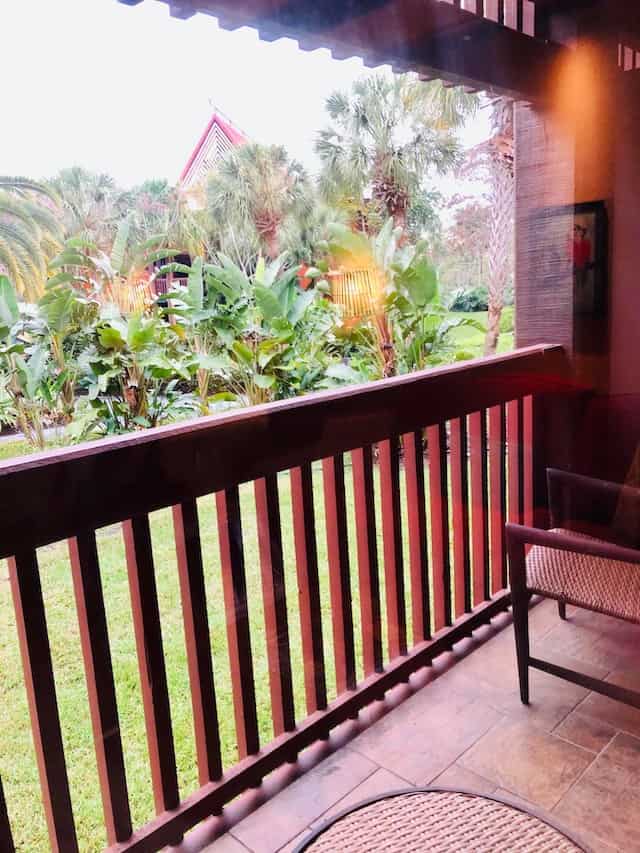 Final Thoughts
The Polynesian is a fantastic resort. I do not mind paying a bit more to stay here instead of at a value resort since it does have such nice amenities and provides such ease in traveling to the Magic Kingdom and Epcot.
Have you ever stayed at the Polynesian? Do you have a future vacation planned there? Share your experiences with us over on Facebook!