Have you ever eaten at Disney's 'Ohana restaurant? I've been curious if dinner here really lived up to the hype. My thoughts were: I'm a fan of meat, but what's the big deal? Why pay so much for a meal without characters? Check out my experience dining at 'Ohana for dinner.
'Ohana Location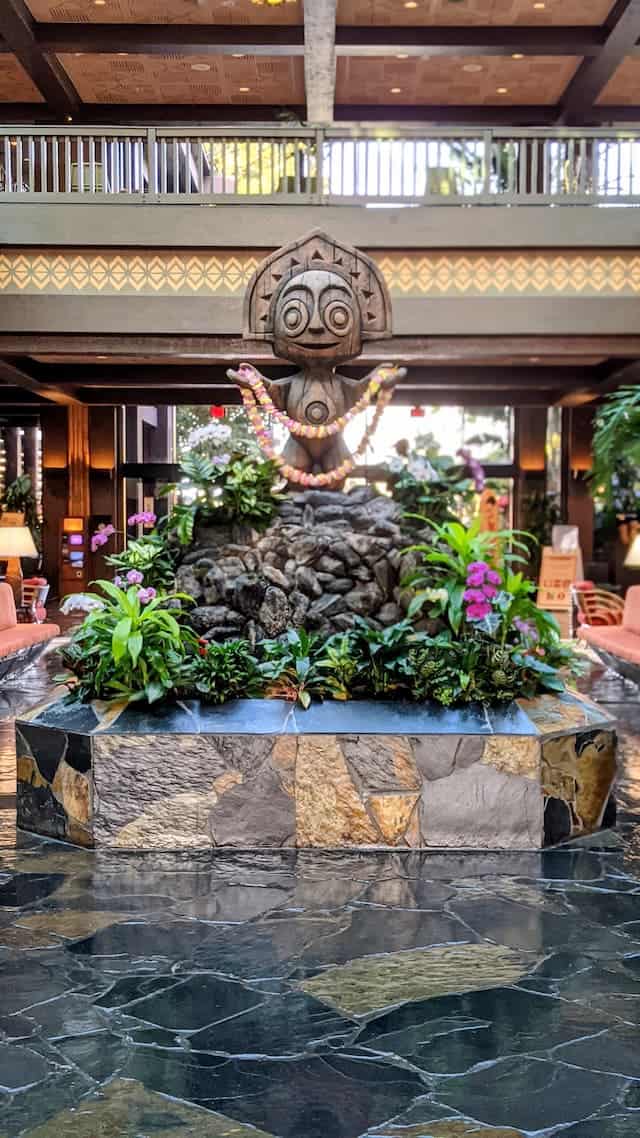 'Ohana is located at the Polynesian Resort at Disney World. Also, the Polynesian Resort is made up of several guest buildings, called Longhouses. Outside, guests are engulfed in a tropical paradise of greenery.  Disney's Polynesian Village Resort boasts being one of only two original Disney World locations that opened in 1971. 
Transportation Options from the Magic Kingdom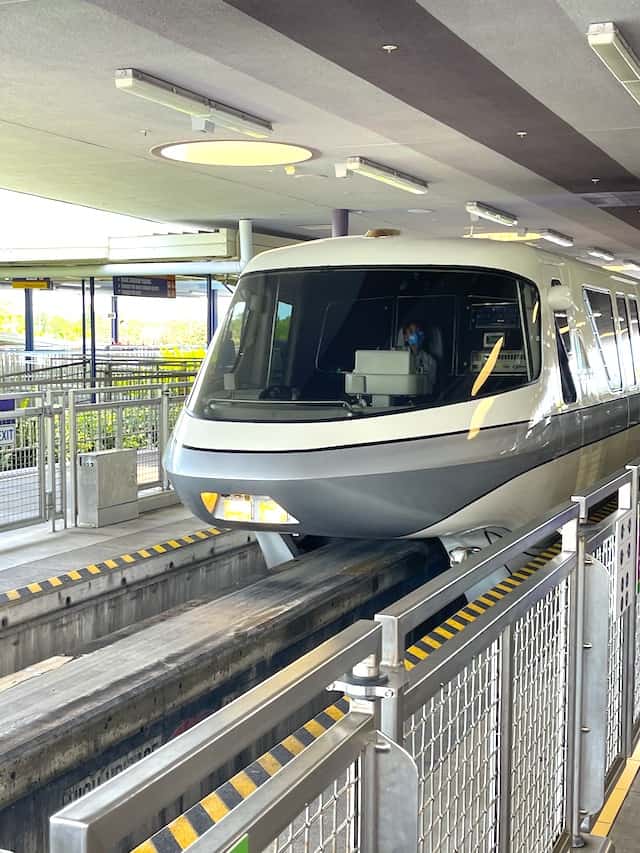 It's an easy ride (unless you go at closing time) on the monorail from Magic Kingdom. If you've never "hotel hopped" around the monorail, I highly recommend you give it a try! They are each so unique! Also, the Polynesian offers water taxi transportation.
Please note the Polynesian monorail is currently being refurbished, and is expected to reopen in mid-August.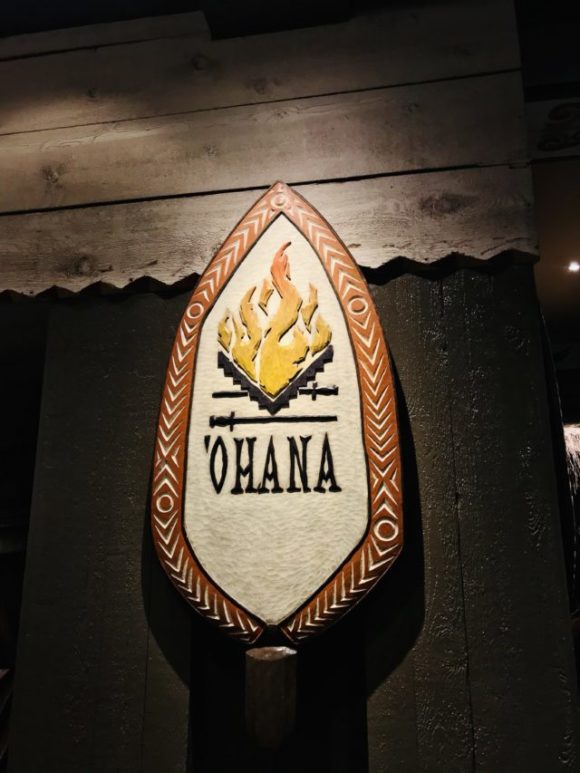 Getting to 'Ohana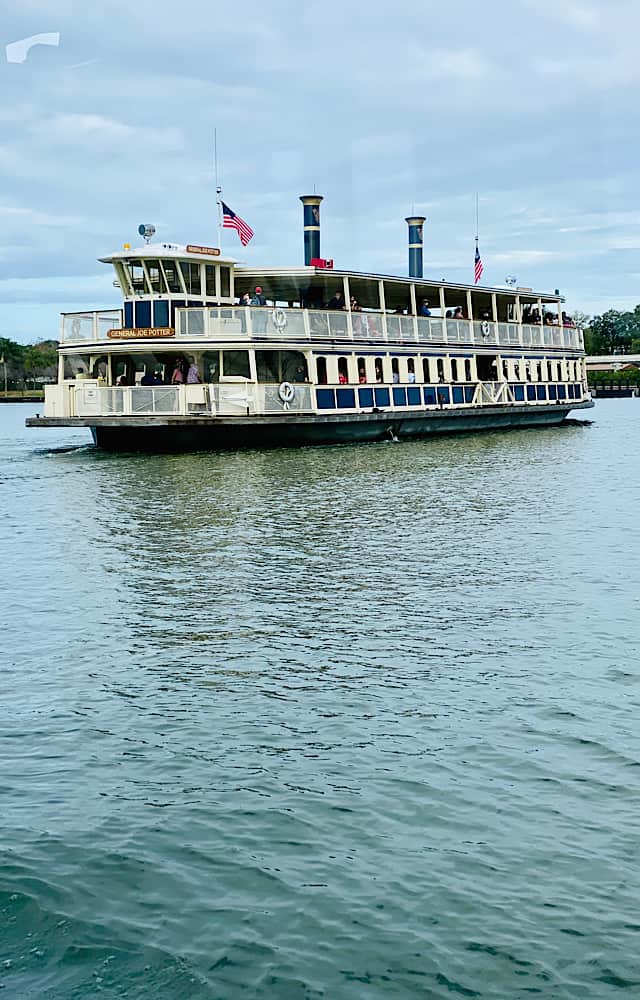 Having a 7:25 pm dinner reservation, we took the bus from POP Century to the Magic Kingdom. Although we considered using an Uber, we opted to take the bus to the Magic Kingdom, and catch the monorail to the Polynesian.
However, as we surveyed the mass number of guests exiting Magic Kingdom, we realized we had a problem. This night was a Mickey's Very Merry Christmas Party, and Magic Kingdom closed at 6 pm that night. Therefore, the lines were soooo long, and the idea of being packed like sardines REALLY stressed me out.
We asked a Cast Member, and they suggested taking the ferry to the Polynesian. The line didn't look too bad, so we trekked down to the dock. Well, the first boat filled up and left. Then, the second literally loaded two people, then left! What in the world?
At this point, we were really worried about making it there on time. Just as I was about to panic, we boarded a ferry. The ferry is a totally awesome way to get there IF you're not in a hurry to get somewhere or don't go at park closing. Next time, we will spring for an Uber.
Our Arrival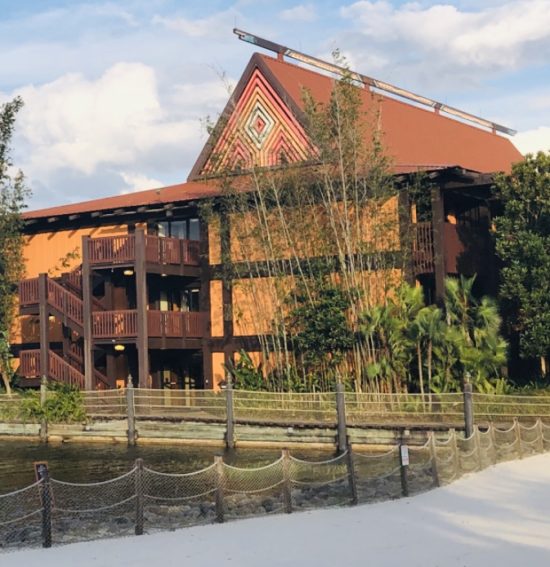 The Polynesian dock is a little ways off from the rest of the resort so we were unsure which way to go. As we walked toward the building, we asked a Cast Member for directions. He replied that we need to follow the smoke from a huge building. Man, this was our dinner cooking!! I (Susan) was getting majorly excited at this point. Bring on the meat!! After jogging to the building, we took the stairs to the second floor for check-in. I (Susan) was stressing because we were 10 minutes late.
First Thoughts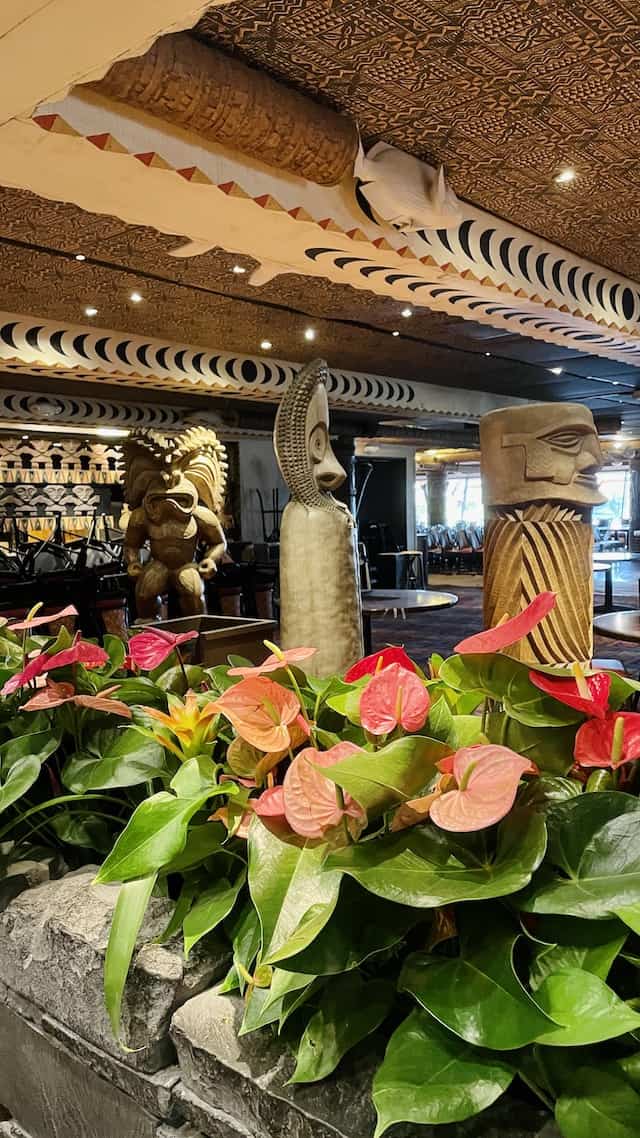 Also, we realized later we used the side stairs and not the main entrance. The first Cast Members we saw were at a small podium so we asked about checking in. She must have seen the stress on my face because she reassured me we were fine and checked us in there.
This was really nice of them, because the actual check-in desk was at the entrance of the restaurant, not here.
Cast Members took our phone number to text us when our table was ready which is so much better than people running around screaming out your name at other restaurants.
Within 5 minutes, we received text that our table was ready. Then, we were taken to a small row of tables against the wall. We really liked this spot versus being in the middle of the dining room.
Food and Service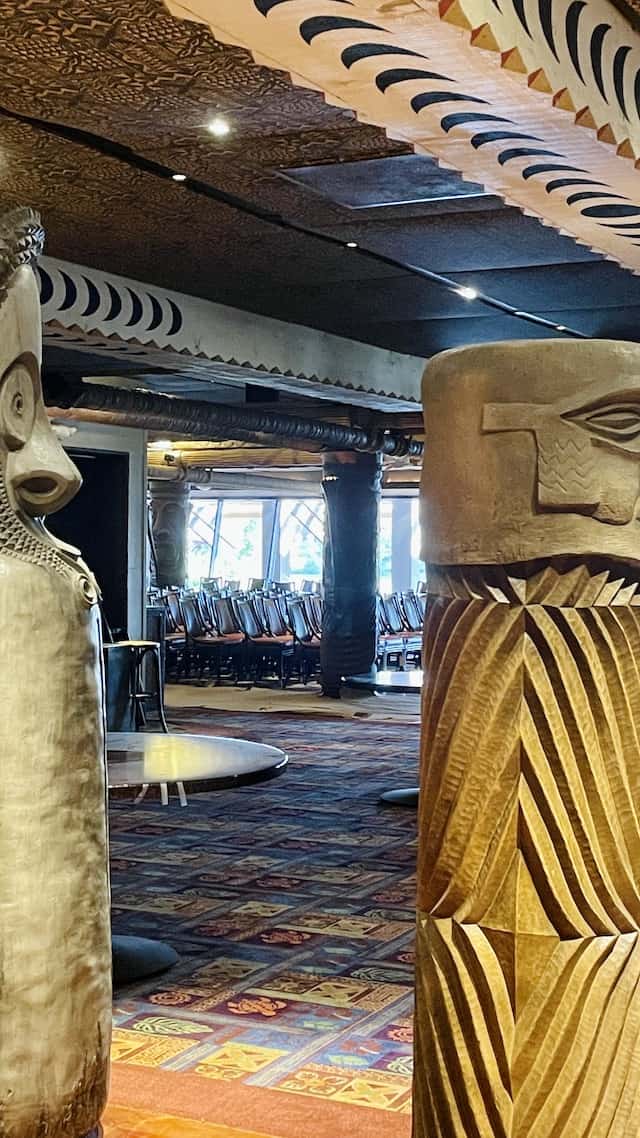 Our server came by, took our drink order, and explained that everyone at 'Ohana is family and that our "cousins" would be taking care of us. We not only had a "cousin" server, but he also had an assistant to ensure all of our needs were taken care of.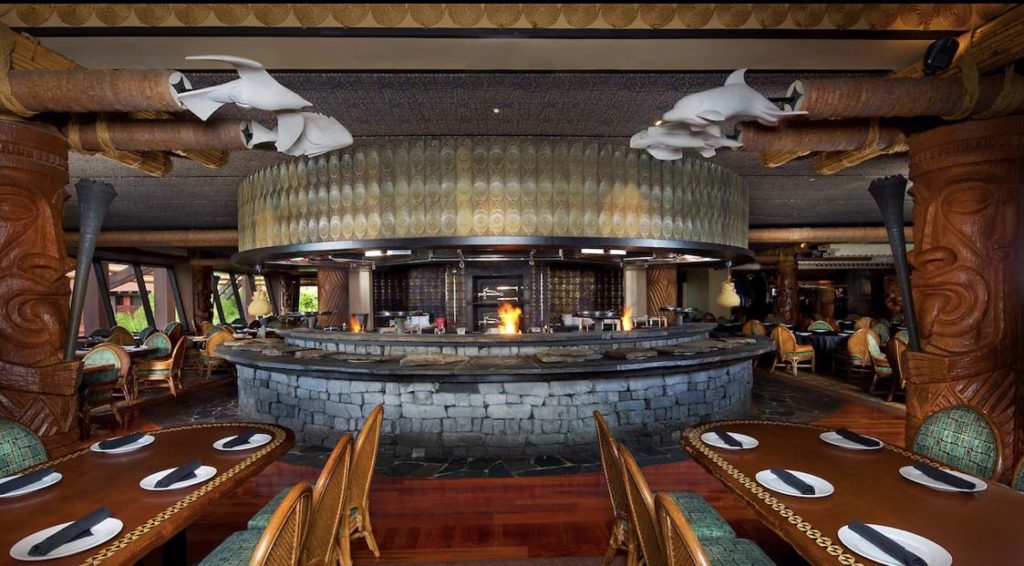 We were told that we could get as much of any item as we wanted. There is no need to order here, as everyone is offered a variety of tasty food items right at the table family style. It's a buffet without getting up! Love this idea!
We were brought out 'Ohana's famous dinner pineapple coconut bread with butter while we waited for the food to come. Read here for a review of the breakfast version!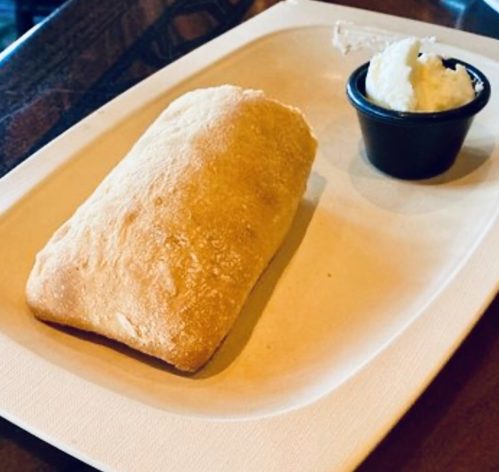 Because our table was against a wall, we enjoyed a quiet dinner. I kept looking at the Tiki guy in the picture below. It cracked me up to see him licking the torch.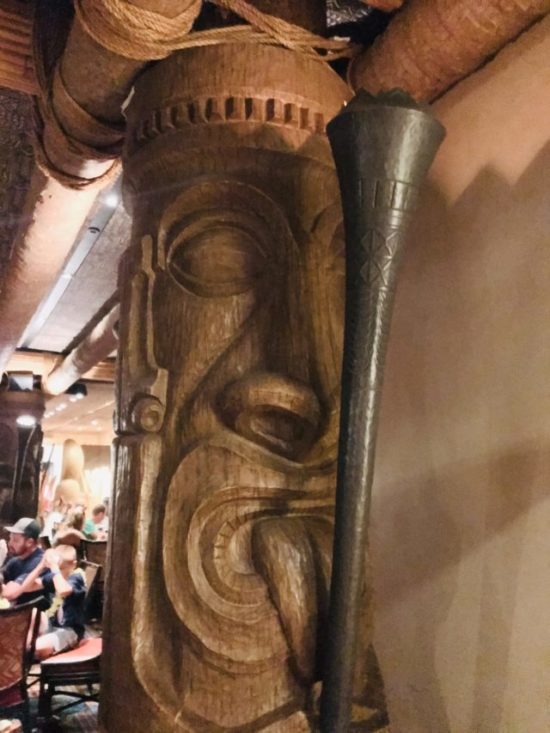 First Course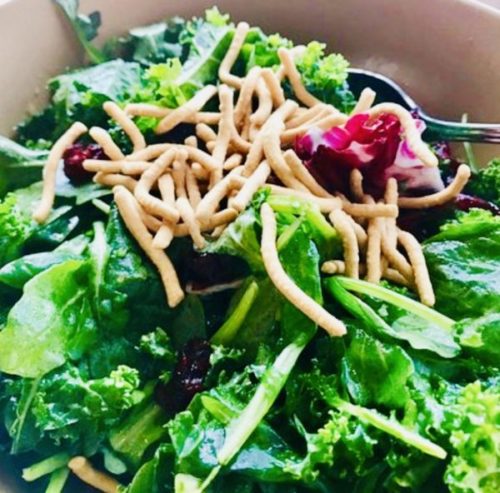 The first course is a pre-dressed salad that includes mixed greens, dried cranberries, and those crunchy little "Chow Mein" noodles. The dressing was a bit sweet for my taste, but I was saving room for the next two courses anyway.
Second Course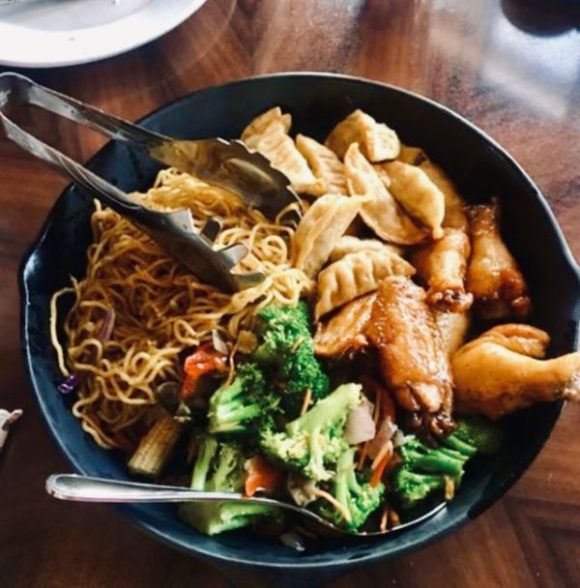 Next, our cousins brought us a skillet filled with Lo Mein noodles, stir-fry veggies, potstickers, and chicken wings. We're trying to cut back on sugar and carbs in an effort to get healthier, inspired by Kenny. Read about his journey here. With that in mind, we didn't eat the noodles, but they appeared to be cooked well.
The veggies were yummy, but what surprised me was the delicious flavor of the potstickers. I didn't eat the outside, but the inside was filled with what appeared to be pork and some sort of cabbage.
The standard wings come in a honey coriander sauce, but we asked to get them naked (no sauce – lol). They were the plumpest chicken wings we've eaten and were cooked to perfection. Our cousins also brought peanut and sweet and sour sauce for dipping, but we didn't try these. The food was so good on its own!
Third Course – Skewers!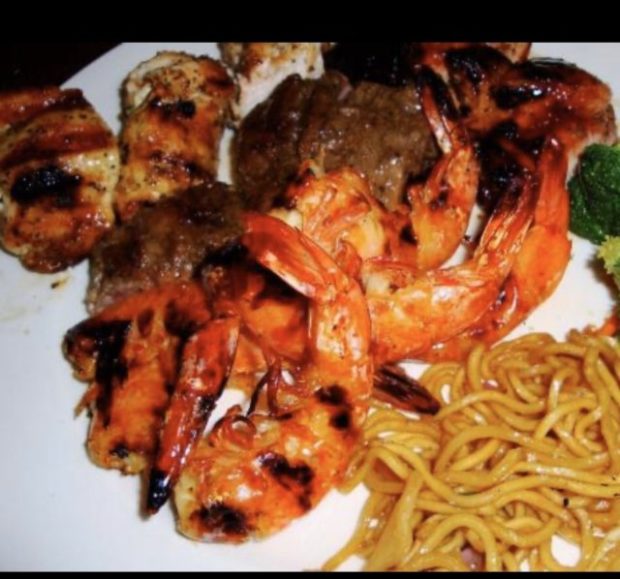 There's a giant fire pit that cooks all of the delicious meats that were coming next. Our cousins brought out kabobs of chicken, steak, and the largest shrimp I've ever seen. Each time they brought kabobs to our table, we were asked how many we wanted, and they slid the meat off the huge kabob right onto our plate.
I usually ordered seafood when we eat out, and the peel-and-eat shrimp did not disappoint. The chicken had the perfect amount of char and tenderness.
But, the star of this show is the steak. Oh my!! This was literally some of the best steak I've ever tasted! We meant to take pictures of our cousins bringing skewers, but were so busy chowing down that it never happened!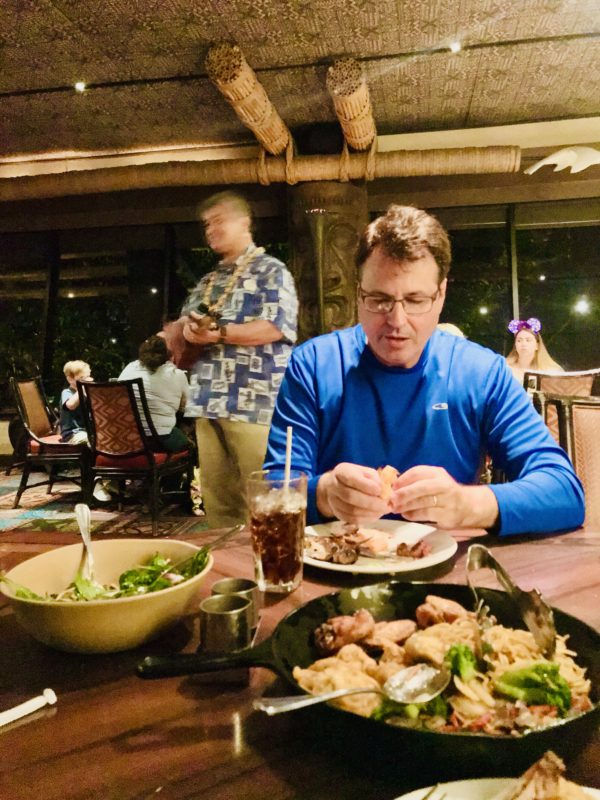 Final Course – Dessert
You've probably heard of 'Ohana's signature dessert, the bread pudding. But did you know they also serve Rice Krispies treats? It's nice to have a simpler option for those that don't care for the standard dessert, and easy to take with you.
Our cousins offered us a to-go box, but we declined as there is NO WAY they could come close to the bread pudding!
Although I've been watching my sugar and calories, I knew I was going to enjoy this famous bread pudding! And what a treat it was! The bread pudding is served with vanilla ice cream and banana caramel sauce. We literally devoured this without skipping a beat!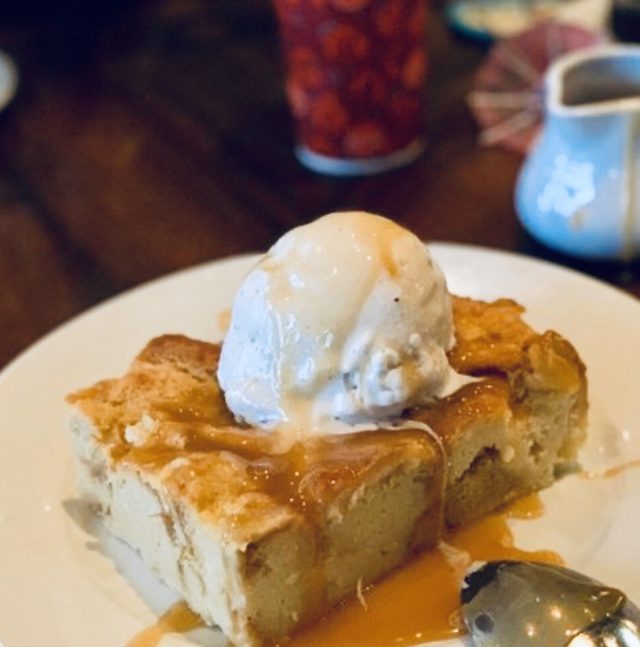 Why not try making it at home? Here's the recipe:
Bread Pudding
8 cups french or 'Ohana breakfast bread (see recipe towards the top of this article)
5 eggs
3 cups whole milk
1 1/2 cup sugar
1/2 tsp nutmeg
1/2 tsp salt
In bowl, mix milk, eggs, sugar, salt, and nutmeg. Then, set aside.
Cut bread into 1/ 1/2 inch pieces and put on cookie sheet.
Bake in 350 degree oven for about 15 minutes (until lightly toasted).
Add bread to milk and egg mixture.
Place all ingredients in a greased 9-inch pan, and bake at 325 degrees for 1 hour.
Let stand for a few minutes, and serve with ice cream.
Banana Caramel Sauce
4 ounces sugar
4 ounces brown sugar
4 ounces corn syrup
4 ounces unsalted butter
1 cup heavy cream
1 cup bananas
1 teaspoon vanilla
1 cup spiced rum (or 2 teaspoons rum extract)
Mix sugar, brown sugar, corn syrup, butter, and 1/2 cup of the heavy cream in a large pan. Bring mixture to a boil.
Slowly stir in the remaining 1/2 cup heavy cream. Keep mixture at a steady boil.
Add the spiced rum and carefully flambé with a long-stemmed lighter. (Skip flambé if using rum extract). Let boil until the flame goes out.
After candy starts to brown slightly, cook for three minutes, and reduce to a simmer while stirring.
Add peeled, sliced bananas to sauce. Remove from heat and set aside, but keep warm.
To serve, top bread pudding with a scoop of vanilla ice cream and banana caramel sauce. YUM on a plate!!
We thoroughly enjoyed our dinner at 'Ohana, and totally get why 'Ohana has such a cult following. Everything from food to service and atmosphere is top-notch!
Have you tried 'Ohana before, or would you consider trying it? Hopefully, my experience will encourage you to make a reservation and try it for yourself! Please let us know your thoughts on the KtP Facebook Page.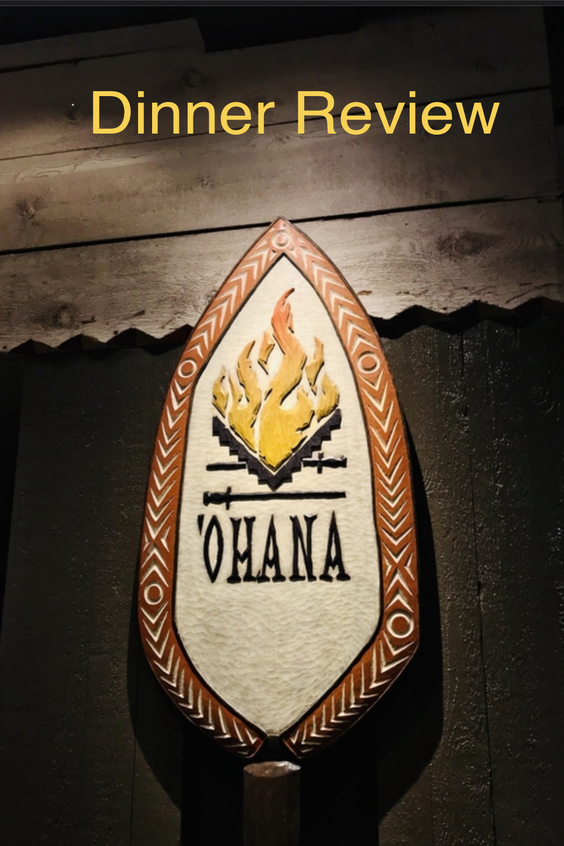 Are you planning a vacation? Reach out to our trusted travel agency sponsor Authorized Disney Vacation Planner
Mouse Class Travel
!