Disney offers a variety of transportation including scenic, convenient boat rides! Check out detailed routes and types available here.
Traveling by boat can be an attraction in itself! Relax with fresh breezes around the Seven Seas Lagoon and Bay Lake. Or unwind around in Friendship Boats around the Crescent Lake and World Showcase. Ferry boats are a tribute to water transportation of the past. Most water routes run on 15- to 30-minute intervals.
Ferry Boats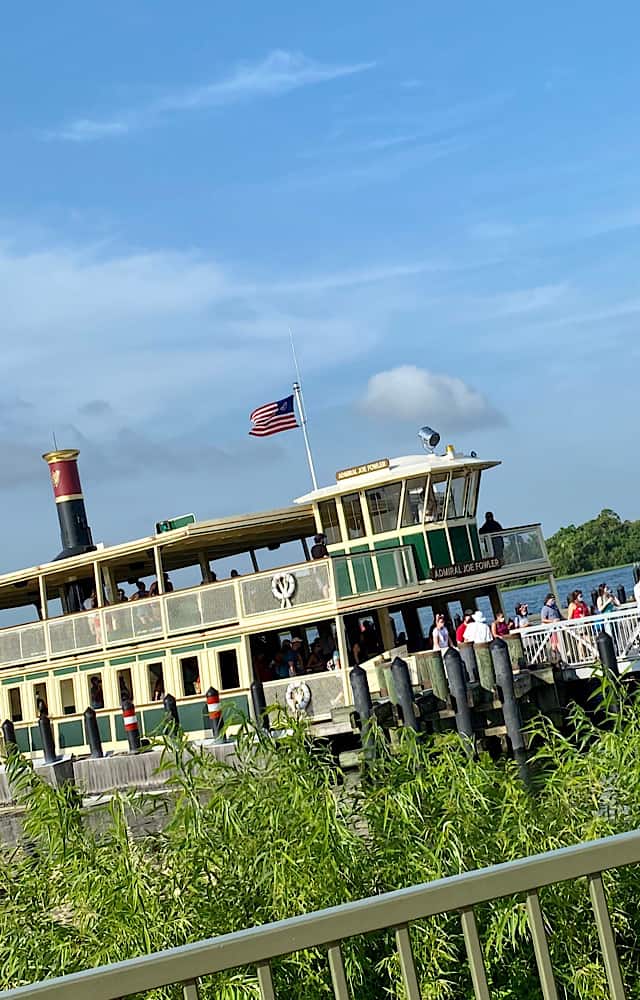 Unlike other Disney World theme parks, Magic Kingdom does not offer an accessible drop off point for those wanting to take a ride share. The Transportation and Ticket Center offers guests a place to park and easily transfer to either Magic Kingdom or Epcot.
Guests can either take the monorail to Magic Kingdom or Epcot, or take a ferry boat directly to Magic Kingdom. The Transportation and Ticket Center is actually closer to the some of the Polynesian DVC buildings than the Ceremonial House and bus stop. In this article, we'll dive into how to take the ferry boats.
Magic Kingdom Ferry Boats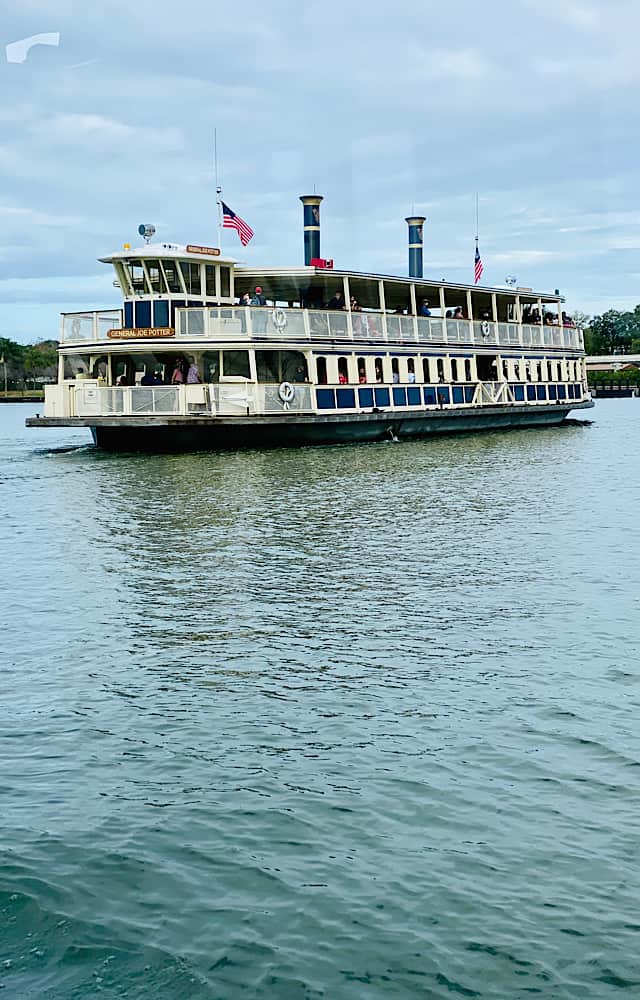 Disney offers 3 identical ferries transporting guests between Magic Kingdom and the Transportation and Ticket Center. Catch either the Richard F. Irvine, Admirable Joe Fowler, or Captain Joe Potter ferries daily. All of these are named in honor of people that helped plan and develop Disneyland or Disney World.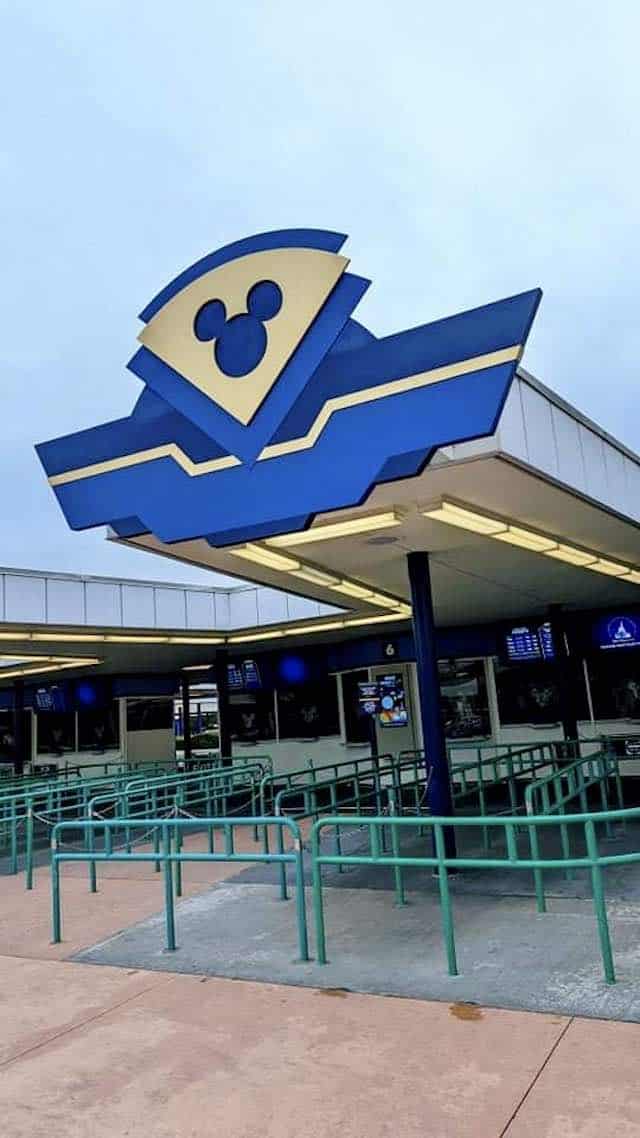 Both of the ferry boats typically run 45 minutes before and after Magic Kingdom park hours. Each trip takes about 10 minutes to sail across the Seven Seas Lagoon. Recently, Disney doubled loading and unloading ferry boat capacity decreasing wait times before trips!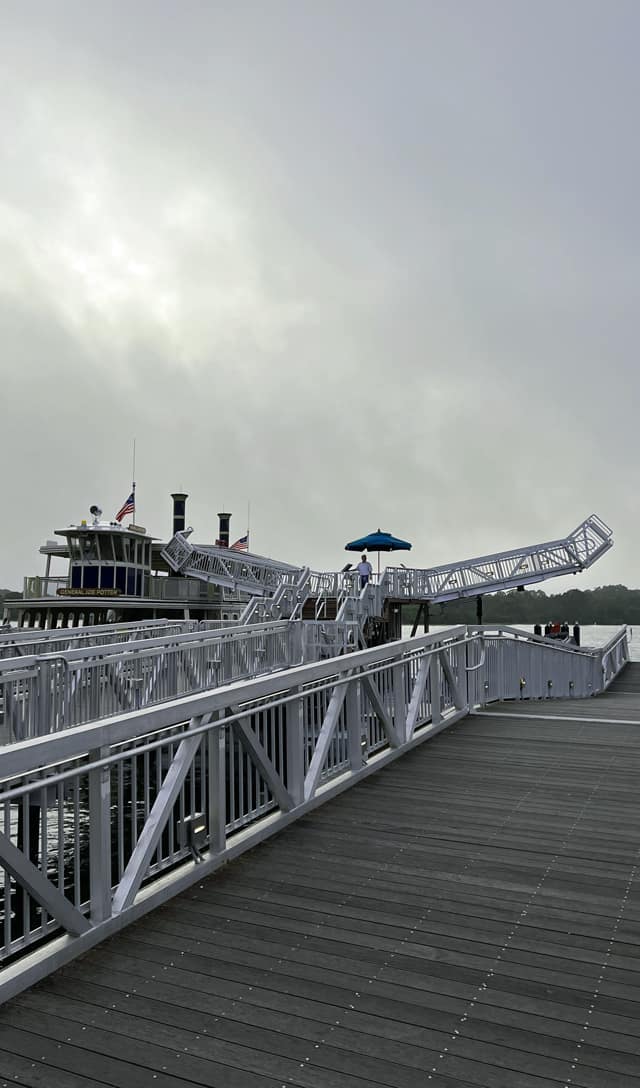 Of the boat choices, ferry boats are the largest by far and offer rides for the maximum number of guests.
Standing and seating options are offered on the upper and lower decks connected by 2 stairways. On both decks, guests find limited seating and dots to stand on for separation between parties. Each ferry boat has a capacity of 600 passengers.
Sassagoula River Ferry Boat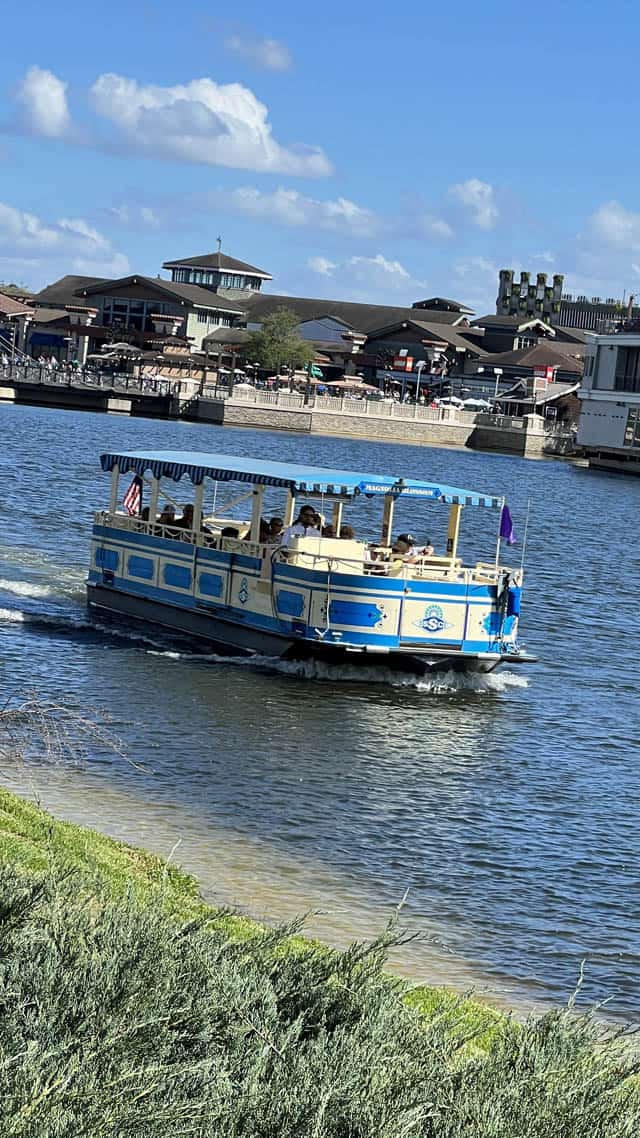 Another unique ferry boat route runs between Disney Springs and select Disney World Resorts. Check out each of the available routes based on flag colors:
Purple flag route from French Quarter Resort to Disney Springs Marketplace
Yellow flag route between Riverside Resort and Disney Springs Marketplace
Blue flag route runs from Saratoga Springs Resort and Tree Houses to Disney Springs Marketplace, then to Disney Springs Landing.
Red flag route travels from Disney Springs Marketplace and back to Disney Springs Landing.
Note: There is a sixth route flagging a yellow and purple flag when Disney Springs route is sailing French Quarter and Riverside Resorts together.
Wheelchairs may have to be folded to board these ferry boats.
Friendship Boats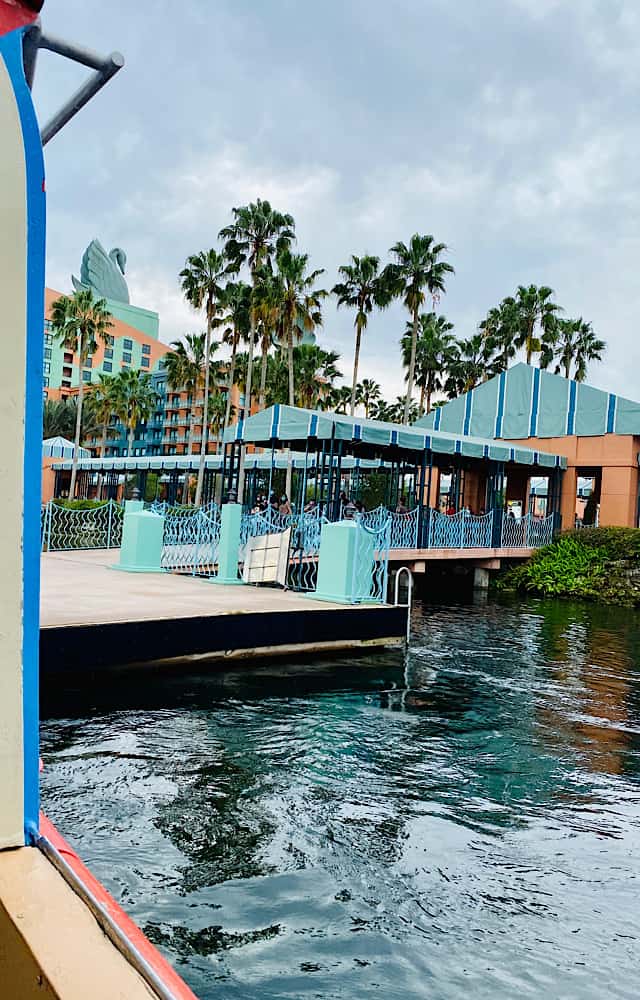 Friendship boats are a convenient way to travel between Epcot area Resorts and for park hopping between Epcot and Hollywood Studios. Resorts serviced by Friendship Boats are Disney's Boardwalk, Disney's Beach and Yacht Club, and the Swan and Dolphin Resorts.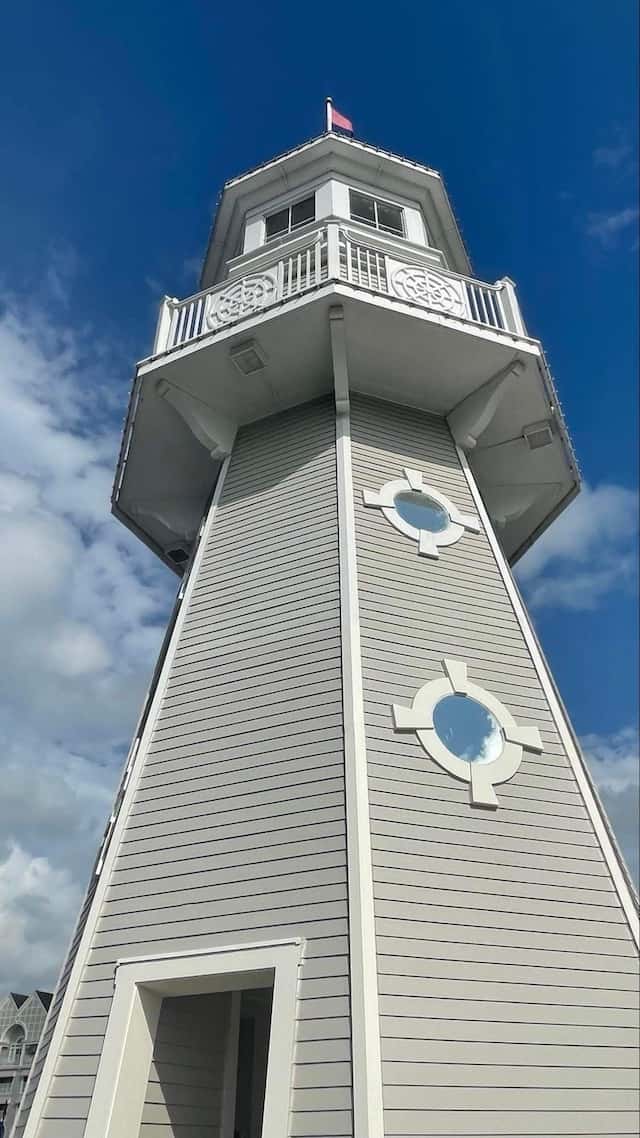 We loved catching the friendship boat the morning we went to Hollywood Studios. For our route, we entered the Beach and Yacht Club dock at the lighthouse. The lighthouse is conveniently located in the middle of the two resorts on Crescent Lake.
Since we chose the Hollywood Studios route, our next stop was the bridge between the Swan and Dolphin Resort. Finally, we cruised into the Hollywood Studio dock right outside the theme parks entrance. The entire trip lasted 10-15 minutes and was a very scenic ride.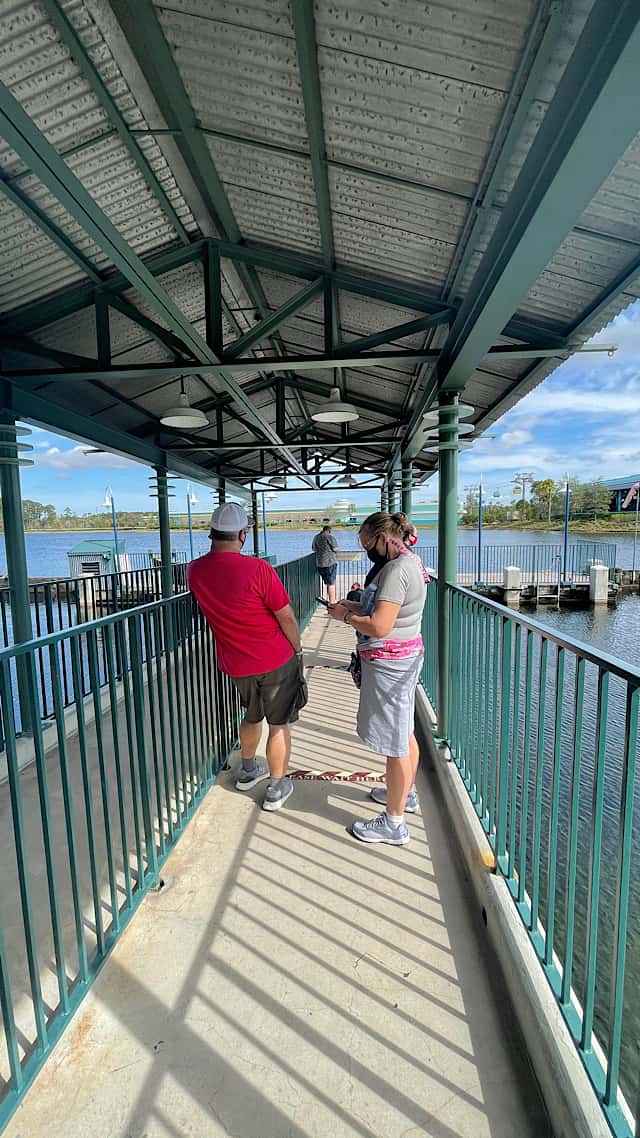 The next route takes guests to Epcot. To catch the friendship boat to Epcot, guest need to load at Disney's Beach and Yacht Club or Disney's Boardwalk Resort.
Then, the trip continues to the International Gateway, only steps from Epcot's entrance. This is a shared entrance with the skyliner and guests walking to Epcot, but is less crowded than the main Epcot entrance.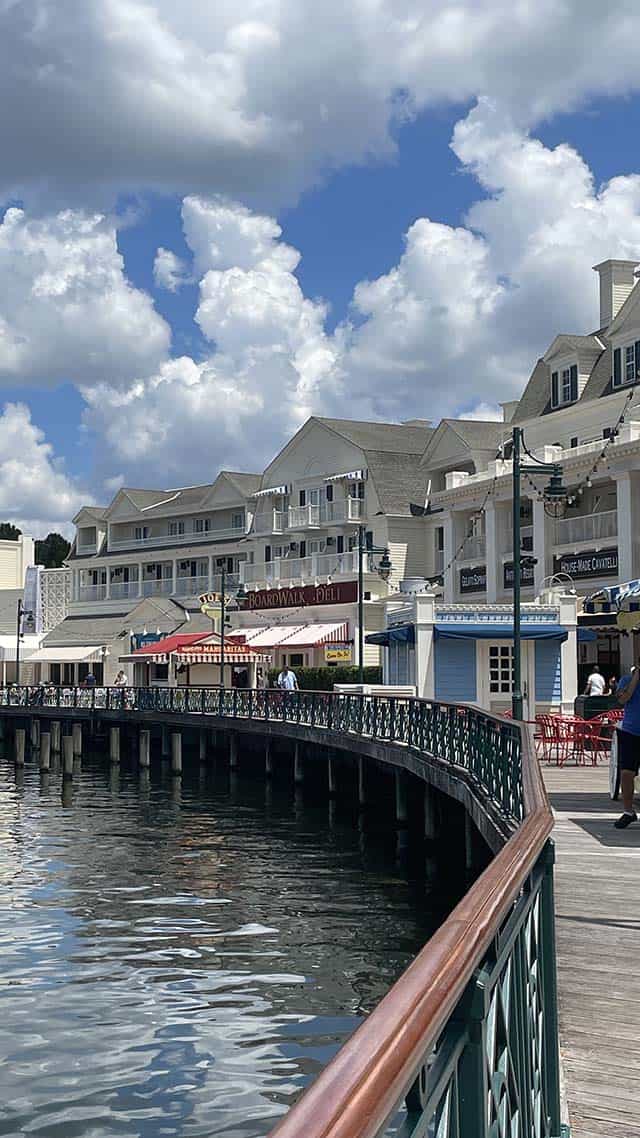 Friendship boats are wheelchair and stroller accessible. However, guests may need to step up or down based on water level. At times, ramps may be unusable.
World Showcase Friendship Boats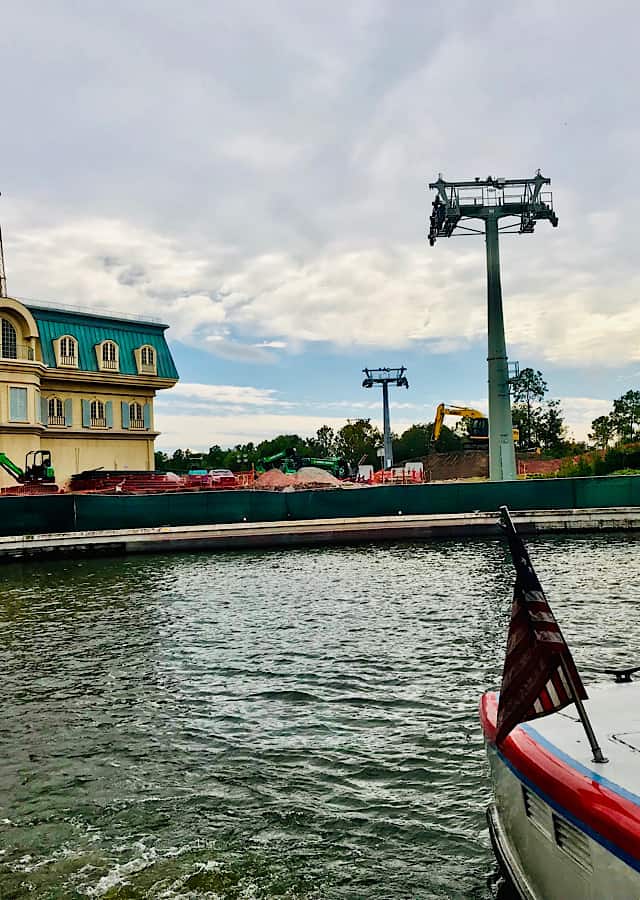 If you've ever walked around Epcot's World Showcase loop in the heat of summer, you know it can be brutal. To save steps, Epcot offers a shortcut to get around the countries.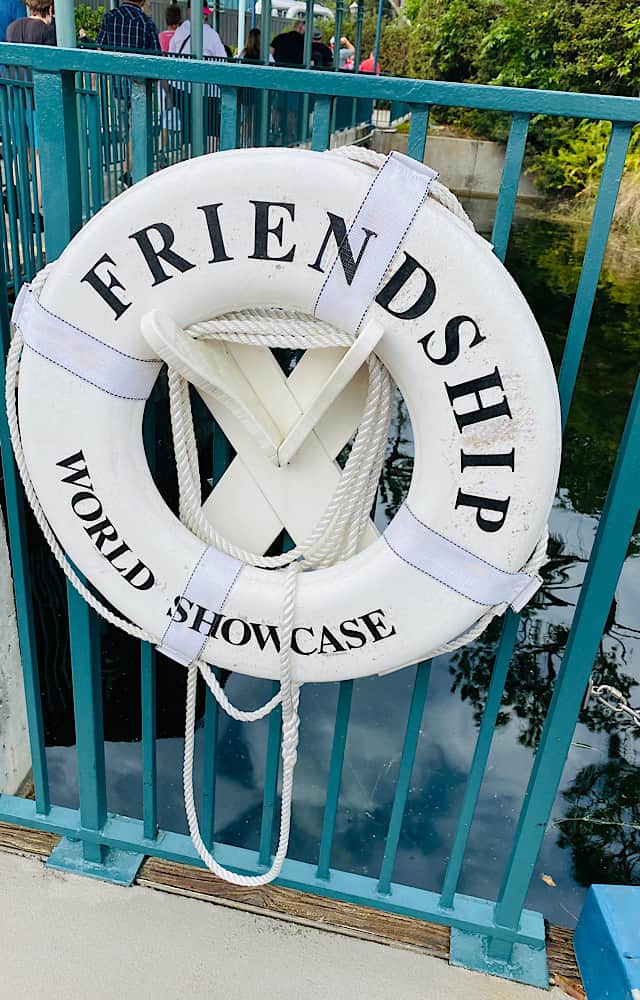 Epcot offers the following routes: World Showcase Plaza near Canada to Morocco, and World Showcase Plaza near Mexico to Morocco. Although these rides won't save you time, they will save steps. We love taking in the waterfront scenery too!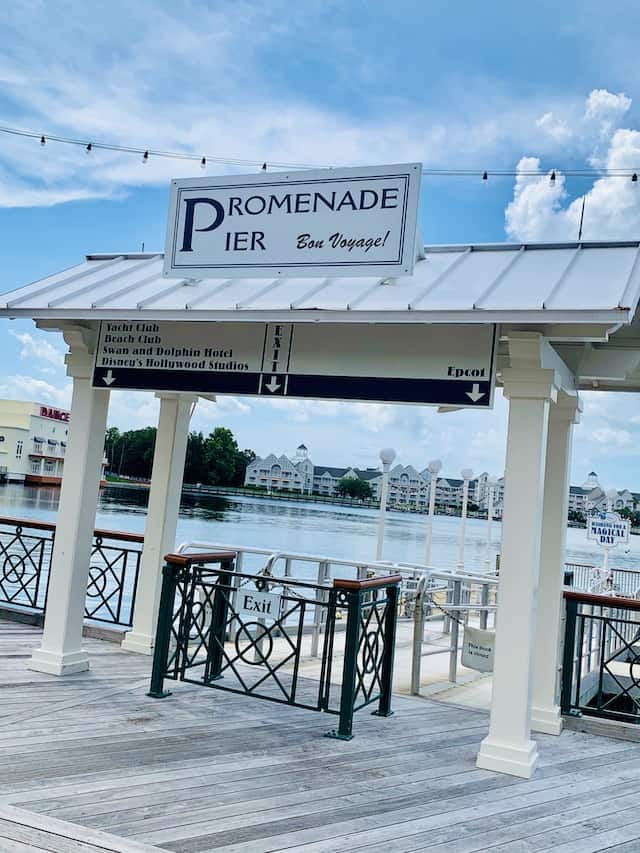 Depending on the time of day, lines for friendship boats can get long, so arrive early. Each of the two routes continues back and forth approximately an hour before and after park opening between Crescent Lake, Epcot, and Hollywood Studios.
Note: Boats running in World Showcase boats typically run from 11:00am until 7:15pm at the World Showcase, and 7:30pm from each country.
Keep in mind that these docks close earlier than the park does.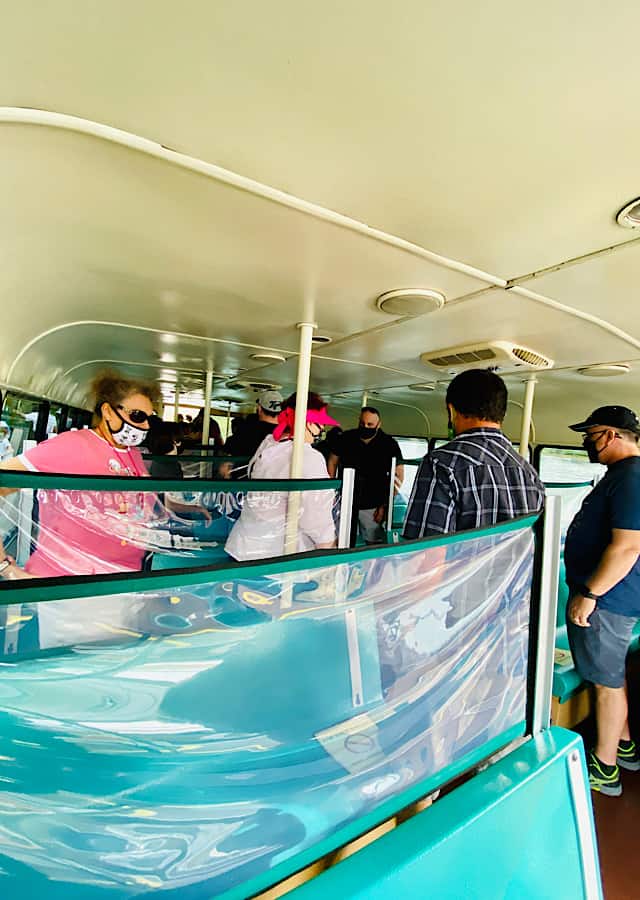 All plastic dividers have been removed and guests can sit wherever there is an available seat. I (Susan) chose the on our friendship boat journey. This was the best seat in the house since we could feel the breeze from the open doorway just in front of us.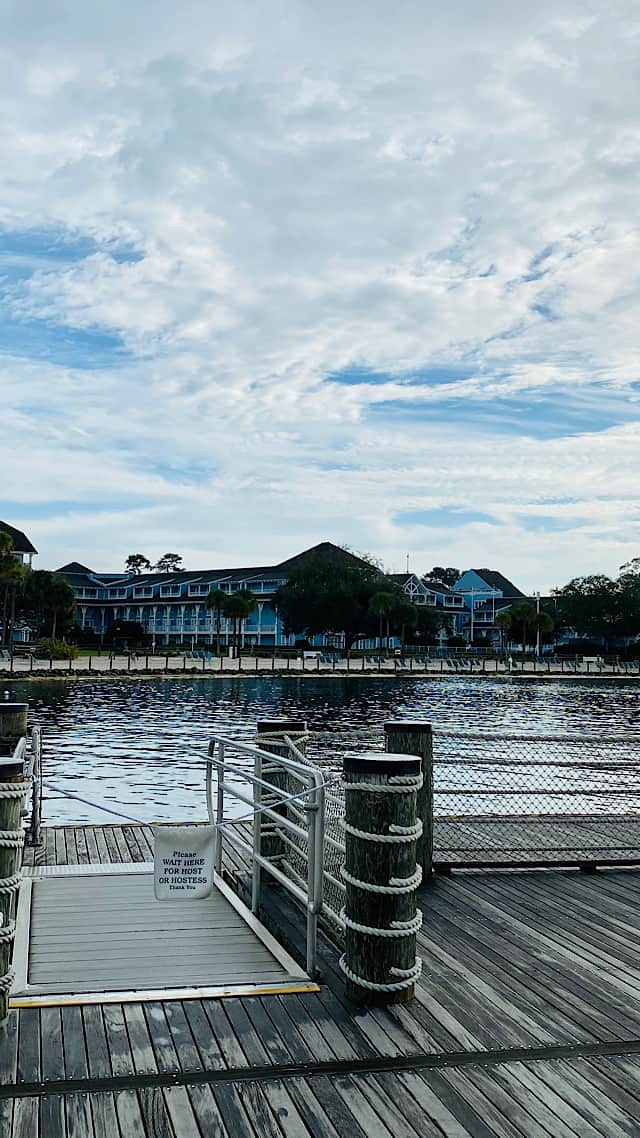 Changing water levels may make it more difficult for guests needing accessibility to boats. Keep in mind that inclement weather will also stop or delay boat transportation until it is safe to resume.
Water Taxis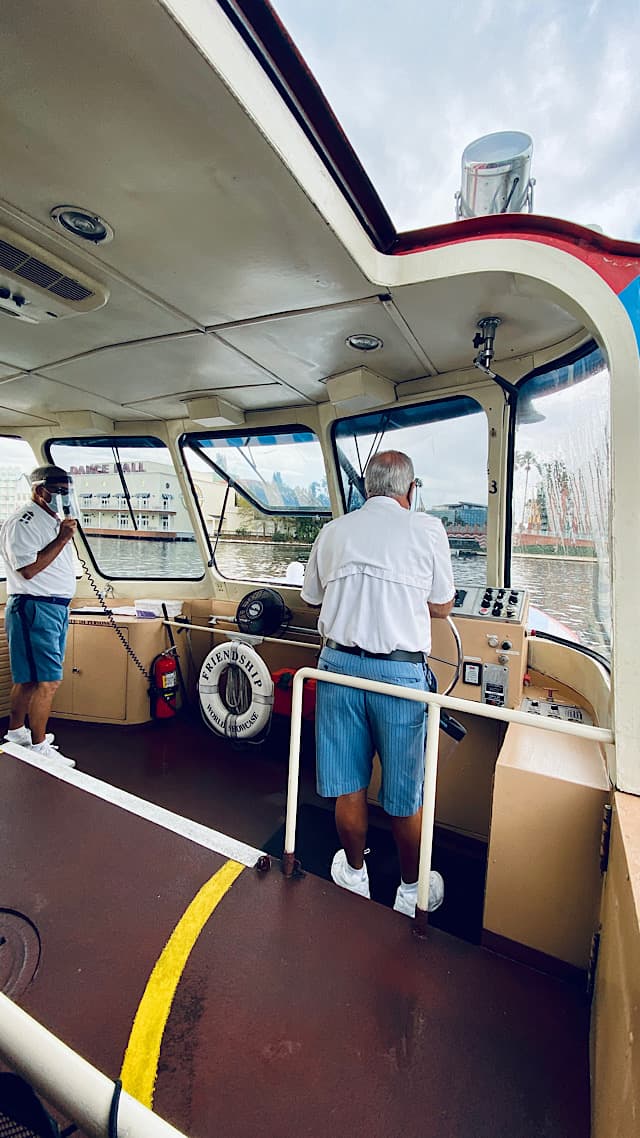 Disney World offers several water taxi routes that run between Magic Kingdom and resorts situated along the Seven Seas Lagoon.
Boats will not run if there is lightning in the area or other inclement weather.
Each of these routes typically run 30 minutes to an hour before park opening until an hour after park closing. Choose your route based on flag color. Lines can get long based on weather and time of day, but guests typically wait 10-20 minutes between rides.
Blue Flag Taxi Route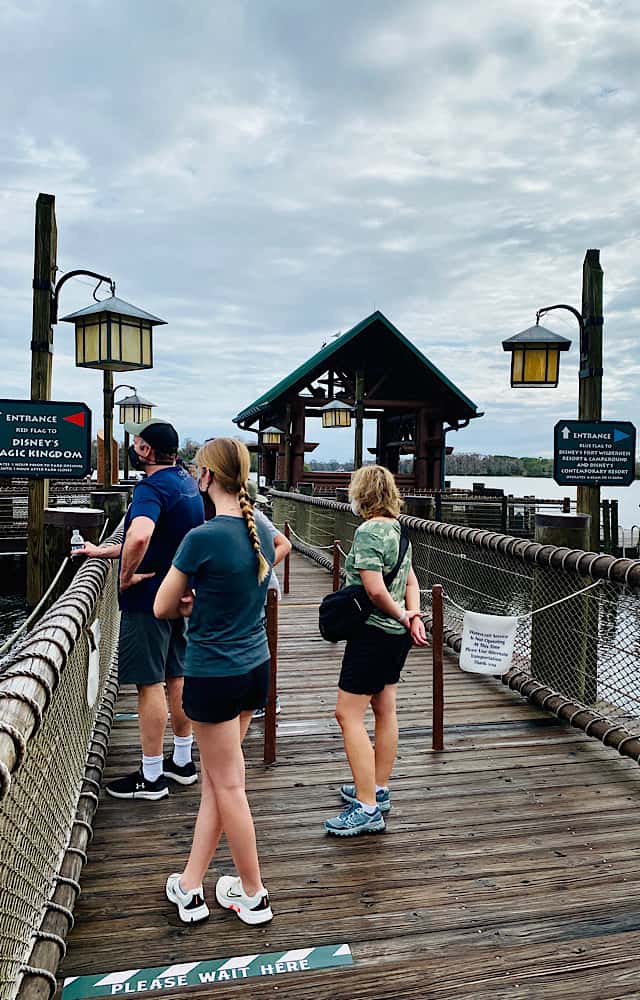 Check out the photo of the Wilderness Lodge dock showing options to take the red or blue flag trip. Here, the blue route has two launches taking guests around Bay Lake making stops at Disney's Wilderness Lodge, Fort Wilderness, and the Contemporary Resort.
The blue flag taxi route begins early making it super convenient for early morning breakfast reservations!
From the Contemporary, the route begins again to the above resorts. This route typically runs from 6:30am until 11:30pm making these resorts very accessible to one another.
Gold Flag Taxi Route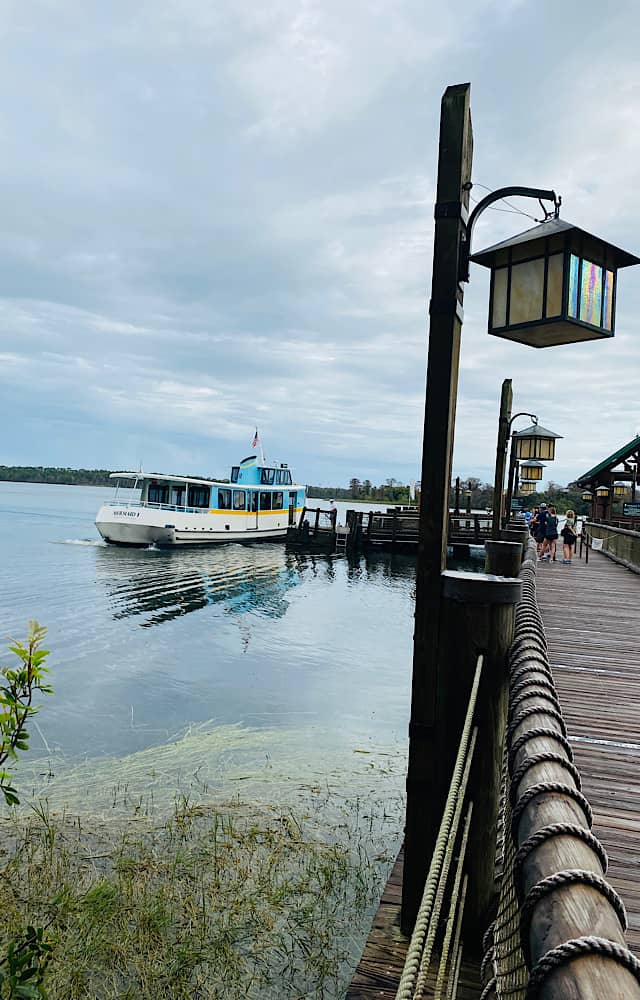 The gold flag taxi runs between the Seven Seas Lagoon to the Magic Kingdom to the Grand Floridian and Polynesian.
This is a short trip to the Magic Kingdom and back to these resorts, taking about 10 minutes each way.
Red Flag Taxi Route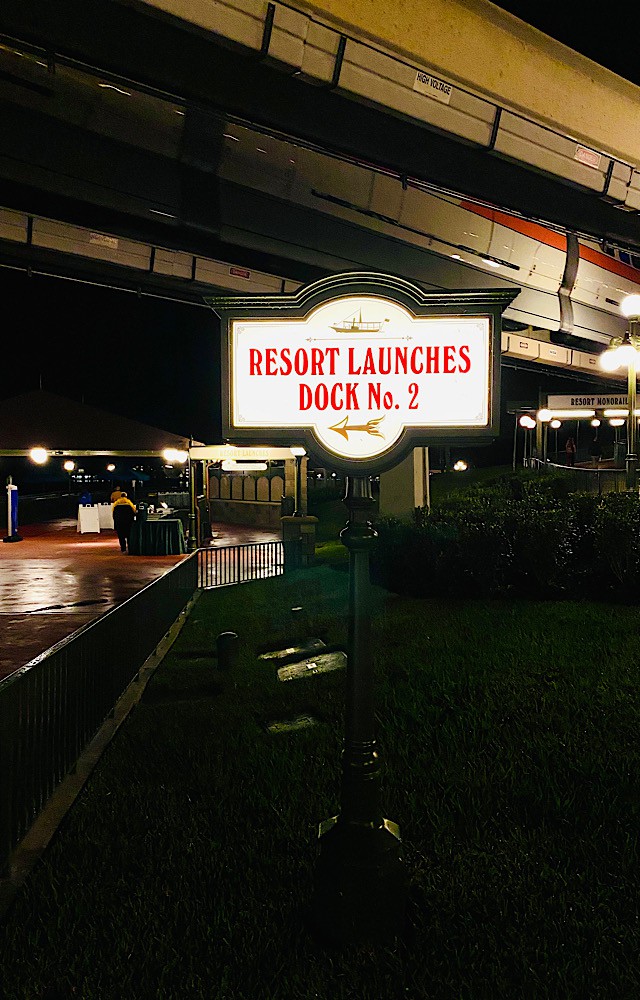 During our stay at the Disney's Wilderness Lodge, we enjoyed taking the red flag route directly to the Magic Kingdom. We took a short sail to the resort boat launch right outside Magic Kingdom's entrance. We loved the way we went straight to Magic Kingdom. This route opened about 45 minutes before and stopped after park opening.
The red flag route utilized two types of boats. One is able to accommodate wheelchairs and electric scooters, while the other requires stepping up or down to board.
Green Flag Taxi Route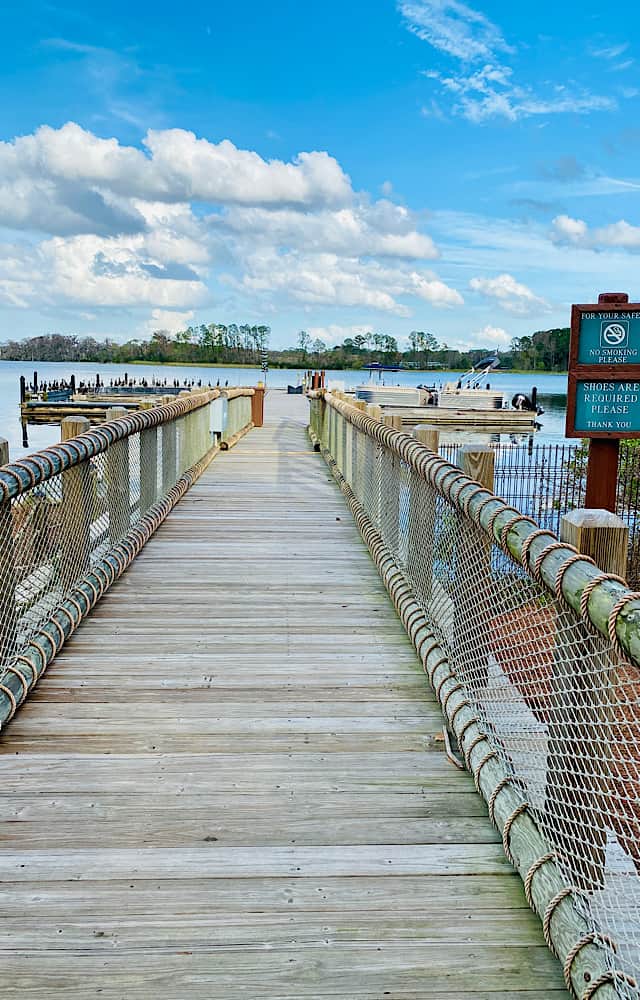 The green flag taxi is a busy route when Fort Wilderness is fully operational. This is due to Fort Wilderness not offering bus service to Magic Kingdom so guests must either drive to Magic Kingdom or take the taxi. This route takes guests directly to and from Fort Wilderness and Magic Kingdom.
Guests can take the green flag taxi to Disney's Hoop Dee Doo Musical Revue dining show and Trail's End.
Because of the size of Fort Wilderness Resort, there is an internal bus system for guests to use. However, using these to go to the Hoop Dee Doo Musical Revue takes longer than the green flag taxi that takes guests close to the dining area.
Recreational Boats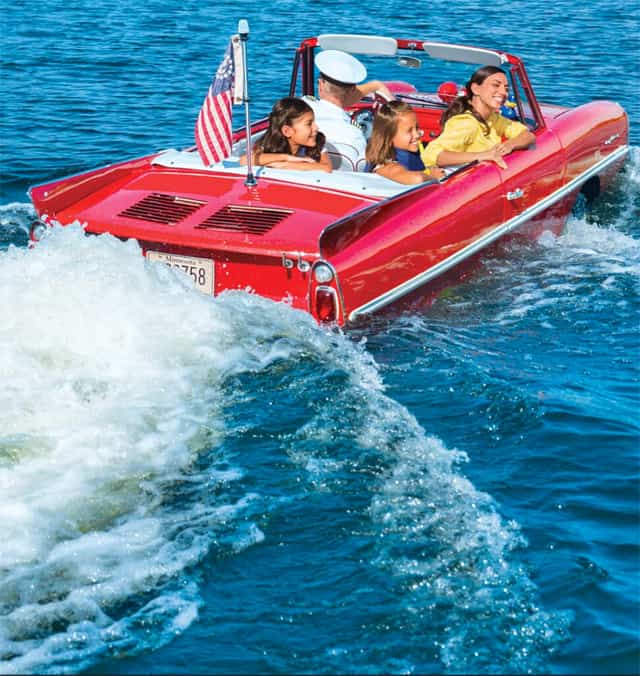 In addition to transportation to parks and shopping, Disney offers several marina and boating services for an additional fee. Whether you want to sail on a pontoon boat at the Grand Floridian, jet ski at the Bay Lake Tower, or take an Amphicar Tour at Disney Springs' Boathouse restaurant, there are so many choices!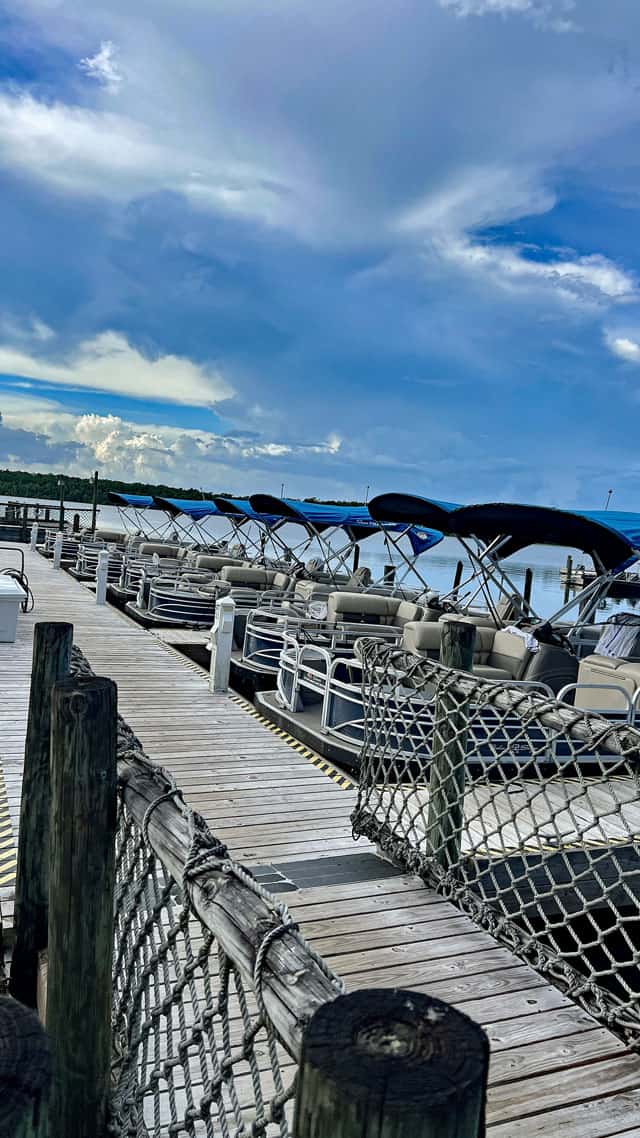 Final Thoughts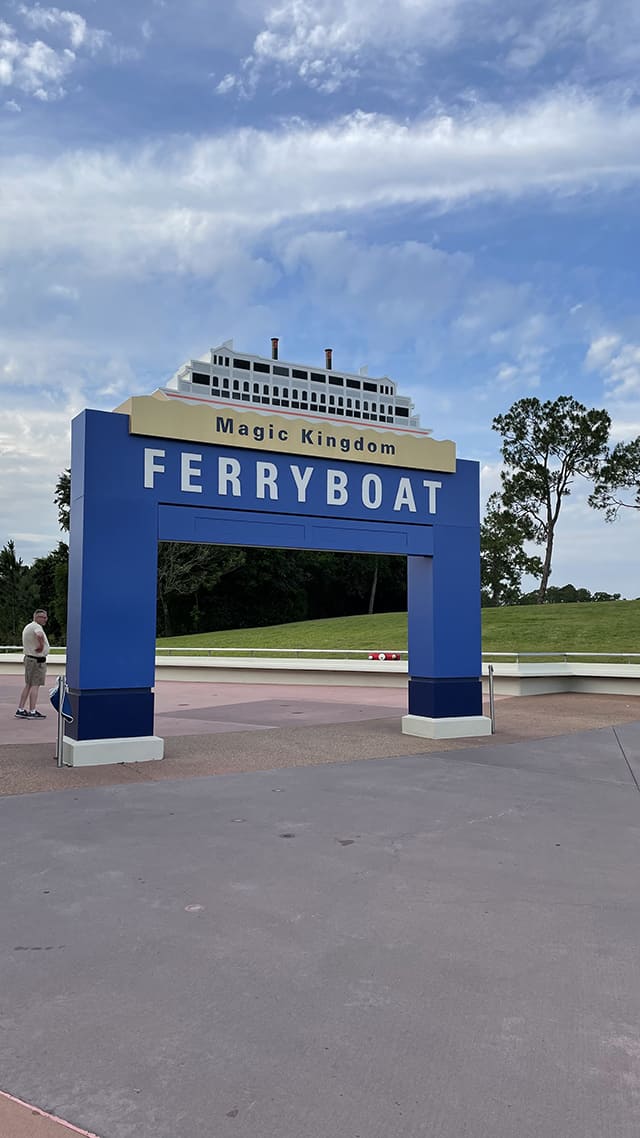 Although walking is faster to the theme parks, boats are an easy ride to save feet and experience water views. If you haven't tried them, I hope you will soon! On our trips, part of our soaking up all the Disney magic includes different modes of transportation, including Disney boats!
Have you used Disney boat transportation? If so, which are your favorite routes? Please share your thoughts and comments below and on our KennythePirate Facebook Crew Group.