Disney's Yacht and Beach Club Resorts are by far my favorite places to stay on all of Disney property! If I had my choice, I would stay there every time we visited Disney World. Have you ever stayed there?
Since I was a little kid, Disney's Yacht and Beach Club Resorts have always been one of my favorite places to visit. Even when we don't have a stay booked here, we often find ourselves visiting one of their amazing dining locations nearly every trip.
Disney's Beach Club Resort
Theming
Personally, I would have to give the top place in my heart to the Beach Club Resort. I absolutely love the theming of this hotel!
It has a casual-elegance charm that is just so inviting. We call it our home away from home.
The entire atmosphere feels like a breath of fresh air.
The lobby is decked out in pastel colors, sea-themed rugs, and large comfy chairs.
I feel that the Beach Club ambiance is more family-friendly compared to the Yacht Club Resort, which is something to keep in mind if you are planning a stay with children.
They will probably enjoy the theming more at the Beach Club.
Whenever I walk into the Beach Club lobby and get a whiff of that amazing Clover and Aloe scent, I instantly know I am home!
I love that they always have fresh flower arrangements on the tables in the lobby.
This resort is also a must-see if you are visiting for Christmas! There are so many gorgeous decorations.
I love all the wreaths with beach decorations on them.
The Beach Club doesn't have a giant Christmas tree like many of the other deluxe resorts, but there are plenty of miniature ones around!
The real showstopper is the giant moving gingerbread carrousel in the middle of the lobby.
As soon as you walk in you can smell the fresh gingerbread scent.
It's absolutely amazing when you realize that cast members in the bakery made this entire thing from scratch!
Rooms
The rooms at the Beach Club are great! We have stayed here numerous times and always request the same Garden View room on the second floor.
Due to it being a corner room, it is a little larger and has a small alcove in the hall where we can plug-in my mom's scooter at night.
The room had two queen beds which were so comfy I could nap just thinking about them!
There was also a nice big dresser with a flat screen tv and plenty of drawer space.
Due to our room being a little larger, we also had a couch. It was very firm and not the most comfortable, but it was useful when needing extra space to put our merchandise on.
The only downside to being on the second floor is that this room didn't have a balcony because we were over the roof of the Solarium. That wasn't a deal-breaker for us, however.
It was also conveniently located next to the elevators, which was wonderful after a long day in the parks.
Not having to walk down winding hallways to get to our room is a major bonus.
As previously stated, we sent in a request for that specific room prior to our stay.
Many times our request was granted, but there is always the chance that your request cannot be accommodated.
This did happen on one trip, but they were able to put us in the room directly above it on the 3rd floor which was exactly the same size.
The reason I prefer the 2nd floor is that there is also a staircase that goes right to the lobby from the 2nd floor. If you are on a higher floor, you need to take the elevator.
During peak hours, the elevator can be slow and packed with guests.
As someone who forgets at least one item as they are on their way to the parks, it was nice to be able to take the shortcut back upstairs to grab what I needed.
The elevators are also located right outside of the main Marketplace merchandise shop, so running down at night to refill your resort mug or grabbing a coffee before you hit the parks was an easy task.
The shower/tub and toilet were separated from the sinks in the bathroom. I appreciate this separation, as it allows one person to shower or use the facilities and the other to brush their teeth and get ready for the day.
Dining
Cape May Cafe
My family's favorite restaurant is Cape May Cafe. It has been our go-to place to visit since I was just a little squirt.
There is something for everyone at this restaurant.
Breakfast is a character buffet meal with Minnie, Goofy, Donald and Daisy Duck.
Dinner is a non-character event, but it features a clam bake with lots of delicious choices, such as endless crab legs, clams, salad, soup, sides and more.
We especially love to visit this restaurant during Lent because it provides a ton of non-meat options.
Cape May Cafe is not currently open due to coronavirus concerns.

When it re-opens, stay-tuned for my full dinner review and why I think it's the one of the best places to eat in Disney!
Beaches and Cream Soda Shop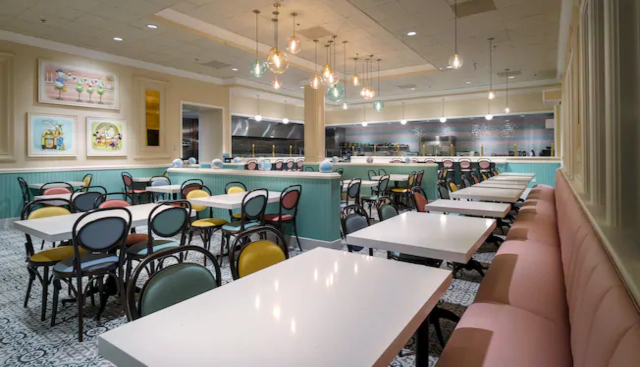 Beaches and Cream is another family-favorite restaurant. The burgers and French dip are out of this world.
Their ice cream sundaes are also equally amazing!
Back before they announced their expansion, the restaurant was VERY small.
Advanced dining reservations were very hard to come by as the restaurant could only accommodate a limited number of guests at a time.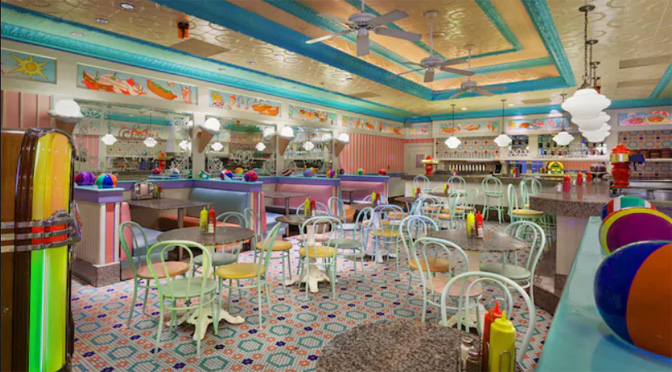 When I visited with my family in February of 2020, the new renovations were completed. I still felt as if the restaurant was a bit small, though.
They also tried to shove more tables than were comfortable in that space.
With current Covid-19 precautions in place, this isn't as much of an issue right now due to proper table spacing, though you may find it difficult to grab a reservation at this time.
Be sure to book as soon as your 60-day window opens.
You can read my review of our meal at Beaches and Cream HERE!
The Marketplace
The Marketplace is Beach Club's quick service location. It is definitely not the best Deluxe Resort quick service location on property, especially when you compare it to places such as Roaring Fork at Wilderness Lodge or Captain Cook's at the Polynesian.
The menu at the Marketplace is very limited and basic, but they still had my favorite Mickey waffles.
We enjoyed grabbing a quick breakfast at the Marketplace in the morning and taking it over to the comfy table and chairs in the Solarium.
It was a very peaceful place to sit.
Beach Club Marketplace at Disney's Beach Club Resort will undergo a refurbishment beginning Aug. 23. During this closure, Guests will still be able to conveniently pick up beverages, snacks, gifts and more at other locations around Disney's Beach Club Resort, including temporary offerings at the Solarium, located just outside the resort lobby.
Martha's Vineyard Lounge
The lounge at the Beach Club is a great place to kick back and decompress after an exhausting day at the parks. My mom and I have stopped in here a few times to grab a margarita and relax.
Martha's Vineyard is open 4:00-11:00 and offers a limited appetizer menu from 5:00-10:00.
I also love the Cape Cod beach house decor, green walls and comfy lounge chairs. It's very calming and cozy.
Hurricane Hanna's Waterside Bar and Grill
Hurricane Hanna's is Stormalong Bay's Pool Bar. They have a nice variety of food options to grab while you are lounging by the pool and plenty of speciality cocktails to choose from too.
Let's head next door to Disney's Yacht Club Resort!
Disney's Yacht Club Resort
Theming
The Yacht Club's theme differs greatly from the Beach Club's pastel color scheme, which is inherently noticeable in the grey exterior paint coloring.
It's designed to looked more like an upscale New England yacht club.
The interior color palette is darker and uses a lot of browns, taupes, and golds and balances it with striking navy, white and red nautical decor.
The atmosphere is slightly stuffier than the Beach Club so young families often find the Beach Club more fun and whimsical.
The Yacht Club definitely exudes a feeling of elegance when you walk into the lobby for the first time, though.
Personally, I also prefer the Beach Club over the Yacht Club, but I still enjoy visiting the Yacht Club often. They do any absolutely bang-up job at Christmas.
My mother has always been a lover of all things nautical. Each time we visit around the holidays we have to stop by to take in all the gorgeous decorations.
There are so many beautiful trees, wreaths and garlands. I love that the nautical theme is carried through even in their Christmas decor.
I also love to stop in to take a look at the giant Christmas village they set up each year.
If you are looking to bring your furry family member with you on vacation, the Yacht Club is one of the Disney pet-friendly resorts.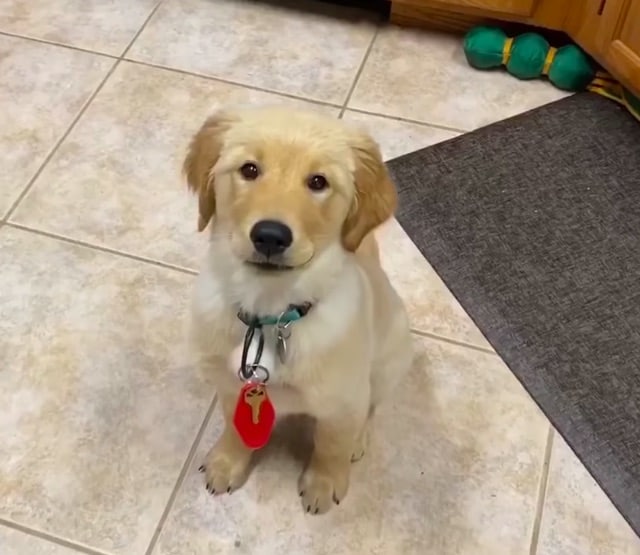 Rooms
The rooms at the Yacht Club are set up similar to the Beach Club. When I last stayed here, the room decor was more vibrant.
The carpet was a rich navy that was balanced by white sheets and red pillows on the beds.
The furniture was painted with brown and cream colors.
I also loved the subtle Disney touches.
Even the lamp had Captain Mickey.
The room that we stayed in at that time did not have a couch like the one at the Beach Club, but it is possible this was simply a smaller room and that feature may not be standard in every room.
Since my last stay at the Yacht Club, some renovations were made to the rooms. An added bonus is that they switched to hardwood flooring instead of carpets.
For cleanliness sake, I prefer the hard floors. Carpets can breed a lot of germs.
I was a little saddened to see that the overall theme of the room was toned down. It now reflects the same type of color palette as the main lobby.
Gone are the red pillows and mickey lamps and instead you'll find muted golds and blue tones.
The decorative shower curtain and bathtub also appear to have been removed in favor of a full shower with glass doors.
I don't mind the full size shower, but I am not a fan of the clear glass doors. Frosted doors would provide more privacy, especially if you are sharing a room with friends.
Dining
Yachtsman Steakhouse
If you are looking for an upscale dining location to celebrate a special occasion or just a date night out, the Yachtsman Steakhouse is your place to go.
The Yachtsman Steakhouse uses only grain-fed beef that is aged in-house and prepared on an oak-fired grill.
It has been quite a long time since I have visited this restaurant. We most certainly didn't have a terrible meal, but it wasn't super memorable either.
What was memorable was the price tag!
Ale and Compass Restaurant
If you are looking for a good breakfast or dinner meal, be sure to stop into the Ale and Compass for classic New England comfort food and seafood dishes.
Ale and Compass Lounge
I have heard great things about the Ale and Compass Lounge. You can kick back and grab a drink and some delicious appetizers.
The Market at Ale and Compass
This is the Yacht Club's quick service location. Stop in to refill your resort mug or grab a quick meal.
The food options are still limited compared to other deluxe resort quick service dining locations, but I feel that the Market has the slight edge over the Marketplace at the Beach Club.
Crews Cup Lounge
This is the lounge I plan to put on my must visit list. I have heard that the prime rib sliders are the best things on the menu!
At the current moment, it not open, but be sure to check back soon when it does!
Location
One of many reasons that we absolutely love staying at both the Yacht and Beach Club resorts is their location. For starters, they are so close to both Epcot and Hollywood Studios.
Walking paths are available to access both Epcot and Hollywood Studios.
We often walked over to Epcot in the morning to enter through the International Gateway.
This is so convenient any time of the year but especially during the Festivals.
We would pop in for a few hours to grab some of the booth offerings and the head back to the hotel to swim in the heat of the day.
Being so close to our resort made it possible to be spontaneous.
Transportation
Bus
Getting to and from the parks was fairly easy. During certain times of the day, such as in the mid-afternoon, Disney would group both the Yacht and Beach Club resorts on to one bus.
During peak times, however, each resort had their own transportation and we never had to wait super long for a bus to come.
Even at the end of the night, the bus transportation at the parks was pretty decent for the Beach Club and often came every 20 minutes.
I have stayed at other resorts where you're lucky if you see a bus every 40-50 minutes.
One benefit that the Beach Club has over the Yacht Club (in my own opinion) is that when they group both Yacht and Beach Club transportation together, Beach Club is the second/last stop.
For my mom, who rents an off-site scooter, this makes all the difference. If we were staying at the Yacht Club, there would still be people on board the bus and it would be harder for her to drive the scooter off.
By staying at the Beach Club though, she is the last person to disembark from the bus and can take her time without feeling rushed.
We found that the trip to Magic Kingdom only took about 15 mins each way.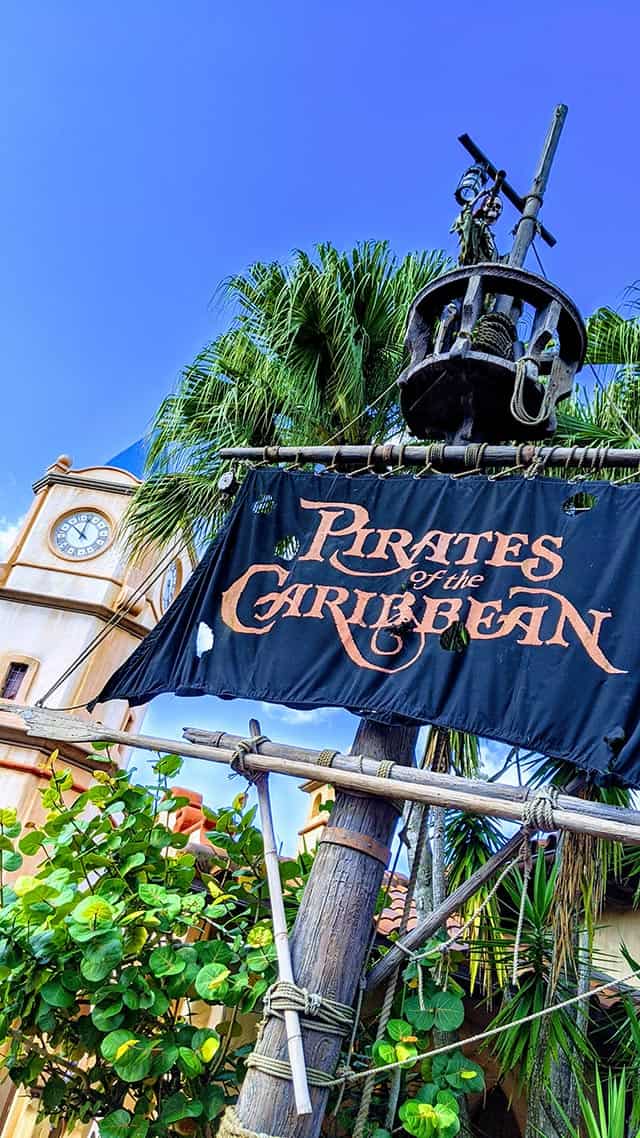 Animal Kingdom was about 20 mins.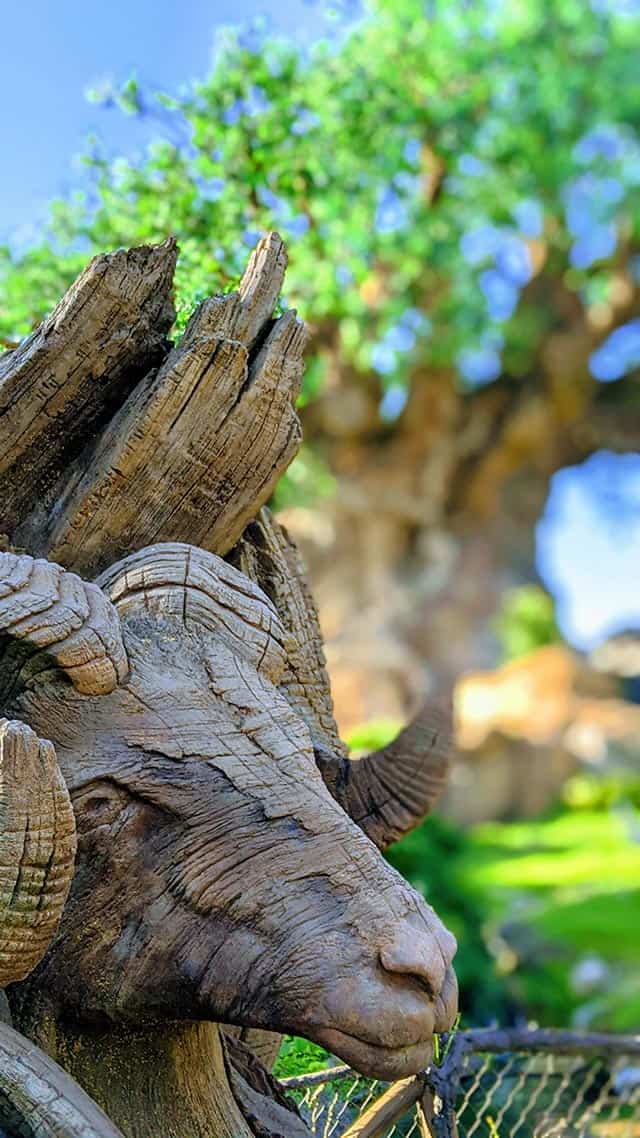 Boat
When traveling to Epcot or Hollywood Studios, we took the Friendship Boats. Yacht and Beach Club share a boat dock.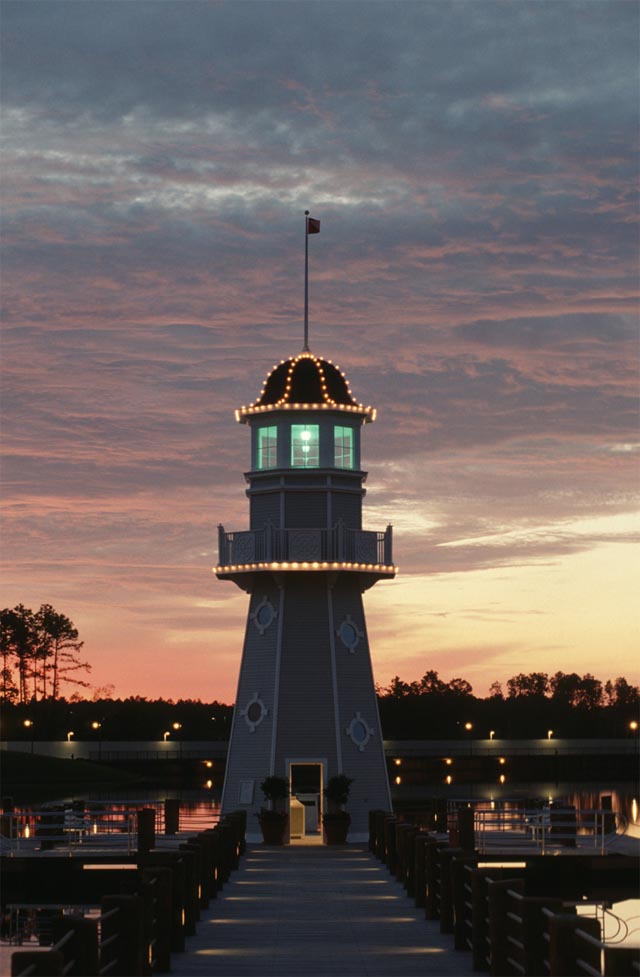 There is one side designated for Hollywood Studios and another for Epcot. If you are heading to Hollywood Studios, you will stop at the Swan and Dolphin first.
Maybe you are traveling to Epcot instead? You will stop at the Boardwalk first before traveling on to Epcot. If you have dining reservations or simply want to walk around the Boardwalk resort, just hop on the Epcot boat and get off at the first stop.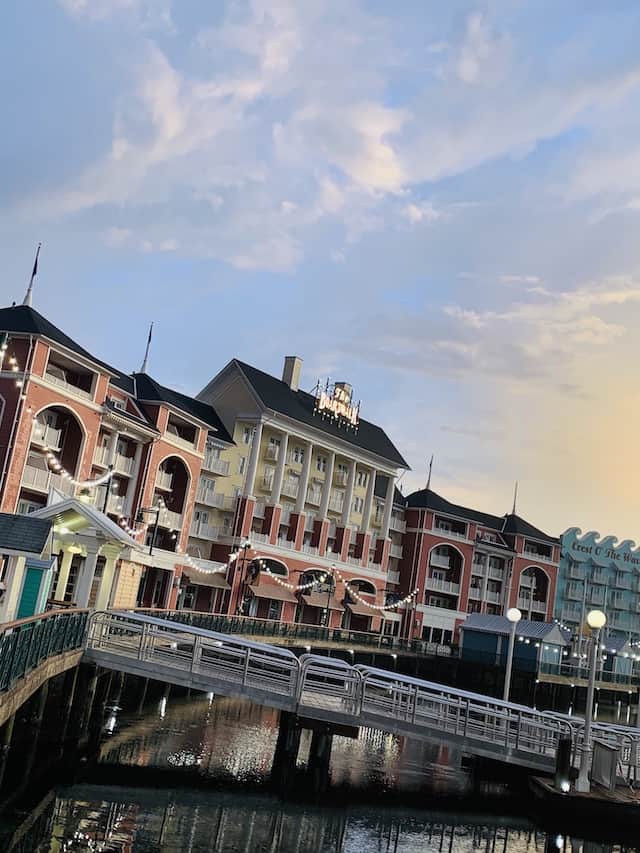 We loved the convenience of the Friendship boats. Especially when we needed to get over to Trattoria al Forno for the Bon Voyage breakfast. There is something so peaceful about riding on the Friendship boats.
I always enjoy taking a ride because it gives my body a chance to decompress from all the walking and excitement of my day.
Skyliner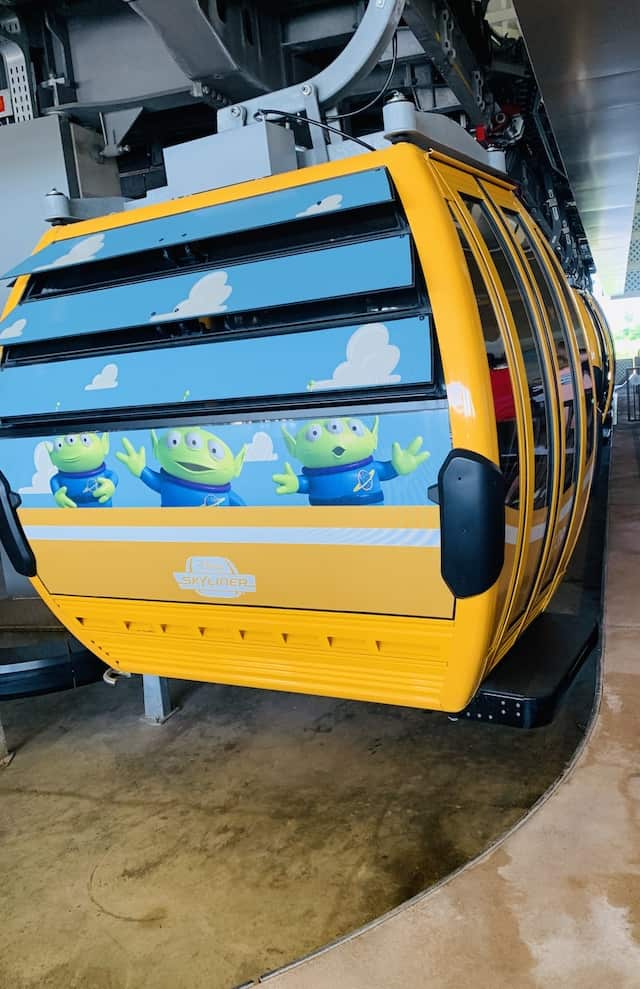 The Skyliner's first anniversary is coming up very soon. I can't believe that it has been around that long already! Time flies! I rode the Skyliner for the first time in February and loved it. It really is a great way to travel.
If you are staying at the Yacht and Beach Club, you have easy access to the Epcot Skyliner Station. It's just a short 5 minute walk away.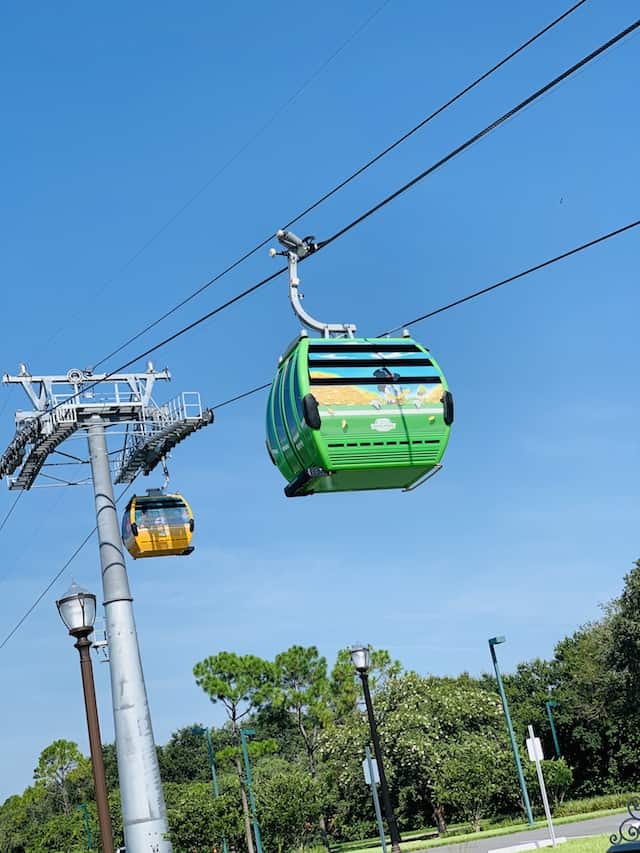 If you board the Skyliner at at Epcot, you will travel to Riviera resort and then onto Caribbean Beach resort where you will get off and switch to the Hollywood Studios line.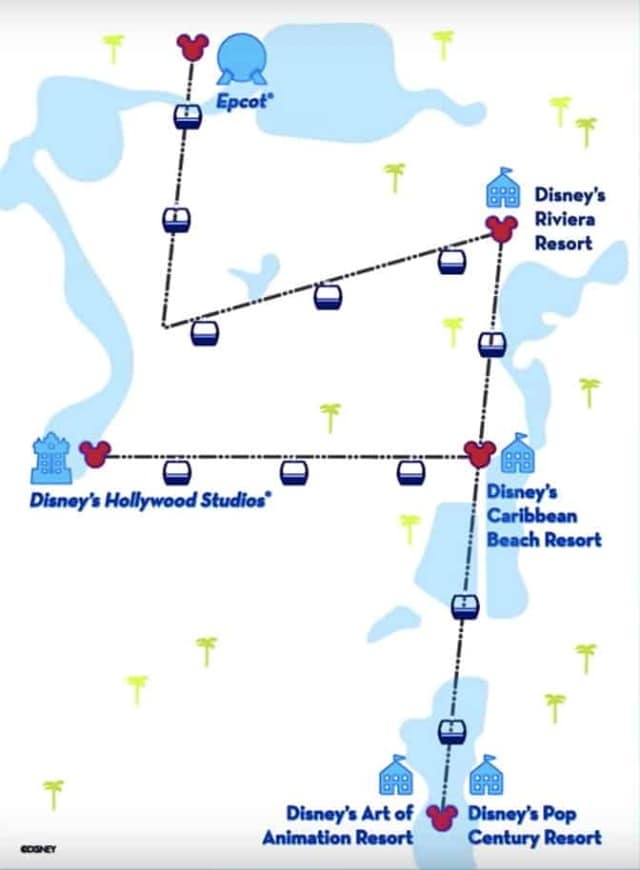 Pools
Stormalong Bay
Stormalong Bay is the main pool and is shared between both the Yacht Club and Beach Club resorts.
This pool is massive! It spans over 3 acres and contains 795,000 gallons of water!
In my opinion, there is no pool on Disney property that can compete with Stormalong Bay.
It's like a mini water park!
There are so many amazing features to this pool! They even had sand on the bottom of the pool!
One of my favorite places to hang out is by the waterfall section.
The water is warmer over here and it's often very quiet. Not a lot of people crowd this area.
Stormalong Bay also has it's very own mini lazy river!
Every time we have stayed here, there are plenty of inner tubes floating around to grab. There is nothing more peaceful than a lazy river, am I right?
It is important to know that the lazy river portion of the pool is 7ft deep in some areas. That is way over most adults heads and definitely over children's heads.
There are life vests for the kids to wear if they want to swim in this area.
When you enter the lazy river, there is a warning sign that the pool is very deep.
When I was a little girl, I nearly drowned in this part of the pool. I was playing with an older girl and followed her right into the water. At 2 years old, I didn't know how to swim.
Luckily my mom saw me as I fell off the last step and a lifeguard drove in to save me. Moral of the story is: it's important to keep an eye on the little ones around this area.
Another great feature of Stormalong Bay is that it has not 1, not 2 but 3 hot tubs! There is one right near the lazy river entrance.
There are also two that are tucked away near the waterfall area surrounded by a rocky ridge.
These two have a set of stairs that lead right into the pool so that you don't have to get cold when transferring out of the whirlpool into to the main pool.
Closer to the Yacht Club side of Stormalong Bay there is a really nice shallow area for younger kids.
There is a ton of sand in this area, which is perfect for sandcastles!
I often see bucket and shovel sets sold in the resort shops, but you can save a few dollars and pack one with you before you leave!
The opposite end of the pool, on the far side of the Beach Club, is the more crowded section. In this section, you'll find a pool volleyball net.
This area is also where they have poolside games and projects.
One time there was a cast member throwing rubber duckies off of one of the bridges!
Another fabulous, and unique feature, on this end of the pool is the whirlpool. A special motor whips up a gentle current.
Simply lay back as if you are going to float and let the current spin you round and round!
There is a separate area in this section for guests who are taking the plummet down the pirate ship slide!
Speaking of the pirate ship slide, this is one of the coolest slides on Disney property! It is also one of the tallest!
The slide actually begins way outside the Stormalong Bay area.
All the way across the main walking path by the beach is where you will climb the mast of this sunken ship replica and zip down 230 ft of slide back into the main pool.
I must confess, I have yet to work up the nerve to try this slide out.
Enclosed slides make me very claustrophobic and I prefer the slides you can sit up in rather than laying down.
For the little kids who aren't ready for the big slide, there is a mini slide and wading pool area at the base of the slide entrance.
When you are ready to dry off there are a ton of different locations to sit out and sunbathe.
My favorite, by far, is the elevated tanning deck.
It's not usually that crowded and you get a great vantage point of the entire pool.
Upon exploring this upper deck, I found a really neat hidden gem. It has a pool table! Now you and your family can play pool by the pool!
Leisure Pools
There are 3 leisure pools, each equipped with their own whirlpool spas.
The Tidal pool is located at the far end of the Beach Club facing Cresent Lake, the Admiral pool is at the Yacht Club tucked inside its own garden area, and the Dunes Cove pool is located at the DVC villas.
We stopped by the Dunes Cove pool one afternoon, and it was a sea of tranquility.
This is a great place to go when you need a break from the boisterous main pool crowds at Stormalong Bay.
This leisure pool also has a pool table and cocktail bar. I loved that they even had calming music playing.
This was truly an escape location. It is the perfect place to kick back with a drink and read a good book.
Recreation
Boat Rentals
Something that my family enjoys doing in Disney is renting a Sea Raycer speed boat or a family-sized pontoon boat and driving it down to Hollywood Studios and back.
We find this location to be the second best on Disney property, behind the Magic Kingdom resorts due to the amount of area you can explore.
Motorized boats are currently unavailable, but hopefully will return soon!
Ship Shape Massage Salon Fitness
If you are looking to get into ship-shape, be sure to stop in for a quick work out at the health club. You'll find all the equipment you need to compile the best vacation workout.
If relaxing and pampering is more your style (which it is for me), be sure to make an appointment for one of the many spa services offered.
You can even schedule a hair appointment. Check out the full menu offerings HERE.
If you read my Character Couture Makeup review and are eager to book your next appointment, you don't have to travel all the way to the Grand Floridian to do so. Ship Shape Salon can also accommodate Character Couture Makeovers!
Shopping
If you are looking to grab a quick service meal or pick up a few more souvenirs for your trip home, stop by the Beach Club Marketplace or the Market at Ale and Compass.
They are not the best deluxe resort shops on property, but they do have some unique items that I have not seen anywhere else.
If you are a fan of the Vineyard Vines or Tommy Bahama brands, you'll find some of their apparel at the Market at Ale and Compass at the Yacht Club.
Movie Under the Stars
If your family loves movie night, be sure to spend a night watching a movie under the stars. This takes place on the open grass area on the Beach club lawn.
Movie schedules change weekly, so be sure to check your resort guide upon check-in for the current week's line up.
Outdoor Sports
If you are into Tennis or Volleyball, be sure to stop by the Ship Shape Massage and Salon Fitness for complimentary equipment.
The sandy Volleyball court is located near to the Tidal leisure pool at the Beach Club and the Tennis Courts are near the Admiral leisure pool at the Yacht Club.
Car Rentals
While not located onsite at either the Yacht or Beach Club resorts, you can pick up your Alamo rental car just a quick boat stop away at the Dolphin resort. We have used this feature many times while staying at the Beach Club.
It was so much more convenient to pick up our car once we were at Disney instead of lugging all our stuff to the airport car rental location.
It was also much cheaper to pick up and drop off at this location than the airport or even Disney Car Care Center!
There are so many reasons to love Disney's Yacht and Beach Club resorts. If you are contemplating a stay at a Walt Disney World resort, be sure to check this place out!
Also check out Rebecca's Head to Head article comparing Polynesian and the Yacht Club resorts to see which is her favorite!
Have you ever stayed at either Disney's Yacht Club or Disney's Beach Club resorts? What was your experience like. Let us know on facebook!
-Christina