I have been asked numerous times for suggestions for unique experiences to try throughout the Walt Disney World Resort. Something that goes beyond the usual park experiences that makes a trip memorable and magical. There are so many great experiences to try, but I just recently discovered the Character Couture Makeover, which added the perfect amount of pixie dust (both literally and figuratively) to my vacation.
When I was a little girl, the Bibbidi Bobbidi Boutique didn't exist. I suppose that is a good thing because my dad would have gone broke. Still, there is a part of me that sees the adorable little girls walking around in their princess dresses and sparkly hair and makes me a little jealous.
Well, ladies, I have good news! There is now a version of the Bibbidi Bobbidi Boutique experience for adults, and it is called the Character Couture Makeover. Your stylist will help you transform into your favorite Disney character, princess, or villain. Plus, there are a variety of options and add-ons you can choose from.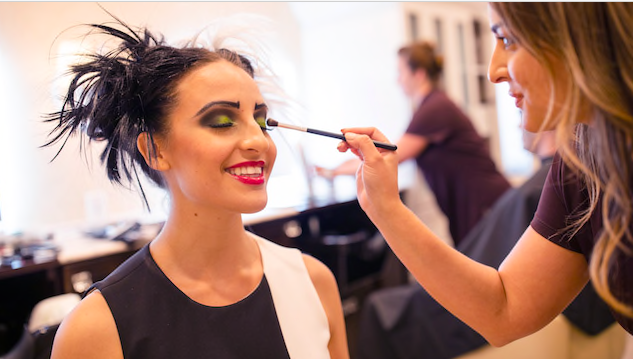 Hairstyles package includes:
Full consultation
Hairstyle of your choice like cascading curls, intricate braids or an elegant updo
Heat styling
Select accessories available for an additional cost
Price: $75 ($60 for Guests 12 and under)
Makeup package includes:
Full consultation
Cosmetic application to eyes, lips, and cheeks―can be subtle or dramatic
Note: Guests should arrive with foundation already applied
Price: $50 ($40 for Guests 12 and under)
Nails (Add-On) includes:
In order to enjoy this service, you will need to book a hairstyling and/or makeup session.
Price: $20 ($15 for Guests 12 and under)
In-Room Services:
Price: an additional fee of $25 per reservation
This option is only available at participating Disney Resort hotels. Please call to find out more information.
Participating Locations:
Character Couture Makeovers can be booked at a number of participating locations including:
The Salon at Disney's Grand Floridian Resort & Spa
Salon by the Springs at Disney's Wilderness Lodge
La Vida Salon at Disney's Coronado Springs Resort
Ship Shape Salon at Disney's Yacht & Beach Club Resort
In-room services are offered for an additional fee at participating Walt Disney World Resort hotels.
When I booked my character couture reservation, I decided to book it at the Grand Floridian because we happened to be staying at the resort on this particular trip. Plus, their spa location just looks and feels so luxurious. The salon is now located inside of the Senses Spa building.
My Experience with the Character Couture Makeover
I booked the hairstyle only package. I was Disney bounding and knew that I wanted a more subtle park accurate makeup look, so I decided to save some money and do it myself.
My appointment was booked for 9:30 am and was told by the Cast Member over the phone to arrive 30 mins early. I read from other reviewers that you need to come with your hair washed and dried because they do not do it for you. Perhaps this was something the Cast Member forgot to mention, but I think it is important to be aware of.
The day before my appointment, I was called by another Cast Member to remind me of my appointment time and they told me to arrive only 15 minutes prior to my appointment.
I was running a smidge behind that day and arrived about 10 minutes early, but that was still plenty of time. I think 30 mins would be a little excessive. They just want to make sure that you are not late, because you only get 1 hour of time with the hairstylist.
One thing I noticed was how tiny the salon was. There were only about 4-5 styling chairs and the room was very long and narrow, making running back and forth between cabinets interesting.
I never had the chance to see the original Ivy Trellis Salon at the Grand Floridian before it became another Bibbidi Bobbidi Boutique location, but I imagine this was a huge downsizing for them.
When I was seated in my chair, my stylist, Carol, asked if I wanted anything to drink, and we discussed which character look I wanted to recreate. I told her I wanted to do a Queen Anna inspired hairstyle from Frozen 2. I had pictures of various princess wigs ready to show her what exactly I was looking for. She kept the picture up on my phone to use as a reference throughout the styling process.
I also brought along a gold crown with emerald jewels that I bought on Amazon and asked her to fix it into the style.
We didn't talk much during the styling because she requested silence while braiding, but I did find out she had been styling hair for 56 years and it showed. She did an absolutely fantastic job on my hair and explained what she wanted to do each step of the way to see if I agreed.
She did three braids. The first started at the part in my hair and went down the right side of my head. The other started on the other end of the part and went down the left side. After braiding them, she carefully tugged at the braiding to widen it and make it look fuller.
She then teased the back part of my hair so that it would have some lift and stability to hold the heavy crown.
After getting the poof just right, she braided the remaining hair in the back. After all the braids were done she wrapped them together in the back to form a bun and pinned in the crown.
The final step was my bangs. She first put a slight curl in them with a curling iron and brushed them out. Then teased them slightly to give them volume. Once she was satisfied with the shape, she formed them in the right position and sprayed them.
After using a ton of Wella hairspray and bobby pins to secure the hair and crown she brought out the best accessory of all. Glitter! I mean come on, who doesn't love sparkly hair. I will warn you though, this glitter will stay in your hair for days! Even after washing it, it was still hanging around.
The only complaint I would have (and its super minor) is that she sprayed my hair after I had the crown on, which covered the crown in a sticky film of hairspray. I would simply suggest next time to spray the finished hair first and then bobby pin the crown in after.
When she was done, she handed me a mirror to look at the final product. It was everything I could have imagined and more. I was absolutely in love with my hair and thanked her profusely. I told her I would be back to see her in July for my next trip.
After she made one last check that the crown was secured, I was escorted to the check out. The price of the hair-only style was $75. They automatically add a 20% gratuity which brought the total to $90. Since I was an Annual Passholder, I received a 15% discount which brought my grand total down to $76.50.
It was so much fun I would absolutely do this again and I plan to go back for a Cinderella hairstyle in July. I asked the stylist what the most popular character requested was and she told me it was Belle, which makes sense because who wouldn't want those awesome ringlet curls?
After leaving the salon we headed over to Epcot to meet Anna and Elsa. I was desperate to get a photo with Queen Anna and my Character Couture hairdo along with my brand new Queen Anna Spirit Jersey.
It was a beautiful day with no clouds in the sky, so we made sure to grab some awesome shots along the way.
Meeting Anna
We waited for about 45 minutes to meet Anna and Elsa. I will say, Anna was a bit off that day. She seemed tired and didn't really provide a great interaction.
Elsa was much better and we talked for a little longer and debated about which was better, peanut butter and chocolate, peanut butter and strawberry, or chocolate and strawberry. I still found it worth the wait because the pictures came out really nice.
All day long people were stopping me to compliment my hair. They kept asking if I was getting married or what the occasion was, and when I would tell them about the Character Couture Makeover. They had never heard of it before.
It was clear to me that this really isn't a well-known experience, but I could tell that all the women that I spoke with were eager to try it out. Depending on what hairstyle you get, you may be able to get two days of wear out of it.
I was able to wrap my hair in a silky maxi dress and it prevented it from snagging on my pillow during the night. When I woke up, all I had to do was carefully pin up a few fly-aways and smooth it out with some spray and it was as good as new.
I can't speak highly enough about my experience with the Character Couture Makeover and can't wait to do this again. I did not experience the makeup and nail package, but I am sure they would be just as magical!
To book an appointment, call (407) WDW-GLAM or (407) 939-4526.
Have you ever done a Character Couture Makeover before? Did you even know it existed? Let me know below if this is something you would try over on facebook!