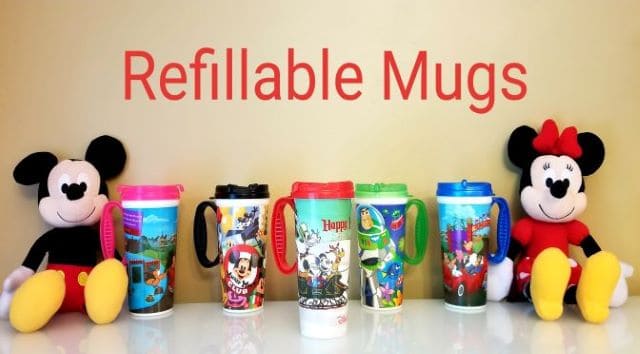 Should you buy a refillable mug if you are not on a dining plan or if plans are not offered? It is a tough question when you are considering how often you will actually use it and if it's worth it for the price. My answer to that is simple. Yes! It's a no-brainer for me every trip! I am just such a huge fan of these! Here are five reasons why I think they are worth purchasing.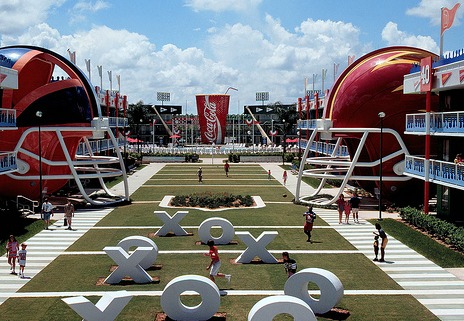 I am happy to report that the refillable mugs are still being sold and can be used during the reopening of the resorts despite COVID and the pause of the dining plans.
We have learned that a Cast Member will hand you a paper cup filled with your beverage choice and then you have the option to pour it into your mug or just use the paper cup.
It's unfortunate to waste so many paper cups, but maybe this will change as they work through and adapt to the ever changing health and safety guidelines.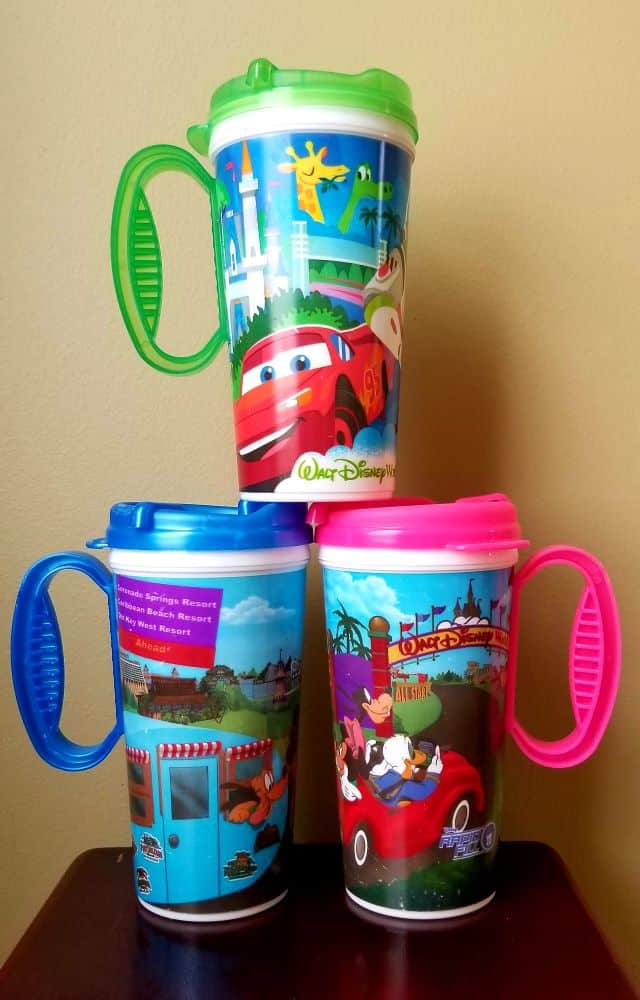 VALUE OF MUGS
I think the refillable mugs are an excellant value if staying on property! At first glance, however, the price tag of $19.99 for this beauty is gasp-worthy until some simple math is done and you'll see it's definitely worth it even if you're a rope drop to Kiss Goodnight kind of person!
I like to start my day with some form of caffeine whether it be a coffee or a Coke and end my long day with a refreshing iced tea or lemonade beverage. Now, normally when I'm at home, I do drink a lot of water but if you've ever been to Florida you know whether you love the water there or hate it.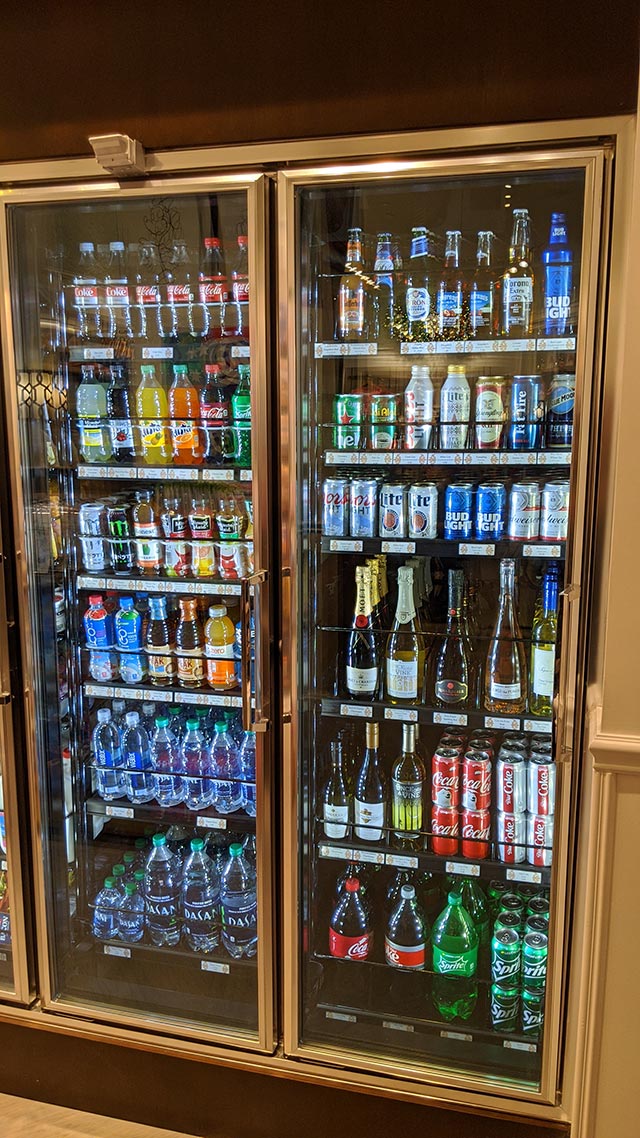 I fall into the hate it camp and also cannot bring myself to spend $4 on a bottled water. Therefore, I find I prefer to drink a lot of tea, Powerade, and lemonade while at the parks/resorts due to this.
So here's the pricing for just a 3 night stay with just having two beverages per day with your refillable mug:
Day 1:
Coffee $3.29 / Lemonade $3.99
Total $7.28
Day2:
Coffee $3.29 / Coca Cola $3.99
Total $7.28
Day 3:
Coffee $3.29 / Gold Peak Tea $3.99
Total $7.28
Grand total: $21.84 plus tax
So with just only two beverages per day I've more than broke even. This is not even counting the trips to the beverage station made during pool time and/or any other downtime within the resort!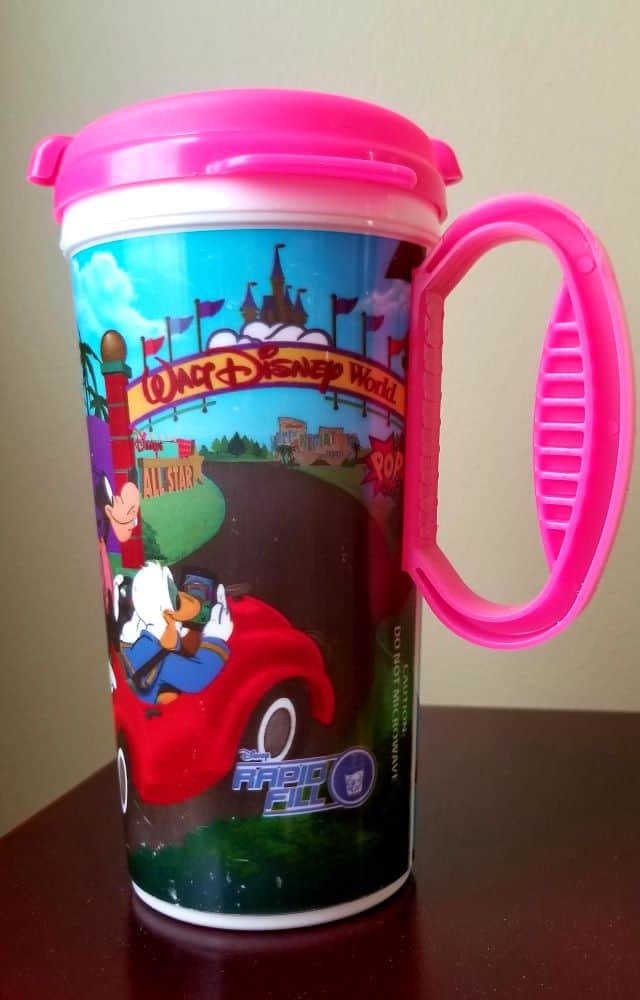 THE MUGS ARE FUN
I don't know about you but part of the fun of Disney is being in what fans call the "Disney bubble."
The magic of the bubble starts when you arrive at MCO and put your MagicBand on then get on the Mickey's Magical Express to your resort.
The very next thing I do is purchase my refillable mug, and it just really feels like vacation has begun. These little things really make it all the more magical for me. My family loves seeing the mug designs and deciding who is getting which one, what color lid, etc.
The kids look forward to this and really love their special vacation mug.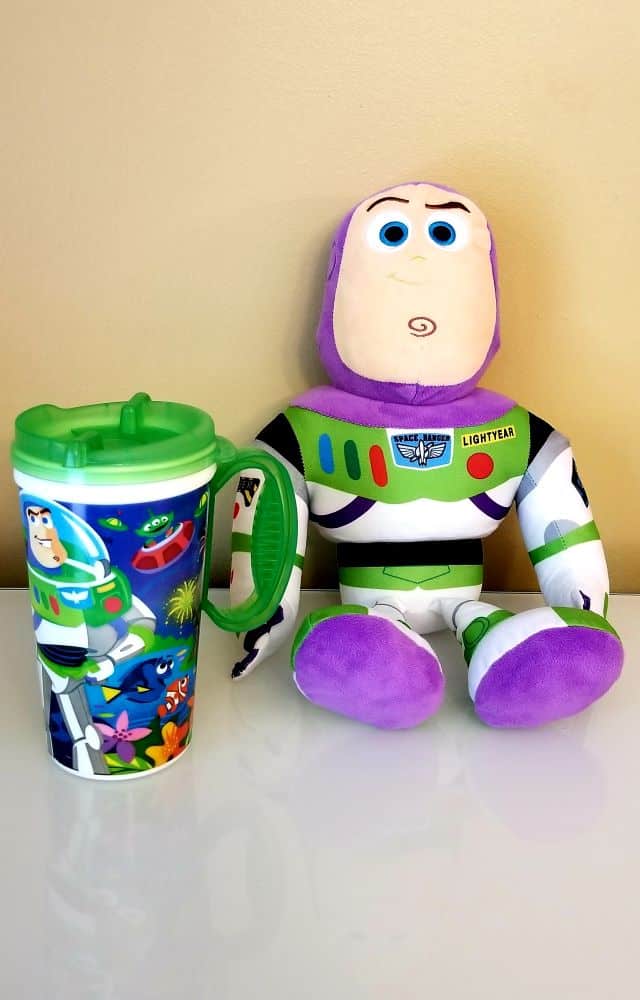 COLLECTIBILITY
I'm not going to lie. The number one reason I buy these is because I love collecting them! They are my number one souvenir every time we go!
Did you know that they release themed designs for the seasons? They go pretty quick and that would be my only complaint. They have been known to put out the Happy Holidays mugs well before Halloween as the fall season sells out fast.
The seasonal mugs are definitely more fun to collect though! I like to keep at least one mug from each design to display and then I usually give the rest away as gifts. We of course keep some to drink from!
A little Disney magic at home!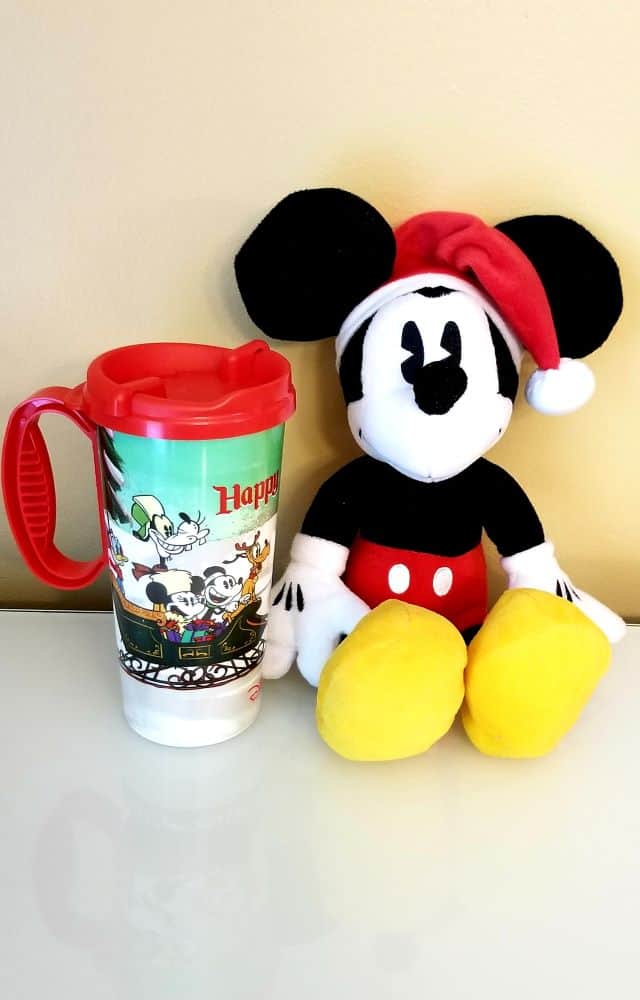 VERSATILITY
These mugs have so many great uses! Even though you cannot use them at restaurants to get free drinks in the parks I still recommend bringing them with you especially if you have children.
I'm not a fan of the paper straws (we bring reusable straws from home) at Disney so I like to dump my paid drink from my paper cup into my mug. It works nice for taking a refill to go with you in the parks as well.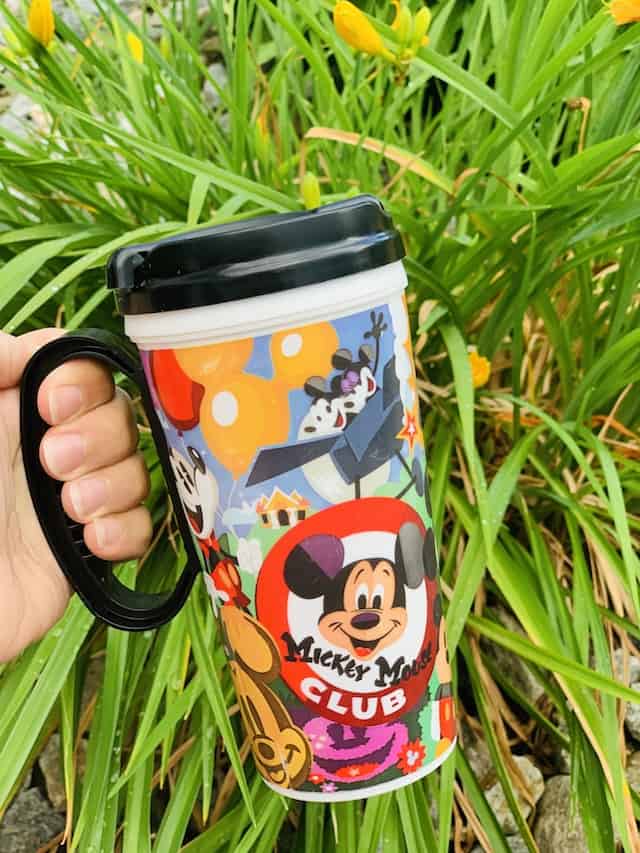 So many times I've purchased a drink for myself or my kids and had to either throw out our drinks before we get on a ride or chug them. With your mug however you can pour your drink from your paper cup into your mug and just turn the lid tight and throw them in your stroller or your backpack. Voila!
Many times, especially in Epcot, I like to snack around the world but sometimes the snack isn't able to be finished, say, before you have to board your next attraction. Depending on the size of the snack, you can pop it into your (empty) mug and seal the lid until you're ready to finish it!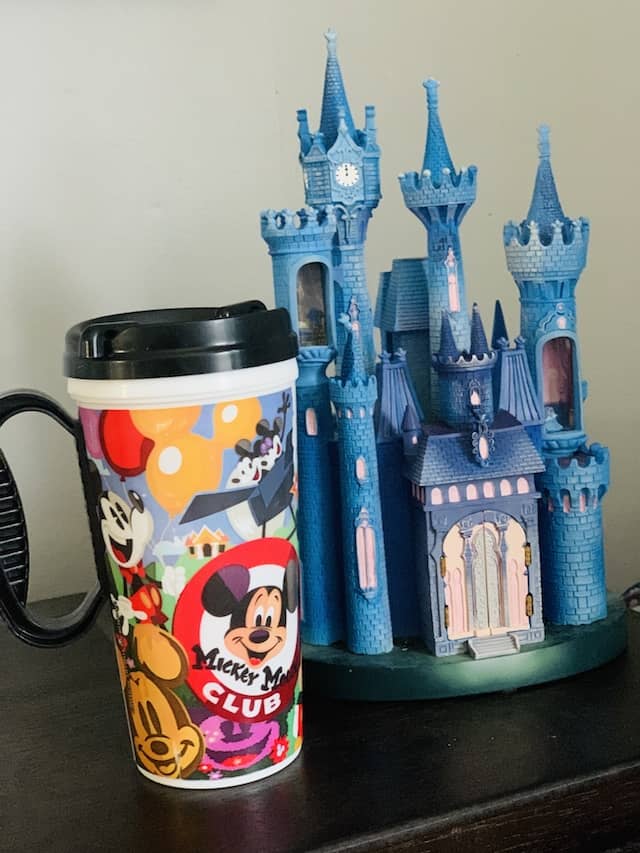 Did you buy a collectible popcorn bucket but have multiple people trying to eat from it? No problem! With kids it is also fun and easy to split up popcorn into everyone's mug and pop the lids on when time for a ride.
Forgot to pack pool toys? No worries! Bring your clean mugs into the pool or beach area for scooping and pouring! Need bath toys? Mugs! The possibilities really are endless!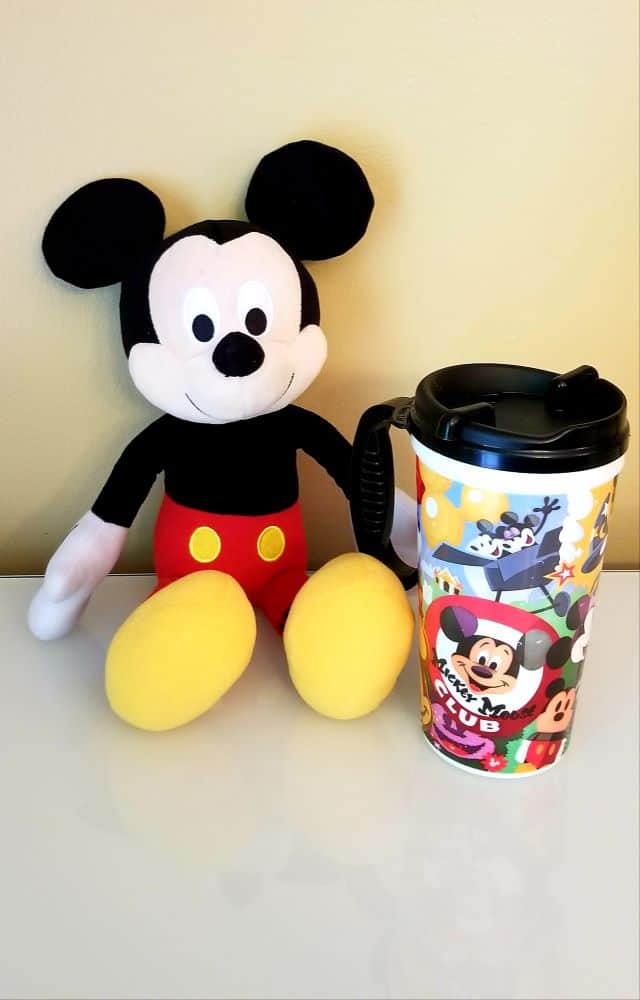 REFILLABLE MUGS ARE CONVENIENT
If you are on the dining plan the refillable mugs are included in the cost of the plan. It is definitely a nice bonus to the dining plan and everyone in your party/plan receives one. Unfortunately, the dining plan is currently suspended but hopefully will be an option in the future!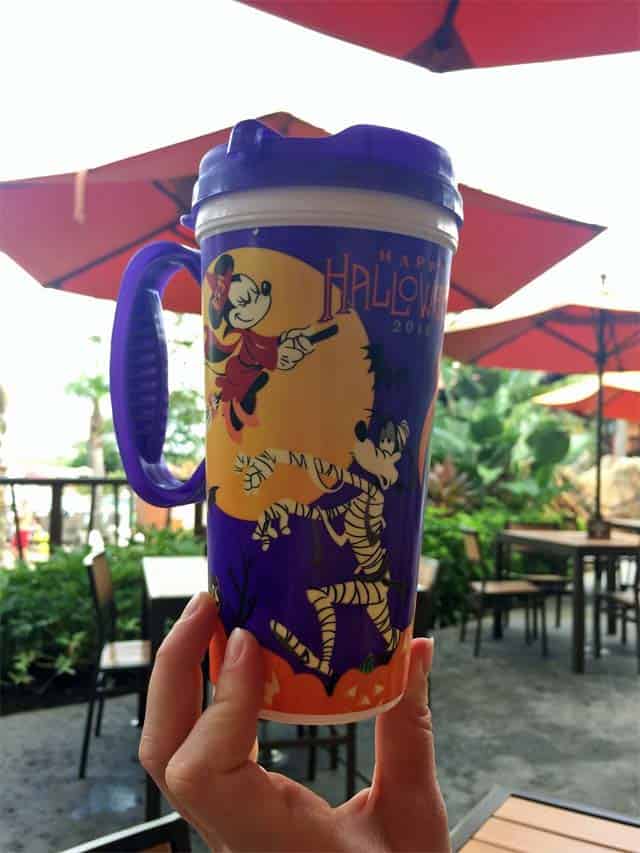 Cast Members will often even give toddlers who are too young for the plan a mug as well to make them happy and feel included. Pixie dust!
I, however, like to purchase the mug regardless of whether I'm on a dining plan or not just because it is so convenient to have. I love stopping by our resort beverage station before and after touring the parks. Most resorts have added extra beverage stations aside from the main cafeterias which is very nice if you're not staying in a "preferred" building.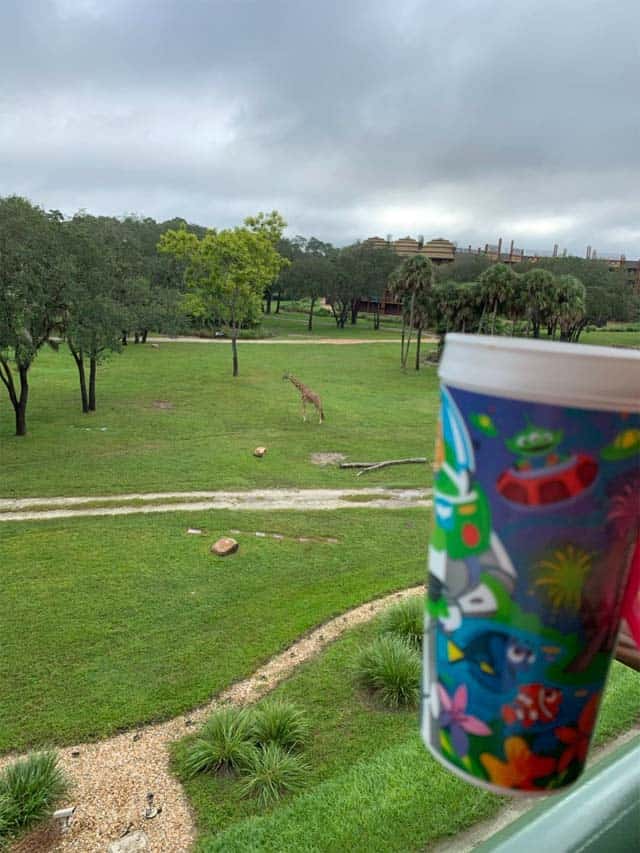 I really like how durable the mugs are and the "no spill" aspect to the lids! I don't have to worry about myself or my kids spilling them and I can seal the lid and toss them in my backpack or the stroller and be on our way with no worries.
So there you have it! Five reasons to purchase a refillable mug! I hope this helps in your decision making for your next trip! My family loves them and I hope yours will too!
Will you be purchasing a mug on your next trip? Do you have any other ways you like to use them that I didn't mention? Please share with us on the Facebook page! We love hearing from you!
Amanda Wesche