If you are anything like me, I didn't know what a treasure Disney's Swan and Dolphin Resort is. Check out our thoughts in this guide.
Disney Resort with a Twist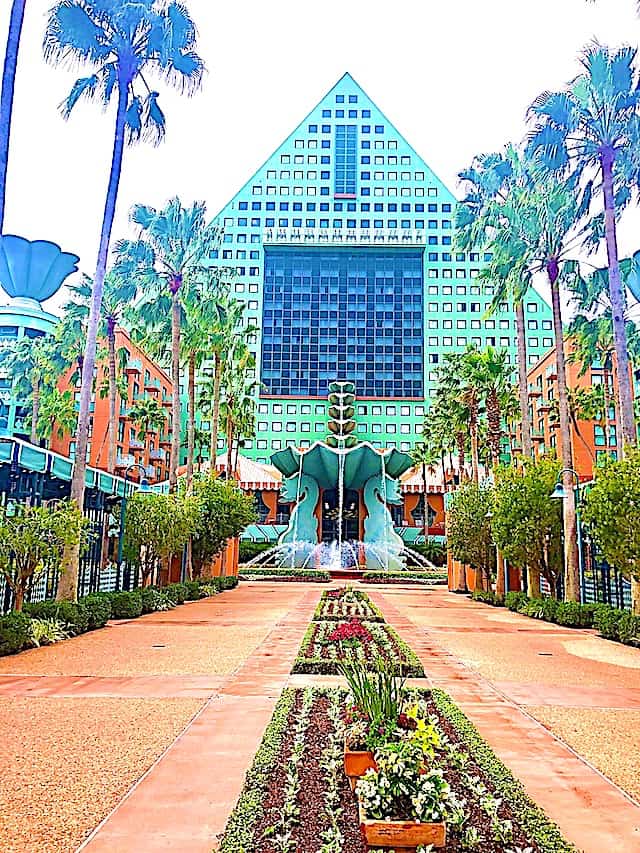 Disney's Swan and Dolphin Resorts are on the Walt Disney Property, but that are managed by Marriott. Guests may book Resort rooms through the Marriott website rather than on the Walt Disney World website.
Guests staying at a "Good Neighbor" Resort will still enjoy the following:
Complimentary scheduled transportation to some of the Disney Theme Parks and attractions
On-site Disney ticket and information desks
Advance tee-times on championship Disney golf courses
What is not included in the Resort stay:
Discounted price on MagicBands
Magical Express transportation to and from the Orlando International Airport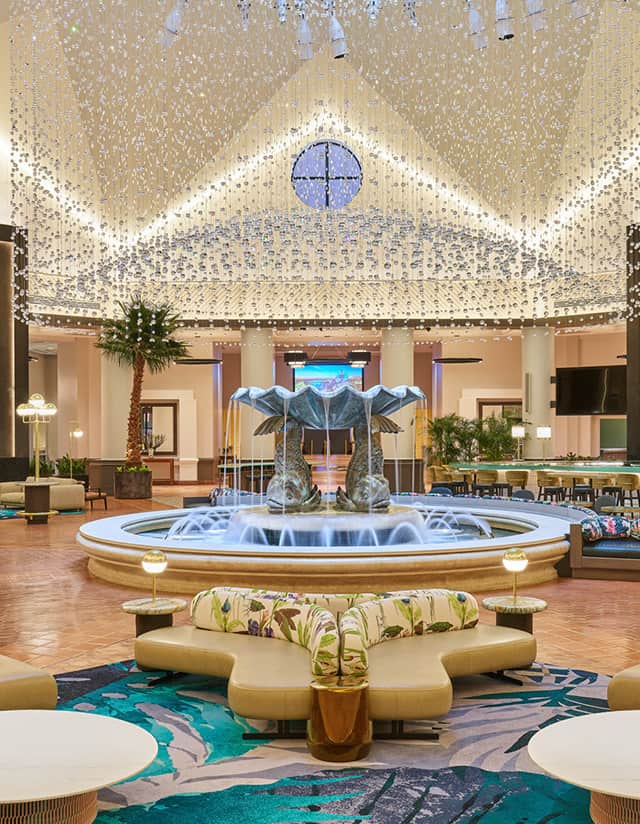 Truthfully, in the past the Magical Express was a large deciding factor in choosing to stay at a Disney Resort. Recently, Disney will soon be ending this complimentary service. Read more about this HERE.
For 2021, Disney World will still sell MagicBands at a discounted rate for Resort Guests. Complimentary MagicBands are now no longer included as a Disney Resort Guest. Walt Disney World announced that they hope to include all of the functions of the MagicBand on the My Disney Experience app in 2021.
With these enchanted extras now disappearing, the value of Disney's Swan and Dolphin will soon be greater than ever. Check out all of the great amenities that make the Swan and Dolphin a great hotel and a great value.
Resort Room Types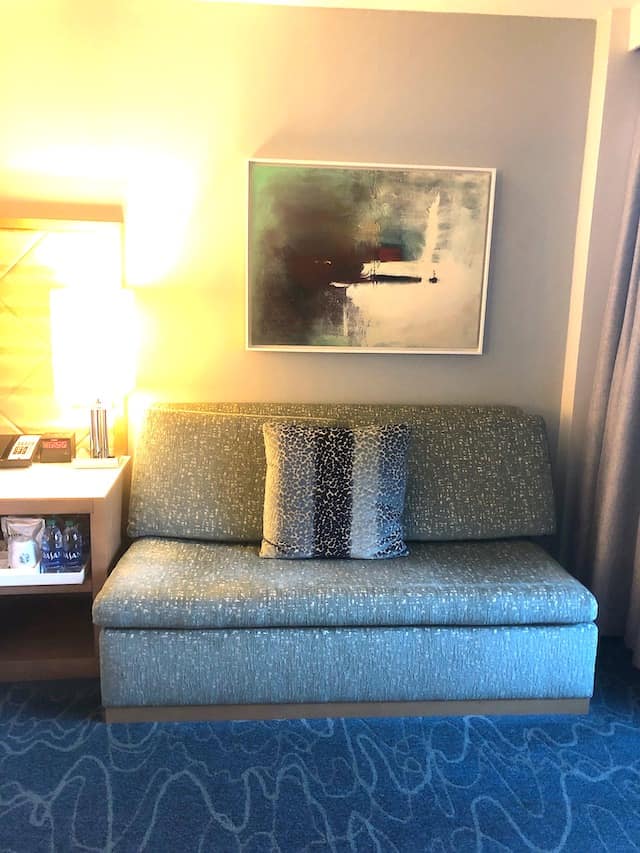 During our stay, we stayed in a Swan Deluxe Room. Room types include a Traditional Guest Room, Resort View Room, Courtyard View Room, Deluxe Room, and the Family Room at the Swan Resort. At the Dolphin Resort Guests can choose from a Standard Room, Family Room, and also a Premium Studio.
Need a little extra space for your magical vacation? The Swan Resort offers both Executive Suites and Grand Suites. Located at the Dolphin Resort, Guests can enjoy the beautiful Grand Suites. Both Resorts also offer the spacious Governor's Suites and Presidential Suites.
A Courtyard View Room overlooks the Resort's interior garden and sitting area and also provides a partial view of the Resort's beautiful landscape. A Resort View Room offers views of the natural wooded landscape, views of the Boardwalk area, or Disney's Hollywood Studios Hollywood Tower Hotel.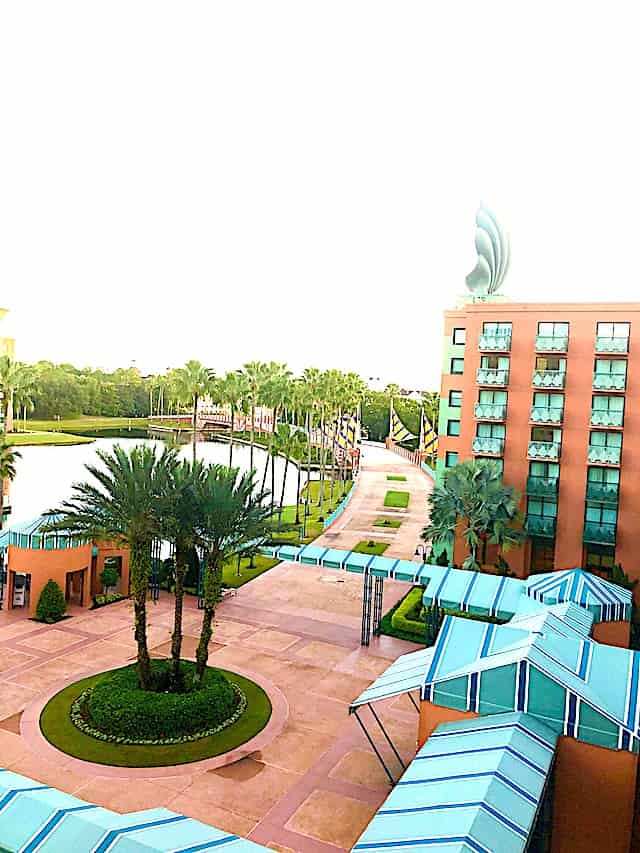 The Deluxe Room overlooks either the Resort's enchanting courtyard, the beautiful landscape, or the tranquil Crescent Lake from a step-out balcony with 2 chairs and a table.
Finally, Family Rooms are available on the corners of this gorgeous Resort. These rooms are quite a bit larger than a Standard Guest Room and offer a living room for dining and working.
Room Amenities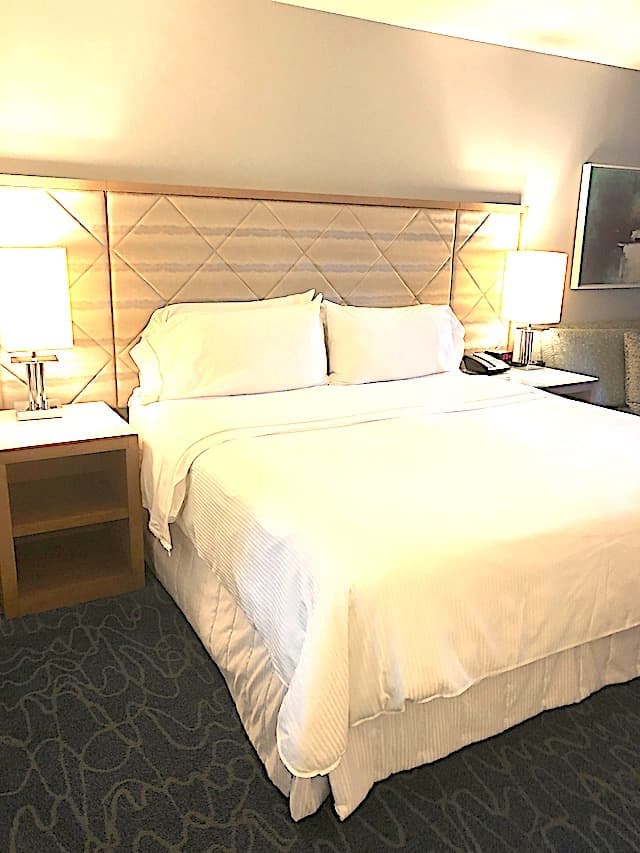 The color scheme of both the Swan and Dolphin rooms are similar in palettes of blue and silver. Rooms are laid out with optimal space and comfort.
Enjoy the luxurious Heavenly Bed and enjoy a restful night's sleep after a day immersed in the magic of the Disney Parks. Rooms with a King size bed will also have a sofa bed.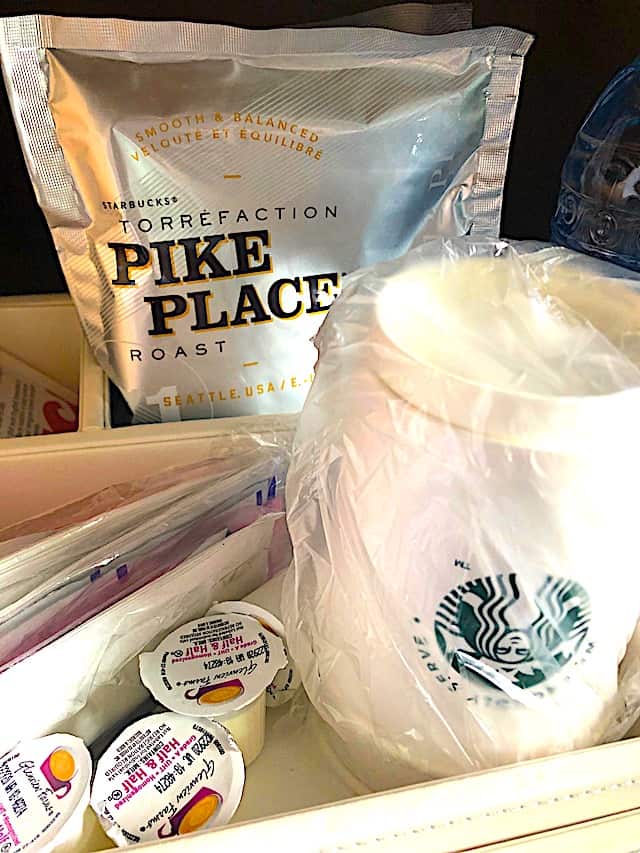 These rooms include the following:
500 square foot room
Sleeper sofa
Desk and chair
Some are available with a balcony
Mini refrigerator
hair dryer
toiletries
robe and slippers
ironing board with iron
coffee maker with individual Starbucks coffee packets
Walking Distance to the Magic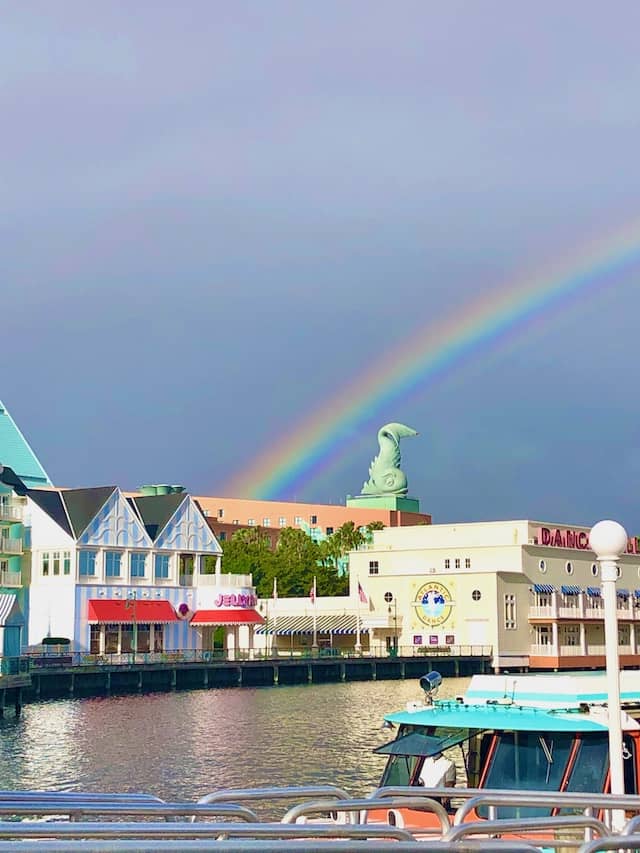 By staying along the Boardwalk, Guests may enjoy a short stroll to EPCOT. Guests may also choose to enjoy one of the Friendship Boats with docks located on the causeway between the Swan and Dolphin Resorts.
Additionally, there is a walking path that leads to Hollywood Studios. This is another great benefit of staying at these Resorts. Being able to walk to two of the four theme parks is a major plus.
Complimentary bus transportation is also provided to Magic Kingdom, Animal Kingdom, Disney Water Parks, and Disney Springs. Simply exit through the front of either hotel, and the bus stop will be along the side of the hotel's entrance.
Complimentary Disney transportation is included.
If you choose to drive your car to a Disney Park, you will enjoy FREE parking at the Disney Parks. Simply present your room key card and have your MyDisneyExperience confirmation available at the parking booth. Parking at the Resort is $29 a day for self-parking and $33 for valet-parking.
Pools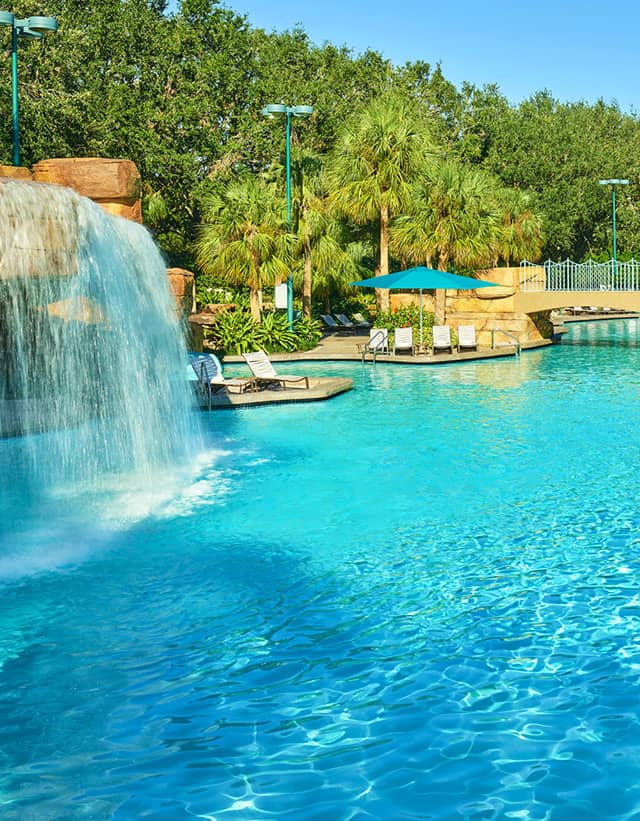 The Walt Disney World Swan and Dolphin Resort has a total of 5 heated pools. Guests have a great variety of pools to choose from to best meet their vacation needs.
Guests wanting to enjoy an upbeat pool setting will want to visit the Grotto Pool and Beach area. This pool offers seasonal entertainment and activities with disc jockeys.
Not only is this pool entertaining but also picturesque. Guests will enjoy beautiful tropical waterfalls while the younger Guests can enjoy the fun water slide.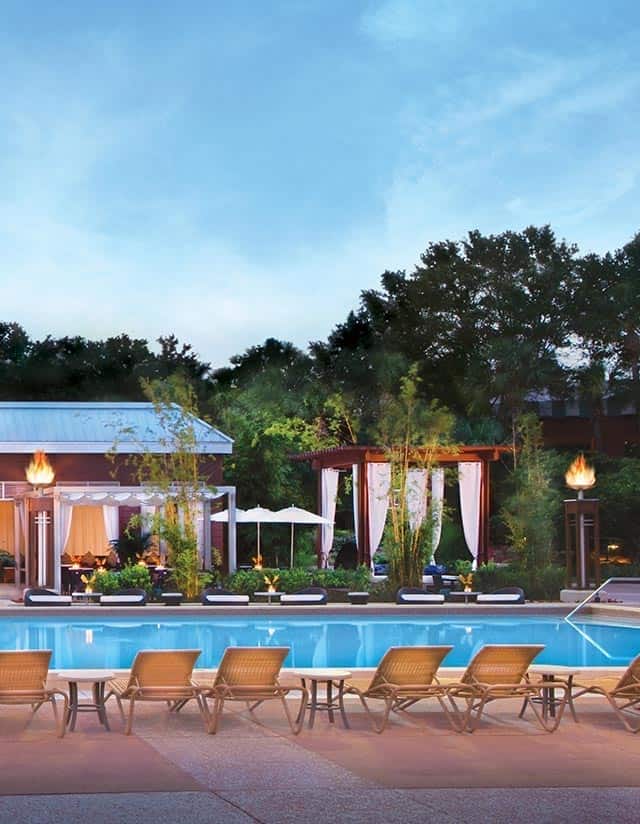 For a more relaxing setting, Guests may also enjoy 4 whirlpools. Three of these whirlpools are located near the Grotto Pool. The other is near one of the Swan lap pools. A second lap pool is available for Guests near the Dolphin Resort.
Private cabanas are also available to rent to provide an even further relaxing day. Guests really can enjoy the best of both worlds when staying at the Swan and Dolphin Resort.
Fitness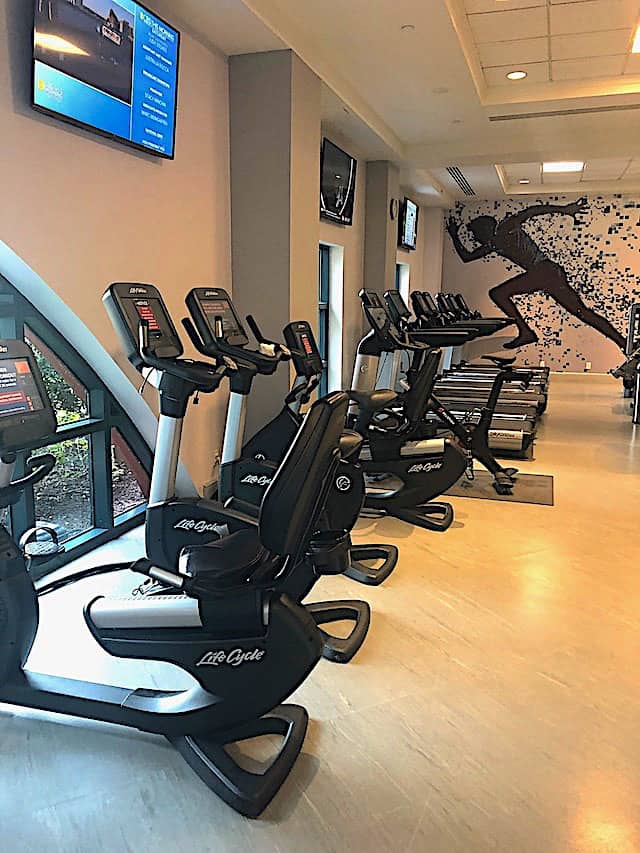 Guests may choose between 2 state-of the art fitness centers. I was quite impressed with how large each of these centers were. If you want to enjoy the great outdoors, there is also a jogging trail that can be enjoyed throughout the Boardwalk. Check out the jogging map HERE.
Entertainment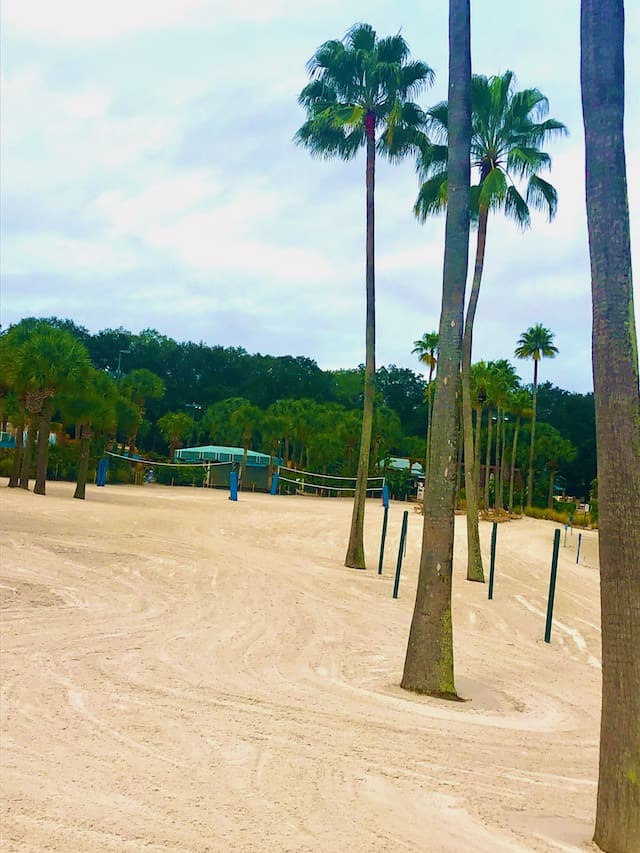 There is also a great variety of outdoor entertainment options. Guests can enjoy gorgeous white sand beaches or even one of the two sand volleyball courts. The younger Guests can run and play to their heart's delight at the Beachside playground while parents can enjoy the beautiful beach setting.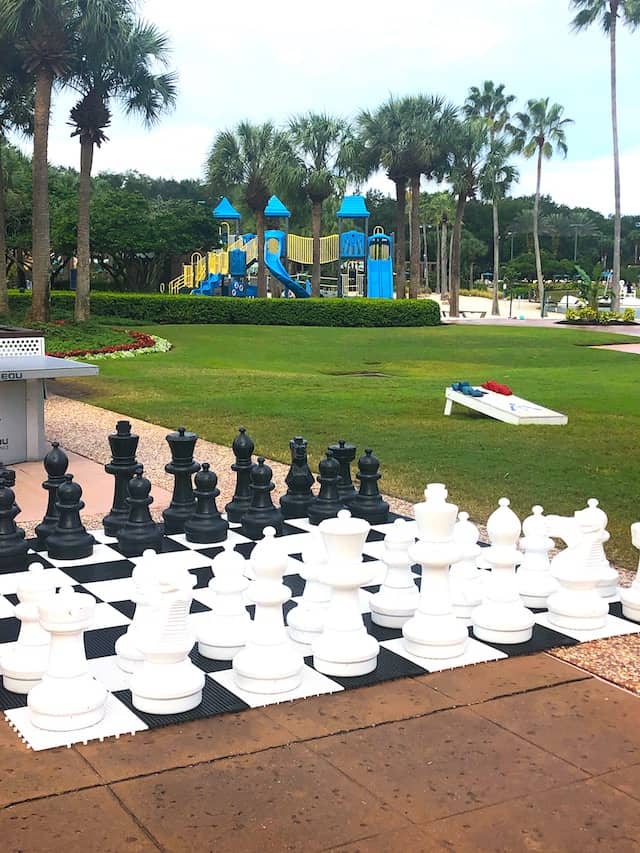 During our visit we loved playing with the outdoor chess set and enjoying a fun game of ping pong. These activities are a great way to be able to enjoy making memories that will last long after your vacation ends.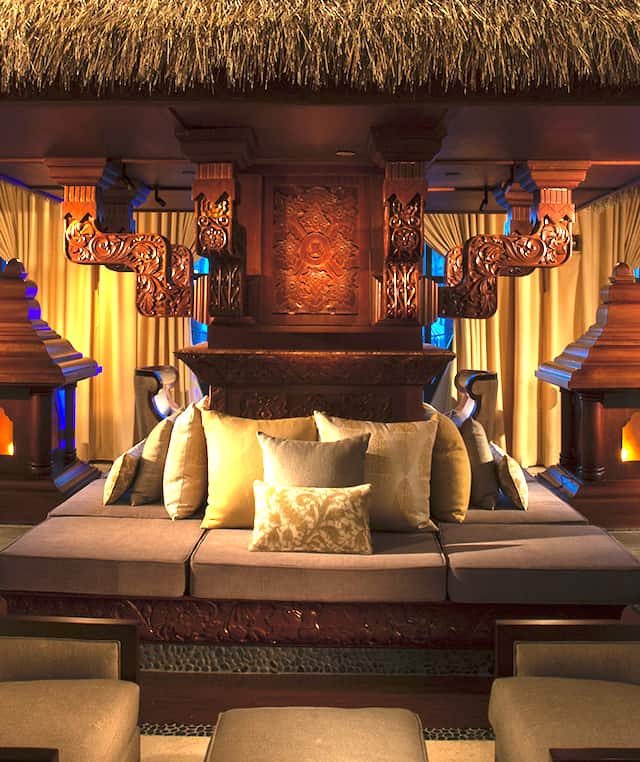 Mandara Spa is a Balinese inspired retreat which offers exotic spa services. This also includes a full-service hair and nail salon. Want to schedule time to unwind while on vacation? You can schedule a massage, facial, or even a manicure or pedicure. Simply call 407-934-4772 to schedule a time that best works for you schedule.
The Swan and Dolphin Resort did offer many great entertainment options throughout the week. Unfortunately, during the reopening, many of these entertainment options are not currently being offered.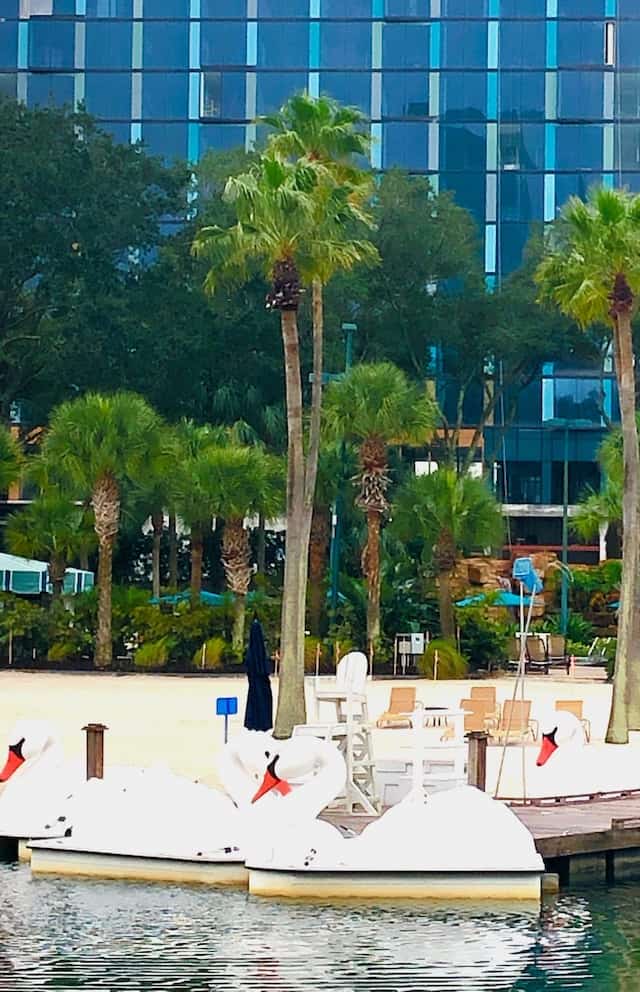 One such option is the Swan paddle boats. This was a FREE complimentary option that allowed Guests to enjoy a scenic view of the Boardwalk. Once this returns, Guests can simply retrieve their Swan Paddleboat Pass from the Cabana Beach Hut to enjoy 30 minutes aboard the beautiful Swan paddle boats. We hope that we may be able to enjoy these on our next visit.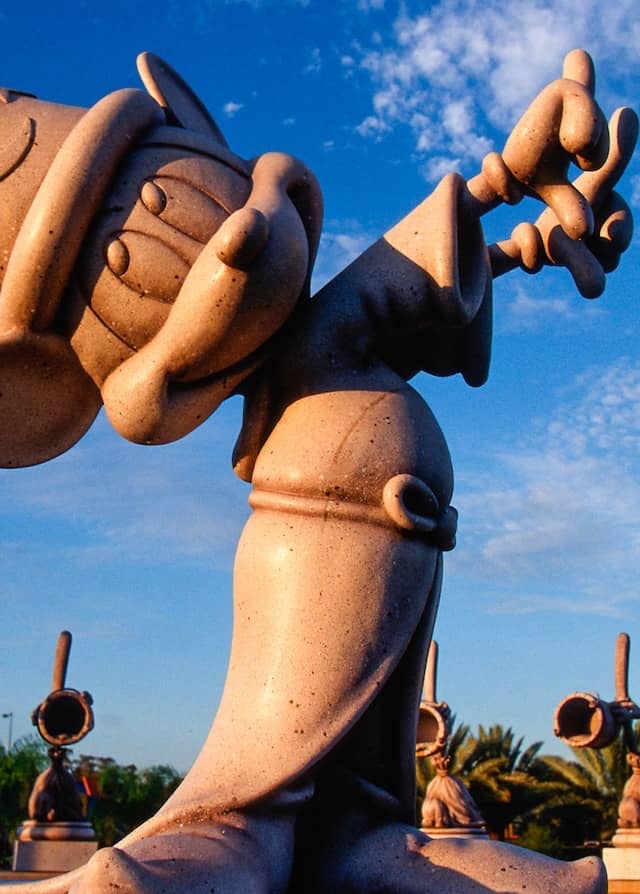 Disney's Fantasia Gardens & Fairways miniature golf course is just a short stroll across from the Resort. Our family absolutely loved this golf course. They still reminisce about these simple memories as much as the memories we made in the Parks. This is a great way to enjoy a non-Park day.
Dining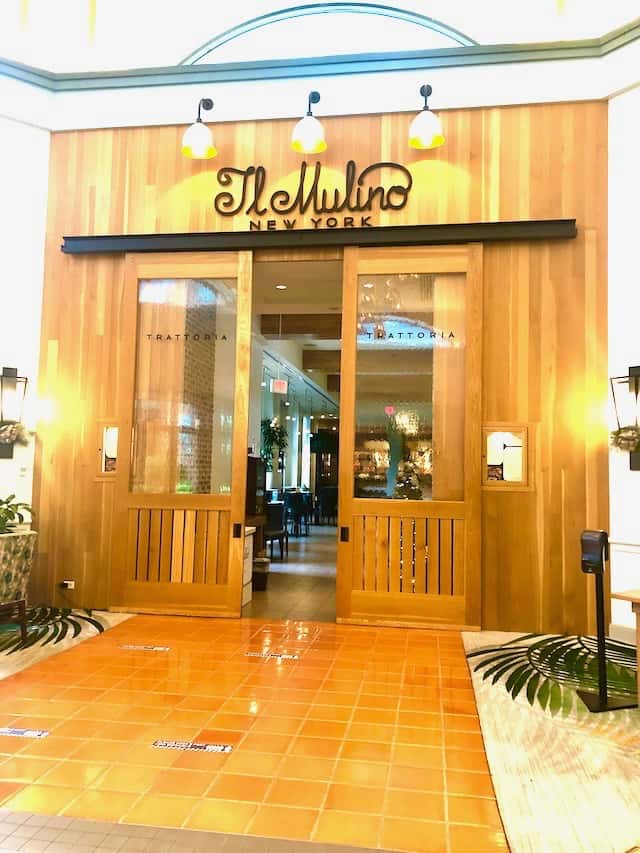 There a total of 18 restaurants and lounges located in both the Swan and Dolphin Resorts. Four Signature Dining locations are located in this great resort including IL Mulino New York Trattoria, Kimonos, Shula's Steak House, and Todd English's Bluezoo. Dining reservations are available for these dining locations and highly recommended.
Four Casual Dining locations are also available including the Splash Pool Bar and Grill, Cabana Bar and Beach Club, Fresh Mediterranean Market, The Fountain, and the Garden Grove.
I love the whimsical setting of the Garden Grove. This casual dining location is located in the Swan Resort. This tranquil dining location resembles Central Park complete with a 25 foot oak tree.
Want food on the go? Check out the four Quick Service locations. Java offers a variety of coffees, sandwiches pastries, sweets, and other snacks.
Business and Laundry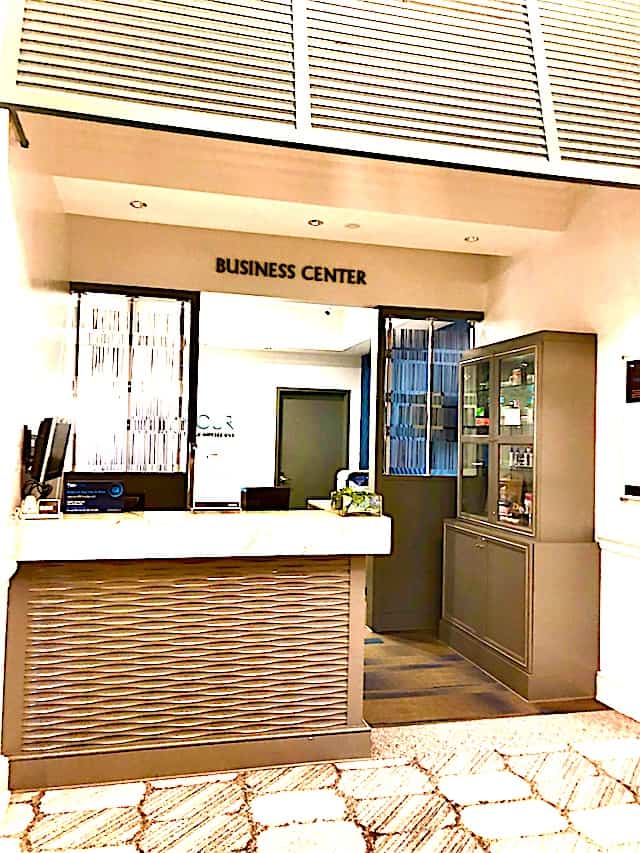 Hopefully you will be able to enjoy the magic while on vacation, but there are 2 business centers available if needed. There are also 4 ATM machines with 2 located in the Swan Resort and 2 in the Dolphin Resort.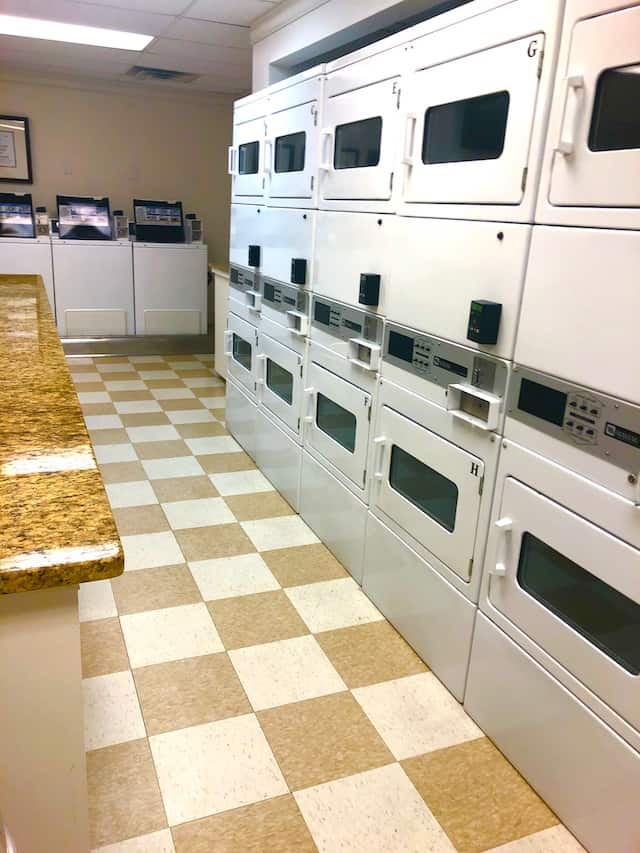 Even at the "Most Magical Place on Earth" sometimes laundry is necessary. Both the Swan and the Dolphin Resort offer a coin-operated/credit card launderette. This large laundry center will allow your laundry to be completed quickly so you can return to the magic.
Shopping
Both the Swan and Dolphin Resorts have a Disney Panning Center & Gifts Store. Inside, Guests will find unique Disney Park items as well as sundries. I personally enjoyed the large Disney Parks Home collection of items that were available during our visit.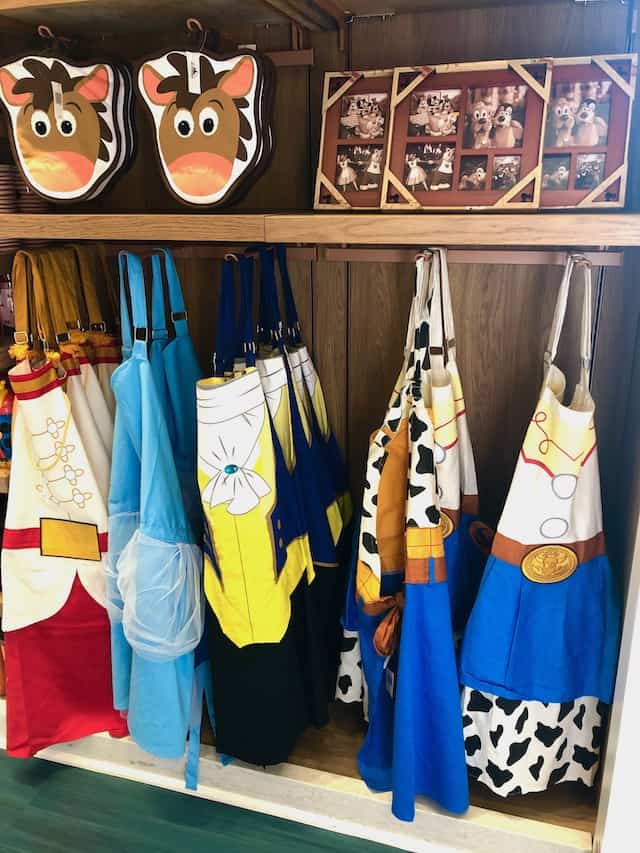 The Dolphin Resort also offers unique shopping opportunities. Accents is a great boutique for Guests who may want a new bathing suit to enjoy the sandy beaches or a new dress to wear for a dinner at the Resort.
Also available at this location are unique lines from Quicksilver and Vera Bradley.
Close to the Boardwalk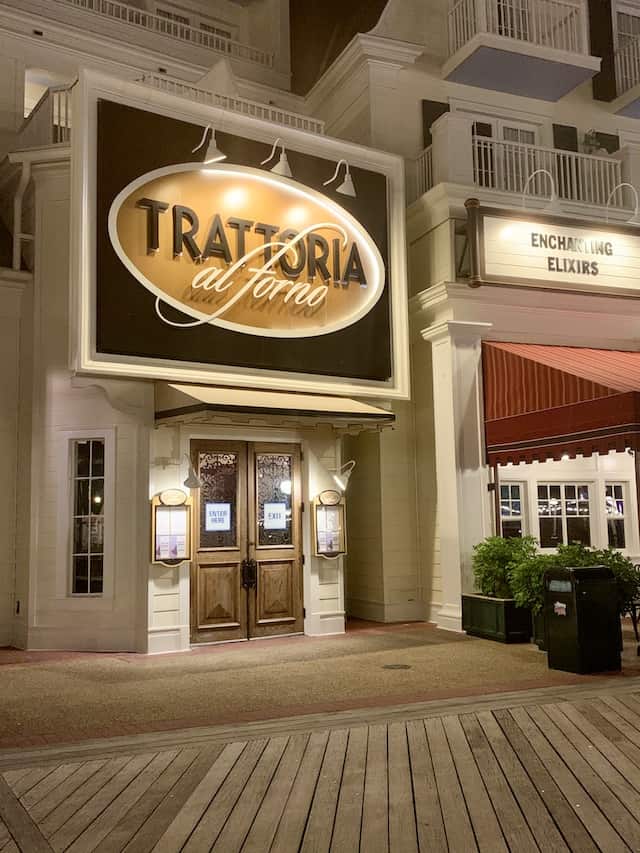 One of the benefits of staying at the Swan and Dolphin is access to Disney's Boardwalk. Guests are within walking distance to great dining locations and unique shops. Check out 2 of our favorite dining locations Trattoria al Forno and the yummy delicacies at the Boardwalk Bakery.
One of the biggest benefits of staying at the Swan and Dolphin is access to Disney's Boardwalk.
The view around the Boardwalk is simply breathtaking. Prior to the Theme Park closures, the Boardwalk would be buzzing throughout the night with live performers, dancing, and entertainment offerings. Many of these entertainment options remain closed, but we are hoping that they may return in the near future.
My Thoughts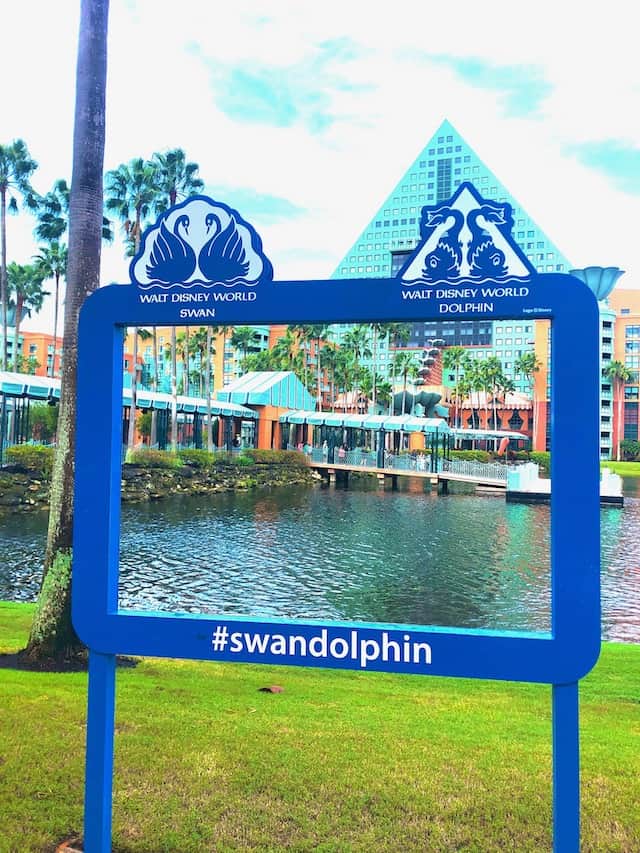 The slogan for the Walt Disney World Swan and Dolphin Resort is "ideally situated between wonder and wonderful." I whole-heartedly agree with this. We thoroughly enjoyed our visit, and we hope to be able to stay at this beautiful resort in the future. We were able to enjoy a large room and also the great benefits of the Boardwalk area at a discounted price.
"Ideally situated between wonder and wonderful."

Swan and Dolphin website
What are your thoughts about the Swan and Dolphin Resort? What are your favorite activities to enjoy at Disney's Boardwalk? Share your thoughts with us on our Facebook Page.