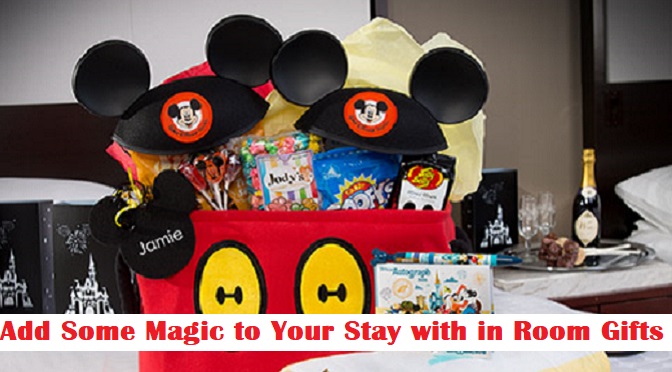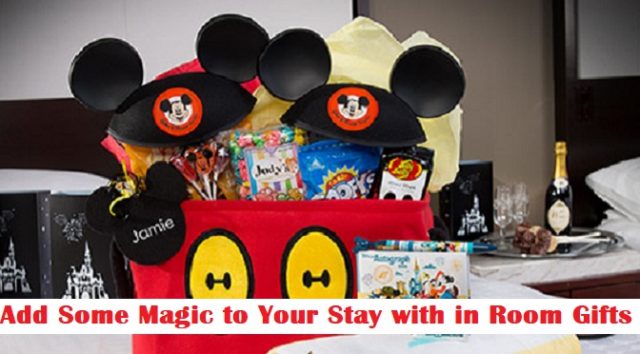 Looking for a little extra magic to jazz up your Disney vacation? An in-room celebration might be just the right fit.
Walt Disney World offers guests the option to customize their trips with in-room celebrations. These are packages you can have put together by Disney Floral and Gifts to have waiting for your party when you arrive or to have delivered during your stay.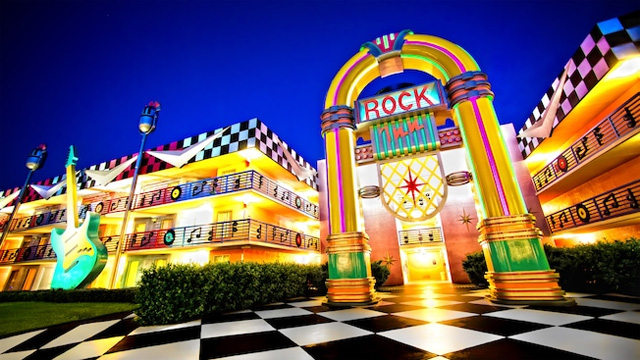 You can schedule an in-room celebration for a party you are traveling with. You can also send them as a special gift for loved ones. So if your grandchildren are visiting for the first time but you are unable to go, or your fiance is there for a bachelorette party you can send a gift to have waiting when they arrive.
Gift Options
Disney Floral and Gifts provides a variety of gift options. You can send flowers and champagne. You can select a pre-made basket from a variety of themes.
For example, you may want to send a basket celebrating a birthday, an anniversary, or a first visit. You may want the gift to center around a specific character. Options start around $50, and the sky is the limit beyond that.
Take a look at some of the options below: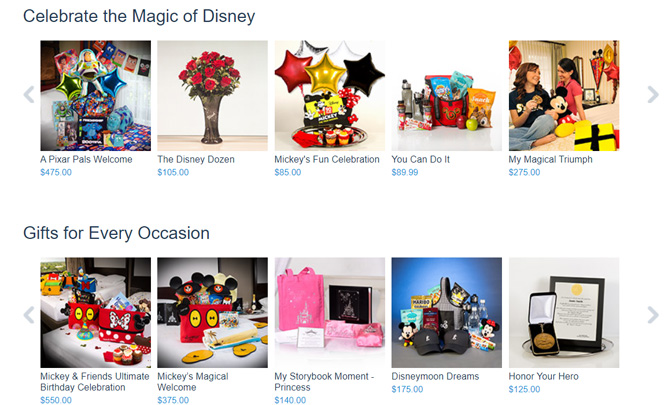 You can also customize your own basket by selecting a container and then adding snacks and gifts to fill it based on the tastes of the members of the travel party you are celebrating.
Containers start at $19 for a standard box, or you can upgrade to a backpack, a soft-sided cooler, a tote, or a variety of other choices.
Snack and accessory pricing is similar to what you will find in the parks. Setting yourself a budget and filling a container can be fun!
Check out all of the options Disney Floral and Gifts has to offer: Click Here
My Experience on In-Room Celebrations
My travel party has received in-room celebrations twice.
Once, we received a soft-sided cooler filled with snacks similar to the "You Can Do It" option. We were on a trip with multiple family members, and my mother sent one for each room our group was in.
Each room had one waiting when we arrived for our stay at Port Orleans French Quarter. The gift was just as advertised, and it was a perfect enhancement for our trip.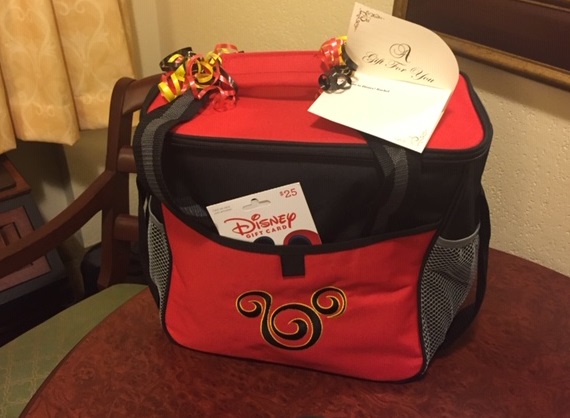 We loved having snacks to eat in the room throughout the week like Mickey Gold Fish Crackers, Minnie's cookies, Mickey Krisped Rice Treats, Mickey Pretzels, and gummy candies from Goofys Candy Co. It also came with juices and bottled waters to keep us hydrated.
We brought home what we couldn't finish and enjoyed a little "after trip magic." Plus, we still use the adorable cooler bag.
The second time we received an in-room celebration, my mother sent my family a gift to have waiting for us at Art of Animation. It was a customized gift with a Mickey Tote filled with snacks.
This time, the celebration did not go according to plan. The Floral and Gift shop accidentally filled it with the incorrect items.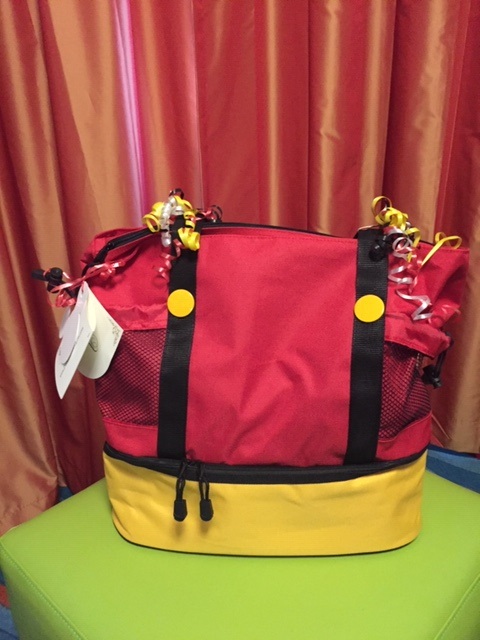 My mother, upon discovering this, simply called and explained the situation. In true Disney fashion, the company made the situation right with a refund (since they were out of many of the replacement items).
Even though it wasn't a perfectly executed gift, it worked out in the long run, and we still use the tote.
Final Thoughts
Overall, I would use the service again, either to surprise my travel party or to surprise a loved one traveling to Disney. It might even be a fun thing to ask for as a birthday or Christmas gift instead of a traditional present if your trip coincides with a celebration and you have relatives who like to celebrate with presents.
We like how customizable the service is. If your party likes keepsakes, there are options. If your family does not like trinkets but loves to eat, there are plenty of treats to include. If you are looking for magical extras, you may want to look into the service.
Have you ever sent or received an in-room celebration? Share photos with us over on facebook if you have them!
Are you planning a vacation? Reach out to our trusted travel agency sponsor Authorized Disney Vacation Planner
Mouse Class Travel
!